College Basketball Nation:

Andre Walker
March, 22, 2012
3/22/12
10:30
PM ET
ATLANTA --
Perry Jones III
doesn't have to be dominant for Baylor to advance to the Elite Eight.
All he has to do is stay on the floor.
The 6-foot-11 Jones has been much-maligned this season. There are times when he looks like a top-10 NBA draft pick. There are other times when he's just another lanky, athletic big from Baylor.
But his presence is enough to warrant plenty of attention -- and that can end up meaning buckets inside for
Quincy Acy
or
Anthony Jones
, and certainly open 3s for
Brady Heslip
.
If Jones were playing hockey, he'd get plenty of assists from his passes that lead to the pass for the score.
Jones hasn't had a breakthrough scoring game since his 31 against Kansas State in the Big 12 tournament. The sophomore's numbers have dipped recently, and he has a combined nine points in the first two NCAA tournament games. But he did have 11 boards in a win over South Dakota State and four in the win over Colorado.
[+] Enlarge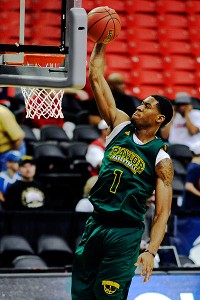 Richard Mackson/US PresswirePerry Jones III is showing that he doesn't have to score in bunches to be a factor for Baylor.
His offense wasn't needed in either game. But he did make the opposing teams pay attention.
"Sometimes my shot is not falling,'' Jones said Thursday in advance of Friday night's game against Xavier in the Sweet 16 at the Georgia Dome. "I shy away from keeping shooting the ball. Sometimes it's not my night. I mean, it doesn't bother me at all if we're winning the game. I feel like I help my team in other ways.''
Xavier will need to find Jones throughout the game Friday night.
"The best thing I can do is try to get the ball to whoever's hot in the game,'' Jones said. "If my shot's not falling, I'd rather go 1-for-7 than 1-for-20-something and then we lose. I just try to do something, just try to rebound, maybe get offensive rebounds, do whatever I can to help my team.''
Jones may have hurt his NBA draft stock a bit. But not much. You can't take away his length and athleticism. He still oozes potential. The goal in Atlanta is to ensure he's on the scouting report for the Musketeers.
And he will be.
"The best thing I can do is move forward and help our team break through for the next couple of games,'' Jones said.
If Baylor gets a chance to face Kentucky, Jones will need to be a factor against
Anthony Davis
and friends.
"You've got to have balance and that's the strength of our team,'' Baylor coach Scott Drew said. "We have unselfish players. Perry Jones wasn't making some shots the last two games that he normally does, but to his credit, a lot of times because of the help-side defense, he was making the hockey assist out, which led to baskets.
"Statistically, it doesn't show up, but at the end of the day, wins and losses are the most important thing. Without the front-line play, we definitely don't get two wins.''
Who to watch
Tu Holloway and Mark Lyons, Xavier:
The Xavier guards were the reason that some of us, notably me, picked the Musketeers to get to the Final Four in November.
The season has been a bit erratic, to say the least. But if this team advances, Holloway and Lyons will still be the reason. Holloway scored 21 points and made four 3s in the win over Lehigh in the third round. Lyons wasn't as productive, but he still made his presence felt.
Holloway was even more dominant in the win over Notre Dame. He scored 25 points and made an efficient 10 of 15 shots.
Brady Heslip, Baylor
: Heslip made nine 3s in the win over Colorado on Saturday. But the Musketeers are certainly going to defend him a bit tighter than the Buffs. Heslip still can deliver a dagger if he's open. The key will be to not play off him at any point.
"Any guy that can score 27 points in the NCAA tournament without dribbling, he's a really good player,'' Holloway said. "He's a great player. We have a lot of respect for not only him, but the Baylor team.''
"We have to make him take tough shots, because if he gets open, it's more than likely going to go down,'' Lyons said. "You've got to be ready to chase him.''
What to watch
Kenny Frease vs. the Baylor bigs:
Frease will have his hands full Friday night. The Xavier center has to stay out of foul trouble. He'll get some help from forward
Andre Walker
, but Frease must keep Perry Jones III, Quincy Acy and Anthony Jones off the offensive backboard.
If the Musketeers are going to have a chance to win, they must get second shots, too.
"We know the guards are going to be able to help us from the top, but we've got to take that responsibility on ourselves to try to contain [Jones] as much as possible,'' Frease said. "He'll pose a lot of problems for us, but it will depend on how we handle them.''
November, 29, 2011
11/29/11
2:21
PM ET

Walker Dominated Glass in Return to Nashville
Andre Walker
spent four years at Vanderbilt, graduating in May. Now playing for Xavier, his return to Nashville couldn't have gone better. Xavier beat Vanderbilt in overtime 82-70, as Walker hauled in a career-high 14 rebounds. The Musketeers held a 54-33 edge on the boards, the worst beating the Commodores have taken on the boards at home since 2002 against Mississippi State. Vanderbilt hadn't lost a home game in overtime since 2006. The Commodores were 35-2 at home against non-conference foes in the previous four seasons. This season, they are 3-2.

Hamilton Perfect Against Tennessee
Reggie Hamilton
scored a career-high 35 points as Oakland knocked off Tennessee 89-81. He went 15-15 at the line, the second best performance in school history. In 1991, Tom Eller his all 17 free throws that he attempted. Hamilton joins Oregon State's
Jared Cunningham
as the only players with back-to-back game of 34 or more points this season. Oakland is now 2-0 all-time against Tennessee, having also defeated the Vols last season.

Iona's Double-Double Duo
Michael Glover
and
Scott Machado
continued to put up gaudy numbers, as Iona beat Long Island 100-84. Glover went off for 28 points and 14 rebounds, his second straight game reaching at least those totals. He's the first player to reach those numbers in back-to-back games since Lipscomb's Adnan Hodzic in 2010. Meanwhile, Machado made it five double-doubles in five games. He's now averaging 18.6 ppg and 12.2 apg. Only two players in D-I history have averaged double digit points and assists in a season: Southern's
Avery Johnson
and Bradley's Anthony Manuel, both in 1987-88.

Lillard Leads Nation in Scoring
The nation has a new top scorer. Weber State's
Damian Lillard
scored 36 points in an 87-70 loss to Saint Mary's to push his season average up to 25.6 ppg. Lillard had 26 points in the second half, including 21 straight during a 10-minute stretch. The junior guard played only nine games last season before suffering a foot injury that caused him to miss all remaining games. His 36 points matched a career high.

Can't Miss, Still Lose
St. Francis (PA) shot 63.9 percent from the field, but still came up short in a 65-63 loss to Niagara. That's the highest field goal percentage in a loss in almost four years. In December 2007, Howard shot 65.7 percent against Furman, but lost 67-62. The Red Flash shot 71.4 percent in the first half on Monday, but ultimately blew an 18-point halftime lead. The 63.9 FG pct marked the best shooting performance by St. Francis since shooting 64.0 percent in December 1998 against Maryland-Eastern Shore.
January, 28, 2010
1/28/10
12:22
AM ET
KNOXVILLE, Tenn. – His nickname is "Dolla Beal."
And sure enough,
Jermaine Beal
was money Wednesday night in No. 23 Vanderbilt's
85-76 victory
over 14th-ranked Tennessee at Thompson-Boling Arena.
Or better yet … straight cash.
[+] Enlarge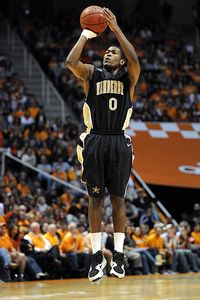 Don McPeak/US PresswireJermaine Beal scored 25 points in Vanderbilt's win over Tennessee.
His coach, who's not one to unnecessarily gush, called him spectacular and the ultimate security blanket, among other things.
"It's one of the first things I said to the team after the game," Vanderbilt coach Kevin Stallings recounted. "When your senior plays like a senior, things get a lot easier. And he certainly played like one tonight.
"He was awesome, really awesome."
Indeed, Beal shot holes in the Vols' defense and took over in the second half on his way to 25 points. He played 38 minutes and didn't have a turnover. He made all three of his 3-point attempts in the second half. He was simply the best player on the court.
"He was the difference," Tennessee senior guard
Bobby Maze
said. "And what made him so terrific was that he was able to knock down shots."
Nobody needed to tell Beal that this was his last shot in Knoxville after some horrific shooting performances against the Volunteers the last couple of years, particularly in this building.
A year ago, Beal was 1-of-10 from the field for three points in a 69-50 loss in Knoxville. He missed both of his 3-pointers. He wasn't much better in the game in Nashville, going 1-of-7 from the field in a 76-63 loss to the Vols. He missed all five of his 3-pointers in that game.
And two years ago in Knoxville, Beal was 1-of-5 from the field in an 80-60 loss to Tennessee.
So when the game was hanging there in the balance in the second half Wednesday, Beal never blinked.
"I haven't won here forever," said Beal, who scored eight straight points to turn a six-point game into a 74-60 runaway with 4:57 remaining. "My only chance to win here was tonight. The main thing was to go out and play hard and leave everything out there, and I feel like we did that."
As a result, the 23rd-ranked Commodores (16-3, 5-0) extended their winning streak to 10 straight games. It was also their third straight road win in the SEC. The last time they won their first three away from home in the league was the 1964-65 season.
It's a given these guys are pretty good in Memorial Gym with the funky setup and the benches at the end of the court. They're a tough out at home and always have been.
But the makeup of this team makes you think the Commodores are going to be a tough out no matter where they play or who they play the rest of the way.
You name it, and the Commodores have it. They have depth, size, shooters and a senior point guard who knows when to take charge.
And when things got testy Wednesday, Vanderbilt proved to be the tougher, more physical team.
"We have a physical team," Stallings said. "A year ago, we were not physical, and we could be taken advantage of in games like that. We are more physical this year. I don't know that we're the most physical, but we're more physical than we've been."
Getting
Andre Walker
back from his knee injury last season has been huge. His stat line every night is usually the same. He had nine points, seven rebounds, five assists and two blocks against the Vols.
The emergence of sophomore post players
Festus Ezeli
and
Steve Tchiengang
has been equally important, and Stallings said 6-11 junior
A.J. Ogilvy
is in better shape.
"Our big guys do a decent job of giving us a presence in that lane area, and that's a big key for our team," Stallings said.
And when the Commodores shoot the ball the way they did against the Vols (15-4, 3-2), they can make a case for being the most complete team in the SEC.
Freshman
John Jenkins
has been a terror shooting the 3-pointer off the bench. His 3 at the 7:39 mark to answer Maze's jumper was one of the biggest shots of the night.
The trio of
Brad Tinsley
, Jenkins and Beal was a combined 8-of-12 from 3-point range for the game.
"I think it's the most complete team I've played on, definitely," said Ogilvy, who scored 12 points and took advantage of an ailing
Wayne Chism
, who had 16 rebounds, but had trouble scoring after hyper-extending his knee Saturday at Georgia.
"We're bigger and stronger and a lot more athletic than any team I've played on and have the ability to shoot the ball. We have every piece of the puzzle, really."
Where it goes from here for the Commodores in the short term remains to be seen. They get Kentucky on Saturday in Lexington and then Mississippi State at home next Wednesday.
But if everyone stays healthy, this is a team built for a deep run in the NCAA tournament.
Don't tell that to Stallings -- not yet anyway. He can't see past the next practice.
"If you get to a point where you think you've arrived, then you've got some problems," he said.
True enough.
But right now, these Commodores are full of answers.