College Basketball Nation:

Andre Young
February, 18, 2012
2/18/12
8:47
PM ET
CHAPEL HILL, N.C. – Someday, somehow, "The Streak" will end.
But not Saturday. Not against this seventh-ranked North Carolina team.
Maybe never as long as
Harrison Barnes
is here.
The sophomore forward scored 24 points to push UNC's home winning streak over Clemson to 56, dating back to 1926. The Tar Heels'
74-52 victory
at the Smith Center means the Tigers still have never won in Chapel Hill.
[+] Enlarge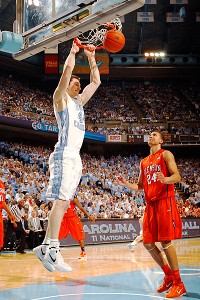 Bob Donnan/US PresswireNorth Carolina senior Tyler Zeller slams home two of his 14 points over Clemson's Milton Jennings.
"I always seem to have good games against them," said Barnes, who now has averaged 24.2 points in four career games against the Tigers. "… It must be the orange. My high school colors were orange, and it must give me that confidence."
Like he needs it.
Barnes – even playing on a 90-percent-healed sprained ankle – has been more aggressive lately. UNC's leading scorer has been pounding the backboards more (he had 7 rebounds Saturday), looking to create more shots, connecting when the Tar Heels need those buckets the most.
"I think Harrison is being the player that everybody tried to make him out to be a year and a half ago. He's becoming that player now,'' said UNC point guard
Kendall Marshall
, who finished with 4 points and 13 assists. "That's not to insult his game at all; I think players just grow into that."
Usually more of a second-half scorer, Barnes got started early this time against the Tigers, scoring UNC's first two buckets to cut Clemson's early lead to 7-4. He then scored a couple of 3-pointers during a 21-4 first-half run.
And after the Tigers cut their deficit to six points with about 12 minutes left in the second half, Barnes scored four points, pulled down a rebound and swiped two steals as UNC pushed its lead back to 11.
"You've got to get North Carolina to a point where they can get a little nervous," Clemson coach Brad Brownell said. "You've got to get it to five minutes or six minutes in the game and it's a couple of possessions, and then you've got a chance. But we couldn't get it."
Barnes made sure of it.
Before he left the game, for good, with 1:31 left, the preseason ACC player of the year beat the buzzer with another 3-pointer. That gave the Tar Heels a 22-point advantage.
It also kept UNC tied atop the ACC standings with No. 21 Florida State at 10-2. With only four regular-season games left, Barnes said both he and his team have a new sense of urgency – which is why he's been working harder to expand his game.
"No question, this is it, this is what you play for, this is what you come to college basketball for,'' he said. "You're preparing for March Madness. And if you go out there on the court these last two or three games, and you don't leave it all out there, you're cheating yourself and you're cheating your teammates.
"This is what your season is going to be defined as, is these coming games, so we have to leave it out there."
Forward
Tyler Zeller
added 14 points for the Tar Heels, who held the Tigers to 37.5 percent shooting and out-rebounded them by 14.
Andre Young
led Clemson with 13 points.
But it was Barnes, who buried the go-ahead shots in the final five minutes of all three of UNC's victories over the Tigers last season, who led the effort to leave Clemson with a bitter outcome in Chapel Hill.
Again.
"I'm sure he's averaging 18 or 20 against everyone else, so I'm not sure it's that skewed [when he plays against us],'' Brownell said of Barnes' scoring. "He's just a great player. We don't have a guy that's his size that matches up very well, and you have so many guys that you're trying to stop that it's hard to do a good job on him. And certainly he rose to the occasion last year in the ACC tournament [when he scored 40 points in the Heels' semifinal victory], and he made plays today."
Follow Robbi Pickeral on Twitter at @bylinerp.
February, 18, 2012
2/18/12
6:07
PM ET
CHAPEL HILL, N.C. -- A quick look at seventh-ranked North Carolina's
74-52
win over Clemson at the Smith Center on Saturday:


What it means
: That "The Streak" continues. Clemson remains 0-for-forever in Chapel Hill; UNC has now topped the Tigers there 56 straight times, dating back to 1926. It extends the longest home winning streak in a series in NCAA history
How it happened
: Clemson had lost ACC road games by two, three, four and two points this season -- but not this time, because it never got that close down the stretch. The Tigers took an early 7-2 lead before the Tar Heels ripped off a
Harrison Barnes
-led 21-4 run to take a 23-11 lead. UNC dominated the boards, while Clemson shot only 32.1 percent, and the only reason the Tigers trailed by only single digits (31-22) at halftime was point guard
Andre Young
's 3-pointer at the buzzer.
Clemson stuck around in the second half, too, cutting its deficit to as little as six points with about 12 minutes left. And even when UNC pushed its lead to nine, 10, 11, the Tigers kept countering --until
Tyler Zeller
scored on a putback, Barnes and
John Henson
each made a free throw, and Barnes made another jump shot to give UNC a 66-49 cushion with about three minutes left.
Barnes led the Tar Heels with 24 points, Zeller added 14 and point guard
Kendall Marshall
finished with 13 assists.
Clemson, which shot 37.5 percent for the game, got 13 points from Young.
Number to know
: The Tar Heels -- who are always trying to score more points off free throws than their opponents attempt -- didn't have an attempt in the first half, and went 6-for-8 for the game. Their fewest attempts this season before that? When they tried only 10 foul shots (and made eight) in a win over Long Beach State in December.
What's next
: The Tar Heels will play at N.C. State on Tuesday. The Tigers will play at Georgia Tech on Tuesday
Follow Robbi Pickeral on Twitter at @bylinerp.
January, 30, 2012
1/30/12
8:00
AM ET
This week's attempt at ranking the surprisingly tight-at-the-top ACC:

1. North Carolina:
No
Dexter Strickland
? No problem. Not only did the Tar Heels give their best defensive effort of the season in a 74-55 win against NC State on Thursday that wasn't as close as its final 19-point margin, they finally started connecting from 3-point land against Georgia Tech -- something they had struggled with during ACC play -- for a 93-81 victory Sunday. That 33-point loss at Florida State on Jan. 14 still stings, but it's looking more and more like a much-needed slap in the face to a team that is the best in the conference when it competes with focus and passion.
2. Florida State:
The Seminoles remain the hottest team in the conference, beating Wake Forest 75-52 in their only game this past week to extend their winning streak to five. FSU has now scored at least 75 points in four straight games -- a good sign for a team that struggled to reach 50 a couple of times earlier in the season.
3. Duke:
When is a win not a win? When coach Mike Krzyzewski says it feels more like a loss. That was his sentiment after the Blue Devils' seven-point victory over St. John's on Saturday, during which Duke allowed a 22-point second-half lead to dwindle because of a lackadaisical defensive effort. In a surprisingly tight ACC race, that's enough to drop Duke from the top of these power rankings this week.
4. Virginia:
The Cavaliers continue to get it done with defense. After holding Boston College to 49 points (the ninth time this season they've held a foe to fewer than 50),
Jontel Evans
and
Sammy Zeglinski
cut off NC State guard
Lorenzo Brown
's penetration to the basket in the final seconds of Saturday's game, forcing a 3-pointer that missed -- and securing a 61-60 road victory.
5. NC State:
Although State did a solid job of rallying after its blowout loss at UNC, Brown's potential game-winning 3-pointer fell short against Virginia. The Tar Heels and Cavs did a good job of slowing down
Scott Wood
, as State's leading scorer was held to 7-for-23 shooting in the two losses.
6. Maryland:
The Terps broke a three-game losing streak -- including a 74-61 loss to Duke -- by beating Virginia Tech 73-69 at home over the weekend.
Terrell Stoglin
scored 21 of his 28 points in the second half to lead the effort, and he continues to lead the ACC in scoring with 21.3 points per game.
7. Miami:
The Canes followed a 64-49 win at Georgia Tech with a 76-54 victory at Boston College, pulling away from the Eagles with a 27-5 game-ending run. Junior forward
Kenny Kadji
continues to impress, averaging 17.5 points, 7.5 rebounds and 2.5 blocks during those two games.
8. Clemson:
When
Andre Young
shoots 40 percent or better, Clemson is 3-0 in ACC play. When Young shoots below 40 percent, Clemson is 0-3 in ACC play. He did the former against Wake Forest, scoring 19 points on 7-for-12 shooting during his team's win over the Demon Deacons.
9. Virginia Tech:
The Hokies lost by two points to BYU, before falling by four points in Maryland. The only Tech game this month that hasn't been decided by four or fewer points was its double-digit loss to UNC. The Hokies are now 1-6 during that stretch, and it's going to get more difficult to dig out of the ACC basement.
10. Wake Forest:
C.J. Harris
has now scored in double figures for 20 straight games -- the first Deacon to do so since Jeff Teague -- but it wasn't enough to contend with Florida State at home, or Clemson on the road, this past week. Wake has now lost five of its past six games.
11. Georgia Tech:
The Jackets managed to score a few more points in the first half against UNC on Sunday (32) than they had in their previous four losses (19.3, on average). But leading scorer
Glen Rice Jr.
's sore big toe, injured in practice this past week, isn't helping matters.
12. Boston College:
The young Eagles have now lost four straight since beating Clemson and Virginia Tech earlier this month. Those two victories are looking more and more like anomalies in an otherwise miserable season in Chestnut Hill.
Follow Robbi Pickeral on Twitter at @bylinerp.
January, 23, 2012
1/23/12
8:00
AM ET
Four teams now top the ACC standings with one league loss; thank Florida State's resurgence for making this conference race so all-of-a-sudden competitive. My attempt at this week's power rankings (up for debate, as always):
1. Duke:
After coming off the bench to score 20 points in a win over Wake Forest, freshman
Austin Rivers
was back in the starting lineup against FSU -- only to have his would-be overtime-inducing shot upstaged by
Michael Snaer
's game winner. The Devils allowed the Seminoles to make two-thirds of their shots in the second half; Duke's defense has got to continue to improve.

2. Florida State:
Is this really the same team that lost to two Ivys, and at Clemson by 20? The Seminoles said at the beginning of the season that the goal was to push their way into the top two of the ACC. By blowing out North Carolina, beating Maryland, then ending Duke's 45-game home winning streak (all in a matter of eight days), they've done just that. FSU is the hottest team in the league right now.
3. North Carolina:
The Tar Heels bounced back from the worst loss of the Roy Williams era, at FSU, by getting an intense win at Virginia Tech, fueled by 27 points from
Harrison Barnes
. But it still suffered another huge loss in that game, in the form of
Dexter Strickland
. The team's best perimeter defender/starting shooting guard/fastest player/backup point guard is out for the season with a torn ACL. How will the Tar Heels rally?
4. NC State:
After Sunday's win over Miami, the Wolfpack is 4-1 in the ACC. One of the positives of the game: Guard
C.J. Williams
, who injured his shoulder against Boston College last week, started and played 31 minutes. The Wolfpack aren't very deep, and the loss of any key player would be devastating.
5. Virginia:
First,
Assane Sene
suffered an ankle injury last week that will keep him out for about six weeks. Then, the Cavs lost to Virginia Tech on Sunday for their second league defeat. Virginia will need to adjust without its center, and one thing that would help: more production from guard
Sammy Zeglinski
, who has made only 4 of his 23 shots over his past three games.
6. Maryland:
After averaging 14 points and eight rebounds in his first three games, freshman center
Alex Len
has struggled -- averaging only 2.6 points and 4.3 rebounds in his next three, then exiting the Terps' loss at Temple early because of a twisted ankle. Maryland lost both of its games last week, and a healthy, rejuvenated Len would be key to getting back on track.
7. Miami:
The Hurricanes' latest loss, to NC State on Sunday, means they have dropped three of their past four. This isn't exactly what first-year coach Jim Larranaga was expecting out of this team, especially with its returning talent. "I was anticipating what our squad would be like before my staff and I arrived and I've found that we have a lot more work to do than we originally thought," he said Sunday, according to the Fort Lauderdale Sun-Sentinel.
8. Virginia Tech:
Dorenzo Hudson
's 3-pointer from the corner with 16.5 seconds left secured the Hokies' rivalry win over Virginia -- and their first ACC victory of the season. But after a slow conference start, they have a lot of work (and winning) to do in order to catch up to the top of the pack.
9. Clemson:
Andre Young
crushed his shooting slump by scoring a career-high 29 points (including seven 3-pointers) to hold off Georgia Tech and break a three-game losing streak. The Tigers need him to continue scoring.
10. Georgia Tech:
The Jackets managed only 38 points in their loss to Virginia, their worst output since 1982. Then they fell short in their rally at Clemson, losing by two. They've now dropped three straight, and seven of their past eight.
11. Wake Forest:
After losing three straight, coach Jeff Bzdelik called Saturday's game at Boston College a must-win. After beating freshman-laden BC by 15, he told the Winston-Salem Journal: "This game was our Super Bowl. Every win is huge, and they are hard to come by. This is another big step for us in our journey to be the type of team we want to be."
12. Boston College:
After winning two ACC games, the young Eagles have now lost two in a row. "Right now, we have a snowball effect -- in both directions,'' coach Steve Donahue told The Boston Globe. "When things go bad, we have a tendency to let them get to us and compound it on both sides of the ball. When we do positive things, it ends up snowballing in that direction." Not a great sign, with a trip to Virginia next up.
Robbi Pickeral can be reached at bylinerp@gmail.com. Twitter: bylinerp.
December, 22, 2011
12/22/11
8:00
AM ET
College hoops doesn't totally shut down over the holiday. In fact, eight lucky teams get to spend Christmas in Hawaii, where they'll compete for top honors at the annual Diamond Head Classic. OK, OK, so this isn't quite the Maui Invitational. The field is nowhere near as strong as what we saw at the Lahaina Civic Center in November, as is usually the case when you compare the two. But for holiday hoops -- including a couple of college games on Christmas Day to distract from you all that NBA and NFL goodness (and, for that matter, your family) -- it definitely gets the job done.
And hey, there are some intriguing storylines here. Kansas State proved itself as an emerging defensive force after a dominant victory over Alabama on Saturday; the Wildcats just might be this tournament's favorite. Xavier is the obvious candidate for those honors, but can the Musketeers overcome the personnel losses they suffered in the Cincinnati brawl to avoid a first-round loss to a very tough Long Beach State team? For that matter, can the Beach -- which beat Pittsburgh at Pitt and has tested Kansas, North Carolina and Louisville on the road -- turn its impressive play into some attention-garnering wins? And what do we make of Clemson?
To get you up to speed, let's take a quick run through the eight teams in the 2011 Diamond Head Classic field, in order of their placement in the bracket. UTEP plays Clemson in the first round, Kansas State plays Southern Illinois, et al. You get the idea. And in case you'd rather not visualize an invisible bracket running across your computer screen, here's
the bracket itself
(PDF). To the preview:
UTEP

Where they stand:
Things kicked off in ugly fashion for the 2011-12 Miners -- their season opener was a home loss to Texas-San Antonio -- and haven't improved much since. The Miners also own a home loss to Stephen F. Austin, they split with New Mexico State, and their only high-major opponent to date, a struggling Oregon team, topped them in Eugene. UTEP was no doubt thrilled when it landed Tim Floyd in the wake of the USC mess, but the big-name coach has a major project ahead of him in his second season in El Paso.
Key player:
Senior forward
Gabriel McCulley
doesn't get as many touches as some of his teammates, but he still leads the Miners in scoring, rebounding and steals, and he gets his points efficiently -- his offensive rating of 116.7 is vastly better than any of UTEP's other main contributors.
Key stat:
22.6. That's the percentage of possessions on which UTEP (4-5) turns the ball over to its opponents, which ranks the Miners No. 237 in the country. Put simply, UTEP doesn't take care of the ball, and that trait is dragging what could otherwise be a decent offense down.
Best-case scenario:
UTEP gets the kind of game it prefers in Clemson -- a slow-paced defensive battle -- and manages to hold on long enough to take down the Tigers and play Kansas State tough in the second round.
Worst-case scenario:
A first-round loss should give way to a favorable second-round matchup in Southern Illinois, but at that point, thanks to the dearth of quality teams on the wrong side of the bracket, UTEP will have missed its one chance to get a remotely impressive win.
Clemson

Where they stand:
It's hard to say. The Tigers are 6-4 this season, thanks in part to three disconcerting losses (to College of Charleston, Coastal Carolina and South Carolina, all at home). But the Tigers lost those games by three, one and three points, respectively, and thus far they've posted very impressive defensive-efficiency stats, the kind that lend confidence for the future. Perhaps this tournament, giving the Tigers the chance to test their mettle against the likes of Kansas State and/or Xavier, will help us form a more reliable picture.
Key player:
Guard
Andre Young
is this team's leader in minutes and points, and he's been good at just about everything this year, posting an offensive rating of 129.8 (one of the top 40 in the country to date) while shooting efficiently, setting up his teammates and keeping turnovers to a minimum. Young's size (he's listed at 5-foot-9, which is almost certainly generous) could hold him back at times, but as far as efficient point guards go, he's a good one.
Key stat:
0.88. That's the number of points the Tigers allow to opponents per possession, which ranks them No. 17 in the country by
Ken Pomeroy
's metrics. It's a very good defense. But because Clemson has struggled to score, it has gotten bogged down in close games to seemingly inferior opponents at home, and its record has suffered as a result.
Best-case scenario:
Clemson handles UTEP and moves on to play Kansas State -- another stout defensive team -- in the second round, where it finally wins one of those close games. Don't count the Tigers out.
Worst-case scenario:
A loss to UTEP would certainly qualify. Then you're 6-5, and you've got a bunch of bad marks on your at-large sheet, and all of a sudden a trip to the NCAA tournament from the jumbled middle of the ACC is looking incredibly unlikely.
Kansas State

Where they stand:
Quietly and steadily, Kansas State coach Frank Martin has his team off to a 7-1 start in 2011-12. The Wildcats' only loss came in double OT to West Virginia, but they bounced back with a 71-58 victory over Alabama on Saturday. For many, that might be proof enough that Martin's team is back and ready to wreak havoc in the Big 12. But a solid trip to Hawaii certainly couldn't.
Key player:
Kansas State doesn't always look fluid on offense; when the Wildcats get their points, it's usually because freshman forward
Thomas Gipson
already hauled down a miss. Gipson has been something of a revelation early in his career, particularly on the offensive boards, and without his and fellow forward
Jamar Samuels
' contributions under the rim, K-State really struggles to score.
Key stat:
41.4. That's what Wildcats' opponents are shooting from the field (as measured by effective field-goal percentage) this season. That's the 11th-lowest mark in Division I hoops and a key reason why this defense has been so stout so far this season.
Best-case scenario:
A championship. If Xavier isn't the favorite anymore -- and we'll see -- then it has to be Kansas State, which has one of the most talented outfits on the island and can heartily defend (like Clemson) but can also score a little bit, too (unlike Clemson).
Worst-case scenario:
It's hard to imagine K-State falling to a truly bad SIU team in the first round, so worst-case is probably a loss in a knock-down, drag-'em-out defensive slugfest with Clemson in Round 2. If the Wildcats fall there, they lose a chance to play and beat the Musketeers in the finale, and that would be a nice little addition to the tournament resume.
Southern Illinois

Where they stand:
On shaky ground. Remember when Southern Illinois was a mid-major darling and coach Chris Lowery was the next big thing? Those days are long gone now, and in their place is yet another brutal Salukis squad, one off to a 3-5 start that includes losses to Western Kentucky, Western Michigan, Northeastern and -- believe it or not -- something called Ohio Dominican. SIU's only wins to date: Chicago State, Northern Illinois, SIU-Edwardsville, three of the cupcakiest opponents you'll ever see. Yeah. It's bad.
Key player:
Mamadou Seck
. For one, he has a fantastic name. Two, he's basically Lowery's only effective player, a guy who contributes points, blocks, steals, assists and rebounding on both ends of the floor.
Key stat:
0.89. That's how many points the Salukis are averaging per possession this season. For reference's sake, it ranks them No. 314 in the country. There are 345 D-I basketball teams. You get the idea.
Best-case scenario:
A win or two in the consolation rounds, maybe, or at least some signs of progress in close losses.
Worst-case scenario:
Three more losses and the unfortunate continuation of what has already been a painful nonconference slate.
Long Beach State

Where they stand:
Long Beach State's record doesn't come anywhere close to doing this team justice. Sure, the Beach is 5-5, but look closer. The 49ers have beaten Pitt in its own building. They lost by four at San Diego State, two at Montana, eight at Kansas and six at North Carolina, and they gave Louisville a decent run in the Yum! Center, too. This is an interesting tournament for Dan Monson's team. It clearly has the ability to hang with top teams on the road, let alone on a neutral floor, and gets to face a crippled Xavier squad in the first round. Could LBSU really pull this thing off?
Key player:
The dynamic duo of
Casper Ware
and
Larry Anderson
. Ware and Anderson form one of, if not the, best mid-major backcourt duos in the country -- combined, they averaged 32.6 points per game -- and both are at their best when attacking opposing defenses off a miss in the open court. They're both good, and they're both very fun to watch. Don't miss 'em.
Key stat:
71.0. That's the number of possessions the 49ers average per game, which ranks them among the 20 or so fastest teams in the country. LBSU wants to run, run, run and then run some more, and if an opposing defense doesn't have its guard up, look out.
Best-case scenario:
A championship! LBSU can play with the big boys, as it has proved in some incredibly hostile and difficult road environments this season. What's more, the 49ers get Xavier in the first round, before guard
Mark Lyons
finishes his suspension for his role in the Cincy-Xavier brawl two weeks ago. Call it an early Christmas present for Monson and company. If they get past the Muskies, hey, they might just win this thing.
Worst-case scenario:
A loss to Xavier, which would at the very least banish them to the consolation bracket and probably end any and all hopes -- slim though they were -- of garnering some at-large consideration from the tournament selection committee in March.
Xavier

Where they stand:
Before the brawl, everything was peachy. The Musketeers were undefeated.
Tu Holloway
was doing his thing. In the post-brawl fallout, after suspensions to Holloway (one game), Lyons (two games) and
Dezmine Wells
(four games), the Musketeers looked putrid in a 64-42 home loss to Oral Roberts. Holloway is back for the start of the Diamond Head, but Lyons will miss one more game. Wells didn't make the trip. Can Xavier overcome the losses and assume its rightful position as this tournament's clear favorite?
Key player:
Holloway. Xavier has had a tendency to underperform for roughly 35 minutes at any given time this season, at which point Holloway has rescued them with late 3s and clutch heroics. Without Lyons as his running mate Thursday, Tu won't be able to wait that long.
Key stat:
40.2. That would be Xavier's opponents' effective field-goal percentage, and if you remember the Kansas State stat, you'll know that it is very low -- the sixth-lowest in the country, to be precise. Xavier gets out on top of you, and it has both the speed and physicality to make sure good looks at the rim are rare.
Best-case scenario:
A title. Frankly, Xavier should be the favorite, even with all the post-brawl personnel losses. Even with Wells at home, the Musketeers will be the most talented team on the island.
Worst-case scenario:
That said, taking on LBSU's Ware-and-Anderson show
without
Lyons is a daunting task. It wouldn't be a shock to see Xavier drop this one, at which point it would be in the consolation bracket and facing the loser of the Auburn-Hawaii game. Ouch.
Auburn

Where they stand:
Here's to a forgiving schedule. The Tigers are 7-1 to begin the season, but check out this hardy list of opponents: McNeese State, Kennesaw State, Nicholls State, Arkansas-Pine Bluff, Seton Hall, South Florida, North Florida, Florida A&M. The loss (81-59) came at Seton Hall. The wins came at home. Michigan State, this is not.
Key player:
This team's main strength is blocked shots, and its chief purveyor of the rejection is forward
Kenny Gabriel
, who records a swat on 12.2 percent of available possessions. (Fellow forward
Rob Chubb
is no slouch defending the rim, either.)
Key stat:
20.4. That's the percentage of available possessions when this team records a block, the third-highest in the country to date. That's a lot of blocks! Unfortunately, the Tigers haven't shown much offensive know-how just yet, and they're weak in other areas. (And, to be fair, those block rates might be the product of playing that murderer's row of interior talent you see listed above.) Either way, that mark trails only Kentucky and Connecticut this season. That has to be worth something.
Best-case scenario:
A win in the first round and an encouraging coming-out party -- win or lose -- in a second-round matchup against a full-strength Xavier team. At the very least, it would help improve that dreadful nonconference strength of schedule. Ick.
Worst-case scenario:
A loss to Hawaii in the first round and a blowout to either Xavier or LBSU in the second.
Hawaii

Where they stand:
Gib Arnold's team is 5-4 and ranked No. 231 in Pomeroy's rankings. That kind of says it all. The wins have come against Cal-State Northridge, UC Davis, Pacific, Hawaii-Hilo and North Carolina A&T; the losses were a product of matchups with Gonzaga, Eastern Washington, Pepperdine and Pacific. That's exactly what you'd expect. The good news? Hawaii doesn't have to do the traveling, time-change adjusting, touristing and everything else that comes with a trip to Hawaii. The Warriors can just play. Maybe that's good for an upset or two?
Key player:
Zane Johnson
is this team's leading scorer, but forward
Vander Joaquim
-- 11.6 points, 9.8 rebounds, 1.4 blocks per game -- is its most productive player, and one the Warriors will need if they plan on playing at the rim with the block-happy Tigers.
Key stat:
24.3 percent. That's Hawaii's turnover rate this season, which puts it near the bottom 50 or so in the country and has, along with subpar shooting, truly stunted this offense to date.
Best-case scenario:
Auburn hasn't had to experience road basketball often this season, let alone road basketball in the middle of the Pacific Ocean, so Arnold's team might have an early upset (so to speak) in them here. But with LBSU or Xavier awaiting in the second round, it's hard to picture the Warriors going any further than that.
Worst-case scenario:
Finishing without a win, which would mean (almost certainly) losing to Southern Illinois at some point. Losses to Southern Illinois are probably best avoided. To put it kindly.
March, 17, 2011
3/17/11
2:56
PM ET
TAMPA, Fla. -- Tired legs?


No. 12 seed Clemson came storming out of the locker room in its East Regional second-round game against No. 5 seed West Virginia, grabbing an early 10-point lead over the Mountaineers at St. Pete Times Forum on Thursday. The Tigers were playing for the second time in less than 48 hours, after defeating UAB 70-52 in a first-round game on Tuesday night.
But West Virginia stormed back to tie the game at 40 at the half, and then turned up its defensive intensity in the second half to pull away with
an 84-76 victory
.
Turning point
: After West Virginia took a 76-71 lead on
Joe Mazzulla
's two foul shots with 1:43 to go, Mountaineers guard
Dalton Pepper
stole the basketball from the Tigers and scored layups on two straight possessions. The Mountaineers turned a four-point lead into an 80-71 advantage in only 23 seconds.
Player of the game
: West Virginia forward
Kevin Jones
gave his team some much-needed momentum by knocking down a 3-pointer at the buzzer to tie the score at 40 heading into halftime. Jones, a junior from Mount Vernon, N.Y., scored 17 points on 6-for-11 shooting and grabbed nine rebounds.
Key stat
: 80.6 percent: The Mountaineers made 25 of 31 foul shots and went 10-for-10 in the first half. West Virginia shot 70.6 percent from the foul line this season.
Miscellaneous
: West Virginia guard
Truck Bryant
scored 19 points with three rebounds, and Mazzulla had 12 points with seven assists. Clemson guards
Demontez Stitt
and
Andre Young
combined for 38 points.
What's next
: West Virginia advances to play the winner of Thursday's second-round game between No. 4 seed Kentucky and No. 13 seed Princeton on Saturday. The Mountaineers upset the Wildcats 73-66 in the Elite Eight last season. Clemson finished the season with a 22-12 record, a pretty good rookie campaign by coach Brad Brownell.
March, 16, 2011
3/16/11
1:19
AM ET
DAYTON, Ohio -- Ohio State athletic director Gene Smith was spotted wearing headphones on press row during the second half of Tuesday's Clemson-UAB game.
Perhaps Smith wanted to shield his ears from further howling about the NCAA tournament selection committee that he chaired this year. Those who had already shouted that UAB didn't belong in this year's field -- which includes virtually everybody outside of the committee -- had all their talking points accurately documented in a
70-52 loss
to Clemson in the First Four.
Clemson players yelled "Let's get 'em from the jump!" as they huddled in the tunnel before the game. And it seemed just that easy as they rolled out to a 25-7 lead, then stayed ahead by double digits most of the game. Hopefully for his own well-being, Virginia Tech coach Seth Greenberg couldn't find truTV on his satellite or cable provider.
The first-round game clearly and quickly exposed UAB as an impostor better suited for the NIT. Let's not forget, though, that Clemson came here with some gaps in its résumé as well. The only NCAA tournament teams the Tigers beat all year were Wofford and Florida State, at home.
"We definitely had some doubters," senior forward
Jerai Grant
said.
[+] Enlarge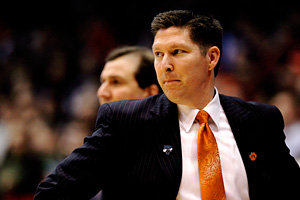 Gregory Shamus/Getty ImagesFirst-year Clemson coach Brad Brownell's Tigers appeared to have everything clicking against UAB.
First-round asterisk or not, the fact remains that Clemson just won its first tournament game since 1997. And maybe that's not all because of the opponent.
The Tigers ended their season strong, beating fellow bubble team Virginia Tech and then wiping out Boston College by 23 points in their first ACC tournament game. They led North Carolina by 10 at halftime before falling in overtime in the ACC semis.
This is a team that plays solid defense and knows where its strength lies -- inside the 3-point arc. Grant continued his senior renaissance with a career-high 22 points, while forwards
Devin Booker
and
Milton Jennings
combined for another 21 points. Clemson outscored UAB 40-12 in the paint.
"That was our game plan offensively," guard
Tanner Smith
said. "Our post guys did a great job of taking their time and controlling the paint."
This is also a team playing for a first-year head coach in Brad Brownell, who installed a new motion offense. It shouldn't be too surprising that things seem to be coming together at the end of the season.
"I think we're playing the best basketball we've played all season, and that's how it's supposed to be right here toward the end," guard
Andre Young
said.
The end might not have arrived yet. The Tigers have a favorable draw in Round 2 against East Regional No. 5 seed West Virginia. Like them, the Mountaineers are a defensive-minded team with versatile big guys that doesn't shoot well from the outside.
But as with all First Four winners, Clemson faces a difficult travel turnaround. Tuesday's game didn't end until after midnight, and the second-round game in Tampa loomed about 36 hours later Thursday afternoon. At least the Tigers should have worked any tournament nerves out of their system.
"We can't have the excuse of having to play [Tuesday]," Tanner Smith said. "We can ride momentum into a game like that. I'm sure West Virginia and teams that haven't played feel like the tournament hasn't really started yet. For us, we're in the tournament grind already."
It's a grind made easier by a questionable opponent in the first round. We can pile on UAB, but all the team did was get on the charter plane that the NCAA provided. Head coach Mike Davis described it as "heartbreaking" when his players heard all the criticism immediately following their selection. And with star senior guard
Aaron Johnson
breaking his leg in the final minutes and limping out of University of Dayton Arena on crutches, it was hard not to feel a little sorry for the Blazers.
As for the selection committee, that's another story. Gene Smith might want to have those headphones ready again for Wednesday night. That's when VCU plays.
January, 13, 2010
1/13/10
10:15
PM ET
CLEMSON, S.C. -- Any thought Clemson couldn't be a pressing, disruptive, turnover-producing team at Littlejohn Coliseum this season was dispelled in the first 20 minutes Wednesday night, as the Tigers have a 50-32 lead on No. 13 North Carolina.
Sure, the Tigers gave up a 23-point lead to Illinois early in the season and lost.
Yes, the Tigers beat Boston College here last Saturday and were able to dictate the pace. But the Eagles have traditionally been bothered by the Tigers' pressure here or in Chestnut Hill.
But for the Tigers to do to North Carolina what it did last season to Duke was a significant confidence boost in the first half. Clemson scored 50 points before halftime after racing out to a double-digit lead within the first few minutes. The Tigers forced Carolina into 16 turnovers and the Tar Heels couldn't make a 3-pointer.
Meanwhile, Clemson was scoring at a rapid pace, with
Trevor Booker
owning the paint early and then
Tanner Smith
,
Andre Young
and
Noel Johnson
all finding their stroke for two 3s a piece.
Clemson shot 57 percent, 46 on 3s and shared the ball well with 12 assists on 19 field goals.
It didn't help the Heels that they weren't full strength, either. For the second straight time UNC came limping into the state of South Carolina.
A week ago Monday, the Tar Heels lost to the College of Charleston without
Marcus Ginyard
and
Will Graves
(both out with ankle injuries). This time,
Tyler Zeller
is out and was wearing a boot on his right foot. An MRI proved negative but he will get a bone scan when he returns to Chapel Hill. The move is meant to be preventive with so much of the season still to go.
North Carolina coach Roy Williams said to me at the half: "Our big guys have to move more.''
Deon Thompson
made one field goal,
Ed Davis
made none and neither did Will Graves. Backup
Travis Wear
had more field goals than all three with two.
"(Clemson's) pressure was really good,'' Williams said. "Our team was scared to death. I've never seen anything like that (from one of his teams).''