College Basketball Nation:

Andrew Goudelock
October, 20, 2011
10/20/11
2:30
PM ET
By
Diamond Leung
| ESPN.com
Charleston freshman
Adjehi Baru
, the 6-foot-9 native of the Ivory Coast who is ESPNU's No. 59 recruit in the 2011 class, has been cleared to play by the NCAA, the school announced Thursday.

Baru's academic record had come under scrutiny and left his availability unclear while he practiced with the team, but now the Cougars have their prized recruit as they hope to get back to the top of the Southern Conference standings.
"I am very happy for our team and Adjehi Baru," coach Bobby Cremins said in a statement. "Adjehi Baru is an outstanding young man and an excellent student. Our director of compliance, Otto German, did a great job of gathering information and we are very appreciative of the NCAA's decision."
Charleston is missing its top three scorers from last season's team -- including NBA draft pick Andrew Goudelock -- that tied Wofford at the top of the Southern Conference, but fell short of the NCAA tournament.
With Baru and his 7-foot-5 wingspan, the Cougars gain their most celebrated incoming recruit in the program's history. As a senior at The Steward School in Richmond, Va., he averaged 19 points, 10.4 rebounds, 3 assists, 2.6 blocks and 1.6 steals.
Baru being cleared comes at a time when fellow top-100 recruits
Wayne Blackshear
of Louisville and
Jahii Carson
of Arizona State await word from the NCAA.
October, 19, 2011
10/19/11
1:33
PM ET
By
Diamond Leung
| ESPN.com
Practices might be in full swing, but for a couple of top-100 recruits looking to make a significant impact on their teams, there is uncertainty as they wait for the NCAA to rule on their academic eligibility.
Arizona State guard
Jahii Carson
and Charleston big man
Adjehi Baru
, the No. 50 and No. 58 recruits from the 2011 class by ESPNU, are currently in holding patterns while the NCAA makes its decisions.
The 6-foot-9 Baru is enrolled at Charleston and able to practice, and the school expects that at worst, he would only be ineligible this season. Class credits obtained while in the United States are believed to be the issue for the Ivory Coast native.
"We just haven't heard yet," Charleston coach Bobby Cremins told reporters Saturday. "I know people are getting tired of hearing that, but it's a process that we have to allow the NCAA the proper time.
"He's an outstanding student. I'm hoping that the NCAA will do what's right, and we feel like we have a tremendous case, but you never know. I'm not the NCAA, thank God."
Charleston especially needs Baru since top returning scorer Willis Hall tore the anterior cruciate ligament in his left knee earlier this month. The forward will miss the entire season. The Cougars were already going to have to replace the production from Andrew Goudelock, who completed his eligibility and was selected in the NBA draft.
Carson, who the Sun Devils hope will take over the reins at point guard and lead the team out of the bottom of the Pac-12, cannot even practice yet.
From the
Arizona Republic
:
At issue, according to sources, is an online summer-school course Carson took at Adams State College, located in Alamosa, Colo. As of a couple of weeks ago, the school had yet to release Carson's transcript.

Until Carson is cleared, he cannot practice or attend team functions. He did not attend Wednesday's media day and did not pose in the team picture.
The paper reported
that "those inside the program consider this a matter of 'when,' not 'if,'" but it still has to be a nerve-wracking time for Carson and the ASU faithful who hope the team can make some noise.
For now, they'll all have to wait and see.
June, 22, 2011
6/22/11
4:13
PM ET
By
Diamond Leung
| ESPN.com
Andrew Goudelock, the Southern Conference player of the year from Charleston, has hopes of going from mid-major school to the NBA. He was the nation's fifth-leading scorer as a senior, showing the offensive firepower it took to possibly make it at the next level.
The Harlem Globetrotters can say they got to him first, announcing the 6-foot-2 guard as one of their "draft picks" on Tuesday. It's fun and games, of course, but it doesn't just mean Goudelock can always don the flag-colored uniform if he ever chose to do so. It's also recognition that he's one of the more entertaining players you can find anywhere.
"I'm going to score wherever I am, whatever level I'm on, because that's my game," Goudelock told MLive.com last week while working out for the Detroit Pistons. "I'm going to be able to shoot until the day I die."
Goudelock at the Final Four won the college 3-point championship, and the Globetrotters also
selected college slam dunk champ Jacob Tucker
from Illinois College along with dunk semifinalist Darnell Wilks from Cincinnati.
"Without UC, this new road would not have been presented to me," Wilks said in a statement. "I would like to thank the Harlem Globetrotters as well for this new opportunity to continue to showcase my basketball talents, and also strive to be a great ambassador for basketball. Even though the colors on my jersey might have changed, I still bleed red and black and will continue to support and represent the Bearcat Nation with pride."
The Globetrotters' headline draft pick was
7-foot-8 Paul Sturgess
out of Mountain State University.
"The first day of practice, we are going to have Jacob Tucker and Paul Sturgess go one-on-one," Globetrotters director of player personnel Sweet Lou Dunbar said in a statement. "A 5-foot-11 dunking machine against a 7-foot-8 tower of shot blocking has YouTube written all over it."
March, 14, 2011
3/14/11
5:00
PM ET
By
Diamond Leung
| ESPN.com
It's no secret how Wofford plans to attack BYU on offense, as Terriers coach Mike Young has watched only film of the five games the Cougars have played since losing top post player Brandon Davies to suspension. Wofford can feed the ball inside to
Noah Dahlman
, last season's Southern Conference player of the year and one of the top scorers in the nation, and go from there.
In the process of reviewing the tapes, Young got to the New Mexico game and got a good look at
Jimmer Fredette
. "I had to excuse myself from the film room and walk out in the hallway watching a replay of the New Mexico game," Young said. "It's a quiet 52. He scores like he breathes."
Still, it appears as if Wofford isn't going to do much differently or anything special when it comes to trying to contain Fredette. The Terriers have spent four years game-planning against College of Charleston's
Andrew Goudelock
, a scoring point guard whose range is equal to Fredette's.
For the assignment, Young said his team already has a good idea of what they're going to do try to contain Fredette. It starts with the team's top defender in senior
Jamar Diggs
.
"He's tenacious," Young said of Diggs. "He's quick as a cat. He's got great hands. He is as competitive as any human being I've ever been around. Fredette is a special, special player. I will look forward to Jamar guarding him, and I will look forward to our team guarding him. Fredette may get the best of him, but my guy's going to fight."
So in the face of getting Jimmered, No. 14-seeded Wofford will take its best shot. The Terriers nearly upset Wisconsin in the first round of the NCAA tournament last season and know the challenge Fredette presents.
"All the accolades and everything that's come his way, he deserves every bit of it," Young said. "I love watching him play."
January, 4, 2010
1/04/10
9:55
PM ET
North Carolina's question from the preseason on was going to be its ability to score and defend on the perimeter.
[+] Enlarge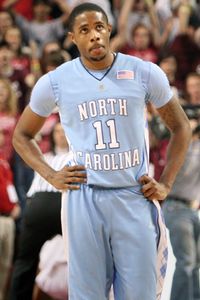 AP Photo/Mic SmithLarry Drew II and the Tar Heels suffered a surprising loss to College of Charleston.
On the eve of the ACC, the Tar Heels haven't been able to solve that issue confidently. Not having starters
Marcus Ginyard
and
Will Graves
against the College of Charleston on Monday night meant the Tar Heels were down their top perimeter defender and their top 3-point shooter.
What that did was give Charleston the green light to launch 3-pointers. And the Cougars didn't hesitate, making 13-of-32 in a thrilling
82-79
victory over the Tar Heels to create a worthy court-storming at Carolina First Arena.
Meanwhile, the Tar Heels made just 1-of-6 as guards
Dexter Strickland
(2-of-11) and
Larry Drew II
(3-of-10) struggled mightily from the field. Without Ginyard and Graves the Tar Heels just don't have the personnel to defend someone like
Andrew Goudelock
, who has speed and the ability to launch shots over taller defenders. He did that in making 10 of 20 overall and 4 of 8 3s, including the game-tying, overtime-inducing 3-pointer with 2 seconds left on the Cougars' final possession.
As ESPN researcher Jason McCallum pointed out, the Charleston starting backcourt outscored its UNC counterpart 52-17. Carolina's starting guards scored or assisted on just 11 of the 27 shots the Heels made. Yikes.
North Carolina can't win the ACC unless Ginyard and Graves are healthy, and even with them, the guard play hasn't been as consistent as say rival
Jon Scheyer
and
Nolan Smith
at Duke. Charleston should be in the mix for the Southern Conference title as projected in the preseason. The Tar Heels were considered an ACC title contender and a possible Final Four-bound team. If the guard play doesn't improve, then the potential of big men
Deon Thompson
,
Ed Davis
,
Tyler Zeller
,
John Henson
and
David Wear
won't be enough for UNC.