College Basketball Nation:

Andrew Steele
January, 25, 2013
1/25/13
9:30
AM ET
We're here. You know what we do. We rank the SEC. And it's a collective effort. We'll get through this week's SEC rankings together.
1. Florida.
The Gators aren't just the best team in the SEC, they might be the best team in the country right now. Check out the numbers: first in adjusted defensive efficiency and second in adjusted offensive efficiency per Ken Pomeroy. Check the results. Florida's 83-52 win over Missouri was one of the worst beatdowns of the season. The Gators displayed their versatility and overall ability to execute in ways that few teams in America can. They have few weaknesses. They're in their own league.

2. Ole Miss.
So the Rebels averaged 80.2 ppg through their first four conference matchups. Then they score 18 in the first half of Thursday night's win over the Vols. Such is life in the SEC, I guess. The bottom line is that Andy Kennedy's crew might be the only team that can turn the league into anything more than a one-team race (Google Florida and Beast Mode). But that first half against Tennessee was a rare display of imbalance for the program.
Marshall Henderson
, however, made it right in the second half. He's a stud.
3. Alabama.
I know. I don't know how this happened either. But this Bama squad has overcome injuries and limited depth to surge up these power rankings in the last week. After Anthony Grant lost
Carl Engstrom
(out for the year with a torn ACL) and
Andrew Steele
(sports hernia) to injuries last month, the Crimson Tide hit a wall. From Dec. 1 through Jan. 8, Bama lost six of eight games. Then the program began to play defense. Only one SEC team (Florida) has held its conference opponents to a lower average (59.2 ppg allowed).
4. Missouri.
The Tigers have issues that are bigger than life without
Laurence Bowers
. Yes, the team has missed the talented forward. But the weekend's Florida loss exposed Missouri as a team with serious ballhandling issues (21 turnovers in that game). The Tigers are also lost whenever
Phil Pressey
struggles. How "deep" are they? We've heard so much about this team's depth and potential. But Missouri looks like a disorganized team that's not as tough as it should be. I know the Tigers beat Alabama a few weeks ago. I'd pick Bama right now, though.
5. Arkansas.
The Razorbacks have been better defensively than I figured they'd be in SEC play (39.4 field goal percentage defense, second in the league). I thought they'd just shoot for 80 and hope that would be enough to squeeze by most of the teams in this league. They had a chance to prove they're more than just one of the best among the mediocre squads when they faced Ole Miss. What did they do? They went 6-for-20 on 3-pointers and committed 16 turnovers.
BJ Young
and
Marshawn Powell
were the only players who cracked double figures. Those two talented players need consistent help.
6. Kentucky.
The second half of Kentucky's loss at Alabama exhibited every struggle this team has had this year. The Wildcats weren't resilient when they had to be. Their guards struggled. A program that features multiple first-round prospects for the NBA draft went 8-for-27 after halftime. I don't think John Calipari has one problem; I think his program has a bunch of problems. The Wildcats are inconsistent. They're inexperienced and it shows whenever they find themselves in tough late-game situations. And they appear to be losing confidence. Yet other than Florida and perhaps Ole Miss ... Kentucky, like the rest of the SEC, can contend with any team in the conference. Weird.
7. Texas A&M.
The Aggies have really struggled since their Jan. 12 road win over Kentucky. That might be the highlight of their season. They've lost three consecutive games since that victory. Their challenges? Top scorer
Elston Turner
has scored just 22 total points during this three-game losing streak. Remember him? He's the guy who scored 40 in that win in Rupp Arena. He was the hero. But the Aggies are limited on offense (60.4 ppg in the SEC, 11th in the league). They're not good enough to overcome their best player's struggles.
8. Tennessee.
The Vols were good enough to hang with Ole Miss on Thursday night. But they couldn't do more than that. They had a great opportunity to beat one of the SEC's best. They couldn't finish. Tennessee was outscored 44-31 in the second half of that 62-56 loss. Now they've lost five of their last six games. And I just don't see how Cuonzo Martin's program rights this ship when he has one of the worst defensive units (117th in adjusted defensive efficiency per Ken Pomeroy) in the SEC.
9. Vanderbilt.
Kevin Stallings is rebuilding with this young group. The Commodores have encountered a multitude of obstacles. But they're riding a two-game winning streak after beating South Carolina and Auburn by a combined 19 points. And three of their next five games are winnable (Alabama, Arkansas, Tennessee). Vandy is limited in a variety of areas. But the Commodores lock up the perimeter (25.5 3-point field goal percentage defense) better than any team in the SEC. That's going to be key going forward.
10. Auburn.
Tony Barbee's crew is trying to fight its way out of the bottom tier of the SEC. But that's a tough task with a porous defense (74.0 points per game allowed is the worst mark in the SEC; 158th in adjusted defensive efficiency per Ken Pomeroy.) The Tigers have excelled at times during the past month. But their last three games, all losses, are another example of the program's extremes. And it starts with its defense.
11. Mississippi State.
If you've followed these rankings, then you know Rick Ray's story. He's currently leading a program that can barely practice because it's so short-handed. Ray is limited in what he can fix right now. But the Bulldogs have won two SEC games, even though they're near the bottom of every meaningful statistical category in the league. They're even on top of the conference with 18.8 turnovers per game. Doesn't make much sense. But the SEC doesn't make sense.
12. LSU.
Remember the team that looked vibrant and hopeful entering SEC play? Well the Tigers played such a poor nonconference slate that it really wasn't fair to judge the program at that point. Now seems like a more appropriate time to measure this LSU squad, which just won its first SEC game on Wednesday when it defeated Texas A&M. With so much parity in the bottom of the league, every bucket helps. So LSU's 58.3 free throw percentage, last in the league, definitely hurts.
13. Georgia.
Mark Fox's squad landed its first SEC win when it defeated LSU over the weekend. The coach has one of the tougher tasks in the league. He has one high-level player in
Kentavious Caldwell-Pope
. But he doesn't have a strong supporting cast around him. So the Bulldogs currently possess the worst scoring offense in the SEC. And that's going to be an issue all year. Fox could use a midseason trade right now. But Saturday's win could be something they eventually build on.
14. South Carolina.
Pitbull can't save his biggest fan right now. Frank Martin, however, could use the help. The team he left, Kansas State, is off to a strong start. The team he joined, South Carolina, is at the bottom of one of the worst leagues in the country. Only two teams are shooting worse than the Gamecocks (37.9 percent) in SEC play. Perhaps Martin will turn South Carolina into a contender. The program is light years away right now.
November, 15, 2012
11/15/12
9:00
AM ET
The four-team field of the 2K Sports Classic isn't populated with superstars. Alabama, Oregon State, Villanova and Purdue aren't expected to compete for the championships of their respective conferences -- if they reach their ceilings, they might find themselves on the bubble on Selection Sunday. Although there's limited star power in this tournament, the parity could add to the competition. With so many potential bubble teams in the field, a 2K Sports Classic title could be a separating factor for the selection committee in four months.
The basics
: Nov. 15-16 at Madison Square Garden in New York
The set matchups
: Alabama vs. Oregon State, 7 p.m. ET; Villanova vs. Purdue, 9:30 p.m. (Both games on ESPN2)
[+] Enlarge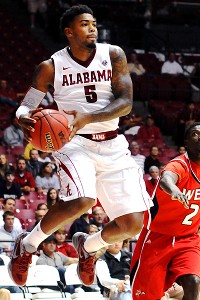 Kelly Lambert/US PresswireGuard Trevor Lacey has averaged 19 points in two games for the 2K Sports Classic favorite.
The favorite
: Last season, Alabama reached the NCAA tournament for the first time since 2006. But JaMychal Green and Tony Mitchell, who averaged more than 27 points combined, are gone. Still, Anthony Grant has a team that can compete for a slot in the NCAA tournament.
Trevor Lacey
,
Rodney Cooper
,
Andrew Steele
and
Trevor Releford
comprise the field's most talented core. They also have experience that some of the other participants lack. Those features should propel Alabama to a pair of victories and the tournament title.
FIVE PLAYERS TO WATCH
Trevor Lacey, Alabama
-- The 6-foot-3 guard scored 15 points in Bama's season-opening victory over South Dakota State. He dropped 23 on West Alabama. Grant needed a new playmaker following the departures of Green and Mitchell. And Lacey looks like the player who will fill that role for the Tide in 2012-13.
Ronnie Johnson, Purdue
-- Matt Painter uses three Johnsons (
Terone
, Ronnie and
Anthony
) in his rotation. And they're all significant. Freshman Ronnie Johnson (the younger brother of junior Terone; Anthony Johnson is no relation) is the new starting point guard for this young Boilermakers squad. And he has been impressive in his debut. After two games, he's averaging 10.5 points, 6.0 rebounds and 4.5 assists.
Ryan Arcidiacono, Villanova
-- The freshman guard has averaged 18.0 points and 5.0 assists through two games, both wins, for Villanova. Arcidiacono, ranked 46th on ESPN Recruiting Nation's list of the top 100 prospects in the 2012 class, steps into a key role in the backcourt just months after talented guards Maalik Wayns and Dominic Cheek left the program to turn pro. It's early, but Arcidiacono's start has been a promising one.
Ahmad Starks, Oregon State
-- Craig Robinson's program lost its best player when Jared Cunningham left school early. But Starks could be the catalyst Robinson needs to produce one of the Pac-12's best offensive units again. Starks scored 33 points in a win over New Mexico State, and he recorded 18 points in a season-opening victory over Niagara.
Devonta Pollard, Alabama
-- Pollard was the gem of Grant's 2012 recruiting class (28th in Recruiting Nation's top 100). The 6-7 forward has had his moments early. This tournament -- and the venue -- could bring out the best in Pollard. He received a flurry of high praise during the recruitment process. Expectations are high, even though he has struggled early.
FIVE BIG QUESTIONS
Can Alabama get back to the NCAA tournament?
This tournament will be a good barometer for Grant's program. Alabama has the talent to win it -- and really, it should. If it doesn't secure the tournament championship, then any doubts about the Crimson Tide's potential to return to the NCAA tourney will be validated.
How will Oregon State survive without Jared Cunningham?
Cunningham was the 24th pick in the 2012 NBA draft. Losing a first-round pick would hurt any program. But even with Cunningham, Oregon State finished 7-11 in the Pac-12. The Beavers have regrouped and rebuilt. So any early success would give the program a confidence boost.
Which team took the biggest offseason hit?
Every team in this field shares a similar burden: They all lost a significant player(s) from last season's squad. Villanova (Wayns and Cheek), Alabama (Mitchell and Green), Purdue (Robbie Hummel) and Oregon State (Cunningham) enter 2012-13 without their stars from a year ago. Within that group, the Boilermakers will have the most difficult time replacing the production and leadership of Hummel. But they've all been forced to overcome personnel hits.
Is Villanova underrated?
Nova is coming off a 5-13 finish in the Big East. And they lost their two best players in the offseason. But the early production from Arcidiacono suggests that the Wildcats could outperform preseason projections that placed them at the bottom of the league.
Can Purdue compete in the Big Ten?
The Boilermakers are in that second tier of teams in the Big Ten. It's a mixed bag -- Northwestern, Illinois, Purdue, Minnesota, Wisconsin and Iowa -- that features a multitude of possibilities. With so much depth, a young Boilers squad will have its hands full in league play. And that's why its nonconference slate is so important. Painter's youngsters need to prove to themselves that they can compete against high-level opponents.
THE PICKS
Semifinals:
Alabama over Oregon State; Villanova over Purdue
Championship game:
Alabama over Villanova
March, 16, 2012
3/16/12
3:59
PM ET
GREENSBORO, N.C. -- Breaking down No. 8 seed Creighton's
58-57
victory over No. 9 Alabama at Greensboro Coliseum on Friday:


Overview:
The Bluejays rallied from an 11-point deficit in the second half and then survived the Crimson Tide's furious rally in the closing seconds to get their first win in the NCAA tournament since 2002.
Creighton had a chance to put the game away in the final minute, but the Bluejays went 1-for-5 on foul shots in the final 33 seconds. Alabama made it 58-57 on guard
Andrew Steele
's layup with 18.4 seconds to go, and then Creighton guard
Josh Jones
missed two foul shots with 8.7 seconds left.
Alabama set up for a last-second play with 4.7 seconds remaining, but then Tide coach Anthony Grant called timeout just after the ball was inbounded. With 2.4 seconds to go, Tide guard
Trevor Releford
fired a 3-pointer from the top of the key, but Jones partially blocked it at the buzzer.
Turning point:
After trailing for the last five minutes of the first half and most of the second, the Bluejays made their move with less than nine minutes to go. With the Crimson Tide holding a 48-41 lead, Creighton guard
Grant Gibbs
threw an inbounds pass off the back of Alabama forward
JaMychal Green
and scored on a layup to make it 48-43 with 8:43 left. The Bluejays got back-to-back 3-pointers from
Ethan Wragge
and Jones to take a 51-50 lead with 5:39 remaining.
Key player:
Creighton's
Doug McDermott
came into the game as the country's third-leading scorer with 23.2 points per game. He had to work for everything against Alabama, scoring 16 points on 6-for-12 shooting with nine rebounds and one blocked shot. His layup put the Bluejays ahead 54-50 with 3:44 remaining.
Key stat:
The Bluejays had 14 assists (on 22 shots) with only seven turnovers. Creighton never really allowed Alabama's full-court press to become much of a factor in the game.
Miscellaneous:
Green finished with 12 points and six rebounds in his final game at Alabama. ... Gibbs had 10 points with six rebounds and four assists. ... Creighton outscored Bama 26-18 in the paint and outscored its bench 18-6. ... Creighton's last win in the NCAA tournament came on March 15, 2002, when Terrell Taylor hit a 3-pointer with 0.2 seconds left in double overtime to defeat No. 5 seed Florida 83-82 in Chicago.
What's next:
Creighton will play the winner of top-seeded North Carolina and No. 16 Vermont on Sunday.
March, 8, 2012
3/08/12
5:52
PM ET
NEW ORLEANS -- Of Alabama's seven conference losses, the unquestionable lowlight had to be a 56-54 upset at the hands of last-place South Carolina. The Crimson Tide got revenge for that January setback on Thursday at the SEC tournament, but Thursday's
63-57 win
didn't come without a fight. The win offset a disappointing nine-point loss to Ole Miss to close the regular season, but a dogfight with the conference's worst team doesn't exactly inspire confidence. The Gamecocks' season comes to a merciful close after they endured three separate SEC losing streaks of four, five and six games, respectively.


Alabama appeared to be cruising when the game went to halftime. The Tide led by 11 and had the statistical edge in nearly every category, particularly a team shooting percentage of 52. But by riding their 3-point shooting, the Gamecocks surged back into contention. Alabama pushed the lead to as much as 10 points in the second half, but South Carolina connected on 8 of 24 3-pointers to keep things close.
The Gamecocks made a run at the lead with 7:30 remaining, when
Brenton Williams
sank consecutive 3-pointers, tying the score at 51.
Turning point:
The teams battled down the stretch, with Alabama's lead hovering at four points or fewer throughout the final six minutes. A beautiful layup from
Bruce Ellington
, who broke Bama's hearts in the teams' first meeting, cut the lead to two points with just more than a minute remaining. With the game entering its final minute, the Tide's
Andrew Steele
found
Trevor Lacey
at the top of the arc. Lacey picked quite a time to hit Alabama's only 3-pointer of the afternoon, as he connected to give the Tide a five-point lead with 45 seconds left.
Key player:
Lacey saw the court for only 17 minutes against the Gamecocks, but that was all the time he needed to lead all scorers with 15 points. The freshman found most of his production in the lane, as he cut through the South Carolina defense for three baskets, and worked his way to the free throw line six times. But when the Crimson Tide needed a basket, Lacey delivered from outside with his clinching 3-pointer.
Key stat:
82.8. The Crimson Tide took a whopping 29 trips to the free throw line against the Gamecocks, connecting on 24. South Carolina had a measly six attempts.
Miscellaneous:
JaMychal Green
showed why Alabama struggled so much during his four-game absence in February as a result of a suspension. Green played 33 minutes for the Crimson Tide and finished with 12 points, 7 boards and 2 blocks. Green's thunderous block on
R.J. Slawson
at the 12-minute mark of the second half was perhaps the highlight of the game until Lacey's big shot.
What's next:
Alabama has a rematch with No. 4 seed Florida at 2:30 p.m. The Gators downed the Tide 61-52 on Valentine's Day -- although Alabama was missing Green at the time. South Carolina concludes its season with a 10-21 record. The only question remaining for the Gamecocks is whether coach Darrin Horn will keep his job.
February, 13, 2012
2/13/12
5:00
AM ET
1. Alabama coach Anthony Grant will ultimately be judged on wins and losses during his tenure in Tuscaloosa. But he will sleep well at night knowing he is running his program the right way. His decision to
indefinitely suspend four players
--
Andrew Steele
,
Trevor Releford
,
JaMychal Green
and
Tony Mitchell
--should earn him plenty of praise. Grant won't put character behind the quest for wins and an NCAA tournament berth. Mitchell was already suspended while the other three were driven back to Alabama from Baton Rouge for a violation of team rules that occurred prior to the trip. The Tide lost handily to LSU and host Florida on Tuesday. The four players' status is unknown as of Sunday. The NCAA tournament selection committee won't give Bama credit for losing games without suspended players. But the Tide administration should.
2. Maryland's
Terrell Stoglin
has been an elite scorer this season. But Saturday against Duke, he wasn't pleased with the way his 30 minutes were dispersed and the time he spent on the bench. So he tweeted after the game: "Loved sitting that bench today. Smfh wow.'' Maryland coach Mark Turgeon said he would handle the matter internally and that Stoglin was frustrated. He could also add that Stoglin is a bit immature. And that's OK. He's in college. But Stoglin doesn't need to tweet every thought he has and potentially disrupt the team concept when the Terps are trying to survive the season with depleted numbers.
3. The Colonial Athletic Association didn't distinguish itself in the nonconference, and that's a shame. The top three CAA teams are playing as well as they have at any point in the season and are headed for a fantastic league finish. Drexel (13 in a row), VCU (11 straight) and George Mason (won nine of 10) are all tied at 13-2 with three games remaining in the conference season. But it's hard to see how any of them would get an at-large berth. Still, VCU, or Drexel, especially, could be a dicey opponent in the first or second round of the NCAA tournament.
January, 3, 2012
1/03/12
5:00
AM ET
1.
Cincinnati Bearcats
coach Mick Cronin said Monday suspended players
Yancy Gates
,
Cheikh Mbodj
and
Octavius Ellis
are all in good standing and ready to play Wednesday night against Notre Dame. The three were suspended six games for their role in the Dec. 10 brawl with Xavier. The Bearcats won all six games, including Sunday night at Pitt. The toughest decision for Cronin will be how he integrates the bigs into a team that has meshed quite well by going small.
2. The
Alabama Crimson Tide
's announcement that junior guard Andrew Steele was immediately cleared to play was a stunner. I spoke with the family in June when concussion symptoms forced him to retire from the game. He and his family had accepted that he was done playing for the sake of his long-term health. But Steele had been serving as a student assistant and slowly worked with the scout team and has been nothing but a positive for the Tide. Coach Anthony Grant said in a news conference Tuesday Steele can be productive.
3. The
Virginia Cavaliers
showed tremendous poise in holding off the
LSU Tigers
in Baton Rouge Monday night. The rest of the ACC should congratulate the Cavaliers. Outside of
North Carolina Tar Heels
and
Duke Blue Devils
, ACC teams have done nothing to shout about in non-conference play. Having UVA ranked, with one loss and wins over the
Michigan Wolverines
and at LSU gives the league hope for three bids in March. If a fourth team wins the tournament then the ACC can land four.