College Basketball Nation:

Angelo Caloiaro
May, 9, 2011
5/09/11
7:32
PM ET
By
Diamond Leung
| ESPN.com
SAN FRANCISCO -- Less than 30 minutes before the news conference introducing his new boss, San Francisco coach Rex Walters was in need of a nice pair of pants. He emerged from his office wearing shorts, hopped into his SUV and made the quick drive home for a wardrobe change -- all the while conducting an interview.
A man on the go with five children to raise and a basketball team on the rise, Walters arrived back at War Memorial Gym in time to see San Francisco take another step toward transformation after years of stagnancy. Incoming athletic director Scott Sidwell invoked the national championship legacy of Bill Russell and K.C. Jones before declaring his vision for bringing back the school to national prominence.
[+] Enlarge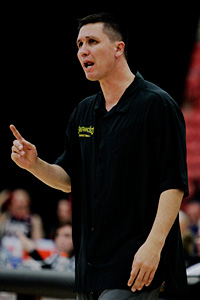 AP Photo/Keith ShimadaUSF coach Rex Walters welcomed in a new athletic director on Monday.
That won't come easy, but Walters has already done some of the heavy lifting after leading the Dons to a 19-15 record this past season, which marked only their fourth 19-win season since 1982. San Francisco went to a postseason tournament for the first time since 2005. Things are going well enough that Walters spent time during the offseason assuring players and their parents he wasn't leaving for another job that might offer more resources.
"I'm not interested in that," said Walters, adding that no schools had actually contracted him or his agent. "I'm not. I'm not motivated by money. I'm motivated by competing for championships and winning championships."
Gonzaga is the 11-time defending champ in the West Coast Conference, and with Saint Mary's reaching the Sweet 16 in 2010 and the league adding perennial power BYU next season, other programs will have to step up in order to compete.
New leadership at San Francisco is a start. It marks a break from the era when previous athletic director Debra Gore-Mann awkwardly fired Jessie Evans and made the controversial midseason hire of Eddie Sutton, who collected his 800th career win as the program was headed toward a 10-win season.
Walters replaced Sutton and won only 11 games in his first year, but his teams have gradually improved. Gore-Mann resigned in September -- three months after the NCAA placed the school on two years of probation for various infractions -- and her departure paved the way for the school to hire Sidwell.
Sidwell, previously a top administrator at Syracuse, who has received praise from coach Jim Boeheim for his fundraising work on the practice facility named after Carmelo Anthony, said at the news conference he would work with Walters to enhance his budget and the program's facilities. To do that, he'll have to fundraise his fanny off with the help of donors, season ticket holders and corporate sponsors whose support might have previously waned.
"Fundraising has been severely lacking," said Walters, who served on the search committee that selected Sidwell. "That's not a negative about Debi or the people in the past. There was such instability.
"We want the alumni back."
Walters -- like Sidwell -- brings a power conference mentality to San Francisco and is counting on next season's team to make another jump. The former Kansas star is now 41 and has developed into such a passionate coach that he recently picked up a technical foul coaching his young daughter's team. He's also sold the program to recruits and willed his players to the point where they can dream about going to the NCAA tournament for the first time since 1998.
The Dons return all five starters including top scorer
Michael Williams
, leading rebounder
Angelo Caloiaro
and one of the league's best big men in
Perris Blackwell
-- all underrated recruits coming out of high school who Walters said had chips on their shoulders. The team lost two rotation members in senior
Moustapha Diarra
and
Marko Petrovic
, but is expected to get freshmen
Dominique O'Connor
and
Charles Standifer
back from injuries.
"We feel like we have a chance to be pretty good," Walters said.
Sidwell, the son of a former NFL coach and an ex-baseball coach himself, likes what he sees in San Francisco and wants it to be known that change will come soon.
"To our student-athletes, this is our time," he said. "This is our time to take you to the next level."
January, 23, 2011
1/23/11
1:35
AM ET
By
Diamond Leung
| ESPN.com
SAN FRANCISCO -- San Francisco upset Gonzaga at home in overtime for the second straight year, but Dons coach Rex Walters noticed this time the celebration was different.
This year when the students came running onto the court after the
96-91 win
, he didn't need to pull his celebrating players into the handshake line.
"All of our guys were in line," said Walters, whose program hasn't reached the NCAA tournament since 1998. "That was great for me to see, that we expected to win this game."
The Dons won the battle for second place in the West Coast Conference, and perhaps their confidence in their ability to beat the Zags was the worst sign for the 10-time defending WCC regular-season champions.
Both of Gonzaga's games in Northern California this week ended in court stormings and career nights for the opponents. The Zags two days earlier saw Santa Clara's
Kevin Foster
torch them for 36 points, and all five opposing starters once again scored in double-figures as USF freshman
Cody Doolin
had 23 points, including the go-ahead 3-point play in overtime on Saturday.
For the first time since 2000, Gonzaga lost consecutive conference games. That was Mark Few's first season as head coach and the last time the Zags didn't win the WCC. Still, he's not ready to push the panic button just yet after the team's seventh loss of the season dropped it into a third-place tie.
"I told them, 'It's early in the league season,'" Few said. "We still control our own destiny. We can hang our heads after the last game of the season."
Funny things happen on the road, and one particularly critical ruling left Few frustrated. With 24.5 seconds left in regulation,
Robert Sacre
corralled a rebound with the Zags leading 81-80 but was whistled for an intentional foul while swinging his elbows to protect the ball and hitting
Angelo Caloiaro
in the face.
"I feel good," mused Caloiaro, who hit two free throws to give the Dons the lead and also possession of the ball. "Best elbow I've taken in a while."
Said Few: "I don't know what the rebounder's supposed to do. I don't know what to coach the rebounder on."
The Zags eventually sent the game into overtime on
Demetri Goodson
's 3-pointer. But 12 missed free throws -- including six in overtime -- ultimately cost them, and Doolin hit the game-winner on a drive in the lane with 4.1 seconds left.
Gonzaga now trails Saint Mary's by two games in the standings heading into its Thursday showdown in Spokane.
USF, meanwhile, has won six of seven and is off to its best conference start (4-1) since 1982. Walters' third year hasn't been without challenges, but when point guard
Dominique O'Connor
was lost for the season with a torn anterior cruciate ligament,
Michael Williams
stepped into the lineup and has led the team in scoring while Doolin continues to improve.
Also a positive sign for the 10-10 Dons?
"We beat a good team not playing our best," Walters said.