College Basketball Nation:

Angelo Johnson
February, 19, 2012
2/19/12
12:16
AM ET
MURRAY, Ky. -- Sweat beads still dotted
Isaiah Canaan
's forehead Saturday when someone asked the nation's best point guard a simple question: What message did Murray State send to the rest of the country by whipping 16th-ranked Saint Mary's on national television?
Canaan smirked.
Message? To him, the Racers'
65-51 victory
was more like a warning.
"Watch out," Canaan said. "Whether it's Duke or North Carolina or whoever, we're going to compete."
Not far away, in the CFSB Center stands, a gaggle of fans shouted for Canaan and began a "Final Four!" chant. No one rolled their eyes. Just three weeks before Selection Sunday, maybe it's time to begin thinking of the No. 14 Racers in that vein.
Murray State in New Orleans sounds cuckoo, right? Well, so did the thought of Butler and VCU in last year's Final Four, but both of those squads made it -- and neither had a player as good as Canaan, a first-team All-America candidate who entered Saturday's game averaging 19.2 points.
At 26-1, the Racers have the best record in the country. Everyone knows who to thank.
"Isaiah is a game-changer," Texas A&M coach Billy Kennedy said. "All of their players are good, but he's different. He gives them the chance to do something special."
Kennedy would know. Prior to taking over in College Station in May, Kennedy spent five seasons at Murray State and helped convince Canaan to become a Racer. Not that he had much competition.
A native of Biloxi, Miss., Canaan wasn't heavily recruited by the big programs in his home state. Ole Miss had Chris Warren,
Dee Bost
was beginning to blossom at Mississippi State and
Angelo Johnson
had just transferred from USC to Southern Miss.
"A lot of people slept on me," Canaan said. "That fueled my fire."
Of course, most schools might not have known about Canaan anyway, considering he played off the ball for his AAU team, which featured future Arkansas point guard
Julysses Nobles
. His chances to shine as a 17- and 18-year-old were few.
Still, when Kennedy saw Canaan play in a high school all-star game, he was sold.
"That's the guy we want," he said to assistant Steve Prohm, who is now Murray State's head coach. "That's the guy we need."
Canaan chose the Racers over Arkansas State and Tulane, but his rise to stardom didn't exactly occur at warp speed. He spent his first two seasons coming off the bench in place of starters B.J. Jenkins and Isaac Miles. Kennedy said it was clear that Canaan was the Racers' most talented player, but he wanted him to become their hardest worker, too.
[+] Enlarge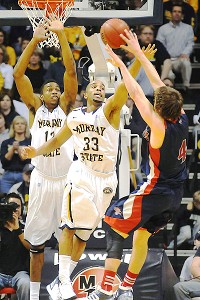 AP Photo/The Paducah Sun, John WrightMatthew Dellavedova's 17 points weren't enough against Jewuan Long and Murray State.
"A lot of guys at that level want [success] to happen right away," Kennedy said during a phone interview after Saturday's game. "People were in his ear saying, 'Why aren't you starting?' or 'Why don't you transfer?' But he chose to stick it out. He paid his dues.
"Everything that's happening for him now, he's earned it."
Most teams that catch fire in March do so because of a star, a player who can take over and win a game by himself when others begin to flounder. Connecticut rode Kemba Walker to 11 consecutive victories and an NCAA title last season. Butler's unlikely run to the 2010 national championship game happened largely because of eventual first-round draft pick Gordon Hayward.
Canaan has the potential to do the same kind of thing for Murray State. Saint Mary's learned that firsthand on Saturday, when Canaan blew open a semi-close game by scoring 17 of his 23 points in the second half. One minute he was swishing 3-pointers from 4 feet beyond the arc, the next he was throwing half-court alley-oop passes to a teammate for a dunk.
In a relatively weak year for point guards, Canaan has arguably been the nation's best at his position. The only question about his future as a pro is his height. Canaan is listed at 6-foot but is probably an inch or two shorter.
Not that it's mattered this season.
"He wanted to give me the ball one time," forward
Ed Daniel
said, "but I told him, 'No, you go ahead. You've been doing your thing. Keep going.'"
Indeed, the more confidence the Racers develop in Canaan, the more dangerous they become.
"They're a special team," Saint Mary's coach Randy Bennett said.
Murray State fans have known that all season. After Saturday's national broadcast -- Dick Vitale was on hand to call the game for ESPN -- the rest of the country does, too.
"We've got a lot of basketball still to play," said Prohm, clutching the microphone as he stood at midcourt and addressed the sellout crowd. "But I think we showed the national audience today how good we can be."
Moments later, to commemorate the Ohio Valley Conference title they won earlier in the week, each Racer climbed atop a ladder and took a celebratory snip of the CFSB net. No player received a louder ovation than Canaan.
"All the teams that slept on me, I'm sure they're regretting it," Canaan said. "But I've never regretted for a day coming here. They've accepted me like this was my home away from home. I'm trying to give back the best way I can."
Canaan approached a group of young kids who had been waiting patiently for his autograph. Before he began to sign, Canaan draped the net around his neck, clearly proud of his first championship of the season.
And maybe, just maybe, not his last.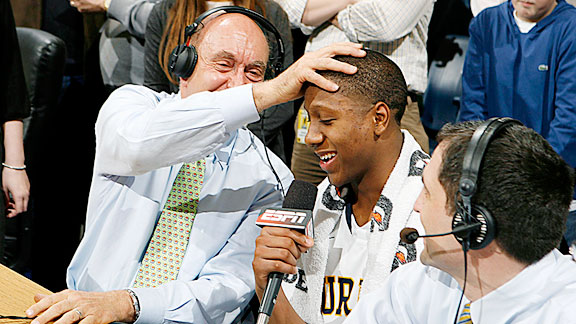 Brian Spurlock/US PresswireIsaiah Canaan gets some love from ESPN's Dick Vitale following Murray State's BracketBusters romp.
February, 7, 2012
2/07/12
11:20
AM ET
For Southern Miss, the electric atmosphere and big win was new.
Success doesn't show its head frequently on the basketball courts in Hatttiesburg, Miss., where the Golden Eagles have endured a 20-year NCAA tournament drought.
[+] Enlarge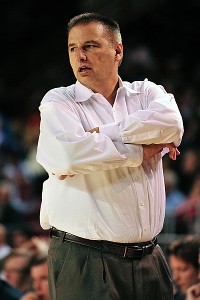 Andrew B. Fielding/US PresswireSouthern Mississippi head coach Larry Eustachy has the Golden Eagles in contention for a spot in the NCAA tournament.
But amid the din of celebration during Southern Miss' huge win against conference rival Memphis, one man knew the feeling well.
Larry Eustachy has tasted the best and worst of sports fame, from the top of the heap with an Elite Eight berth, to the bottom of the barrel of disgrace and embarrassment.
Once a hot young coach who had turned Idaho, Utah State and Iowa State into winners, he was ousted amid scandal, forced to face his own personal demons of alcoholism.
Eight years ago, a rehabilitated Eustachy landed at Southern Miss, a program with little in the basketball history books and not much of a future.
Coach and program healed together, building from the ashes to something not only good, but strong.
On Wednesday night, the Golden Eagles officially announced their arrival in Conference USA, ending an 18-game losing streak to Memphis and claiming first place in the league standings.
At 20-3 and receiving nine votes in this week's top 25 poll, the Golden Eagles are poised to vie for their first NCAA tournament bid since 1991.
ESPN.com caught up with Eustachy on Super Bowl Sunday, and the coach was hoping for a Giants win.
"I'm friend with Archie Manning, so that should tell you who I'm rooting for,'' Eustachy said.
Q: What's the difference with your team this year?
Larry Eustachy:
This is the most talented and deepest team we've had here, so when we have to put someone else in, we can still find the right combination. We've added some big pieces, notably
Neil Watson
(a junior college transfer). He's the truest point guard we've had since we've been here. It's like adding a great quarterback. It also means we were able to move
Angelo Johnson
back to his natural position, at shooting guard.
They've been terrific. I think the atmosphere with Memphis affected us a little early. For Memphis, that's what they see every day. We were a little tight.
But the good news, my staff has been through this every step of the way with me. We've been in other situations like this. This isn't our first rodeo trying to keep a team centered.
Of course, we could tell them the exactly right thing and they could do it the exact right way and it may not work out. We think we have the formula. We just have to finish it off.
Q: What would it mean to put this team in the NCAA tournament?
LE:
It would mean everything. I don't think anyone has any idea just what this program was eight years ago, at least not many outsiders.
For three years, our locker rooms, offices all of that [was] in a trailer. You'd bring in a recruit and he'd be in a trailer. People really don't understand where we started from to where we are now, so it would really mean a lot.
(An NCAA bid) has only happened twice in the history of this school. It would be monumental. We've got some kids who have been in that trailer. They know where we started from.
Q: So a trailer? Really?
LE:
We knocked our offices down to add a beautiful new facility and then Katrina hit, so construction was backed up for maybe three years, so we were in a trailer. It's not like it was some state-of-the-art trailer, either. It had to be at least 20 years old, falling apart, with the hitch in the front.
As a coach, it's not a real comfortable feeling when you're office has a trailer hitch. They could just pull you off campus, hook you up and bring someone else in.
The tornado alarms would go off. A trailer is not the place you want to be when you think a tornado is coming.
But I'll tell you what. It's been enjoyable. It hasn't been frustrating in the least. The administration has been very patient. The fan base has been very patient. It's been fun.
Q: Could you have appreciated this earlier in your career?
LE:
No way. Back in the old days, you're constantly trying to get the next job to get out of there. You're trying to maneuver, figure out what you need to do to move on.
Well I've done all that. I had all the bells and whistles.
We didn't shortcut this. There weren't any shortcuts to take.
It's been neat to see what we've been able to turn this into. To say this isn't a basketball rich area is an understatement. This is all football everywhere you go in the South -- Ole Miss, LSU, Auburn, Alabama.
I mean, name the rich Southern basketball traditions. There aren't any.
So this is really a rare deal, to get the sort of crowd and environment we had against Memphis, that we've really had all season.
Q: Do you feel like you've rebuilt yourself as you've rebuilt Southern Miss?
LE:
I never thought about it that way, but it's a great comparison. When I came here, I had never felt better about my life mentally or spiritually. So obviously I had a different level of energy.
I don't think what happened at Iowa State happened by accident. I don't think this job -- understand there were other opportunities -- happened by accident. For some reason, I chose Southern Miss.
We really have paralleled each other.
December, 21, 2011
12/21/11
5:00
AM ET
1. Southern Miss coach Larry Eustachy boasted that he has his best team yet with the 9-2 Golden Eagles. It's still hard to project if that is true. But adding Kentucky transfer guard
Darnell Dodson
in the past week will certainly help, especially when Dodson goes for 17 points while
Angelo Johnson
went 1 for 12 in a punch-marred (
Torye Pelham
and ASU's
Ruslan Pateev
were ejected for fighting) last-second win for the Eagles at Arizona State. Dodson hit the winning 3-pointer in the final possession. Eustachy said there was no way he could have predicted Dodson would be that productive since had practiced just two days in the last 10 months. "It was unbelievable,'' Eustachy said.
2. LSU (8-3) is not a fluke. The Tigers were the better team in Baton Rouge, at least for one night, against potential Big East champion Marquette. "They are a very good defensive team and they have four quality big guys and if their guards are making shots they can beat a lot of teams,'' said Marquette associate head coach Tony Benford. "They are very physical and they do a great job on the offensive glass.'' Remember, Trent Johnson didn't have the same talent after his first year in Baton Rouge. He didn't forget how to coach at LSU after being a success at Nevada and Stanford. LSU's next big challenge is hosting Virginia on Jan. 2.
3. The decision by Miami to let
DeQuan Jones
play should help clear former Miami coach and current Missouri coach Frank Haith of any knowledge of wrongdoing. Haith has denied knowing about any alleged payments to a Jones rep by former Miami booster Nevin Shapiro -- allegations that were published in a Yahoo! Sports report. Jones was initially held out by the school during the NCAA and Miami investigation as a result of the report. Jones being cleared to play doesn't mean the investigation is over since the football and basketball cases are being folded into one. But if Jones is cleared to play without any fear that Miami would have to forfeit games, that could mean the case could be soft against him. No one at Missouri has been worried that there is any reason to believe Haith will suffer a penalty based on the investigation, according to a source.