College Basketball Nation:

Anthony Jones
March, 24, 2012
3/24/12
8:39
PM ET
ATLANTA -- A look at Sunday's Elite Eight matchup between No. 1 Kentucky and No. 3 Baylor for the South Regional championship:
The marquee matchup
Anthony Davis vs. Perry Jones III:
The last time Davis had to face a player with similar length, North Carolina was at Rupp Arena. Perry Jones III might not be strictly on Davis, but he'll likely take a turn. The Bears also may use the brute strength of
Quincy Acy
to get under Davis' skin at times.
"I always look forward to a challenge and I think Baylor brings a challenge,'' Davis said. "They attack the rim. They're very athletic and they can dunk the ball and finish above the rim. I'm looking forward to the challenge and hopefully we will prevail.''
Kentucky coach John Calipari interrupted Davis and said, "Without fouling. Just don't foul.''
"No fouling,'' Davis said.
Jones didn't take the bait when asked about an individual matchup.
"I'm looking forward to playing team basketball,'' Jones said. "I don't want to feed into that because we haven't fed into that all year, and we've been successful. Last thing I want to do is feed into that, trying to go one-on-one the whole game and not play team basketball, because our team will lose.''
The impressive stat
Kentucky:
The Wildcats scored 102 points and had just six turnovers in their 12-point victory over Indiana in the Sweet 16. Calipari said he was extremely impressed with the Wildcats' composure. And his trust in
Marquis Teague
to lead this team has increased daily.
Baylor:
Kentucky made 35 of 37 free throws against Indiana. Baylor didn't create as much contact against Xavier, but the Bears did make their free throws. Baylor was 12-of-14, and if you're looking for an advantage for Kentucky, check elsewhere. Baylor can make the late-game free throws to win a close game.
The shooters
Brady Heslip, Baylor:
Heslip made nine 3s in a win over Colorado. He made of only 1 of 3 in the win over Xavier, but he cannot be left alone. He has made 15 3s in three games so far. If he can make his NCAA tournament average of five, the Bears should be in this game throughout.
Doron Lamb, Kentucky:
Lamb can be the difference-maker for the Wildcats. He made his only 3-point attempt against Indiana, but in the previous round against Iowa State, Lamb converted 5 of 7. Lamb has had the ability to break out with huge games throughout his brief career. Like Heslip, he cannot be left alone.
The heart and soul
[+] Enlarge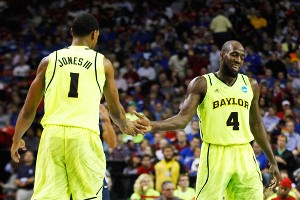 Streeter Lecka/Getty ImagesQuincy Acy, right, has been a dunking machine for Baylor; Perry Jones II has been an enigma.
Michael Kidd-Gilchrist, Kentucky:
No one plays harder for Kentucky. Kidd-Gilchrist continues to show he's a must on the floor. Calipari loves coaching him and with good reason. He never has to get on him for effort. Kidd-Gilchrist will have a hard time against Baylor's length, and
Quincy Miller
or
Anthony Jones
could be guarding him at times. Still, he can power his way to the bucket and create contact and fouls.
Quincy Acy, Baylor:
The Bears have tremendous length but don't always use it to their advantage -- except for Acy. He has no problem getting on the low post and being a force. His dunks, especially off an inbounds against Xavier, were as impressive as you'll see this season.
The playmakers
Kentucky's Teague vs. Baylor's Pierre Jackson:
Both are playing their first year of Division I basketball, but Jackson is a junior college transfer and two years older.
Each runs a steady game and has the trust of his respective coach.
This should be an even matchup. Neither will take too many chances and both can easily create points off turnovers.
The glue guys
Kentucky's Darius Miller and Baylor's Quincy Miller:
Darius Miller scored 19 points off the bench against Indiana. He has the most experience of any Kentucky player. He can get to the rim and make 3s. If Kentucky wins, it's probably because Miller had a solid outing. Quincy Miller has tremendous talent as well but doesn't maximize it often. He can disappear at times and needs to be more assertive. He has a shot in this game to match up with someone like Darius Miller or possibly
Terrence Jones
and draw even more attention to himself and away from Perry Jones III or Acy.
The mystery
Kentucky's Terrence Jones vs. Baylor's Anthony Jones:
Both players have loads of talent but must play within themselves. Kentucky's Jones can get to the backboard but has to make intelligent decisions on offense. And he has of late. Baylor's Jones has so much talent, can block shots and handle the ball. But he tends to shoot too much too soon. If he uses his length to his advantage, he can be a major factor in this game.
The coaches
Calipari:
He was brought to Kentucky to get to Final Fours and win a title. His teams have advanced to the Elite Eight the past three years and in six of the past seven -- an achievement matched only by Mike Krzyzewski and the late John Wooden, according to Kentucky. The pressure is on Calipari to deliver another Final Four.
Scott Drew, Baylor:
Drew has done wonders to resurrect this program and is in his second Elite Eight in three seasons. That alone is remarkable. He is playing with house money here. He has a Final Four team but is not expected to knock off Kentucky. A Final Four berth would certainly elevate Drew to another level among his peers.
March, 23, 2012
3/23/12
11:55
PM ET
ATLANTA -- Baylor had every right to be concerned this past offseason.
The Bears went from the Elite Eight to no postseason at all. After losing
Perry Jones III
for the Big 12 tournament, when he was deemed ineligible for extra benefits, Baylor didn't receive an NIT bid. Didn't even receive a CBI bid.
The Bears were shut out after an Elite Eight appearance. And it hurt.
"We were upset by the fact that we weren't even invited to the NIT,'' said Baylor senior forward
Anthony Jones
. "We didn't want our season to end the way it did last year.''
But if Baylor wanted to be taken seriously, the Bears had to follow through with a rebound season in 2011-12 or else there would be serious questions about if this program was a one-hit wonder.
"That was the beginning of this season,'' said Baylor coach Scott Drew of the postseason shutout. "We were devastated and disappointed. At the same time, that motivated us to all come back and finish what we knew we were capable of.''
Well, a year later, the Bears are back in the Elite Eight after a
75-70 victory over Xavier
, placing them in rare company of programs that will play in a regional final in two of the past three years. BU joins North Carolina, and perhaps Kentucky and Kansas later tonight.
And, for the second time in three seasons, there's a good chance the Bears could face the potential champion to get to the Final Four.
Two years ago, the Bears lost to eventual champion Duke in the Elite Eight in Houston. This season they'll likely have to get past Kentucky to get to New Orleans.
[+] Enlarge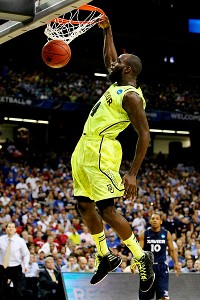 Kevin C. Cox/Getty ImagesQuincy Acy scored 20 points, grabbed 15 rebounds and had several impressive dunks against Xavier.
"Losing to Duke, and how close we were to winning a championship showed the team that we could compete for a national title,'' Drew said. "The reality was that we weren't that far from it.''
This group is a much more experienced team than even the Elite Eight team in 2010, and certainly more so than last season.
The Bears didn't have a point guard with as much playmaking and sturdiness as
Pierre Jackson
. They didn't have a sharp shooter like
Brady Heslip
.
And they didn't have a force like
Quincy Acy
. He was there, but he wasn't even close to the player he is now.
Acy was a dominant presence in spurts against Xavier on Friday. The Bears raced out to a 14-2 start and whenever the Bears wanted to re-assert themselves, Acy was there with a ferocious flush.
"Last year was our motivation,'' said Acy. "We worked harder than ever before in the preseason. We had high motivation. None of us wanted to go out like that. Perry didn't have a postseason.''
Jones III made the decision to come back despite having to sit the first five games of this season. Jones III has had his enigmatic moments, but he also has proven to be a tough matchup. A few lobs in the second half were difference-makers for the Bears.
"We started to get stops and threw a different defense at them,'' Acy said. "We still need to do a better job of holding leads. We still need to work on that.''
The Bears have the length and athleticism to beat Indiana and certainly to match up with Kentucky.
"This is crazy, to go from sophomore year to the Elite Eight, to junior year no postseason and then back to the Elite Eight with a chance to go to the Final Four, it's indescribable,''
Anthony Jones
said. "Senior leadership is the difference. Talent-wise, we're a much better team.
"A lot of people in the country want to see this matchup,'' Jones said of playing Kentucky. "We can take it up another level.''
Drew has often been criticized for his coaching, and some rival coaches love to make it seem like he pulled off a get-rich scheme to put Baylor on the map so soon after the scandal that rocked the university.
After another Elite Eight in such a brief period, Drew is starting to quiet all the dissenters.
Few coaches reach one Elite Eight. Now Drew has been to two.
"We've been blessed,'' Drew said. "I'll tell you how much after Sunday.''
March, 23, 2012
3/23/12
9:41
PM ET
ATLANTA -- A quick look at Baylor's
75-70 win over Xavier
in a Sweet 16 matchup at the Georgia Dome.
Overview:
If you had turned off the television or left the Georgia Dome five minutes into the game, you would have thought Baylor should just cut down the nets in New Orleans. The Bears had one of the more impressive starts in the NCAA tournament, getting off to a 14-2 lead to begin the game.


Baylor can look incredibly impressive when it's out in the open floor.
Quincy Acy
is a force when he can get to the basket, especially on a dunk.
Pierre Jackson
runs a fluid game, and
Brady Heslip
is one of the better complementary role players with his shooting in the field.
But the Bears don't put teams away. Xavier fought back by going inside to
Kenny Frease
and was within two scores a number of times in the second half. The Musketeers couldn't make enough 3s, and that ultimately might have been their undoing.
Baylor survived and advanced to the Elite Eight. Just think about that. Baylor is in its second Elite Eight in three seasons. Baylor. That should speak volumes about how far this program has come under Scott Drew.
Key player:
Quincy Acy. The Bears desperately need a physical force. They have tremendous length, but they don't always use that size and strength to their advantage. Acy was a man among boys at times Friday. His ferocious dunks should be made into freeze-frame posters to hand out at the Georgia Dome. Acy allowed the Bears to settle down when they got a little too wild, and finished with 15 rebounds and 20 points. If Acy continues to play this way, the Bears have a legitimate shot to hang with Kentucky and, perhaps, pull off an upset.
Key stat:
The Musketeers' 3-point shooting was a woeful 3-for-15.
Justin Martin
made two 3s in the game. If the Musketeers were going to come all the way back from a 14-2 deficit, they were going to need to make 3s. Xavier did a fine job of getting the ball inside to Frease during a 13-0 run late in the first half. But the scoring droughts from
Tu Holloway
in the second half didn't help. The Musketeers did get the lead down to six with a little more than a minute left -- on that second 3-pointer by Martin. Holloway hit his first 3-pointer of the game with just less than 20 seconds left to cut Baylor's lead to 71-68. Heslip then converted four free throws to help the Bears to a 75-70 final.
Turning point:
Perry Jones III
has been rather quiet throughout the NCAA tournament. But Jackson made sure he was assertive and helped snuff out a mini Xavier run that seemed to be turning momentum. Following an
Anthony Jones
3-pointer, Jones III received two lobs -- the first from Jackson -- and hit a face-up jumper, pushing the Bears to a nine-point lead. The Musketeers didn't go away quietly and had it down to five points. But Jones' assertiveness definitely helped shift momentum back to the Bears at a critical time.
What's next:
No. 3-seeded Baylor will take on No. 1-seeded Kentucky on Sunday at the Georgia Dome. This will be Baylor's second Elite Eight in three seasons. The Bears have Final Four potential. The problem is that they're in Kentucky's bracket. Put Baylor in the West bracket, and it's not close which team would be the favorite.
March, 22, 2012
3/22/12
10:30
PM ET
ATLANTA --
Perry Jones III
doesn't have to be dominant for Baylor to advance to the Elite Eight.
All he has to do is stay on the floor.
The 6-foot-11 Jones has been much-maligned this season. There are times when he looks like a top-10 NBA draft pick. There are other times when he's just another lanky, athletic big from Baylor.
But his presence is enough to warrant plenty of attention -- and that can end up meaning buckets inside for
Quincy Acy
or
Anthony Jones
, and certainly open 3s for
Brady Heslip
.
If Jones were playing hockey, he'd get plenty of assists from his passes that lead to the pass for the score.
Jones hasn't had a breakthrough scoring game since his 31 against Kansas State in the Big 12 tournament. The sophomore's numbers have dipped recently, and he has a combined nine points in the first two NCAA tournament games. But he did have 11 boards in a win over South Dakota State and four in the win over Colorado.
[+] Enlarge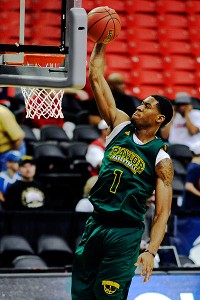 Richard Mackson/US PresswirePerry Jones III is showing that he doesn't have to score in bunches to be a factor for Baylor.
His offense wasn't needed in either game. But he did make the opposing teams pay attention.
"Sometimes my shot is not falling,'' Jones said Thursday in advance of Friday night's game against Xavier in the Sweet 16 at the Georgia Dome. "I shy away from keeping shooting the ball. Sometimes it's not my night. I mean, it doesn't bother me at all if we're winning the game. I feel like I help my team in other ways.''
Xavier will need to find Jones throughout the game Friday night.
"The best thing I can do is try to get the ball to whoever's hot in the game,'' Jones said. "If my shot's not falling, I'd rather go 1-for-7 than 1-for-20-something and then we lose. I just try to do something, just try to rebound, maybe get offensive rebounds, do whatever I can to help my team.''
Jones may have hurt his NBA draft stock a bit. But not much. You can't take away his length and athleticism. He still oozes potential. The goal in Atlanta is to ensure he's on the scouting report for the Musketeers.
And he will be.
"The best thing I can do is move forward and help our team break through for the next couple of games,'' Jones said.
If Baylor gets a chance to face Kentucky, Jones will need to be a factor against
Anthony Davis
and friends.
"You've got to have balance and that's the strength of our team,'' Baylor coach Scott Drew said. "We have unselfish players. Perry Jones wasn't making some shots the last two games that he normally does, but to his credit, a lot of times because of the help-side defense, he was making the hockey assist out, which led to baskets.
"Statistically, it doesn't show up, but at the end of the day, wins and losses are the most important thing. Without the front-line play, we definitely don't get two wins.''
Who to watch
Tu Holloway and Mark Lyons, Xavier:
The Xavier guards were the reason that some of us, notably me, picked the Musketeers to get to the Final Four in November.
The season has been a bit erratic, to say the least. But if this team advances, Holloway and Lyons will still be the reason. Holloway scored 21 points and made four 3s in the win over Lehigh in the third round. Lyons wasn't as productive, but he still made his presence felt.
Holloway was even more dominant in the win over Notre Dame. He scored 25 points and made an efficient 10 of 15 shots.
Brady Heslip, Baylor
: Heslip made nine 3s in the win over Colorado on Saturday. But the Musketeers are certainly going to defend him a bit tighter than the Buffs. Heslip still can deliver a dagger if he's open. The key will be to not play off him at any point.
"Any guy that can score 27 points in the NCAA tournament without dribbling, he's a really good player,'' Holloway said. "He's a great player. We have a lot of respect for not only him, but the Baylor team.''
"We have to make him take tough shots, because if he gets open, it's more than likely going to go down,'' Lyons said. "You've got to be ready to chase him.''
What to watch
Kenny Frease vs. the Baylor bigs:
Frease will have his hands full Friday night. The Xavier center has to stay out of foul trouble. He'll get some help from forward
Andre Walker
, but Frease must keep Perry Jones III, Quincy Acy and Anthony Jones off the offensive backboard.
If the Musketeers are going to have a chance to win, they must get second shots, too.
"We know the guards are going to be able to help us from the top, but we've got to take that responsibility on ourselves to try to contain [Jones] as much as possible,'' Frease said. "He'll pose a lot of problems for us, but it will depend on how we handle them.''
March, 18, 2012
3/18/12
1:39
AM ET
ALBUQUERQUE, N.M. --
Brady Heslip
was stocky, not exactly someone who looked like he was going to be an impact player when he arrived at Boston College in the middle of the season two years ago.
And his impact was minimal, since he had been stashed at New Hampton Prep (N.H.) for the fall semester before he joined the Eagles in December. Then the staff was fired. New Boston College coach Steve Donahue didn't see Heslip's potential, for whatever reason. Heslip said the two met, he wasn't in the plans and so he was out.
Former BC associate head coach Pat Duquette, who now has the same title at Northeastern, said he recruited Heslip out of Burlington, Ontario. Duquette said Heslip was "absolutely fearless, but physically more than you see. He had very long arms, which equaled a high release. And he had unusually big hands for a guard his size.''
Former BC head coach Al Skinner said by phone Saturday night that he liked Heslip's tough-minded approach.
"The thing about him was that he didn't hunt shots; he let the game come to him,'' Skinner said. "He executed well and was patient on the offensive end. He rarely takes a bad shot, and he had tremendous range.''
[+] Enlarge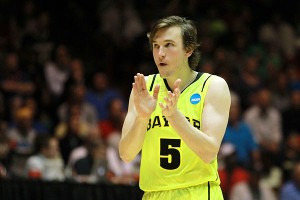 Ronald Martinez/Getty ImagesBrady Heslip hit nine 3-pointers on Saturday to help Baylor earn a school-record 29th win.
There was an AAU connection with his coach to the Baylor staff. He went on a visit to Waco, Texas, and was sold. Baylor coach Scott Drew said Heslip dropped 24 pounds. He was a gym rat. His teammates loved him. But little did they know what they were getting in return.
"I know how hard he's worked,'' Baylor's
Quincy Acy
said. "When he came in, we knew how good a shooter he was. Every time I went to the gym at night, I would see him in there sometimes twice a day. He works for it. I know whenever he gets hot, he can outshoot anybody.''
Heslip's impact Saturday night was epic for a Baylor program that is breaking barriers.
Heslip hit nine 3s for a career-high 27 points in Baylor's
80-63
victory over Colorado at the Pit, to propel the Bears to their second Sweet 16 appearance in three seasons. The two Sweet 16s are the only ones in the school's history. Drew is now 5-2 in the NCAA tournament, and the win Saturday gave the Bears a school-record 29 victories.
Heslip's nine 3s set a single-game NCAA tournament record for the Bears. How much of an impact is Heslip having on a team known for its up-tempo style, tremendous length, and headliners Acy,
Perry Jones III
and
Pierre Jackson
?
"Heslip was the difference,'' Colorado coach Tad Boyle said. "He was unconscious tonight.''
Heslip made six of his 3s in the first half, but the Bears were up only two. His three 3s in the second half helped open up the game. Sure, there were times when Acy and
Quincy Miller
as well as
Anthony Jones
were extremely difficult to stop inside. The 17 offensive rebounds kept possessions alive. The 24 defensive rebounds ended plenty of the Buffs' attempts.
But Heslip busted the game open.
"I'm just feeling great right now, first of all, because we won,'' Heslip said. "I'm just happy for my seniors.
"As for the shooting, Pierre does a great job of finding me when I'm open and finding me in transition. Acy sets great screens, and it was just one of those nights.''
Heslip was getting the ball in motion and was stroking it without any hesitation.
"If I'm in rhythm and feeling good shooting, it just makes it even easier,'' Heslip said.
Baylor was a major disappointment last season, following an Elite Eight appearance and the departure of point guard Tweety Carter with a flameout in the Big 12 tournament. Jones' ineligibility days before the tourney led to the Bears' missing the rest of the postseason.
The arrival of Jackson from junior college and Heslip's eligibility changed the backcourt for the Bears and the potential for this squad.
If you followed Baylor early in the season, you saw wins at BYU and Northwestern and over Mississippi State, Saint Mary's and West Virginia -- the latter three all on neutral courts. The Bears couldn't beat Missouri or Kansas in the regular season but knocked off the Jayhawks in the Big 12 tournament.
Now Baylor is the first Big 12 team in the Sweet 16. And if Purdue were to upset Kansas on Sunday, the Bears could be the only one. Even if the Jayhawks join them, the Bears are peaking at the right time.
And so is Heslip, an option that makes the Bears that much more formidable in a possible showdown with Kentucky in the South Region at Atlanta with a right to go to the Final Four.
"Brady will be the first to tell you that his teammates really got him open and got him the ball,'' Drew said. "That humility is what makes our team successful.''
March, 17, 2012
3/17/12
11:23
PM ET
ALBUQUERQUE, N.M. -- Reaction from Baylor's
80-63 win
over Colorado.
Overview:
Give Colorado plenty of credit, the Buffaloes were scrappy until the final few minutes. But they simply didn't have the overall talent to hang with Baylor, especially against the power game inside or the 3-point shooting from
Brady Heslip
and
Anthony Jones
. The Bears put on quite a display. They have the ability to turn it on as well as any team in the country, outside of Kentucky. If Baylor can play like this it should meet Kentucky in the Elite Eight Sunday in Atlanta.


Turning point:
There were many to choose from but I'm more inclined to go with a
Quincy Acy
spin-move slam that was as impressive as you'll see. That bucket gave the Bears a 61-58 advantage and set the tone for what would soon be a blowout. That bucket was the precursor to the 3s that Heslip started to drain, which opened up the game.
Key player:
Brady Heslip. He made nine 3s, two shy of The Pit record, set by the late Bobby Phills in 1990 when he played for Southern and one shy of a school record. It was also only two shy of the NCAA tournament record set by Loyola Marymount's Jeff Fryer against Michigan in 1990. Heslip missed only three. The Buffs tried to find him but couldn't contest. It was as good a performance as you'll see from beyond the 3-point line.
Key stat:
The 3s were noteworthy, but just as big a deal was the rebounding margin. The Bears dominated the backboard. Their defensive rebounding severely limited the Buffs' ability to get second-shot opportunities.
Miscellaneous:
Baylor went with the yellow highlighter uniforms. The Bears are 3-0 with them. Former Big 12 commissioner Kevin Weiberg flew in to represent the conference that he currently works in, the Pac-12. Odd that he was watching two former conference members tussle at The Pit. Baylor fans were chanting "Big 12 rejects" at Colorado when Baylor was up by 12. Not cool. The proper chant came later when the Bears fans were chanting "Big 12." That was enough.
What's next:
Baylor will play the winner of Lehigh-Xavier on Friday in Atlanta for the right to go to the Elite Eight and possibly take on South top seed Kentucky. The Bears have the makeup to challenge Kentucky better than anyone else in this bracket. The Bears also have a chance to get to the Elite Eight by facing only double-digit seeds if Lehigh were to upset Xavier.
January, 16, 2012
1/16/12
12:25
PM ET
LAWRENCE, Kan. -- Undefeated Baylor visits Allen Fieldhouse tonight to take on a Kansas team that has won seven straight Big 12 titles. It's No. 3 versus No. 7, and other than the Dec. 3 battle between North Carolina and Kentucky, I can't remember a more highly anticipated game this season.
Here are some quick thoughts on the matchup:
The old cliché says that buildings can't win games. I'm not sure that applies to Allen Fieldhouse, where Kansas has won 84 of its past 85 games. The Jayhawks are an excellent team without question. Their top-10 ranking is deserved. Still, when it comes to pure talent and depth, Baylor has a noticeable advantage. It might not matter in Lawrence. Think about that: 84 wins in 85 games. That's almost unfathomable. Tonight's crowd of 16,300 will be as loud as it's been all season. Baylor has won games at the Marriott Center (which seats 23,000) in Provo. And beating K-State in a raucous Bramlage Coliseum last week was no small feat. But neither of those environments compares to what Baylor will face tonight.

[+] Enlarge

Kevin Jairaj/US PresswireCoach Scott Drew has Baylor off to the best start in school history.

Speaking of Allen Fieldhouse, Bears coach Scott Drew hacked off Kansas' Bill Self two years ago when he pulled his team off the court during the playing of KU's pregame video. The video plays after the introduction of the opposing team's starting lineups but before Kansas' starters are introduced. The video is lengthy and deafening, and Drew said his players couldn't hear him as he tried to talk to them, so he pulled them into the tunnel. Self thought the move was disrespectful, which seemed petty. If anything, it was a brilliant decision by Drew.

The video, in my opinion, is one of the most impressive things I've seen at a college basketball game. Kansas' tradition-rich past is chronicled by clips of players such as Wilt Chamberlain, Paul Pierce, Kirk Hinrich, Brandon Rush and Mario Chalmers dunking and making big shots while thunderous music plays and the crowd screams. It's intimidating enough to rattle an opposing team, especially just minutes before tipoff. That's why I think Drew pulled his players off the court. And Baylor, it should be noted, threw a major scare into Kansas that night before losing 81-75. Still, don't count on the Bears pulling the same act again. "Definitely not," Drew told The Kansas City Star. "We wouldn't have done it if we thought it was going to offend people. That wasn't the intent of it."

This is far from Bill Self's best Kansas team, but as always, no one is questioning the Jayhawks' toughness. If they beat Baylor, it will be because of a defense that is again one of the best in America. Opponents are shooting just 36.6 percent against Kansas and only 34.8 percent from 3-point range. Another sign of KU's aggressiveness is its plus-8.0 rebounding margin, which ranks first in the Big 12. It will be interesting to see whether Baylor can match Kansas' physicality and effort on things such as 50-50 balls, offensive rebounds and other hustle plays.

A strong performance would do a lot for Thomas Robinson in the national player of the year race. Robinson missed his chance to go against Ohio State's Jared Sullinger (back spasms) on Dec. 10. But tonight's challenge will be just as tough as the one he would've faced against the Buckeyes -- mainly because of Baylor's depth down low. Perry Jones is a future NBA lottery pick but is often criticized for not being physical enough. Quincy Acy is extremely physical, but at 6-foot-7, he's 2 inches shorter than Robinson. Standout Baylor freshman Quincy Miller is another future pro at 6-10, but he's more of a small forward. Same thing goes for reserve Anthony Jones, who is 6-11. Still, even though Baylor doesn't have a player as strong or as physical as Robinson, the Bears' depth and length could bother him. It also will be a challenge for him to stay out of foul trouble against a team with four forwards who can all score in bunches.

A strong game by Kansas' Travis Releford or Elijah Johnson is a must. Robinson and point guard Tyshawn Taylor are good players, but someone else needs to step up if the Jayhawks want to hand Baylor its first loss of the season. Releford had averaged 17.5 points in his previous four games before scoring only seven against Iowa State on Saturday. Johnson (9.4 points) has been maddeningly inconsistent.

Baylor hasn't won a conference title in men's basketball since 1945, but the Bears will be the overwhelming favorites for the Big 12 championship if they win this one, mainly because the two toughest games on on their schedule (road tilts with KU and K-State) will be finished. At 17-0, BU is off to the best start in school history.

Baylor's physical toughness is improving, as evidenced by the Bears' outrebounding Kansas State last week. But their mental toughness has been more impressive. Baylor has won four games by three points or fewer against quality competition. One of the biggest reasons for that has been point guard Pierre Jackson. Last season's junior college national player of the year, Jackson has brought a swagger to Baylor's squad that had been missing. The attitude has rubbed off on his teammates, who have an extra strut in their step.

Anyone who says Baylor "hasn't played anyone" is clueless. The Bears have victories against Top 25 teams San Diego State, Mississippi State and Kansas State along with likely NCAA tournament teams such as West Virginia and Saint Mary's. They also embarrassed the same Northwestern squad that beat Michigan State on Saturday. Other than the San Diego State victory, all of those wins occurred outside of Waco. Kansas is the only team in the Big 12 that has played a tougher schedule -- and the Jayhawks have three losses, which is three more than Baylor.

Jackson, Perry Jones and Quincy Acy get most of the attention, but Baylor's complementary players have been just as important to the Bears' success. Boston College transfer Brady Heslip has made 48 percent of his shots from beyond the arc for the Big 12's top 3-point shooting team. Point guard A.J. Walton, who has relinquished most of the ballhandling duties to Jackson, has found a new role as a lockdown defender and made a game-saving strip of Kansas State's Angel Rodriguez in the final moments of Baylor's victory in Manhattan last week. Quincy Miller, who scored 21 points against Oklahoma State on Saturday, is beginning to find his stride. He's hit some huge 3-pointers in recent games. Backup forward Cory Jefferson would start for almost any team in the Big 12, and reserve guard Gary Franklin started as a freshman at Cal before transferring to Baylor last season.

The best illustration of Baylor's depth can be seen in Anthony Jones, who started and averaged 26.6 minutes a game for Baylor's 2009 Elite Eight squad. This season, as a senior, Jones is contributing 17.9 minutes off the bench and hasn't played more than 10 minutes in the past three games.

Win or lose tonight, it's time to end the "Scott Drew can't coach" theory. Anyone who watched Baylor beat Kansas State realizes that's a false statement. The freedom Drew gives his players might have made Baylor look like a street-ball team in the past, but with LaceDarius Dunn no longer around to fire up guarded, ill-advised 3-pointers, the Bears are running and executing set plays on the offensive end. Poorly coached teams don't shoot 49 percent from the field. Poorly coached teams don't play as well as the Bears have played defensively this season, and poorly coached teams don't flounder in tight games. They flourish.

No one is going to confuse Drew with Mike Krzyzewski or Rick Pitino, but to say the only reason Baylor is winning is that it has good players is false. (Quick fact: Since Drew took over in 2003-04, Baylor has had one player selected in the NBA draft. That's the lowest number in the Big 12. Texas and Kansas have had 12 each.) Despicable acts by the previous staff had the program on the verge of the death penalty when Drew took over in August 2003. Also, Baylor had never had a winning record in the Big 12. In one of the greatest rebuilding jobs in NCAA history, Drew had Baylor in the Elite Eight within six years. And now the Bears are 17-0 with a realistic shot to win a league title. For that, the coach deserves just as much credit as his players.
November, 7, 2011
11/07/11
5:00
AM ET
1. Kentucky coach John Calipari said
Anthony Davis
shouldn't be compared to former Mississippi State center Jarvis Varnado. Of course, Davis can block shots like Varnado and he had eight in an exhibition game, but Davis is much more of an accomplished offensive player. "He's 6-10 with a 7-3 wingspan and he can shoot the 3 and dribble the ball and lead the break,'' Calipari said Sunday. "He'll block shots but he won't be the only one with
Terrence Jones
,
Darius Miller
,
Michael [Kidd-]Gilchrist
and
Eloy Vargas
, too.'' Calipari said new point guard
Marquis Teague
continues to impress and is running the transition game well and getting the Wildcats into their sets.
2. Good news came out of Sunday's Baylor-Virginia scrimmage. Baylor continues to get quality play out of the players expected to produce at a high level like
Perry Jones III
,
Quincy Miller
,
Pierre Jackson
,
Quincy Acy
and
Anthony Jones
. Boston College transfer
Brady Heslip
still needs to get his body ready for playing major minutes. Baylor coach Scott Drew isn't concerned about Jones missing the first five games. He'll have
Cory Jefferson
, Miller, Jones and Acy rotate in for Jones' minutes. "We won't have real starters since they'll all play,'' said Drew, who added that he was extremely impressed with Virginia. The Cavaliers are going to be a high-level ACC squad, perhaps as high as third or fourth.
3. Alabama's first exhibition game is Monday night against Alabama-Huntsville and the rising Tide need to see how the younger players respond. Coach Anthony Grant said he wants to see what he's going to get out of freshman guards
Trevor Lacey
,
Levi Randolph
and
Rodney Cooper
. Bama, which lost in the NIT final to Wichita State, has two anchors in forwards
JaMychal Green
and
Tony Mitchell
, but desperately needs an infusion of quality play from the perimeter to have a chance to hang around the top third of the SEC.