College Basketball Nation:

Anthony Lee
December, 22, 2012
12/22/12
2:18
PM ET
NEW YORK -- A quick look at Temple's
83-79
win against Syracuse in the Gotham Classic.


Overview:
Three days after a woeful effort against Canisius, Temple beat a bigger New York state team, handing No. 3 Syracuse its first loss of the season.
The reasons were simple: The Owls played a better fundamental game, shooting well from the free throw line, where the Orange were awful; taking their time to find the open man, while Syracuse opted for one-on-one isolation plays, praying someone would make a play; and simply outplaying and outhustling the Orange.
Maybe it shouldn't be too surprising. In Syracuse's last game, its myriad of mistakes -- coughing up a 20-point lead to allow Detroit to make it a 4-point game -- were overshadowed by the news of Jim Boeheim's 900th win.
This is certainly not a major loss to Syracuse, not this early in the season. And the Owls are a good team, the loss to Canisius notwithstanding. Still, it exposed some weaknesses for the Orange offensively and defensively that need to be addressed before the Big East season dawns.
The other question: Could this be the jump-start the Owls need? Fran Dunphy thought his team had been coasting, and wasn't even a little bit surprised Temple lost to Canisius.
Turning point:
Up 74-73 with 1:20 left,
Khalif Wyatt
coughed up the ball, giving Syracuse a huge chance.
Brandon Triche
went for the quick dagger, but his 3-pointer circled off the rim.
Michael Carter-Williams
grabbed the rebound, but his drive came up short. Wyatt ended up with the ball and went to the line, calmly sinking both free throws.
Baye Moussa Keita
was called for a hook on Syracuse's next possession and
Rahlir Hollis-Jefferson
sunk both free throws to make it 78-73.
Key player:
Split honors between Wyatt and
Anthony Lee
, who both had career-highs in scoring. Wyatt led the Owls in scoring and just about everywhere else. Wyatt scored 33, but also led Temple from his point guard position. Lee, meantime, all but eliminated the Orange's height advantage, using aggressive and strong post moves to the tune of 21 points and 11 rebounds.
Key stat:
They're called free throws, but for Syracuse they were more like penalty shots. While the Owls sunk 29 of 36, Syracuse -- a 66 percent free throw-shooting team -- was an anemic 19-of-34. That's 15 points left on the Madison Square Garden court.
Miscellaneous:
As an unranked team, Temple now has knocked off a top-10 opponent in each of past five seasons. … Jim Boeheim will have to wait for win No. 901. … Conference realignment tidbit of the day: Syracuse vs. Temple was a Big East football game this year, but it will never be a Big East basketball game. Syracuse is leaving before the Owls join as full members. … Madison Square Garden honored the victims of Sandy Hook Elementary with green ribbons on the court and a moment of silence before the game. …
Next game:
Syracuse closes out 2012 with winnable games against Alcorn State and Central Connecticut before turning its attention to the Big East. The Orange begin their final year in the league against Rutgers on Jan. 2. … The Owls, meantime, host
Ray McCallum
and Detroit on Friday and Bowling Green on Sunday (both pesky opponents), and then travel to Kansas on Jan. 6. The Jayhawks are pretty pesky, too.
January, 4, 2012
1/04/12
11:42
PM ET
PHILADELPHIA -- Temple took the subway to its basketball game on Wednesday night, hopping a ride on the Broad Street Line from North Philly to South, home of the Wells Fargo Center.
The ride was more symbolic than playful to head coach Fran Dunphy, a throwback homage to the university's roots as a commuter school built for people who spent their days on campus and their nights holding down part-time jobs to pay their tuition.
Dunphy didn't take the next step, comparing Temple to its blue-blooded opponent, Duke. But as he spoke with genuine reverence about his good friend Mike Krzyzewski and appreciation for a program that he considers the gold standard in college basketball, it was hard not to make the simplistic leap for him.
Temple is the lunch-pail team once personified by its wily old coach, John Chaney, and now embodied in its no-nonsense new boss. The campus is plopped on the edges of a tough Philly neighborhood and the program long has had to succeed with scrappers.
Duke is Krzyzewski, the wildly respected head coach who rarely looks ruffled, a campus with old, storied buildings and a program that long has had its pick of the basketball litter.
But if college basketball is nothing else, it is the great class equalizer. Privilege has its place ... it's just not on the basketball court.
Temple upset the third-ranked Blue Devils on Wednesday, calling on its deepest reserves of grit and toughness to outmuscle and outhustle Duke,
78-73
.
[+] Enlarge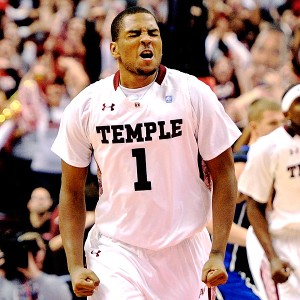 Howard Smith/US PRESSWIREKhaliff Wyatt contributed 22 points and five steals as Temple celebrated a win over No. 3 Duke.
"We just had to play tough and we did,'' said leading scorer
Khalif Wyatt
, who finished with 22 points and 5 steals for the Owls.
The loss puts the skids on Duke's modest five-game win streak, a streak in which the Devils appeared to have found their defensive rhythm after a debacle against Ohio State on Nov. 29.
Krzyzewski wasn't quite sure what to make of this game. He didn't want to undersell what Temple did to his team, but also had to acknowledge that the team on the court wasn't the one he'd seen in recent weeks.
"Come on, if I saw it coming I would have faked an illness instead of getting ill during the game,'' Krzyzewski joked. "Whenever that happens, to me, the other team has the most to do with it. But we obviously didn't play very well.''
Meantime, the win gives Temple a signature victory to hang its at-large hat on. Now 10-3, the Owls had a good win against Wichita State and another versus struggling rival Villanova, but headed into a muddled and muddied Atlantic 10 season -- across town, Xavier continued its slide by losing to La Salle -- Temple needed something to distinguish itself.
This does that, plus it gives a team that sorely needed it a huge confidence injection. TU has been playing much of the season without two starters. Guard
Scootie Randall
hasn't played at all and is likely to take a redshirt; big man
Micheal Eric
has appeared in only four games, though he's expected back soon.
So it's been a hodgepodge lineup for Dunphy. He's had to ask players to play out of position, but has offered them little in the way of condolences.
"We've talked about how tough we have to be,'' said Dunphy, whose team was coming off three straight close wins against the likes of Rice, Buffalo and Delaware. "We're not feeling sorry for ourselves. I know guys are playing against guys four inches bigger than them, but you know what? That's the way it is.''
And the way it was against Duke was simple to explain: Temple's mix-and-match team played harder.
Rahlir Hollis-Jefferson
poured in a season-high 17 points,
Anthony Lee
chipped in 11 plus three blocks and the three guys asked to do it all -- Wyatt,
Ramone Moore
and
Juan Fernandez
-- did the rest.
The three guards controlled the tempo and the pace, using their advantage off the dribble to score at the rim or keep Duke off balanced on the perimeter.
Temple built a 55-45 lead midway through the second half when Wyatt drained a 3, but minutes later, the Blue Devils sliced that advantage to just three points, 60-57. The Owls had no answer for
Miles
and
Mason Plumlee
, who scored nine in that pivotal stretch and finished with 17 and 16 respectively.
"The Plumlee brothers were a handful,'' Dunphy said. "They were terrific inside and they were just a little bit too much for us to handle on a 40-minute game basis.''
But on the next possession, Miles missed a jump shot, allowing the Owls to push. Moore set up for a 3-pointer on the wing, but just before he could launch it, Wyatt called out to him. The off-balance Moore somehow found Wyatt in the corner and Wyatt's swished 3 sealed the deal for the Owls.
"I was open,'' Wyatt said of his willingness to interrupt Moore midshot.
It was vintage Wyatt, a player who may personify this Temple team as much as Chaney did back in the day.
"He's got huge ...'' Dunphy said, pausing to find the proper, family-friendly word, "courage.''
He's also got a nonblinking green light from his coach, and that unwavering faith allows Wyatt the freedom to shoot fearlessly.
"A lot of coaches don't let you play that way,'' Wyatt said. "But he's real generous and that lets you have that mindset to keep playing. As long as you're tough on defense, he lets you do what you want. Well, not exactly, but you know what I mean.''
Temple fans stormed the court after the game, enjoying their fourth win against a top-10 team in as many seasons.
That's what happens, Dunphy explained, when you're Duke. You exist in such rarefied air that other schools celebrate wildly when they beat you.
And then they grab their lunch pails, hop the subway and go back to work.
"Coach came into the locker room after the game and said, 'Good win, but I'm worrying about Dayton now.' That's the way it is,'' Wyatt said.