College Basketball Nation:

Antonio Barton
December, 12, 2013
12/12/13
9:30
AM ET
Last season, Tennessee put together a strong run in the second half of SEC play, which placed the program on the bubble. On Selection Sunday, however, the Vols were disappointed.
They didn't have enough signature nonconference victories and they'd lost too many conference games to convince the selection committee that they deserved a bid.

Cuonzo Martin hopes to avoid the same situation in 2013-14. But the Vols have already suffered losses to Xavier and UTEP and are running out of opportunities to secure significant nonconference wins.
That's why Saturday's game at No. 12 Wichita State is so important for a team that doesn't want to enter another Selection Sunday guessing about its fate. A road victory over the Shockers could be the difference on Selection Sunday 2014.
The Vols, who are ranked 15
th
in adjusted offensive efficiency per KenPom.com, have endured injuries. And they're giving freshmen, who are still adjusting, significant minutes.
But they added enough to be considered SEC sleepers.
Jarnell Stokes
wisely returned to school.
Jeronne Maymon
is back and healthy after missing last season with a knee injury.
Antonio Barton
transferred in from Memphis.
They're all still jelling.
But Saturday could boost Tennessee's prospects, or leave the Vols in an uneasy position. Last year, the Vols beat a similar Wichita State squad 69-60 in Knoxville. But the matchup in Wichita, Kan., this weekend will be a more difficult test.
The Shockers haven't lost a game this season and are still feeding off the confidence that they gained by reaching the Final Four last season.
A victory over Wichita State would not only change Tennessee's confidence but it would enhance its tourney resume. The Vols will play Virginia prior to SEC play, too. But Saturday's matchup at Wichita State is the most valuable opportunity on their nonconference slate and alleviate a lot of pressure for Martin's program.
December, 9, 2013
12/09/13
11:00
AM ET
Tennessee, which will face No. 11 Wichita State on Saturday, is off to a rough start after losing early matchups to both UTEP and Xavier. But Cuonzo Martin has faced more challenging circumstances in the past. The Vols' head coach overcame a bout with non-Hodgkin's Lymphoma when he was 26 years old. Martin recently spoke with ESPN.com about his team, this week's critical matchup and the effect that his cancer battle had on his life and career.
ESPN: Your team lost a few early games at Xavier (67-63 Nov. 12) and against UTEP in the Battle 4 Atlantis in the Bahamas (78-70). What did your team learn from those losses and how can they help your program in the future?
Martin
: I think the one at Xavier, true road game -- just going to a hostile environment -- we didn't play as well as we were capable of playing. But it was good being in a true road environment. We came up short. And I think the one at UTEP, just give UTEP a lot of credit. We didn't play well from start to finish; just felt like we weren't into the game physically -- just came up short and learned from it.
[+] Enlarge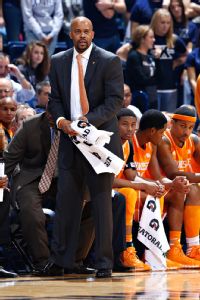 Joe Robbins/Getty ImagesTwo early losses haven't diminished the confidence that Tennessee coach Cuonzo Martin has in his team.
ESPN: You all have some new faces (Jeronne Maymon missed last season with a knee injury, Antonio Barton transferred from Memphis and three freshmen arrived). What role do you think that has played in some of your squad's early struggles?
Martin
: Both games were different. At Xavier, Jarnell [Stokes] got two fouls there in the first half. [It was] Jeronne Maymon's first game back outside the exhibition games. Three talented young freshmen playing in their first college game on the road. Antonio Barton, who missed eight days out with a leg injury ... he had maybe two practices before the actual game. Just all of those things. No excuse, they played well and won the game. In the UTEP game, we just didn't play well. ... We didn't defend at the level we needed to and there were spurts where we didn't execute like we needed to, and it resulted in a loss. I think you learn from it because we have the talent. ... It's one of those deals where you'd better learn it earlier than later.
ESPN: How significant is Saturday's matchup at Wichita State?
Martin
: I think it's a big game for us. You're talking about a very talented team, a team that did a great job making it to the Final Four. [Gregg Marshall has] done a good job of getting his guys to compete and play hard on a consistent basis, playing hard on both sides of the floor. I think it'll be great for our guys. I think it'll be a great atmosphere.
ESPN: When you were in your 20s, you were diagnosed with non-Hodgkin's Lymphoma. How difficult was that experience?
Martin
: It was very tough because it was just one of the things in my life -- I think I was 26 at the time when they first found out about it -- one of the first times in my life where I had no control over the situation. You know, growing up, you're playing basketball or whatever sport you're playing, you can control the outcome by getting better, working on your game and doing something about it. Well, this was the first time in my life outside of what the doctors were telling me and going through chemotherapy where I had no control over the situation, so that part was extremely tough. And then when you hear doctors say 'I'm not sure what it is but it's life threatening,' those were just tough words to hear. I still remember those words to this day. But I'm blessed to be here almost 16 years later. ... You didn't really know the outcome outside of praying and taking that medicine. Here I am.
ESPN: How did that experience change your outlook on life?
Martin
: I think where it helped me -- I don't think I was a bad guy before -- but I just think what it does, especially for me in coaching, is just learn how to appreciate the opportunity, the moment of going through something -- during the tough times, the highs and lows of sports, winning games. You learn how to appreciate the process of going through it because nothing is guaranteed. And tomorrow isn't guaranteed. I try to talk to my players about those things. Try to enjoy every moment and realistic enjoyment, not out of control, not being crazy. But just understanding that when they say life is short, it really is. But also raising my kids, having a good time, being there for them -- even in the little things, being honest with them, helping them grow in life. So those sorts of things. I thought I was a decent person before going through it, but I thought going through that and going from 215 pounds to 185 pounds and almost 175 pounds ... and laying in that hospital not knowing the outcome and so fatigued and drained and in pain, you just learn how to appreciate every opportunity you have just to breathe.
ESPN: How did that experience help you as a coach?
Martin
: I was always rough as a basketball player. I think where it helps me more than anything is to be even-keeled, to keep your guys' composure at a high level, to understand we're OK, we've been in this situation before -- this is the best way to get out of it. Just be more relaxed and let your guys lock in on the task at hand instead of the environment. I think it has really helped me as a coach just to understand that tomorrow is a new day. And it's easier said than done as a coach. It's tough. But I watch film on it, study it, let's get it corrected and keep moving. That's the best way to do it. If not, it'll eat you up.
ESPN: How important is an NCAA tournament bid for this program in 2013-14?
Martin
: I think it would be great, not only for our team, but for our program. ... I think if we stay healthy, we'll do that and we'll be that. And that's the biggest key, just staying healthy and having fun in the process.
May, 28, 2013
5/28/13
5:00
AM ET
1. UNLV lost another player over the weekend. The latest to depart is
Katin Reinhardt
, who apparently had issues with the way he was being used by coach Dave Rice and wants to play the point more than shooting guard, Rice told the Las Vegas Review-Journal. Reinhardt will have to see if Andy Enfield plays him at the point if ends up at USC, as the Review-Journal reported is a likely destination. Reinhardt shouldn't play immediately (I feel like I have to say that now with everyone getting waivers) and can use the redshirt year to become a point if that's his chosen position. The Runnin' Rebels already lost
Anthony Bennett
to the NBA draft after one season, and then
Mike Moser
graduated and transferred to Oregon to play immediately. (UNLV was also set to lose seniors
Justin Hawkins
and
Anthony Marshall
.) The Rebels will be scrapping with San Diego State to catch New Mexico and maybe Boise State in the Mountain West. But Rice shouldn't be worried. He needs players who want to be in Las Vegas, and the Rebels have replacements.
Bryce Dejean-Jones
can play shooting guard. UConn transfer
Roscoe Smith
had a year to better understand the game and how to play power forward. Depth is available with
Carlos Lopez-Sosa
and
Kendall Smith
, who can play either the point or the two for the Rebels.
Khem Birch
is eligible for a full year and can try to be more assertive offensively and dominant defensively. This team will be in flux, but the pieces are still in play to be an NCAA team.
2. Players don't necessarily have the allegiances that fans do. That's why
Antonio Barton
has no issues going from Memphis to rival Tennessee. The Vols desperately needed another guard after losing
Trae Golden
. And of course the Vols are now a beneficiary of the new free agency in college basketball. "It's safe to say kids are more concerned with the best opportunity,'' Tennessee coach Cuonzo Martin said about players holding rivalry grudges. As for picking up players on the fly, Martin said, "Free agency, it's a tough call. We're on the good side of free agency. I think a lot of mid-major programs are affected by the market.'' Martin used to be the coach at Missouri State and knows all too well about life at a lower level.
3. Former Michigan guard Tim Hardaway Jr. said on our college basketball podcast Friday that
Caris LeVert
is ready for a breakthrough season in 2013-14. Hardaway heaped high praise on LeVert. Meanwhile, Kansas coach Bill Self hit on a number of topics, including
Ben McLemore
, a recruiting class that he said had tremendous promise even before
Andrew Wiggins
signed, and coaching Wiggins next season.
You can listen to the podcast here
.
November, 23, 2011
11/23/11
8:43
PM ET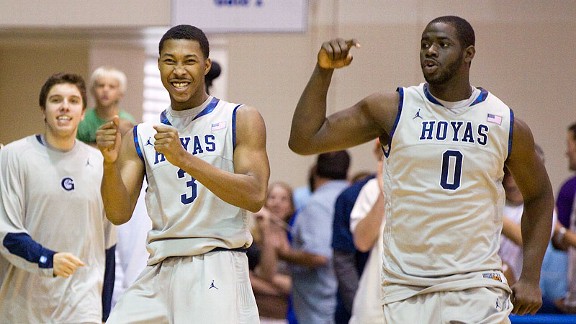 AP Photo/Eugene TannerGeorgetown's Mikael Hopkins (3) and Tyler Adams (0) celebrate the overtime victory over Memphis.
Overview
: One day after a double-overtime victory against Tennessee, the eighth-ranked
Memphis Tigers
were forced into an extra period once again in Wednesday's fifth-place game against Georgetown. This time the results weren't as favorable for Josh Pastner's squad, which fell
91-88
to the Hoyas.


While Memphis, which was thumped by Michigan in Monday's opener, leaves Hawaii as the Maui Invitational's biggest disappointment, Georgetown was arguably the event's most pleasant surprise. The Hoyas' roster features 10 freshmen and sophomores, but they hardly played to their age Wednesday. Georgetown kept its poise while Memphis crumbled under pressure.
Jason Clark
scored 26 points and
Henry Sims
added 24 for the Hoyas, who improved to 4-1.
Will Barton
had 22 points to lead the Tigers.
Turning point
: With his team trailing 86-85 in overtime, Clark buried a 3-pointer with 52 seconds remaining that gave Georgetown an 88-86 lead and momentum it would never relinquish. Clark made four of his seven 3-point attempts and was 9-of-17 from the field overall. Memphis had one last shot trailing 91-88, but
Antonio Barton
's guarded 3 at the buzzer barely nicked the rim.
Why Georgetown won
: The Hoyas' size and overall length was certainly a factor, as Memphis had trouble establishing any sort of presence in the paint. Georgetown also pestered the Tigers into 17 turnovers. But the biggest difference was the Hoyas' patience on offense and overall shot selection late in the game. Both teams made about 49 percent of their field-goal attempts, but Georgetown was more disciplined during crunch time than the Tigers, who forced things and pressed when it mattered most.
Why Memphis lost
: Early on, Pastner's squad was terrible defensively. There's no way such a young Georgetown squad should have 47 points at intermission. The other problem was that Memphis made a ton of bone-headed mistakes down the stretch that likely cost it the game. One of the most crucial errors came in final seconds of regulation with Memphis leading 78-76. Instead of letting some time run off the clock, point guard
Joe Jackson
penetrated into traffic just a few seconds into the shot clock and tried to force a pass to
Wesley Witherspoon
. Georgetown came up with an easy steal with 35 seconds remaining, and the Hoyas capitalized when freshman
Greg Whittington
got an easy put-back off Sims' missed jumper to force a 78-78 tie with 18 seconds left.
More sloppiness ensued moments later, when Memphis couldn't come up with anything close to a quality shot as time expired. Instead,
Adonis Thomas
was forced to throw up a 27-foot 3-pointer that didn't even hit the rim. Also, despite calling a timeout, Memphis failed to get a good look on its final shot in overtime. With none of his teammates open, Antonio Barton had no other choice but to pump fake and shoot an off-balance 3-pointer that would've tied the game. The attempt was way off.
Other observations
: The Hoyas signed a true gem out of Missouri in freshman
Otto Porter
, who had 9 points, 8 rebounds, 4 steals, 3 assists and 2 blocks off the bench Wednesday. ... Speaking of freshmen, Memphis' Thomas (5 points, 1 rebound, 4 turnovers) isn't progressing nearly as quickly, despite being more highly touted ... Memphis forward
Stan Simpson
, a juco transfer, came off the bench and hit some huge free throws late in Wednesday's game. ... The slew of NBA scouts that made the trip to Maui this week surely developed a positive opinion of Georgetown's
Hollis Thompson
, whose versatility was on full display Wednesday. ... Take away
Nate Lubick
's 0-for-6 performance from the field, and Georgetown went 34-of-64 Wednesday. Pretty impressive ... I've been saying this for two years, but Hoyas guard Clark is one of the country's most underrated players. ... Same goes for John Thompson III in the coaching category.
What it means
: There's no way Georgetown is the 10th-best team in the Big East. The Hoyas are big, versatile, athletic and well-coached. Their biggest flaws are a lack of an experienced, high-level point guard and their overall youth. But anyone who witnessed Georgetown's games against Kansas and Memphis could see that their younger players are seasoned beyond their years. At this point Georgetown looks like a fringe top-25 team that could break into the rankings with a few more quality wins.
No one doubts Memphis' talent, and the Tigers have certainly come a long way from last year in terms of maturity. Still, Pastner's team doesn't look crisp on offense and the intensity often seems to be lacking on the defensive end. But the bottom line Wednesday was that Memphis just didn't play smart basketball when it mattered the most.
Up next
: Georgetown hosts IUPUI on Monday before traveling to Tuscaloosa for a Dec. 1 tilt with Alabama. We'll know a lot more about the Hoyas after that game, as the Crimson Tide will provide Georgetown's toughest test of the season to date. As for Memphis, it hosts Jackson State (Monday) and Austin Peay (Saturday) next week before traveling to Miami for a tough road game Dec. 6.
November, 22, 2011
11/22/11
6:18
PM ET
LAHAINA, Hawaii -- It was a double-overtime street fight between two in-state rivals, but the
Memphis Tigers
pulled out the win 99-97 on Tuesday at the EA Sports Maui Invitational.
Here are some notes from Tuesday's opening game.
1. The win was an important one for the Tigers.
While they are loaded with terrific athletes, they were out-executed by Michigan on Monday and almost out-hustled by the Volunteers on Tuesday. The talent is there for Memphis ... but can it jell into a team?
There still are serious questions about who will emerge as the leader on the team.
Will Barton
led the Tigers with 25 points but made a number of questionable decisions when the game got tight. Still, coach Josh Pastner was pleased that Barton took only two 3s and instead concentrated on getting to the basket. Barton also added 11 rebounds Tuesday.
The Tigers' two other top scorers,
Antonio Barton
(21 points) and freshman
Adonis Thomas
(19 points), came off the bench.
Point guard
Joe Jackson
recorded just one assist. Big man
Tarik Black
was plagued by foul trouble again, and, despite a lot of preseason hype, had just six points and three rebounds.
Wesley Witherspoon
, the team's most veteran player, also had just six points and continued to play soft.
If Memphis is going to live up to its lofty early ranking, it is going to have to get much more out of all three.
2. It's pretty clear the Tigers' best player on the floor is Thomas.
He played very well Monday but did so without any plays really being run for him. Thomas was much more active Tuesday, and when he touched the ball, good things happened.
"Adonis was in attack mode," Pastner said. "He's a hard matchup. Whether a 2-man is guarding him, a 3-man guarding him or a 4-man, he's a tough matchup because he's a multidimensional guy."
Thomas looks frustrated at times when his teammates ignore him on the floor. But on Tuesday, he made a more concerted effort to get things done when he got the opportunity. After the game, he said he's willing to be patient coming off the bench.
"Basically I just wanted to come in and make an impact whether I started or got off the bench," Thomas said after the game. "Coach recruited me as a freshman to get things done. Whether I start or come off the bench, what's important is that I just come in and play hard. "
3. Jeronne Maymon is a beast.
The Tigers brought a bevy of elite athletes to the fight. The Vols? The lightly regarded squad was carried by big man Maymon, who did the bulk of the damage with 32 points, 20 rebounds and the shot that sent the game into its first OT. Maymon took the last shot of the game for Tennessee, but it fell short and the Volunteers walked away with yet another heartbreaking loss.
Maymon, a 6-foot-7, 260-pound transfer from Marquette, was a beast in the paint. He pounded the Memphis big men inside all game, getting both Black and
Stan Simpson
into early foul trouble. Maymon's 20 rebounds were a record at the Maui Invitational.
Even more impressive? According to Jeremy Lundblad of ESPN Stats & Info, his 30-point, 20-rebound performance puts him in rarified air. The past three players from the "power six" conferences to do it? Blake Griffin, Michael Beasley and Kevin Durant. Maymon won't get the same love those three did from NBA scouts, but he's a big reason the Volunteers should be much better than predicted this season.
November, 22, 2011
11/22/11
5:40
PM ET
Overview
: On Monday, it took us until the fourth matchup of the day to get a really competitive, tight game. On Tuesday, the Maui Invitational wasted no such time. In the first game of the day -- a 9 a.m. tipoff locally -- the
Memphis Tigers
and
Tennessee Volunteers
played a high-octane rivalry thriller that took two overtimes to decide. Memphis led for much of the game and by as much as 16 in the first half, but Tennessee closed the lead in the second half, and the Volunteers -- led by a brilliant performance from forward
Jeronne Maymon
-- kept finding bucket after bucket as they refused to go away.


There was suspense until the final whistle. With 3.5 seconds remaining, Tennessee's inbounds pass was stolen by Memphis forward
Wesley Witherspoon
, but Witherspoon -- thinking the game was over -- traveled and gave the ball back to the Vols with one second left on the clock. Maymon's fadeaway elbow jumper missed everything, though, and
Memphis escaped with the 99-97 win
.
What a game.
Turning point
: The final moments of the second overtime decided the game, but Tennessee, after battling back for 45 minutes, squandered a major opportunity to seal a win in the first OT. With 35 seconds left, UT guard
Trae Golden
drove to the rim and attempted a wild reverse layup -- one of Golden's 16 misses Tuesday (3-of-19) -- that was rebounded by Memphis guard
Will Barton
. Barton quickly fired the ball upcourt to teammate
Chris Crawford
, who dipped into Tennessee's defense and converted a quick layup on the break. That tied the game at 91-all, the Vols couldn't get a good look in the final 26 seconds and the game moved to double overtime.
Why Memphis won
: Its offense thrived. After an anemic and confused offensive performance in Monday's loss to Michigan, the Tigers relentlessly attacked UT's defense, creating a score of quality interior looks in the process. By the end of the game, the Tigers had shot 36-of-70 from the field -- including a tidy 6-of-9 mark from the 3-point line -- filling it up to the tune of 1.27 points per possession. The Tigers weren't much to look at on the defensive end and they still had their fair share of mistakes all over the floor, but the fluidity of their offense and the ease with which they generated quality opportunities held them together during wave after wave of Volunteers attacks.
Why Tennessee lost
: Impatience. Tennessee was at its best when it worked into the teeth of Memphis' defense, generating post opportunities and easy catches for Maymon on the low block. When it got impatient and settled for 3s, it rarely found success. Tennessee shot 7-of-21 from beyond the arc, as Golden and guard
Cameron Tatum
combined to make just two of their 12 3-point attempts. Even worse, a handful of those misses came late in regulation and overtime, when every possession was crucial. If just a few of those shots had gone down -- or a few of those looks had gone to Maymon in the low block -- this outcome might have been very different.
Star of the game
: There were too many to pick just one. For Memphis, the stars came in brotherly form: Will and
Antonio Barton
combined for 46 points, 16 rebounds and 17-of-28 shooting from the field. Both brothers were impressive. Will is approaching mastery of the midrange game; he slices to the rim and curls off screens to create easy look after easy look. Antonio's shooting (4-of-5 from 3, 8-of-11 from the field) and intelligent work off the ball -- his hand-off wing jumper with 1:16 left in the second overtime was a rare moment of beautiful old-school basketball in this streetfight of a game -- could be major boosts for the Tigers all season.
But the award for the game's best performance has to go to Maymon, who had a borderline legendary day in the Volunteers' interior. Maymon shredded the Tigers' defense time after time; when he didn't catch the ball and score it himself, he worked the offensive glass for an easy putback. Maymon finished with 32 points (8-of-15 from the field, 16-of-17 from the free throw line) and 20 rebounds (nine of which were offensive boards), becoming the first power-six conference player to post a 30-point, 20-rebound game since -- get this -- Blake Griffin. Considering Maymon had never scored more than 14 points or grabbed more than 12 boards in his career, it feels safe to say a star is born.
What it means
: Both teams have plenty to improve on. The Tigers seem to have flipped 180 degrees from last season's style, when they were turnover-prone and ugly on offense but tough and rangy on defense. This season, Memphis has to start congealing on defense. The same can be said for Tennessee, which struggled to get stops all afternoon Tuesday, but more important for the Volunteers is getting intelligent play from Golden at the guard spot. Golden can really score, but his decision-making raises serious questions, and his 3-for-19 shooting performance -- and his tendency to force those shots outside the flow of Cuonzo Martin's offense -- was a big reason Tennessee could never overtake the Tigers.
Still, both teams will take away more positives than negatives from this one. Memphis will be encouraged to see its offense achieve this balanced early form, and coach Josh Pastner will be especially thrilled with how well his team took care of the ball. (The Tigers were one of the most turnover-prone teams in the country last season. On Tuesday, they coughed it up just 12 times in 75 possessions.)
And Tennessee fans should be absolutely stoked. After losing their former coach to NCAA scandal, seven seniors to graduation, and Scotty Hopson and Tobias Harris to the NBA draft, the Volunteers were supposed to face a daunting rebuilding project this season. Instead, they're discovering that even Bruce Pearl's reserves are talented. Maymon might be one of the best big men in the SEC, while Golden and Tatum -- despite their shooting struggles Tuesday -- clearly are capable of hanging with some of the best talent in the country. Add in Martin's hard-nosed style and the inherent improvements this inexperienced team will make, and it would the appear the Vols are way ahead of that so-called rebuilding schedule.
More observations
: Pastner has a lot of weapons, and he might still be figuring out his rotation. For example: Starting guards
Joe Jackson
and
Charles Carmouche
played just 19 and 15 minutes, respectively, while reserves Antonio Barton and Chris Crawford played 33 and 37, including almost all of the two overtime periods. Freshman
Adonis Thomas
didn't start, either, but he played 38 minutes (and scored 19 points on 7-of-10 from the floor). If Pastner wanted to, he probably could run five-man shifts
a la Division III novelty Grinnell
. Short of that, Pastner's allocation of minutes appears very much in flux. That's a problem -- starters typically want to play starter minutes -- but it's the good kind of problem. Memphis has a deep rotation of viable options, and Pastner has plenty of time in this 2011-12 season to figure out which combination works best.
What's next
: Memphis moves forward in the consolation bracket, where, barring a major shock, it will play Georgetown in the fifth-place game at 5 p.m. ET Wednesday. Unfortunately for Tennessee, the Volunteers now are slated to head to the seventh-place game, in which they likely will play tiny Chaminade at 2:30 p.m. ET Wednesday. Why is that unfortunate? Because the Vols have played well in Maui, first against Duke and then against Memphis, and on those merits, they deserve to head back to the continental United States with more than a win over Chaminade to show for their efforts. Still, anyone who saw this team this week would have to have been impressed. Big things await.