College Basketball Nation:

Armon Bassett
May, 6, 2010
5/06/10
12:30
PM ET
Armon Bassett
is probably not an NBA player. Like so many other underclassmen, the junior guard entered his name in the 2010 NBA draft to test the waters, and like so many underclassmen, he's not projected as a first-round pick. So it was probably fair to assume that, like so many underclassmen, Bassett would find out what most people who have seen him play already know -- that he's not ready for the NBA -- and thus choose to return to Ohio for his senior season.
Never mind all that. Bassett announced Wednesday night that he'd be
staying in the NBA draft
, going all the way with his announcement, draft status be damned.
What makes Bassett's case different from his aforementioned contemporaries is his status at Ohio.
Bassett was accused of assaulting a doorman
at an off-campus bar in Athens, Ohio, Saturday and was suspended indefinitely by the school. It's not hard to think the guard saw that suspension as a sign of difficulty at Ohio going forward, and rather than attempt yet another transfer, going pro was the best escape route.
If the alleged assault and suspension pushed Bassett toward the pros, though, it'll also help dampen his ability to get drafted in the first place. Bassett is talented, sure, though he lacks the athleticism and strength to be a starting NBA point guard. But he has a litany of character issues sullying that talent, from his dismissal at Indiana under interim coach Dan Dakich to his transfer away from UAB to this latest incident at Ohio. That, combined with Bassett's advanced age -- 23 is practically ancient for an NBA underclassman prospect --
seems sure to keep scouts away
until the latter reaches of the second round. And that's if Bassett is drafted at all.
Bassett's case is different from so many low-rated underclassmen in that his best option might actually be going to the NBA. But that doesn't make it a good option. It just means he's exhausted,
through sheer knuckleheadness
, every other alternative.
March, 20, 2010
3/20/10
4:33
PM ET
BUFFALO – He is the gift that keeps on giving, to everyone but the schools that once employed him, that is.
Kelvin Sampson's handprint is all over this NCAA Tournament, the players left in the wake of his implosion at Oklahoma and Indiana racking up minutes for teams while the Sooners and Hoosiers watch from afar.
Don't think that's not killing Jeff Capel and Tom Crean, either.
Six guys who either played for or were recruited by Sampson all made the field in different uniforms and five of them were still playing when the second round tipped off.
"I hadn't thought about that, but I guess there are a lot of us,'' said West Virginia's
Devin Ebanks
, a top five recruit who decommitted after Sampson was booted at IU.
Damion James
, ousted in the first round when Texas lost to Wake Forest, was supposed to play at Oklahoma but he was released from his scholarship after Sampson left OU for Indiana, leaving a trail of NCAA stink behind and no players for Jeff Capel.
Scottie Reynolds
could have been James' teammate. Instead Capel let him out of his commitment, too. On Saturday he and Villanova lost to St. Mary's in the second round.
Armon Bassett
, angry at the university's decision to force Sampson out, was reportedly part of a pack of players that threatened not to play after Sampson left. He was dismissed by interim head coach Dan Dakich, reinstated by Crean and then booted again. On Thursday night, Bassett led Ohio University to one of the more stunning first-round upsets, scoring 32 in a win against Georgetown.
With players leaving left and right,
Jordan Crawford
told Crean in June 2008 that he, too, would be leaving Bloomington. He transferred to Xavier. The Musketeers will play Pitt in the second-round on Sunday.
And finally there is Ebanks.
He asked for and received an out-clause in his letter of intent, one that would allow him to be released from his scholarship if Sampson was no longer the Indiana coach. He exercised the out-clause not long after Sampson left.
"I think about it all a lot,'' Ebanks said. "I wish it could have worked out at Indiana, but I'm glad it worked out for me. I was looking for a school that could make a Final Four run and I think I found that. I guess it kind of worked out for all of us.''
March, 20, 2010
3/20/10
1:55
AM ET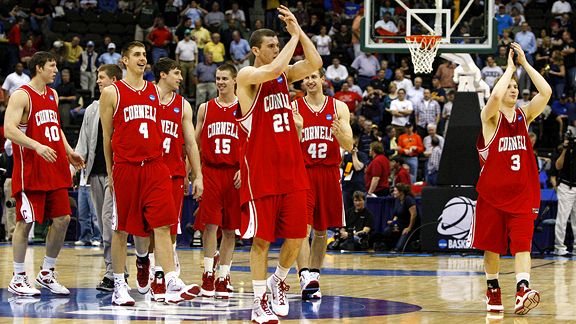 Kim Klement/US PresswireCornell gave the upset-hungry among us a reason to celebrate on Day 2 of the NCAA tournament.
So the encore had as much drama as a Will Ferrell flick.
After an opening day filled with upsets, buzzer-beaters and jaw-dropping results, Friday's second day of the 2010 NCAA tournament was largely tame.
Outside of an upset many college basketball fans predicted -- Ivy League champion Cornell thumped Atlantic-10 champion Temple
78-65
in an East Regional first-round game in Jacksonville, Fla. -- the day was largely uneventful.
There were a couple of other mild upsets in seed only: 10-seed Missouri beat 7th-seeded Clemson
86-78
in the East Regional in Buffalo, N.Y., and 10-seed Georgia Tech defeated 7th-seeded Oklahoma State
64-59
in the Midwest Regional in Milwaukee, Wis.
But even those games lacked the last-second thrills of the tournament's opening act, in which five double-digits seeds won and eight of the 16 games were decided by three points or less (or in OT). Thursday? Just one game was decided by three points or less.
Each of the No. 1 seeds that played on Friday rolled. Duke beat No. 16-seeded Arkansas-Pine Bluff
73-44
in the South Regional, and Syracuse manhandled Vermont
79-56
in the West.
Friday wasn't completely void of reasons to cheer. Cornell finished 27-4 during the regular season, but some still questioned its legitimacy as a serious threat in March. The Big Red's best performance this season actually came in a loss: 71-66 at Kansas on Jan. 6.
But against Temple's vaunted defense, Cornell shot 56.3 percent and made nine 3-pointers. Senior guard
Louis Dale
scored 21 points and senior forward
Ryan Wittman
scored 20 for the Big Red, which won its first NCAA tournament game ever and ended the Ivy League's 12-game drought in the NCAAs.
"I think it's great for our league; just the national attention," Dale told reporters Friday. "Our league is a good league. It was hard for us to win. Princeton is a good team, Harvard is good, and I think it's just great for our league."
Speaking of leagues in all-out show-us-respect mode, the Pac-10 picked up another victory over the Big East on Friday, as Cal stomped Louisville from start to finish in a
77-62 victory
in Jacksonville. On Thursday, Washington was a comeback winner over Marquette. Combine those two with the first-round victories of Gonzaga and Saint Mary's and the two most prominent conferences on the West Coast (the Pac-10 and WCC) are 4-0 in this tournament. So is this still the worst season of Left Coast basketball in years, as so many have proclaimed? Maybe not.
Many college basketball fans also wondered how good 4th-seeded Purdue would be after the Boilermakers lost star forward
Robbie Hummel
to a season-ending knee injury on Feb. 24. Most figured the Boilermakers would go one-and-done in the NCAA after they lost to Minnesota by 27 points in the semifinals of last week's Big Ten tournament in Indianapolis. But junior center
JaJuan Johnson
scored 23 points and grabbed 15 rebounds and three other Boilers scored in double figures in a
72-64 victory
, ending Siena's hopes for a third first-round upset in as many years.
[+] Enlarge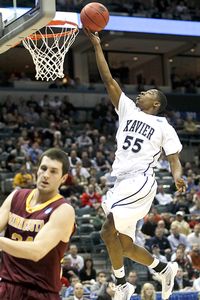 AP Photo/Morry GashXavier's Jordan Crawford is one of two former Indiana Hoosiers making a splash in this year's tournament.
If watching the Boilermakers win wasn't bad enough for Indiana University fans, imagine having to watch former Hoosiers
Armon Bassett
and
Jordan Crawford
the last two days. Bassett and Crawford were part of the mass exodus of players after former Indiana coach Kelvin Sampson was fired in 2008.
On Thursday night, Bassett scored 32 points in No. 14-seeded Ohio's 97-83 upset of Georgetown in the Midwest Regional. A day later, Crawford scored 28 points with six rebounds and five assists in No. 6-seeded Xavier's
65-54
victory over Minnesota in a West Regional game in Milwaukee. That's a mere 60 points combined.
The Hoosiers? They've gone 16-46 the last two seasons as new coach Tom Crean continues to clean up the mess Sampson left behind.
Perhaps Crean could use a player like Maryland's
Jordan Williams
. In his very first NCAA tournament game, all the freshman did was score a career-high 21 points and haul in a career-high 17 rebounds as the 4th-seeded Terrapins pulled away from Houston in an
89-77 victory
.
For a while, at least, it seemed like we would have the same edge-of-your-seat drama -- and the same embarrassing results for the Big East -- from the day before. No. 2-seeded West Virginia missed its first 11 shots against Morgan State in an East Regional game in Buffalo. But the Mountaineers finally found their stroke and pulled away in a
77-50 rout
.
No. 3-seeded Pittsburgh scored 11 points in the first 10 minutes against Oakland in a West Regional game in Milwaukee, before running away with an
89-66 victory
.
Wisconsin, the No. 4 seed in the East Regional, didn't put away Wofford until junior forward
Jon Leuer
buried a baseline jumper with 18 seconds left in a
53-49 win
in Jacksonville. Wofford College was founded in Spartanburg, S.C., in 1854, but the Terriers were making their first NCAA tournament appearance. They certainly didn't seem to be overwhelmed, as they had a one-point lead with 4:43 to play.
"We know Wofford is very good," Wisconsin coach Bo Ryan said. "We know their heart is big. We know how hard they play."
The Badgers play Cornell, another team with a big heart, in Sunday's second round.
The good news? The underdogs which won our hearts on Thursday will be back in action in Saturday's second-round games. No. 14-seeded Ohio plays No. 6 Tennessee in the Midwest Regional. No. 11-seeded Old Dominion plays No. 3 Baylor and 10th-seeded Saint Mary's plays No. 2 Villanova in the South Regional. No. 13-seeded Murray State faces No. 5 Butler in the West Regional, and No. 11-seeded Washington will try to knock off No. 3 New Mexico in the East.
Here's hoping Saturday is more like Thursday than Friday.
March, 18, 2010
3/18/10
9:59
PM ET
PROVIDENCE, R.I. -- Quick thoughts on
Ohio's stunning 97-83 victory over Georgetown
:


This might have been the worst defensive effort Georgetown had all season. The Hoyas never could stop ball and didn't look like they made the attempt.
Ohio's Armon Bassett, D.J. Cooper and Tommy Freeman were as confident as I've seen in weeks. No one showed any fear.
How did Cooper get out of Chicago and land at Ohio? Scouts weren't enamored with his 150-pound frame but he can score.
Bassett got booted out of Indiana for off-court issues but has found a new life at Ohio. He one of the most prolific scorers in the tournament.
Georgetown sleepwalked through much of the game before finally rallying late.
Ohio finished in ninth in the MAC. The Bobcats had to win in overtime at Ball State to make it to the MAC tournament in Cleveland. The Bobcats then had to beat Akron in overtime to win the automatic berth.
I have to believe this No. 14 vs. No. 3 matchup was the least likely pick all.
The Hoyas were constantly in flux. One night they looked like a Final Four contender (against Duke and in the Big East tournament) and then they would be flat (at Rutgers). This was just awful.
Ohio had tremendous contributions from their role players. This was a total team effort. It was amazing how Ohio never got frazzled. Ohio's John Groce did a tremendous job coaching this team and ensuring they were confident going into this game.
The Big East was saved by Villanova in overtime from a horrific day.
The stats are telling: The Bobcats made 13 3-pointers, Bassett scored 32, Cooper 23 and DeVaughn Washington put up a double-double with 12 points and 10 boards. The Bobcats forced 18 Georgetown turnovers and made 20 of 26 free throws. Who would have thought the Bobcats would make more free throws than the Hoyas would attempt (19). Georgetown lost this game despite shooting 50 percent. This shows how poor Georgetown's defense was Thursday.