College Basketball Nation:

Artsiom Parakhouski
January, 22, 2010
1/22/10
12:38
PM ET
Five things to know from Thursday's games:
1.
Adrian Oliver
had a career-high 39 points as San Jose State upset Louisiana Tech 87-76. The loss snapped a 10-game win streak for Louisiana Tech, which came in 5-0 in the WAC and 17-2 overall. Oliver, a former Washington Husky, was 12-for-12 from the free throw line for the second time in three games. He's scored at least 20 points in 10 of the Spartans' last 11 games. Now leading the WAC in scoring, Oliver is averaging 30.7 ppg over the last three games.
[+] Enlarge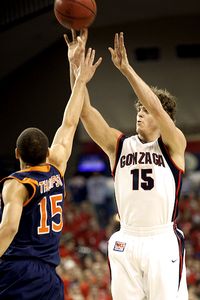 AP Photo/Rajah BoseMatt Bouldin scored 32 in a win over Pepperdine.
2. Matt Bouldin's career-high 32 points led three Gonzaga players with at least 20 points in a 91-84 win over Pepperdine. Despite a loss, the best performance of the night came from Pepperdine's
Keion Bell
. At halftime, Bell was 1-for-4 with 3 points. Then he exploded, scoring 22 points in the first eight and a half minutes of the second half. In all, he was 13-for-17 with 34 points in the second half on his way to a career-high 37. No Waves player has scored more in a game since Brandon Armstrong's 40 in 2001. At 20.1 ppg, Bell is the fourth-highest scoring sophomore in the nation.
3. It's to the point that any statistical achievement that occurs against VMI requires an asterisk. That said, Radford's entire frontline posted double-doubles on Thursday.
Artsiom Parakhouski
(30 points, 11 rebounds),
Lazar Trifunovic
(career-high 27 points, 14 rebounds) and
Joey Lynch-Flohr
(17 points, 10 rebounds) combined for 74 points and 35 rebounds. Of the 114 teams that played on Thursday, the Radford frontline outscored 84 of them and outrebounded 59 of them. Amazingly, this is the second straight time that three Radford players recorded double-doubles against VMI.
4. Wagner snapped an eight-game losing streak and picked up its third win of the season. The Seahawks held Long Island to 28.6 percent shooting in a 65-59 OT win. Long Island's leading scorer
Jaytornah Wisseh
was 3-of-21 from the field, the worst shooting performance for a player with 20 attempts this season. Even worse, he was just 1-of-17 from 2-point range, an astoundingly low 5.7 percent.
5. Oregon State only managed 35 points in Thursday's loss to Stanford. That is the fewest points by a power six conference team this season, and the fewest by a Pac-10 team since Oregon State scored 35 against UCLA in 2007. Stanford held a 31-13 scoring edge in the second half. The Beavers committed 19 turnovers while dishing out only 3 assists. The last time Stanford held a team to so few points was in December 2005, when the Cardinal beat Princeton 58-34.
December, 9, 2009
12/09/09
11:51
AM ET
Five things to remember from Tuesday night's action:
1.
Alex Stepheson
was all over the map in USC's 51-36 win over Sacramento State. On one hand, he recorded his second career double-double with 10 points and 10 rebounds. The transfer from North Carolina added seven blocks, more than doubling his previous career-best. On the other hand, Stepheson also set a career-high with eight turnovers and did not record an assist. That is tied for the most turnovers without an assist in Division I this season.
2. In leading Texas Tech to a comeback win over TCU,
John Roberson
had 21 points and 10 assists for the 9-0 Red Raiders, who are off to their best start in 80 years. Roberson is the 10th player to have 20-plus points and 10-plus assists in a game this season. He has now gone for 20 and 10 twice in his career. Before him, the last Red Raider with 20 points and 10 assists in a game was Jamal Brown in 2000. Over his last three games, Roberson is averaging 20.7 ppg and 8.7 apg, while shooting 55.9 percent from the floor.
3. On Tuesday, Georgetown's
Greg Monroe
did something that his predecessor in the paint, Roy Hibbert, never managed to do. Monroe notched career-highs in both points (24) and rebounds (15) in the Hoyas' win over Butler. The last Georgetown player with a 20-15 was Mike Sweetney in 2003. Sweetney had seven such games in his career.
4.
Justin Rutty
did just about everything he could, but Quinnipiac fell to Rhode Island 83-74. Rutty (30 points, 15 rebounds) became the third player this season with 30-plus points and 15-plus rebounds in a game. However, Rutty is the first to do so while on the losing end of the game. The last player to lose while posting a 30-15 game was Radford's
Artsiom Parakhouski
last February against Liberty.
5. Butler's
Avery Jukes
fouled out in just six minutes of play against Georgetown. It was Butler's quickest foul out this decade (Jeff James fouled out in seven minutes in 2003). If Jukes' exit seems quick, it is. But it's actually not the fastest this season. Four D-I players have fouled out in five or fewer minutes this season. The winner of the quickest foul-out of the season belongs to UTEP's
Wayne Portalatin
, who picked up five fouls in just four minutes against Arkansas State on Nov. 21.
December, 7, 2009
12/07/09
11:13
AM ET
One never fails to be amazed by a close scanning of box scores. Here are five interesting things about Sunday's action:
1.
Petras Balocka
exploded for 20 points and 20 rebounds in Hawaii's 96-78 win over Lamar. It was just the second 20-20 game in Division I this season. Radford's
Artsiom Parakhouski
went for 26 points and 20 rebounds a week ago against Duquesne. It must be an Eastern European thing. Balocka is from Lithuania and Parakhouski from Belarus. By the way, on this date a year ago, there had already been four 20-20 games, with Blake Griffin accounting for two himself.
2. Connecticut's
Jerome Dyson
finished an assist shy of a triple-double on Sunday against Harvard. Dyson set a career-high with 14 rebounds and matched a career-best with nine assists. And oh yeah, the UConn senior also scored 24 points. If you're wondering, there have been 13 triple-doubles in the Big East this decade, five of which were recorded by Huskies.
3. San Diego, a team that has beaten Oklahoma and Stanford this season, shot just 18.6 percent from the field in a 69-37 loss to Fresno State. That is the worst shooting performance in D-I this season. But things could have actually been much worse if the bench did not step up to the plate. The Toreros starting lineup shot 7.4 percent, hitting only 2 of 27 shots.
4. In a 74-39 blowout of Cal State Bakersfield, Oregon State shot 72.2 percent from two-point range, while holding the Roadrunners to a 25.8 field goal percentage on 2s.
5. Looking for a reason that Boston College took down Miami in the ACC opener? Look no further than the battle of the boards. BC held a 46-21 rebounding advantage, its largest rebounding margin since 2006 and Miami's fewest total boards since 2007. How 'bout this: Eagles had more offensive rebounds (23) than the Hurricanes had total rebounds (21). All five Eagles starters pulled down five or more boards, while no one on Miami had more than four.