College Basketball Nation:

Ask A Writer
October, 3, 2012
10/03/12
11:40
AM ET
By
ESPN.com staff
| ESPN.com
In the Big 12, some things change (Missouri and Texas A&M out, West Virginia and TCU in), while some things remain the same (Kansas winning the regular-season title every year). We asked our writers to share their thoughts on the conference in 2012-13:
Which team has the best chance of ending KU's incredible streak of Big 12 titles?
Dana O'Neil:
I honestly make this pick without a lot of conviction, because until someone actually unseats Kansas I won't believe anyone can. But forced to pick -- as I am here -- the team with the best chance this year, I have to go with Baylor. Scott Drew's team is once again top-heavy with talent, with a ridiculously talented backcourt in the form of
Pierre Jackson
,
Deuce Bello
and
Brady Heslip
, plus a stud in big man freshman
Isaiah Austin
. Of course we heard this last season with the Bears and they still finished four games behind KU in the Big 12 standings. But if Baylor can put its game on par with its résumé, the Bears should and could be the one to finally stop the Kansas Big 12 monarchy.
How will newcomers West Virginia and TCU do in their first seasons?
Myron Medcalf:
Bob Huggins and Trent Johnson are in different situations as they prepare for their programs' first season in the Big 12. The Mountaineers lost Kevin Jones and Truck Bryant. But
Deniz Kilicli
(10.7 ppg) is a bruiser in a league that embraces that physicality. Transfers
Aaric Murray
(15.2 ppg in 2010-11 for LaSalle),
Matt Humphrey
(10.3 ppg in 2011-12 for Boston College) and
Juwan Staten
(8.5 ppg in 2010-11 for Dayton) give Huggins the athletes he'll need to compete in the Big 12. I think West Virginia will finish fifth in the league behind Kansas, Baylor, Oklahoma State and Kansas State. Possibly higher.
I can't say the same about TCU, which lacks the talent necessary to escape a last-place finish in the Big 12. Mountain West freshman of the year
Kyan Anderson
(8.3 ppg) could blossom in his second season, and the addition of Arkansas transfer Devonta Abron will help. But TCU will get off to a rough start in the Big 12 by finishing at the bottom of the league. But that's where rebuilding often begins.
[+] Enlarge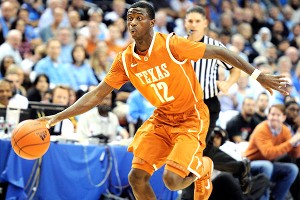 Chris Williams/Icon SMIMyck Kabongo averaged 9.6 points per game for Texas last season.
What player in the Big 12 is ready to break out in 2012-13?
Eamonn Brennan:
Texas point guard
Myck Kabongo
is hardly under the radar -- he arrived in Austin last season with loads of hype, and was under the spotlight during his so-so freshman season. But I can see him making something of a leap as a sophomore, particularly now that he doesn't have to worry about shot-gobbling J'Covan Brown getting his. (This could likewise benefit fellow sophomore guard
Sheldon McClellan
, who was efficient in his first season.)
Oklahoma State's
Le'Bryan Nash
is in a similar position. Counting stats-wise, he was OK as a freshman, but solid averages belie what was a truly uneven, often inefficient season. But the dude has loads of talent. If he tightens a few things up, and cleans up some of the decision making on the offensive end, he has the potential to be a serious force.
Who do you see as the sleeper team in the Big 12?
Jason King:
I'm a little surprised more people aren't talking about Oklahoma State. I realize the Cowboys have missed the NCAA tournament the past two seasons and that they went just 15-18 last year. But something tells me their fortunes are about to change. When it comes to pure talent, Travis Ford's squad stacks up with any team in the Big 12. Nash averaged 13.3 points as a freshman last season, but overall his performance was deemed disappointing because he shot just 39 percent from the field and only 23 percent from 3-point range. That won't happen again. Nash, who missed the final five games with a wrist injury, will make gargantuan strides from his freshman to his sophomore season.
And part of the reason will be
Marcus Smart
. No one would be surprised if Smart, a freshman shooting guard and McDonald's All-American, is one of the Big 12's top players by season's end. As good as he is on the court, Smart is lauded equally for his leadership skills. His presence will take some of the pressure off of Nash, who often tried to do too much last season. Both players are projected as first-round draft picks.
Junior
Markel Brown
and sophomore
Brian Williams
are also back. The guards combined to average 20.1 points last season. A season-ending injury kept forward J.P. Olukemi off the court for the entire Big 12 season, but he scored 11.1 points per contest the previous year, so he's proven he can excel at a high level. The bottom line is that the Cowboys have weapons -- lots of them. One area of concern is in the paint, where there is a lack of height and depth, which means rebounding could be an issue. Oklahoma State has also lacked discipline at times under Ford. Still, in a wide-open conference like the Big 12, a team as talented as this one could finish as high as second. And I don't envision Ford's unit falling anywhere below fifth place.
How many NCAA bids does the Big 12 get this season?
Andy Katz:
I wrestled with how to handle the Big 12 teams in the preseason Top 25 poll I recently submitted. I ended up having just two: Kansas and Baylor. But don't read into that in terms of the depth of this conference. I'm confident that four teams will be in the tourney for sure in KU, Baylor, Texas and Kansas State. I will be surprised if Iowa State, Oklahoma, Oklahoma State and West Virginia aren't pushing for a bid come February. But I'll safely say six out of 10 teams will get bids and that's as good a percentage as probably any conference in the country.
October, 2, 2012
10/02/12
11:05
AM ET
By
ESPN.com staff
| ESPN.com
The SEC has two new members (Missouri and Texas A&M) and a defending national champion (Kentucky), along with legitimate league title contenders (Florida, Tennessee) and plenty of potential sleepers. We asked our writers to share their thoughts on the conference in 2012-13:
Will another highly touted freshman class lead Kentucky to a third straight Final Four?
Myron Medcalf:
No. A few months ago, I had a different perspective since the pieces are clearly there.
Nerlens Noel
leads another stellar recruiting class that can guide the Wildcats deep into the NCAA tournament. And like last season's young crew, those freshmen will have plenty of help with North Carolina State transfer
Ryan Harrow
in the mix and
Kyle Wiltjer
returning.
But the other contenders (and the veterans that lead them) can't be ignored. NC State, Michigan, Indiana, UCLA, Louisville and Kansas can joust with the Wildcats. They're stacked, too. You can't sleep on Arizona, Duke, Florida or Syracuse, either. Plus, Anthony Davis and his transcendental defense are gone (Noel is not Davis). He was the key to Kentucky's national title run in March. Not taking anything away from the 2011 squad that cracked the Final Four, but that year's field wasn't nearly as strong as I think the 2013 bracket will be. Right now, I expect that gauntlet to trip up this season's here-today-gone-tomorrow crew of UK youngsters prior to the Final Four in Atlanta.
Which team has the best chance of unseating UK atop the SEC?
[+] Enlarge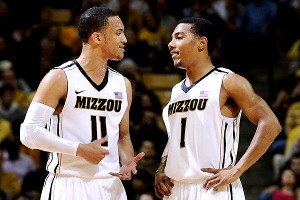 Dak Dillon/US PresswireWith Michael Dixon, No. 11, and Phil Pressey, Missouri should have the guard play it needs to contend for an SEC title.
Jason King:
Most prognosticators will tab Florida as the team most likely to challenge Kentucky for the SEC title, and while the Gators are certainly a reasonable selection, I'll pick Missouri. You can't win without high-level guards, and the Tigers have two of the best in the country in
Phil Pressey
and
Michael Dixon
. Pressey was a finalist for the Cousy Award last season and could emerge as a top-five point guard as a junior. Combo guard Dixon moves into the starting lineup after earning national sixth man of the year honors a season ago. Not many players are as good in close, late-game situations.
Mizzou's backcourt will also be bolstered by transfers
Earnest Ross
,
Keion Bell
and Jabari Brown. Ross (Auburn) and Bell (Pepperdine) both posted double-digit scoring averages at their previous schools. Brown was a consensus top-20 recruit before leaving Oregon just a few weeks after the start of last season.
The Tigers won't have incredible depth in the paint -- they didn't last year, either, and it hardly mattered -- but they'll certainly be talented. Connecticut transfer
Alex Oriakhi
was a starter and key piece of the Huskies' 2011 national championship squad.
Laurence Bowers
, a threat on both ends of the court, returns after missing last season with a knee injury. He was a starter in 2010-11.
The biggest question mark surrounding the Tigers is chemistry. How quickly will the plethora of transfers gel with returnees such as Dixon and Pressey? And how will Frank Haith divvy up playing time in a talented but crowded backcourt? Haith did a masterful job in his first season with the Tigers, winning well-deserved national coach of the year honors from the Associated Press. There's no reason to believe he won't be able to handle the task that lies before him.
What player in the SEC is ready to break out in 2012-13?
Dana O'Neil:
Jarnell Stokes
opened eyes and turned heads when he hopped into the college game midway through the season, fresh out of graduating high school a semester early. I can only begin to imagine what the Tennessee big will do now, with an entire offseason of conditioning plus the experience with USA Basketball to build on. The word "scary" comes to mind.
In his limited SEC engagement, the freshman averaged 9.4 points and 4.7 rebounds over 12 games. In the summer, he picked up where he left off, finishing second on the U-18 team in scoring (14.0) and rebounding (5.6) to help the Americans to the gold medal. Most figured Cuonzo Martin would need a little time to revamp the Volunteers after Bruce Pearl was fired. Not with Stokes he won't. The player who introduced himself to the SEC last season is poised to say hello to the college basketball world this season.
Who do you see as the sleeper team in the SEC?
Andy Katz:
Arkansas coach Mike Anderson was thrilled with his team's summer tour to Europe. He sees this team closer to his ideal of pushing the basketball and pushing it more. The Razorbacks have a healthy
Marshawn Powell
and a hidden gem in B.J. Young. The key will be how quickly the six newcomers adjust. If the Hogs get rolling, they once again should have one of the toughest home courts in the country, a rekindling of the glory days. If they can play the way Anderson wants, this team will become a tough out. The SEC could be top heavy with Kentucky, Florida, Tennessee and Missouri leading the charge. Ole Miss could also be a sleeper, but the rest of the SEC is more than manageable for a team like Arkansas to rise up quickly and snag an NCAA tournament bid.
How many NCAA bids does the SEC get this season?
Eamonn Brennan:
I'll go with five. Kentucky is a lock. So is Florida. Missouri will be a fascinating team, with so much turnover and so many transfers coming in, but the Tigers seem far too talented to do anything crazy like missing the March festivities. From there, it gets a little bit shakier, but I think Tennessee is a strong, emerging pick under Cuonzo Martin. When Jarnell Stokes joined the Volunteers mid-season, that became a totally different team -- one that finished 10-6 in the SEC, no less.
I also like Arkansas, a similarly young team with a similarly talented player in guard B.J. Young and a group that should only improve in Mike Anderson's second season. Ole Miss has a little bit of early buzz as a fringe bubble team (see Joey Brackets' first edition for the placement), but I'm not buying it just yet. It's early to be talking about tournament inclusion for any team, come to think of it. But hey, you asked.
September, 26, 2012
9/26/12
11:27
AM ET
By
ESPN.com staff
| ESPN.com
The Big East Conference has undergone a bevy of changes this offseason. So we asked our writers to share their thoughts on the most burning questions about the league in 2012-13:
What are the three things you're most looking forward to seeing in the Big East this season?
Dana O'Neill:
With Pittsburgh and Syracuse heading to the ACC next June, I'm looking forward to one last good run out of the Big East as we know it, especially in New York. The flavor of the conference lives and breathes in Madison Square Garden, promoted by good teams and great games, of course, but also by fans who have a lifelong affinity to the place and its meaning -- especially those clad in Orange.

Beyond that, I'm looking forward to Kevin Ollie's debut at UConn. He's been handed a difficult task during trying times and no guarantee for his future, but I'm betting on the likable coach.
Finally, I'm looking forward to watching Louisville go from surprise Final Four contestant to Final Four favorite. If the Cardinals' defense can echo last season's and their offense can even be a fraction less offensive, I suspect Rick Pitino has a special team on his hands.
How many teams do you realistically consider contenders for the Big East title?
Eamonn Brennan:
Well, let's count. Louisville is unquestionably the favorite. Syracuse is just a shade behind, but extremely talented, and will be right in the hunt. Notre Dame has one of the best rebounders in the country (and who saw that coming?) in
Jack Cooley
. I could see the Irish putting together a regular season like the Ben Hansbrough-led team of two years ago.
Marquette lost a lot but has plenty of depth at the guard position, and intriguing players all over the floor. It's a really interesting, potentially versatile team. Georgetown is sort of the same way -- losing veterans but remaining strong, with emerging young stars like
Otto Porter
. And it wouldn't be fair to cite those teams without including a team like Cincinnati, which may struggle on the low block but has really strong guard play.
That gives us -- carry the one -- six potential contenders. Now, I think Louisville will win the league. If the Cardinals don't, I think Syracuse is next in line. But all of these teams have a realistic chance to put something special together by the time the Big East slate rolls around.
September, 20, 2012
9/20/12
11:15
AM ET
By
ESPN.com staff
| ESPN.com
It appears the Big Ten is as stacked as it's ever been this season, with expectation levels soaring at the majority of the league's schools. So we asked our writers to share their thoughts on the Big Ten in 2012-13:
Will the Big Ten be the best conference in the country this season?
Jason King:
Things could certainly change, but entering the season, I don't think it's even an argument that the Big Ten appears to be the best league in college basketball. No one would be shocked if at least three teams (Indiana, Michigan and Ohio State) opened the year ranked in the top 10 -- and Michigan State won't be far behind. Of course, the ACC could make a similar claim with NC State, Duke and North Carolina. But that league doesn't boast the quality of depth that exists in the Big Ten. Wisconsin and Minnesota should both spend time in the top 25, and Northwestern will contend for an NCAA tournament berth. Even rebuilding programs such as Iowa and Penn State, which features one of the conference's top players in
Tim Frazier
, won't be pushovers.
The Big Ten might not be as heavy on star power as the Big 12 or the SEC. Outside of
Cody Zeller
(Indiana) and
Trey Burke
(Michigan), the league might not produce a first-round pick in next summer's NBA draft. Still, in terms of depth and parity, no conference in the country this season will match the Big Ten. Or at least that's how things look a month before the official start of practice.
[+] Enlarge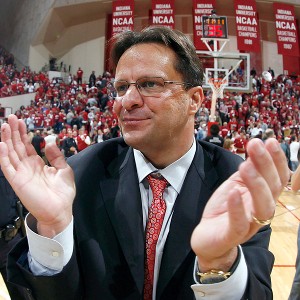 Brian Spurlock/US PresswireThe pressure is on coach Tom Crean and Indiana to win big this season.
It doesn't seem any Big Ten coach is on the hot seat, but who has the most at stake in 2012-13?
Dana O'Neil:
It's tempting to say its Bill Carmody, because until Northwestern finally (Eventually? Pick your qualifier) makes the NCAA tournament, the Wildcat coach will always have a lot on the line.
But the answer this year has to be Tom Crean. The rabid Indiana faithful have been unsparingly patient in their wait to climb out of the Kelvin Sampson rubble, showing Hoosier love even when there wasn't much on the court worth loving. Now the reward season is finally upon them. After breaking through the morass a year ago, IU will vault into the season either atop the rankings or very close thanks to a deep roster of returners and mostly, thanks to Cody Zeller.
To whom much is given, much is required, and this season Crean is required to win and win big. Anything less will be a colossal disaster. This is, after all, Indiana, a program that long has defined greatness, and a place where basketball is in the bones. That Hoosier patience has been endearing, but it is not limitless.
What player in the Big Ten is ready to breakout in 2012-13?
Eamonn Brennan:
I think there are a handful of players who could go from "solid second fiddles" to "bonafide stars": Michigan State's
Keith Appling
, Indiana's
Victor Oladipo
(or
Christian Watford
), Michigan's
Jordan Morgan
, Ohio State's
Shannon Scott
, even Northwestern's
Drew Crawford
. And there are more than a few freshmen -- Gary Harris, Yogi Ferrell, Glenn Robinson III -- that could go Full Zeller (or Full Burke) on an unsuspecting league.
But none of these players are really beginning the season under the radar. Two that are -- Minnesota's
Andre Hollins
and Iowa's
Aaron White
-- fit the bill, and Luke Winn's sophomore breakout formula, perfectly. Hollins averaged just 21.1 minutes last season, but came on incredibly strong during the Gophers' final 10 games. White posted a 111.6 offensive rating with a 23.1 percent usage rate, but played 23.8 minutes per game; expect his output to rise along with his usage in Fran McCaffery's lineup. And don't ignore Wisconsin's
Jared Berggren
, whose 22.2 percent usage rate should rise in the wake of the ball-dominating Jordan Taylor's departure.
Who do you see as the sleeper team in the Big Ten?
Myron Medcalf:
The Hawkeyes are coming, folks. I think this will be the year Iowa rises in a stacked Big Ten. Fran McCaffery finally has the personnel necessary to compete with the brawny, scrappy squads in the league. He adds 7-foot center Adam Woodbury, who's still raw but capable of anchoring the paint for the Hawks. And he's a potent shot-blocker for a squad that struggled on defense last season (No. 180 in Ken Pomeroy's adjusted defensive efficiency ratings).
Sophomore Aaron White averaged 23.5 points and 9.5 rebounds in a pair of NIT games. The 6-foot-8 forward could be a monster this season. Freshman point guard Mike Gesell will have to carry a heavy load early, but he's capable. Plus,
Melsahn Basabe
(8.2 ppg and 4.8 rpg) and
Roy Devyn Marble
(11.5 ppg) return. Basabe, per Iowa's coaching staff, is focused again after last season's underwhelming encore to a promising freshman campaign.
Iowa suffered five of its 10 Big Ten losses by single digits last season. The league won't be any easier this time around, but the Hawkeyes can compete with the best. They beat Wisconsin, Michigan and Indiana in 2012. And now that they're bigger and deeper inside, they're a more dangerous foe -- a major sleeper in the Big Ten.
How many NCAA bids does the Big Ten get this season?
Andy Katz:
The conference has a chance to get its highest percentage of teams in the field in quite some time. Don't be surprised if eight of the 12 teams are in contention for bids heading into the season's final weekend. I feel fairly comfortable saying Indiana, Michigan, Ohio State, Michigan State and Wisconsin will be locks for the Dance.
Minnesota with a healthy Trevor Mbakwe and a deeper Northwestern have a legitimate shot to be NCAA teams. Iowa could be the Big Ten's sleeper squad that challenges for a top-half finish. Purdue doesn't have the personnel on paper, but the Boilermakers have never disappeared under Matt Painter. So expect Purdue to be hanging around. That leaves only Illinois, Nebraska and Penn State realistically out of the mix.