College Basketball Nation:

Assembly Hall
December, 20, 2013
12/20/13
12:15
PM ET
When announcing a $40 million private gift to a college athletics department — the largest in its history and one of the largest in school history, too — an athletic director probably shouldn't need to gird for backlash.
Not in Indiana. On Thursday,
Fred Glass was fully be-girded
.
"I think if people are willing to look at this, they'll see it as really terrific and appropriate naming," Glass said. "Not everybody will, and I get that. But my responsibility is to be a good steward of the department."
Glass was speaking, of course,
about the big news out of Bloomington, Ind., on Thursday
, when the school announced that philanthropist (and heir to Simon Malls, the nation's largest mall company) Cindy Simon Skjodt had donated $40 million, the most immense sum in the history of IU athletics, to pay for renovations to Assembly Hall.
(Let's leave aside, for the moment,
the entire logistical and philosophical questions of university spending on facilities and salaries in lieu of salaries for revenue-generating players
, because that is a rabbit hole we already spend far too much time burrowed in. Moving on.)
[+] Enlarge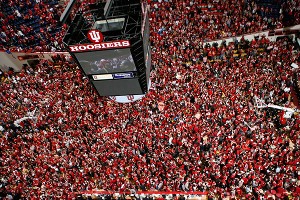 Brian Spurlock/US PresswirePerhaps Indiana fans aren't as enthusiastic about the name change to their arena as they were after beating Kentucky in 2011, but it's the best solution to fix an aging Assembly Hall.
The only catch? Simon Skjodt's name is going on the building. Beginning in 2016, the building will officially be called Simon Skjodt Assembly Hall.
There are a half-dozen reasons why this is a good thing: Assembly Hall is 42 years old. Amid renovations to Memorial Stadium and the introduction of Cook, the university has internally debated the merits of renovation against a more expensive, long-term construction project. Glass has been steadfast in his determination to keep Assembly Hall around; the problem was getting enough money to renovate it. In Simon Skjodt, he has done so: The $40 million will pay for all (or nearly all) of Indiana's planned renovations, including luxury seating, jumbotron installation, entryway and restroom refreshes and escalators in the place of some of the building's notorious balcony stairwells.
That all of this might be accomplished without public funds
— or further stress on a football-agnostic athletic department's budget — is a legitimate win.
But, of course, the price of that donation was a slight tweak to Assembly Hall's name. Glass knew it might not go over before he even had a chance to announce it. And he was right:
"Give um back the money I don't have a problem with the bathrooms" … "what a shame! ... sell outs--no one will accept that name!" … "Donation or not, if truly cared about IU's traditions it wouldn't be so important to have your name on the building. It's self aggrandizing and prideful." … "Why not donate and keep your name OFF the building? What a narcissistic stab in the gut to the tradition of IU BB. I need it to have my name on it so everyone knows that I'm so amazing and generous."
To be fair, this is just a minor sample of the debate going on in the comments of
Inside the Hall's (otherwise incredibly positive) renaming post
; there are just as many commenters unbothered by the change. But that is the dynamic Glass was preparing for in his announcement,
when he stressed the deep ties to Indiana basketball Simon Skjodt and her family share
:
"Cindy's one of us," Glass said. "She went to games as a little girl with her dad. She was a student here. She's been a season-ticket holder. She's from one of the most philanthropic and sports-minded families in the state of Indiana.
"I don't think it's too much of an overstatement to say (Simon Skjodt is) saving Assembly Hall for Indiana University," Glass said. "I think it's incredibly appropriate that this terrific arena is going to be graced by the name of someone who is in many ways every Hoosier, every member of Hoosier Nation."
Glass is right about that, too. Without Simon Skjodt, Assembly Hall could have decayed to the point that a $40 million renovation wouldn't cut it, to the eventual point that it would make more sense to just build a new building and be done with it. Or, perhaps, Indiana could have sought out a partnership like Illinois, turning its arena (
now the "State Farm Center"
) into one more generically leveraged corporate branding module. How violated would the Indiana traditionalists feel
then
?
No, sorry, this is the real world. And in the real world, massive facilities upgrades cost money, same as any other building on the campus, and sometimes the people willing to make those donations like to get just a little something — their name — in return. Don't like it? Leave off college sports. It's a business. Don't pretend it's not.
Also, no one calls the Willis Tower
"Willis Tower."
Call it what you want. Sheesh.
April, 30, 2013
4/30/13
10:00
AM ET
There are plenty of "sponsored" arenas in college basketball; it's not like college basketball is immune to the crass commercialization that
once gave us Enron Field
. Still, the Illinois' athletic department's Monday release -- that the school had signed a 30-year, $60 million deal to rename Assembly Hall the State Farm Center instead -- was a bit surprising. From the school:
A 30-year, $60-million agreement changes the name of the building to State Farm Center as the structure undergoes a major renovation project that is scheduled for completion in the fall of 2016.

"We are extremely proud to announce this relationship with State Farm, one of the most respected corporate brands in the world," Illinois Director of Athletics Mike Thomas said. "State Farm has been an outstanding partner for the University of Illinois for more than two decades, and this agreement will carry that partnership forward for at least three more. The Assembly Hall is one of the most recognizable structures in the nation and, at 50 years of age, has served the UI campus, community and Central Illinois very well. This agreement will ensure State Farm Center will serve those same constituents, and even more, for many years to come."
That statement is total PR-speak, obviously, but it does bring up a valid point: State Farm is a local Illinois company based just an hour northwest of Champaign in Bloomington, Ill., so there is a local tie between the two entities. And as one
Illinois fan at the Champaign Room
commented, "...
Assembly Hall is just a name and a boring one at that." It's also a name the Illini have awkwardly shared with Indiana for decades. This deal changes the branding, or at least makes things slightly less confusing.
My only surprise? Thirty years for $60 million. That doesn't seem like a whole lot of money, does it? I suppose the free market has spoken, but at this point Big Ten teams can find $2 million a year stuffed in the couch cushions of league headquarters. That's not really an exaggeration: In June 2012,
commissioner Jim Delany announced the conference would disperse $284 million of network revenue
, TV rights money, and NCAA tournament earnings to its 12 teams. Why would any team need to sell its arena name for $2 million a year for 30 years? Will Assembly Hall -- erm, the State Farm Center -- even be there in 30 years?! That building is charming and as loud as any place in the country, but I can answer that question: No. It won't. Pending renovation or not, it's old.
Still, the prevailing response from most Illinois fans seems to be "meh," and besides, those of us in Chicago are already used to defiantly refusing to call our major buildings by new names. (Don't you dare call it the Willis Tower.) So I suppose you might as well make a little money, right?
(Hat tip: Jeff Eisenberg)