College Basketball Nation:

Ater Majok
October, 1, 2010
10/01/10
10:51
AM ET
When
Connecticut announced that forward
Ater Majok
would be leaving the school in early September, the given reason --
or at least the assumed one
-- was as such: Majok had decided his NBA career wasn't going to happen anytime soon, so instead of wasting another few years toiling in the Big East, it was best to head back to Australia and start making money now. Fair enough.
The only problem with this line? Just a month before he left the program,
Majok told the Hartford Courant that he was finally getting settled
at his new school. He was looking forward to "three more seasons." Why leave in 30 days?
What if he was forced out? On Tuesday,
Majok talked to the New Haven Register
, and he was clear on one point: His departure wasn't his choice.
"I didn't want to leave," Majok said. "I'm not stupid. Why stay around here all summer, miss the NBA circuit, and then leave? At the end of the day, I had no choice."

But he wouldn't elaborate, instead referring the question to his agent, Mike Lelchitski, of the Washington, D.C.-based Sports International Group. Lelthitski wasn't any more helpful. "From what I understand, it wasn't his decision," Lelthitski said. "I don't know what was behind it, but it's pretty clear that it wasn't his decision – or it wasn't all his decision. It was his decision to go pro. He could have transferred to another school."
So, Majok says it wasn't his decision. Majok's agent says it wasn't his decision.
What does Jim Calhoun say
?
He said he was surprised when Majok came to talk to him about the possibility of transferring in May, then again in June. Calhoun said he advised him not to. Calhoun also said Majok was torn by the desires of his family and the desires of his coach, Ed Smith. [...] Calhoun adamently said that Majok wasn't forced, that he was eligible and welcomed back, and that Majok had been disappointed with his role on the team. Calhoun added that Majok thought he was not utilized properly in the UConn system.
Either there was a fundamental misunderstanding at work -- a conversation about Majok's role got out of hand, he took offense, things mushroomed into a departure, etc. -- or someone isn't being truthful. Nor does any party have a clear motive. Calhoun wouldn't want to get rid of his most promising big man in the midst of a down cycle. Nor did Majok seem keen to leave without a chance to work out for NBA scouts.
That raises the more sinister question: Was the nature of Majok's recruitment a threat to UConn in its
attempts to fend off NCAA sanctions
? The answer: No one, save Calhoun, Majok and the intermediaries therein, knows.
September, 1, 2010
9/01/10
2:29
PM ET
For a guy who never had a chance to taste March Madness, Ater Majok's Connecticut career ended up much like the month's weather forecast: in like a lion, out like a lamb.
Majok's arrival in Storrs came with almost breathless anticipation, with hopes and expectations that the former Sudanese refugee would follow in the talented big man footsteps laid before him.
Instead Majok's career started late while his eligibility was cleared up, and finished with a whimper. In 26 games he averaged only 2.3 points and 3.0 rebounds. On Tuesday, the university announced he had withdrawn from the school.
His numbers might imply Majok won't be missed.
And ordinarily he wouldn't be, but these are no ordinary times at UConn. Already mired in a horrific offseason, thanks to a love note from the NCAA that penned the organization's notice of allegations, Majok's late decision is more salt in the wound.
The Huskies last year missed the NCAA Tournament and finished a pedestrian 18-16. Their biggest problem: scoring.
Now Jim Calhoun heads into the preseason down a big man in an already slim-pickings frontcourt that struggled to score even with Majok.
Whether Majok would have found the firepower to match -- he's blessed with great length and skill -- is impossible to know, but he did have promise as something more than just a rebounder.
Instead the Huskies are left with
Alex Oriakhi
and
Charles Okwandu
, who together averaged six points per game.
Do the Huskies need to beware the Ides of March again?
August, 30, 2010
8/30/10
10:26
AM ET
Ater Majok
came to UConn with a lot of hype. He has not lived up to any of it. Instead, after a long and arduous recruiting process -- involving an NCAA inquiry, a long eligibility process, a pipe-dream early entry in the 2009 NBA draft and a few five-star rankings mixed in for good measure -- Majok has played in a mere 26 games, averaging 2.3 points, 3.0 rebounds and 1.6 blocks per game. Needless to say, Huskies fans were hoping for more. A lot more.
Now, after all that, it appears Majok might be ending his college career before it really has a chance to start. The
Hartford Courant is hearing that from multiple sources
, in fact, as it appears Majok could leave the Huskies in the next few days in order to pursue a professional career in Australia. From the Courant:
Ater Majok's playing career at UConn has likely ended, multiple sources have told The Courant. Coach Jim Calhoun said that is a distinct possibility, but not a done deal.

"We're talking to Ater about his future, yeah," Calhoun said. "That's all I can say. … He hasn't made any decision yet, but he could certainly go back and play in the Australian professional league. Nothing's been determined yet, but there's a chance that kind of thing could happen."
Majok came to the U.S. from Australia. He is originally from the Sudan and spent time in Egypt as a child. According to the Courant, Majok's large family -- which fled the Sudan during the country's genocidal civil war -- is back in the country, and Majok considers them his responsibility.
Still, the decision would come as a surprise. This July, Majok said he couldn't
envision a scenario that would cause him to leave
UConn early. He also said he felt settled at the school, that he was ready for the three years of college hoops ahead of him. According to the Courant, Majok posted on his Twitter page that "life can take unexpected turns.. there is nothing i can do about it all i can do is keep my head up and keep working hard..." That's the right attitude. But I'm betting UConn fans -- who desperately needed Majok to live up to his outsized expectations -- will be somewhat less forgiving in their appraisals.
July, 19, 2010
7/19/10
3:36
PM ET
Ater Majok
is the rare player in the modern hoops era who thought long and hard about the NBA
before
arriving on a college campus. Majok graduated from the American International School in Australia before heading stateside. Before he made his debut at Connecticut, the much-heralded Majok had to sit out thanks to eligibility issues, and before the 2009-10 season considered a jump to the NBA.
A year later, it's a good thing Majok didn't make that jump. The Sudanese-born forward didn't live up to his recruiting hype. Instead, he struggled to get on the court, did little once he was there (averaging 2.3 points, 3.0 rebounds, and 1.6 blocks in 14.6 minutes per game) and overall contributed little -- or perhaps too much -- in what turned into a disappointing, disjointed Huskies season.
Which is why it's probably good Majok isn't thinking about the NBA at all anymore. Rather,
in an interview
with the Hartford Courant's Mike Anthony, Majok said he "didn't envision a scenario" that would cause him to leave school early, including finding a professional team in Australia. On the contrary, Majok seems locked in.
"Everything is good," he said. "Everything is settled down. I know what's next. I can relax, work and get ready for the season." [...] Majok added, "It's been a crazy road but the road is getting smoother now. I'm here. I've got three more seasons ahead of me. I just have to keep working hard."
Huskies fans couldn't ask for a much better attitude than that.
Majok was a late arrival in 2009-10, only getting eligible in December, and he never really seemed to get his bearings. But it's worth remembering that the forward was a highly touted recruit -- ranked in the top five at his position by many recruiting services -- when he signed with Jim Calhoun in 2008. The talent, however raw, is there. It will be interesting to see if Majok, settled and focused after a long path to the college ranks, finally gets around to utilizing it.
February, 22, 2010
2/22/10
8:28
PM ET


HARTFORD, Conn. -- A few quick thoughts from
UConn-West Virginia
:
UConn coach Jim Calhoun hasn't mellowed one bit. The bench got a technical foul less than a minute into the game when the coaching staff wanted a push call. Calhoun then directed his anger toward official John Cahill, who wasn't on the play. Why? Well, Cahill was the official who made two controversial calls against Connecticut -- one in the final possession at Cincinnati and then at Syracuse when he granted a timeout to Syracuse after the change in possession.
This doesn't seem like the same building the last time the Huskies played here. When the Huskies took on Cincinnati on Feb. 13 the XL Center lacked any kind of buzz and the Huskies were completely flat.
This is what is tough for the NCAA tournament selection committee: Watch UConn and you have to agree this "looks" like an NCAA tournament at-large team win or lose. But you have to win the game and you can't be excused for past failings. The subjective "eye test" will come into play.
West Virginia's Kevin Jones will be a pro. He is physical, can square up and make shots and he's tough.
What happened to Devin Ebanks' offense? He doesn't hunt his shot one bit. I'm also waiting for Da'Sean Butler to go on one of his runs.
Let's chill, and I mean all of us, on hyping the players who sit out: For UConn Ater Majok was put on too lofty a pedestal and for West Virginia the honor goes to Deniz Kilicli. They are both role players.
UConn's Gavin Edwards maximizes his talent as much as anyone I've seen this season. He finds a way to contribute every game whether it's on rebounds, post-up or setting a screen. He has become a glue guy for the Huskies.
February, 13, 2010
2/13/10
5:30
PM ET
HARTFORD, Conn. -- Prior to tipoff, Connecticut associate head coach George Blaney said it was as if Jim Calhoun never left.
He returned for Thursday's practice after missing seven games to treat a temporary medical issue that he has chosen not to disclose.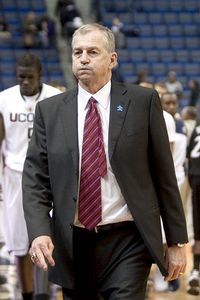 AP Photo/Thomas Cain
The return of Connecticut coach Jim Calhoun to the sidelines Saturday did little to help the reeling Huskies, who lost to Cincinnati, 60-48
Later Saturday afternoon, Calhoun would say that the players gave a "terrific effort" in the two days of practice prior to Saturday's game against Cincinnati.
Calhoun had no reason to believe that the Huskies would ultimately give him the worst performance and execution of the season -- or for that matter, in years.
But they did. And the 67-year old, two-time national championship winner and Hall of Fame coach was at a loss to explain the complete meltdown of a team that went from beating then top-ranked Texas three weeks ago to turning in an awful performance in a lackluster,
feeble 60-48 loss to Cincinnati
.
The loss leaves the Huskies at 14-11 overall, 4-8 in the Big East and heading toward the NIT or CBI with six games remaining, starting with a road game at Villanova Monday.
"I came back because I had a job to finish," said Calhoun, who was as disgusted after a game as I've seen him in the past decade. "I came back because I want to coach. But this leaves me befuddled."
Calhoun said he never questioned the team's heart, but had to challenge the effort. The Huskies went eight minutes in the second half with only three points. The 48 points was the lowest offensive output for the Huskies since scoring 46 in a six-point win over Villanova in 2002.
"We didn't compete the way we need to compete in this league," Calhoun said. "There was a lot on the line for both teams."
Calhoun used the word "embarrassed" multiple times.
"He's right," said Connecticut guard
Kemba Walker
. "It is embarrassing. Same thing he told y'all, he told us. He was embarrassed."
When I asked Calhoun how he could fix the problem in the final six games, he paused for eight seconds.
"I was looking down the bench and I didn't see a lot of answers," Calhoun said.
Calhoun was back to being himself immediately after the tip. The crowd gave him a standing ovation at the XL Center but poor play in the first few possessions led him to pull starters Walker,
Ater Majok
and
Alex Oriakhi
as he searched for the right combination. Walker's two first-half fouls limited his minutes. Later, Calhoun didn't seem to have an issue with his effort. But as for his team as a whole, getting dominated on the boards by 14, missing 12 3s, nine free throws and committing 16 turnovers added up to constant frustration.
"There aren't a lot of answers," Calhoun said. "It's not like we can say 'let's run more inside offense'"
Calhoun said he was disappointed by the reaction the Huskies had to getting "hit in the face" to start the second half.
"Clearly this is a low point in the season," Calhoun said. "The type of effort we gave is not the type of effort you need to win games."
Calhoun didn't expect a different team to suddenly emerge now that he was back on the bench. The Huskies have been flawed all season, going 3-4 in his absence and stumbling around since the New Year.
"I didn't expect the team to be something different than what it was," Calhoun said.
Connecticut athletic director Jeff Hathaway said before the game that Calhoun's contract situation had nothing to do with his absence. The two sides have agreed in principal on a new four-year contract but neither has signed the deal. Calhoun's current six-year contract expires on June 30.
Meanwhile, the road win at UConn gave Cincinnati some separation in the league standings and gave it another quality win adding to victories over Vanderbilt and Maryland at the Maui Invitational. The Bearcats defended and rebounded well and were able to close out a game, something they were unable to do in losses to Xavier, Pitt and Gonzaga.
"There's no doubt this is a huge win for us," said Cronin, whose Bearcats are now 15-9, 6-6 in the Big East. "Separation is going to happen amongst all of us in the middle and it will happen in the next two weeks."
The Bearcats have games remaining at South Florida, home to Marquette and DePaul and finish with a brutal stretch that sees them visit West Virginia, host Villanova and visit Georgetown.
Cronin claims the Bearcats will end up having one of the toughest schedules in the country.
"When you have 16 teams, 11 are going to be in the conversation every year and four or five will be on the bubble," Cronin said. "We've got to finish and get people confident in what type of team we are. There's no doubt this was a huge win for us and gets us in a better position."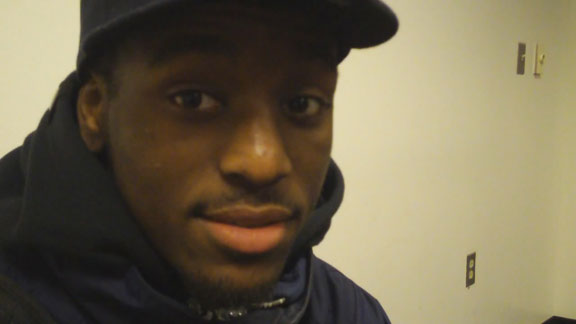 December, 30, 2009
12/30/09
4:15
PM ET
Coaches will look anywhere for basketball talent.
American scouts already comb the globe for college-ready basketball talent, and this search includes Africa, where aid groups have been helping basketball prospects from countries like war-torn Sudan get a chance to live in America and pursue their athletic dreams. It sounds like a win-win. For some recruits, it is.
The problem is that the current system for finding and developing such players stateside can lead to what aid groups consider exploitation. Such is the finding of Bob Hohler, a Boston Globe reporter who
wrote a long investigative piece tracking the lives of two Sudanese refugee recruits
(hat tip:
Matt Yglesias
). From that story:
The two refugees, like dozens of athletic African youths shepherded to US shores by basketball recruiters associated with American nonprofit charities, arrived with little more than the shirts on their backs and starry visions of new lives in a land of plenty.

Instead, Thon Luony and Mathiang Muo tumbled into a group some are calling the new Lost Boys of Sudan - young Afri can basketball prospects bounced by their sponsors from state to state and school to school, sometimes substandard schools where basketball is the main object and academics are sketchy. Some, like Luony, fear deportation if they protest. Many wind up feeling manipulated and betrayed, but also wary of losing the support of those who promised to help them.

A Globe examination of the recruitment and treatment of African schoolboy ballplayers found many such stories. Last year, for example, six Sudanese refugees were sent from Australia to Laurinburg Institute, a financially imperiled basketball mill in North Carolina, where they complained of receiving too little food. Months later, all but two of the youths were returned to Australia, after the National Collegiate Athletic Association barred US colleges from accepting Laurinburg's academic credits for student athletes.

"They treat us like slaves,'" Luony said at a rural school in Mississippi where he found temporary refuge. "It happens all the time to kids from Africa, and a lot of us don't know any better. It's very frightening."
The common reaction to this?
No kidding.
What's more horrifying? That this happens? Or that no one is surprised when it does?
To be fair, the two players in Hohler's story lived in horrifying conditions before their basketball sojourn -- genocide- and war-torn Sudan, for example -- and that's objectively much worse than languishing academically in a U.S. basketball mill while visions of hoops stardom pass by. And plenty of global recruits know what they're getting into before they come try to play basketball in the U.S., whether they're from Africa or not. But that doesn't make this process
right
. It only makes it
slightly less bad
than genocide and war. We can all agree that's not exactly the bar the NCAA or the NBA or the AAU ought to be shooting for.
In any case,
read the entire Globe story and get the full download
. Solutions to such a quandary are fleeting. The NCAA is locked in an eternal struggle with domestic recruiting sleaze; it's hard to imagine expanding that struggle to Africa. But whether it's an independent watchdog group or a collective coaches' resolution similar to the one preventing recruitment of grade-schoolers, there has to be something better than the status quo. Because the status quo, at least in this case, really, really sucks.