College Basketball Nation:

Augustus Gilchrist
March, 15, 2012
3/15/12
1:27
AM ET
DAYTON, Ohio -- The
South Florida Bulls
don't play fast. They don't light up the scoreboard or crack nightly Top-10 highlight reels.
"Ugly" is the word that's typically used to describe their rugged style, which helped them establish a Big East record for scoring defense (56.9 ppg).
And following their
65-54 victory
over California in the First Four at the University of Dayton Arena Wednesday, the Bulls made it clear that they don't care about their critics' slights.
"I know people have their opinions. So they can say what they want," said
Anthony Collins
, who scored 12 points. "But we're just going to play our style of play and take our time and get whatever shot we want."
[+] Enlarge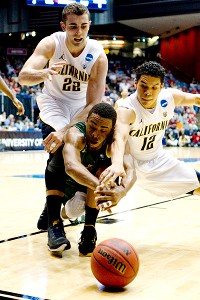 Greg Bartram/US PresswireThe Bulls stymied Cal's offense and kept the Bears to only 13 points in the first half.
The Bulls, a team that entered the game averaging 59.2 ppg, were on pace to score nearly 80 points at one point in the first half. They held a 36-13 lead at halftime, after finishing the first half on a 14-0 run.
Victor Rudd
Jr. led the team with 15 points and
Augustus Gilchrist
added 11.
Cal registered 5 field goals (20.8 percent clip from the field), missed all four of its 3-point attempts and was outscored 20-2 in the paint before halftime.
South Florida's uncharacteristic offensive surge continued in the second half along with the crippling defense. The Bulls held a 32-point lead with 8:51 to play. They didn't maintain that margin. But they never allowed the Bears to make a BYU-like push down the stretch.
In the end, South Florida's abrasive, unsexy defense and methodical offense resulted in the program's first-ever tournament victory. And that's all that mattered to Stan Heath, who ended South Florida's stint as the only Big East team that hadn't earned an NCAA tourney berth.
"Well, we're all thrilled. Our president, my athletic director, it's always great to keep your bosses happy, and we're thrilled. And we didn't want to just come here for one game," Heath said after the game. "We were excited to get in here. But we did want to prove a little bit that we deserve and we belong and we're legit. And I think the kids took that to heart. But it's a building process and we took a big step in the right direction today. But we want to take some more steps as well."
After reaching their average (59 points) with 7:09 to play, the Bulls pulled back and worked the shot clock. With a second round shot at 5-seed Temple on the line, they didn't want to squander their sizable lead, especially after witnessing Iona blow a 25-point edge in Dayton Tuesday.
"Yeah, we just wanted to come out and stay aggressive. And last night, you know, the teams, when I watched them play in the night before, that the teams played up and down real fast and was scoring the ball," Collins said. "But then … when they had the big lead, they still was coming down and shooting fast shots. We wanted to go down also, but also take a good shot so the other team couldn't come right back down fast and get a better shot."
The Bears averaged 71.7 ppg entering their loss to South Florida. But South Florida held Cal's top scorers
Jorge Gutierrez
and
Allen Crabbe
to 21 combined points and a 7-for-24 clip from the field.
The Bulls clamped Cal's scorers with a defensive philosophy that's carried them all season, one that's not TV friendly but worked for them.
"We get mad when people score, no matter what kind of bucket it is," said Rudd. "And that's what makes us have people scoring in 50, 40, because we don't like it when people score at all, not even a free throw. So we get mad at each other, and that's how we play great defense."
March, 14, 2012
3/14/12
1:00
PM ET
DAYTON, Ohio — Some folks thought the First Four didn't matter. And then last night happened. Here we go again. Perhaps we'll get more drama in the next installment from Dayton.
Vermont (16) vs. Lamar (16), 6:40 p.m. ET on truTV, University of Dayton Arena in Dayton, Ohio
— The winner of this matchup will face No. 1 North Carolina.


Pat Knight publicly blasted his veterans after a tough loss in late February. The tactic was criticized by some, commended by others. The bottom line is that it worked.
The Cardinals have won six straight, a run that includes the Southland tournament title, since that 10-point home loss against Stephen F. Austin on Feb. 22.
Anthony Miles
(14.5 ppg) and
Mike James
(17.2 ppg) can go.
Vermont finished second to Stony Brook in the America East's regular-season standings, but the Catamounts defeated the Seawolves in the conference tournament title game. The Catamounts are shooting 35 percent from beyond the arc. They held their opponents to just 60.5 ppg, second in the conference, and a 40 percent clip from the field, No. 1 in the league.
But they struggled down the stretch of their conference tournament title game, an offensive roadblock that they can't afford against Lamar.
Four McGlynn
leads the team in scoring (12.0 ppg) and he has the best name in the entire NCAA tournament. Personal opinion.
After what I witnessed last night here in Dayton, I can't wait for the next set of games.
South Florida (12) vs. California (12), 9:10 p.m. ET on truTV, University of Dayton Arena in Dayton, Ohio
— Two completely different teams. But whoever advances will have a shot to upset 5-seed Temple.


The Bulls are slow. They win ugly.
But they've held their opponents to 56.9 ppg, a Big East record for scoring defense. However, they average just 59.2 ppg on offense.
South Florida is the anti-Iona. The Bulls can guard everybody, but they can't score.
Augustus Gilchrist
is the team's leading scorer and he's averaging 9.6 ppg.
It's rarely pretty when South Florida takes the floor. But the Bulls can control the tempo.
Cal is a talented offensive team. The Bears led the Pac-12 with a plus-9.9 scoring margin. They shoot 48 percent from the field and they've averaged 71.7 ppg this season.
Justin Cobbs
(12.9 ppg),
Allen Crabbe
(15.3 ppg) and
Jorge Gutierrez
(13.1 ppg) comprise one of the best backcourts in the field.
South Florida will pressure all three and try to force Cal to make things happen off the dribble. Cal will attack and try to play fast and make South Florida pick up the pace.
It's an interesting contrast.
Will we see another amazing night of NCAA tourney basketball? I hope so.
March, 9, 2012
3/09/12
1:15
AM ET
NEW YORK – Somewhere in Philadelphia, Bruiser Flint should be crafting his argument:
"The Top 100 Reasons Why My Team Deserves To Be in the NCAA Tournament."
South Florida provided 99 for the Drexel coach.
The Bulls, fighting to prove why they belonged in the bracket, instead gave the selection committee a litany of reasons for why they didn't.
Forget the RPI and the 1-9 record against RPI top-50 teams. Forget the unbalanced schedule that worked against the Bulls in terms of SOS.
Just go to the eye test and watch the final few minutes of regulation and the extra period in their
57-53 overtime loss
to Notre Dame. The federal government could put it on a loop to force bad guys to confess.
It was equal parts painful and foolish, a one-two self-inflicted punch that could prove to be a knockout.
Missed layups, missed front ends of one-and-ones, turnovers, dribbling aimlessly for 23 of the final 25 seconds with a four-point deficit and throwing the ball out of bounds on a last-ditch attempt to win it.
How did USF blow it? Let us count the ways.
And the Bulls blew it on a bubblicious night when Texas and Cal likely played their way in with wins and North Carolina State and Colorado State at least played their way into the discussion.
Instead, USF joined Washington, Northwestern and Mississippi State in the losers' bracket of teams that will spend an uncomfortable Sunday evening.
[+] Enlarge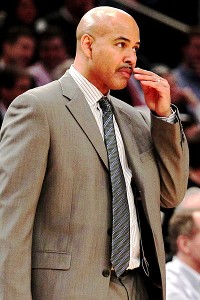 Anthony Gruppuso/US PresswireStan Heath's USF squad will be biting its nails ahead of Selection Sunday after an ugly loss.
Of course, beauty or ugliness, as Stan Heath said, is in the eye of the beholder -- and when the USF coach gazed upon the mess, he saw a masterpiece.
"Hopefully we erased any doubt of what kind of basketball team we are,'' he said. "We belong. We definitely belong. Giving that kind of effort on the defensive end, you have to really appreciate when you have teams that sacrifice themselves on the defensive end. People on the outside, the casual observer, don't know how difficult that is, don't understand that. Teams like us not only get in, they win and advance.''
Heath's assessment of his defense is fair. The Bulls do play hard and they challenge shots, using their size inside to make everything difficult. In one ridiculous effort,
Gus Gilchrist
managed to block
Jerian Grant
despite falling backward and out of bounds.
But this wasn't about the defense making things ugly. Good defense should be lauded.
This is about the offense making things uglier.
As active and disruptive as the Bulls' defense is, their offense is that lackluster. It is like watching chess, with players just standing around like statues.
South Florida led by three with 2:45 to play in a game when three points might as well have been 300, and lost. Frankly, it lost multiple times.
First, when with 33 seconds to play and USF up 45-44,
Jawanza Poland
got out on the break with absolutely no one but a row of cheerleaders near him and the basket ... and missed a layup.
"He should have finished that layup,'' Heath said. "He's point-blank, all by himself. He makes it and the game is over. It's done.''
Second, when Poland, strangely fouled by
Scott Martin
after that miss, clanked the front end of a one-and-one.
Third, when Poland made the worst 33 seconds of his life even worse, fouled
Pat Connaughton
.
Because the Irish were every bit as culpable in this disaster, Connaughton naturally missed one of two free throws to tie it with 26 seconds left.
"That was unusual,'' Notre Dame coach Mike Brey said with a chuckle. "We threw a bomb to Pat and he got fouled. I thought, this is getting wild.''
Ah, but there were five more minutes of wild to come. Notre Dame edged out to a four-point lead when
Eric Atkins
, without a field goal in the entire game, drained a 3-pointer with 30 seconds to play.
USF got the ball back and point guard
Anthony Collins
showed all the urgency of a senior citizen on a freeway.
It would have been a comedy of errors if weren't so hard to understand and if the potential ramifications weren't so bad.
"I'll be honest, I won't sleep,'' Heath said. "You want to hear your name called on Sunday at 6 o'clock. I think we've done a great job by putting ourselves in a great position. I think our team is worthy. But there's some people that have a lot of information that make wise decisions and we'll let our case rest with them.''
There is no shame in losing to Notre Dame. The Irish are a very good team, owners of a 22-10 record now and a legit top Big East squad.
And Heath should be commended for what he's done. He has retooled a team that won 10 games all of last season into one that won 12 in the Big East alone this season.
But at this time of year it is not enough to talk about what you've done. You have to compare your results and your game to others.
You have to look like an NCAA tournament team -- and in its last game before Selection Sunday, USF didn't.
March, 2, 2012
3/02/12
11:05
AM ET
Before they began to celebrate, the
South Florida Bulls
breathed a sigh of relief.
The final horn had just sounded in their 58-51 victory at Louisville Wednesday, and the Bulls fully grasped the magnitude of the situation.
"So much was at stake," senior Ron Anderson said.
A spot near the top of the Big East standings, a road win against a quality opponent, a victory that will help its NCAA tournament hopes. South Florida touts 19 wins, but none were as big as the triumph over the Cardinals.
One season after finishing 3-13 in the Big East, Stan Heath's squad will take a 12-5 conference record into Saturday's regular-season finale against West Virginia. A win over the Mountaineers could boost the Bulls all the way to No. 2 in the league standings. More importantly, it would all but ensure South Florida a spot in the NCAA tournament.
If the Bulls are not already in.
Beating Louisville on the road Wednesday gave South Florida the one thing it lacked -- a victory against an upper-echelon Big East team away from home.
With underrated freshman point guard
Anthony Collins
teaming with
Jawanza Poland
in the backcourt and veterans such as
Augustus Gilchrist
and Anderson down low, South Florida has one of the better starting lineups in the Big East.
The Bulls average just 60 points a game and don't have a single player with a double-digit scoring average. But opponents are scoring just 57.4 points and shooting only 39.2 percent against South Florida, making Heath's squad one of the best defensive teams in the country. The Bulls haven't allowed more than 56 points in a game in nearly a month.
On Thursday, Anderson, a senior, spoke with ESPN.com about South Florida's success thus far and about what lies ahead.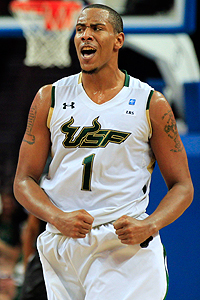 AP Photo/Chris O'MearaBacked by a bullish defense, Ron Anderson and USF have built a strong NCAA tourney résumé.
What was it like in the locker room after you beat Louisville?
Ron Anderson:
It was really emotional. Everyone understood how important the game was. Everyone wanted to win the game so bad that, finally, when the horn went off and there was no more time left, there was a big sigh of relief. We knew what was on the line. In order for us to continue to prove ourselves, we needed to get a quality win. Louisville is an excellent team. Rick Pitino is a Hall of Fame coach. That's as hard of a place as anywhere to win -- especially on Senior Night. I heard today that they hadn't lost in 14 years on Senior Night. That's an accomplishment in itself.
What did Coach Heath say to you in the locker room afterward?

RA:
Just to be excited, to enjoy the moment, but not be satisfied. He told us we had to keep pushing. That's the mentality of the team right now. That's the phrase we use in the locker room: never be satisfied. When we don't have any games left and Selection Sunday rolls around, we can sit back and see if we should be in the discussion. For now we're just going to continue to work hard and go out and play the right way.
What's the main thing that's happened that's enabled this team to turn itself around?

RA:
We had talent last year, but we had mental lapses in games that caused us not to win. We couldn't close out games. We had a lot of new guys last year, too. So with so many people having an extra year of experience ... it builds confidence and chemistry. Plus, we always knew we could play. When you put those pieces together and combine them with a great freshman point guard, you've got the recipe for success.
What makes this team so good on the defensive end?

RA:
It's a passion. We pride ourselves on that. We know that if we play good defense and get stops, our offense will fall into place and we'll make shots. Defense is about willpower and refusing to let your man score. If you go out there with that mentality, just thinking that you're not going to get scored on -- and you know you're on the court with four other guys who feel the same way --things are really going to work in your favor. That's been our backbone this season.
Did Coach Heath do anything to instill that passion in you, or did it just happen naturally?

RA:
All of our practices have been really intense, especially since conference play has started. Just really intense, really competitive. Augustus Gilchrist and I are out there banging like it's a real game. We don't want anyone in our team to slack off on the court. It's all about pride.
What's next for this team?

RA:
Things have been going really well, but Coach Heath and his staff have done an excellent job of making sure we stay the course. We're taking it day by day. What's next for this team is Saturday at noon against West Virginia. If we take care of business there, there's a chance we could move up in the standings and get a double-bye in the Big East tournament. Guys know what's at stake. We're working hard for it. We're just excited about the opportunity. We're not just playing for us. We're playing for our university. We're playing for all the guys from past years that have put in blood, sweat and tears. Every year, people work hard and try to succeed. We're just fortunate that everything fell into place this year. Honestly, when I leave after this year, I want to be able to look back and think that we started a tradition here.
You mentioned "playing for the university" ... what's the buzz about you guys been like on campus? How much has the support increased?

RA:
Just like with any team that begins to win, the buzz has picked up a little bit. We understand that with winning comes more support. We embrace that. People are starting to understand that good things happen when you work hard. I'm so excited for Saturday's game. It's my Senior Day. I feel like we're going to have one of the biggest crowds here that the school has ever seen. They're saying it's going to be the biggest home game in 20 years. Still, all the outside distractions, we can't really worry about right now.
January, 2, 2012
1/02/12
10:30
AM ET
Big East play has begun. Let's take another crack at ranking this mega-conference:
1. Syracuse: Like Otto, their citrus-infused mascot, the Orange keep on rolling. Syracuse was supposed to get a challenge from Seton Hall. The Orange won by 26. DePaul is better this season, which meant only a 19-point loss to the top team in the country. The next circle-the-date challenge comes on Jan. 7, when Syracuse hosts Marquette.

2. Georgetown: The Hoyas mastered the art of survive and advance against Providence, shooting an abysmal 30 percent for the game yet coming away with the win. Georgetown will need to find its touch soon with a rough run of games -- against Marquette, at West Virginia and against Cincinnati.

3. Connecticut: The Huskies have weathered their first two games without coach Jim Calhoun, who is serving his mandated NCAA suspension. UConn hasn't been pretty -- the Huskies needed every one of Jeremy Lamb's 23 points to beat South Florida and squandered much of a 23-point lead against St. John's -- but pretty doesn't matter in the Big East.

4. Marquette: Weird week for the Golden Eagles, who played horribly against Vanderbilt but rebounded in league play against Villanova. The simple secret to Marquette's success seems to be Darius Johnson-Odom. When he plays well, as he did against the Wildcats, so does Marquette.

5. Louisville: The Cardinals were handed a double-whammy, with back-to-back games (and losses) to conference rival Georgetown and in-state rival Kentucky. Louisville's defense took a night off against the Hoyas but came to life in the slugfest against the Wildcats. This remains a team with limitations, but one that can count on its pressure defense to keep it alive in conference play.

6. Cincinnati: The Bearcats' guard-fueled offense continues to pay huge dividends for Mick Cronin. Since the brawl housecleaned his lineup, Cronin has gone with four guards. He's got six consecutive wins to show for it. Yancy Gates is due back on Wednesday against Notre Dame.

7. Notre Dame: In the midst of a week-long break, the Irish at least have a nice game to linger over. Notre Dame's offense caught fire against Pitt, hitting 18 of 25 from the floor in the second half, to score the upset in the the league opener.

8. Seton Hall: Seton Hall is part of a glut of Big East teams that is hard to separate, mixing in with Cincinnati, West Virginia and Pittsburgh. The Hall may not be quite ready for the top of the pack -- not if the 26-point loss to Syracuse is any indication -- but the Pirates earned themselves a little space from the pack with a decisive win against West Virginia.

9. West Virginia: The Mountaineers, a team with seven freshmen on the roster, are going to be something of an enigma this season. The same team that couldn't miss against Villanova struggled to score against Seton Hall's zone.

10. Pittsburgh: The Oakland Zoo has been tamed. Pitt, which once lost at home about as often as the solstice, dropped its third at the Zoo this season and second in eight days. The Panthers have now skidded to their third loss in a row.

11. DePaul: The Blue Demons are better but there is a big distance between better and competitive with the top of the Big East. How improved DePaul is can't be defined by its 19-point loss to Syracuse. The Demons' next two games, however, could be more telling. DePaul hosts Pittsburgh, a team that's been on the ropes already this season, and travels to face a reeling Villanova team.

12. St. John's: The tough sledding continues for a young Red Storm team that is trying to get through Big East games without its head coach. There are good signs -- Moe Harkless has the ability to take over a game, as he did with 32 against Providence -- but there is still plenty of work to be done.

13. Villanova: The Wildcats are like a car stuck in mud -- the wheels are spinning, but they aren't getting anywhere. A close game dissolved in to a 14-point loss against West Virginia and a late rally proved too late against Marquette. Villanova, a young team in both age and experience, has lost seven of its past 10.

14. South Florida: A decent week for the Bulls to open conference play -- they gave UConn all it could handle and topped Rutgers. But South Florida has to get more offense out of Augustus Gilchrist going forward. He's getting touches, but shooting only 36 percent from the floor.

15. Rutgers: Mike Rice's fears came true. Minutes after the Scarlet Knights improbably upset Florida in double overtime, Rice said his only concern was South Florida. Sure enough, Rutgers, which played so well against the Gators, started sluggishly and paid for it with a loss to the Bulls on Sunday.

16. Providence: The Friars are what they are -- young and limited. They simply aren't ready to win Big East games, even when they try to make them as ugly as possible, as they did in a competitive loss against Georgetown.