College Basketball Nation:

Austin Chatman
February, 16, 2014
Feb 16
9:31
PM ET
OMAHA, Neb. -- By the final five minutes on Sunday, Villanova reached its breaking point.
The sixth-ranked Wildcats were beaten. Thoroughly.
They began to leave holes in the center of the lane for Creighton's small guards to reach the rim. Villanova's top scorer,
James Bell
, had fouled out with 8:45 to play.
After 75 minutes of basketball in two games against Big East newcomer Creighton -- 27 days and 1,200 miles apart -- coach Jay Wright's club was done.
"We were really looking forward to this," Wright said after
Creighton torched Villanova 101-80 on Sunday night
. "We felt we didn't play our game at home against them. But now when you play this game, we see, you know what, this is what we are against Creighton.
"We've done it twice in a row."
Before Sunday, Villanova had lost this season only at No. 1 Syracuse and at home to these Bluejays,
96-68 on Jan. 20
in a seemingly flukish performance.
[+] Enlarge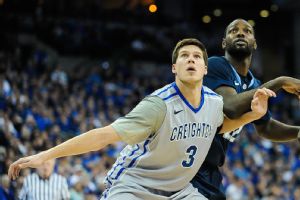 Eric Francis/Getty ImagesDoug McDermott passed Larry Bird for 13th place on the Division I career scoring list in No. 18 Creighton's win over No. 6 Villanova on Sunday.
Sunday was no fluke. No. 18 Creighton dismantled the Wildcats at CenturyLink Center before a high-energy crowd of 18,797 hungry to see the Bluejays take over first place in the Big East against the highest-ranked team to visit Omaha since 1983.
They got it all and more. And somehow, despite 39 points from the player of the year frontrunner,
Doug McDermott
wasn't the whole story. McDermott scored the first 11 points for Creighton. He buried 3-pointers from near the top of the key early in Creighton's first two possessions.
He passed Larry Bird for 13th place on the all-time NCAA Division I scoring list.
"I think he's as good a [college] basketball player as I've ever seen," Wright said.
Yeah, McDermott is pretty good.
Creighton's first home win in 41 years over a top-10 team resonated most with coach Greg McDermott, though, for how the Bluejays' bench responded.
The reserves contributed 39 points for Creighton, equal to Doug McDermott. The symbolism should not go unnoticed.
"I didn't think we could play much better than we played at Villanova," Greg McDermott said, "but I'm not sure we didn't play better today. We didn't have the crazy shooting night, but the other parts of the game were really good."
Creighton led 21-19 with 11:17 to play in the first half. Over the next nine minutes, top Bluejays guards
Grant Gibbs
and
Jahenns Manigat
went to the bench with their second fouls.
Doug McDermott took a three-minute break, too. He scored just five of Creighton's next 19 points. Freshman
Isaiah Zierden
scored six of his career-best 13 in that span.
Austin Chatman
,
Devin Brooks
and
Will Artino
added buckets.
The Creighton coach said he hoped just to stay even with three of his starters on the bench.
A fourth starter, sharpshooter
Ethan Wragge
, who slayed Villanova with nine 3-pointers in January, did not attempt a shot in the first half. But with 2½ minutes to play before the break, when McDermott connected on a layup, Creighton went up by 11.
The Bluejays led by 13 at halftime -- same as in Philadelphia.
"We were ready when our number was called," Zierden said. "We tried to pick up the intensity, tried to come in and make a little bit of a difference."
Zierden's father, Don Zierden, an assistant coach with the Washington Wizards, watched Sunday from the arena floor. Away from work for the NBA All-Star break, he saw his son run the Creighton offense with the efficiency of a veteran.
He saw Isaiah, if for only a few minutes, pick up where Doug McDermott left off. And that's saying something. Just ask Wright, who described McDermott as the best post player and the best perimeter player the Wildcats have faced this year.
"There's nothing he can't do," Wright said.
McDermott is rewriting Creighton's history. He's defining the new normal as the Bluejays transition from the Missouri Valley Conference without a sign of hesitance.
"He's who we look to," said Isaiah Zierden, lightly recruited out of St. Louis Park, Minn. "He's our leader. Him getting off to a great start and getting us fired up, it says to us, 'All right, we can get some confidence.' If our leader's ready to go, we can follow him."
McDermott said he lives for games like the Bluejays played on Sunday.
"These are the best, especially playing against a top-10 team here in Omaha," he said. "I don't think any of us ever thought we'd see this day."
They'll see it again in the Big East. In the stands on Sunday sat
Ronnie Harrell
, a recent Creighton signee out of Denver ranked No. 71 in the
2014 ESPN 100
. He picked the Jays over scholarship offers from Big 12 and Big Ten schools.
Just as Wright said about the Wildcats, this is reality. This is Creighton. Get used to it.
November, 24, 2012
11/24/12
1:50
AM ET
Overview
: Creighton's finish belied the back-and-forth action in the second half of the Bluejays'
84-74 victory
over Wisconsin in the semifinals of the Las Vegas Invitational at the Orleans Arena. They didn't seize a comfortable edge until the final minutes of the game. The Badgers took a lead with nearly eight minutes to go, but Creighton responded and put them away with an 18-4 run down the stretch.


Turning Point
:
Ethan Wragge
(17 points) hit a 3-pointer that put his team ahead 61-60 with 7 minutes, 46 seconds to play. That shot commenced a rally that turned a two-point deficit into a 12-point lead. Until then, Creighton (5-0) struggled to put away its Big Ten foe. Wragge's team had squandered an eight-point advantage a few minutes prior to that crucial late-game run.
Why Creighton won:
After a slow start (it started off 2-for-10 from the field), Creighton shot 25-for-48 the rest of the way.
Doug McDermott
had a lot to do with that offensive fruitfulness (his team hit 62 percent of its shots after halftime). The national player-of-the-year candidate scored 30 points on a 10-for-23 clip. He became aggressive in the paint as he struggled from the perimeter (1-for-5). That relentlessness inside opened up the arc for Wragge (4-for-7 from 3) and
Austin Chatman
(2-for-2 from deep). The Bluejays were also more aggressive on defense in the second half, especially on the perimeter. Wisconsin (3-2) missed 12 of its 15 3-point attempts in the second half.
Why Wisconsin lost:
The Badgers climbed back into the game as the Missouri Valley favorites nearly pulled away midway through the first half.
Jared Berggren
scored 10 points in a row during a three-minute stretch, tying the game at 55-55 with 10:03 to play. But Wisconsin couldn't maintain that productivity. Berggren's late cramps limited his availability and contributions; he scored two points in the last nine minutes of the game.
Mike Bruesewitz
struggled with foul trouble and eventually fouled out. Neither helped an ailing Wisconsin offense that went 6-for-20 after taking a 60-58 lead with 8:48 seconds on the game clock.
[+] Enlarge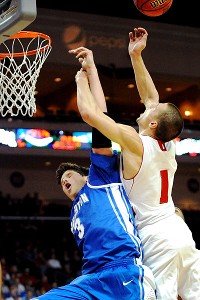 AP Photo/David BeckerCreighton's Doug McDermott (3) and Wisconsin's Ben Brust get tangled up under the basket.
Star(s) of the game:
McDermott looked like an NBA prospect as he showcased his post repertoire when his jump shot wasn't falling. His 30 points led all scorers. He also had eight rebounds and hit nine of 10 free throws. Berggren registered 27 points and seven rebounds.
What it means for Creighton:
The win means that Creighton passed a crucial test. The Bluejays had problems with Wisconsin's defense in the first half, but they eventually found their rhythm and overcame a squad that kept the game tight until the final minutes. Scoring 84 points against one of the top defensive units in the country will build confidence for the undefeated program.
What it means for Wisconsin:
If Bruesewitz, who'd helped his team frustrate McDermott early, had avoided foul trouble, the Badgers would have had a better chance to pull off the upset. But they were ultimately doomed by their offensive inefficiency. They couldn't keep up with the Bluejays in the last 10 minutes. But they played tough most of the game. Wisconsin looked like a top-25 squad in stretches; it just finished poorly. And the Badgers aren't talented enough to recover in that situation when they're facing elite opponents.
More observations:
Creighton wasn't sure about its point guard situation after Antoine Young graduated, but Chatman has played the role well this season. He was a vital contributor against the Badgers. … I don't remember McDermott being so forceful in the paint last season. He's still working on his interior game, but was far more aggressive against the Badgers than he'd been in the past. Huge plus for Creighton. … Wisconsin senior
Ryan Evans
is tough to stop when he penetrates. I wonder why he doesn't drive more often. … Wragge gives Creighton a pure shooter off the bench. With Wisconsin so preoccupied by McDermott, Wragge found space and hit big shots. … Point guard
George Marshall
scored 13 points for the Badgers. But zero assists won't cut it for any point guard in Coach Bo Ryan's system.
What's next:
Creighton will face Arizona State in the tournament championship Saturday. Wisconsin will play Arkansas in the consolation game.