College Basketball Nation:

Avery Bradley
June, 13, 2013
6/13/13
10:30
AM ET
In the weeks leading up to the June 27 NBA draft, we'll be taking a look at the 20 schools that have produced the best pros in the modern draft era (since 1989, when the draft went from seven to two rounds). Click here to read Eamonn Brennan's explanation of the series, which will be featured in the Nation blog each morning as we count down the programs from 20 to 1.
Top Five Draftees Since 1989
Sixth man:
Avery Bradley
(2010)
The rest:
Daniel Gibson
, Dexter Pittman, Damion James,
Royal Ivey
,
Jordan Hamilton
,
Cory Joseph
,
P.J. Tucker
,
Chris Owens
,
Chris Mihm
,
Alvin Heggs
, Lance Blanks, Travis Mays, Dexter Cambridge,
B.J. Tyler
,
Terrence Rencher
,
James Thomas
,
Maurice Evans
Why they're ranked where they are
: Kevin. Durant. LaMarcus. Aldridge.
It's not that simple. But the duo carries the most weight and responsibility for the program's NBA legacy and standing in our "Path to the Draft" rankings.
In Durant, Texas is tied to a player who could end his career as one of the top 10 players in NBA history. And with
Tim Duncan
and
Kevin Garnett
likely retiring soon, the next great NBA power forward very well may be Aldridge, who has averaged at least 21 points and 8 rebounds in each of the past three seasons. He's made the last two All-Star games and has evolved into one of the premier players in the NBA.
And he's only 27. Durant is just 24. So the Longhorns' stock will probably rise in the coming years.
It's necessary to mention Durant and Aldridge because the rest of this list is not necessarily pristine when compared to the other teams we've ranked thus far and those we'll unveil in the coming days.
T.J. Ford played eight years but a spinal cord injury interrupted a promising career. Still, he averaged 11.2 points and 5.8 assists per game.
Avery Bradley (9.2 PPG, 1.3 steals per game in 2012-13) could take on a larger role with the
Boston Celtics
or another NBA team in the future.
The
Cleveland Cavaliers
are building a strong post-
LeBron James
lineup. It certainly helps that second-year big man Tristan Thompson (11.7 PPG, 9.4 RPG) looked like a future All-Star this season.
Cavaliers guard Daniel Gibson hasn't been the same player since James left town. But he's just 27, so there's still time to regain that old swagger.
Cory Joseph might have a future with the
San Antonio Spurs
, but it's too early to know. There aren't many 21-year-old point guards logging minutes in the postseason, though.
D.J. Augustin struggled with the
Indiana Pacers
this season, but he had three good years with the
Charlotte Bobcats
. Just five seasons into his career, it wouldn't be prudent to pass judgment on his career yet.
Chris Mihm had a few solid years with the
Los Angeles Lakers
. Maurice Evans gets credit for longevity (nine years).
[+] Enlarge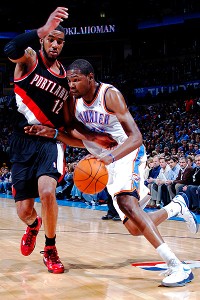 Layne Murdoch/NBAE via Getty Images)Ex-Longhorns Kevin Durant, right, and LaMarcus Aldridge should be NBA stars for years to come.
But Durant and Aldridge clearly anchor this list.
James became
the youngest player in NBA history to score 20,000 points
(28 years old, 17 days) earlier this year. That record could be shattered soon. He has scored 12,258 points and won't turn 25 until September.
The 6-foot-9 wing averaged 28.1 PPG, 7.9 RPG, 4.6 APG, 1.3 BPG and 1.4 SPG this season. He shot 51 percent from the field. And he made 91 percent of his free throws.
Through six seasons, Durant established his place next to James on the game's Mount Rushmore of future Hall of Famers and legends. He commands an
Oklahoma City Thunder
franchise that should remain in the NBA title picture for many years.
There are a lot of lists that utilize a variety of criteria.
We're all about quality. And in our eyes, Durant, Aldridge and a few other noteworthy players are collectively worth more than a team such as Kansas that has produced dozens of NBA products but only one legitimate star since the 1989 NBA draft -- the cutoff for our rankings.
Texas is also top-10 because its best players have a lot of time left. We've already discussed Durant. Aldridge will earn more national recognition for his skills in the coming years. He's a beast. Bradley and Thompson could rise in the next two or three seasons, too.
Yep, the Longhorns belong here.
Why they could be ranked higher:
Durant is a superstar. His presence alone would justify a move up the rankings.
We're measuring teams according to their abilities to produce NBA talent. And Durant has already had an NBA career that tops the pro achievements of entire programs.
And there's so much potential with this group. Aldridge is a young star. Thompson will be.
If these were actual teams that competed against one another, it would be easier to make Texas' case for a higher ranking.
Aldridge and Thompson inside. A bunch of solid guards in the backcourt. And Durant destroying defenders inside and outside.
Makes more sense now, right?
Why they could be ranked lower:
So what's the real difference between Texas (No. 10) and Syracuse (No. 20) and Kansas (No. 14)? The programs owe their rankings, in part, to the presence of superstars. But there was little substance among their respective squads' overall pro legacies.
Durant is a stud. Aldridge could be an All-Star for the next decade.
But Thompson still has a lot to prove.
And this list features multiple players who fizzled once they reached the next level. J'Covan Brown, who left Texas prior to his senior season, isn't even mentioned because he wasn't drafted.
What else can Texas stand on -- other than Aldridge and Durant -- to justify its top-10 status?
What's ahead?:
There's a bright future ahead for Texas. Durant could win a few titles. Aldridge might be the next great NBA power forward. Thompson could be the franchise star along with
Kyrie Irving
in Cleveland. Bradley could blossom, too.
Even guys such as Augustin could improve.
Myck Kabongo
entered this summer's draft. It will be interesting to see how he transitions to the NBA after limited playing time last season due to an NCAA investigation.
Texas is No. 10 right now, but a few years from now, the Longhorns might be even higher.
Final thoughts:
There's intrigue with this group because it features a multitude of current players. Its NBA rep could change soon.
Texas has produced one of the greatest players of this generation and another All-Star who's matured into one of the league's best power forwards. And Thompson, Bradley and others could boost the team's profile soon.
Texas doesn't have dozens of successful NBA players. But the ones who made it are some of the game's most successful performers. We feel like if you have two of the league's top 15 players, you have to be right in the mix.
And there's still room for this program to elevate its NBA profile, too.
May, 4, 2010
5/04/10
5:16
PM ET
Longhorns fans hoping 2009 uber-recruit
Avery Bradley
would stick around for his sophomore year will be disappointed with today's news. Bradley, who had been testing the NBA waters without an agent,
is apparently set to sign with Dan Fegen
, making him ineligible to return to college basketball in 2010-11.
The news probably doesn't qualify as a shock, but it will count as a disappointment. Bradley was ranked among the best recruits in his class by most recruiting services;
ESPNU had him as the No. 1 overall player in 2009
, ahead of studs like
DeMarcus Cousins
,
Derrick Favors
,
Xavier Henry
and, yes,
John Wall
. The expectations were, um, high. Bradley didn't completely flop, scoring consistently throughout his freshman season and flashing plenty of individual brilliance, but he didn't have the same impact as Cousins or Henry or Wall, averaging 11.6 points per game and
reading out more like a role player than a star in the final tempo-free analysis
. In the meantime, Rick Barnes' talent-rich team went from No. 1 in the country to a meager 9-7 Big 12 record and a first round loss to Wake Forest in the NCAA tournament.
So it was probably fair to hope Bradley would want to come back for his sophomore year and make up for a quiet freshman season. Not so much. NBA scouts rarely seems to care how well players' teams do in their one-and-done seasons so long as those players are obviously talented, and Bradley is that.
According to Chad Ford
, NBA general managers currently see Bradley as a possible late lottery pick. That was enough.
Fortunately for the Longhorns, Barnes has another slew of talented players arriving in 2010 --
most notably No. 4-ranked point guard Cory Joseph
-- as well as a group of high-potential holdovers from last season's class like
J'Covan Brown
and
Jordan Hamilton
. Bradley could have been a star in his sophomore year, and Texas fans would have loved to have him around, but the defection should hardly cramp Bevo's style. Now all Barnes has to do is get those guards to do something they couldn't quite handle in 2010 -- play coherent basketball. Simple, right?
March, 11, 2010
3/11/10
10:53
PM ET
KANSAS CITY, Mo. – The first half has made something a bit clearer:
The four best teams have a shot to be in the semifinals.


Kansas, Texas A&M and Kansas State are already in the semifinals Friday. If Baylor holds onto to beat Texas, then that says as much about Baylor as it does how far the Longhorns have fallen this season. Texas hasn't played like it belongs in the category of being among the four best.
The Texas scenario has played itself out. And it's becoming more obvious when you see the Longhorns against Baylor. The Longhorns simply aren't as talented as Baylor right now or at least don't t play with the same quick first step.
Every time it appeared Texas was ready to push Baylor, the Bears responded with an
Ekpe Udoh
bucket or a
Tweety Carter
response.
Baylor isn't doing too many things wrong here. The Bears made 11 of 12 free throws, converted key 3s (four) and shot nearly 50 percent, despite getting outrebounded by nine.
LaceDarius Dunn
was a non-factor with three fouls, but the Bears didn't seem to miss him in taking a 43-39 lead at the half.
Texas is still a team of parts, none that seem to fit together anymore. They are spotty with
Damion James
giving Texas his necessary scoring pop with 16 points and now suddenly
Avery Bradley
being an effective scorer again with 12. But that's about it for consistency. You never get the feeling like you can count on enough players with the Longhorns.
Watch Baylor and you feel like they belong in the elite. This could be a precursor to a decent run by the Bears this month.
March, 11, 2010
3/11/10
10:50
AM ET
KANSAS CITY, Mo. – A few quick hitters before the quarterfinals Thursday:


Texas Tech vs. Kansas, 12:30 p.m. (ET):
The Red Raiders had lost seven in a row before beating Colorado in the first round. Colorado had just put 101 points on the Red Raiders last Saturday in a win at Boulder. So clearly Pat Knight's defensive message got through as the Red Raiders held the Buffaloes to 67 points. But can the Red Raiders pull off the upset of the week by beating top-ranked Kansas? Well, the last time they met, KU stomped on Tech by 26 points. This will be an interesting test for the Jayhawks. This is a game they should win by double figures. If the focus is there, KU should walk to the semifinals. I'd like to see how
Sherron Collins
steps up his leadership role with the postseason now at hand. I don't see how the Red Raiders can keep the KU bigs, notably
Cole Aldrich
off the backboard.


Nebraska vs. Texas A&M, 3 p.m.:
The Huskers pulled the stunner of the first day with a crushing win over Missouri. The Huskers ran with Missouri and sprinted past the Tigers. But will Nebraska be able to get out against Texas A&M? Would they want to do such a thing? The Aggies probably were prepping to face Mizzou in a high-octane affair. That won't be the case now in what could be a grinder of a game. I'm not sure the Aggies would allow Nebraska to shoot over 50 percent the way it did against Missouri. I'm looking forward to seeing how
Brandon Richardson
and
Ryan Anderson
, who went off for the Huskers against Missouri get free against the Aggies.
Donald Sloan
and
B.J. Holmes
for the Aggies are two of the better guards in the conference and
Bryan Davis
' ability to board will prove vital.


Oklahoma State vs. Kansas State, 7 p.m.:
The Cowboys were able to easily beat Oklahoma with a mortal 11 points from
James Anderson
. OSU got quality production out of
Keiton Page
, who went for 24 points and
Obi Muonelo
's 15. The Cowboys also made 11 3s. Oklahoma State was one of three teams to win at Kansas State during the season. So the Cowboys go into this game with a lot of confidence. The more intriguing storyline will be how K-State handles its role as a favored player in the field.
Jacob Pullen
and
Denis Clemente
are coming off a disappointing home loss to Iowa State. There has to be some pride in play to get going on a high note heading into next week.


Texas vs. Baylor, 9:30 p.m.:
This may be the best game of the quarterfinals. It pits two teams that when they play to their potential could be playing in the championship game Saturday night, or, at the very least, the second weekend in the NCAA tournament.
Damion James
went back to being an all-American in the win over Iowa State in the first round with a 28-point, 16-rebound performance. The Longhorns got key play from
Gary Johnson
,
Avery Bradley
and
Jai Lucas
.
J'Covan Brown
only played three minutes as
Justin Mason
got the start at the point. The best news for Texas was the high percentage of shooting from
Dexter Pittman,
finishing 7-of-9 with five boards. Baylor crushed Texas last Saturday 92-77. The key will be whether
LaceDarius Dunn
and
Tweety Carter
can get free against the Longhorns, and who wins the tussles inside between Baylor's
Ekpe Udoh
and
Quincy Acy
and Texas' Pittman and Johnson. This should be an up-and-down affair at the Sprint Center.
February, 9, 2010
2/09/10
11:43
AM ET
After this, we can officially move on. I promise.
There's one stat you have to see, though, and it's this: Last night, Texas' assist leader was center
Dexter Pittman
.
He had two assists. The rest of his team had four
.
If you want to know why Texas is struggling, there it is. The Longhorns committed 17 turnovers last night, but that would be forgivable if they were finding open men on offense and getting easy baskets with ball movement. Of course, they're not doing that, and last night's result was a byproduct -- for all of Texas' supposed depth, they have no one who can run the show, who can make Pittman and
Damion James
' lives easier, who can guide
Avery Bradley
and
Jordan Hamilton
into high-percentage shots. Texas just doesn't have that player.
One potential option is freshman
J'Covan Brown
, who scored 28 points in 32 minutes Monday night. Brown is more of a scorer than a game manager, but he showed flashes of point guard-esque brilliance last night, including wraparound left-handed pass on a screen and roll late in the contest. The Longhorns' primary point guard option throughout the season has been
Dogus Balbay
, but Barnes seems concerned that Balbay can't give the Longhorns any offense, and so doesn't seem all that interested in keeping him on the floor. (This is where I'd assert that with Pittman and Bradley and James in your lineup you don't need your point guard to give you offense, but whatever.)
The bottom line is that the Longhorns have to figure out the point guard position. And fast. Whether it's a scorer like Brown or a "true" point like Balbay -- or whether it's a matter of following Ohio State, Purdue and West Virginia's leads and having your best offensive guard (say, Avery Bradley) bring the ball up -- something needs to change. If it doesn't, and the Longhorns keep posting microscopic assist-to-turnover ratios, this team isn't going anywhere.
February, 9, 2010
2/09/10
2:53
AM ET
AUSTIN, Texas -- Rick Barnes' therapy was to talk.
And talk. And talk some more.
I'm not sure I have ever seen a head coach of Barnes' stature vent in such a calm and therapeutic manner after losing a game of this magnitude.
[+] Enlarge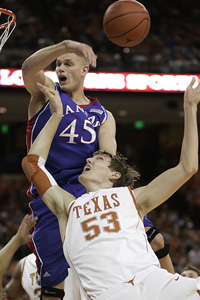 AP Photo/Harry CabluckClint Champman was one of 12 Texas players to see playing time in the Longhorns' loss to Cole Aldrich and Kansas.
Monday night's
80-68
victory by No. 1 Kansas -- the team Texas was supposed to challenge for the conference title and No. 1 seed -- was long over, well past an hour after the final buzzer, and Barnes was still discussing his Longhorns, why they have lost five of seven and how they'll be just fine in due time.
But will they? Is the problem simple enough that the Horns can just fix their issues and start winning again?
"All I can tell you is that we're 19-5 with seven regular-season games left," Barnes said. "How we got to 5-4 is pretty simple. If we had put our young guys out there early, then we wouldn't have won whatever we did in a row [17 straight to get to No. 1 in the polls]. We weren't going to do that. We knew at some point in time we needed to get them out there."
But the problem lies in whom to play, when to play them and for how long.
"If we would all play together," said Barnes, as he zig-zagged from point to point. "We're going to fix this. We'll be where we need to be. I knew there were issues that we were going to have to deal with and one of them was we weren't totally together as a team."
And maybe that's why Barnes is still searching for combinations. He played 12 players against Kansas, still unable to settle on a set rotation. He made a change in the starting lineup, inserting junior
Gary Johnson
for some offensive pop and sitting senior
Justin Mason
because, like
Dogus Balbay
, he had become an offensive liability.
Barnes leaned heavier on freshman
J'Covan Brown
off the bench, who played 32 minutes and scored 28 points. But just when you might get excited about Brown's steal, layup and 3-pointer to get Texas back in the game, he had a traveling call and then a poor shot -- a forced layup in traffic instead of giving up the ball to the hot hand of senior
Damion James
-- that led to Kansas stretching the lead again.
UT's one consistent player is James, who scored 24 points and made all four 3s. Center
Dexter Pittman
was a non-factor offensively, missing four of five shots and scoring three points. He had four blocks but was hardly a force. Freshman
Avery Bradley
had an ordinary game with 1-of-6 shooting, Balbay didn't do anything offensively (zero points and zero assists) and freshman
Jordan Hamilton
, who scored 27 points at Oklahoma State last week, continued to shoot too quickly and missed all six attempts and four 3s.
The Longhorns led 14-8 early in the game, but as soon as Barnes went to the bench, Texas wilted. Center
Clint Chapman
came in and played three minutes and had two turnovers.
Barnes said he had a hard time taking a senior like Mason out of the lineup because of what he has meant to the team. Barnes went back and forth on Brown. He said for all of Brown's positives, there were still too many steps back. Yet, he hinted Brown will start over Balbay when the Longhorns play Nebraska Saturday in Austin.
"When we substitute, we get a couple of guys who get away from the gameplan," Barnes said.
Barnes said Hamilton has to understand how to get in the flow of the game, not to start "jacking up shots every time he gets them and think he has to go one-on-one and take really tough shots." But Hamilton can score points so he tosses him out there in case he can get going again.
"I didn't feel everybody was in it together," Barnes said. "We were playing a lot of people, mixing and matching."
Brown showed he could produce in spurts. Bradley has had his run. Hamilton has been erratic. But Barnes said the reason Texas got picked high was because of those three newcomers.
And of course the expectation that Pittman would be a rock next to James.
"Dexter has to be a force in there," Barnes said. "Damion is trying really hard to do the right things and we tried him on the perimeter. What Dexter has to do is screen across. He can't just get on the block and have the defender walk him across the lane while he stands straight up. He can't do that. We knew they would double him."
Pittman has scored in double-figures only twice in the Big 12 this season.
And yet Barnes kept talking about how the Longhorns are still fine and will get this figured out.
At some point he will have to do what Kansas coach Bill Self did and go with a maximum of eight players. If someone isn't happy about their playing time then so be it. He has to decide to ride the eight and finish strong with them. Time is running out to fix the erratic play.
Texas was No. 1 and now looks lost. The Big 12 title is out of reach now that the Longhorns are four games behind Kansas. So, too, is a No. 1 seed and the advantage of being the top team in Houston in the South Regional.
Barnes is still searching, talking and hoping he can find the answer by thinking aloud. He said he can.
He has to or else the Longhorns won't be playing late into March, let alone early April.
December, 22, 2009
12/22/09
5:53
PM ET
Late December is usually a weird part of the college hoops season. Most schools' students are on break, and a lot of times programs use that opportunity to schedule a few cupcake games before the conference season begins in January. And understandably so.
But not tonight.
Tonight features
No. 9 Michigan State at No. 2 Texas followed by California (who, after a slow start, could sneak back into the top 25 soon) at No. 1 Kansas. Tonight tops
that
delicious feast of hoops with a thick gravy dollop of watchable games like Bucknell at Notre Dame, Cleveland State at No. 15 Ohio State, and No. 16 Butler at UAB. Yes, tonight is decidedly awesome.
To the links, then, shall we?
December, 19, 2009
12/19/09
3:12
PM ET
ARLINGTON, Texas - Furious halftime finish here at
Jerry Jones
' humble abode. Texas scores six points in the final 20 seconds to stretch what had been a pretty tight game into a good-sized lead.
Credit rookie
Avery Bradley
for a very un-freshman-like heads-up play to ignite the Texas crowd. After
Damion James
scored on an offensive rebound, Bradley pestered what Carolina figured would be an easy inbounds pass with six seconds left, swiped the ball and scored the layup.
Bradley and fellow Longhorns' frosh
J'Covan Brown
have been sensational, combining for 22 points. The two hooked up on a pretty backdoor pass -- Bradley having the presence of mind to go backdoor and Brown the ability to slice the sweet pass through about three bodies.
I'll be curious to see if North Carolina can withstand the constant wave of Texas players in the second half. Rick Barnes used 13 players in the first half and each made decent contributions. James scored seven in a row at one point, followed by
Gary Johnson
going for a five-point swing on his own. Mix in nine points and six boards for
Dexter Pittman
and the combo of Bradley and Brown and that's a lot to ask of a pretty green Tar Heel team.