College Basketball Nation:

Aziz N'Diaye
March, 1, 2013
3/01/13
10:30
AM ET
Arizona and UCLA were ranked No. 1 and No. 2, respectively, in the preseason Pac-12 media poll. Yet neither team will be in first place when they square off Saturday at Pauley Pavilion on "College GameDay." UCLA (11-4 in conference) trails league leader Oregon (12-4) by a half-game. Arizona is a full game back along with Cal, both at 11-5. Long story short, four teams are still in contention for the Pac-12 crown, which should make for one of the more exciting regular-season finishes in college basketball. Here are this week's power rankings:

1. Cal.
Mike Montgomery's squad has won six in a row. Included in that stretch are a two-point victory at Oregon and a one-point win at Oregon State.
Allen Crabbe
(19) and
Justin Cobbs
(14.9) have combined to average 33.9 points per game for a Golden Bears team that hosts Colorado on Saturday. Cal needs a victory to remain in contention for the Pac-12 crown.
2. Oregon.
Thursday's 85-75 victory over Oregon State was bittersweet for the Ducks. On the same night it welcomed back injured guard
Dominic Artis
, Oregon lost second-leading scorer
Damyean Dotson
when he bruised his hip in a nasty fall under the basket. He is listed as day to day. Oregon's final two league games (against Colorado and Utah) are on the road.
3. UCLA.
Would Bruins fans still hate Ben Howland if UCLA won the Pac-12 title? It could happen. UCLA could grab a share of the league lead by defeating Arizona on Saturday night in Westwood. The Bruins beat the Wildcats 84-73 in January. If UCLA beats Arizona again -- and then tops Washington State and Washington on the road -- it will own at least a share of the conference championship.
4. Arizona.
Arizona has a gaudy overall record of 23-5, but it seems to have regressed in recent weeks. The Wildcats were whipped 89-78 at USC on Wednesday and nearly lost to Utah two weeks ago. Arizona's freshmen haven't developed as quickly as Sean Miller had hoped. And the team lacks a true point guard.
5. Colorado.
The Buffaloes have won eight of their past 10 games, with the only defeats coming in a 58-55 upset at Utah and a 63-62 overtime setback against Arizona State. Tad Boyle's squad faces a huge road test Saturday against Cal, which has won six straight. At this point, Colorado is in good shape to make the NCAA tournament.
6. USC.
The Trojans snapped a two-game losing streak by upsetting No. 11 Arizona on Wednesday night and now have won five of their past seven overall. USC (8-7) is in position to finish Pac-12 play with a winning record, which is something no one would have imagined when coach Kevin O'Neill was fired in January.
7. Washington.
The Huskies, who are 7-8 in Pac-12 play, have been a huge disappointment. But they still have a chance to finish with a winning record. Washington's final three games (against Washington State, USC and UCLA) are all at home.
C.J. Wilcox
averages 17.1 points per game, and
Aziz N'Diaye
averages 9.5 rebounds.
8. Stanford.
A few weeks ago, it appeared the Cardinal were ready to turn the corner, but Johnny Dawkins' squad has reverted to its old ways and now has lost four of its past five games. The latest setback came in a 65-63 home defeat against Colorado on Wednesday, when
Dwight Powell
's potential game-tying dunk came one-tenth of a second too late as the buzzer sounded.
9. Arizona State.
The Sun Devils' NCAA tournament hopes were all but shot following back-to-back losses to Washington and UCLA (the latter in overtime). Arizona State struggled to find consistency throughout February, never winning more than two games in a row. Its final two games (against USC and Arizona) are both on the road.
10. Utah.
The Utes threw a scare into Arizona and Colorado before being dominated by Cal in Thursday's 64-46 defeat. Utah plays at Stanford on Sunday before returning home for its final two regular-season games, against Oregon State and Oregon. This team has improved significantly, even though it has yet to surpass last season's Pac-12 win total of three games.
11. Oregon State.
The Beavers led Oregon 41-34 at halftime Thursday but couldn't hold on in an 85-75 loss.
Roberto Nelson
had 31 points for an Oregon State squad whose only conference wins are against Washington State, Utah and Washington. Nelson is averaging a team-high 17.3 points per game.
12. Washington State.
It's amazing how many bad breaks this team has caught. Seven of the Cougars' 17 losses are by four points or fewer, and five are by two points or fewer. Two of them came in overtime, and another occurred against Texas A&M on a 25-foot, buzzer-beating 3-pointer.
December, 14, 2012
12/14/12
10:30
AM ET
The Pac-12 has a chance to pick up signature wins Saturday, when Arizona takes on Florida at the McKale Center and Cal hosts Creighton. Otherwise the upcoming weekend is rather humdrum. Here are the latest rankings.
1. Arizona:
The No. 8 Wildcats survived their first true test of the season by defeating Clemson on the road, but the Tigers aren't anywhere close to as good as No. 5 Florida, which defeated its first seven opponents by an average of 25.3 points.
2. Oregon:
Much like the downtrodden Big 12, identifying the second-best squad in this conference is tough. Dana Altman's team gets the nod this week simply because the Ducks are the only school (other than Arizona) that hasn't suffered an embarrassing loss. Oregon's only setback came against Cincinnati. Oh, and the Ducks beat UNLV, something Cal couldn't do.
3. Colorado:
OK, so the Buffaloes aren't as good as we thought. But there's no way they're as bad as the team that lost by 36 points to Kansas last weekend. Things just snowballed on them. That can happen at Allen Fieldhouse. I still say this team finishes no worse than fourth in the Pac-12.
4. Cal:
The Golden Bears' performance in a one-point loss to UNLV was actually pretty impressive. This is by no means a great Cal team, but as long as
Allen Crabbe
keeps playing well, this squad will be able to compete with anyone in the league.
5. Oregon State:
Craig Robinson's team is set to begin a five-game home stretch against a bundle of mediocre opponents. Don't be surprised if the Beavers enter conference play Jan. 6 against Oregon with an 11-2 record and loads of confidence.
6. UCLA:
The Bruins didn't play great in Saturday's 65-63 victory over Texas at Houston's Reliant Stadium. But give them credit for showing toughness down the stretch and battling back for a victory. Maybe that was a momentum boost for this team.
Shabazz Muhammad
will be more effective once he loses 5-10 pounds.
7. Stanford:
Chasson Randle
and
Dwight Powell
combined to average 28.9 points for the Cardinal. We'll know a lot more about Johnny Dawkins' team after a week that includes road games at NC State and Northwestern.
8. Washington:
The Huskies aren't as talented as they've been in the past, but it's not as if the roster is completely bare.
Aziz N'Diaye
,
Abdul Gaddy
,
C.J. Wilcox
and
Scott Suggs
are all veterans. And Washington boasts an incredible home-court advantage.
9. Washington State:
Two of the Cougars' four losses (against Gonzaga and Texas A&M) have been in the closing seconds. The return of
DaVonte Lacy
from a knee injury has given Washington State a huge boost.
10. Utah:
The Utes are arguably the most improved team in the Pac-12. They crushed the Boise State team that beat Creighton by 13 points, and Utah lost to BYU by only three points in Provo. On Tuesday, the Utes will try to avenge an earlier loss at SMU when the Mustangs visit Salt Lake City.
11. Arizona State:
The Sun Devils fell from No. 6 to No. 11 this week after getting annihilated at home by DePaul, one of the worst teams in the Big East. The game wasn't nearly as close as the 78-61 score suggests. Even with Arizona State's 8-2 record, that stomping will be difficult to forget.
12. USC:
I don't believe the Trojans are truly the worst team in the league, but they've yet to do anything to deserve a higher ranking. I'm all for playing a tough schedule, but Kevin O'Neill might have overdone it. USC's past five losses were against Marquette, San Diego State, Nebraska, New Mexico and Minnesota.
November, 30, 2012
11/30/12
10:30
AM ET
Ranking the Pac-12 is far from the unenviable task it was last season, when the league was filled with mediocre teams that drew minimal interest both locally and nationally. It might be too early to label the current Pac-12 as "strong," but almost every team has made marked improvements, which should make for an entertaining season -- and definitely one worth following. Here's how the conference looks after three weeks.

1. Arizona.
Even without an attention-grabbing victory, putting the Wildcats in the top slot was an easy decision -- mainly because UCLA is floundering.
Mark Lyons
and
Solomon Hill
each average 14 points, and freshmen forwards
Kaleb Tarczewski
and
Brandon Ashley
are grabbing a collective 13.8 rebounds.
2. Cal.
The Golden Bears are 6-0, but we'll find out a lot more about Mike Montgomery's squad in the coming weeks. Cal plays at Wisconsin on Sunday before hosting UNLV (Dec. 9) and Creighton (Dec. 15).
Allen Crabbe
(22 ppg) and
Justin Cobbs
(20) have been huge on the offensive end.
3. Colorado.
The undefeated Buffaloes may have been a notch higher if they didn't need double overtime to defeat Texas Southern on Tuesday. Forwards
Andre Roberson
and
Josh Scott
generate the most headlines, but guards
Askia Booker
(16.8 ppg) and
Spencer Dinwiddie
(14.8) lead the team in scoring.
4. Oregon.
The Ducks' win over then-No. 18 UNLV was one of the top two victories for the Pac-12 this season, with Colorado's upset of Baylor being the other. Rice transfer
Arsalan Kazemi
got on track in Thursday's win over Texas-San Antonio. His line: 20 points, 6 rebounds, 4 assists, 3 blocks, 5 steals.
5. Stanford.
Last season's NIT champion went 1-2 at the Battle 4 Atlantis, but there were still plenty of reasons to be encouraged. Setbacks against Missouri and Minnesota -- both of whom are ranked -- came by single digits. Guard
Chasson Randle
averages a team-high 15.4 points but shoots just 35.6 percent from the field.
6. UCLA.
Two Bruins players (Tyler Lamb and
Josh Smith
) left the team during the past week. The departures may actually help the chemistry on a squad that lost to Cal Poly on Sunday before bouncing back with a convincing win over Cal State Northridge on Wednesday. Freshmen
Shabazz Muhammad
and
Kyle Anderson
combined for 29 points.
7. Arizona State.
Sun Devils coach Herb Sendek is known for his slow-paced, low-scoring offenses. But this season Arizona State is pushing the ball thanks to the addition of freshman point guard
Jahii Carson
, who leads the team in scoring (19 ppg) and assists (5.5). As a team, the Sun Devils are averaging 77.2 points and own a nice win over Arkansas.
8. Oregon State.
Could this be the year the Beavers make the NCAA tournament? Craig Robinson's squad boasts quality wins over Purdue and New Mexico State, and it came within three points of Alabama.
Ahmad Starks
is averaging 14.6 points -- but only 7.3 in his past three games. Oregon State has a huge opportunity to prove itself Friday, when it plays Kansas in Kansas City.
9. USC.
The Trojans' roster is filled with transfers, so it's understandable that the cohesion just isn't there yet. Still, USC's two most recent losses (to Marquette and San Diego State) came by an average of seven points, so it's not as if Kevin O'Neill's squad isn't competitive. This could look like a completely different team in a month.
10. Washington.
Last season's regular-season champion was decimated when two players (Tony Wroten and Terrence Ross) left school early for the NBA draft and showed it in a home loss to Albany. Forward
Aziz N'Diaye
is averaging a double-double with 11.3 points and 10.5 rebounds. The fact Washington, coming off a quality win over Saint Louis, is No. 10 in these rankings speaks to the competitiveness of the Pac-12.
11. Washington State.
The Cougars' season was basically over the day Ken Bone kicked point guard Reggie Moore off the team. Washington State didn't have a replacement. Kansas transfer
Royce Woolridge
is trying his hardest, but he's averaging just 6.9 points while shooting 35 percent from the field. He should be a role player, not a starter. Bone, though, doesn't have any choice.
12. Utah.
The Utes are better than last season, but they're still considered the worst team in the league along with Washington State. Utah lost to Larry Brown's SMU squad 62-55 in Dallas on Wednesday.
Dallin Bachynski
, a 7-footer from Calgary, averages 11.5 points (second on the team) and 9.0 rebounds (first).
July, 17, 2012
7/17/12
10:00
AM ET
Editor's note: ESPN.com's Summer Shootaround series catches up on the offseason storylines for each conference. For more on the Pac-12, click here.
1.
UCLA's late recruiting surge
: Less than two months after a Sports Illustrated story threatened to damage the reputation of coach Ben Howland and his program, the Bruins added a pair of standout freshmen who could make UCLA a top-10 staple this season. Shooting guard
Shabazz Muhammad
-- the No. 2-ranked prospect in the class of 2012 -- announced his intentions during a live telecast on ESPNU in May. Center
Tony Parker
, who is ranked No. 26, followed suit soon after. Mix in fifth-ranked
Kyle Anderson
, a small forward who signed in the fall, and it's easy to see why UCLA's haul was ranked No. 1 in the country by ESPN.
2.
Mark Lyons transfers to Arizona
: The Wildcats' list of newcomers became even more impressive with the addition Lyons, who scored nearly 1,200 points in three seasons at Xavier. Arizona coach Sean Miller signed Lyons when he coached the Musketeers and had a chance to reconnect with him when Lyons decided to transfer for his final season. Lyons will provide a huge boost to a squad that also welcomes the country's third-ranked recruiting class. Mix in returnees such as
Solomon Hill
and
Nick Johnson
and there will be no excuses for the Wildcats missing the NCAA tournament, which they've done two of the past three seasons.
3.
USC's bounce back
: Could a team that finished 6-26 overall and 1-17 in Pac-12 play last season actually make the NCAA tournament in 2013? Trojans coach Kevin O'Neill says yes, and there appears to be validity to his optimism. Last year's squad lost four starters to season-ending injuries and was down to six scholarship players by the end of the season. Now USC is preparing to welcome back team captain
Jio Fontan
and NBA prospect Dewayne Dedmon along with newcomers such as Wake Forest transfers J.T. Terrell and Ari Stewart. Tissue-thin a year ago, the 2012-13 Trojans will be the deepest team of O'Neill's tenure.
4.
Washington hurt by NBA draft
: The Huskies' chances of repeating as Pac-12 champions took a major hit when sophomore small forward
Terrence Ross
and freshman point guard
Tony Wroten
left school early to turn pro. Both players became instant millionaires when they were selected in the first round. Ross was picked eighth by Toronto; Memphis nabbed Wroten with the 25th selection. The early departures will put additional pressure on players such as
C.J. Wilcox
,
Abdul Gaddy
and
Aziz N'Diaye
. Even with Ross and Wroten in the lineup, Washington missed the NCAA tournament last spring. Can they make it this season without them?
5.
Can Jahii Carson make Arizona State relevant again?
: The Sun Devils experienced their worst season under Herb Sendek when they went 10-21 last season. But let's face it: Arizona State hasn't had a quality point guard since Derek Glasser graduated two years ago. Carson was supposed to fill that void as a freshman last season, but he was ruled academically ineligible and never played a game. Luckily, he was able to practice with his teammates, which should help him adapt to the college game more quickly when he takes the court for the first time this fall. Arizona State has missed the NCAA tournament the past three seasons.
February, 6, 2012
2/06/12
8:30
AM ET
Allow me to concur with my colleague, Myron Medcalf, who included the Pac-12's intriguing title race
among his five observations Sunday
:
2. The Pac-12 race is actually exciting: Let's ignore the fact this could still be a one-bid league and the overall conference has been bested by multiple mid-major conferences this season. The Pac-12's title race is compelling right now. Washington beat Arizona on the road last weekend and then overcame a late double-digit deficit to beat UCLA on Thursday. The Wildcats overcame Cal's early 22-9 lead in one of the better matchups of the week: a 78-74 road win for Arizona, which it followed up with a victory at Stanford. The Pac-12 might end up with the most captivating finish in the country simply because so many teams possess questionable NCAA tourney résumés.
This is entirely true. Sure, the quality of play in the Pacific 12 conference isn't the highest in the country, but so what? If you want to watch the best basketball in the world, played by all of its best players, well,
NBA League Pass is right this way
. Go wild. If you want your hoops defined as much by imperfection as success, it's hard to do much better than this fascinating and downright weird league.
Anyway, onto the rankings.

1. Washington
: For much of the season, yours truly has been pining over the
Washington Huskies
. Well, not pining, exactly, but at least keeping an eye out. With
Tony Wroten
,
Abdul Gaddy
,
Terrence Ross
and
Aziz N'Diaye
, Washington has always appeared to be the most talented team in the conference. Of course, talent only goes so far, and for much of the season, this team's talent was undermined by a lack of chemistry and a lack of defense, and not always in that order. Both of those things have changed in conference play. The Huskies are hardly blowing the doors off on offense, but they're allowing the league's third-fewest points per possession on defense, and unlike their mediocre nonconference slate, Lorenzo Romar's team is getting key stops, closing out tight games and winning on the road. As a result -- and thanks to Cal's home loss to Arizona this week -- Washington finds itself alone atop the Pac-12 standings Monday morning. Can the Huskies take that lead to the finish line? It may not matter, this team's at-large tourney profile is still pretty mediocre. But you can't knock Washington's improvement. If things keep going this way, Romar's team will be in excellent position heading into the all-important Pac-12 tournament.
2. California:
The Bears have spent the entire Pac-12 season looking like this conference's best, or at least most solid, team. That perception hasn't changed, despite Thursday's home loss to Arizona, which dropped California out of first place in the league standings. Thing is, Cal has reached its ceiling. The Bears are what they are. That's not something we can necessarily say about Washington, which looks capable of greater improvement each time it takes the floor. The Bears are solid (and their total per-possession numbers are solid, if not amazing, particularly in conference play) but unspectacular. Meh.
3. Colorado:
Is it time to believe in Colorado? Insofar as "believe in Colorado" means "think they might be the third- or fourth-best team in the Pac-12," then yeah, sure. The Buffaloes are playing solid defense and got a couple of nice wins last week over Oregon State and Oregon (though Saturday night's win over the Ducks featured a controversial last-second foul call on Oregon's
E.J. Singler
that gave coach Tad Boyle's team two late, game-sealing free throws). In any case, the Buffaloes still need to prove themselves on the road. This team's only Pac-12 road victory came at USC, and five of their final seven games -- including the next three, at Arizona, Arizona State and Utah -- are on the road. We'll see.
4. Arizona:
The Wildcats move up the board further than anyone this week thanks to their impressive Bay Area sweep, which began Thursday at Cal and ended Saturday at Stanford. Both were solid wins for coach Sean Miller's improving bunch. The Wildcats are now 7-4 in conference play with the best per-possession defense in the league. Arizona's offense could hold them back (it was uncharacteristically good at Cal, and it didn't prevent a win at Stanford), but the Cats may have found their niche on the defensive end.
5. Oregon:
Perception-wise, it's hard to penalize the Ducks too much for losing on the road at Colorado, let alone losing on the road on such a controversial last-second call. Coach Dana Altman's team has an excellent chance to bounce back this week when Washington comes to town, so that's good news. But Oregon has yet to really impress when it comes to efficiency margin in league play, and while Altman and Oregon fans may feel like they are a few missed opportunities away from contention, the Ducks' advanced metrics beg to differ.
6. Stanford:
Stanford entered league play with a sluggish offense and what appeared to be the conference's best defense. Since then, coach Johnny Dawkins' team has regressed to the mean on the defensive end, allowing the fifth-most points per possession in Pac-12 play. That wouldn't be so bad if Stanford were playing a bit better on offense. Unfortunately, that's not the case. That's why Arizona was able to win in Palo Alto on Saturday despite scoring well under a point per possession, and that's why Stanford, once a potential title contender, is stuck here at 6-5.
7. Oregon State:
It's hard to move the Beavers either up or down after Oregon State lost at Colorado and won at Utah. Guard
Jared Cunningham
leads an offense that can score in bunches and a defense that is far too permissive both at home and on the road. Last week's win at Oregon was nice, but little else has been impressive.
8. UCLA:
Believe it or not, the Bruins score the most points per trip of any team in the Pac-12. Travis and
David Wear
are providing efficient role scoring, and
Joshua Smith
remains a load for any defense to handle. Strangely enough for a program that has prided itself on defense in the Ben Howland era, this team is totally mediocre on the defensive end. Losing to Washington on the road, as the Bruins did Thursday, is hardly a crime. But the way UCLA lost -- with a timeout still on the board -- was curious. More importantly, this team hasn't gone anywhere since the turmoil of November and December, and that has UCLA fans questioning the program's future direction.
9. Washington State:
Washington State had one thing going for it in early Pac-12 play: home-court advantage. The Cougars were offensively potent at home, and that trait guided them to wins over Stanford and Cal in back-to-back games last month. But
Faisal Aden
's sad, career-ending ACL injury has robbed them of even that ability, made evident by a meager 60-53 win over USC and a 60-points-in-65-possessions performance in Saturday's three-point loss to UCLA. This was never going to be a tournament team, but that doesn't make Aden's fate, or its effect on this fledgling squad, any easier to swallow.
10. Arizona State:
No surprises here. Arizona State had two road games this week -- at Stanford, at Cal -- and lost by 20-plus in both. Those blowouts moved the Sun Devils to 3-8 in league play, good enough to stay atop Utah and USC and no one else.
11. Utah:
The Utes will never truly wash off the stink of their horrendous nonconference performance; on a per-possession basis, they've been ranked in the low 300s all season, and they'll be there for the remainder. But they do still own one more league win than USC. Then again, Utah has lost its past four (including at USC), mostly in blowout fashion, and the Utes may return to their seemingly predestined spot at the bottom of these rankings if the trend continues.
12. USC:
And then there's Southern California. The Trojans' only win in league play came at home over Utah, and while they kept things relatively close at Washington State (losing 60-53), that's hardly worth much. USC is scoring about 0.83 points per possession in Pac-12 play, a league that hardly specializes in lockdown defense. Unless the Trojans discover a magical way to score the basketball in the next few weeks, their only hopes of avoiding the 2012 Pac-12 wooden spoon award is if Utah somehow plays even worse.
November, 7, 2011
11/07/11
12:03
PM ET
By
ESPN.com staff
| ESPN.com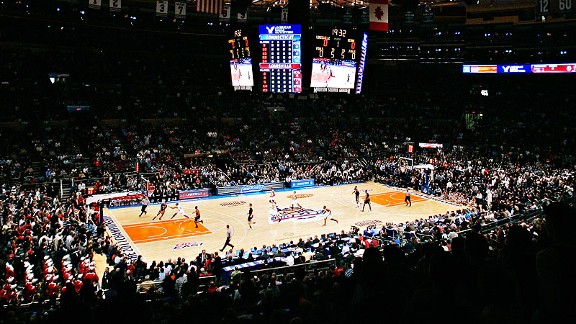 Mike Lawrie/Getty ImagesThe Big East tournament in Madison Square Garden is one thing several of our experts are looking forward to this season.
Dana O'Neil wrote about the top 25 things she's looking forward to this season. Now the rest of our experts weigh in with their selections.
Stephen Bardo
: I'm looking forward to seeing if the trend of mid-major teams advancing deep into the NCAA tournament continues. We've seen Butler, VCU, and George Mason crash the Final Four in recent seasons. This season should have more mid-majors capable of surprise runs, including Belmont, Creighton, Drexel, Fairfield, Harvard and Wichita State.
Jay Bilas
: The Big East tournament in Madison Square Garden. This could be the last season of the Big East as, hands down, the best conference in the country. Before West Virginia, Syracuse, Pittsburgh and perhaps others bolt the league, the last Big East tourney with all of the participants will bring great drama -- and some tears. Things change, but I will miss the Big East tournament.
Eamonn Brennan
: The upheaval in the Big Ten. We know Ohio State is the league's best team, and you can bank on
Jordan Taylor
and the ever-steady
Wisconsin Badgers
pushing the Buckeyes at the top of the conference. But after those two, the league is more unpredictable than any time in recent memory. Will Michigan State bounce back? Will a retooled Illinois team emerge? Can Indiana fight out of the cellar? Will Northwestern finally make the tournament? Where's Michigan's ceiling? Can an experienced Nebraska team make an impact? The search for answers to those questions -- and many more -- begins this week.
Fran Fraschilla
: Madison Square Garden in March. Sadly, I am looking forward to watching the final Big East tournament as I've known it. Regardless of how conference realignment turns out, there will never be another 30-year period in a college basketball conference like we've seen in the Big East. UConn's five-day run through the tournament last March was emblematic of the type of excitement we expected in New York. From Ewing to Mullin to Pearl to Ray Allen to Gerry and Kemba, it's never going to be the same.
John Gasaway
: The last (real) Big East tournament. I'm as realistic and progressive as the next guy. I don't fear change, and there's no doubt in my mind the ACC will be a much better basketball conference once Syracuse and Pitt join it next season. But for the past couple of decades, the Big East tournament has had something that -- to be quite honest -- no other major-conference tournament has had. And with the league losing programs like Syracuse and Pitt (and West Virginia to the Big 12), that "something" is about to disappear. But not before we enjoy one last good old-fashioned Big East tournament, March 6-10, at the Garden. It's as if someone said this will be the last season we play football on Thanksgiving. I'll see you at the Garden in March.
[+] Enlarge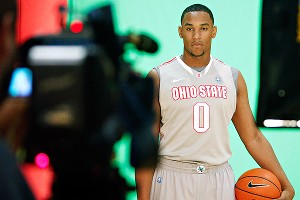 AP Photo/Terry GilliamThe Buckeyes are expecting big things from Jared Sullinger this season.
Doug Gottlieb
: Legit big men in the college game. Having a wealth of young and experienced big men make the games more balanced and better to watch.
Jared Sullinger
,
Tyler Zeller
,
Joshua Smith
, the Plumlee brothers,
Thomas Robinson
,
Quincy Acy
,
Harper Kamp
,
Aziz N'Diaye
,
Derrick Nix
,
Alex Oriakhi
and
Festus Ezeli
are just a few names you will hear about this season. With overall point guard play being down -- in terms of transcendent lead guards -- the focus on size and improving skill will be refreshing. Add to that list, several new talents like
Anthony Davis
,
Cody Zeller
and even
Andre Drummond
, all of whom are very confident and maybe more comfortable on the floor, the intrigue grows. The closer we get to conference play and postseason play, the games generally slow down and become half-court affairs. Expect these big men to become huge storylines this season.
Andy Katz
: How does North Carolina handle the expectation of being No. 1? Will Kentucky be able to mesh a talented roster yet again with a new point guard? What are the chances Connecticut can repeat behind the newcomer Drummond? Will this finally be the season that Xavier or Gonzaga break through to the Final Four? But more than anything, I'm looking forward to seeing how Creighton, New Mexico, Wichita State, Drexel, Detroit and others develop over the course of the season. We've been spoiled with Butler and VCU in March. Can we possibly get another sleeper in 2012?
Jason King
: Conference races. North Carolina seems like a shoo-in to win the ACC, but the other Big Six leagues are intriguing. Kentucky, Vanderbilt or Florida in the SEC? Kansas or Baylor in the Big 12? Connecticut, Syracuse, Louisville or Pittsburgh in the Big East? Ohio State or Wisconsin in the Big Ten? Cal, UCLA, Arizona or Washington in the Pac-12? And I haven't even mentioned darkhorses such as Marquette, Texas A&M, Alabama and Oregon. As much as I love the NCAA tournament, I'm more impressed with teams that emerge as league champions after a brutal 16-to-18-game stretch of games.
Diamond Leung
: I'm most looking forward to seeing how teams coming off conference championships last season do in the underdog role. Inexperienced Kansas, the perennial favorite in the Big 12, shares the coaches' preseason top spot with Texas A&M. In the Big East, Pittsburgh has defending national champion UConn and Syracuse to contend with. Florida lost its starting frontcourt, while Kentucky is getting all the preseason hype in the SEC. Arizona no longer has
Derrick Williams
and will rely on freshmen for production. San Diego State and Utah State only return one starter each. How will these championship-caliber teams from past seasons respond now?
Joe Lunardi
: I can't wait for a reprieve, however temporary, from the stories of realignment and greed in college athletics. It's been a miserable offseason on so many fronts, but we may have a season for the ages once the games begin. Take the three superpowers at the top of the rankings -- Carolina, Kentucky and Ohio State -- along with the last true Big East season we'll ever see, and it's going to be a battle royal for No. 1 seeds and the Final Four.
Myron Medcalf
: I'm most looking forward to watching the race in the Big 12. Kansas has dominated the league for years. And Bill Self will find a way to keep the Jayhawks in the mix. But they'll have to get past a talented Baylor squad. Missouri is also dangerous, and Texas A&M will be tough, too. Those are the teams we're talking about now. Iowa State features a bunch of guys who've been off the grid for a few years. But
Royce White
& Co. certainly possess the mojo to make a lot of noise in the league. This season, the Big 12 is must-see TV.
Miles Simon
: The thing that I am most looking forward to is watching all the super sophomores that came back to school. The trend with the one-and-done-rule has been for players to leave for the NBA -- whether they were ready or not. Now this season, I get to see elite level players like
Harrison Barnes
, Jared Sullinger,
Terrence Jones
,
Perry Jones III
and
Jeremy Lamb
compete for the national title. All of these players passed up big money for the love of their school, coaches and teammates. Having coached in college, I also believe the biggest growth in a player's game comes between their freshman and sophomore seasons (i.e. Derrick Williams for Arizona last season). If these guys produce like I think they will, college basketball will be unbelievable in 2011-12.
Dick Vitale
: I always look forward to seeing the diaper dandies, and there is a great crop coming in this season. Kentucky has Anthony Davis,
Michael Kidd-Gilchrist
and
Marquis Teague
. I cannot wait to see Andre Drummond in the middle for Connecticut.
Austin Rivers
will have an instant impact, and the Dukie fans will love him. I also want to see if North Carolina can live up to its hype. Hall of Famer Roy Williams loves the challenge. Look what he did in 2005 and 2009.
Jay Williams
: I'm looking forward to watching UNC handle the pressure of starting the season at No. 1 and trying to finish as a national champion. Having the most talent doesn't always translate to winning a title. Questions for the Tar Heels revolve around consistent outside shooting and who handles the point guard spot if foul trouble or injury occurs to
Kendall Marshall
?
March, 19, 2011
3/19/11
2:05
AM ET
CHARLOTTE, N.C. -- In the regular season, Washington was easy to pick apart and poke at, leaving observers wondering whether or not it could truly be a special team in March.
The Huskies demonstrated an inability to win consistently on the road, and at times a failure to win games played below 70 points.
Yet, something has happened with this team when games matter more -- the Huskies seem to play with more purpose.
Washington has become a postseason team, a squad that can suddenly defend when it needs to, board when it has to, and lean on star junior guard
Isaiah Thomas
to make the big play when he must.
Criticizing the Huskies was fair and justifiable during the regular season. Washington had chances to prove it was an elite team but couldn't win two games in Maui, lost at Texas A&M and then couldn't win slow games at Stanford or Oregon State. It even fell apart down the stretch in its usually vaunted homecourt against Washington State and USC.
[+] Enlarge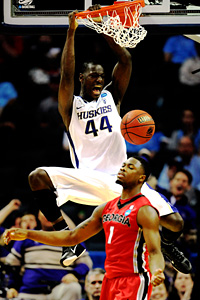 Bob Donnan/US PRESSWIRESo far, Darnell Gant and the Washington Huskies have been flying high in the postseason.
So why should there have been optimism?
"I just told our guys, 'Dudes if we don't win and play well right away, we're going home,''' Thomas said of his pre-Pac-10 tournament conversation.
Well, they must have listened because the Huskies won the automatic berth in thrilling fashion with a 3-pointer at the buzzer to beat the Wildcats in the Pac-10 tournament final. Thomas took that shot. He wasn't in position to take a game-winner against Arizona in Tucson a few weeks earlier as
Derrick Williams
blocked Washington from a victory.
And then the NCAA tournament selection committee took the No. 7-seeded Huskies and shipped them farther away than any other team when it sent the Seattle-based school to Charlotte to take on nearby No. 10 Georgia.
Yet Washington's fans seemed to be in greater numbers than Georgia fans, and were certainly louder. And with good reason. Washington played UGA's halfcourt game and beat the Bulldogs by staying strong on the backboard and running the break effectively, earning a
68-65 win
and a date with No. 2 seed and hometown favorite North Carolina on Sunday at 12:15 p.m.
"We understand now that we have to play defense to win games,'' said Washington senior
Justin Holiday
. "Sometimes we haven't been as focused on defense toward the end to win games.''
Thomas said the momentum from the Pac-10 tournament did have an effect on the Huskies' confidence here. Washington was the aggressor to start the second half after the two teams were tied 28-28 at halftime, the first close half of any of the three previous games in Charlotte on Friday.
"They're a team that scores in bunches and they know their strength,'' said Georgia's
Trey Thompkins
. "They like to play the game fast-paced. They came down in the second half and started knocking down shots. They were contested. That just shows the quality of shooters and the quality of team that they have.''
Georgia extended a great deal of respect to Washington on the postgame podium. UGA coach Mark Fox, a former Nevada assistant and head coach, is familiar with UW's success in the past six years under coach Lorenzo Romar.
"We got the game we wanted, but we didn't defend well in the second half,'' Fox said. "We gave up almost 54 percent and didn't rebound well enough. Even though we got the game we wanted to, you still have to make the plays at both ends and we didn't do that. It was frustrating.''
The balance Washington displayed was the reason the Huskies advanced to play the Tar Heels.
Aziz N'Diaye
,
Matthew Bryan-Amaning
and a collection of guards led by the recently reinstated
Venoy Overton
gang rebounded, according to Amaning, in a way that made it harder for the Bulldogs to focus on one player to keep off the glass.
And, of course, when the Huskies needed a big shot they turned to Thomas. He finished with 19 points, seven assists and two turnovers and made all seven free throw attempts.
Now the trick will be how Washington fares against a UNC team that has length and runs as well as any team in the country. The Huskies will get looks but if they don't knock down shots and get some putbacks, then the Tar Heels certainly could run them out of the building. And this will be a road game for Washington with Carolina blue dominating the arena.
"I think we have a great chance because we like to get up and down,'' Thomas said. "We both like to play the same style. It's going to be a great game.''
March, 3, 2011
3/03/11
5:01
PM ET
By
Diamond Leung
| ESPN.com
UCLA center
Joshua Smith
, one of the top freshmen in the Pac-10, returns home tonight when the Bruins face a tough challenge at Washington as they try to stay in first place.
Smith was raised in a Seattle suburb and his brother played football for Washington, but the 6-foot-10, 305-pound McDonald's All-American chose to attend UCLA instead. That means he's expecting a negative reaction to his presence from Washington fans.
From
ESPNLosAngeles.com
:
"In their mind, I'm a traitor," Smith said. "Obviously it's going to be a hostile environment. I've been to UW games, I know how hostile it gets."

Smith's ability to handle the crowd may very well have an impact on UCLA's chances of winning the game.

Earlier this season, Smith let the crowd get to him and it affected his play. At USC on Jan. 9, Smith was so upset with the fans that he gave the Trojans crowd the middle finger after the game.

...

"My dad keeps joking around, saying that my mom is going to get into a fight with the whole student section," Smith said. "The last thing I need is to look up there seeing my mom trying to tell the whole student section to shut up and stuff."
Smith's maturation is one main reason UCLA is back in the hunt for an NCAA tournament bid. He's battled issues with his weight, foul trouble and his emotions toward refs and
fans on the road ridiculing his weight
.
It'll all be tested against Washington, which has 7-footer
Aziz N'Diaye
to counter Smith's size and the capability of ruining his return home.
But if Smith and the Bruins can somehow escape with a win after having lost their previous six games in Seattle, look out for this team that's growing up by the game.
January, 17, 2011
1/17/11
12:04
AM ET
By
Diamond Leung
| ESPN.com
BERKELEY, Calif. -- A few quick thoughts following
Washington's fairly easy victory against Cal
that moved the Huskies back into sole possession of first place in the Pac-10.
The Huskies are a deep-enough team that they don't need guard Isaiah Thomas to take over the scoring load, but they certainly won't mind it when he does. Not only did Thomas dish out 13 assists on Sunday night, but he also scored 27 points, including 18 in the first half. He also finished 8-of-8 from the free-throw line. The Huskies offense ran well through him as point guard, as the team shot 42 percent from 3-point range. Thomas hit three of them, and the Huskies extended a 48-33 halftime lead by opening the second half with Justin Holiday hitting back-to-back 3-pointers. With Thomas running the show, Holiday finished with 23 points and Matthew Bryan-Amaning contributed 22. UW shot 52 percent overall and 45 percent from beyond the arc.
Washington controlled this game all the way through, and it's no coincidence that Bryan-Amaning was playing some of his best basketball. The senior from England had lost his starting job for a time earlier this season, but has since rebounded and played well on both ends of the floor against California, finishing with 11 boards. With Bryan-Amaning and Aziz N'Diaye in the lineup together, the Huskies have one of the more formidable frontcourts in the conference as long as N'Diaye, who fouled out with 8:24 left, learns to stay in the game. The Huskies dominated on the glass, outrebounding the Bears 43-27.
Washington guard Venoy Overton did not start after getting into the lineup the previous three games with Abdul Gaddy going down with a season-ending injury. Instead, junior Scott Suggs started for the first time in his career after coming off the bench for 68 previous games. Suggs shadowed Jorge Gutierrez, Cal's most dynamic player.
The Golden Bears are a different team following the transfer of freshman guard Gary Franklin, and the two other guards in Franklin's recruiting class have been directly impacted. Allen Crabbe appears more confident, and he came out firing on the heels of a career-high 30-point performance three days earlier in an overtime win against Washington State. He scored the team's first seven points and finished with 16, including two of them hanging in the air for a reverse layup. Emerson Murray is also playing more in the absence of Franklin, and he had a particularly good moment in the first half, scoring over the 7-footer N'Diaye and getting fouled. Still, the rookie mistakes that come with receiving early playing time are something the Bears are having to overcome.
Check back later in the night for more extensive coverage of UW-Cal, including a video interview with Washington guard Isaiah Thomas.
September, 16, 2010
9/16/10
10:01
AM ET
By
Diamond Leung
| ESPN.com
Washington lost from its Sweet 16 team forward
Tyreese Breshers
, who the school announced Wednesday was retiring from basketball due to medical reasons.
The reasons were not detailed by the school due to privacy regulations, but Breshers has dealt with injuries leading up to his first year in action as a redshirt freshman and part-time starter last season.
From the
Seattle Times
:
Breshers fractured his shin during his senior year at K.C. Price III High in Los Angeles when he was kicked in the leg. After arriving at Washington in 2008, he underwent surgery in which a rod was inserted through his patella tendon into his shin.

The surgery stabilized the fractured shin, but the rod irritated his knee and forced him to redshirt the 2008-09 season.

Breshers returned last season but his recovery was slower than expected.
Breshers averaged 3 points and 2.6 rebounds, and the Huskies will miss his tough presence that was on display while not feeling 100 percent and still starting 12 games and playing in 34.
On a guard-heavy team, the loss of the 6-7 Breshers potentially creates more playing time for
Darnell Gant
and newcomers Aziz N'Diaye and Desmond Simmons.
"Any time you lose a family member it is tough," Huskies coach Lorenzo Romar said in a statement. "Tyreese was a big part of our program, but his long term well-being is much more important than the game of basketball. We are fortunate that he will be around our program and get his degree from the University of Washington."