College Basketball Nation:

B.J. Holmes
March, 18, 2011
3/18/11
7:04
AM ET
CHICAGO -- A look at the afternoon games being held here at the United Center:
No. 15 seed Akron (23-12) vs. No. 2 seed Notre Dame (26-6), 1:40 p.m. ET (TBS)


How they got here:
Last time we saw Notre Dame in the tournament, the Irish, who struggled to earn a tourney bid in 2010, were bowing out thanks to an ugly, uninspired first-round loss to Old Dominion. Twelve months later, and after the graduation of four-year star Luke Harangody, the Irish are a whole different animal. In that time, guard
Ben Hansbrough
has rocketed from "good but not great" to the Big East player of the year. That surprising rise has dovetailed with this unheralded team's race to a second-place finish in the rough-and-tumble Big East this season.
Meanwhile, the Zips' appearance in the NCAA tournament can be chalked up to survivalist instincts. Akron nearly lost in the first round of the MAC tournament; it had to fend off a 20-point comeback by Miami (Ohio) to take a double-overtime win on March 8. Three wins and one more overtime later, and Akron was sitting atop the MAC and headed to the tournament for the third time in school history.
Players to watch:
How do you know you're having a great year? When you -- and not Connecticut's
Kemba Walker
-- are the only unanimous all-Big East first team selection, not to mention the Big East player of the year. But there are few who would argue Hansbrough didn't deserve those honors. He's been brilliant for Notre Dame, not only in a scorer's role but in his ability to facilitate the uber-efficient perimeter offense that carried the Irish throughout their impressive Big East run. Forwards
Tim Abromaitis
and
Carleton Scott
are keys; when Scott is hitting outside shots, the Irish are almost impossible to guard.
What to look for:
Can Akron find a way to keep Notre Dame from running away on offense? The Irish are deadly from the perimeter and willing to play at Mike Brey's sloth-like "burn" pace; that negates the typical underdog strategy of slowing the game, packing the defense and hoping the big bad favorite goes cold. The Zips are a decent defensive team on the perimeter -- they held opponents to a 46.6 effective field goal shooting percentage this season -- but let's be real: it will require a Herculean effort to keep the Irish from casually rolling in the Chicago opener Friday.
Quotable:
"Most likely, if we play Notre Dame seven times, they would probably win the series, but we only have to win one game. And that's the beauty of sports. We have to play one great game. They have to be average, or we have to be good, and they have to be below average." -- Akron coach Keith Dambrot
No. 7 seed Texas A&M (21-10) vs. No. 10 seed Florida State (24-8), 4:10 p.m. ET (TBS)


How they got here:
Somehow, it seems Mark Turgeon always finds a way. The Texas A&M coach faced a serious challenge in the offseason: Replacing three seniors, including stars Donald Sloan and Bryan Davis, with a group of unproven unknowns. The Aggies didn't miss a beat. Instead, A&M quickly established itself as another smart, solid Turgeon team, one that looked like it might compete for a spot among the Big 12's elite before a late-January hiccup. Meanwhile, despite losing its leading scorer and best defender in forward
Chris Singleton
to a broken hand on Feb. 19, Florida State admirably maintained its spot above the bubble fray.
Players to watch:
Singleton hasn't seen action since his injury, but he practiced Thursday and appears likely to play Friday. Saying this is "huge" for the Seminoles is like saying water is "huge" for human survival. With Singleton on the prowl, an already-stout Florida State defense is one of the toughest, most disruptive units in the country. Texas A&M forward
Khris Middleton
will have to find a way to remain productive despite Singleton's singular defensive prowess, and A&M will need to balance its interior scoring with some timely perimeter shooting from guard
B.J. Holmes
.
What to look for:
A slow, defensive slugfest that will be decided on the offensive boards. FSU's defense is the second-stingiest in the nation; only Texas has allowed opponents fewer points per possession in 2011. That stinginess stems from Florida State's excellent first-shot defense. The Seminoles simply don't allow good looks. That said, Leonard Hamilton's offense-averse team does allow opponents its share of offensive rebounds, and A&M ranks among the top 15 teams in the nation in retrieving their own misses. The Aggies aren't going to get many good looks. But if they can take advantage of the offensive glass and get a few easy putbacks, they'll be at a major advantage against a Florida State team that frequently struggles to score.
Quotable:
"How big of a factor he's going to be will be in direct proportion to how he's going to adjust to not being available for a month, not being in practice, not having any contact, not being in rhythm. [...] He's only been in any type of contact with us now for four or five days. So to be honest with you, I think that's yet to be determined." -- Florida State coach Hamilton on what he expects -- or doesn't expect from Singleton.
February, 14, 2011
2/14/11
12:20
AM ET
Five observations from the past week:
1. Officials had an interesting week. The out-of-bounds call on Alabama's
JaMychal Green
by official Tim Higgins was more than questionable in the Crimson Tide's 81-77 loss at Vanderbilt on Thursday. Green thought he got fouled but the more egregious call was when he was ruled to have stepped out of bounds on a drive along the baseline with Higgins looking down at the line. Alabama coach Anthony Grant was as upset as he has ever been as a head coach. After all, Green was on his way to possibly tying a crucial game for Bama.
The call on
Corey Fisher
of Villanova against Rutgers'
Jonathan Mitchell
was a good call as Fisher bumped Mitchell on a game-ending 3-point shot. Mitchell got to the line, converted the free throw and the Scarlet Knights won on a rare four-point play at the RAC. Fisher had no business being up on Mitchell with the Wildcats up three points. So he put himself in a position for the officials to make a call.
[+] Enlarge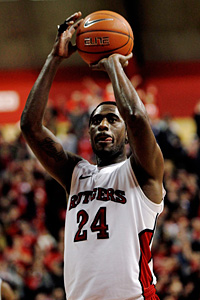 AP Photo/Mel EvansJonathan Mitchell sank this free throw to complete a four-point play with 0.8 seconds left, giving Rutgers a 77-76 win against Nova.
And then late Saturday night in Boulder, Kansas State's
Rodney McGruder
hit an apparent game-winning 3-pointer for the Wildcats. But the officials looked at multiple camera angles and the ESPNU shot from the other basket clearly showed the ball was in McGruder's hands when the clock hit all zeroes. That allowed Colorado to escape with a 58-56 win, leading the Wildcats to go from celebrating to hanging their heads in a matter of minutes. The win for CU came just a few days after Texas A&M won in Boulder by three points after
B.J. Holmes
hit a 3-pointer with 1.9 seconds remaining in regulation to tie the game and send it into overtime.
2. Utah State's margin of error is always incredibly thin. The Aggies are probably under the most pressure of any mid-major power to win every conference game. Well, Utah State was on national TV Wednesday night and lost at Idaho, a team that turned around and lost to Boise State over the weekend. Utah State is 23-3 overall, 12-1 in the WAC and has a strong chance of going 15-1 in the league with three remaining games. Utah State got an at-large berth last season after finishing 14-2 in the WAC. So there is a precedent for the Aggies to get an at-large berth without running the table in the conference. Yet there is a perception that they almost have to do so. To expect a conference team to win every road game is asking quite a bit. Utah State is a target every time it goes on the road. Losing one or two road games a season is quite an accomplishment and if there are no egregious losses, it's hard not to include a team in the field that has such an outstanding record.
The NCAA is charged with putting the best 37 at-large teams in the field. But the NCAA also looks to reward conference champs that win convincingly. If the Aggies do so again, it will be interesting to see how the committee handles them. The two key nonconference games the Aggies played they lost -- at BYU and at Georgetown. USU coach Stew Morrill has always said that he doesn't need to change his scheduling philosophy since the Aggies have earned at-large berths with the current plan. He did tweak it a bit this season by going to Georgetown. He still needs to do more and get into a key neutral-site tournament in the coming years. But he might sneak into the tournament again, doing it his way if Utah State finishes with a 15-1 WAC mark. Beating Saint Mary's on the road in the BracketBusters on Saturday would certainly help.
3. Some coaches have resurfaced quite well this season and are proving that they can check their egos at the door and be successful at a lower level. Cliff Ellis, who had his share of success at Clemson and Auburn, is leading quite a run at Coastal Carolina with the Chanticleers atop the Big South (15-0) and holding the longest win streak in the country at 22 games. Dan Monson was pushed out of Minnesota after seven games of the 2006-07 season and resurfaced the next season at Long Beach State. He now has the 49ers at the top of the Big West with a 10-2 record and looking at a No. 1 seed in the conference tournament. Bobby Cremins, who left Georgia Tech -- where they named the court after him -- in 2000, has led a resurgence at the College of Charleston. The Cougars have a 12-2 mark and stand atop the South Division in the Southern Conference and are in a position to get to the NCAA tournament. And in the Sun Belt, the home of so many second and third chances, the two division leaders are led by former big-time coaches in Mike Jarvis (St. John's) at Florida Atlantic in the East and John Brady (LSU) with Arkansas State in the West.
[+] Enlarge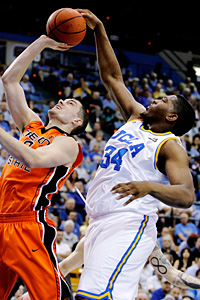 AP Photo/Danny MoloshokDespite an early-season loss to Montana, Joshua Smith and the Bruins are still in the hunt for the Pac-10 title.
4. I'm guilty every season of overreacting to early-season losses. UCLA and Florida are the two latest examples. The Bruins lost at home to Montana and didn't look good in New York in November. Now the Bruins are in position to possibly win the Pac-10 with a 9-3 league record and nonconference wins over BYU and St. John's that may make the Bruins an at-large lock fairly soon. Meanwhile, Florida has assumed its place atop the SEC East with a two-game lead, finishing off close games at home and on the road because of its experienced perimeter and inspired play from
Chandler Parsons
, who played 37 minutes with a bruised hip/thigh that will likely keep him out of practice all week (Florida doesn't play again until Sunday at LSU). How Florida lost at home to Jacksonville and South Carolina is still hard to fathom. But it happened and the Gators are hardly worse off for it now that they're 20-5 overall and 9-2 in the SEC. When will I and others learn to chill over odd losses in November and December? (Remember St. John's losing to Fordham and St. Bonaventure in back-to- back games?) Well, probably never.
5. Long Island University hasn't been to the NCAA tournament since 1997. But the Blackbirds are atop the Northeast Conference with a 12-2 record and are 20-5 overall. The main reason is the return of
Julian Boyd
. The 6-7 sophomore sat out last season with a heart condition that was being reviewed and examined. Well, he has come back, and has been the leader of the LIU revival with 12.2 points and 8.7 rebounds a game. Boyd's return to the Blackbirds has transformed the team and the NEC race. Boyd had a monster effort earlier in the season when he scored 34 points and grabbed 16 rebounds, one of his seven double-doubles on the season. The turnaround of Boyd and LIU is one of the hidden gems of this season.
March, 12, 2010
3/12/10
9:35
PM ET
KANSAS CITY, Mo. -- Kansas has one more game left before it can probably rid itself of Big 12 opponent intensity until possibly the Elite Eight.


The Jayhawks have dominated the Big 12 this season, losing only once. So it was natural for Texas A&M to be a bit tired of the love fest for the Jayhawks in conference. It didn't help that the Jayhawks were playing in Phog Allen Fieldhouse East here at the Sprint Center. The Aggies held the lead for nearly 30 minutes before Kansas flipped a switch and re-asserted itself as the favorite -- not just in this league, but arguably in the country -- with a 79-66 victory.
The Aggies, playing without injured
Dash Harris
(bone bruise in his hand), had been the aggressor for most of the night, especially
Donald Sloan
and
B.J. Holmes
. But when Kansas went with a zone, the Aggies couldn't make shots. The run outs for Kansas were ideal for
Sherron Collins
and set up some 3s for
Xavier Henry
. The Morris twins had their moments, Marcus and Markieff, especially the latter when he got into it with
Bryan Davis
for a double technical. That sent Texas A&M coach Mark Turgeon into a frenzy, challenging the officials to look at Collins, too. You could tell the two teams were tired of playing against each other, even though they only played one time this season.
The Aggies should get a high enough seed to avoid a team like Kansas in the NCAAs. Texas A&M has faced a No. 1 seed in the second round as a result of winning the eight-nine game two years in a row. If Harris is healthy enough to play next week then the Aggies should be good to go.
Kansas, meanwhile, still has some swagger to deal with: either Kansas State (the Big 12 dream scenario) or Baylor in the title game Saturday night. To win the regular-season and conference title game is quite an accomplishment regardless of the level of the league. It proves the players are mentally tougher than most.
March, 11, 2010
3/11/10
10:50
AM ET
KANSAS CITY, Mo. – A few quick hitters before the quarterfinals Thursday:


Texas Tech vs. Kansas, 12:30 p.m. (ET):
The Red Raiders had lost seven in a row before beating Colorado in the first round. Colorado had just put 101 points on the Red Raiders last Saturday in a win at Boulder. So clearly Pat Knight's defensive message got through as the Red Raiders held the Buffaloes to 67 points. But can the Red Raiders pull off the upset of the week by beating top-ranked Kansas? Well, the last time they met, KU stomped on Tech by 26 points. This will be an interesting test for the Jayhawks. This is a game they should win by double figures. If the focus is there, KU should walk to the semifinals. I'd like to see how
Sherron Collins
steps up his leadership role with the postseason now at hand. I don't see how the Red Raiders can keep the KU bigs, notably
Cole Aldrich
off the backboard.


Nebraska vs. Texas A&M, 3 p.m.:
The Huskers pulled the stunner of the first day with a crushing win over Missouri. The Huskers ran with Missouri and sprinted past the Tigers. But will Nebraska be able to get out against Texas A&M? Would they want to do such a thing? The Aggies probably were prepping to face Mizzou in a high-octane affair. That won't be the case now in what could be a grinder of a game. I'm not sure the Aggies would allow Nebraska to shoot over 50 percent the way it did against Missouri. I'm looking forward to seeing how
Brandon Richardson
and
Ryan Anderson
, who went off for the Huskers against Missouri get free against the Aggies.
Donald Sloan
and
B.J. Holmes
for the Aggies are two of the better guards in the conference and
Bryan Davis
' ability to board will prove vital.


Oklahoma State vs. Kansas State, 7 p.m.:
The Cowboys were able to easily beat Oklahoma with a mortal 11 points from
James Anderson
. OSU got quality production out of
Keiton Page
, who went for 24 points and
Obi Muonelo
's 15. The Cowboys also made 11 3s. Oklahoma State was one of three teams to win at Kansas State during the season. So the Cowboys go into this game with a lot of confidence. The more intriguing storyline will be how K-State handles its role as a favored player in the field.
Jacob Pullen
and
Denis Clemente
are coming off a disappointing home loss to Iowa State. There has to be some pride in play to get going on a high note heading into next week.


Texas vs. Baylor, 9:30 p.m.:
This may be the best game of the quarterfinals. It pits two teams that when they play to their potential could be playing in the championship game Saturday night, or, at the very least, the second weekend in the NCAA tournament.
Damion James
went back to being an all-American in the win over Iowa State in the first round with a 28-point, 16-rebound performance. The Longhorns got key play from
Gary Johnson
,
Avery Bradley
and
Jai Lucas
.
J'Covan Brown
only played three minutes as
Justin Mason
got the start at the point. The best news for Texas was the high percentage of shooting from
Dexter Pittman,
finishing 7-of-9 with five boards. Baylor crushed Texas last Saturday 92-77. The key will be whether
LaceDarius Dunn
and
Tweety Carter
can get free against the Longhorns, and who wins the tussles inside between Baylor's
Ekpe Udoh
and
Quincy Acy
and Texas' Pittman and Johnson. This should be an up-and-down affair at the Sprint Center.
January, 16, 2010
1/16/10
8:44
PM ET
I just finished watching
Texas survive a real scare at home against Texas A&M
and one thing is very clear to me: If this weren't the year of
John Wall
,
Damion James
would be at the top of the player of the year ballots, with Ohio State's
Evan Turner
not far behind him.
The Texas senior, who decided not to jump to the NBA a year early, has been the best player for the No. 1 Longhorns but was at his best against the Aggies. James scored 26 points and hauled in 12 rebounds, but it was the timing of his actions that spoke volumes. James scored all but three of his points in the second half and overtime, including a dagger 3-pointer with 1 minute remaining in overtime. He then came back to block
B.J. Holmes
' 3-point attempt to seal the victory for the Longhorns.
Texas is a ridiculously talented and deep team, so to be able to stand out as James has done all season says something about just how valuable a player he is.
What makes James even more enjoyable is his personality. He knows this is a special season and he's relishing every moment, unafraid to subtly sing his team's praises even when another team in the Big 12 (Kansas) stood atop the rankings.
It would probably take a freak act of nature to wrest the Player of the Year hardware from John Wall but if, like a tainted Miss America, for any reason Wall is unable to fulfill his duties, I'm thinking James would be a suitable runner-up.