College Basketball Nation:

B.J. Jenkins
February, 25, 2011
2/25/11
1:41
AM ET
MURRAY, Ky. -- The chant rang out from the Murray State student section with 79 seconds left on the clock, and the Racers wrapping up their biggest victory of the season.
"Over-rated!" they shouted at Morehead State forward
Kenneth Faried
as he stood at the foul line, waiting to shoot two free throws. "Over-rated!"
Faried is the best player in the Ohio Valley Conference, and then some. Last week he set the modern-day career record for rebounds in Division I, knocking a guy named Tim Duncan out of the record books. He's the reason there were seats assigned for two NBA scouts at the CSFB Center on Murray State's campus.
But Thursday night was not Faried's night, even though he finished the game with 15 points and 13 rebounds. He'd been harassed by the Murray defense -- held to two points at halftime and unable to control the paint. Morehead was losing this heated in-state rivalry battle for sole possession of first place in the OVC, and the frustration was bubbling up inside the 6-foot-8 senior from Newark, N.J.
So after making both free throws, Faried fired a pair of waist-level, one-finger salutes at the Murray student section. It wasn't an overt flip-off, but neither was it subtle enough to avoid detection. Many in the crowd of 6,096 -- a season-high, even with tornadoes in the area -- reacted loudly to the gesture.
Asked about it afterward, Faried tried a pump fake before owning up.
"I wasn't trying to give them the finger," he said. "I was trying to give them a peace sign."
Pause.
"I want to apologize for that."
Murray State coach Billy Kennedy certainly did not need an apology from Faried. If anything, he offered an indirect apology
to
the Morehead star for the fans' chant.
"For those who don't know, Kenneth Faried is not overrated," Kennedy volunteered after the Racers'
70-62 victory
. "His effort and energy is unmatched throughout the country."
Faried certainly is a player more deserving of respect than mockery. And the ironic thing about the "overrated" cheer from the Murray students is that, if anything, it could have been aimed at their own team for much of this season.
Murray State entered this year with eight key contributors returning from a 31-5 juggernaut that went 20-1 against OVC competition, upset Vanderbilt in the NCAA tournament and took eventual national runner-up Butler to the final gun in the second round. A lot of people thought this Murray team could be a top-25 squad and an at-large NCAA selection.
It hasn't played out that way.
The Racers played an ambitious schedule and lost early and often, sitting at 4-4 after a loss at Morehead State on Dec. 4. Then there were home losses in league play to Austin Peay (a good team) and Eastern Illinois (not so good), and a road loss last week against Southeast Missouri (also not good).
At a school that has won relentlessly over the years -- 24 straight winning seasons, spanning six different coaches -- everyone wanted to know what was wrong with the Racers. They were 21-7 and it felt like a disappointment.
"Chemistry, role play," Kennedy said, citing the culprits. "With the expectations and hype, we haven't handled that well. That's my responsibility. I didn't get that message in. I thought I did, but I didn't."
Maybe it was too much to ask a team that didn't have anyone average even 11 points per game last year to be that unselfish for a second straight season. Players who gave it up for the good of the team a year ago succumbed a bit to My Turn Syndrome, and the overall product suffered.
"It's hard to go back-to-back," said guard
B.J. Jenkins
. "Look at the Lakers right now. We knew this wasn't the same team as last year. We were 31-5, had three game-winning shots, hit a shot from the knees (Isaiah Canaan's memorable half-court heave). … Stuff like that don't happen all the time. It just was a special team."
Thursday night against Morehead State, the Racers started to look special again.
Their super-quick, athletic and physical defense frazzled the Eagles. Their perimeter shooting was locked in (9-of-17 from 3-point range). And they shared the ball impressively.
"It's the most talented, deepest team in the league," Morehead coach Donnie Tyndall said. "The backcourt is one of the 10 best in college basketball. … They're a great defensive team, the way they converge on you. They keep you sped up, they keep you hurried."
Murray hurried Morehead into a near-total meltdown in the final 2 ½ minutes of the first half and the first six minutes of the second. In that time, the Racers laid a crushing 31-4 run on the Eagles, going from six down to 21 up and putting the game out of reach.
Jenkins was the catalyst, stroking four 3-pointers in a matter of 2 minutes and 14 seconds of game action. The senior guard finished with a career-high 25 points and added seven rebounds -- just one of several Racers who can explode at any time, if they'll let the game come to them.
On Saturday, Murray State can clinch the OVC title outright with a victory over Eastern Kentucky. But even that is mere prelude to do-or-die time in the OVC tourney in Nashville next week.
This is a one-bid league, which means the pressure is immense. But even if the season hasn't lived up to immense expectation, you have to like Murray's chances to get back to the Big Dance after this performance.
"This is the first game going into it I can say our guys got it," Kennedy said. "They understood what we were playing for. They raised their level up. That hasn't always been that way this year."
March, 18, 2010
3/18/10
6:46
PM ET
By
Diamond Leung
| ESPN.com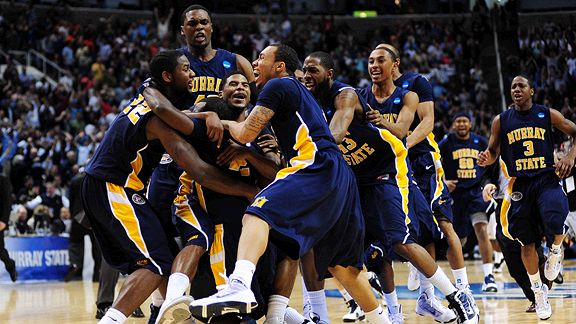 Kyle Terada/US PresswireNo. 13-seeded Murray State celebrates a 66-65 victory over No. 4-seeded Vanderbilt.
SAN JOSE, Calif. --
Danero Thomas
smiled widely and said he was simply "Option No. 3" on the play.
Murray State coach Billy Kennedy, who had scribbled something out with 4.2 seconds left in a tight first-round game with Vanderbilt, had a more colorful way to describe what transpired at the buzzer.
"That was a blessing," Murray State coach Billy Kennedy said. "It's not a shot we've run or one we've worked on.
"It's a miracle."
The 6-foot-4 senior from New Orleans caught a pass from
Isacc Miles
, took one dribble, and fired at the horn to
sink No. 4-seeded Vanderbilt 66-65
.
Vanderbilt center
A.J. Ogilvy
buried his head in his jersey and collapsed on the floor.
Murray State guard
B.J. Jenkins
did a flying fist pump.
And Thomas leaped in the air before striding down the other end of the court relatively calmly as if to get back on defense. Teammates tackled him onto the floor and then piled on top.
"I thought I was going to get smothered," Thomas mused. "I was trying to find a hole to breathe."
After hitting the big shot, he passed on the credit. Miles was the guy who gave up the ball. Kennedy was the one who drew up a play the team hadn't run before that ended up working.
"If I wouldn't have made it, one of them would have made it," Thomas said of his teammates.
The Racers have banded together to win 31 games and their first NCAA tournament game since 1988 -- when Thomas was two years old.
They had won the Ohio Valley Conference by two games, dealt with the death of the mother of guard
Picasso Simmons
the day before leaving for California, and then took down an SEC team in Vanderbilt that had finished second to Kentucky.
The rest of the nation found out they also play good basketball in that state in Murray. Vanderbilt, only about a two-hour drive from there, knew all about the Racers, and the Commodores still got their hearts broken.
"It goes down the drain with one kid making the shot," Ogilvy said in an otherwise silent locker room.
It's the No. 13-seeded Racers who will continue dancing after the shot heard from Murray to Northern California dropped through.
"It was big-time," Thomas said. "It's tournament time."
March, 18, 2010
3/18/10
4:55
PM ET
By
Diamond Leung
| ESPN.com
SAN JOSE, Calif. --
Danero Thomas
hit a jumper at the buzzer to lift No. 13-seeded Murray State to a
66-65 victory
over No. 4-seeded Vanderbilt.
The Racers ran off to the other end of the court, where they piled onto the senior forward after he had took a dribble, stepped back and knocked down the shot.
Murray State earned its 31st victory of the season in a win that was only an upset on paper for the Ohio Valley champions who are now winners of 22 of their last 23 games.
Isacc Miles
scored 17 points to lead Murray State, who were nearly finished when
B.J. Jenkins
saw his 3-pointer come up short off the rim with 4.2 seconds, but the Racers got the ball back.
Vanderbilt has now lost consecutive NCAA tournament games to No. 13 seeds. The Commodores were led by
Brad Tinsley
's 13 points, but were hampered by finishing only 17-of-29 from the free throw line.
March, 18, 2010
3/18/10
3:41
PM ET
By
Diamond Leung
| ESPN.com


SAN JOSE, Calif. -- Quick halftime thoughts from what's been an evenly-matched game as expected.
March, 17, 2010
3/17/10
6:04
PM ET
By
Diamond Leung
| ESPN.com
SAN JOSE, Calif. -- Murray State guard
B.J. Jenkins
suffered a cut on the index finger of his non-shooting hand while helping cut down the net after the Racers won the Ohio Valley Conference tournament title on March 6.
The cut required staples that have since removed, and Murray State's second-leading scorer is close to being back to 100 percent after practicing and is expected to play in tomorrow's first-round game against Vanderbilt, according to Racers coach Billy Kennedy.
"He cut his hand cutting a net down, and I don't understand how it happened," Kennedy said.
"I think he was embarrassed he did it. I didn't know about it until the next day, but it was a pretty good gash."