College Basketball Nation:

Bacari Alexander
March, 22, 2014
3/22/14
10:00
PM ET
MILWAUKEE -- When the graphic of
Michigan's 79-65 win against Texas
flashed on the big screen in the Wolverines' locker room,
Derrick Walton Jr
. recoiled in amazement.
"Eight assists!" Walton told fellow guard
Caris LeVert
.
Nik Stauskas
, who gained national recognition this season for what he does with the ball in his hands, propelled Michigan in the NCAA tournament because of what he did when he gave it up. His eight assists tied a career high.
"I know he can pass," Walton said. "I didn't know he had that many."
Stauskas' precision passing adds to Michigan's arsenal. So does
Jordan Morgan
's relentless post play against the Texas big men he heard would dominate him. So does the poise displayed by Walton and LeVert, a freshman and a sophomore who combined for 22 points, five assists and, most important, zero turnovers against the Longhorns. So does
Glenn Robinson III
's willingness to take control, as he did with a five-point burst after the Longhorns had closed to within six points with eight minutes to play.
This is a different Michigan team, one with different stars and strengths from the one that played Louisville for the 2013 national title. But it's a Wolverines team that could be headed for the same destination as its predecessor.
"We really want to make another run," LeVert said. "We're playing really good basketball."
[+] Enlarge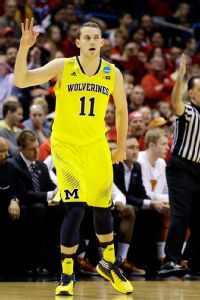 AP Photo/Jeffrey PhelpsNik Stauskas hit 4 of 9 3-point attempts while dishing out 8 assists in Michigan's win over Texas.
Assistant coach Bacari Alexander printed out an image of a brain and showed it to players before Saturday's game. For all the talk of Texas' brawn -- especially 6-foot-9, 285-pound center
Cameron Ridley
-- Michigan's coaches emphasized winning the game from the neck up. The response: no fouls in the first 15:48 and only four turnovers. Although Texas grabbed 21 offensive rebounds, it shot just 37.1 percent.
Wolverines players said they focused almost solely on defense before the game. They then proceeded to put on an offense extravaganza in the first half: 53.6 percent shooting, 10 assists on 15 field goals, eight 3-pointers and a points-per-possession average worth framing (1.483).
"We expect our guys to make shots," assistant coach LaVall Jordan said. "Coach [John] Beilein does a great job putting them in position. They're confident kids, we try to keep them confident. I don't know if we're ever surprised.
"That's their job, to make plays for each other."
No player made more than Stauskas, who, after sinking three quick 3-pointers, fed Morgan for a dunk and Robinson for a thunderous alley-oop.
"When he's passing the ball, we're a dangerous team," LeVert said.
The same holds true when Morgan is doing damage down low. He's not
Mitch McGary
, who spurred Michigan's Final Four run last year, but he's making it easier to forget what the Wolverines are missing for this year's tournament charge.
The fifth-year senior recorded his second double-double (15 points, 10 rebounds) in as many tournament games and helped limit Ridley to six points.
"Everybody was like, 'He's only 6-8, 240. How's he gonna hold his own in there?'" Morgan said. "I ain't got a lot of body fat on me. I'm not about to just roll over. That's the fun part, showing everybody's wrong."
Added Alexander: "It was extremely personal."
Michigan's young backcourt also silenced skepticism with its play in a tournament that belongs to the guards. How the Wolverines would replace Trey Burke and Tim Hardaway Jr. was the looming question entering the season.
LeVert and Walton displayed the right mix of aggression and poise, even after Texas switched to a matchup zone in the second half that slowed Michigan's scoring pace.
"Extremely proud of them," Jordan said. "They embrace the responsibility, and they want more."
Michigan wants another trip to the Final Four. Beilein, who recorded his 700th coaching win Saturday, wants 704 by the time the season ends.
The next trip takes the Wolverines to familiar surroundings in Indiana, where six players, including Robinson and
Spike Albrecht
, call home.
"Our goal," Walton said, "is to win it all."
March, 21, 2014
3/21/14
7:24
PM ET
MILWAUKEE -- Both Michigan and Wisconsin had their share of defensive doubters entering the NCAA tournament. The two Big Ten representatives silenced them, at least for a day, by effectively making one of the baskets disappear at the BMO Harris Bradley Center.
[+] Enlarge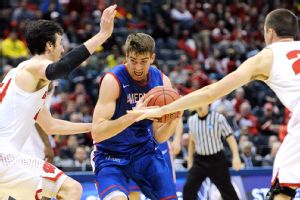 Benny Sieu/USA TODAY SportsWisconsin easily bottled up American's offense but will have more difficulty with up-tempo Oregon.
But the skeptics will stir again as Saturday's tipoffs approach. And they should. The Wolverines and Badgers still must validate themselves on the defensive end against No. 7 seeds -- Oregon and Texas -- that will stretch them to the max.
"Our defense," Michigan forward
Glenn Robinson III
said, "is going to make us or break us."
Defense pushed Robinson and his teammates into the round of 32 after their normally fluid offense zigged and zagged against Wofford. The Wolverines made just one-third of their field goal attempts in the second half but allowed just 20 points, the same total they allowed in the first 20 minutes.
Wisconsin, a program famous for stifling defense -- but one that hasn't always delivered it this season -- was even better at keeping American off the scoreboard. The Badgers allowed only 13 points in the second half -- the fewest in a half for a Badgers opponent in any modern-era NCAA tournament game -- and just 18 points in the final 29 minutes, 17 seconds.
"Obviously, we were very good," Badgers assistant Greg Gard said, "but it will be a totally different challenge [Saturday]. It goes from a test of your discipline and your focus for 30 seconds, to the shot clock might not even get to 30 at times for Oregon."
Dana Altman might not be college basketball's Chip Kelly, but his team, unlike American, is all about pushing the tempo. Oregon led the Pac-12 and ranked 11th nationally in scoring offense, reaching 90 points in nine games and 100 points in four. Offensive threats are everywhere, from the starters to the bench, which needs 18 more points to reach 1,000 for the season.
The Ducks showcased their scoring speed and prowess Thursday against BYU, tallying 87 points on 50 percent shooting. Wisconsin coach Bo Ryan wondered aloud whether any tournament team will face a bigger contrast in opponents than his Badgers.
"It's crazy," said junior guard
Josh Gasser
, Wisconsin's top defender. "They are just completely opposite. Their philosophies, what they're trying to do, even their personnel. But we've played teams that like to slow it down, we've played teams that like to push it in transition.
"We're pretty much used to anything by now."
The Badgers have seen shades of Oregon in Big Ten foes like Iowa and Michigan State. Their defense hasn't been bad -- 63.7 points per game allowed, 42.9 percent opponent shooting percentage -- but it hasn't always met the Ryan standard, in part because of a stronger, quicker offense and a new-look front line.
Oregon is mostly perimeter-oriented but could target the post more with veteran
Mike Moser
and
Elgin Cook
, who had a career-high 23 points against BYU in his Milwaukee homecoming.
"We're attacking from every direction," Ducks point guard
Johnathan Loyd
said. "Anybody can go get 20 on any given night. It's just tough to defend. ... [Opponents] kind of start bickering with each other, like, 'Hey, you should have been there! Nah, I had this guy!'
"That's when you know our offense is really clicking."
Michigan faces much bigger post problems with Texas. Longhorns center
Cameron Ridley
and forward
Jonathan Holmes
combined for 483 rebounds during the regular season, including 187 offensive boards.
[+] Enlarge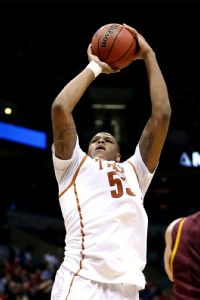 Jonathan Daniel/Getty ImagesCameron Ridley's size in the low post could cause problems for Michigan's defense.
Texas' final four baskets Thursday against Arizona State came on second chances, as Ridley and Holmes cleaned up down low.
"We're a good rebounding team," Michigan coach John Beilein said. "They're a great rebounding team."
Texas isn't Wofford, which started no players taller than 6-foot-7 and went 1-for-19 from 3-point range.
"I don't think that's going to happen again," Michigan forward
Jon Horford
said, "so we have to be realistic about defensive expectations but still bring that emphasis into every game."
Longhorns players liken Michigan's perimeter-oriented style to Iowa State, a team it split with during the regular season.
"I look to attack more," Ridley said. "This is an opportunity for me and Jon, Prince [Ibeh] and Connor [Lammert] to show how good we are and exploit the advantage we might have."
Michigan is one of the more efficient offensive teams in the country, but its defense has slipped at times, including late in the regular season.
Beilein unveiled some 2-3 zone
during the Big Ten tournament as a changeup from the team's standard man-to-man or 1-3-1 zone looks.
The Wolverines geared their defense against Wofford toward stopping guard
Karl Cochran
, the team's offensive catalyst. Texas, meanwhile, has four players who average in double figures and six who reached the mark against BYU.
"We have to vary our defensive coverages," Michigan assistant Bacari Alexander said, "whether that be man-to-man or trapping or zones, and see if we can get them off rhythm."
Even if the Wolverines succeed at forcing missed shots, Texas could still make them pay.
"Any time you can get offensive rebounds, it breaks their back," Holmes said. "Another 35 seconds of defense is never fun."
Michigan and Wisconsin had plenty of fun on defense Thursday. Both teams must dig in to keep the good times going.
March, 23, 2013
3/23/13
4:00
PM ET
AUBURN HILLS, Mich. -- Visions of
Mitch McGary
's past came bubbling up Saturday afternoon as he stood waiting to set a screen for his point guard,
Trey Burke
.
The Michigan freshman forward stood firmly, and
Briante Weber
had no chance. He ran right into the Wall of McGary and crumpled to the ground for a little while, unable to get up.
The hit, crushing Weber and part of VCU's spirit in Michigan's
78-53
win in the round of 32, harked back to a former life for McGary -- and another sport, football. A 6-foot-6, 190-pound tight end as a freshman at Chesterton High School in northwest Indiana, McGary loved playing football. Until he kept growing.
"My dad made me quit," McGary said. "I was getting too tall."
[+] Enlarge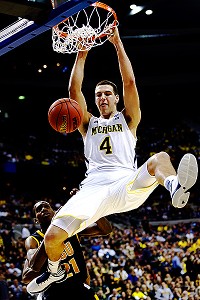 Rick Osentoski/USA TODAY SportsMitch McGary's fierce play in the paint on Saturday helped deliver Michigan to the Sweet 16.
Michigan and coach John Beilein should be happy about that. McGary focused on basketball and a continual growth to the 6-10, 255-pound body of enthusiasm he now inhabits.
Devastating hits, such as what he did to Weber, are merely an energy point for Michigan. McGary is the Wolverines' bruiser and interior presence, something they have been waiting for in Beilein's first five years in Ann Arbor.
McGary almost shrugged discussing the hit, with a sly smile yet insisting it was unintentional. That is part of what makes McGary a question mark for how good this Michigan team could be in the final two weeks of the season.
"Mitch, his confidence was incredible today, easy drop-offs and offensive boards that he got and he just kept going," said Michigan redshirt freshman forward
Max Bielfeldt
. "He can go on a run, and he's just very talented. When he gets his game going, he's really, really tough to stop.
"He's a guy, when he gets going, he's going to keep going, and his enthusiasm keeps his game at a high level."
This enthusiasm has been something Michigan has missed a lot of the season. Burke is a savvy, cool player who rarely displays emotion. Guard
Tim Hardaway Jr.
feeds off emotion, but it comes in spurts.
McGary is like a loose pinball, bouncing all over the place, lighting up bonuses and giving everyone around him added bursts of energy.
Especially if he plays the way he did Saturday, with career highs of 21 points and 14 rebounds against the Rams on 10-of-11 shooting. Michigan reinserted McGary into the starting lineup in the round of 64 against South Dakota State, and he had 13 points and nine boards.
Saturday was something different, though. It was what Michigan had hoped for all along. Although the Wolverines have multiple contributors playing well, McGary is the one who turns them into a title contender.
"He now brings another element to the table," Michigan assistant coach Bacari Alexander said. "Sometimes we joke about them guys being the Justice League.
"If Trey Burke is Batman and Tim is Robin, I'll tell you what: Mitch McGary might be Hercules."
July, 3, 2012
7/03/12
3:30
PM ET
By
ESPN.com staff
| ESPN.com
Michigan basketball is unequivocally a program on the rise. The comprehensive successes of 2012 -- a Big Ten title, a Big Ten freshman of the year award winner in point guard Trey Burke, a massive recruiting haul -- ensured as much. Which is perhaps why it seems so long ago that John Beilein's program was truly struggling.
But it was. The first three years of Beilein's Michigan tenure were fraught with inconsistent performance and little in the way of recruiting, and two years ago -- after a 15-17 2009-10 season that had some asking early questions about the coach's long-term viability of the coach -- three of Michigan's top assistants, essentially Beilein's entire staff, left the school to to pursue other opportunities. (One coach, Mike Jackson, did so at Big Ten and regional rival Purdue.)
Things weren't looking good: Not only did the Wolverines have a subpar season, but now their coach was charged with replacing a whole staff of assistants smack dab in the middle of the most important recruiting time on the calendar. Whether that state of affairs was self-imposed (i.e., Beilein cleaned house) or accidental (i.e., the coaches all took off), it was a significant challenge all the same.
Two years after finding those replacements, Beilein's staff remains intact. The program is in a major upswing. After the season concluded, the smitten coach took the relatively unusual step of signing all three of his assistant coaches -- Bacari Alexander, Jeff Meyer and LaVall Jordan -- to multi-year contracts to remain at Michigan in the years to come. This week,
Beilein gushed about his staff to AnnArbor.com's Nick Baumgardner
:
"We love this staff," Beilein said last week. "And whatever we can do to keep this group going in the right direction together, that's something I'm all for." [...] "A lot of times head coaches get long-term contracts, but it's very rare for assistants to have multi-year contracts. We've been talking about this, between (athletic director) Dave Brandon and myself. We've talked about it over the past year."

[...] "Anybody that has been around those three," Beilein says, "realizes that they have special qualities that are making (this program successful)."
The extended contracts may be slightly out of the ordinary, but they should pay obvious dividends. Alexander, Meyer and Jordan have been instrumental in raising the level of Michigan's recruiting under Beilein. Early in his tenure, the Wolverines were only occasionally landing impact top-50-level talent. In 2012,
Michigan will welcome the No. 14-ranked class in the country
-- including potential stars like Glenn Robinson III and Mitch McGary -- to campus. It's early yet, but
our ESPN recruiting analysts rank Michigan's 2013 class as the second-best in the country to date
; odds are the Wolverines will at least finish in the top 10 overall, if not the top five.
Recruits want stability from their head coaches, of course, but they also want to know that the assistants they spend the most time with on the trail will be there when the decision becomes real. Few things send that message more clearly than three- and four-year contracts for those assistants.
In that way, Beilein's move isn't just about rewarding the successes of the recent past. It's about ensuring they continue into the future. There's no reason to expect anything less from the Wolverines in the years to come. Upward and onward, as they say.
September, 7, 2010
9/07/10
10:20
AM ET
We live in the age of self-promotion, where,
much to the chagrin of traditionalists like Don Draper
, it's not good enough to just keep your head down and do your job every day. You have to have a brand, too. Your work alone does not speak for you.
In July, Michigan assistant coach Bacari Alexander stepped fully into that world with a bold proclamation: If Alexander did not acquire 1,000 followers by Oct. 15 -- the official start of hoops practice --
he would be canceling his Twitter account for good
.
Michigan fans and hoops heads have rallied to Alexander's peculiar cause. As of this writing, Alexander has 861 followers, just 139 shy of his Oct. 15 goal. Given the pace with which he's acquired followers this summer, that should be no problem, but Alexander isn't there yet,
so he's putting out more calls to remind everyone where he stands
.
So, if you haven't followed Bacari Alexander yet, and you feel that losing a Twitter account from a Big Ten assistant coach would be a particularly tragic turn of events, now is your time to act. And now you know.
More than anything, though, Alexander's is an interesting social media experiment, one I'd be fascinated to see others -- whether celebrities, coaches or just plain old regular people like you and me -- test for varying degrees of effectiveness. Just how much do people want to read your tweets anyway? I won't be putting my account on the line anytime soon, because I'm a little scared no one would care, but still: fascinating.
July, 30, 2010
7/30/10
1:47
PM ET
It's hard to get followers on Twitter. It's especially hard if you're just a regular Joe, using the service to tweet about the minutiae of your day-to-day life. You might top out at a few friends and the account of whatever Twitter service you happen to be using that week.
Sure, if you're a celebrity -- say,
Kanye West
-- getting Twitter followers is easy. (Even, apparently, if you're tweeting
every five minutes about cherub-pattern persian rugs
.) But assistant basketball coaches at Big Ten programs don't exactly qualify as celebrities, so they're pretty much in the same boat as the rest of us.
Which brings us to Bacari Alexander, newly hired Michigan assistant.
Alexander's Twitter account
offers a wealth of enthusiastic dispatches, but Alexander has given himself an ultimatum:
The coach wants 1,000 followers by the start of the hoops season or he's canceling his account
.
So allow me to
join UMHoops
in (hopefully) boosting Alexander's follower count. Head over and follow him, and make sure the stream-of-consciousness "LOLs" continue throughout the 2010-11 season. You don't want to contribute to the death of a Twitter account do you? I didn't think so.