College Basketball Nation:

Ball State Cardinals
August, 19, 2013
8/19/13
11:55
AM ET
Of all the random skills you can develop during high school gym class downtime -- from scrambling to finish neglected problem sets to dunking on an eight-foot rim; they are legion -- the ability to make a reasonable percentage of half-court shots has to be the most underrated. There is a lucrative sub-economy surrounding half-court shots; win the right lottery at the right school (or when College Gameday comes to town) and you could change your life in a matter of seconds.
And yet, so many people picked to shoot for prizes arrive at their moment lacking the basic skills they need to succeed. They try to heave the ball from a standstill. They chuck it over their shoulder like a shot-put. They never took the time to learn the proper running one-legged form, and they don't even give themselves a chance. As someone who sees a fair number of half-court promotions, it's never
not
massively frustrating.
Ball State freshman Markus Burden, a native of Frankfort, Ill., is not one one of these people. At Ball State's "Welcome Week" festivities this weekend, Burden was selected to shoot for a free semester of tuition, and after a couple of misses, this happened:
The Indianapolis Star has some good detail from Burden himself, who said he wanted to win the tuition for his mom -- who didn't believe her son until his friend sent her photographic evidence. The win notches Burden a semester of out-of-state tuition priced at $11,084, a huge relief for any family staring down those unfathomable bursar bills every month. ""It just gives us a lot of breathing room right now," Burden told the Star.
But I want to focus on another part of the story. As the Indy Star writes:
He didn't play basketball for his high school team but often hit the court with friends, goofing around with half-court and trick shots.
See? The perfect form in that YouTube clip wasn't an accident. Nor was it the product of a high school basketball career. Burden put in the hard, tireless work of half-court shot practice long before he ever knew he'd need that arrow in his quiver. He arrived at his moment ready.
Let that be a lesson to every high-schooler in the country: If you work really hard and attempt to master this seemingly pointless craft, one day you too can will have an infinitesimal chance of winning a free semester of tuition. And if your gym teachers tell you to stop flinging the ball at the rim from 50 feet away, tell them you're just trying to better yourself, and if they have a problem with that ... well, actually, you should listen to them, because they can probably give you detention. High school's kind of a bummer that way.
November, 25, 2012
11/25/12
9:32
PM ET
By
ESPN.com staff
| ESPN.com
November, 16, 2012
11/16/12
7:34
PM ET
The gaping hole between the lines was obvious four months ago when Saint Louis announced Rick Majerus was taking a season off to deal with a serious heart condition.
Most everyone knew what it meant -- that in all likelihood, Majerus' career was over.
So Friday's
official retirement announcement
wasn't even a little surprising, met with a shoulder shrug or a sad nod more than with the deference and attention it deserves.
Rick Majerus spent 25 years in college basketball, a lifetime achievement award in and of itself. In that span, he won 517 games and lost just 216, gobbling up success at places where the spoon was silver-plated, not sterling. Yes, Marquette was ready-made thanks to his mentor, Al McGuire, but Ball State, Utah and Saint Louis hardly conjure up Easy Street.
And yet he won and won big.
He walks away as one of the game's greatest tacticians, a guy who could X-and-O with just about anyone, but it's not his brilliant mind that will be missed the most.
It's his personality. In a sports world of bland clichés and surface-scratching thought, Majerus was entertaining, interesting, insightful and thought-provoking. He could talk about anything and somehow tie it back to basketball, or better yet, just talk about anything and leave basketball out of it -- a basketball addict who wasn't basketball myopic.
[+] Enlarge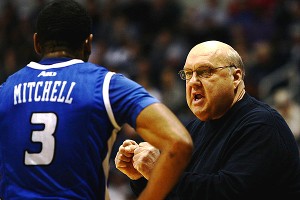 Jim Owens/Icon SMIRick Majerus, through his days coaching Saint Louis, was one of the sport's most genuine personalities.
Other than maybe John Chaney and Pete Carril, I can't think of more uniquely interesting postgame news conferences than a Majerus summary.
No one will argue he was perfect. Even for those of us who admired him a great deal, he wasn't always easy to love. He was famously and sometimes brutally tough on his players, and he could be downright prickly and crass.
But he spoke his piece and coached to his conviction, indifferent about what that might do to him in the popular vote.
What people don't know is Majerus also was less famously generous, spending his own money, according to the St. Louis Post Dispatch, to make sure one of his assistants was appropriately compensated and to bankroll the Billikens' trip to Canada.
He didn't, by the way, tweet the good deed, alert the media, issue a news release or hold a press conference to let everyone know what he did.
He just did it.
Because that's what you do when you're real, when you're a person who just so happens to be a basketball coach, when the entire notion of being a "CEO" of a basketball program is as laughably self-indulgent as it sounds.
Majerus wasn't corporate. Good glory, imagine.
He was a rumpled, overweight everyman who came into the job when people cared about the strength of their voice, not the fabric of their suits.
And let's face it, there are fewer and fewer of those people today.
There are plenty of good people and good coaches left, but there is too much to lose and there are too many social media traps to risk being outspoken or even quirky.
Majerus didn't give a damn, which made him dangerous and wonderful all at the same time.
He didn't coach to be famous. He didn't coach to be rich. He didn't even coach to be liked.
He coached because he loved basketball, because the game was his heart.
October, 26, 2012
10/26/12
4:55
PM ET
By
ESPN.com staff
| ESPN.com
Before we get to the Blue Ribbon team-by-team previews for the Mid-American Conference, here is Eamonn Brennan's quick wind sprint through the league: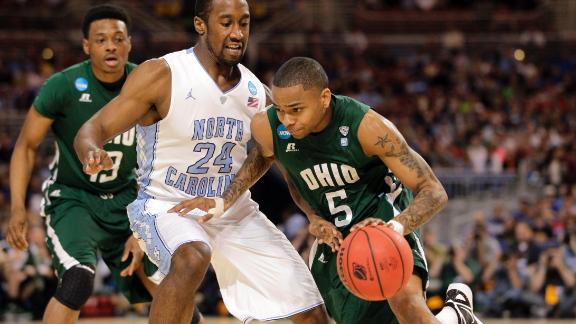 For Myron Medcalf's look at the nonconference schedules at Akron and Ohio,
click here
. For Medcalf's look at Keno Davis resurfacing at Central Michigan,
click here
. And for Blue Ribbon's in-depth previews of all 12 MAC teams:

Akron
Ball State
Bowling Green
Buffalo

Central Michigan
Eastern Michigan
Kent State
Miami (OH)
Northern Illinois
Ohio
Toledo
Western Michigan
January, 25, 2012
1/25/12
6:59
AM ET
By
ESPN Stats & Information
| ESPN.com

Florida Gulf Coast 101, Longwood 58
Florida Gulf Coast's
Sherwood Brown
became the first person this season to record 20 points and 10 rebounds in fewer than 20 minutes of play. Brown played 18 minutes.
Miami (Fla.) 64, Georgia Tech 49
Miami only attempted three free throws against Georgia Tech and won. The Hurricanes are the fifth team to win a game attempting three or fewer free throws.
UC Irvine 78, Seattle 67
Will Davis II
of UC Irvine became the first player off the bench this season to score at least 20 points, grab at least 10 rebounds and block at least five shots.

Buffalo 65, Eastern Michigan 47
Jarod Oldham
of Buffalo recorded more assists (10) than the entire Eastern Michigan team (8).
Akron 70, Ball State 58
Ball State's bench players went 0-10 from the floor, becoming the seventh team this season whose bench did not convert a field goal (minimum 10 attempts).
November, 3, 2011
11/03/11
4:56
PM ET
By
ESPN.com staff
| ESPN.com
Before we get to the Blue Ribbon team-by-team previews for the Mid-American Conference, here is Eamonn Brennan's quick wind sprint through the league:
Blue Ribbon breakdowns of all 12 teams in the MAC:
Akron
Ball State
Bowling Green
Buffalo
Central Michigan
Eastern Michigan
Kent State

Miami (Ohio)
Northern Illinois
Ohio
Toledo
Western Michigan
More MAC content
: