College Basketball Nation:

Barry Stewart
March, 14, 2010
3/14/10
5:48
PM ET
NASHVILLE, Tenn. -- John Calipari was lobbying for them. So were the Kentucky players.
Freshman guard
John Wall
called the
Mississippi State Bulldogs
one of the five best teams the Wildcats have played this season. He raved about Mississippi State senior forward
Jarvis Varnado
, calling him the best defensive presence in the country.
The No. 2-ranked Wildcats were genuinely impressed.
But unless there's a surprise on the NCAA tournament Selection Show later Sunday, it doesn't sound like Bulldogs' resume is going to be impressive enough.
They played their hearts out and stood toe-to-toe Sunday with the Wildcats before losing
a 75-74 heartbreaker in overtime
that left Mississippi State coach Rick Stansbury in tears.
[+] Enlarge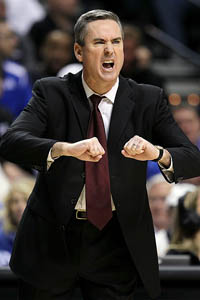 Andy Lyons/Getty ImagesRick Stansbury and Mississippi State came up just short again against Kentucky.
"I've been in that locker room a lot of times, walked into it the last 12 years, win some and lose some," said Stansbury, who had to pause a couple of times to gather himself. "But I've never walked into a locker room where I was more proud of a bunch of guys, what they did out there today.
"The score has no bearing on how I feel about what they accomplished out there today, because it was amazing."
Unfortunately for the Bulldogs, the score will have a bearing on their NCAA tournament hopes.
In his latest projection, ESPN bracketologist Joe Lunardi has the Bulldogs (23-11) out of the tournament, the second team out. An emotional Stansbury wasn't in the mood to do much lobbying in the aftermath of his team's bitter loss.
"My opinion is like it always is. I have no opinion because my opinion doesn't matter," said Stansbury, who's taken the Bulldogs to six NCAA Tournaments. "I've been through this 12 years. My opinion absolutely doesn't matter.
"What should matter is anybody that witnesses what we've accomplished, what our team has done, witness that game right there. … And, again, this wouldn't even be a conversation if it wasn't for the other overtime loss we had to them."
Kentucky rallied from a seven-point deficit in the final three minutes a month ago in Starkville for an 81-75 win.
"That's twice now that we couldn't hold them," senior guard
Barry Stewart
said in a somber Mississippi State locker room. "We knew what we were playing for. I just hope the committee looks at what we did here this week and how close we came."
It's safe to say that the committee will, but it will also no doubt look at the home loss to Rider to open the season, the loss to Western Kentucky and an ugly loss to Tennessee on Senior Day.
"I still think we've done enough and proven that we're one of the teams that should be in the tournament," said Varnado, who had 18 points, nine rebounds and five blocked shots. "If we could have just finished this game, we wouldn't have to worry about it."
As it was, the finish -- particularly in regulation -- was about as crazy as it gets.
With a three-point lead, Stansbury made the decision to foul in the final seconds.
"We wanted to take a few seconds off the clock and then foul," explained Stewart, the one who fouled Kentucky's
Eric Bledsoe
with 4.9 seconds left in regulation.
The unfortunate part for Stewart was that he fouled out.
"I can't tell you how hard it was watching those last few seconds from the bench and then the overtime," he said.
Bledsoe made the first three throw and purposely missed the second. The ball took a funky bounce and came off the hands of
Patrick Patterson
toward the corner. John Wall chased it down, stepped back behind the 3-point line and fired up an air ball.
That's right, if the ball draws iron, the Bulldogs are probably celebrating right now.
But
DeMarcus Cousins
grabbed the air ball, turned and put it in to just barely beat the buzzer.
Varnado, who was brilliant Sunday with his ability to block shots and alter shots, admitted that he didn't really go after Cousins' shot because he was sure the time had run out.
"It's like those 4.9 seconds went on forever," Varnado said. "It was just a bad bounce (on the free-throw miss). We've gotten a few of those."
Even Cousins admitted that it almost seemed like fate was against the Bulldogs
"We were not supposed to win this one," Cousins said. "Out of all the wins we've had, this was probably the luckiest one."
And the hardest one for the Bulldogs, who left Nashville soon after conducting interviews and were scheduled to land in Starkville about the time the Selection Show was beginning.
"That's the bad thing. It's in somebody else's hands now," Stewart said.
March, 14, 2010
3/14/10
3:44
PM ET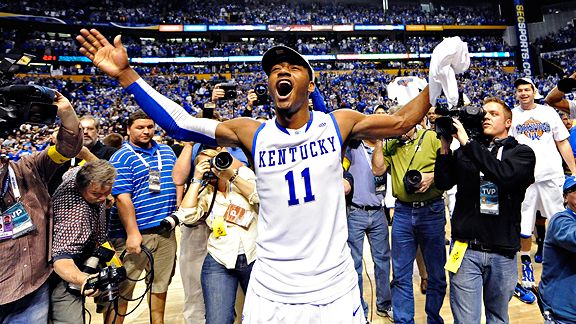 Jim Brown/US PresswireJohn Wall and Kentucky outlast Mississippi State in double overtime on Sunday.
NASHVILLE, Tenn. -- Mississippi State gave Kentucky a sliver of daylight Sunday at the end of regulation, and that's all the No. 2-ranked Wildcats needed to
survive 75-74 in overtime
in a thrilling SEC tournament championship game.


The Bulldogs, playing for their NCAA tournament lives, had a five-point lead with just under two minutes to play in regulation, but missed three straight free throws, the final one a front end of a one-and-one by sophomore point guard
Dee Bost
.
Kentucky forced overtime on DeMarcus Cousins' put-back that just barely beat the buzzer. The officials reviewed the replay and confirmed the basket was good.
The Wildcats (32-2) were trailing 64-61, and Mississippi State coach Rick Stansbury instructed his players to foul intentionally. Unfortunately for the Bulldogs, it was senior guard
Barry Stewart
who did the fouling, his fifth of the game, and he wasn't on the floor for any of the overtime.
Kentucky's
Eric Bledsoe
made the first free throw with 4.9 seconds to play and purposely missed the second. It was a "good" miss, with the ball bouncing long.
John Wall
got off a jumper that was short, but Cousins was there to put it back -- setting off a wild celebration.
"The time never ran out. It was the longest 4.9 seconds of my life," Stewart lamented.
Give Mississippi State credit. The Bulldogs battled in overtime and had their chances despite Bridgestone Arena being filled to the brim with blue-clad Kentucky fans.
But an off-balance 3-pointer by Wall to beat the shot-clock buzzer with 27.6 seconds to play was the knockout blow.
All 11 of Kentucky's points in overtime were scored by freshmen.
It was a bitter loss for Mississippi State, which according to ESPN bracketologist Joe Lunardi, needed to win to get into the NCAA tournament.
The Wildcats, meanwhile, probably locked up the No. 1 overall seed in the NCAA tournament.
March, 14, 2010
3/14/10
11:29
AM ET
NASHVILLE, Tenn. -- John Calipari has changed his tune a bit.
The tournament that counts is absolutely the NCAA tournament, and his
Kentucky Wildcats
are on track to be the No. 1 overall seed in that field when the selections are unveiled later Sunday evening.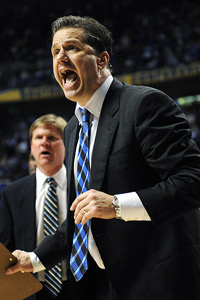 Don McPeak/US PresswireCoach John Calipari is inspired by the amount of Kentucky fans who have traveled to Nashville.
But being a part of his first SEC tournament and seeing the Kentucky fans take over Bridgestone Arena the way they have has caused him to re-evaluate the importance of this event.
Remember, it wasn't too long ago that he made it clear that he wasn't brought to Kentucky to win SEC tournament championships.
But with the Wildcats poised to win their first one since 2004 (and their 26
th
overall), Calipari has warmed up to the idea of this all of a sudden being a big deal.
"Let me tell you what's changed for me, only one thing because I've never worried about a league championship or a tournament championship," Calipari said. "It's all based on the seed in the national NCAA tournament. Anybody that says the seed is not important has never coached in the NCAA tournament.
"So for us to play here and finish so that we keep that seed is important. Here's what's more important: When I see a building full of blue fans who paid a lot of money for tickets, $500, $1,000, probably people who could not afford to pay a $500 or $1,000, they're taking their vacation in Nashville, Tennessee to watch our team play.
"Well, then, you kind of feel as coach that you owe it to them to give it your best."
Now there might have been a vintage Calipari exaggeration or distortion thrown in there somewhere for good measure.
Sort of like this one: "They tell me 180,000 fans came to Nashville. Is that true? Kentucky fans? And only 17,000 could get in that building."
No, coach, that's probably not true.
But your point is well taken. This is indeed Rupp Arena South right now. Just ask Tennessee.
The Vols were playing about 170 miles away from campus, in their own state capital, no less, and ranked No. 13 nationally. But the blue in the arena outnumbered the orange 9-to-1. And any time the Tennessee band tried to play "Rocky Top," it was drowned out by chants of "Go Big Blue."
"Don't let Coach Cal fool you," Kentucky freshman forward
DeMarcus Cousins
said. "Coach Cal wants to win. We want to win this."
So, yes, the Big Blue faithful can taste another SEC title, and so it seems can this Kentucky basketball team.
Here's a closer look at Sunday's game:


Mississippi State (23-10) vs. Kentucky (31-2), 1 p.m. ET
What's at stake:
This whole bubble thing is obviously a fluid situation, and it didn't break real well for Mississippi State late Saturday night. According to ESPN bracketologist Joe Lunardi, New Mexico State's upset of Utah State in the WAC tournament championship game knocked the Bulldogs out of the field as an at-large team. That means they would have to knock off Kentucky on Sunday to claim the SEC's automatic berth. Prior to the WAC championship game, Lunardi had Mississippi State in. Here's the other thing: If the Bulldogs don't win Sunday and are indeed left out of the field, it looks like only three SEC teams will make it for the second straight year. Lunardi's latest projection also has Florida out. The Wildcats certainly don't want any slip-ups this close to the NCAA tournament. But regardless of what happens Sunday, they're a No. 1 seed and likely the No. 1 overall seed in the tourney.
Scouting the game:
The Kentucky twosome of
Eric Bledsoe
and
Darnell Dodson
was 7-of-14 from 3-point range in the 74-45 semifinal win over Tennessee. With the Wildcats getting that kind of 3-point shooting, freshman point guard
John Wall
said it best: "If we're knocking down shots, we feel no team can beat us." And when the 6-11 Cousins plays the way he did on Saturday with his energy and his offensive rebounding, this is a team that's going to maul people. That said, the Bulldogs had them beat a month ago, but couldn't hold onto a seven-point lead late and lost in overtime. Senior forward
Jarvis Varnado
, who's blocked 10 shots in the last two games, wasn't on the floor much after halftime. He was saddled with foul trouble. Also, the Bulldogs were playing without one of their top scorers,
Ravern Johnson
, who was suspended. This is not a deep Mississippi State team, so the Bulldogs have to stay out of foul trouble on Sunday and not allow the Wildcats to wear them down in transition. Getting the play Mississippi State did off the bench from
Phil Turner
in the semifinals will be big, too. He had 11 points and five rebounds against Vanderbilt.
Wildcat to watch:
Wall was in the vicinity of a triple-double on Saturday with 14 points, nine assists and six rebounds. He was the difference down the stretch in the first win over Mississippi State with his ability to get to the basket. There's nobody quite like him in the college game, but it should be a good matchup at the point guard spot Sunday. Mississippi State's
Dee Bost
has the quickness to hang with him and isn't a shabby penetrator in his own right.
Bulldog to watch:
Senior guard
Barry Stewart
isn't playing too far away from his hometown of Shelbyville, Tenn., and would love to win a second straight SEC title so close to home. He scored 14 points against Vanderbilt, but was only 1-of-6 from 3-point range. He's typically a better shooter than that and will need to shoot it better against the Wildcats. He's also one of the better perimeter defenders in the SEC, which means clamping down on Bledsoe and not letting him get started will be critical for the Bulldogs.
They said it:
"We're going to play like they're cheering for us out there. That's the only way you can look at it. Our guys, we understand what we're up against. That crowd, that's not what's going to affect what's between those lines. We've got to control what's between those lines. That's our toughest challenge."- - Mississippi State coach Rick Stansbury
March, 13, 2010
3/13/10
4:45
PM ET
NASHVILLE, Tenn. -- Mississippi State is halfway to a second straight appearance in the SEC Tournament championship game.


What's more, the Bulldogs could be closing in on a trip to the NCAA tournament. They remain one of the first couple of teams "outside the field," according to ESPN bracketologist Joe Lunardi.
Houston winning the Conference USA Tournament championship doesn't help the Bulldogs any, because UTEP will also go from that league.
All Mississippi State can control is what's right in front of it, and for a game and a half here at Bridgestone Arena, the Bulldogs have shown they want to keep playing.
They lead Vanderbilt 33-27 at the half after
Barry Stewart
and
Phil Turner
each tossed in 10 points in the first half. Turner came off the bench to hit 2-of-3 from 3-point range.
The Commodores have to get more from
A.J. Ogilvy
in the second half. He had two fouls in the first half with no points and one rebound and only played six minutes.
December, 17, 2009
12/17/09
10:37
AM ET
My musings from some of Wednesday's results:
* South Carolina, still playing without two starters, desperately needed a solid win and got one against Richmond as
Devan Downey
scored 18 points and the Gamecocks -- down eight at halftime -- outscored the Spiders 52-26 in the second half.
* Mississippi State continues to look impressive without
Renardo Sidney
. As expected, the 7-foot-1
John Riek
made a cameo for a minute against Wright State. The good news was that
Barry Stewart
made shots, scoring 21 and making 5 of 7 3-pointers.
* Butler was picked fifth in the Horizon League last season, won the conference and started this season as a top-10 team in the polls. That's not going to happen for Loyola University of Chicago. But being picked low in the Horizon must be a positive omen.
The Ramblers are 7-2 -- the best nine-game start in Jim Whitesell's six seasons -- and have already won two last-second games, including a thrilling one Wednesday night in Peoria, Ill. With his team down 12 at one point,
Courtney Stanley
hit a 3-point shot from two steps in front of the halfcourt as time expired to beat Bradley 68-65. It was Loyola's first win at Bradley since 1984, snapping a 10-game losing streak.
Earlier this season, Loyola won at Holy Cross after being down by eight with 1:05 remaining. In that game, guard
Aric Van Weelden
buried a 3-pointer as time expired. Since the start of last season, the Ramblers are 11-1 in games decided by five points or less.
* Meanwhile, north of Peoria in Chicago, Rubo Kreps continued to make life difficult for Oregon State as the Beavers were stunned by Illinois-Chicago with Kreps' driving hoop with 5.6 seconds left. UIC's only previous win was over Division III Illinois-Springfield. The team picked to finish fifth in the Pac-10 has now lost to Texas A&M Corpus Christi, Sacramento State and Illinois-Chicago.
* Speaking of the Chicagoland area, DePaul lost to American on Wednesday night. American had been 1-8 prior to the game. The game was at the Rosemont Horizon. Enough said.
* Ole Miss, down 12 with five minutes to play against UTEP, completed its third straight comeback when it rallied all the way back and then won going away in overtime (91-81). Chris Warren scored a career-high 32, including 11 in OT. It was a huge win for the Rebels, but barring a collapse, both teams should be in the NCAA tournament.
* UTEP's C-USA compatriot, UAB, had a season-changing win over Cincinnati. Elijah Millsap put up 22 and 15 for the 9-1 Blazers, who basically manhandled the Bearcats from start to finish. Even with Memphis not as dominant as usual, there can be no question that Conference USA is improved. Expect multiple NCAA bids come March.

*
James Anderson
continues to be one of the more underrated players in the nation. He lit up Stanford for 28 points and Oklahoma State beat the Cardinal 71-70 as the Big 12 improved to 9-2 in the Big 12/Pac-10 Hardwood Series. Texas A&M still has to travel to Washington.