College Basketball Nation:

Battle 4 Atlantis
July, 29, 2013
7/29/13
3:45
PM ET
Early-season tournaments go through phases. At various times in the past 20 years, different tournaments could be considered the "premiere" early-season event, the one with the greatest exposure and largest reach and, most importantly, the best teams. Typically, the Maui Invitational holds down the fort, but the preseason NIT has had its moments, and the Battle 4 Atlantis's 2012 field might have been the best November group
ever
.
That's not really hyperbole, either. Last season, the Battle 4 Atlantis stopped being a mostly obscure event in a sea of similar setups -- known more for its Atlantis resort ballroom basketball setup than anything else, probably -- and put together one of the best early-season fields you'll ever see. Louisville, Duke, Memphis, Missouri, Minnesota, VCU, Stanford, Northern Iowa. At the time, all of these teams looked like top-25 squads; retroactively, despite the struggles of Minnesota, Missouri and UNI, the thing still holds up.
As we learned on Monday afternoon, the 2013 Battle 4 Atlantis won't match those insane scheduling heights. It will, however, feature the Kansas Jayhawks and No. 1-ranked world destroyer Andrew Wiggins, as well as a handful of solid and/or ascendant programs: Iowa, Villanova, Tennessee, USC, Xavier, UTEP, and Wake Forest. The full (and somewhat awkwardly formatted)
bracket is available here
.
It's hardly the murderer's row of 2012, which is sort disappointing, at least in a general sense. Last fall, when everyone (from reporters to scouts to the programs and players themselves) touted the tourney's merits (including the fact that you get to stay in a really nice place without having to fly to the middle of the Pacific Ocean, to name one), it genuinely looked like the Battle 4 Atlantis was on a path toward early-season bracket domination. This year's field is a little bit pedestrian -- certainly by comparison, and arguably even without it.
But that's OK, because there are still some very interesting teams. Kansas is obviously chief atop that list, seeing as we'll be buying tickets for the Wiggins show right around this point, but Iowa is right up there too. A really good, even ahead-of-schedule young defensive team in 2012-13 that will carry over almost all of its best players and even add a couple of pieces, the Hawkeyes are a legitimate threat in the top half of the Big Ten next season, and this will be their first best chance to let the rest of the world know about it. Tennessee has plenty of talent in Jordan McRae, Jarnell Stokes and a back-from-injury Jeronne Maymon; now it's time to go out and earn a tournament bid. Xavier is Xavier. Villanova appears to be back on an upward trajectory after a couple years spent backsliding into mediocrity, and Andy Enfield's first season at USC will be interesting to track. And, hey, we'll get a
full accounting of where Wake Forest basketball is
at the start of its fourth season under Jeff Bzdelik. Doesn't
that sound like fun
?
So, to review: Contrary to previous forecast, the Battle 4 Atlantis is apparently
not
going to subsume the entire November tournament schedule, but instead wax and wane as all good early-season tournaments do. This year's version may not be stacked, but at this point of the offseason, you could tell me Andrew Wiggins was taking jumpers in a gym somewhere in Ontario and I'd ask you if we could watch it on TV. Beggars, choosers, etc. Just give me basketball.
November, 21, 2012
11/21/12
12:15
PM ET
By
ESPN.com staff
| ESPN.com
This is one of the greatest weeks of the season, a week in which tournament games fill our televisions and computer screens nearly all day long. So before preparing that turkey, get yourself prepared for the tourneys that begin on Turkey Day weekend.
Below you'll find predictions from 10 of our experts, along with brackets and tournament previews. Feel free to leave your own predictions in the comments section ... and let the debate begin!
Battle 4 Atlantis
Tournament bracket
and Jason King's
primer
Eamonn Brennan:
Louisville over Duke
John Gasaway:
Duke over Louisville
Seth Greenberg:
Duke over Louisville
Andy Katz:
Louisville over Duke
Jason King:
Louisville over Duke
Joe Lunardi:
Louisville over Duke
Myron Medcalf:
Louisville over Memphis
Dana O'Neil:
Louisville over Duke
Robbi Pickeral:
Louisville over Duke
Miles Simon:
Missouri over Duke
[+] Enlarge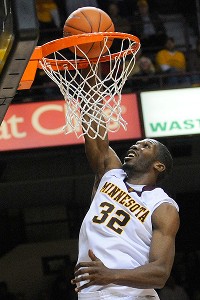 AP Photo/Jim MoneTrevor Mbakwe might be the best player on the court, but the Gophers will still have a tough task taking down Duke.
Don't be surprised if…
... it feels like March when you watch this one. Easily the best tournament with a stacked field and loaded rosters, these games ought to be terrific. (O'Neil)
... Minnesota upsets Duke in the first round. (Medcalf)
... this is the best in-season tournament in years! (Lunardi)
... the title game goes to overtime -- maybe two. (Pickeral)
... VCU beats Memphis behind a swarming half-court defense that makes it hard for the Tigers to initiate offense. (Greenberg)
... best player in the tournament is Minnesota's
Trevor Mbakwe
, who may have more upside than any player in the field. (Katz)
... Missouri wins this tourney and beats two top-5 teams along the way in Louisville and Duke. (Simon)
... teams that don't even make the title game of this tournament make deep runs in the bracket that counts in March. This is an incredibly stacked field. (Gasaway)
DIRECTV Classic
(in Anaheim, Calif.)
Tournament bracket
and Eamonn Brennan's
primer
Brennan:
Saint Mary's over Cal
Gasaway:
Cal over Saint Mary's
Greenberg:
Saint Mary's over Cal
Katz:
Cal over Xavier
King:
Saint Mary's over Cal
Lunardi:
Cal over Saint Mary's
Medcalf:
Saint Mary's over Cal
O'Neil:
Saint Mary's over Cal
Pickeral:
Cal over Drexel
Simon:
Cal over Saint Mary's
Don't be surprised if…
... Anaheim becomes "Bay Area south" for the DIRECTV title. (Lunardi)
... a frustrated and depleted Drexel clamps down and plays better than expected. (Medcalf)
... SMC's
Stephen Holt
and
Matthew Dellavedova
are the best backcourt in the tournament. (Greenberg)
... Drexel goes 0-3. The Dragons are reeling and just lost their best player
Chris Fouch
for the season. (Katz)
... Cal's
Allen Crabbe
puts himself on the national radar with an MVP performance. (Simon)
... even in a losing effort SMC pulls down some offensive boards during this tournament, thanks primarily to
Brad Waldow
and
Kyle Rowley
. (Gasaway)
... the Xavier that stymied Butler last week plays enough hard-nosed defense to win the whole thing. (Brennan)
Old Spice Classic
(in Orlando, Fla.)
Tournament bracket
and Robbi Pickeral's
primer
Brennan:
Gonzaga over West Virginia
Gasaway:
Gonzaga over Davidson
Greenberg:
Gonzaga over Davidson
Katz:
Gonzaga over West Virginia
King:
Gonzaga over West Virginia
Lunardi:
Gonzaga over Davidson
Medcalf:
Gonzaga over West Virginia
O'Neil:
Gonzaga over West Virginia
Pickeral:
Gonzaga over Davidson
Simon:
Gonzaga over Davidson
Don't be surprised if…
... the Zags beat the Mountaineers by double figures for the second time in less than a month. (King)
... Davidson's
Jake Cohen
leads the tournament in scoring. (Greenberg)
... the best game of the tournament is Gonzaga-Oklahoma. The Sooners are a legit sleeper in the Big 12. (Katz)
...
Devin Booker
and
Elias Harris
put up one of the better individual battles of this tournament. (O'Neil)
... Gonzaga wins every game by 10 points or more. (Simon)
... the Wildcats take the Zags down to the wire in the title game. Davidson sits at just 1-2 right now, but don't be fooled -- this is a deep and experienced roster. (Gasaway)
... if Oklahoma gives Gonzaga all it can handle in the second round. (Brennan)
Global Sports Classic
(in Las Vegas)
Friday's semifinals: Cincinnati vs. Iowa State; Oregon at UNLV
Dana O'Neil's
primer
Brennan:
UNLV over Cincinnati
Gasaway:
Cincinnati over UNLV
Greenberg:
Cincinnati over Oregon
Katz:
Cincinnati over UNLV
King:
Cincinnati over UNLV
Lunardi:
UNLV over Cincinnati
Medcalf:
UNLV over Cincinnati
O'Neil:
Cincinnati over UNLV
Pickeral:
UNLV over Cincinnati
Simon:
Cincinnati over UNLV
Don't be surprised if…
... the Bearcats catapult into the top 15 next week after winning this one. (King)
... the home team uses this springboard to reach the top 10. (Lunardi)
... after sitting out last season per NCAA transfer rules, we hear UNLV sophomore
Bryce Dejean-Jones
' name. A lot. (Pickeral)
... we find out that
Anthony Bennett
, not
Mike Moser
, is the best player on UNLV's roster. (Medcalf)
... Cincinnati's
Sean Kilpatrick
is the MVP. (Greenberg)
... Oregon's
Arsalan Kazemi
causes problems for the Rebels' frontcourt. (Katz)
... Sean Kilpatrick and
Cashmere Wright
put on their own show in Vegas and beat the Rebels on their home floor. (Simon)
Las Vegas Invitational
Friday's semifinals: Arkansas vs. Arizona State; Creighton vs. Wisconsin
Myron Medcalf's
primer
Brennan:
Creighton over Arkansas
Gasaway:
Creighton over Arkansas
Greenberg:
Creighton over Arizona State
Katz:
Wisconsin over Arkansas
King:
Creighton over Arkansas
Lunardi:
Wisconsin over Arkansas
Medcalf:
Creighton over Arizona State
O'Neil:
Creighton over Arkansas
Pickeral:
Creighton over Arkansas
Simon:
Creighton over Arkansas
Don't be surprised if…
... Arkansas' press gives Creighton fits in the title game. (King)
... the Badgers are the first (only?) team to stifle Creighton's
Doug McDermott
. (Lunardi)
... the player being talked about after the event is Arkansas'
BJ Young
for his overall impact and potential. (Katz)
... despite UW's stingy defense, Doug McDermott scores whenever he wants to. (O'Neil)
... Creighton needs overtime to finish off the Badgers. (Medcalf)
...
Jahii Carson
controls the tempo of the game and the ASU matchup zone keeps the Bluejays off balance. (Greenberg)
... BJ Young is the most exciting and best player on the floor at all times. He's an athletic scoring machine. (Simon)
May, 18, 2012
5/18/12
5:00
AM ET
1. Being on the NCAA tournament selection committee has become a bad omen for athletic directors or commissioners keeping their jobs, with a third member losing his day job while on the committee. Last year, Big 12 commissioner Dan Beebe was fired and had to step away from the committee; he was ultimately replaced by Oklahoma AD Joe Castiglione. Then, UConn athletic director and chair Jeff Hathaway was forced to "retire." He had to take a faux consultant job with the Big East to stay on the committee. Hathaway is now the athletic director at Hofstra. The latest to lose his job is SMU AD Steve Orsini, abruptly fired Thursday. Chair Mike Bobinski of Xavier and new NCAA vice president Mark Lewis will now have to huddle to find a replacement for Orsini on the committee. If they stay in the Big East/Conference USA area, they should look at USF AD Doug Woolard, Big East associate commissioner Dan Gavitt or East Carolina AD Terry Holland.
2. Duke coach Mike Krzyzewski said Kentucky's
Anthony Davis
-- the consensus No. 1 pick in the upcoming NBA draft -- brings shot-blocking, something the U.S. Olympic team may need this summer in London. Davis' chances have risen due to the injury to Orlando's
Dwight Howard
. Krzyzewski said Davis isn't "trying out" for the team; rather, Davis is now in the pool of players who may be selected. Krzyzewski said it would be good to get Davis indoctrinated right away into USA Basketball. "He's a great talent and a good kid," Krzyzewski said. "Hopefully we don't get any more guys hurt."
3. Organizers for the Battle 4 Atlantis -- the top non-conference tournament -- won't decide on the bracket until August for the November event. The event, at the Atlantis Hotel on Paradise Island in the Bahamas, could put all eight teams in the NCAA tournament. They are: Louisville, Duke, Stanford, Missouri, Minnesota, Memphis, VCU and Northern Iowa.
November, 25, 2011
11/25/11
6:46
PM ET
Central Florida coach Donnie Jones said he was told to stay quiet about the Knights possibly going to the Big East in the future.
Well, he doesn't have to say much at all anymore. On Friday afternoon, his players did the talking for him at the Battle 4 Atlantis semifinal at Paradise Island in the Bahamas.


The Knights stunned No. 4 Connecticut 68-63 after being down 17 with 16 minutes to go in the second half. UCF has been mentioned for months as a possible addition to the Big East, and if that does indeed happen, the men's basketball team has introduced itself quite well to defending national champion UConn, which saw its 16-game winning streak come to an end in stunning fashion.
"We can't talk about the Big East, but this is good for our school, absolutely,'' Jones said by phone from the Atlantis on Friday. "We're still building our team, but we're establishing who we are and the identity we want to play. Our guys are a year [older]. They've played in this system. Hopefully our two best players will play well --
Marcus Jordan
and
Keith Clanton
-- and they did. The other guys gave great effort, [even though] it may not show up on the stat sheet."
In the second half, the Knights went to a zone defense after made baskets and man-to-man following misses to keep the Huskies off balance. It worked. UConn was 2-of-18 on 3s as star wing
Jeremy Lamb
made the only two for the Huskies.
"It was very effective,'' Jordan said. "When we got in the huddle [down 17 at the 16-minute mark], we talked about winning every four-minute scrimmage from media timeout to media timeout. Our attitude was to go out and win every four minutes.''
Watching the second half, it was hard to believe this was the same team that lost by 23 at Florida State just two weeks ago.
"That game was a lot to do with us, with our attitude,'' said Jordan, who along with Clanton scored 20 points each. "We went in there, we didn't make shots, we weren't playing hard on defense. We dug down since then and made sure we were dedicated to playing defense. It's a great win.''
As good a vibe as the Knights are feeling Friday in the Bahamas, it's hard not to consider what occurred last season.
This is the same program that beat Florida on a neutral court last season, started out 14-0 and was ranked a school-high No. 18.
This is the same program that finished last season 21-12, 6-10 in Conference USA. And while they still did get a CBI invite, the Knights were a huge disappointment in league play.
This also is the same program that has been under investigation by the NCAA and the same program that has point guard
A.J. Rompza
suspended until Dec. 30 for extra benefits.
And Jones is the same coach who, like Connecticut's Jim Calhoun, will have to sit out the team's first three games of the conference season as a result of violations.
The investigation, the suspension of Rompza and the blowout loss to FSU brought dark days to Central Florida. But the Connecticut win certainly gives a lift to this team regardless of what occurs in Saturday's final against Harvard, which upset Florida State in Friday's second game. At the very least, it will make tracking the Knights the rest of the way that much more intriguing.
"Last year, we had never been there, and a lot of guys weren't ready to be 14-0 and got complacent,'' Jordan said. "Everyone thought it would be so easy and we would be an automatic into the NCAA tournament. Now we know how hard it is to get back there and how hard it is to get there. We've got the attitude that we still expect to win every game. This was a great win. We're not paying attention to what is going on outside of basketball.''
If Friday's game is any indication, the Knights must once again be considered a team that can contend with Memphis and Marshall and possibly Tulsa near the top of Conference USA.
"There is a lot of parity and a lot of good coaches in our league and Memphis will be there,'' Jones said. "We have to do a good job of continuing to represent our conference well. We know we have to bring it every night.''
That's exactly what the Huskies learned in this early portion of the season. UConn is still tinkering with its starting lineup, inserting
Andre Drummond
over
Alex Oriakhi
in the middle, which was just a matter of time.
On Friday, Lamb was off.
Shabazz Napier
wasn't himself at the point with five assists and seven turnovers. And the Huskies didn't get much from the role players.
Having
Ryan Boatright
, a scoring playmaker off the bench, eligible for the first time (after a six-game NCAA suspension for extra benefits) against FSU in the third-place game certainly will help this team.
UConn will be fine. The Huskies will still challenge for the Big East title and a spot in the Final Four. The more relevant question after Friday is: Will UCF be able to remain relevant or fade big time like last season?
"We can build on this [victory]," Jones said, "and we'll build off of the way we handled last year's experience.''
November, 23, 2011
11/23/11
7:06
PM ET
By
ESPN.com staff
| ESPN.com
Eamonn Brennan previews the field at the Battle 4 Atlantis, which begins Thanksgiving afternoon in the Bahamas. To read Brennan's written preview of the event,
click here
.