College Basketball Nation:

Baye Moussa Keita
August, 30, 2013
Aug 30
5:00
AM ET
1. Syracuse coach Jim Boeheim learned quite a bit about his team's character on the four-game tour to Canada last week. The Orange trailed Carleton by 15 points with 15 to play and came back and won by four in overtime. The Orange went on a 14-0 run during the second half and had to do it without a fully healthy
C.J. Fair
, who sat out the previous game. "We made a pretty good comeback for a bunch of untested guys,'' said Boehiem. "Everybody contributed and did something good.'' Freshman guard Tyler Ennis, who will lead the team at a critical position for the Orange after losing
Michael Carter-Williams
and
Brandon Triche
, scored 15 points and was 7-of-7 from the line in that game. "It was a good trip, a quick trip, but a good trip,'' said Boeheim. The bigs were solid and have been throughout the summer. That means there doesn't appear to be much concern for Fair, Dajuan Coleman, Baye Moussa Keita and
Rakeem Christmas
.
Jerami Grant
was the most consistent player and will be a reliable and productive player this season. Duke transfer Michael Gbinijie also had his moments. "We learned a lot about our team,'' said Boeheim. "We scheduled well early. We want to be ready for the ACC.'' The Orange should challenge Duke.
Trevor Cooney
will have to make shots. But if Ennis is a stable presence then the perimeter will be just fine. The Orange are in the Maui Invitational where they could meet up with Gonzaga. The Orange host Indiana in the ACC-Big Ten Challenge, go to St. John's and host Villanova in headline nonconference games. Boeheim agreed with my stance that the ACC needs to have more than just Duke-North Carolina for premier games in the final weekend. Syracuse ends at Florida State. I suggested the ACC put rivalry games in the last weekend like Syracuse-Louisville when the Cardinals join the league in 2014-15. "Exactly, there should be better games at the end of the year, no question,'' said Boeheim. "There are too many potential good games. Obviously there should be Duke-North Carolina. But there are a lot of good teams. This certainly has the potential to be better than any league.''
2. The ageless Florida State coach Leonard Hamilton, who turned 65 earlier this month and has looked the same for the past 20 years, got exactly what he wanted in the trip to Greece. He scheduled practices and games against the Greek national team. He didn't want any soft competition. He wanted his players to experience professionals at the highest level overseas. "It was more like midseason practices,'' said Hamilton. "It was very good for our guys. We played at a high level and had to be focused offensively and defensively to compete.'' Hamilton said he never thought his team was in sync last season after finishing 18-16 overall and 9-9 in the ACC, a year after winning the conference tournament title for the first time. "We had seven first-year players and five freshmen and JC kids and international players,'' said Hamilton. "I thought we were always thinking and responding and reacting last season. But I saw a better grasp of execution [on this trip]. We showed signs we can get back to what we did during our four-year run of going to the NCAA tournament and winning the ACC title.'' Hamilton said different players were productive on the trip but the two leaders were as expected
Ian Miller
and
Kiel Turpin
. "They played very well together and as a team,'' said Hamilton. "We actually practiced zone defensive possessions. We had game-like practices. We didn't keep score in those or keep track but we had a lot of game-like scrimmages where we were rotating guys in and out. It was really, really good for us to correct our mistakes.'' Hamilton said this was also a positive trip for
Michael Ojo
,
Boris Bojanovsky
and
Robert Gilchrist
, the bigs who will be behind Turpin or at times next to him. Hamilton said he absolutely loves what he's doing, "loves the young people, traveling with them, being with them every day. Each year I have more energy. I'm excited about the new ACC. It gives you another shot of adrenaline. I'm excited to be a part of it and it does motivate you.''
3. Few teams needed something positive more than Auburn basketball on a foreign trip. Auburn coach Tony Barbee was buzzing about the excursion to the Bahamas. "I learned two things: we can really shoot the ball as a group,'' said Barbee. "We made 13 3s in a game from international distance. And juco transfer Chris Griffin made six. We should be able to score the ball better. We could have four or five double-figure scorers. A year ago, we only had one.'' K.T. Harrell will be a reliable scorer but if there are multiple scorers then the Tigers will at least have a chance to move up in a muddled SEC. The Tigers enter the season with six freshmen on the roster.
May, 10, 2013
May 10
11:30
AM ET
On April 6,
Baye Moussa Keita
was at the top of the college sports food chain, a member of Syracuse's Final Four team.
On April 18, he was sleeping in a cardboard box in the middle of a wind-swept Syracuse quad.
Technically, Keita was fulfilling a requirement for Jeff Pauline's Personal and Social Responsibility class, but he got a lot more out of the assignment than a simple grade.
"It really opened my eyes," said Keita, a reserve center who averaged 3.7 points and 3.7 rebounds this season. "I've always been thankful for everything I have but this really made me aware."
[+] Enlarge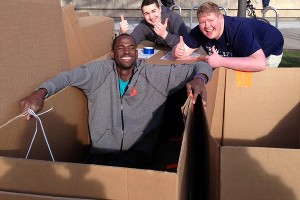 Courtesy of Michele Jachim Barrett Baye Moussa Keita said a class project in which he had to sleep in a box was an "eye-opening experience."
That was precisely Pauline's goal. His class is designed to help students adjust to college life, but also to educate them on life issues and social responsibilities. For years he's taken his students to a Syracuse area rescue mission, but this year he decided to push the envelope.
With the hopes of bringing awareness campus-wide to homelessness and hunger, he had his 25 students assemble cardboard boxes that would serve as their overnight homes.
They were allowed the bare minimum of supplies -- "I had to let them bring their phones," Pauline said. "You can't go cold turkey with 19, 20 and 21 year olds," -- and gathered around three in the afternoon. They stayed until sunrise.
"We had good boxes. We gave them water, but they still got a sense of how tough this is,'' Pauline said. "It gave them a connectivity that they are people who are unfortunate. I think some of the issues young people struggle with is the idea of being a part of your community and helping out, not just altruistically but knowing that you can benefit other people.''
Like most of his classmates he was more than a little stunned when Pauline first pitched the project idea in class.
"We were all like, 'C'mon. Do we have to do this?'' Keita said. "My teammates were like, 'You're crazy. That's crazy.'"
But the more Pauline talked -- and especially after a visit to the rescue mission -- Keita grew more interested in the project. His enthusiasm, Pauline said, helped change his classmates' opinions, too.
"It was sort of, 'Well he's not balking about doing this, so we shouldn't either,'' Pauline said. "His discussions helped other students get over their apprehension.''
Thanks to his 6-10 frame, he had to combine two boxes for his temporary home but even the stretched accommodations were rough. He woke up stiff and sore -- "like I was boxing somebody,'' Keita said -- but with a newfound understanding of what the homeless have to endure.
He admits to being like most college kids. Though born and raised in Senegal, Keita has spent the past four years in the United States, enjoying a comfortable life that has dulled him to what's going on around him.
Though he wouldn't qualify himself as a social activist just yet, Keita said the project did give him a new perspective.
"The problem is around us all the time, but nobody talks about it,'' he said. "It's like you don't even notice it. This was a real eye-opening experience. My whole body hurt the next day. You can't believe people live that way every single day.''
Keita, in fact, was so impressed with the project that he's talked to Pauline about ways to improve it next year and also asked if he could participate again -- even though he won't be in the class.
He also plans on recruiting a few more volunteers that could turn what was merely an on-campus curiosity this year into a real attention-grabber next.
"Everything you do has to start small, but I think we can make this even better,'' he said. "I'm going to get some of my teammates to do it. That will raise awareness even more.''
January, 28, 2012
1/28/12
7:01
PM ET
So much for a slow Saturday. College basketball fans and pundits alike should know better by now, but we always assume the worst on a supposedly "slow" weekend.
Let's change the rules, based on what we've seen today. If you survey the weekend slate and you can't find any meaningful games and potential upsets that you're overly interested in, that means it's time to call Earl and the crew (everybody has a friend named Earl), stock the fridge and get ready for some good basketball. If this was a lukewarm weekend in college basketball, what qualifies as a great one?


Iowa State 72, No. 5 Kansas 64
Many laughed when Fred Hoiberg began his tenure at Iowa State by recruiting from a pool of players known for their checkered pasts.
Royce White
, who left Minnesota two seasons ago after a tumultuous stay, led the bunch. But Hoiberg looks like a genius right now after the Cyclones handed No. 5 KU its first Big 12 loss of the season. The win snapped both the Jayhawks' 13-game winning streak over Iowa State and their 10-game overall winning streak (they hadn't lost since Dec. 19).
The postgame court-storming was well-deserved for the 'Clones and their fans. Hoiberg has as much job security as any coach in the country based on his legendary career in Ames, which allowed him to pursue so many transfers without worry. In other words, he'd get a mulligan if things didn't work out.
Against Kansas, however, Hoiberg proved that he's more than a risk-taking recruiter. He can coach, too. Iowa State, a squad that suffered an 82-73 loss at Kansas on Jan. 14, led by three points at halftime. But that didn't last. The Jayhawks scored 11 unanswered points early in the second half. The crowd's energy dropped after that KU run, but Iowa State kept fighting, something it had failed to do down the stretch in its earlier loss to the Jayhawks.
White led the charge. With his team leading 56-53 and five minutes to play, he scored the Cyclones' next eight points (three straight layups and a pair of free throws). He entered the game as a 51 percent free throw shooter -- ISU was the Big 12's worst free throw shooting team at 61 percent overall -- but he was 6-for-8 from the charity stripe in the second half. He finished with a team-high 18 points, nine rebounds and five assists, making up for his six turnovers. The team was 25-for-34 from the charity stripe.
So yes, the same Iowa State squad that lost at Drake Nov. 15 looks like an NCAA tournament team right now -- no matter what my colleague Doug Gottlieb might tweet. At 5-3, the Cyclones are off to their best Big 12 start in a dozen years and sure seem like they won't be fading away anytime soon.


No. 4 Syracuse 63, West Virginia 61
It just can't happen. Not in late January with the stakes so high. Not when it's so blatant. Officials in this game missed one of the more obvious and critical goaltending calls of the season. In the final seconds, West Virginia's
Truck Bryant
air-balled a 3-pointer that ended up in
Deniz Kilicli's
hands with his team down by a bucket. Kilicli's layup was swatted away in mid-air by Syracuse's
Baye Keita
, but replays showed what looked like a clear goaltending violation by Keita. Officials never blew their whistles.
West Virginia got the ball back and
Kevin Jones
(20 points, eight rebounds) missed a deep 3-pointer to win the game, but the final outcome might have changed had that crew flagged Keita for goaltending. Now granted, WVU had its chances.
Brandon Triche
(18 points) hit a pair of free throws with a minute and a half to play and the Mountaineers missed four consecutive shots. But the no-call clearly impacted the game.
Syracuse struggled in its third consecutive game without
Fab Melo
. The Orange just haven't looked like the same squad without him and his defensive presence. West Virginia secured an astounding plus-21 (41-20) rebounding edge over the Cuse and had nearly as many offensive boards (19) as the Orange had total. How does that happen? It's not like the Mountaineers are the biggest team in the country. They were just tougher than Syracuse most of the afternoon. And had it not been for that missed goaltending call, West Virginia might have avoided its 13th loss to the Cuse in 14 meetings.


No. 7 Baylor 76, Texas 71
With 4:09 to go, Texas'
Myck Kabongo
hit a 3-pointer as
Pierre Jackson
committed a ridiculous foul to put him on the line for a four-point play opportunity. Texas had been down by 12 points early in the second half, but Kabongo's shot cut Baylor's advantage to just one. Cameras panned to Baylor coach Scott Drew on the sidelines. He had the "I can't believe this is happening at home" look on his face.
Perry Jones
(22 points, 14 rebounds) was far more aggressive than he'd been in some of his efforts, but Baylor couldn't keep the pressure on the Longhorns and nearly blew one at home.
J'Covan Brown
scored 32 points (11-for-22), his third consecutive 30-point effort. But he had way more time to create a better shot than the deep 3-ball he took with 14 seconds on the clock. His team was down by three points in the closing seconds, so I understand why he'd take a deep shot, but he didn't have to shoot it when he did. He had more time on the clock.
Here's where you have to have more question marks about Baylor, though. The Bears are at home. Texas shot 36 percent from the field in the first half and was 1-for-12 from beyond the arc before halftime. Seemed like an opportunity for Baylor to flex its muscle. But it turned into another lukewarm finish for the Bears.


No. 13 Florida 69, No. 16 Mississippi State 57
The Bulldogs just couldn't handle Florida's inside-outside attack.
Patric Young
(12 points, six rebounds) was solid for the Gators, especially after halftime.
Bradley Beal
led the Gators' talented backcourt with 19 points. The nation's leaders in 3-point field goals hit 11 of them as they won their fifth straight and 17th in a row at home.
Arnett Moultrie
was 4-for-10 and scored 12 points for a Bulldogs team that committed 14 turnovers. It was MSU's third SEC road loss of the season. At 5-3 in league play, they'd better find a way to compete away from home. They're certainly talented, but the Bulldogs have really struggled on the road. Thought this one would have been a closer game, but give the Gators credit. They can spread teams out with their guard play and minimize their size disadvantages, a tactic they used to perfection against the Bulldogs.


No. 1 Kentucky 74, LSU 50
The Wildcats are in Beast Mode right now. They're just crushing teams. LSU entered this game following a tight road loss at Mississippi State. But the Wildcats are just a different animal.
Terrence Jones
led all scorers with a season-high 27 points and the Wildcats held LSU to a 1-for-9 clip from the 3-point line. Just two Tigers reached double figures.
Although LSU is only 2-5 in the SEC, you have to wonder how dangerous the Wildcats can be in March when a guy like Jones can explode despite some inconsistency this season. He entered the game averaging 11.6 ppg and he only scored five points against Georgia on Tuesday. But this game was further proof that Kentucky is a "pick your poison" kind of opponent. How do you defend a team with that number of studs? The Wildcats have so many weapons.
Syracuse is deep. Ohio State has balance. But no team in America looks as potent as Kentucky right now.
Some more observations from the afternoon games ...
February, 9, 2011
2/09/11
9:42
PM ET
If you look up "impressive conference road win" in the imaginary multimedia dictionary I just made up in the confines of my own brain, you would be immediately greeted
by an ESPN3.com replay
of
Georgetown's 64-56 win over Syracuse
.
The Hoyas were never fully in control of the game. Syracuse had plenty of opportunities to take the upper hand, not to mention 27,000 orange-clad maniacs screaming their brains out at every turn. But the Hoyas poked and prodded, found ways into and behind Syracuse's 2-3 zone, stayed focused, got big buckets at key moments, avoided late turnovers when Syracuse had to turn up the pressure, and locked in defensively in the final moments when it mattered most.
[+] Enlarge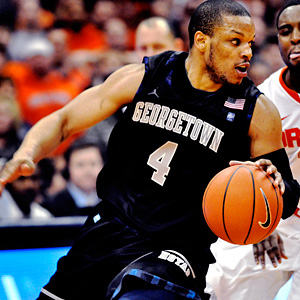 AP Photo/Kevin RivoliChris Wright worked his way into the Syracuse zone and dished out nine assists as Georgetown won its seventh straight game.
No, Big East road wins don't get much more impressive than that. The fact that we just saw this Syracuse team go to Connecticut and get a win makes this win all the more noteworthy. And speaking of noteworthy, there's this: After a 1-4 start in the Big East, the Hoyas have now won seven in a row. That stretch includes a home win over Louisville, a win at Villanova, and now this big-time win in the Carrier Dome, a place they hadn't won in nearly a decade. Pittsburgh is still the best team in this conference. But at this point, if any team can challenge the Panthers, that team appears to be the
Georgetown Hoyas
.
Some assorted bullet-point thoughts about the game:
When you play a 2-3 zone like Syracuse, and your opponent is one of the most efficient teams in the country both beyond the arc and inside it, you have to have length. The Orange do. They had 11 blocks in this game, a product of some tremendous zone extension and interior presence by Jim Boeheim's team. Rick Jackson had three of those, but the majority of the rejections came from freshmen C.J. Fair, Baye Moussa Keita and Dion Waiters, who combined for eight blocks on the night. Keita, who had five, was especially impressive. This is why Syracuse's zone has been, and can be, so very tough this season. The Orange are just long.

That said, there are still plenty of flaws in this zone. Georgetown's guards presented serious matchup problems for Syracuse, especially when Chris Wright worked his way into the middle of the zone and got inside-out looks for Austin Freeman and Jason Clark. Georgetown was also able to get big buckets on baseline action, especially on backcuts late in the game when Syracuse defenders lost their baseline assignments and no one in the middle of the zone was able to help in time. Georgetown's backcuts, which you frequently see in the Princeton offense against man-to-man defense, worked just as well against the zone. And with all those guards on the floor, the Hoyas were able to pass effectively through the zone, much more effectively than anyone might have expected. It takes a lot of guts to try and match up with the Orange with four guards, but it paid dividends for Georgetown on the offensive end.

And yes, even with all that length, Georgetown still got plenty of good looks from 3. The Hoyas were shooting 38.5 percent from long range coming into tonight's game; they made 42.9 percent (9-of-21) Wednesday night.

[+] Enlarge

Mark L. Baer/US PRESSWIREJulian Vaughn scored 12 points and pulled down eight rebounds for the Hoyas.

Still, despite Georgetown's effective ball movement and shooting, it's not like the Hoyas lit it up. No, the Orange's loss came on the offensive end. Syracuse has struggled on the perimeter throughout the season, and those struggles (4-of-16 from 3) were evident again Wednesday night. In recent seasons, Syracuse has always had at least one (and often multiple) knockdown shooters. Gerry McNamara. Eric Devendorf. Andy Rautins. Wes Johnson. This team doesn't have one. It struggles at the guard position in a variety of ways -- perhaps no player frustrates Syracuse fans more than Scoop Jardine -- but the biggest problem area remains perimeter shooting. Until someone proves capable of knocking down shots, it would probably be wise to cut down on the 3s going forward.

It might also be wise to get Fair a greater share of the offensive load. Fair scored 12 points on 6-of-9 shooting from the field and grabbed five rebounds in the process. He was opportunistic and intuitive; he read rebounding angles correctly, found space against Georgetown's interior, and finished his chances when he got them. For as much as Boeheim's freshmen have struggled at times this season, this was a good game for all but Fab Melo.

And, not to pile on, but Melo is still a massive disappointment. The highly touted center prospect started but played a mere three minutes. He was 0-for-1 in that span. Melo's simply not there athletically right now. Maybe next year?

Speaking of four guards, one of those "guards" was frequently forward Hollis Thompson, who has the size to be a forward but the range to stretch defenses out to the 3-point line. John Thompson III got the perfect type of contribution from Thompson on Wednesday night. The forward had a very efficient 11 points -- 4-of-5 from the field, 3-of-3 from long distance -- and added five rebounds, two assists, two steals and zero turnovers. I'm not sure an off-the-bench role player could have a better, more important game than that. He was huge.

Same goes for Julian Vaughn, who went 5-of-8 for 12 points and eight rebounds. Austin Freeman didn't have a great shooting night. Nor did Chris Wright or Jason Clark. That made it all the more crucial for Georgetown's role players to come up with efficient supporting efforts, and Vaughn and Thompson did so.

If ever there was a time you thought Georgetown was going to take control of this game, it came when Jackson picked up his fourth foul with 14:40 left in the game. That didn't really happen. Instead, Boeheim got big contributions from the three aforementioned freshmen. Keita grabbed offensive rebounds in bunches, Fair got a pair of buckets and Waiters came up with two steals to keep Syracuse from falling too far behind while Jackson waited on the sidelines. Even in the loss, it was good to see those players step up at a crucial time in the game. But Georgetown did pull away eventually, and the Hoyas get credit for doing what so many teams struggle to do in the Big East: win big games on the road. Tremendous win for Georgetown.
December, 7, 2010
12/07/10
11:46
AM ET
Of the four teams at the Jimmy V Classic, which begins tonight at Madison Square Garden, the team that will rely most on its freshmen to get into the NCAA tournament is Memphis. Kansas has the most anticipated freshman, but
Josh Selby
won't be eligible to play until Dec. 18.
Syracuse and Michigan State have other parts, but they'll need production from their freshmen if they're to compete for league championships, and perhaps nationally.
The headline names for the Spartans and Orange are familiar: for MSU, it's
Kalin Lucas
and for Syracuse, it's
Kris Joseph
. The health of Lucas' Achilles tendon remains a hot topic. MSU coach Tom Izzo said he made a mistake in managing Lucas' minutes in consecutive games in Maui and then at Duke and said he needs "to be careful the next few weeks," with Lucas. However, the key to elevating the Spartans into national contenders may lie with freshmen
Keith Appling
and
Adreian Payne
.
Appling has been sporadic so far, averaging 16.5 minutes and 6.3 points. The Spartans (6-2) need another guard to produce to take the burden off of Lucas. Appling did so in a win over Bowling Green (11 points, three assists and one turnover); he didn't in a loss to Duke (nothing to show for six minutes of action but two fouls).
[+] Enlarge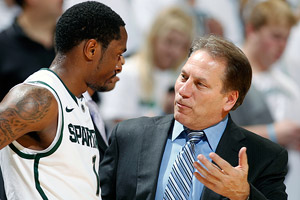 AP Photo/Al GoldisKalin Lucas is still working his way back to full speed for Tom Izzo.
"He had a very good game Saturday,'' Michigan State coach Tom Izzo said. "But he was in foul trouble against Duke. He's a tough kid who can defend. And I do think you'll see a major step with him in the next couple of weeks.''
Appling can be the third option at guard alongside Lucas and
Korie Lucious
with
Durrell Summers
in his own grouping as a scoring wing. For his part, Payne can be a much-needed scoring and rebounding big to complement
Draymond Green
,
Garrick Sherman
,
Delvon Roe
and
Derrick Nix
.
So far Payne has averaged 10.5 minutes and 3.4 points and 4.1 rebounds. He was limited to single-digit minutes in all three games in Maui.
"Payne is one of the most talented inside guys,'' Izzo said. "But the four-and-a-half months he missed this summer with a shoulder separation prevented him from doing the one thing he needed to do -- get stronger. Against UConn, he was like a pinball in there and got bumped around. He showed improvement against Bowling Green [15 minutes, six rebounds and four points].
"For us to be a great team, it's going to come down to still getting Lucas back to normal and those two guys [Appling and Payne] improving,'' Izzo said.
Syracuse (8-0) is looking at similar issues but needs freshmen
Dion Waiters
,
C.J. Fair
and centers
Baye Moussa Keita
and
Fab Melo
even more so than Izzo may need Appling and Payne.
The Orange have veterans in Joseph, big man
Rick Jackson
and guard tandem of
Scoop Jardine
and
Brandon Triche
. But the development of the freshmen will determine how far this team goes in March.
[+] Enlarge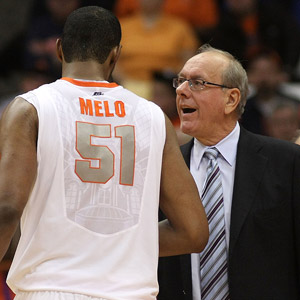 Marc Squire/Getty ImagesJim Boeheim is counting on contributions from young players like Fab Melo.
Waiters (6.6 ppg) and Fair (5 ppg) are averaging just over 13 minutes a game, while Keita is averaging 20.6 minutes and six rebounds a game. Melo is down to 13.5 minutes and 2.6 points and 2.6 rebounds a game.
"The freshmen are making progress,'' Syracuse coach Jim Boeheim said. "Fab has struggled with a sore Achilles for a number of weeks now. It's held up his progress getting him up and down the court. He starts out well and then his foot is bothering him. That's what has held him back.''
Boeheim points to the combined production of Keita and Melo as a positive -- together they are averaging more than eight rebounds a game.
"They're doing a good job, but we need them to get better, but it is a yearlong process; it's not going to happen in two weeks,'' Boeheim said. "Hopefully they'll all keep getting better. Dion has had some good moments and C.J. has been doing a good job. We've got four freshmen among our top eight guys. That's the youngest we've been in a number of years. We have one senior [Jackson], so we're where we should be at this stage in the season where we've scrapped out a couple of wins.''
The Orange are inexperienced and that won't change against Michigan State on Tuesday night.
"You find yourself doing a lot more things in practice than we have,'' Boeheim said. "Last year we were on cruise control with a one hour-and-fifteen minute or one hour-and-thirty minute practice. We did the work, did the running and didn't correct a lot. We just won games and kept everyone in rhythm. This year we're scratching for everything we can get.
"We're not that far away from being 5-3. We were behind in four of our eight games and made some good plays late. We can play a lot better.''
And if the freshmen start producing, that will change. For Michigan State, the freshmen will be a welcome addition to elevate the Spartans rather than a necessary piece to its conference title hopes.