College Basketball Nation:

Ben Brust
January, 6, 2014
Jan 6
1:31
AM ET
MADISON, Wis. -- He defended the costly, ill-timed tirade. That's what players do.
The leader knew what he was doing, he said.
The coach just wanted to change the vibe, he said.
The man on our sideline is always right, he said.
"It got us riled up," Iowa point guard
Mike Gesell
said. "Got us excited as a team. I wouldn't say it was a negative thing or anything like that. We all trust in Fran. We all trust in what he's doing. And we know that everything he does is for the best."
He's wrong. That wasn't best for the team.
Fran McCaffery's outburst and subsequent ejection in No. 22 Iowa's 75-71 loss at No. 4 Wisconsin on Sunday night disrupted the Hawkeyes as they pursued the best win of their head coach's tenure.
After the game, McCaffery implied that the first technical foul was a deliberate attempt to jolt his program. But his team had the lead against an undefeated Badgers team when he decided to lose it.
He could've used that energy to outcoach Bo Ryan -- he did that in a first half that ended with Iowa leading by 11 -- down the stretch. Instead, McCaffery unleashed a soon-to-be-viral wrath of anger that led to a pair of technical fouls and an ejection midway through the second half.
Wisconsin made five of its six free throws -- four attempts for the two technical fouls, two for a foul against
Gabriel Olaseni
-- and seized an advantage that it never relinquished.
McCaffery denied that he had made contact with an official and did not expound on the incident in his postgame news conference. But Big Ten officials in Chicago will have the final word on that.
The tantrum after the tantrum was even worse than the initial eruption. Earning the first technical foul might have been a scripted attempt to energize his team. But the display that resulted in the second technical foul was an exorcism.
An uncontrollable McCaffery had to be restrained by assistant Andrew Francis as he charged toward officials multiple times before he ultimately left the floor.
After the game, McCaffery expressed some remorse, although he refused to discuss specifics.
"I can't address that, as much as I would like to," he said.
"I think what I feel bad about is getting a second one. I think the first one, I think it's safe to say that I kind of went after that one a little bit. The second one, I'm not so sure about that."
Iowa didn't need that.
McCaffery has worked hard to mold this program since his arrival in 2010. The Hawkeyes have the pieces to contend for the program's first NCAA tournament berth in years. He has an 11-man rotation.
Former Wisconsin forward
Jarrod Uthoff
, a double-digit scorer most nights, comes off his bench.
Peter Jok
, the top recruit in the state of Iowa last year per RecruitingNation, didn't even play against the Badgers.
There were no guarantees that Iowa would have left Madison with a win if McCaffery had managed to avoid an ejection. But we'll never know.
And that's not fair to Iowa or Wisconsin.
The Badgers deserve praise for their second-half turnaround. The same team that registered 24 points in the first half and began the game with a 1-for-13 clip, somehow outscored the Hawkeyes 51-36 after halftime. The Badgers won by four, even though they were outscored 36-12 in the paint. They went 6-for-9 from the 3-point line in the second half. And Iowa couldn't stop
Ben Brust
, who scored all 19 of his points after halftime.
This resilient bunch might be the best squad in the Big Ten.
But McCaffery's temper wouldn't allow the Hawkeyes to prove that they're contenders, too.
It was not the first time that McCaffery's emotions had been problematic. He
slammed a chair during a loss to Michigan State
in 2012. As Siena's coach, he was ejected from a game against Hofstra in 2006. His wife, Margaret, was kicked out of the game, too.
If 100 is the emotional threshold that warrants a technical foul, McCaffery certainly coaches in the 90s most games. And he's not alone in that.
Fiery coaches are plentiful throughout college basketball. And sometimes the nose-to-nose, technical-foul worthy productions are viewed as necessary tactics that inspire players.
That's part of the problem.
Coaches are called strategic when they draw technical fouls. Players are immature when they do the same thing.
If McCaffery were a significant Iowa player who'd been ejected with his team holding the lead in a crucial Big Ten road game, he'd be called a hothead. He'd be blamed. And probably disciplined.
Maybe he'd be benched by his head coach. Maybe he'd have to wake up early and run laps.
But what recourse does a player have when his coach deserves the scolding and punishment?
"It helped us out, so I'm not complaining," guard
Josh Gasser
said after the game.
In the final seconds, Gesell dribbled into Wisconsin's web and nearly lost the ball.
He seemed rushed and uncertain. But he recovered.
The Hawkeyes were down by four points then. And Gesell missed an unnecessary 3-pointer from the corner with 1:15 to play.
Sam Dekker
drew a foul and scored -- Iowa failed to sprint to the other side of the floor -- and stretched Wisconsin's lead to seven points.
Somewhere in the bowels of the Kohl Center, McCaffery found a TV and watched his best Iowa team fall short on the road.
He had coached his players to play smart basketball.
He had instructed them to stay tough on the road against a talented, relentless team.
They had obviously listened. They had the unblemished Badgers on the ropes. They had won the first nine rounds of this Big Ten bout.
But then, McCaffery left the floor.
He didn't invigorate the Hawkeyes, though.
He abandoned them.
March, 16, 2013
3/16/13
3:50
PM ET
CHICAGO -- Quick thoughts from Wisconsin's
68-56
victory in the semifinals of the Big Ten tournament Saturday. It was Wisconsin's 12
th
consecutive win over Indiana.


Overview:
Wisconsin entered Saturday's game against Indiana with an 11-game winning streak against the Hoosiers. The Badgers were strong in the first half, connecting on 51.2 percent of their shots. They also forced six Indiana turnovers.
Ryan Evans
(10 points) and
Ben Brust
(seven points, 1-for-2 from the 3-point line) were catalysts for a Wisconsin team that was down 22-16 with 7:55 to go but ended the half on an 18-9 run to secure a 34-31 lead at the break.
Turning point:
After Indiana had drawn even at 43-all in the second half, Wisconsin's
Sam Dekker
scored seven straight points. He made a layup, missed a free throw, scored on another layup in transition, then hit a 3-pointer in a barrage that helped the Badgers regain the edge they had held most of the second half. But the Hoosiers answered with a 6-0 rally. The Badgers, however, returned fire with a 5-0 spurt, this one capped by
Jared Berggren
's 3-pointer with 5:45 to go. They led 55-49 then. And they continued to limit the Hoosiers down the stretch with critical defense, including Berggren's block of
Victor Oladipo
's layup in the final three minutes of the game.
Key player:
Evans finished with 16 points, 8 rebounds, 4 assists, 4 blocks, 1 steal and 4 turnovers.
Key stat:
Indiana went nearly five minutes in the second half without a field goal (10:02 to 5:04). That was a crippling stretch for a Hoosiers team that couldn't close the gap in the final minutes. Berggren's three blocks were critical, too.
Next:
On Sunday, Wisconsin will face the winner of the Michigan State-Ohio State semifinal matchup. Indiana will await its destination in the NCAA tournament on Selection Sunday. And it's a huge decision. The Hoosiers want the No. 1 overall seed and a chance to compete in Indianapolis in the Midwest Regional.
March, 15, 2013
3/15/13
7:57
PM ET
CHICAGO -- Bo Ryan's roster -- a Wisconsin squad that defeated Michigan
68-59
in the quarterfinals of the Big Ten tournament at the United Center on Friday -- lacks the star power some of its league and national peers employ.
His Badgers aren't anchored by NBA prospects and five-star recruits. Their layup lines rarely feature the acrobatic dunks that draw gasps from the crowd.
One of his best players,
Ryan Evans
, sports a high-top fade and takes jump shots at the free throw line because he's been so shaky from the charity stripe this season. Then there's the guy with the impossible name and the funny carrot-top haircut (
Mike Bruesewitz
).
Per RecruitingNation, point guard
Traevon Jackson
was a two-star recruit from Westerville, Ohio, when Ryan signed him.
Jared Berggren
is … big. Wisconsin's former starting point guard, Josh Gasser, tore an anterior cruciate ligament before the season.
And that didn't stop Ryan from winning 20 games for the 10th time at Wisconsin and earning Big Ten Coach of the Year honors.
"When the guys come in, I take those little stars you lick, and I take them and I put four or five stars on each locker. 'Hey, you're a five-star guy. You're a four-star guy,'" Ryan joked. "You know, it's what that star shines like when you're finished with your career. So I'm always looking for guys who are willing to come in, work hard, have talent, and it's about us, not individuals. But individuals can thrive. If you're good, you can get to do a lot of things. So I don't want to sell my players short. I've got good players who are much better as a result of playing together."
[+] Enlarge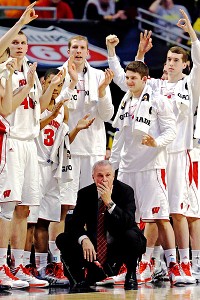 AP Photo/Nam Y. HuhBo Ryan watched his Badgers overcome a brutal first half to advance to the Big Ten semifinals.
The critics assess the Badgers within a college basketball culture that tends to value "SportsCenter" highlights over efficiency ratings. But they never worry Ryan.
He continues to defy every misperception, stereotype and false assumption about his program. That's because Ryan focuses on winning. And his players follow his example.
"We're not really concerned about what other people think. Clearly," Bruesewitz said. "If I did, I wouldn't have this ridiculous haircut. And I don't think he would recruit some of the guys. We've got some ugly dudes on this team, so if he cared what other people thought I don't think he'd recruit some of us."
Ryan and the Badgers proved -- again -- that they're among the country's top programs when they secured their second victory over the Wolverines in 2012-13.
They shot 17 percent from the field in the first half. Then the offense unclogged its drain and flowed. Wisconsin went 17-for-28 and scored 51 points after halftime.
Evans (12 points, 6 rebounds, 6 assists and a steal) attacked the rim. Wisconsin's shooters, including Bruesewitz (2-for-4 from the 3-point line, 8 points, 8 rebounds and 2 steals), found their range. Jackson (16 points and a steal) helped the Badgers frustrate
Trey Burke
(8-for-22, 19 points), a top candidate for national player of the year.
After the Badgers secured a 56-45 lead on a
Ben Brust
3-pointer with 6:03 to play, Michigan scored nine unanswered points to cut Wisconsin's lead to two on Burke's layup with 3:37 to go.
But the Badgers never deviated from their system. They maintained their gritty man-to-man defense. They remained aggressive on offense.
And they won after the Wolverines finished 2-for-7 from the field after that Burke layup.
Michigan has a minimum of three NBA prospects. Burke could be a lottery pick this summer.
Glenn Robinson III
was a five-star forward in the 2012 recruiting class, per ESPN.com.
Tim Hardaway Jr.
, son of a former NBA All-Star, could be a first-round pick, too. But Wisconsin's cohesiveness often trumps talent gaps in matchups.
"The old cliché: 'Defense wins championships,'" Evans said. "We understand that here, and anything we can do to slow those guys down and get our shots is what's going to move us forward."
Don't pity Wisconsin.
Its 2012-13 campaign has proved that the Badgers' skill, athleticism and potential are largely underrated. Evans is a physical forward with a solid post game. Bruesewitz can beat teams inside or outside. Berggren has a better block percentage (7.02) than
Trevor Mbakwe
,
Cody Zeller
and
Adreian Payne
, according to Ken Pomeroy. Jackson is fearless, so he's never afraid of big shots.
"I think we have as much talent as anybody," Evans said. "I can go between the legs.
Sam [Dekker]
can go between the legs."
In the postgame news conference, Ryan seemed more interested in the soda in his left hand than explaining his legacy of success.
He has utilized the same formula and offered the same responses to the same questions.
He rarely signs five-star recruits. He believes in molding players over time. They always defend or they don't play.
His swing offense is based on smart shots, not individual maneuvering.
With that philosophy, Ryan has never finished below fourth in the Big Ten. He has never missed the NCAA tournament since his tenure began with the 2001-02 season. He has won at least 19 games each season, too.
Albeit without the nation's
sexiest
style.
"It doesn't really matter what they say," Jackson said. "As long as we stay together, it's OK."
In Saturday's semifinals, the Badgers will face another team that NBA front offices love. The Hoosiers feature Zeller and
Victor Oladipo
, who could join Burke in the lottery in June.
If "talent" is the best barometer, then Indiana will win.
But the Badgers have won 11 in a row against the Hoosiers. So perhaps it's not.
"We got to get these guys down and get them some rest for tomorrow," Ryan said.
Indiana should probably get to bed early, too.
February, 15, 2013
2/15/13
12:44
AM ET
MINNEAPOLIS – On Thursday night,
Rodney Williams
grimaced as he held his left shoulder.
With his team facing a deficit in the second half of a
58-53 overtime victory
against No. 20 Wisconsin at Williams Arena, the senior tried to ignore the pain of an injury that forced him to miss last Sunday's loss to Illinois.
Williams has nearly exhausted his tomorrows. And his team needs him now.
So when he aggravated the shoulder injury in the second half, he did not put on his warm-ups and tell his coaches he couldn't go. He just went to the team's trainer and asked for ibuprofen and a glass of water. A few minutes later, he checked back into the game.
"I just wanted to go out there and fight for my teammates," said Williams, who sported a cantaloupe-sized ice pack on his left shoulder following the victory.
His teammates channeled the same attitude against the Badgers. Finally, the Gophers played with a hunger they've tapped during stretches throughout the season. It's a resilience they lacked during a period that included six losses in eight games.
After a rough first half Thursday night, the Gophers pushed the pace against a Wisconsin team that's accustomed to controlling the tempo.
Williams scored on a tip-in, drew a foul and hit the free throw with 14 minutes, 32 seconds remaining in regulation. That sequence tied the game at 33. A pair of
Andre Hollins
free throws gave Minnesota its first lead, 35-33, on its next possession. A
Trevor Mbakwe
dunk put the Gophers up after Wisconsin pulled back even.
[+] Enlarge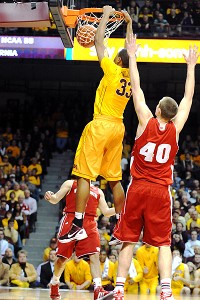 Marilyn Indahl/USA TODAY SportsMinnesota's Rodney Williams, sore shoulder and all, slams home a pair of his 10 points.
But the Badgers, up 49-47 late, regained the edge and nearly sealed the game in the final seconds of regulation after
Mike Bruesewitz
drew an offensive foul on
Austin Hollins
with 22 seconds to go. On the next play, however, Bruesewitz committed a turnover on the inbounds.
Sophomore
Joe Coleman
was fouled, and he hit the free throws to tie the game at 49-49 with 17.4 seconds to go.
Yet, the teams' second game nearly ended like their first. In the Jan. 26 meeting in Madison,
Traevon Jackson
hit the game winner with 4 seconds to play in a 45-44 victory for the Badgers. Jackson had the ball again Thursday on his team's final possession.
But it was a messy finish that concluded regulation as Jackson's last-second shot clanked off the backboard.
By then, the Gophers had already recaptured the night. The Badgers failed to record a field goal after
Ben Brust
's jumper with 6:18 to play in regulation until
Jared Berggren
's layup with 10 seconds remaining in overtime.
"It started on defense," said Mbakwe. "We got a lot of key stops at the end. We made Wisconsin play our tempo a little bit and that's kind of hard, especially against a team like that."
In overtime, Andre Hollins hit a 3-pointer from the top of the key with 3:40 to go and blew a kiss to the crowd. Mbawke, a 62 percent free throw shooter entering the game, hit a pair on Minnesota's following possession to give the Gophers a 54-49 lead with 1:32 left. The teams traded free throws down the stretch but the Badgers (17-8, 8-4 Big Ten) couldn't secure the shots necessary to overcome the Gophers' late push.
"We just kept being aggressive, kept being aggressive on defense," Coleman said. "We try to make the least amount of mistakes possible, and I think we really focused in on that at the end of the game … it helped going into overtime. We were playing so aggressive and it helped."
Hollins led all scorers with 21 points. As a team, the Gophers (eight turnovers) held the Badgers (10-for-17 from the free throw line) to a 30.5 percent shooting clip in arguably their most significant Big Ten matchup of the year.
The pressure has become palpable in Minneapolis.
The Gophers (18-7, 6-6) have fallen in the Big Ten standings and lost their national ranking. Tubby Smith's job status has been questioned by local media. Earlier this week, the Star Tribune's Jim Souhan wrote a column titled "If Tubby can't turn this around, it's time to get [Shaka] Smart."
"The sky was falling around here. Sometimes when the sky is falling and you're lying under the ceiling, you think it's going to cave in on you," Smith said after the game. "They wanted it, but we had to have it. That was the key tonight."
"Desperate" is a term that's frequently used to describe the condition of any college basketball team that's struggling in mid-February.
The bubble is big. And the subjective process of a selection committee that consults stats, standings, RPI figures and overall resumes to determine the teams that will earn 37 at-large slots on Selection Sunday, fuels paranoia.
Are we in or are we out?
The Gophers seemed desperate entering Thursday's game. But most of their recent losses came in matchups against ranked Big Ten teams. So they maintained a top-20 RPI.
They're not Illinois or Villanova or Baylor.
But the expectation for 2012-13 is not an at-large bid. The expectation is an at-large bid and a few wins.
Smith has not won an NCAA tournament matchup in his six seasons with the Gophers.
"We don't listen to too much on the outside," Mbakwe said. "I know a lot of people were high on us. We [lost] down the stretch and people were like, 'This is the same old Minnesota team.'"
Winning is the only elixir for that perception.
Thursday's victory was a good start.
But it certainly won't cure the pain of a program that's feigned progress in the past.
February, 9, 2013
2/09/13
10:34
PM ET
By
ESPN Stats & Information
| ESPN.com
AP Photo/Sue Ogrocki
Oklahoma forward Romero Osby (24) reacts at the end of Oklahoma's upset win over No. 5 Kansas.
It's been a bad week to be a top-five ranked team. Since the men's Associated Press poll came out Monday, top-five teams have gone 0-5 on the road.
All five losses have come to unranked opponents, with the No. 5
Kansas Jayhawks
the latest to fall, losing Saturday in Norman, Okla., to the
Oklahoma Sooners
.
Tuesday -- Arkansas 80, (2) Florida 69

The
Arkansas Razorbacks
knocked off the No. 2
Florida Gators
, the first victory for the Razorbacks against a top-two team since they beat No. 2 Auburn on Feb. 24, 1999.
In seeing their 10-game win streak snapped, the Gators allowed Arkansas to score 80 points and shoot 49.1 percent from the field, both season worsts for a Florida team that entered perfect in conference play while outscoring opponents by nearly 27 per game.
Wednesday -- TCU 62, (5) Kansas 55

The Jayhawks managed only 13 points in the first half, their fewest in 15 seasons, and shot 29.5 percent from the field, their worst mark in 344 games under Bill Self.
Not only did TCU get its first Big 12 win of the season, it was the program's first win over a top-five opponent
ever
.
Kansas entered sixth in ESPN's Basketball Power Index (BPI). The 240-spot difference between that Jayhawks' ranking and TCU's 246 was larger than in any of the 1-versus-16 matchups in last year's NCAA tournament.
Thursday -- Illinois 74, (1) Indiana 72

Illinois shocked No. 1 Indiana with a buzzer-beating layup from
Tyler Griffey
to make it five consecutive weeks that the top-ranked team in the country has lost.
Perhaps the biggest shock was that Illinois got the win in comeback fashion -- the Fighting Illini trailed by 12 at the half and closed the game on a 13-2 run. There's only been one larger comeback from a halftime deficit against a top-ranked team in the past 15 years (Stanford rallied from 13 down against top-ranked Duke to win on Dec. 21, 2000).
Indiana connected on more than half its 3-pointers but went cold down the stretch, making just one basket in the game's final five minutes.
Saturday -- Wisconsin 65, (3) Michigan 62 (OT)

Today's mayhem started in Madison, where the
Wisconsin Badgers
won their 11th consecutive home game over Michigan.
To force overtime, the Badgers needed a game-tying buzzer-beater from
Ben Brust
from about 40 feet. Since the 1996-97 season, NBA players are just two of 64 (3.1 percent) on potential game-tying shots from that distance with less than two seconds left.
Saturday -- Oklahoma 72, (5) Kansas 66
In Norman, the Sooners got revenge on the Jayhawks, snapping a 10-game losing streak against their Big 12 rival.
The Kansas defense, which had been the best in the nation against the 2-point shot entering the game, allowed Oklahoma to shoot 50 percent from 2-point range.
The Jayhawks have now lost three games in a row to unranked opponents. On the bright side, the last time they did that was in 1988, when they went on to win the national title.
February, 9, 2013
2/09/13
7:40
PM ET
Kansas coach Bill Self was in the postgame handshake line after his team's
72-66 loss
to Oklahoma when he looked up and saw hundreds of students rushing the Lloyd Noble Center court.
His lips didn't move, but as he tilted back his head and rolled his eyes, it was obvious what Self must've been thinking.
"Are you serious?"
A victory over Kansas hardly seems like a big deal these days -- or at least not monumental enough for a court-storming. Saturday's setback against the Sooners marked the third consecutive loss for the Jayhawks. And it came just three days after a defeat against last-place TCU that some are calling one of the biggest upsets in decades.
KU certainly played better Saturday than it did against the Horned Frogs, but this is still a team that looks mentally frazzled and out of sorts, which is almost unthinkable for a Self-coached team. Point guard
Elijah Johnson
missed a pair of easy layups in the waning minutes, and small forward
Travis Releford
shot a 3-pointer that barely nicked the front of the rim.
Even worse was that a KU squad known for its defense allowed a good-but-not-great Oklahoma team to shoot 45 percent from the field. Because of it the Jayhawks -- who have won eight straight Big 12 titles -- are now toting three losses in a row for the first time since 2005.
[+] Enlarge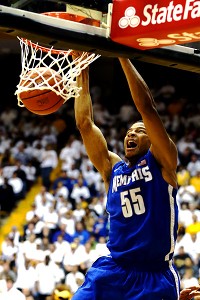 Chuck Cook/USA TODAY SportsGeron Johnson's 25 points, 8 rebounds and 7 assists led Memphis to its 14th win in a row.
Things won't get any easier for Kansas on Monday, when No. 13 Kansas State visits Allen Fieldhouse. The Jayhawks defeated the Wildcats 59-55 in Manhattan on Jan. 22, but the two programs have gone in opposite directions since then.
Here are a few other observations from Saturday's afternoon games:
1. It might be time to consider putting Memphis back in the top 25. Josh Pastner's squad picked up a huge victory Saturday by defeating Southern Miss on the road
89-76
. The Golden Eagles are considered the second-best team in Conference USA behind Memphis, which hasn't lost since falling to Louisville on Dec. 15.
The Tigers are 20-3 overall and 9-0 in Conference USA. I realize Memphis doesn't have a ton of quality wins. But Pastner can't control what league his team is in -- and at least the Tigers haven't lost games they're not supposed to lose, like seemingly every other team in the country. There's something to be said for avoiding upsets, especially when everyone is gunning for you as the top team in your conference. Memphis' only three losses are to Minnesota, VCU and Louisville. The Tigers host the conference's other top team (UCF) on Wednesday.


2. The teams that pulled the two biggest upsets in the country this week didn't exactly capitalize on the momentum. Arkansas, which whipped No. 2 Florida 80-69 on Tuesday, got embarrassed at Vanderbilt,
67-49
. Three days after toppling Kansas, TCU was back to its old ways in a
63-50 home loss
to West Virginia.

3. Georgetown coach John Thompson III doesn't get nearly enough credit. The Hoyas'
69-63 victory
over Rutgers marked their seventh win in their past eight games. Included in that stretch are wins against Notre Dame and Louisville and two victories over a red-hot St. John's squad.
Each year, Georgetown seems to lose stars to the NBA draft or seasoned veterans to graduation. But Thompson always responds. He always has guys ready to step in. Heck, this Georgetown team lost its second-leading scorer and rebounder (
Greg Whittington
) to academics midway through the season -- and the Hoyas got better. The man is an excellent coach, plain and simple.

4. Wisconsin coach Bo Ryan needs to send
Ben Brust
a thank-you card -- or, at the very least, he could ease up on him during the next round of conditioning drills.
Brust's desperation 3-pointer from just past half court forced overtime against No. 3 Michigan on Saturday, and the Badgers capitalized with a
65-62 win
. Brust also saved Ryan from what would've been a slew of criticism for not fouling on the previous possession with the score tied. Michigan guard
Tim Hardaway Jr.
made the Badgers pay with a 3-pointer that made it 60-57 with less than three ticks remaining. Wisconsin had fouls to give. If the Badgers would've lost that game, Ryan would've been crucified.
But Brust saved his coach moments later with the heave that gave his team new life. Wisconsin has now won four of its past five games. Its past two victories have come in overtime. Another great stat: Wisconsin has won six of its past seven home games against top-five opponents. Amazing.

5. Texas point guard
Myck Kabongo
will take the court for the first time Wednesday after a 23-game suspension for illicit dealings with an agent. At this point I'm not sure Kabongo will make much of a difference for a Longhorns squad mired in its worst season in recent memory.
Rick Barnes' team shot just 39 percent from the field in its
72-59 home loss
to Oklahoma State and missed 17 of its 18 attempts from beyond the arc. Texas also went 12 of 21 from the foul stripe. Barnes has been questioning the Longhorns' effort all season, and it will likely take more than the return of Kabongo -- who was mediocre as a freshman -- to get things right.
At 10-13 overall and 2-8 in the Big 12, Texas is almost certain to miss the NCAA tournament for the first time in Barnes' 15 seasons.

6. Less than 48 hours after losing at Texas A&M, Missouri turned in its best performance of the season in a
98-79 victory
over Ole Miss.
My initial reaction is, so what?
The Tigers have been winning home games all season. But they've looked like a completely different team on the road, where their lack of toughness and poor decision-making (particularly by point guard
Phil Pressey
) have been alarming. Losses at LSU and Texas A&M are flat out inexcusable considering the talent gap between Missouri and those two teams.
Still, I saw things Saturday that made me think the Tigers' victory over Ole Miss was more than just another home win. Three players (Pressey,
Alex Oriakhi
and
Keion Bell
) scored 20 or more points, and Oriakhi had 18 rebounds against a Rebels squad that spanked Missouri less than a month ago in Oxford. Missouri had only nine turnovers and shot 47 percent from the field.
If Bell becomes a bigger contributor and if Pressey (only one turnover Saturday) turns the corner, we may look back on Saturday's Ole Miss win as a pivotal moment in Missouri's season. Frank Haith's squad should be high on confidence after this one.

7. During his time at Kansas and North Carolina, Roy Williams has rarely had teams that built their reputation on defense. But the 2012-13 Tar Heels have been particularly bad on that end of the floor.
Miami shot 54.4 percent from the field in Saturday's
87-61 victory
and went 15 of 26 from 3-point range.
North Carolina has allowed an average of 79.6 points per game in its seven losses. In five of those games, the opponent scored more than 80 points. The Tar Heels need to get tougher.
February, 9, 2013
2/09/13
7:10
PM ET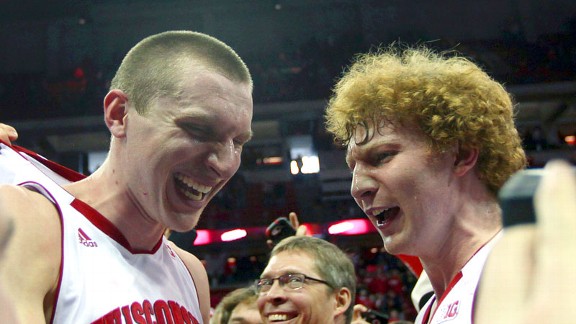 Mary Langenfeld/USA TODAY SportsJared Berggren (left) and Mike Bruesewitz celebrate after UW's win over No. 3 Michigan.
Mike Bruesewitz
's pass was in stride, perfectly thrown, hitting
Ben Brust
in motion so all he had to do was think about the shot without collecting the ball first.
"Mike put it perfectly. I caught it, squared up right away," Brust said by phone from Madison, Wis., a few hours after Saturday's thrilling
65-62 overtime victory
over No. 3 Michigan. "Without that, the shot doesn't get off. If that thing gets tipped, then that's the game. Mike put it right where I needed it. I think there is a quarterback tossup in the fall. Mike should compete for it since that pass was on the money.''
Brust buried the running 3-pointer at the buzzer to send Wisconsin into overtime against the Wolverines, two-plus seconds after
Tim Hardaway Jr.
hit a 3-pointer over Bruesewitz to give Michigan a 60-57 lead.
Wisconsin had fouls to give on the Hardaway shot since it had committed only three in the second half to that point. But the Badgers elected to play defense.
"I wasn't trying to foul, I was going after the steal,'' said Bruesewitz by phone. "He came off the ball screen, and I tried to swipe at it and maybe foul him in the process, but it didn't get called. At that point, you can't really foul because he was shooting a 3 and then he's knocking down free throws."
On the ensuing inbounds, Bruesewitz said as soon as he threw the ball to Brust he knew it had a chance.
"I still feel completely, I don't know, like it's just another game right now,'' Brust said. "It's going to hit me. I don't know when. When Mike got the ball, I made my cut, and he led me perfectly. He put it in my pocket, I got squared up without wasting any time. I knew as soon as it left my hands that it was pretty good.''
[+] Enlarge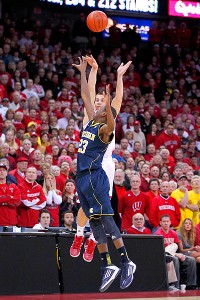 AP Photo/Andy ManisThis shot by Ben Brust forced OT in a game Wisconsin would eventually win against Michigan.
Bruesewitz trailed the play and immediately said he told Brust to settle down since there were five more minutes to play.
"I wanted to win the game right there,'' Brust said. "But then I knew we had overtime and had to get focused.''
That he did, as Brust hit a 3 that proved to be the difference in a low-scoring OT. But it's the shot at the end of regulation that will be long remembered in Madison. Brust will get the credit for it, but Bruesewitz's pass should be remembered as well, much like
Brandon Paul
's to
Tyler Griffey
on Thursday night on Illinois' improbable game-winning basket at the buzzer over No. 1 Indiana.
"I saw that, too. Brandon Paul put that pass right in Griffey's pocket, and he laid it up and in," Brust said. "I got it in stride, to my right hand.
Caris LeVert
is like 6-foot-5, and he is long and athletic and he did a good job contesting it."
With the win -- UW's second over a top-three team this season (at Indiana) -- the Badgers moved to 17-7 overall, but, more importantly, 8-3 in the Big Ten, tied with Michigan for second and a game back in the loss column behind Michigan State and Indiana (both 8-2).
"We've had early setbacks with Josh [Gasser] going down with an ACL [in the preseason], my leg injury [a major laceration that required surgery in the preseason] and a concussion," Bruesewitz said. "We've been injury-prone, but a lot of guys have stepped up. There aren't one or two great teams [in the Big Ten]. There isn't separation between the top teams and the middle of the pack."
Having young guards mature and develop provided an early-season hiccup, but Bruesewitz said the expectation within the locker room has remained a league title.
"We've always thought we could win the Big Ten and win a national championship," Bruesewitz said. "That hasn't changed."
As for Saturday's memorable moment at the Kohl Center, well, that one will be talked about for a while. Brust said he can't wait to get a framed photo of the shot. He knows it will have a special place in his home.
"I just want it somewhere where we can talk about it," Brust said. "It's going to be a moment I'll remember forever. I'm just grateful for the opportunity."
March, 17, 2012
3/17/12
10:57
PM ET
ALBUQUERQUE, N.M. -- Forget the No. 4 seed. Toss out the top-20 preseason ranking.
Wisconsin again reaching the Sweet 16, after what the Badgers lost off last season's Sweet 16 edition and certainly following an unprecedented three home losses at the Kohl Center, is a surprise.
Don't let anyone say anything otherwise. You may have picked the Badgers in your bracket to reach the Sweet 16. I did not. President Barack Obama did and countless others did as well.
But step back and digest how far this team has come this season and you'll realize that the Badgers have fooled the field yet again.
"This team has done some things that if you're a real basketball person, you've got to go, wow,'' said Wisconsin coach Bo Ryan after the Badgers knocked off No. 5 Vanderbilt 60-57 Saturday afternoon at The Pit. "Everybody knows we have weaknesses.
Jordan Taylor
. Without Jordan Taylor, it's not the same.
"I'd like to say it's coaching but nobody would believe that,'' Ryan said. "It's guys working hard.''
The Badgers lost Jon Leuer and Keaton Nankevil off last season's team.
"We have three starters that played reserve minutes [on last season's team],'' Ryan said. "Some programs do that and put in McDonald's All-Americans. That didn't happen here.''
The Badgers were dreadful in a home loss to Iowa at the beginning of the Big Ten season. That led to a 1-3 conference start. Taylor was in a shooting slump and the Badgers looked like they were going to be an afterthought in the Big Ten behind upstart Indiana and Michigan and well behind Ohio State and Michigan State.
"I had to go to practice and be up,'' Ryan said. "It wasn't about a lack of trying. You can't yell at people for not making baskets.''
But then the Badgers won at Purdue and stunned Ohio State with a win in Columbus. Taylor shook his slump.
Ryan Evans
became the unsung player on this team and the contributions from
Mike Bruesewitz
,
Jared Berggren
,
Josh Gasser
,
Ben Brust
and even
Rob Wilson
became better with each game.
When asked if this team had improved more than any other he has coached at Wisconsin, Ryan's quick response was: "No question.''
[+] Enlarge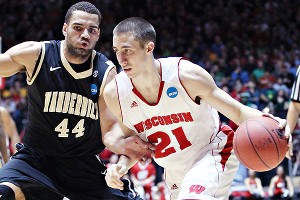 Nelson Chenault/US PresswireWisconsin star Jordan Taylor credited teammate Josh Gasser, who played ill during Saturday's win.
Saturday's win over Vanderbilt was another example of how much.
The Badgers blitzed the Commodores with a 10-2 start as Evans made shots in and out of the lane. Vandy was in step with Wisconsin, though, and took a lead to start the second half. But just when it appeared safe for the Commodores, the Badgers, especially Taylor, would hit buckets late in the shot clock.
"Coach kept telling me in the huddle that I had to step up as a senior and take the shot,'' Taylor said.
Gasser said, "If we get the ball to him late in the shot clock, he will make sure to always do good things. He's been doing it all year and all of last year. He is the leader of this team and we want the ball in his hands at the end of the game. He usually makes it happen. He didn't want this to be his last game and he definitely showed it.''
Taylor buried a 3-pointer with the shot clock winding down to one second to give the Badgers a 59-57 lead. The Badgers defended Vandy well on the next few possessions and Taylor had a shot to deliver the dagger to the Dores with 19 seconds left.
But he missed. And that's when Gasser hustled to get the loose ball rebound. Vandy's
Festus Ezeli
, who was benched for the first three-plus minutes of the game in a coach's decision, said it was a case of a long rebound that his team simply didn't run down in time.
Taylor said Gasser was up until 3 a.m. sick. "I can't say enough about him,'' Taylor said. "He did a great job just coming in. He dogged Jenkins as much as he could. That's why we're able to have success because we have teammates like Josh.''
Vandy had one more chance because Gasser missed a free throw.
John Jenkins
had a clean look at a 3-pointer to possibly win the game with four seconds left.
"It was a pretty good look,'' Jenkins said. "I felt like I got a good chance of having it going in, just like a lot of looks I had. It just didn't drop for me.''
"He was wide open,'' Vandy coach Kevin Stallings said. "He's a great shooter, period. He's really a great shooter going left and he was going left and he was wide open. We ran the play, ran it to perfection and got it right where we wanted him. He's made so many that have caused us to win games, and unfortunately that one didn't go in.''
Those close to the Badgers are in awe of their Sweet 16 appearance and that they have won 26 games, picked up a number of wins by shooting close to 40 percent and survived shooting slumps by Taylor and Bruesewitz this season.
The Badgers will play East Region top seed Syracuse on Thursday with a chance at an Elite Eight berth.
"They're long and we'll have to get inside-outside stuff going,'' Ryan said. "Hey, how close is Boston to Syracuse? Pretty close, isn't it?''
It is much closer than Madison. But distance and fan support shouldn't matter. The Badgers won't be picked to beat Syracuse. But doubting this particular Ryan edition has already proved to be foolish.
November, 27, 2011
11/27/11
12:13
AM ET
HOFFMAN ESTATES, Ill. -- A few minutes after Wisconsin sealed its
73-56 win
over BYU in the Chicago Invitational Challenge on Saturday, guard
Jordan Taylor
emerged from the tunnel with the tournament trophy in tow. Immediately, Taylor was greeted by eager Wisconsin fans.
"We just love watching you play," one woman said.
"Can he have an autograph?" asked another, standing next to two young boys. She pointed to one of the little ones.
"His brother has one, but he doesn't. He loves you."
Taylor smiled, said hello, set the trophy on the ground and took the pen and paper from the young boy's hand. He signed autographs, the first of many.
It was just another night of college hoops stardom for Taylor, a preseason Associated Press All-American and the unquestioned charismatic leader and floor general of the 2011-12
Wisconsin Badgers
. But for once, the biggest star of Wisconsin's tourney title night was not Taylor but an unheralded sophomore playing just 15 minutes south of his suburban Chicago hometown.
Ben Brust
had just tied the Badgers' school record for most 3-pointers in a game -- he made seven Saturday night -- and his performance was the difference between the Badgers' 17-point final margin and the narrow 34-32 lead Bo Ryan's team held at the half.
[+] Enlarge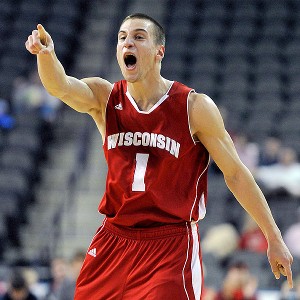 AP Photo/Jim PrischingBen Brust connected on 7 of 10 3-pointers and led Wisconsin in scoring with 21 points.
Even better? Brust -- a native of Hawthorn Woods, Ill., and former star at nearby Mundelein High School -- got to take his first collegiate star turn in front of a dozen family members and friends.
"I had my brother, my nephew, my sister-in-law, cousins, uncles all here," Brust said. "My other brother is in Pennsylvania for the holidays, so I wonder how he feels right now, having to watch that on TV. But it was great to see everyone around the holidays.
"My brothers have really distinctive voices," Brust said, laughing.
They -- not to mention Brust's coaches and teammates -- had much to cheer about. His shooting was the catalyst in a win that moved the Badgers to 6-0 overall for the first time in Ryan's consistently successful 10-year tenure at the program. It's the ideal start for a team that lost top forwards Jon Leuer and Keaton Nankivil this offseason yet appears, somehow, to have lost nary a step in the trade.
A glance at Saturday's box score tells the story: Forward Mike Bruesewitz, a role player in 2011, scored 13 points on 4-of-6 shooting from the field. Forward
Jared Berggren
added 13 points of his own on 6-of-9 from the field. Guard
Josh Gasser
went 1-for-4 from 3 Saturday and moved his 3-point field goal mark for the season to 15-of-21. Taylor, the primary ball handler and offensive director -- few moments in the game pass by in which Taylor isn't instructing his teammates in one fashion or another -- finished with 18 points and eight assists.
The naked eye revealed it, too: In the first half Saturday, BYU coach Dave Rose made a few brilliant defensive tweaks, switching his defense to a high-pressure elevated zone that kept Wisconsin out of the paint and forced the Badgers to commit rare turnovers. But other than that 10-minute stretch -- once Wisconsin had time to adjust -- BYU simply couldn't guard everyone.
On this night, Brust was the primary recipient of Taylor's incisive ball movement. But it just as easily could have been (and often was) Bruesewitz, Berggren, Gasser or even forward
Ryan Evans
.
"You just go where the guys aren't," Brust said. "It's all about reading the game."
There's a reason Wisconsin entered Saturday's title matchup
ranked No. 3 in adjusted efficiency
. The Badgers don't turn the ball over. They defend the perimeter better than any other team in the country, ranking No. 1 in opponents' effective field goal percentage. (On Saturday, as Wisconsin was racking up its 13 3-pointers, BYU was in the midst of a 1-for-10 night from beyond the arc.) Most importantly, at least in recent seasons, the Badgers' offense -- Ryan's patient swing-style motion -- is at its best a well-oiled, balanced machine.
"Ben's not the only guy on our team like that," Taylor said. "That's the beauty of playing with the guys we have in our locker room. Anyone can get hot at a certain time. It's all about making the right decisions and staying confident."
"He's definitely gotten hot before. Even last year as a freshman. Just now in the locker room we were talking about who had the most points in high school, and I think Ben has it far and away. He can score the ball. We know what he can do. It's really no surprise to us when he gets hot like that and kind of takes over the game."
For the record, Brust said, he scored 50 points twice in high school. Any locals from Hawthorn Woods or Mundelein or the rest of the northwest suburbs where Brust plied his prep trade would have recognized Saturday night's throwback performance. But for the rest of the college hoops world, which until this point knew
Brust only as a YouTube-link-worthy NASCAR impersonator
, it may be time to sit up and take notice. Wisconsin is a team with a star, yes, but even without Leuer and Nankivil, it is also so much more.
The Badgers' next game will be much more difficult than its last. It's the ACC-Big Ten Challenge. It's North Carolina. It's Chapel Hill.
One thing's for sure: If the 6-foot-2 guard from Hawthorn Woods shoots this well at the Dean Dome on Wednesday, Brust may a few have autograph seekers of his own. And this time, they won't be family.