College Basketball Nation:

Ben Smith
February, 11, 2012
2/11/12
10:30
PM ET
OMAHA, Neb. -- Moments after his team humiliated No. 15 Creighton on its home court, Wichita State coach Gregg Marshall sat before a throng of reporters and smirked.
"Maybe now," he said, "we can get some press."
On some days, the comment might have seemed catty and whiny. But after what his squad did to the Bluejays on Saturday, it was easy to concede that Marshall had a point. A Missouri Valley Conference team has been getting loads of national attention this season.
Unfortunately, it's been the wrong one.
The Shockers -- and not Creighton -- appear to be in a different class than the rest of their competitors in one of the nation's most underrated leagues. Their
89-68 annihilation
of the Bluejays was eye-opening for a variety of reasons, the main one being that it came in front of the largest crowd ever to see a game at the CenturyLink Center.
Not that things ever got rowdy.
Instead, most of the 18,735 in attendance sat in disbelief as Wichita State connected on 58 percent of its shots, eight of its 16 3-point attempts and all 17 of its free throw attempts in its most dominating performance of the season. The loss was the worst for Creighton at home since 1995.
"Even if we had played our best tonight, I'm not sure it would've been good enough," Creighton coach Greg McDermott said. "We didn't have an answer for anything they did."
The loss was the third straight for the Bluejays. Wichita State, meanwhile, now has won 20 of its past 22 contests and has a two-game lead over Creighton in the quest for its first Missouri Valley Conference regular-season title since 2006.
Wichita State almost certainly will catapult into the top 25 for first time this season -- and rightfully so. The Shockers are easily one of the better teams in the country from a non-BCS league.
And they might be the best.
Seventh-ranked Murray State lost to Tennessee State this week and should drop dramatically in the polls. Harvard fell to Princeton, Saint Mary's was whipped at Gonzaga and San Diego State fell to No. 16 UNLV.
Should the Runnin' Rebels be ranked ahead of the Shockers?
Only if you pretend their 19-point loss to Wichita State on Dec. 4 never occurred.
[+] Enlarge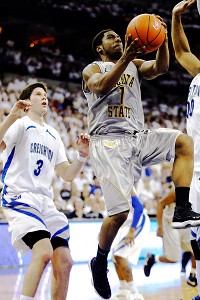 Matt Ryerson/US PresswireJoe Ragland's 24 points propelled Wichita State past No. 15 Creighton and star Doug McDermott, left, who managed just 13 points.
"We always say, '[People] have it out for Wichita State,'" Shockers guard
Joe Ragland
said. "We feel like we're a successful team and we perform well. We just don't get that recognition. I guess now they're going to start paying attention to us."
How could anyone not?
With four senior starters, the Shockers boast one of the most experienced lineups in the country. In
Garrett Stutz
, they've got an agile, versatile 7-footer who entered Saturday's game averaging 21 points in his previous five contests. Stutz played just 13 minutes because of foul trouble, and it didn't even matter.
With Stutz on the bench, Wichita State spread the floor and used its athleticism to beat Creighton to the lane. When they didn't finish with an easy basket in the paint, the Shockers dished the ball outside for an open 3. Ragland finished with a game-high 24 points while forward
Ben Smith
had 22.
"Our defense was atrocious," McDermott said. "It was an embarrassment. Wichita took advantage of a lot of our weaknesses."
And Creighton did nothing to counter on the other end.
The 6-foot-4 Smith held 6-7 Creighton forward
Doug McDermott
to 13 points on 5-of-14 shooting. McDermott (the coach's son) entered the game averaging 23.3 points, which ranked third in the nation.
"At practice, our teammates do a good job of playing like McDermott," Smith said. "We tried to go with the game plan and limit his touches and make it hard on him to catch the ball where he wants to catch it. You've got to hope for the best."
Added Marshall: "[Smith] won that battle against a guy that is probably going to be a first-team All-American."
More than anything, Marshall was proud of his team's poise in what could have turned into a difficult road environment. Creighton pulled within 33-28 late in the first half, but Wichita State responded by scoring on its next seven possessions to take a 49-36 lead at intermission.
Creighton still thought it had a chance trailing 70-55 with 8:19 remaining. But the Shockers scored on eight consecutive possessions to put the game out of reach.
At one point, Greg McDermott was so frustrated with his son's play that he berated him relentlessly on the sideline during a timeout. There appeared to be contact between the McDermotts, as Greg's face was centimeters away from Doug's as he yelled.
"Sometimes, to light a fire under your team, you need to light a fire under one of your best players," Greg McDermott said. "That was an attempt to do that. It obviously didn't pay many dividends.
"I don't do it with many of our guys very often. But we were getting our tail kicked, and they were scoring whenever they wanted. As a coach, you have to try everything. I know Doug can handle it. He's as big of a critic on himself as anybody else."
Indeed, Saturday's loss will be hard to stomach for the Bluejays. Less than two weeks ago, they were riding an 11-game winning streak and were full of confidence. Now their NCAA tournament hopes could be in jeopardy.
Road victories at San Diego State and Wichita State are the only quality wins on Creighton's résumé. Saturday's defeat was its third straight -- and more heartache could be coming next weekend when the Bluejays host Long Beach State. The 49ers have played at Kansas, North Carolina, Pittsburgh and Louisville this season. They won't be intimated by a sellout crowd in Omaha.
"Our effort has to be a lot better," Creighton guard
Grant Gibbs
said. "We have to stay together as a group. I could name a million things, but it starts with caring more and playing harder."
Those things aren't a problem for Wichita State, which can clinch the Missouri Valley Conference regular-season title outright with two more wins.
By then, the Shockers hope, people will have taken notice of what appears to be the best mid-major team in the country.
"We've gotten some [media attention]," Marshall said, "but we haven't gotten nearly the amount of it that the Creighton team has. The way they played early in the year, they deserved it. But maybe now these guys will get some."
The players hope so, too. As they walked off the court Saturday, a few of them extended their right arms and waved to the shell-shocked fans who lingered at CenturyLink Arena. Brash, perhaps, but also fitting.
Goodbye, Creighton.
Hello, Wichita State.
February, 11, 2012
2/11/12
7:24
PM ET
OMAHA, Neb. -- Observations from Wichita State's
89-68 victory
over Creighton Saturday at the CenturyLink Center:
Overview
: Wichita State took a major step toward winning its first regular-season Missouri Valley Conference title since 2006 by defeating Creighton 89-68 Saturday at CenturyLink Center in Omaha.
Joe Ragland
scored 24 points in the victory and
Ben Smith
added 22 for the Shockers, who avenged a Dec. 31 home loss to the Bluejays.


With a 13-2 league record, Greg Marshall's squad is two games ahead of Creighton (11-4) in the league standings. The No. 17 Bluejays have now lost three straight games and are in danger of falling out of the top 25 poll. Unranked Wichita State, meanwhile, appears more than deserving of catapulting into the rankings. The Shockers have won 12 of their past 13 games.
Wichita State shot 58 percent from the field. The Shockers made eight of their 16 shots from beyond the 3-point arc and connected on all 17 of their foul shots.
Notable
: The Shockers won despite a minimal contribution from leading scorer
Garrett Stutz
. A 7-foot senior, Stutz entered the game averaging 21.8 points in his previous five contests. But he scored just eight Saturday because of foul trouble. The Shockers may have actually been better with Stutz on the bench because they were able to increase the tempo and play faster.
Doug McDermott
, a first-team All-America candidate, finished with 13 points. Late in the first half McDermott was involved in a heated exchange with his father, Bluejays coach Greg McDermott, as he walked toward the Creighton bench during a timeout. There appeared to be contact between the father and son as Greg yelled at Doug.
What the win means for Wichita State
: This isn't the Shockers' first big win of the season. They pasted UNLV 89-70 less than two weeks after the Runnin' Rebels upset North Carolina. But for Wichita State to turn in this kind of performance in one of the conference's toughest road environments says a ton about its mental toughness and its focus. The fact that the Shockers start four seniors certainly helps -- and so does their depth. This is not a team you want to play in the NCAA tournament.
What the loss means for Creighton
: The Bluejays entered February with an 11-game win streak and all the confidence in the world. Now the Bluejays may not even make the NCAA tournament. Saturday was Creighton's third straight loss, and unless things change quickly, another defeat may come next weekend against red-hot Long Beach State. The 49ers have played at Pittsburgh, Kansas, Louisville and North Carolina. They certainly won't be intimidated by the atmosphere they'll face in Omaha. A victory in that game is a must for the Bluejays.
Up next
: Creighton plays at Southern Illinois Tuesday. Wichita State hosts Missouri State Wednesday.
January, 29, 2012
1/29/12
12:45
AM ET
Editor's Note: For Myron's recap of Saturday's afternoon action, click here.
More Saturday games. More drama. A weekend slate that wasn't supposed to offer much ultimately produced an impressive collection of games. Saturday night only added to the excitement.
Washington 69, Arizona 67


This game might have been a preview of the vibe we'll see in the Pac-12 tournament. Not one team in this league can feel secure about its NCAA tournament hopes, but the conference's collective downfall does make for plenty of must-win drama.
Consider this: Between the 14:16 and 2:28 marks of the second half, Arizona recorded exactly one field goal. And yet, with two minutes to play, this was just a six-point game.
Solomon Hill
's 3-pointer with 9 seconds to play tied the game at 67. He was awesome, scoring 28 points and grabbing 11 rebounds. But while he made nine of his 10 shots, the rest of team went 12-of-40 (30 percent) from the field.
And after Hill's big bucket,
Josiah Turner
committed a huge foul on
C.J. Wilcox
, who hit a pair of free throws before freshman
Tony Wroten
blocked Turner's layup at the buzzer. The Pac-12 is certainly down. But it's also a very scrappy league right now because of the uncertainty. Arizona was bad for a chunk of this game, but the Wildcats kept coming -- because, well, it's UA-UW and these matchups are always dramatic.
The Huskies, who lead the Pac-12 at 7-2, scored a crucial road win, while Zona's at-large hopes took another major blow with its third home loss of the season. Fun game.
No. 21 Virginia 61, North Carolina State 60


The Cavaliers led 55-45 with 6:37 on the clock, but barely held on here. The Wolfpack was sloppy for the bulk of this game and finished just 2-of-15 from beyond the arc. Near the five-minute mark,
Alex Johnson
missed three shots on one possession. He botched a layup on a fast break, then missed a contested follow-up and a 3-pointer. It was that kind of evening for the Pack.
But they bounced back and chipped away at Virginia's lead. They outscored UVa 15-5 in the final six minutes of the game and
Scott Wood
hit a late 3 to close the gap to 1. The Cavs missed a jumper in the final seconds so NC State had a chance to tie on the last possession, but Virginia's defense clamped down on
Lorenzo Brown
, whose 3-point attempt at the buzzer was way off.
The Cavs continue to find ways to win and force teams to play their grind-it-out style of basketball.
Mike Scott
(18 points) certainly helped, but Virginia was outrebounded 42-25 -- it gave up more offensive boards (18) than it had defensive boards (17)! -- and still pulled out the win. The Cavaliers' 17th victory gives them one more than all of last season.
That's certainly something to be proud of, but I'm not sold on the Cavs as a team that will do damage in the NCAA tournament. Not with struggles against Towson, a bad home loss against Virginia Tech and other so-so efforts this season. Their finish against NC State on Saturday showcased some of this team's flaws.
No. 20 Saint Mary's 80, BYU 66


Wait, wasn't this supposed to be the weekend that the Gaels fell in West Coast Conference play? As impressive as SMC's 8-0 start in the WCC was, there was a palpable buzz that suggested the Gaels' success was directly linked to the fact that they played five of their first eight conference games at home, including routs of BYU and Gonzaga.
A rematch with Brigham Young on the road -- the Marriott Center is one of the most challenging venues in the country -- spelled doom. Right? But Saint Mary's truly separated itself from the rest of the league with a 14-point victory that really wasn't even that close, despite SMC's heavy turnover total (24). It was a scrappy game both on the floor and off it -- fans threw things onto the court at one point as the Cougars lost back-to-back home games for the first time ever under Dave Rose. Four Gaels recorded double-figure point totals, led by
Brad Waldow
(19 points, 8 rebounds). I already can't wait for that Saint Mary's-Gonzaga game in Spokane.
Some more observations from Saturday night ...