College Basketball Nation:

Big Blue Madness
October, 14, 2011
10/14/11
10:36
PM ET
LEXINGTON, Ky. -- They came out to flashing lights and pulsing music, the highlight exclamation point of a two-hour show rehearsed and timed better than a Broadway hit that was equal parts pomp and party.
Welcome to Big Blue Madness, an idol-worshiping of teenagers that would make Justin Bieber jealous. There was a countdown clock, pyrotechnics, dancing, locked-out NBA stars, spotlights, and even a little basketball tossed in.
[+] Enlarge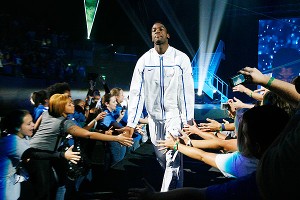 Mark Zerof/US PresswireMichael Kidd-Gilchrist was among the four mightily hyped freshmen to make their debuts Friday night.
This show, though, wasn't about unveiling Kentucky's new offensive options -- pick and roll, anyone?
It was about unveiling the latest-model Wildcats. (Honestly, Apple would be wise to steal from UK's debut programs as it searches for a new launch model post-Steve Jobs).
And so the fans at Friday night's Big Blue Madness cheered faithfully for all of their Wildcats, but they reserved some of their biggest hosannas for the freshmen, the latest crop of possible one-and-doners beginning their likely short stays in Lexington.
Since coach John Calipari arrived, this has become an annual occurrence, prompting a now yearly debate: The new class is in, so where does it rank compared to the previous ones?
The jury will remain out on that question until the season ends -- though there will certainly be constant comparisons from now until April -- but like always, how well the freshmen adapt will go a long way in determining Kentucky's success.
There is a glut of talent -- four freshmen and four McDonald's All-Americans ranks as a pretty decent recruiting batting average -- but in essence, the Cats once more are starting over.
And that is why, mixed in with the euphoria at the start of the season, there is always a bit of anxiety. No freshmen-dominated team has ever won a national championship, one of those niggling nuggets that will gnaw at Kentucky until the Wildcats upset the stat.
"At the end of the day, 10 years from now, we'll be able to look back and say, 'OK, this is how it happened,''' Calipari said.
UK's third-year coach says he likes what he has with this team. Or at least he thinks he does. Until Friday, Calipari had spent all of seven hours working and practicing with these players.
But he said he believes this group works harder than any he's coached previously and is really impressed with their defensive tenacity. For what they lack in height and girth -- there are no true centers on this team and Calipari admits they are "skinny" -- they make up for in ridiculous length and speed.
Still, he knows what he's up against. As good as they are, these guys are freshmen and there is no way to mask experience in the college game.
[+] Enlarge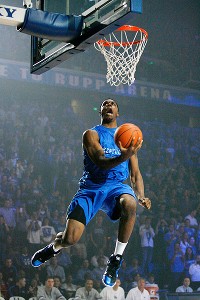 Mark Zerof/US PresswireAt UK, sophomore Terrence Jones is considered one of the veterans.
"The guys told me I can't be ready for the speed of the game,'' point guard Marquis Teague said. "Most of us, we've been playing basketball our whole lives, but still it will be different.''
Just how quickly the freshmen adjust to the difference will determine how good Kentucky will be and can be.
But if last season taught the Wildcats anything, it is that while it may eventually be all about the freshmen, it can't always be all about the freshmen.
UK may have finished the season in the Final Four, but the Cats didn't start that way. They were a pedestrian 5-5 in the SEC and 17-7 overall out of the gate, losing six of their first seven conference road games. The blame, at the time, went to the freshmen. They weren't good enough, not living up to the hype and so on.
Truth is, those on the inside say, it had nothing to do with the freshmen.
"We have to take more time and help them along from the beginning,'' senior
Darius Miller
said. "We didn't do a good job of that last year and I think that's why we struggled. I think a lot of times, we found ourselves standing back and watching them. We thought they had all this talent and hype, so we should be able to just them go. We can't do that. We have to help them and lead them.''
To where? To New Orleans, site of the Final Four?
That's to be determined.
But it should be noted: Of all the ovations and crazed cheers on Friday night, the biggest was reserved for a piece of fabric: the new Final Four banner unfurled from the Rupp Arena rafters.
Will there be a similar moment during the 2012 Big Blue Madness? And will the banner be a distinct kind, joining seven others that hang high atop Rupp?
Those answers won't officially come until spring -- but it's never too early to look for clues.
For the next five and a half months, the eyes of Big Blue Nation will be doing just that.
October, 4, 2011
10/04/11
11:20
AM ET
I've been to the lovely burg of Louisville more than a few times. But I figured, hey, might as well check the map anyway, right? I clicked on over to the Google machine, typed in "Louisville, Ky.", and ... yep.
It's there
, right where it always is. Latitude: 38.23. Longitude: 85.67. And very much in the state of Kentucky.
Why did I do this? Because Kentucky coach John Calipari had me doubting my geographical chops. This weekend, as he hobknobbed with Kentucky's Big Blue Madness ticket campers -- the same
maniacs featured in Thursday's rather amazing video
-- Calipari delivered a none-too-subtle shot at UK's rivals to the west. You
can see the video here
. Here's the comment in question,
helpfully transcribed by Mike Rutherford at SB Nation
:
Among other things, Calipari noted that part of what makes Kentucky basketball great is that it's the only real program in the state.

"It's a unique thing," Calipari said. "There's no other state, none, that's as connected to their basketball program as this one. Because those other states have other programs. Michigan has Michigan State, California has UCLA, North Carolina has Duke. It's Kentucky throughout this whole state, and that's what makes us unique."
Louisville fans are reacting with the expected levels of hostility. But I would encourage them not to fall into the trap. Of course Calipari
knew what he was saying here
. He's a master at this sort of thing, an unparalleled genius at stoking the fires of the UK-UL rivalry into something like a year-round hate-in. Louisville fans hate Kentucky fans. Kentucky fans hate Louisville fans. (Sing it with me:
It's the circle of life, it's the path unwinding
.) Calipari could have cited his team's traditional blueblood status, or its chief position in the hearts of most of the Commonwealth's basketball fans, but that would have been too easy. Instead, he chose to pretend Louisville doesn't exist. How very diabolical.
My only question: If Calipari's counterfactual were true, would that mean Louisville is actually in Indiana? Or does it merely cease to exist, swallowed up in the time-space continuum? If there is a parallel dimension to our world, do UK fans wear red and UL fans blue? Where does the plot device from "Source Code" fit in?
Now my head hurts. Thanks a lot, Coach Cal.
September, 29, 2011
9/29/11
9:00
AM ET
I love Kentucky fans. Seriously, I do! Sure, they write angry blog comments. Sure, they spam my inbox with assertions of "bias." Sure, they have a tendency to perceive imperceptible slights; even a piece that
doesn't
mention Kentucky can draw UK fans angry about the omission. But you take the good with the bad, you know? UK fans are rowdy, son. They get after it. They may not always be the most friendly folks on the Internet, but you could never question their utterly deranged dedication -- heck, downright obsession -- with their Wildcats. There's something weirdly admirable about that.
Which is a nice little way of saying this: Kentucky fans are insane. The latest example, as if you needed one (and you didn't), is right here:
If you click play, you'll be treated to a vision of hundreds of Kentucky fans sprinting to secure a place in line for tickets for Kentucky's Oct. 14 Big Blue Madness event. They line up across the street like distance sprinters before a one-mile meet. They bumrush for the tiniest advantage in the queue. They trip over each other and fall on the curb -- or at least one guy does. I'm pretty sure there's a dude in a wheelchair. It might be one of those
seated power scooters
. I can't really tell.
Either way, it's important to keep in mind what the bumrush is actually about: Midnight Madness tickets. Midnight. Madness. Tickets. Kentucky fans want good seats to Big Blue Madness so bad they're willing to line up across a street and sprint for a place in line,
where they'll spend the next two days camped out in tents
. As of 4 p.m. Wednesday,
there were about 400 such tents
packed around the Joe Craft Center and Memorial Coliseum on Kentucky's campus. There are surely more by now.
This is nothing new, of course;
many UK fans went through a similar process for tickets last year
, and it was just as crazy then. But it remains mind-boggling. We're still more than a month away from real, actual college basketball. We're still two weeks away from the first practice of the season. And Kentucky fans are already in tents. That, my friends, is what college sports fandom is all about. Like I said: You take the good with the bad.
Anyway, word to Big Blue Nation. You guys are the most dedicated, and most insane, fan base in the country. It's impossible to watch a video of you sprinting to camp out for tickets to a glorified scrimmage and reach any other conclusion.
I have but one request: Be nicer to my inbox, OK? Maybe take it easy on the caps lock? No? Sigh. It was worth a shot.
(Hat tip: The Dagger, Kentucky Sports Radio)
September, 30, 2010
9/30/10
10:25
AM ET
There are a lot of sports franchises in a lot of places in the world, so this statement doesn't come lightly: Few fan bases anywhere support their teams as well as Kentucky's. Minus the political overtones and occasional deluge of riotous violence, Kentucky basketball fans are insane in the way South American soccer fans are insane, which makes them entirely admirable. And, yes, sometimes a little bit annoying. (For example, the Kentucky fan who has sent in the same mailbag question -- "Why do you hate Kentucky and love everyone else?" -- 20 times, reworded slightly each time. You know who you are, dude.)
Anyway, the latest example, as if we needed it,
is this report from the Lexington Herald-Leader
. Big Blue Madness tickets are being distributed Saturday morning on Kentucky's campus. Anticipating demand, school officials
asked Kentucky fans not to camp for tickets until Wednesday morning
. Kentucky fans complied. Which means there are thousands of people sitting in tents in Lexington, Ky., in their second day of a four-day wait for
tickets to a practice
. See? Insane.
But, hey, at least the weather
should be nice
. Less insane that way, perhaps.
According to the Herald-Leader, Kentucky fans aren't just waiting in line; they're actively protesting on behalf of Enes Kanter's eligibility. "
Free Enes" T-shirts
and signs have overtaken the landscape. Supportive? Sure. Useless? Definitely. But you can't ask the folks waiting for practice tickets in tents to be all that rational about signage. Nor, um, would you want to.
(
Update
: No wonder Kentucky fans want to "Free Enes" Kanter so badly:
He brings them McDonald's to start the day
.)