College Basketball Nation:

Big Ten Buzz
July, 29, 2010
7/29/10
12:52
PM ET
For the next month or so, our friends at The Mag are previewing one high-profile school per day for their Summer Buzz series. For the sake of all that is synergistic, yours truly will be attempting the same, complementing each comprehensive Insider preview with some adjusted efficiency fun. Today's subject: Purdue. Up next? Butler.
It's the existential basketball question: Can you win a title with stars alone? Or does it require more?
Thanks to Dwyane Wade, LeBron James, and some other dude, most NBA fans have been asking themselves that question all summer. The consensus answer, long codified in the NBA, is yes: If your stars are
that
good, it doesn't matter who else fills in.
College basketball isn't quite the same game, of course, and the Purdue trio isn't exactly LeBron-Wade-Bosh, but it's fair to ask a similar question of the 2010-11
Purdue Boilermakers
. Will a three-headed monster of
Robbie Hummel
,
E'Twaun Moore
, and
JaJuan Johnson
be enough to win an NCAA title?
It's also fair to answer with a resounding yes.
Which is not to say the Boilermakers
will
win the title. Merely that they can. (It's far too early for such bold proclamations. I'm a wimp.) Why? Because Hummel, Moore and Johnson are the rarest of college basketball trios -- a group of seniors with four years of collective experiences, accomplishments and disappointments alike. It's hard to quantify, but that sort of connectedness rarely happens for college basketball teams anymore, and it counts as a major plus. It's like going to college and playing in an open gym with your high school friends against a random pickup team. Even if you're less talented, you have an innate advantage. (You never want to play against that team in open gym. It's the worst.)
Purdue's three stars aren't likely to be the less talented team too often this season. Hummel is a bonafide do-everything wing, Moore is a silky perimeter threat, and Johnson is a consistently underrated presence on both ends of the floor. Together, they subsume a huge percentage of Purdue's offensive possessions, and Purdue coach Matt Painter wouldn't have it any other way.
That's not to say Purdue won't have to make some adjustments from last season's successful-until-the-Hummel-injury campaign. The main challenge for Purdue will be in replacing senior guard
Chris Kramer
, arguably the best perimeter defender in the country last season. Kramer's defensive contributions -- harassing every Purdue opponent's best player with all-out man defense for 40 minutes and forcing steals at a league-leading rate -- are a big part of why Purdue finished No. 3 overall in adjusted defensive efficiency last season. When Hummel was injured, the Boilermakers' offensive efficiency plummeted. (Remember that Minnesota game? Blech.) It's indicative of just how good Kramer was that the defense didn't face a similar fate.
But weirdly enough, replacing Kramer on defense might be the easiest part of the transition. Sophomore guard
Lewis Jackson
, who will step into Kramer's shoes, has the chops to approximate some of his former teammate's defensive ability. Painter will also look for
Kelsey Barlow
, freshman Terone Johnson, and 6-foot-8 sophomore
Patrick Bade
to fill Kramer's crater-sized shoes.
It's on offense that Kramer made his most underrated plays: Believe it or not, Kramer took the highest percentage of shots (62.4 percent) of any Purdue player in 2009-10, and his effective field goal percentage (58.5 percent) made him one of the more efficient scorers on the team. Jackson's eFG percentage in 2009-10 was, by contrast, 35.0 percent. It remains to be seen whether any of Purdue's newcomers or sophomores can do much better.
Still, there are reasons to be bullish about the Boilermakers, and they're not hard to find. Hummel, Moore, and Johnson are this team's core. They take the majority of its possessions -- that figure should increase in 2010-11 -- make the majority of the big plays, and they're as experienced as any group in the country. There's no reason, save maybe for Kramer's absence, to expect anything different in 2010-11.
Can three stars win you a national championship? Sure. Can they win Purdue one? We're about to find out.
July, 28, 2010
7/28/10
1:27
PM ET
For the next month or so, our friends at The Mag are previewing one high-profile school per day for their Summer Buzz series. For the sake of all that is synergistic, yours truly will be attempting the same, complementing each comprehensive Insider preview with some adjusted efficiency fun. Today's subject: Illinois. Up next? Purdue.
What happened to the Illinois defense?
For all the ups and downs of Bruce Weber's tenure at Illinois, there has always been one thing the Illini do well: defend. Weber's teams aren't hard to figure out, but they've always been consistent. They play tenacious man-to-man defense out to 30 feet. They lock down perimeter threats and hedge ball screens before rotating, recovering and forcing the offense to start all over again. They don't give you anything easy.
[+] Enlarge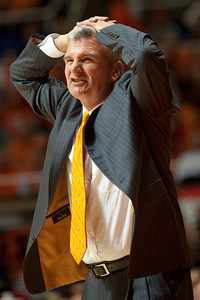 AP Photo/Robert K. O'DaniellBruce Weber's defense last season wasn't what it has been in recent years.
There's no junk involved, and very little zone. Weber's teams are defensively simple. They're also simply ruthless.
To wit, here are the defensive efficiency numbers of Weber's teams since his first season in Champaign (calculated as opposition's points per 100 possessions;
tempo-free numbers courtesy of Ken Pomeroy
):
2003-04: 92.1. Rank: 35. Record: 26-7.
2004-05: 87.4. Rank: 11. Record: 37-2.
2005-06: 90.5. Rank: 21. Record: 26-11.
2006-07: 84.7. Rank: 3. Record: 23-12.
2007-08: 89.9. Rank: 21. Record: 16-19.
2008-09: 86.5. Rank: 4. Record: 24-10.
Then, in 2009-10, something funky happened:
2009-10: 92.7. Rank: 49. Record: 21-15.
The Illini went from the fourth-ranked defense in 2008-09 to the 49th, in the process posting Weber's worst defensive coaching season in his seven-year Illinois career.
This can't be blamed on a dearth of talent. In the past, Weber's teams haven't needed talent to defend; those 16-19 Illini from 2007-08 may have been horrifically inept with the ball in their hands, not to mention one of the least athletic teams in the Big Ten, but they still held opponents to fewer points per possession than last year's squad.
"Demetri [McCamey] went to the Deron Williams Skills Academy and the LBJ Skills camp and he heard the same thing I told him all last season: you need to start guarding people," says Weber.
Illinois' perimeter defense was perhaps its weakest component last year -- the Illini didn't turn anyone over, and opposing teams scored 33.3 percent of their baskets against Illinois from beyond the arc. Some of that is surely McCamey's fault. As one of Illinois' veterans and a supposed team leader, McCamey had his fair share of disagreements with Weber throughout the season, and perhaps a lack of effort on the defensive end was one of the causes.
It also didn't help that Weber had to rely on two talented but inexperienced freshmen --
Brandon Paul
and
D.J. Richardson
-- at backcourt positions for much of last season. Both players can score, but neither was a particularly adept defender; if you looked for it, you could see that confused "But I was helping over
here
!" look on walks back to timeouts pretty much every game. A year later, both players should be much better.
There is more talent on the way, too. Weber has long been criticized by some Illinois fans as an X's and O's guy who can't recruit, one who could coach up a group of second-tier players but couldn't land the talented in-state recruits Illinois churns up each and every year. No more. Paul and Richardson were big first steps. The
coup de grace
comes in the form of Jereme Richmond,
the No. 4 small forward in the class of 2010
. Richmond is known as a polished scorer who needs to add strength, but his length and athleticism should make an immediate impact on the defensive side of the ball.
Same goes for Meyers Leonard, a 7-foot center
ranked No. 4 at his position in 2010
, whose name sounds like a big four accounting firm. (That's not just me, right?) Leonard will be the strongest player on his team, and his sheer size should help bolster Illinois' interior and defensive rebounding.
What it all adds up to is a talented, experienced Illinois team adding a potentially elite scorer and some much needed interior girth. So, yeah, Illinois should be better at putting points on the board in 2010-11. That's always a bonus.
But where the Illini's season will really be made -- or broken -- is whether they can correct last year's ugly team defense. That answer will come down to this: Were the 2009-10 Illini a statistical outlier? Or simply a group that isn't all that good at playing defense, no matter how good their coach might be at teaching it?
If it's the latter, Illinois will be pretty good, but that's it. If it's the former, then Michigan State and Purdue won't be the only legitimate contenders for the Big Ten title. We'll see.
July, 27, 2010
7/27/10
12:09
PM ET
For the next month or so, our friends at The Mag are previewing one high-profile school per day for their Summer Buzz series. For the sake of all that is synergistic, yours truly will be attempting the same, complementing each comprehensive Insider preview with some adjusted efficiency fun. Today's subject: Ohio State

. Up next? Illinois.
It's still too early to make 2010-11 season predictions. Instead, allow me to make a prediction about the 2010-11 preview season: In every single season preview written about the
Ohio State Buckeyes
, you are going to hear one name over and over:
Evan Turner
.
[+] Enlarge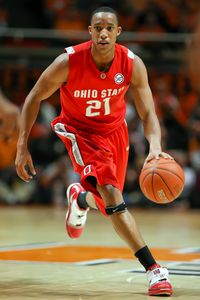 Robin Alam/Icon SMIThad Matta helped Evan Turner's career at Ohio State.
Why wouldn't you? Turner
was
the Buckeyes in 2010-11. Watching Ohio State play was to watch Turner dominate in the way most talented sixth-graders dominate: consistently and comprehensively. Turner was on the ball at all times. He played point guard, even though he's a 6-foot-7 wing player, mostly because it seemed like the easiest way to get him the ball. Ohio State head coach Thad Matta coached Turner and the Buckeyes the
exact way you or I would coach the aforementioned talented sixth-grader
: "OK, guys, let's keep it simple. Evan, go score. On three, win!"
And why not? It worked. Turner was the consensus national player of the year, Ohio State won a share of the Big Ten title, and the Buckeyes were a No. 2 seed in the NCAA tournament before falling short in the Sweet Sixteen.
So, naturally, the impulse when previewing the Buckeyes is to wonder: What happens now? Who scores all those points? (Turner scored 20.4 points per game.) Who handles the ball? (Turner had the
third highest possession percentage in the NCAA
.) Who rebounds so well from the guard position? (Turner grabbed 9.2 rebounds per game; his
defensive rebounding rate ranked him No. 65 in the country
.) Who finds sharpshooting teammates for wide-open looks? (Turner's assist rate of 37.4 was
the eighth-highest in the country
.)
Who replaces Evan Turner?
The answer, of course, is nobody. But if the Buckeyes can recalibrate their lineup well enough -- and get big contributions from much-hyped incoming forward Jared Sullinger -- that answer could very well be: everybody.
After seeing Sullinger play at the Nike Skills Camp earlier this summer,
I wrote that it was easy to see the Buckeyes completely changing their style in 2010-11
. That means a menagerie of players have to chip away at what Turner did all by his lonesome.
The point guard spot is still up for grabs, and Matta is hesitant to turn over the reins to freshman recruit Aaron Craft. So why not slide guard
William Buford
and
Jon Diebler
into combo-guard roles and have both split some semblance of point responsibilities in the wake of Turner's absence? This could work: Buford turned the ball over on only 13 percent of his possessions in 2009-10, while Diebler, who gave it away at a rate of 11.3 percent, was even better. The addition of Deshaun Thomas,
the No. 3 small forward in the class of 2010
, means Buford and Diebler can afford to play even further from the basket.
Likewise, with Sullinger and Thomas entering the fold -- joining veteran big man
Dallas Lauderdale
under the hoop -- the Buckeyes shouldn't need a do-everything guard to clean up on the defensive glass. Their bigs should be able to handle that responsibility in more conventional fashion: block-out, rebound, outlet, run.
Offensively, Ohio State should be more balanced. Post looks for Sullinger and Lauderdale should lead to open shots for Buford, Diebler and senior guard
David Lighty
. No one player needs to dominate the ball, and no one player needs to take a majority of shots. The Buckeyes' look and feel should be totally different -- less guard-heavy, less reliant on a handful of similar talents, more plodding, bigger, stronger, deeper.
It will be very, very difficult to replace the impact Evan Turner had on the Ohio State Buckeyes in 2009-10. It would be impossible to do so with one player. But if the Buckeyes can mix the unconventional (the Buford-Diebler hybrid point guard setup) with the conventional (a greater focus on interior play, and better rebounding in the post) they might find a way to replace Turner's 34.7 percent possession rate by committee. In fact, it's the only way.
July, 26, 2010
7/26/10
1:45
PM ET
For the next month or so, our friends at The Mag are previewing one high-profile school per day for their Summer Buzz series. For the sake of all that is synergistic, yours truly will be attempting the same, complementing each comprehensive Insider preview with some adjusted efficiency fun. Today's subject: Michigan State

. Up next? Ohio State.
How unlikely was the Spartans' 2009-10 NCAA tournament run? The Spartans were the only team in the Final Four ranked outside the top 20 in overall adjusted efficiency. Tom Izzo's team wasn't dominant on either end of the floor, but they were a Tom Izzo team through and through. They rebounded well on both ends of the floor, they guarded well enough to force opponents' misses, they kept their opposition off the free throw line, and they found ways to win close games. And somehow, with
Kalin Lucas
stuck on the sideline thanks to injury, the Spartans made it back to the precipice of another NCAA title. It was, all things considered, a remarkable run.
[+] Enlarge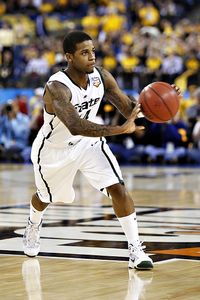 Bob Donnan/US PresswireKorie Lucious and the Spartans must work on reducing turnovers.
2010-11 is a different story. Lucas will be back from injury, as will pretty much everyone on the team not named
Raymar Morgan
. The Spartans will add top talent in the form of a No. 10-ranked recruiting class. This year, a Final Four wouldn't just be a nice bonus. It's a legitimate expectation.
Whether or not the Spartans can replicate their late-season success in 2010-11 might come down to a stat that has haunted Michigan State teams in the past five years: turnovers.
Last year, the Spartans gave the ball away far too frequently. Michigan State gave the ball away on 21.3 percent of their possessions, good enough to rank them in the bottom half of all Division I teams in turnover percentage. On the defensive side of the ball, Michigan State was even worse; MSU opponents turned the ball over on 18.7 percent of their possessions in 2009-10.
This has become something of a pattern for recent Michigan State teams, even good ones. 2005 was the last year the Spartans had a turnover rate that ranked them in the top 100 of all Division I teams. Since then, Michigan State has been plagued by the turnover bug -- or, on defense, the lack thereof -- in varying forms each year.
With Lucas returning in 2010-11, the Spartans should improve. Lucas' turnover rate in 2009-10 was 18.4 percent. After his injury, Lucas was replaced by backup point guard
Korie Lucious
, who gave the ball away 27.7 percent of the time. Lucious was a capable backup in a variety of ways, but his proclivity for turning the ball over played right into the Spartans' main weakness.
Lucious will have to improve individually if he wants to split time with Lucas, and the Spartans as a whole will have to get better, lest an incredibly promising season be derailed by the one deficiency that seems to come back and haunt Izzo's teams each and every year. The 2010-11 Spartans are loaded -- they have veteran experience, returning talent and should be able to make up for the loss of Raymar Morgan (an underrated player in his own right, especially on the defensive end) without missing a beat. The makings of a great team are all in place. Now they just have to cut down on those turnovers.