College Basketball Nation:

Big Ten tourney 2014
March, 15, 2014
Mar 15
9:30
PM ET
INDIANAPOLIS -- Tom Izzo likes championships. Of course, he likes winning them most of all, but he likes to watch them, too.
The environment, the excitement, the energy, it all gets the Michigan State coach's blood going.
Izzo thought it might be good for his team, a team he thought had the promise of a champion itself, to experience that championship atmosphere.
So back in December, when the Spartans' football team faced Ohio State in the Big Ten title game, he packed up his team for a road trip, bringing it to Indianapolis to watch the game.
[+] Enlarge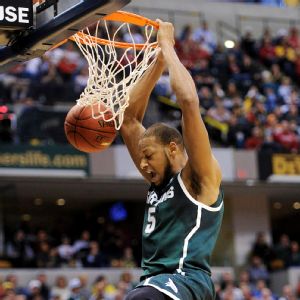 USA TODAY SportsAdreian Payne and the Spartans, now healthy, will face in-state rival Michigan for the Big Ten title.
Michigan State won and Izzo was ready to leave, figuring they wouldn't get back until the wee hours of the morning, but his players stopped him.
"They said, 'No, Coach, we have to stay for the ceremony,'" Izzo said. "So we started the season learning how to win a championship from our football buddies and now we have a chance ourselves."
The Spartans,
who beat Wisconsin 83-75
to reach the Big Ten tournament final, get a shot at their own ceremony Sunday, when they face Michigan. Strange as it might seem, it is the first time that the two Michigan schools have met in a Big Ten tourney game -- not just a final, but any game.
The Wolverines,
after holding off Ohio State
in their own semifinal, will be playing for a chance at the fourth No. 1 seed. It's a standing that seems to be getting passed around like a toxic hot potato.
The Spartans will be playing to prove that they finally are the team everyone thought they could be.
Mix in an in-state rivalry and this should be good.
"It's Michigan,"
Adreian Payne
said by way of explanation.
Neither team will be a popular draw when the bracket is announced on Sunday night, but the Spartans could be the more frightening choice.
Michigan snuck by Illinois and survived the Buckeyes.
Michigan State blew the doors off of Northwestern and pulverized Wisconsin in the first half, leading by 17.
This is what the Spartans were supposed to look like all season, before Izzo started issuing Band-Aids with Gatorade, before injuries hijacked what might have been.
He called this the "most difficult year of his career," but it might wind up being his most enjoyable. He's always liked this team, enjoys the players and the lack of drama. He just has not been able to enjoy coaching them.
And now, he might finally get his chance.
The Michigan State team that attacked Wisconsin was downright scary, taking it to the Badgers in every which way -- taking it to a Wisconsin team, we might add, that could have played for a 1-seed itself with a win against the Spartans.
Izzo labeled that half the best his team has played this season, but his players thought they could get even better.
"I think we're just scratching the surface," said Payne, who scored 18 points against the Badgers.
There's not a lot of time to work out the kinks. Next week begins the most unforgiving tournament in sports, and so this trip to the Big Ten tournament has had value because the Spartans have simply been able to play games together.
Of course that's not why they came here exactly.
These Spartans started the season watching their football team enjoy a championship ceremony in Indianapolis.
Now they want one of their own.
March, 15, 2014
Mar 15
6:15
PM ET
INDIANAPOLIS – The guys in suits on the bench, the coaches who are in charge of telling
Caris LeVert
what he's supposed to do, were practically making a windstorm on the sidelines they were waving their arms so hard, cajoling Levert to go back on defense.
LeVert ignored them.
He won't be running gassers for his insubordination.
He might, in fact, get the game ball.
LeVert's act of defiance, opting to go up and get an offensive rebound instead of sprinting back on defense, allowed Michigan to preserve a
72-69 victory
over Ohio State and send the Wolverines to the Big Ten tournament final.
"This one time he gets the pass," head coach John Beilein said. "He took a chance, but that's what players do. That's why he's had the successful year he's had, because he knows when to take a risk and be a player."
[+] Enlarge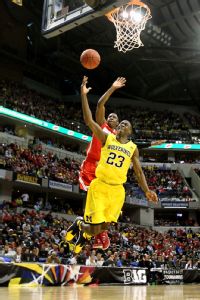 Andy Lyons/Getty ImagesCaris LeVert scored 17 points and had eight rebounds, including a huge one that preserved Michigan's Big Ten tournament victory over Ohio State.
That it was LeVert getting the rebound – not to mention scoring 17 points –- made it all a little sweeter for Michigan and a whole lot more sour for Ohio State.
These two schools, you may have heard, don't like each other much. And LeVert is a Columbus kid; he played on a state championship team at Pickerington Central High School.
And never got so much as a phone call from the Buckeyes.
That would sting a little bit no matter where LeVert attended school right about now. He's arguably one of the biggest surprises/breakout stars of this season. He averages 13.4 points, which might qualify him for criminally overlooked status.
That he went to Michigan and is playing so well is pouring a shaker of Morton's on the gaping wound.
Don't think LeVert doesn't know it, either.
"It means a lot to me," LeVert said. "To play like this on a big stage like the Big Ten tournament and to do it against Ohio State."
Yes, you could call that a dagger shot.
Of course, the Wolverines shot a lot of daggers at the Buckeyes in the semifinal – 12 3-pointers, in particular – but Ohio State kept taking the body blows. The Buckeyes trailed by as many as 16 points in the first half, got down again in the second and kept coming back.
If there is a silver lining in a loss – and finding one in a loss to Michigan isn't easy – the Buckeyes ought to leave here feeling better about themselves and their offense. They rallied from down 18 to beat Nebraska and matched Michigan almost bucket for bucket.
Even with LeVert's big rebound, Ohio State had a chance to tie it at the buzzer.
But
Aaron Craft
, who idled on the bench for much of the second half with four fouls, fumbled the ball away as he tried to go up for the shot.
Guess who was there when Craft went up?
Yep, Caris LeVert.
It was that kind of revenge-exacting day for the kid.
"I think he just lost the ball, actually," LeVert said. "I don't think I got a hand on it. He just lost the ball and time ran out."
In Thad Matta's defense, LeVert wasn't exactly boxing up recruiting mail from across the country. Ohio offered him a scholarship following his junior year, and because nobody else seemed terribly interested, he took it. Then Ohio coach John Groce left for Illinois and LeVert decided to re-evaluate things.
By then, he'd done a little more. The state title came in his senior year, as did a bunch of honors, and still not a single jingle from Ohio State.
So when Michigan offered, he jumped.
"I really don't know why I wasn't recruited more," he said. "Maybe I was a little undersized."
After LeVert's first college season, it didn't seem like anyone missed much. He averaged just 2.3 points per game.
But this season, when the Wolverines went searching for offense, there came LeVert.
He's second to
Nik Stauskas
in scoring on the team and a big answer to the riddle of Michigan's surprising success this season. The Wolverines lost Tim Hardaway Jr. and Trey Burke after last year's run to the NCAA championship game and then lost
Mitch McGary
early in the season to a back injury.
That's three starters, which usually wouldn't spell good things for a young team. Yet here are the Wolverines, 25-7, regular-season Big Ten champs and now gunning for the tournament title.
Beilein talked after the game about his players' genuine affection for one another and how that's allowed Michigan to stick together despite the curveballs.
"They have each other's backs," he said. "They trust each other."
And he trusts them.
Trusts them so much, in fact, that he doesn't even mind a little insubordination.
Especially when it works.
March, 14, 2014
Mar 14
7:13
PM ET
INDIANAPOLIS -- Jimmy Staley already has demanded a recount. As the campaign manager for #Deo4President, Staley is convinced his candidate was robbed.
Amedeo Della Valle
, after all, only had two platforms in his hastily convened campaign for Ohio State student government president:
That he would officially declare snow days via Twitter.

That he would teach people how to spell his name properly, via a video tutorial where he went letter by letter with single sheets of paper to spell out all 16 letters.
[+] Enlarge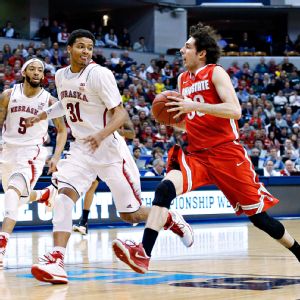 Brian Spurlock/USA TODAY SportsAmedeo Della Valle's defense and clutch free throws helped Ohio State rally to beat Nebraska.
"The whole video was about spelling his name right," said Staley, whose day job is Ohio State basketball student manager, "and the official results come back and his name is spelled wrong? C'mon."
Added fellow campaign manager Kyle Davis: "I think they counted people who were dead or something."
Chances are, if Staley gets his wish for the recount, Della Valle would now win in a landslide.
The Alba, Italy, native, previously best known for his moppy hair, scored 12 points, pulled down six rebounds, blocked three shots and was, in Thad Matta's estimation, "the difference in the game," as Ohio State rallied from 18 down to
beat Nebraska in the quarterfinals
of the Big Ten tournament.
"I definitely would win now," Della Valle agreed.
Truth is, Della Valle is a reluctant politician. OK, he's not a politician at all. That's all the byproduct of a late-night inspiration from an old episode of "The West Wing," a video concocted on the road in lieu of a few beers, and an Italian goofball's willingness to put himself in a video wearing a variety of ridiculous outfits.
But more on that later because for these purposes, we first must discuss Della Valle's other job -- being a basketball player. Prior to the Nebraska game, Della Valle, who came to Columbus by way of Findlay Prep in Nevada, averaged just 12 minutes and 4.1 points this season but earned the 21 he played against Nebraska with hustle plays, a big 3 and defense, including a critical snuff of a
David Rivers
' layup that set up the last push in Ohio State's rally.
The idea that Della Valle's defense could save the day would have been laughable two years ago. When he came to Columbus, he was your typical European player, sweet on offense, not so much on D. But two years in the gym and early morning workouts paid off to the point that Matta even used the 6-foot-5, 195-pounder (up from 170) in the post for part of the game.
"That was a lot of hard work, a lot of hard work," Della Valle said. "And it paid off. I was just thinking, 'Finally, finally.'"
He said that in the locker room after leaving the more formal press conference setting. There, under the bright lights and microphones, Della Valle had been asked about his ability to hit 4 of 4 free throws in the final 12 seconds after clanking two badly only minutes earlier.
"Yeah, I think I didn't release the ball well at all on my first two free throws," he said. "And to be honest, I don't really like the ball. I hate the ball."
The ball here, it turns out is a Spalding, not the Nike version the Buckeyes practice with and Della Valle said it felt smaller and "weird" in his hands.
Of course, such honesty could very well doom his political future if Staley can resurrect it.
Not that there's much to resurrect. Della Valle's dive into American politics lasted just a few days, begun when Staley, inspired by a 3 a.m. rerun of "The West Wing" decided one of his players ought to run for student government president. Obvious choice
Aaron Craft
is a senior and no longer an option, so Staley went with option two, Della Valle, a popular kid on campus who, he said, "loves Ohio State."
There was some initial concern about his eligibility -- "Could an Italian really be the Ohio State student government president?" Davis asked -- but Staley and Davis figured, why not roll the dice?
Della Valle agreed and one night on the road at Indiana, instead of going out for beers, Staley and Davis made a video. They'd seen the other candidates' pitches filled with big promises. One promised to fight the administration's decision to eliminate the tradition of jumping in Mirror Lake prior to the Michigan game; another vowed to do something about the price of textbooks.
"Student government has no real power,'' Staley said. "So we always find out about snow days a few hours ahead of time. Amedeo was going to have an official Amedeo snow day.''
Splicing together the theme song from "Rocky" (Italian Stallion, get it?), Falco's "Rock Me Amadeus," game highlights and random pictures of Della Valle in everything from a whirlpool to a banana suit, Staley and Davis submitted a video to nominate Della Valle as a write-in candidate.
He finished fifth overall, with 479 votes but the election was the best voter turnout since 1972, when current Ohio governor John Kasich won.
Staley and Davis call that the Della Valle effect.
And hey, there's always next year.
And more, there's always Saturday, when the Buckeyes play hated rival Michigan for a shot at the Big Ten Tournament title game.
If Della Valle plays like he did against Nebraska, they might as well call off the election next year and crown him king.
March, 14, 2014
Mar 14
4:05
PM ET
INDIANAPOLIS -- Football is supposed to be the game of inches, where the nose of a football can determine a winner or a loser.
Basketball, it turns out, can be just as exactingly sweet or cruel, depending on your rooting interest.
Jordan Morgan
laid in a shot on a feed from
Nik Stauskas
, the ball hanging on the rim for a split second before falling in.
Tracy Abrams
pulled up for a wide-open jumper, the ball kissing the front of the rim and bouncing off.
Michigan
64
, its chance at a Big Ten tournament title and maybe a No. 1 seed in the NCAA tournament still alive.
Illinois
63
, its dreams for a Cinderella run here cut short, its hopes now focused on an NIT bid to extend the season.
[+] Enlarge
Brian Spurlock/USA TODAY SportsSenior Jordan Morgan's game winner sent Michigan to the Big Ten semifinals.
"We got some good bounces around the rim," John Beilein said, using a throwaway quote straight out of the coaches' cliché handbook that actually made sense here.
Because this game, as much as it was about finesse, execution and some seriously good coaching from both benches, wound up coming down to luck and guessing, or at least educated guessing.
The Wolverines got luckier and Beilein guessed better.
"There's a lot of things that you can second-guess after the fact," John Groce said. "You can go back, 'I wish I would have done this' or 'I wish I would have done that.' But decisions that are made throughout the course of the game are discussed and they're educated decisions. Most of the times those work, and to be honest with you, occasionally they don't."
Ten days ago, the Illini and Wolverines met in Champaign, Ill. Michigan drained 16 3-pointers and won in a rout. So naturally, Groce decided, as the Wolverines threatened to pull away, to go with a zone.
Say what?
Of course it worked, taking the Wolverines out of their rhythm enough to get the Illini, once down by as many as 13 in the second half, back in the game.
But when the game hit the critical mass point, with the Illini up one and just 19 ticks left, Groce went back to his comfort zone and called man to man.
"Hindsight is always 20-20 on decisions like that," Groce said. "Now that I know that Morgan scored that basket, as it looked like it was going to roll off the rim, I would have liked to have gone zone."
Beilein, MacGyver with a whiteboard, able to X-and-O his way out of any problem, countered with a play that naturally could work against either defense.
He put the ball in Stauskas' hands, and when the Big Ten Player of the Year rose up just inside the free throw line, he attracted two defenders to him. Instead of shooting, which you might say is Stauskas' calling card, he dropped it down to Morgan.
"J-Mo rolled down the lane and he was wide open," Stauskas said.
The pass still caught Morgan off guard. He said Stauskas told him coming out of the timeout he was going to shoot it regardless, so when the ball started coming his way, he was a little bit unprepared.
In the moment, at least, he was unprepared. In reality, Morgan was wildly ready. A few years ago, Beilein swiped a drill he saw another NCAA tournament team using. Essentially he has his bigs run to the rim with their heads turned, assistant coaches hitting them with bags as they work.
"It's a lot of action, a screen-and-roll play, but you don't know what's happening," Beilein said. "You've got to be able to catch it here, catch it there, catch it with balance and put it in. At least 2,000 times in five years, Jordan Morgan has run that same drill. ... He said he wanted to add a little drama to the game, so he decided to put it up on the rim."
A little drama, and maybe just a kiss of luck, too.
March, 13, 2014
Mar 13
4:32
PM ET
INDIANAPOLIS -- The question wasn't terribly difficult or even unique. Odds are Tom Crean has heard it a few hundred times in his coaching career.
[+] Enlarge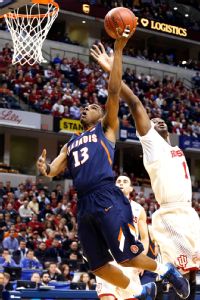 Brian Spurlock/USA TODAY SportsTracy Abrams was one of three Illinois players in double figures against Indiana.
But when asked, minutes after his Indiana team lost to Illinois
64-54 in the first round
of the Big Ten Tournament, what his message was for his team, Crean paused. He paused for a really long time, started to talk and then stopped himself, looked up to the ceiling as if trying to divine an answer from the tiles and finally answered.
"We have to match the toughness and competitive spirit every time we play," he said.
Crean went on for a bit longer on that same theme, until finally he came around to the real answer and the reason for that long pause.
"I try to deliver that message differently," he said, "because I've given it a few times."
Which, of course, is exactly the problem with the Hoosiers. The message isn't getting through now and hasn't gotten through all season. The same things that ailed them in November are still points of emphasis now -- smart defense, commitment for an entire game, grit and determination.
It's all added up to an abysmal 17-15 record that, as pedestrian as that reads, is actually not that good. It includes the helter-skelter results that mirror this helter-skelter season -- wins against Iowa and Ohio State, losses to Penn State and Purdue.
Indiana is young, relying almost exclusively on freshmen and sophomores (
Will Sheehey
being the exception), but just like folks down the highway in Kentucky are tired of hearing that refrain, the message is falling on deaf ears in Bloomington too.
The Hoosiers are headed to the NIT -- Crean made it perfectly clear after the loss to the Illini that he believes and wants his team in the postseason -- except no one wants to go to the NIT.
In a lot of ways, it's not entirely this particular team's fault. The aggravation and impatience that is suddenly voicing its displeasure around the Hoosier State (a Twitter pulse check postgame found serious elevated blood pressure) is almost a lingering hangover from last year's Sweet 16 exodus.
So much was expected from that team a year ago, promised even. After the long road back from Kelvin Sampson Exile, Indiana was back -- preseason No. 1, Final Four aspirations, a national program enjoying its place in the sun once again -- but it never materialized, ending a weekend before the Final Four in Atlanta.
Cody Zeller and Victor Oladipo left, and so some reorganization was to be expected. But with a good freshman class coming in and Sheehey and
Yogi Ferrell
back, this was supposed to be the time that the Hoosiers do what the Hoosiers always did. They would regroup because the top programs never had to be rebuilt over and over again.
And now this, back to the dregs of the NIT, back to asking fans to be patient through some growing pains after there were so many rebirthing pains before then.
"We have the talent," Crean said. "We just have to get to growing up and continue to learn."
Except that's a tough message for Crean to deliver, almost as difficult as trying to drive the message home to his team.