College Basketball Nation:

Billy Baron
March, 6, 2014
3/06/14
11:20
PM ET
It's March. Championship Week begins Friday, and we're less than two weeks away from the Big Dance.
We'll probably see a multitude of thrillers, overtime games and clutch performances in the coming weeks. At least, we hope we will.
With the game on the line, these players should have the ball in their hands.
Here's a list of America's most clutch performers:
Sean Kilpatrick: Cincinnati's defense has been critical in the Bearcats' rise to the top of the American Athletic Conference. But Kilpatrick has been the offensive catalyst for a team that's struggled from the field this season. He's arguably the top shooting guard in America, and his 34-point effort in Thursday's 97-84 win over Memphis was his 17th performance this season with 20 points or more.
Shabazz Napier: This list wouldn't be valid without Napier. The senior guard has been clutch throughout his career at UConn. He's always confident with the ball in his hands during big games. The legend continued when he hit the game-winning shot over Florida in December. He's averaging 18.1 PPG, 5.3 APG and 1.9 SPG, along with shooting 43 percent from beyond the arc. He's always ready to show up down the stretch.
Russ Smith: He's still "Russdiculous." Sometimes Smith can lose control and force shots, but he rarely shrinks under the spotlight. The senior star just keeps rolling, even on his worst nights. Against Cincy on Feb. 22, he'd missed seven of nine field goals when he caught the rock in the final seconds. He hit the shot, beat the buzzer and won the game for Louisville. The shot alone was impressive, but Smith's ability to move on to the next play and help his team is rare.
Tyler Ennis: Yep, Syracuse is struggling. But prior to this 1-4 stretch, Ennis was probably the most dependable player in America in the final minutes of a game. Through Feb. 12, he was 8-for-9 from the field and 14-for-14 from the charity stripe with a 6-to-0 assist-to-turnover ratio in the final five minutes of the second half and overtime, according to ESPN Stats & Info. That's a ridiculous stat line that illustrates Ennis' reliability in crucial moments for the Orange this season.
Doug McDermott: Perhaps a list like this has to feature a senior who is on the verge of scoring 3,000 points for his career and earning his third consecutive Associated Press first-team All-America honors (he'll be the first player since Wayman Tisdale and Patrick Ewing in the 1980s to complete that feat). McDermott is also shooting 44 percent from the 3-point line this season and averaging 25.9 PPG.
Traevon Jackson: Wisconsin's veteran guard can't match the accolades that other players on this list boast. But whenever the Badgers are in a tight spot toward the end of a game, Bo Ryan usually turns to Jackson, the son of former Ohio State and NBA standout Jim Jackson. Sure, Jackson has missed a few late, but he's also nailed clutch shots during his time in Madison. He beat Minnesota and Penn State last season with shots in the closing seconds. And his most recent heartbreaker was a last-second dagger that finished Michigan State last month.
T.J. Warren: His blood type? Ice. The 6-foot-8 sophomore plays on a Wolfpack squad that won't crack the NCAA tournament field without an ACC tourney championship. But he has put together some of the season's most magnificent performances. His 41 points (16-for-22) in a 74-67 victory at Pittsburgh Monday probably opened some eyes, but he has scored 30 or more eight times this season.
Billy Baron: There is only one player with a higher offensive rating (125.2) than Doug McDermott, per Ken Pomeroy. That's Baron. But Canisius fans knew that already. Last season, Baron hit a 3-pointer toward the end of regulation to force overtime in a win at Youngstown State in the CIT, capping a comeback from a 45-28 halftime deficit. This season, Baron put together a late barrage during a 40-point night that lifted Canisius to a triple-overtime win versus Siena.
Jermaine Marshall: Arizona State wouldn't be in the NCAA tourney conversation without the Penn State transfer. He hit big shots in overtime during ASU's win over rival Arizona last month. In January, Arizona State beat California in overtime after Marshall's 3-pointer forced the extra period. He hit clutch free throws in a win over Oregon a few days later, too. The senior doesn't have much time left and is playing with a sense of urgency, an attitude that has helped the Sun Devils compete for an at-large bid.
Nik Stauskas: The versatile sophomore has fueled Michigan's run to the Big Ten title. He's averaging 17.3 PPG in a season that could end with All-America and Big Ten Player of the Year honors. His teammates can trust him with the game on the line. In January, two clutch performances stood out. Stauskas helped the Wolverines secure a road win over Minnesota Jan. 2 after Glenn Robinson III missed the second half with an ankle injury. Two weeks later, he knocked down a 3-pointer in the final minutes to help the Wolverines hold on to their lead in a win at Wisconsin.

March, 6, 2014
3/06/14
9:00
AM ET
1. Doug McDermott, Creighton
: Tuesday night wasn't exactly Creighton's best showing. The Bluejays were outplayed for pretty much all 40 minutes at Georgetown, as the Hoyas' seniors -- especially
Markel Starks
-- fought desperately to improve their bubble lot. It was bad on both sides of the floor for Creighton. There were uncharacteristic offensive struggles:
Grant Gibbs
turning the ball over,
Ethan Wragge
going 1-for-6 from 3,
Jahenns Manigat
made a nonfactor through foul trouble, and so on. Worse, the Bluejays reverted to the liability-level defense that held them back in past years: Georgetown shot 65 percent from 2 and scored 1.23 points per trip. A lot of those looks were open.
[+] Enlarge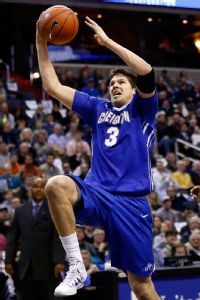 Geoff Burke/USA TODAY SportsHow good has Doug McDermott been? He scored 22 points and had 12 boards against Georgetown and it was considered a bad game.
Two McDermott possessions cemented the off night. The first, in the first half, was a relatively open 3 that missed the rim by a wider distance than maybe any McDermott miss
ever
. The second, in the second half, was a baseline drive in which McDermott -- who was guarded well by
Jabril Trawick
for most of the game -- got the matchup he wanted against
Nate Lubick
, and pivoted past him to the baseline, and then just plum missed a wide-open layin. McDermott finished with 12 rebounds, but just 22 points on 23 shots, and he needed a late batch of last-ditch 3s to get there. It was a rough night for the Arbitrarily Capitalized Doug McDermott Awesomeness Tracker.
And you know what? It doesn't matter. McDermott has had this award sewn up for weeks. We're just going through the motions. When 22 points and 12 rebounds is considered a so-so game -- or, say, when those 22 points make you the first person since Lionel Simmons (1987-88, 1988-89, 1989-90) to score 750 in three straight seasons -- your Wooden Award isn't going to be threatened by a late-season loss to a desperate bubble team.
In any case, here's the mother of all ACMcDAT sirens: Creighton's final home game of the season, the last of McDermott's career, comes Saturday against Providence. McDermott needs 34 points to reach 3,000 for his career.
On Tuesday, a reporter asked his father and coach, Greg McDermott, if he would let his son go for the record if he was close with enough time on the clock.
"If his mother has anything to say about it, probably," McDermott said.
2. Jabari Parker, Duke
: Like McDermott, Parker saw his team lose a road game in the final week of conference play, an 82-72 loss Wednesday at Wake Forest. The Blue Devils allowed 46 points in the second half at Wake, which likewise hints at some of the defensive issues they (like Creighton) have had at various points with this configuration. And like McDermott, Parker still had a pretty solid outing relative to just about any player in the country -- 19 points, 11 rebounds, 7-of-11 shooting. McDermott has been our obvious No. 1 for a while, and remains so this week. Parker is a similarly codified consensus No. 2. Also,
he makes a mean dessert bar
.
3. Russ Smith, Louisville
: The Cardinals unleashed perhaps their best performance of the season Wednesday night at SMU, and got arguably the best of Smith's season, too. Russdiculous' line -- 26 points on 15 shots, 6 rebounds, 5 assists, 2 steals -- was a perfect microcosm of what he's done all season, and what makes him so valuable: efficient scoring, timely distributing, unyielding perimeter defense.
4. Shabazz Napier, Connecticut
: Napier was an early front-runner for the Wooden Award this season before a couple of bad early conference losses knocked him off our radar. UConn has had its blips, but Napier has been steadily great, averaging 17.8 points, 6.0 rebounds, 5.3 assists and 1.9 steals per game as the Huskies' anchor.
5. Sean Kilpatrick (Cincinnati)
: Kilpatrick is having his worst mini-stretch of the season these past two weeks, including a 3-for-14 3-point performance in a close loss to Louisville and Saturday's 2-for-8, seven-turnover struggle in 37 minutes at UConn. But Kilpatrick did still have 28 points in that loss to Louisville -- 28 of his team's 57, no less -- and even when he's not scoring, he's still one of the best guard-defenders in the country.
[+] Enlarge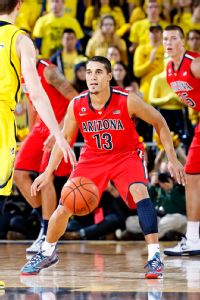 Joe Robbins/Getty ImagesNick Johnson has been a force on both ends of the floor, and a big reason why Arizona's defense is among the nation's best.
6. Nick Johnson, Arizona
: Our ability to track defensive metrics at a glance still lags way behind our ability to track offense, which is why it can be difficult to factor defense into national player of the year and All-American award discussions. But many of the players in this top 10 are here because they excel on both ends of the floor, and Johnson is a key example. Arizona's defense still allows the fewest points per trip of any team in the country, even without Brandon Ashley, and not all of that is due to
Kaleb Tarczewski
and
Aaron Gordon
in the lane. Johnson is a fantastic gap defender in Sean Miller's pack-line hybrid defense, and a major factor in for the post-Ashley Wildcats.
7. Cleanthony Early, Wichita State
: Missouri Valley Conference voters awarded Wichita State point guard
Fred VanVleet
with the league's POY trophy this week, and it's hard to argue with the reasoning. VanVleet has been great. So has guard
Ron Baker
. And
Darius Carter
. And
Tekele Cotton
. When you go 31-0, you tend to get a lot of really great individual performances. We'll still take Early, Wichita State's most-used player by a fair margin and its most important all-around offensive and defensive contributor.
8. Casey Prather, Florida
: It's hard to believe Florida's last loss came all the way back on Dec. 2, but it's true. That game, at UConn, took place when the Gators had, like, six available players, back when Prather was still surprising us with his sudden scoring turn as a senior. Prather's usage has dropped as the Gators have gotten healthy (
Kasey Hill
) and eligible (
Chris Walker
), but his efficiency has held firm, and more than any other Florida player he's the reason why Billy Donovan's team managed to overcome so much personnel drama in the first place. The breadth of his season deserves honorifics.
9. Xavier Thames, San Diego State
: We thought about dropping Thames from the list after a brutal 10-for-50 slump bracketed the Aztecs' losses to Wyoming and New Mexico. But Thames got back on track against Fresno State Saturday and kept it going Wednesday when his 19-point effort keyed a comeback win at UNLV. Like Prather (and not unlike Kilpatrick), his whole-season contributions to an SDSU team without another consistent offensive option are too great, in aggregate, to overlook.
10. Kyle Anderson, UCLA
: "Slo-mo" has numbers that are kind of crazy. He's averaging 14.9 points, 8.6 rebounds and 6.8 assists per game on 49 percent shooting from the field
and
from 3. That is exactly the kind of game the 6-foot-8 Anderson's unique skill set promised when he entered college a year ago. It took him a little bit, but he got there this season. He does it all.
Honorable mentions
:
Andrew Wiggins
(Kansas),
Malcolm Brogdon
(Virginia),
Tyler Ennis
(Syracuse),
Julius Randle
(Kentucky),
Nik Stauskas
(Michigan),
DeAndre Kane
(Iowa State),
Cameron Bairstow
(New Mexico),
T.J. Warren
(NC State),
Bryce Cotton
(Providence),
Billy Baron
(
Rhode Island
Canisius)
August, 15, 2012
8/15/12
10:33
AM ET
1. The Eastern Michigan staff said it is in the dark as of Wednesday morning as to what head coach Rob Murphy was going to do after
a report that he was leaving for a scouting job with the Orlando Magic
. Murphy was the MAC Coach of the Year in his first season with the school, finishing 9-7 and in first place in the MAC West, 14-18 overall. Murphy was strangely enough at the predraft camp in Chicago in June, the only active college coach there without a player. Technically, Murphy was there to watch Syracuse's
Kris Joseph
, whom he recruited when he was an assistant. Still, if Murphy leaves EMU in August for a scouting job it would be quite a slap in the face to the school that gave him a head-coaching job, to his staff members who are currently wondering if they'll have a job, and the players expecting to be coached by this staff in a few weeks.
2. The NCAA had to grant a waiver allowing
Billy Baron
to play immediately at Canisius after doing the same to allow
Trey Zeigler
to play without sitting out at Pitt. The two cases were extremely similar. Zeigler's father, Ernie, was fired at Central Michigan. That was the reason the NCAA allowed Zeigler to transfer without the one-year-in-residence penalty. Baron played for his father, Jim, at Rhode Island. Once Baron was fired, it was clear that Billy wasn't staying at URI. He decided to transfer to Canisius where his father is the head coach. Billy Baron will have two seasons of eligibility remaining. He's the second of the Baron boys to play for their father; Jimmy Baron played for Jim at URI.
3. Incoming freshman Shabazz Muhammad's eligibility questions are yet another reason putting UCLA too high in polls is premature. The Bruins have had injury issues in the offseason. The point guard position is a huge question mark with enigmatic UNC transfer Larry Drew II cast as the savior at the position. The trip to China this month can help develop some sort of cohesion. But putting the Bruins ahead of Arizona, and maybe even Stanford, is still not convincing. UCLA will have to show well in November in Brooklyn, beat Georgetown and push Indiana. Short of that, the Bruins will spend the rest of the pre-Pac-12 schedule proving themselves.