College Basketball Nation:

Billy Donlon
December, 14, 2011
12/14/11
11:16
PM ET
DAYTON, Ohio -- Cincinnati coach Mick Cronin was on the court during Wednesday's shootaround at Wright State's Nutter Center, directing his players to spots that they hadn't been in prior to the season.
But late in the first half, anyone watching in the crowd or on ESPN2 would have never guessed the Bearcats were new to a four-guard, spread-out offense.
In its first game since Saturday's infamous brawl with rival Xavier, Cincinnati ran out to a 23-point lead on the youthful Raiders, making nine 3-pointers in the first half, moving the basketball, taking chances and locking down on WSU in the halfcourt to the tune of nine first-half turnovers.
"The best thing about a four-guard offense is that you'll get a good shot every time,'' said Cronin after the Bearcats'
78-58 victory over Wright State
. "I wanted to let these guys play. When you have those big guys, the floor shrinks and these guys have to have room to operate.''
The big guys that weren't on the floor for the Bearcats were starting center
Yancy Gates
and forward
Cheikh Mbodj
and reserve forward
Octavius Ellis
. All three were suspended for six games for their roles in the fight. Reserve guard
Ge'Lawn Guyn
was suspended for one game.
The only big guy of note playing for the Bearcats on Wednesday was
Justin Jackson
, who more than held his own with 11 points and eight rebounds, despite fouling out.
Sean Kilpatrick
moved to a more of a power guard position, and he lit up the Raiders with 20 points and had a season-high six 3s.
Jaquon Parker
got a start at guard and scored 14 points after having come in averaging just 4 a game.
"We fed off the energy of our teammates,'' Kilpatrick said. "
Cashmere [Wright]
was in my ear to keep shooting and keep shooting. We had a lineup with everybody rebounding and looking for the extra pass.''
The new-look Bearcats will be the norm for UC going forward.
Cincinnati's offense had stagnated in the first eight games, last in the Big East in scoring. The preseason No. 22 team, the Bearcats had already lost a stunning game at home to Presbyterian and then in overtime to a legit C-USA contender in Marshall. Then by 23 to the Musketeers.
So Cincinnati couldn't afford to fall flat against Wright State and certainly has to win upcoming home games against Radford, Arkansas-Pine Bluff and Chicago State, as well as Oklahoma on Dec. 29 at U.S. Bank Arena in downtown Cincinnati before the Big East opener at Pittsburgh on Jan. 1.
[+] Enlarge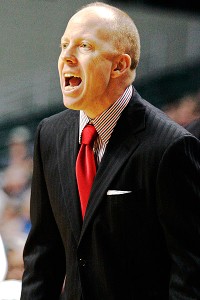 AP Photo/Skip Peterson"This was good for us to play," coach Mick Cronin said of Cincinnati's first post-brawl game. "It was good to take a road trip."
If the three players suspended for six games adhere to Cronin's four-step reinstatement process -- apologizing publicly (which was done Monday), anger-management counseling (which started Wednesday), community service and an apology to the UC student body -- then the full roster will be back for the Big East home opener against Notre Dame on Jan. 4.
Wright State coach Billy Donlon said he could tell the Bearcats were playing with a purpose the moment they stepped on the court.
That passion to just play the game and do it with class and sportsmanship was a must Wednesday — and has to continue, since the sport will be watching this team going forward.
"I think everyone was waiting for us to explode and have a mental breakdown,'' Wright said. "But we just came ready to play.''
Xavier, which will play Sunday against Oral Roberts without four players (
Tu Holloway
, suspended one game;
Mark Lyons
, two games;
Dez Wells
and
Landen Amos
, out for four), didn't have the luxury of getting back on the court so soon after the fight to repair its image.
"This was good for us to play,'' Cronin said. "It was good to take a road trip. Sometimes we've come up on game day like we did at Miami of Ohio. But I'm glad I made the decision to come up [Tuesday night], so we could spend time together and get these guys to laugh."
As for this Saturday's home game against Radford?
"I love our fans and I think it will be nice to be home,'' Cronin said. "I think our fans will rally around us. I think we'll see that Saturday.''
November, 3, 2010
11/03/10
3:05
PM ET
When the late Maryann Donlon was asked whether she thought her son, Billy, was destined to be a coach, she always had a simple retort.
'He was in the womb blowing the whistle,' she'd say.
Not without reason. To be a Donlon was to be breathe the game of basketball.
Bill Donlon spent 12 years on the college sidelines, serving as assistant to Rick Pitino at Providence during the Friars' Final Four run, and then moving on to Northwestern.
Older sister, Heather, played at Fordham and remains the NCAA record-holder for 3-point field goal percentage in a single season (she swished 57 percent in 1990). Even Maryann got involved, serving on the board of directors for a Chicago hoops-based after-school program run by Vince Carter.
But it is one thing to be immersed in basketball and another to be handed its keys.
That day came for Billy Donlon on April 14.
One day after his boss and mentor, Brad Brownell, jumped to Clemson, Wright State athletic director Bob Grant called Donlon in for a breakfast meeting. Not sure what to expect, Donlon brought a notebook and paper, figuring he'd help sketch out the Raiders' immediate future.
[+] Enlarge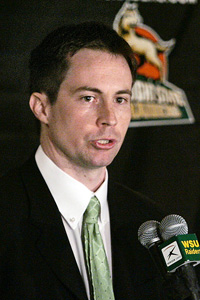 AP Photo/The Dayton Daily News, Ron AlveyAt 33, Donlon is one of the youngest head coaches in DI.
"Bob took my phone and called my dad and said, 'We're naming your son the next head coach,''' Donlon recalled.
And while the keys Grant handed him aren't exactly Carolina Cadillac, they are pretty sweet. Wright State has spun together four consecutive 20-win seasons, going 80-45 in the process.
When the 33-year-old Donlon coaches his first game, the youngest coach in the Horizon League (yes, there is someone younger than Brad Stevens) will welcome four seniors to the floor from a team that finished 20-12 last season. Among them is
Vaughn Duggins
, the Raiders' leading scorer.
And those four in particular are rather anxious to play. The one catch in all of those 20-win seasons is that all that winning has only resulted in just one postseason berth, an NCAA bid in 2007.
The Raiders' roadblock the past two seasons came in the form of a juggernaut by the name of Butler. The Bulldogs beat Wright State in last season's Horizon League title game and in the semifinals the season before.
"There's no doubt our seniors want to go,'' Donlon said. "I really believe the hardest thing, not just at the non-BCS level but everywhere, is to get into the NCAA tournament. It's easier to win once you're in it. Getting there has to be the focus.''
And getting there, of course, means getting by Butler. Or at least until the Horizon League is afforded more respect from the Selection Committee.
Donlon, like most everyone else in his conference, hopes that Butler's success not only challenges other teams to get better but also opens outsider's eyes to the quality of the competition.
"The thing is, the BCS schools are never going to play us here,'' Donlon said. "That's not going to change, so what has to change is the Selection Committee has to say we're going to take a 23-9 Horizon League team instead of a fifth-place BCS finisher. Do I think they should take a closer look? Yeah, I do.''
But heeding the sage advice of his father, Donlon also is sticking to the old adage: control what you can.
Sage advice from his dad, in fact, is a constant in Donlon's life. Bill Donlon always has led his son down the right path, even when the right path looked dicey. Growing up, he challenged his son to play on the tougher playgrounds, where the games were harder but the results truer.
"My dad always said that basketball transcends everything and it's so true,'' Donlon said. "If you could prove you could play, you commanded respect. That's what I've always appreciated about the game. If you play hard, play unselfish, people respect you.''
It's that lesson that Donlon is bringing to his players. He admits that growing up knee deep in the game has perhaps robbed him of some patience. He knows how things ought to be done and doesn't have a lot of tolerance when they aren't done that way.
"I try to be a little more understanding of what my players are going through in terms of the totality of the college experience -- school, social life, all of that,'' he said. "But I have little patience for a lack of worth ethic. You can make mistakes. You can dribble the ball off your foot, but you have to compete and work hard.''
That's the way it was if you were a Donlon.