College Basketball Nation:

Billy Gillispie coverage
September, 20, 2012
9/20/12
10:08
PM ET
By
ESPN.com staff
| ESPN.com
There is no joy in Lubbock.
Or at least there shouldn't be.
The Texas Tech saga reached its inevitable and, frankly, only conclusion with Thursday's announcement that Billy Gillispie had resigned to concentrate on his health.
But this isn't a win by any means for anyone.
Certainly not for Texas Tech, which is about to have a different coach for a third straight season and has to reconfigure its program a month shy of practice -- with all of eight wins to build on from last season.
Not for Gillispie, whose reputation is in tatters after burning coaching bridges in Lubbock and Lexington, Ky., in a mere three combined seasons.
And not even for the players, whose in-house insurrection against their coach sparked all of this. They are left with an interim head coach and the stigma of this entire sordid affair.
No, this is not a day to celebrate or even breathe a sigh of relief in Lubbock.
For Dana O'Neil's full story,
click here
.
September, 10, 2012
9/10/12
5:35
PM ET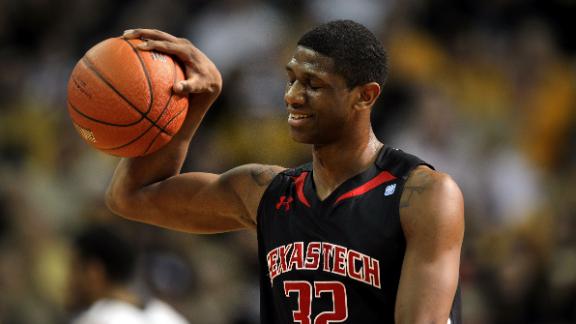 Earlier today,
I wrote about the weekend's batch of former players, family members and coaches
who had come to embattled Texas Tech coach Billy Gillispie's defense, following last week's messy news of a player revolt and a score of stories about Gillispie's alleged mistreatment of players.
It is no surprise there is still more of the story to digest, as
ESPN.com's Andy Katz reported this afternoon
. Andy spoke with Red Raiders leading scorer
Jordan Tolbert
, who flatly said he did not want to play for Gillispie if the coach returned in 2012-13:
"I don't," Tolbert said by phone. "I don't. Maybe I would for the assistants. I haven't put that much thought into it. There is a big sense of urgency. I don't want to play for him if he comes back."

"We just don't know," Tolbert said. "We're waiting to find out like everyone else. I haven't seen or talked to him in two or three weeks. [...] We still can be good. But we do need a coach."
After nearly a week of back-and-forth
, we've gotten perilously close to exhausting our abilities to describe this story, let alone argue and inveigh one way or another. It seems like a long shot that Gillispie will be retained, despite the outpouring of support; it also seems likely that a very rude, very driven, very brusque, arguably slightly imbalanced individual is probably
not quite
as bad as some current players' reports of his behavior made him seem.
But I'm done trying to figure this thing out, at least until we hear from Tech AD Kirby Hocutt.
What a mess. Honestly, that's all I've got. What. A. Mess.
September, 10, 2012
9/10/12
2:19
PM ET
The allegations leveled against Texas Tech coach Billy Gillispie last week -- that he frequently broke rules governing practice length, forced players to practice for eight hours at a time, forced players to play and practice when injured, that he doesn't interact well with assistant coaches and program staffers, and more in an ongoing litany of offenses that caused players to openly revolt and appeal
to Texas Tech athletic director Kirby Hocutt last week
-- may
already be too much for Gillispie to overcome
. Last week, as these revelations took on a life of their own,
it was impossible to imagine Tech keeping Gillispie around
for any other reason than legally binding contract requirements. He seemed done, and rightfully so. Things in Lubbock had gone horribly awry.
Since then, though, something strange -- well, if not strange, then at least surprising -- has happened: Billy Clyde has received an outpouring of support. On Saturday,
ESPN.com's Jason King published a story quoting former players who spoke out on behalf of their old coach
, including
Robert Lewandowski
, who started for Gillispie last season and plays professionally in Poland now:
"I would play for him again," Robert Lewandowski wrote in an email from Poland, where he plays professionally. "He loves his players, with no exceptions. I would never doubt that for a second. Playing for him was tough, but I came out alive and a better person for it."

"I wouldn't change anything that happened over the last four years," said Lewandowski, who spent three seasons under Pat Knight before Gillispie was hired in March 2011. "Coach Gillispie pushed me to my physical and mental limits, and I came out an improved person. I know I can handle anything that comes my way. The process wasn't very pretty, but isn't that how life usually is?"
Current Texas Tech broadcaster Andy Ellis -- who played for Bob Knight at the program and traveled with the team throughout last season -- told King that he never saw Gillispie cross the line last season. Other accounts from former players were similar: Gillispie was a difficult guy, sure, and he could be tough, but he wasn't the full-on bad guy caricature other accounts had made him out to be.
Another defense came from Kansas coach Bill Self. Self admitted Gillispie was "tough," but he also questioned new players' concerns about a program's overall well-being ("To have players who have only been in a program for a year or two and be such experts on what it takes to win and how to be treated is a little bit hard to grasp," Self said). Self said that all coaches have looked back on situations they could have handled better, and said that he found it necessary to speak on behalf of an old friend, but more importantly a fellow coach, because Gillispie's side of the story had been under-represented:
"I'm sure he's done some things as a coach that he looked back on and said, 'Whoa ... I got up against the line today. I toed the line a little bit.' But you know what? We've all done that at some point in time when we're trying to get our teams prepared to play at a high level. Ask any coach in America, and he'll tell you there was a time when he said something when he was under stress or something he did under the gun where he went back and said, 'Ooohhh, I wish I would've handled that differently.' [...]

"I'm not defending him. He's a good friend, but that's not why I'm talking. I would defend any coach in a situation where he's trying to do things a certain way to get his program to the point where he thinks it deserves to be. Mistreatment of players should never occur, but there are also two sides to every story. That certainly appears to be the case here, because after hearing from his enemies early, now we've heard from guys who say, 'Oh man, he was so hard on me, but I'm a better man for it.' Including players in his current program.
Perhaps the most authoritative voice speaking on Gillispie's behalf came from Jerry Nash, father of former Texas Tech transfer
Jaron Nash
. Nash, who transferred to North Dakota after spending one season under Gillispie at Texas Tech,
told CBSSports.com that one day Gillispie forced players to practice
"almost all day," to the point that several players suffered injuries, including one player who "had a stress fracture in both legs." But on Sunday, Nash's father, Jerry Nash, disputed the impression his son's quote had given about his former coach.
He told the Lubbock Avalanche-Journal that his son's decision to transfer had "nothing to do with Gillispie"
; instead, Nash transferred to be closer to Jerry Nash, who suffers from multiple sclerosis.
"A big part of fighting MS is not getting depressed, trying to stay positive," Jerry Nash said. "Being able to see Jaron play, that's everything to me."

Jaron Nash heeded his father's wishes and asked for his scholarship release following last season. Jerry Nash said he appreciates the way Gillispie handled the situation, and it didn't stop at allowing his son's release, he said.

Shortly after Nash was granted that release, Gillispie helped enter the Tech team into an awareness walk for multiple sclerosis around Jones AT&T Stadium as a tribute to Jerry Nash, who was diagnosed with the disease in 1999, he said.

"When Ron-Ron showed me video of that," Jerry Nash said, "it brought tears to my eyes."

[...] "Billy Gillispie is a friend of mine," Jerry Nash said. "I consider him a great coach, a great person and a great man."
Where do we go from here? It's hard to say. But just as it seemed impossible for Gillispie to keep his job last week, it's equally impossible to fully dismiss the wide-ranging defenses offered by fellow coaches and former players and their families. Texas Tech may be eager to move on, to end the Gillispie era, to get out of an ugly public relations disaster as swiftly and painlessly as possible. But would that be fair? Given the last three days of testimonials on his behalf, Tech can no longer hurry to its this decision. It needs to investigate of its own volition -- Hocutt and his staff are deeply engaged in this process by now -- and see which charges stand up to scrutiny, and which fall away.
Because on one side is the portrait of a coaching monster, a guy who would do anything to win, who can't get along with players, who is willing to injure them in the pursuit of some higher toughness ideal. On the other side is a man who brought a former player's father to tears with a charitable gesture, a man who has received support from former players including those on the disaster that was the 2011-12 Red Raiders. What do you do with such contrasting accounts?
The truth, as always, lies somewhere in between. It is now up to Hocutt and his staff to decide how far to either side that truth lies, and what it means for Gillispie's perilous future in the coaching profession.
September, 9, 2012
9/09/12
1:30
PM ET
Kansas coach Bill Self has chosen to remain silent about the controversy surrounding friend and former assistant Billy Gillispie at Texas Tech.
Until now.
Self contacted me after reading
an ESPN.com article
published Saturday afternoon in which a handful of Gillispie's former players came to his defense. Included among Gillispie's supporters were NBA all-star Deron Williams, Texas A&M All-American Acie Law and former Texas Tech forward
Robert Lewandowski
, who played for Gillispie last season.
Gillispie's job is in jeopardy following allegations that he mistreated his Texas Tech players and committed NCAA secondary violations involving excessive practice time. He was recently released from the hospital after spending six days there, reportedly dealing with high blood pressure.
Self said he's tried unsuccessfully to contact his friend, but "from what I understand, not many people have talked to him," he added.
"I considered him to be one of my closest friends for a long time. But I haven't spoken to Billy in about a month. We still stay in contact, but not like we used to. It used to be a three or four times a week thing. He's backed off a little bit, but that's only because we play in the same league now.
Click here
for more of what Self had to say about the situation.
September, 6, 2012
9/06/12
3:00
PM ET
ESPN.com's Dana O'Neil has a unique perspective on Billy Gillispie. In 2009, during Gillipsie's second year at Kentucky -- the year the Wildcats (gasp) failed to make the NCAA tournament, a failure that cost Gillispie his job -- Dana was granted an all-access pass inside the Kentucky program.
The resulting story painted a picture of a program and a fan base
that together had no idea how to handle the prospect of missing the NCAA tournament -- led by a guy who was in way over his head:
This is a team sinking under the albatross of scrutiny. Players sag under the heavy burden of a state's expectations and a program's glorious history books. In a situation desperate for a practical joke or a silly movie to cut the tension, there is nothing but the seriousness of basketball.

It is the coach's way of operating. A self-described basketball junkie who says he has "no balance" in his life, Billy Gillispie isn't one for small talk or normal social interaction. He sits alone on the team charter plane and bus, reading, sleeping or looking out the window. He is all basketball business, a man who ends each pregame session and film session with a "Let's go to work.''

[...] There is no doubt that Gillispie is a tough nut to crack. He says he has a small circle that he keeps close, rarely letting outsiders in. It's probably not a bad way to be when your every muscle tick is dissected. But while Gillispie's need for privacy is understandable, his standoffish behavior is hard to comprehend. He has been brusque with the media, both local and national, and his rude dismissals of ESPN sideline reporter Jeannine Edwards have been a hot topic in Kentucky.

He is not one to engage in small talk with anyone, brushing into and out of meeting rooms, locker rooms and breakfast rooms with a purposeful stride. This behavior probably didn't register much at his previous head coaching stops in El Paso (UTEP) and College Station (Texas A&M), but it jumps off the Richter scale in a Kentucky mired in a basketball debacle.
At the time, from the outside, it was hard not to look at Gillispie's faults -- the workaholism, the unforgiving intensity, the awkward interactions with players, the inability to understand the UK fan base -- as flaws magnified as much by the environment as by Gillispie himself. Things had gone south in the nation's most highly scrutinized basketball program;
of course
Gillispie looked like he was losing his team. But weren't those same flaws the reason Gillispie was so successful early in his career? Wasn't Kentucky a different beast? If he couldn't turn the thing around, you could at least come away thinking the fit was the problem, that Gillispie could return to coaching at a less scrutinized place and still rekindle his old success. Texas Tech certainly fit the bill.
Now, with the benefit of hindsight, it seems clear Gillispie did as much as anyone -- if not much,
much
more -- to hasten his downfall. It was more than him just not "getting it." It wasn't Kentucky; it was
him
.
And now Texas Tech finds itself in this mess
.
On Thursday,
Dana revisited her time with Gillispie for a retrospective feature
, and needless to say, our intrepid reporter was hardly flabbergasted by the revelations surrounding Gillispie's treatment of players at Texas Tech. From her commentary:
The Gillispie I met was standoffish to the point of being rude, a taciturn drill sergeant with his players who lacked the ability or interest to engage personally with them even for a minute.

I left fully expecting Kentucky to fire him after the NIT -- which happened -- but convinced it wouldn't be because of his below-UK win-loss standards; it would be because of his insular and abrasive personality.

He was coaching in the biggest bubble in college basketball, yet bristled at everyday interaction. He treated people associated with the program with either disinterest or disdain, disenfranchised the fan base that once greeted him with open arms, disenchanted the athletic director that hired him and most important of all, lost his team.

[...] I have logged more than a few hundred hours around basketball coaches and their players. News flash: Coaches aren't always nice. They can be downright mean when they have to be.

But always there is a place for levity -- at the end of a practice, on the bus, the plane, somewhere the other side of the relationship is apparent. There is banter and fun.

Not at Kentucky. In four days, I never saw Gillispie have anything other than basketball-related interactions with his players.

Gillispie ended every conversation, broke every huddle, by saying, "Let's go to work," and that is exactly what it was -- joyless work for the players. In a situation desperate to break the oppression of misery and the stress of losing, there was not even the briefest of respites.
September, 6, 2012
9/06/12
12:10
PM ET
This week, Texas Tech coach Billy Gillispie was hospitalized for high blood pressure. As far as I can tell, this is a gift of circumstance: It's the only thing standing between Billy Clyde and the unemployment line.
I would never make light of someone's health issues, no matter how serious, and I'm the last person to jump on a "fire this guy!" bandwagon -- whether professionally or recreationally, in college hoops or anything else. (OK, OK: Vinny Del Negro.) To be absolutely clear: No one should be rooting for Gillispie to lose his job. That's not cool.
[+] Enlarge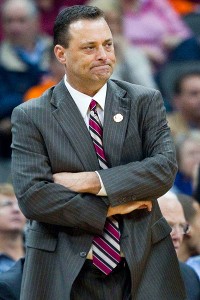 Shane Keyser/Getty ImagesIt's safe to say that Billy Gillispie's days of coaching at Texas Tech appear to be numbered.
It's just that, well, what else can Texas Tech do? Now that Tech athletic director Kirby Hocutt has heard what he's heard -- a
mass mutiny and ongoing defections by current players
, a piling on by
former players
about his abusive coaching style and, worst of all, a habit of extending practice times long past their NCAA-required maximums that Hocutt has already reprimanded Gillispie for once before.
Throw in all the things we've long known about Gillispie -- his background of alcohol issues, his difficulties getting along with players and support staff, his seeming inability to enjoy the game of basketball rather than shove its importance down his players' throats -- and it's very difficult to see exactly how Gillispie can talk himself into keeping his job this time. I just don't see the way forward. Do you?
That's
why Andy Katz asked a handful of coaches and staffing reps this exact question
: What does Gillispie have to do to keep himself employed by the Texas Tech Red Raiders. The answers came with a lot of ifs and buts and "well, he has to air out some differences," and various other communication sessions -- with players, with the administration -- that would require Gillispie to give a full-throated argument for what he did was wrong, and why he plans to change it in the future.
But as Andy wrote:
When Gillispie committed a secondary violation concerning practice time this past winter, he was "issued a reprimand that there would be no tolerance for further disregard for rules," Hocutt said.

That seems pretty cut and dry, right? But once Gillispie is out of the hospital and can give his side of the story, can he possibly save his job?

"That's a hard question to answer," said Eddie Fogler, a former head coach at South Carolina and Vanderbilt, who now heads search firms for schools looking for head coaches.

As Fogler pointed out, Gillispie has had similar problems in his past, so it will be hard to create a defense. The recurring theme hurts him.

But if he does get a second chance in Lubbock, then Gillispie "will have to change how you go about your business if you can, if you want to," Fogler said. "But that change doesn't come easy for a coach who's been around as long as Billy's been doing it."
If Texas Tech wants to bring Gillispie back, it will have to convince itself that this is -- all of a sudden, after a litany of warnings that went ignored -- a changed man. I just don't see how they could come to that conclusion. And if they don't, they have to fire him. It really is just that simple.
August, 31, 2012
8/31/12
1:05
PM ET
That certainly appears to be the case,
per ESPN.com's Andy Katz and Jason King
, who reported Friday that multiple Texas Tech players said they had met with athletic director Kirby Hocutt to "[express] concern about the way they are being treated by second-year coach Billy Gillispie." From the story:
The players were initially called to meet individually with members of the compliance department about the number of hours they were being asked to practice.



[+] Enlarge

Shane Keyser/Getty ImagesBilly Gillispie has once again come under fire for the way he treats his players.

After the meeting with the compliance officials, the players met with Hocutt as a group. Associate athletics director Blayne Beal, who is in charge of communications, confirmed that the meeting took place with Hocutt and the returning players.
Andy and Jason spoke with multiple players for the story, who shared concerns about ... well, about pretty much everything that happens between coaches and players at the college level:
"Compliance wanted to know what's going on," said one returning player who requested that his name not be used. "(The meeting) was about a lot of stuff that goes on in practice, everything within the program, the way we're being coached, the relationship we've got with our coach, practice hours and stuff like that.''

The player said that Gillispie is a "good coach, teacher and mentor, but he's not the most personable person, not the coach you can go and talk to. He breaks you down. But he doesn't build you back up. It's hard to play for him when that happens every day. You feel like you're getting torn down and you can't get back up.''

The player said there were a lot of "mental games" being played.
Players in respectful but open mutiny against their head coach? It's the last thing any athletics director wants to deal with. Not only does this kind of thing constitute a fundamental rupture in the hierarchical structure of a team, but it makes the university -- which saw fit to hire Gillispie to turn around its faltering program last summer -- look like it failed to properly vet the second-most important coach on its payroll.
As Andy and Jason note, this isn't the first time Gillispie has been criticized for the way he handles players. He faced similar issues following his departure from Kentucky, including from former Wildcat Josh Harrelson, who said Gillispie "once became so angered that he instructed him to sit in a bathroom stall during a halftime talk at Vanderbilt and then ordered him to ride back to Lexington in the Kentucky equipment truck." Stories like that, and others about Gillispie's careless attitude toward basketball office admins and staff, have damaged Gillispie's reputation nearly beyond repair. His post-Kentucky arrest for drunken driving, Gillispie's third since 1999, certainly doesn't help.
Which is to say: Unusual as this may be, and as shocking as it may seem, with Gillispie around
it hardly comes as a surprise
. The man's reputation both on and off the court precedes him. Once lauded for a tireless work ethic, Gillispie's moment in the bright lights at Kentucky -- as well as his inability to coexist with a litany of now-transferred players at Texas Tech and the stories about his behavior throughout -- have branded him as one of the most difficult personalities in the sport. And "difficult" is probably putting it lightly.
According to the report, no Red Raiders discussed transferring, or a change to Gillispie's job status, as part of their meeting with athletics administration. But if this sort of thing keeps up, will the program have any choice? Is Gillispie really long for his job? Can he change now? Despite some scattered lip-service to the contrary, Gillispie has never seemed all that eager to modify the way he does things: He has his style and his system, and the Kentucky failure (and the widespread desire for his services afterward)
didn't seem to spurn much self-analysis in 2011
, either.
And now Texas Tech finds itself here. Stay tuned.