College Basketball Nation:

Blaine Taylor
October, 1, 2012
10/01/12
5:00
AM ET
1.
Mike Marra
's season/career-ending ACL injury at Louisville won't have a dramatic effect on the potential Final Four Cardinals. Injuries had prevented Marra from having a dominant impact on the team over the course of the past year. Marra could hit situational shots, but Louisville coach Rick Pitino said the Cardinals aren't going to be a team defined by making 3s. Pitino said Sunday the Cards probably will only make six-to-seven a game (that's still pretty good) with the best shooter on the squad in
Luke Hancock
.
Kevin Ware
and
Peyton Siva
have improved quite a bit, too. The Cardinals will miss Marra's on-court enthusiasm but clearly they will survive his absence.
2. Expect Texas Tech to make a decision some time this week on whether acting interim coach Chris Walker gets to replace head coach Billy Gillispie for the season. A decision could come as early as Tuesday. Walker has kept a low profile and while there isn't a gag order from the staff and players, the consensus is to keep things quiet while athletic director Kirby Hocutt decides whether to stay inside or go outside for a new coach to lead the Red Raiders during the 2012-13 season.
3. Old Dominion coach Blaine Taylor isn't seeing any effects of the pending move to Conference USA in 2013 on the recruiting trail. He's not worried, though, considering the Monarchs tend to land who they will, regardless of conference affiliation. But what Taylor did do to combat the Colonial Athletic Association's decision to uphold the bylaw and prevent ODU from playing in the conference tournament was to upgrade the non-conference schedule. The last three games the Monarchs added were VCU, Murray State and College of Charleston. "It's a helluva of a challenge for one of my youngest teams," said Taylor. ODU would need all the help it can get to be in in position for an at-large bid without the benefit of the automatic qualification out of the CAA tourney.
June, 20, 2012
6/20/12
3:30
PM ET
On Tuesday, Colonial Athletic Association commissioner Tom Yeager delivered the bad news. The CAA's members had organized a pow-wow, held a vote, and reached a decision about the championship eligibility of the schools (Old Dominion and Georgia State, specifically) leaving the conference this season.
In the end, as Yeager announced, the vote merely reaffirmed the league's bylaws, which state that "upon notice of an institution's intent to withdraw, the institution's teams become ineligible on a date determined by the remaining members to compete for Association team championships." In other words, ODU and Georgia State will be frozen out of conference tournament play this season. They can still go to the NCAA tournament and other postseason events, but if they do, that participation will be invite-only -- a long shot for either of the schools involved.
Needless to say, Old Dominion coach Blaine Taylor and Georgia State coach Ron Hunter were not thrilled with the decision. They
shared their mutual displeasure with Andy Katz Wednesday morning
:
Georgia State coach Ron Hunter gathered his team together Tuesday and told his players that they are essentially on their own next season.

"I told them we're an independent," Hunter said. "That's what we are now. It's no fault of theirs. We made a move for football. And we're paying the consequences. The bad part is that this is the only league in the country where this is happening. From this point forward, we're an independent basketball team."

ODU coach Blaine Taylor was just as irked as Hunter.

"They gave a 3-week-old weather report," Taylor said. "The league grandstanded so long to make a such a big announcement. We knew three weeks ago at the league meetings. They tried to look for every additional thing they could do. But the lack of collegial approach was eye-opening to me." [...]

"The CAA doesn't offer it," Taylor said. "It just seems very narrow-minded. They're hurting 17 sports. If you want to leave this league, you better do it like the Baltimore Colts in the middle of the night. Most of the leagues make everything seamless as possible. The CAA is a completely different act."
See? Not thrilled. Not thrilled at all.
Hunter and Taylor have a point,
one our own Dana O'Neil made in late May
, when the same issue precipitated VCU's quicker-than-anticipated jump to the Atlantic 10. The recipients of the real harm by this decision are the student-athletes, who are being punished for little more than bad timing. In particular, the seniors on both teams -- for whom the 2012-13 season would be a last chance at a conference title and NCAA tournament berth -- must feel especially bad. They did nothing wrong. They have no part in their school's decision. And yet they essentially lose a season to between-conference limbo, and why? So the CAA can try to close ranks and prevent itself from a future realignment raid. It's entirely unfair.
But who is really to blame? The CAA? Or the schools that chose to leave the conference in the first place? CAA Hoops -- the go-to blog for daily in-depth Colonial analysis --
sees things differently
:
But as we've maintained from the start, the blood is on the hands of the Old Dominion and Georgia State administrators. They knew the rule going into their discussions about moving to a new conference. This was certainly a part of their internal discussions. They chose to move forward anyway with this risk known. [...]

This wasn't a rule passed at a point in time that ODU and GSU could plausibly say was after they began looking for a new home. It predates Georgia State's entry into the conference.

We've had 11 seasons that this could've been addressed, if it was indeed a big deal. There's also something to be said for consistency. The CAA has driven right down Main Street with its decisions. Nobody can complain of any unfair treatment.
It should be noted the Colonial isn't gaining much from this decision; without Georgia State and ODU (and Towson and UNC-Wilmington, who will miss out thanks to poor APR scores), the league will field just seven teams in its 2013 conference tournament.
Really, the decision is about enforcement -- about where to draw the line when your league's future may be at stake. At the end of the day, the Colonial is more a victim of realignment than a victor. Faced with the trickle-down economics of conference realignment, when attractive schools are greedily gobbled by leagues higher and higher up the food chain, the CAA is merely trying to create some sort of defensive structure -- a moat around its castle, so to speak. You can hardly fault them for that, no more than you can for enforcing a decade-old rule.
You can understand the CAA's prerogative while still feeling that the student-athletes involved are getting a bum deal. This is realignment, and all that comes with it. The worst part: I can't think of a good solution. Can you?
December, 2, 2011
12/02/11
5:00
AM ET
1. Ole Miss coach Andy Kennedy has had a hard time catching breaks since he arrived in Oxford. The Rebels have dealt with injuries, defections and early-entrants and an inability to be consistent enough to be an NCAA tournament team. Whether or not Ole Miss can get there in 2012 is still to be determined. But the Rebels finally closed out a game in a frenetic situation as they beat DePaul on the road on a
Murphy Holloway
layup. Holloway, who played at Ole Miss, transferred to South Carolina and then came back, had committed a silly foul the previous possession before coming up with a decisive steal and layup. The Rebels got blitzed by 30 by Marquette in the Paradise Jam in the Virgin Islands but did finish off Miami in overtime last week. DePaul may be in the bottom fourth of the Big East but the win will still do wonders for the Rebels' confidence. "It's the first road win versus a Big East opponent ever in Ole Miss basketball history,'' said Kennedy late Thursday night of a random fact that seems hard to digest. "Sometimes you've got to win ugly.'' The Rebels aren't going to be better than Kentucky, Florida, Vanderbilt or likely Mississippi State or Alabama. But can Ole Miss be more productive than Tennessee or Arkansas or Auburn? This squad has a shot to be a top-six SEC team.
2. The Colonial Athletic Association has been disappointing through the first month of the season. Drexel (2-3) was the preseason favorite but the Dragons haven't been completely healthy and don't have a quality win. Other contenders like George Mason, VCU and Old Dominion have either not had their full complement of players or simply are rebuilding and aren't ready to win elite games. The best win by the CAA so far may be Northeastern's victory at St. John's, hardly a NCAA-bound victory since the Red Storm are likely a lower-half Big East squad. "We don't have that juggernaut team that stands out,'' said ODU coach Blaine Taylor. "But once we get our people back, the same with Drexel, George Mason and you'll see VCU play better than people will see how good the (CAA teams are). Our teams have been up and down that doesn't mean in the long haul that we won't have real good teams once we get to January and February.'' The CAA had its second Final Four team in six seasons when VCU earned a bid last April.
3. The MAC last had multiple NCAA tournament teams in 1999 when Miami was a 10-seed and Kent State was an 11. The league once had a flurry of NBA-level-talented players who for whatever reason didn't make it to the Big Ten. But the MAC slump has been going on for a dozen years. That is, possibly, until now. The MAC has already picked up significant wins: Akron at Mississippi State, Ohio at Marshall, Kent State at West Virginia, Miami and Buffalo beat Dayton (which won the Old Spice Classic). Bowling Green beat Temple. Will any of those wins get the MAC an at-large berth? Probably not. But the MAC is at least proving that it is no longer a weaker comparison to the Horizon League, the Missouri Valley or the Colonial.
October, 20, 2011
10/20/11
8:06
PM ET
By
Diamond Leung
| ESPN.com
It wasn't a particularly good offseason for the college basketball mustache, as at least two coaches ditched their longtime facial hair in favor of the clean-shaven look.
But then there is Rhode Island, which today announced that it is immortalizing the mustache of coach Jim Baron by giving away the Jim Baron Bobble 'Stache to season-ticket holders and students who show up for the Dec. 23 game against Providence.
Take a look at
Baron in real life
and the
mustache in bobblehead form
to see if the resemblance is there.
The celebration of Baron's style comes as fellow A-10 coach Fran Dunphy
shaved off his own mustache during a news conference
earlier this month to make good on a promise he made to former player Dionte Christmas for graduating from Temple.
"The bigger story of me shaving this mustache is that this young man graduated from Temple University and I'm really proud of that," Dunphy said.
For Old Dominion coach Blaine Taylor,
his 'stache went away
in June, leaving him nearly unrecognizable to our Andy Katz.
"He was standing to the side of our TV set, and I wasn't the only one who had no idea who he was until you could read ODU on his golf shirt,"
Katz wrote
.
So kudos to Rhode Island for honoring the Baron mustache, one of the last of a dying breed, since the slick salesmen in the industry no longer prefer the look.
Yes, there are still awesome mustaches out there.
Idaho coach Don Verlin
and ironically named
William & Mary coach Tony Shaver
are right there with Baron.
We have Rhode Island to thank for standing tall with them.
September, 29, 2011
9/29/11
1:49
PM ET
By
Diamond Leung
| ESPN.com
The CAA is a conference to watch this season, with VCU coming off a Final Four appearance and George Mason primed to make another NCAA tournament run.
But a new crop of players will have to step up, as the entire All-CAA first team completed its eligibility, and two all-conference players -- Old Dominion's
Kent Bazemore
and Drexel's
Chris Fouch
-- are recovering from offseason surgeries.
Bazemore, the CAA's reigning defensive player of the year and top returning scorer for the Monarchs, had been hoping to return by the start of the season after
fracturing his left foot
.
But
CBSSports.com
reports that Bazemore will now likely miss the first month of the season after ODU coach Blaine Taylor told the website that the senior is a "long ways off from working out."
It's unsettling news for ODU because the versatile 6-foot-5 Bazemore has NBA potential and averaged 12.3 points and 5.1 rebounds while leading the league in steals last season.
Meanwhile, Drexel announced last week that leading scorer Chris Fouch would miss the start of the season while recovering from offseason knee surgery.
Fouch, a junior who had redshirted his freshman season because of a torn anterior cruciate ligament, has become one of the top shooters in the CAA and averaged 14.9 points for the Dragons last season despite making only two starts.
A third CAA all-conference player --
Luke Hancock
-- transferred this offseason from George Mason, which has also suspended starting guard
Andre Cornelius
following
an offseason arrest
.
So a number of the league's contenders will have to make adjustments at the start of the season. Missing players at the start of the season won't necessarily damage their postseason chances, but it does remain a concern.
June, 27, 2011
6/27/11
12:40
PM ET
What a horrible day for Blaine Taylor's mustache. And, therefore,
the world
.
Yes, Taylor -- the gruff, rumpled head coach of the Old Dominion Monarchs -- made a rather drastic decision Thursday. After almost three decades of unbridled awesomeness,
Taylor suddenly decided to shave his mustache
, revealing his upper lip for the first time since his playing days at Montana in the late 1970s:
"I'd been contemplating it for a few years, just kind of cutting it off," he said Thursday.

Taylor did so unannounced, stunning his four adult daughters who had never seen their father clean-shaven.

It brought an end to the reign of one of college basketball's -- and Hampton Roads' -- finest examples of a dying art form. The mustache is not nearly as popular as it was when Taylor was growing up, with Burt Reynolds ruling the silver screen and Mark Spitz the Olympic pool.
Virginian-Pilot writer Ed Miller is right: The mustache is not nearly as popular as it once was. Today, the mustache is primarily used by winking hipsters for those special times when a vintage Thundercats T-shirt, faded denim jacket and British Knights aren't enough to emphasize just how totally zany their personal brands really are. In 2011, despite the
brave attempts of Pawnee director of "Parks and Recreation" Ron Swanson
, the mustache has yet to lose its craven hipster tinge. (There's nothing like wearing irony on your face.)
Which is why it's so hard to hear this news about Taylor's decision. There was nothing ironic at work there; that was just a good, old-fashioned, proud piece of American facial hair. And so we bid farewell.
I close my eyes ... only for a moment and the moment's gone ...
January, 13, 2011
1/13/11
10:53
PM ET
PHILADELPHIA -- Perhaps Old Dominion ought to petition for membership in the Atlantic 10.
There, at least, the Monarchs are 3-0 this season, with wins against Richmond, Xavier and Dayton.
In their real home, the congested clog that is the Colonial Athletic Association, league favorite ODU is 3-2, two games behind a Hofstra team that had three coaches in six weeks this spring, and tied with UNC-Wilmington and Georgia State, the teams picked to finish last and second-to-last in the preseason poll.
Which about makes sense in a conference that is tough in both the literal and figurative sense of the word. Toss out the winless trio of Northeastern, William & Mary and Towson and anyone can win this thing.
On Thursday night, the Monarchs and Drexel played a game that DU head coach and fight fan Bruiser Flint likened to the Thrilla In Manila, a take-a-punch, give-a-punch battle that ended with the Dragons giving more than they took in a
62-57 win
. Drexel was down 12 at one point, but began the second half on a 16-2 run and put the Monarchs away with ease.
The upshot of that game (one that will be wrongly billed as an upset in some corners) and all of the in-house parity, is that the league will not look as pretty on the outside as it actually is on the inside.
And in basketball, beauty is not in the eye of the beholder.
It's in the hands of the selection committee.
Will members value the brutal nature of the conference or dismiss someone's quality nonconference record because of its pedestrian league finish?
Those who have been through this before in the CAA are already worried it'll be the latter.
"No, no we don't get the respect we deserve at all,'' said Drexel's
Daryl McCoy
, whose 16 boards propped the Dragons' 47-37 rebounding edge against an ODU team that hadn't been outrebounded all season. "People say things like, 'Oh the CAA. Who's in that?' I don't know what it's about. We win games. What else do they want us to do?''
It's a legitimate question.
The CAA has six teams in the top 100 of the RPI, five in the top 75.
Out of conference, the league is 77-53, including Drexel's win at Louisville, VCU's win against UCLA and the Monarchs' 3-0 run through the Atlantic 10 plus a win against Clemson and a close loss to Georgetown.
"How is this league different than the Atlantic 10, the Missouri Valley, the WAC, the Mountain West?" said Flint, a shameless and frequent drum-beater on the behalf of his conference.
Flint frequently likens his team to squads in the A-10, a conference with similar schools in comparable locations and one he believes the CAA ought to be compared with on the basketball court.
Yet the A-10 has been able to position itself right outside of the power six and has earned the respect that comes with it.
In each of the past three seasons, the Atlantic 10 has earned three NCAA spots.
Since 2000, the CAA has earned multiple bids (and by multiple we mean two) just twice -- in 2006 and 2007.
And in '06, that at-large team was George Mason.
For those who have short memories, the Patriots went to the Final Four.
This year, by the way, the CAA is 9-7 against the Atlantic 10.
"We've had a team in the Final Four in the last decade,'' Flint said. "The Atlantic 10 can't say that. The WAC can't say that.''
Flint hopes this is the year the Colonial earns its stripes, that the out-of-conference wins merit more notice than some competitive in-league losses.
Blaine Taylor isn't so sure.
The Old Dominion coach's team will likely be one of the committee's biggest case studies should it fail to win the CAA tournament. The Monarchs currently own an RPI of 28 and a loss to Delaware, two polar opposites that somehow will have to be reconciled.
"A team finishes 16-2 in the league, people tend to say, 'Oh wow, look at them, they must be really good,'' Taylor said. "But when we all beat each other up they think it looks like nobody can separate from one another. With the depth in our conference this season, it might be careful what you wish for. Some really good teams are probably going to have a few losses this year and that may actually hurt us.''
Welcome to life in the Colonial Athletic Association.
March, 18, 2010
3/18/10
4:47
PM ET
NEW ORLEANS -- Old Dominion didn't come to the Big Easy to be an easy out.
Nor did the Monarchs come just to be a part of the spectacle that is March Madness.
"We weren't interested in a participation ribbon," Old Dominion coach Blaine Taylor said.
Obviously not.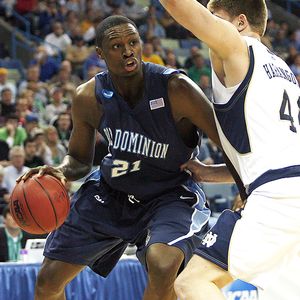 Crystal LoGiudice-US PRESSWIREOld Dominion forward Frank Haskell led the Monarchs with 15 points in their win over Notre Dame.
The No. 11 seed Monarchs are headed to the second round after taking down
No. 6 seed Notre Dame 51-50
at New Orleans Arena for their first NCAA Tournament win since the 1995 season.
There wasn't a lot pretty about it, but that's exactly the way these guys like it.
"We win with defense and rebounding. We've won that way all year," said Old Dominion junior forward
Frank Hassell
, who led the Monarchs with 15 points and nine rebounds.
"Even when we're not shooting well, like in the first half, we don't worry, because we know our defense is going to pull us through. We keep playing defense no matter what. A lot of teams would have been down by 15 points at the half."
Old Dominion faced a 28-22 deficit at the break after trailing by as many as nine points in the first half. The Irish didn't shoot it particularly well in the first half, but they shot it even worse in the second half.
Notre Dame's
Luke Harangody
didn't score until the final seconds of the game, both of his baskets coming on a pair of rebound baskets. He ended his career shooting just 2-of-9 from the field.
The Monarchs were determined not to let him get started. They played man-to-man defense in the first half and switched to a 3-2 zone and then a variation of a 2-3 zone after that.
"We focus on us and think we can play with most people in the country," Taylor said. "Our kids have a strong belief that they can play defense and rebound with most people. That doesn't change regardless of who we're playing or how we're playing on offense."
The Irish shot just 6-of-26 from 3-point range, including a flurry of missed 3s down the stretch.
Carleton Scott
had a look from the corner in the final seconds that could have tied the game, and the ball seemed to go about halfway down the basket before popping out.
"That's the only time all game that I got scared. That scared me," Hassell said. "But if we had gone into overtime, we feel like we would have pulled that out, too.
"If we play like we play, we're going to be fine."
The Monarchs only had five team fouls and had one to give there at the end, but Taylor said they decided against it. He didn't want to give the Irish a good look at inbounding the ball from the mid-court area and was going to take away
Ben Hansbrough
as a 3-point option. Hansbrough was 3-of-8 from behind the arc.
"I guess I'm kind of old school," Taylor said. "I think we can guard people and stop them."
This time of year, old school works just fine.
March, 9, 2010
3/09/10
12:54
AM ET
To be the the projected favorite to win during the regular season and then again in a three-day haze of a tournament is hardly an easy task.
Yet, Siena and Old Dominion have done what has become expected, but is hardly a free pass.
At home in Albany, Siena rallied from 15 down and went to overtime to beat upstart Fairfield Monday night for the MAAC title.
"This is hard and it's a different experience for the team,'' said Siena coach Fran McCaffery by phone. "The journey to get to this point isn't as fun as it should be. It's not as appreciated because it's expected.''
[+] Enlarge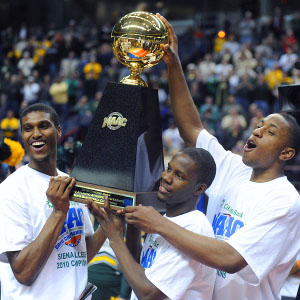 AP Photo/Tim Roske(From L to R) Edwin Ubiles, Ronald Moore and Alex Franklin will be dancing again for the Saints.
Siena was 17-1 in the MAAC and has won 27 games. The Saints didn't win the out-of-league games they had to (Georgia Tech, Temple, Northern Iowa or Butler) in order to make Monday night possibly moot, so they "just" had to win the league again -- for a third straight season.
"We go 17-1 and everyone wants to know what happened at Niagara [the one league loss]?" McCaffery said. "Why didn't you beat Temple or Northern Iowa? We got Butler in the BracketBuster and didn't win, so the only way to get in was what we did [Monday night]. This is hard. How many teams have been to the conference tournament final four years in a row? Not many.''
Siena had first-round NCAA tournament wins in each of the last two years, beating Vanderbilt and Ohio State. So now of course the expectation is that since Siena is in, the Saints have to win – again. There are holdovers like
Edwin Ubiles
,
Ryan Rossiter
and
Ronald Moore
. But the team isn't quite as deep as it was a year ago.
"It's almost like winning is a foregone conclusion and now the goal has to be the Sweet 16, to go further than the last two years,'' McCaffery said. "But what we just did is really hard. Hopefully we'll get a decent seed because let's be honest -- if you get a bad seed, it's hard.''
At the same time Siena was rallying in Albany, ODU was in Richmond having to hold off William & Mary in the CAA final -- a Tribe team that had the best nonconference resume of any other league member with wins over Wake Forest, Maryland and Richmond
There was plenty of pressure on the Monarchs, who had to go to overtime to beat hometown VCU in the semifinals Sunday. While ODU had the nonconference win at Georgetown, it didn't beat Missouri, Mississippi State or Richmond when it had the chance early in the season. The Monarchs also lost at Northern Iowa during BracketBusters. Although there's no way of knowing, Old Dominion might've been playing for its NCAA tournament lives against the Tribe.
"When you're picked to win it, that's the double-bullseye and this was the best race this league has had since the mid-1990s,'' ODU coach Blaine Taylor said by phone. "We weren't in first place by ourselves until the 18th game.''
Taylor, who also guided Old Dominion to the NCAAs in 2005 and '07, said playing the BracketBuster game at UNI made them "steely tough,'' even though the Monarchs lost on the road.
Taylor said he was confident the Monarchs could have received a bid even without a win over the Tribe. But that's hard to tell. The Monarchs have consistently been on the cusp of a bid, but haven't always been able to close it out.
The difference with this squad is experience, Taylor said.
"This is the third time in six years that we were sitting on an at-large berth,'' Taylor said. "I would like to think we were going to get something done. But we're at the mercy of the seeding and the bracket.''
Like Siena, ODU is confident it can win a first-round game and maybe more. They both were pushed and pressed to win their respective leagues for two months. Now the weight is off. They are free of the burden.
They are in.