College Basketball Nation:

Blake Griffin
March, 1, 2012
3/01/12
2:19
PM ET
By
Jeremy Lundblad, ESPN Stats & Info
| ESPN.com
The latest College Basketball Nation
Player of the Year Straw Poll
shows a dead heat between
Kentucky
's
Anthony Davis
and
Kansas
's
Thomas Robinson
.
If Davis wins any of the three major awards, it would be historic even compared to Kentucky's storied past. No Wildcat has ever won the Wooden Award, Naismith Award or AP Player of the Year. Among freshmen, only
Kevin Durant
has taken home the hardware, winning all three awards in the 2006-07 season.
Danny Manning
was the last Jayhawk to win national player of the year, claiming both the Naismith and Wooden Awards after the 1987-88 season. No Kansas player has ever won the AP award, which was first awarded in 1961.
The advanced metrics are split on who the top player has been this season.
Davis leads the nation in
Player Efficiency Rating (PER)
, a metric established by John Hollinger to measure overall effectiveness. Davis has a PER of 36 this season while Robinson's PER is 29, 18th in the nation and second in the Big 12 behind
Missouri
's
Ricardo Ratliffe
.
KenPom.com's Player of the Year standings
favor Robinson for the top spot. Davis comes in fourth in these rankings, behind
Draymond Green
and
Jared Sullinger
.
Case for Anthony Davis
Davis changes the game with his defense. Through 29 games, he has blocked 139 shots. He has a chance to set both the national freshman record, currently held by
Marshall
's
Hassan Whiteside
with 182 in 2009-10, as well as the overall SEC record, set at 170 by
Mississippi State
's Jarvis Varnado.
Davis is less polished on the offensive end of the floor, where he averages 14 points per game. The only AP National Player of the Year to average less than 15 points was
Patrick Ewing
for
Georgetown
in 1984-85.
Davis makes 66 percent of his shots from the field, among the best in the nation. If he keeps up his current pace, he'll be the first player to average 14 points, nine rebounds and four blocks since
Connecticut
's
Emeka Okafor
in 2003-04.
Case for Thomas Robinson
While Davis is the nation's top shot-blocker, Robinson is near the top in rebounding. He is second nationally in rebounds per game and first in defensive rebounding percentage.
With a small increase in rebounds per game, Robinson could join Kansas legends Wilt Chamberlain and Clyde Lovellette as the only players in school history to average 17 points and 12 rebounds in a season. The last three power six conference players to reach both thresholds are
Blake Griffin
,
Michael Beasley
and
Tim Duncan
.
Robinson is second in the nation and first among power six conference players with 21 double-doubles this season. Only three players in Big 12 history have recorded more in a season – Griffin, Beasley and
Drew Gordon
.
Robinson averaged less than 8 points per game last season. No AP Player of the Year winner has ever averaged fewer than 10 points per game the previous season.
December, 8, 2011
12/08/11
1:40
PM ET
Typically, for reasons comprising respect, branding, and the simple fact that most sports fans want to watch the culmination of this country's greatest sporting month rather than a so-so NBA regular-season game, the NBA does not schedule games on the first Monday night in April. That's when we college fans crown a champion and hum merrily to "One Shining Moment" and face the slow realization that college basketball is, like Wyclef Jean, gone 'til November. It is not an NBA night.
Alas, thanks to the lockout, the crucial Christmas start date and the league's desire to stuff 66 games into a condensed calendar window, the 2011-12 NBA schedule is all kinds of wacky this season. Many NBA teams will get stuck with daunting back-to-back-to-back slates; some will go on the road for six or seven games in nine or 10 nights. And, for the first time in years, the NBA is going to play opposite the college men on the final night of the NCAA tournament,
according to Dallas Morning News Mavericks writer Eddie Sefko
:
For the first time since 2004, the NBA will have games on the Monday when the college basketball national championship game is played. [...] That will change this year. The Mavericks, who meet the L.A. Clippers, are among the NBA teams that will steal some of the spotlight on April 2 from the NCAA's signature event.
To be honest, I'm not sure how much of the spotlight is there to be "stolen." I mean, sure, last year's title game was horrific; the snootier NBA writers on my Twitter feed had a field day with some variation on "How bad is college basketball that Butler made it this far?" jokes. If 2012 serves up a similar dullard, some of those folks will switch over to watch
That Dude
play Blake Griffin and Co. And the NBA die-hards that tune out college hoops will probably do so anyway.
But the chances of 2012 serving up a title game like 2011 -- when we have so many elite teams with NBA lottery picks littering their rosters -- is awfully slim. More likely than not, we're going to get a big-time battle at the Final Four, one that will not only feature elite programs with the bluest of bloodlines but a smattering of some of the game's best future pros. If this season ends the way everyone will expect, April 2 is going to be epic. I love the NBA, but come on. Regular-season NBA hoops can't compete with
that
.
November, 23, 2011
11/23/11
1:45
PM ET

Tennessee
junior
Jeronne Maymon
had never scored more than 14 points or pulled down more than 12 rebounds in his career. In Tuesday's 99-97 double overtime loss to the
Memphis
, he came out of nowhere for 32 points and 20 rebounds. That performance put him in some pretty elite company.
Maymon became the first power six conference player with a 30-point, 20-rebound game since
Blake Griffin
. Before that, the previous two were
Michael Beasley
and
Kevin Durant
. The last Tennessee player with a 30-20 game was
Steve Hamer
in the 1996 SEC Tournament. Maymon hit 16 free throws, the most by a Vol since Tony White (18) in 1987.
Marshall's passing plan
Kendall Marshall handed out 15 assists as the Tar Heels took down Tennessee State 102-69. It's the second time this season, and third time in his career, that Marshall has registered 15 assists. No other player in
North Carolina
history has more than one such game. Marshall is the first major conference player with two 15-assist games in the same season since Connecticut's Marcus Williams in 2004-05.
Wisconsin's badgering defense

Wisconsin's
defense continues to stifle anyone it comes across. The Badgers held UMKC to 20.8 percent from the field in a 77-31 blowout. Through four games, all against D-I opponents, Wisconsin is holding foes to 34.0 ppg and a 26.2 FG pct. That's 10.0 fewer than any other team is allowing thus far. Consider that Wisconsin basketball is allowing more than 10 points fewer per game than Wisconsin football is scoring (44.8).
Though it's far too early to rationally project, it's worth noting that Wisconsin is on pace for the second best scoring defense in D-I history behind only Oklahoma State (32.5 in 1948). Over the past 45 years, only five teams have held opponents below 50.0 ppg over an entire season.
Louisville's stingiest game in 65 years

Louisville
beat Arkansas State 54-27, the fewest points allowed by the Cardinals since a 60-27 win over Vanderbilt on January 5, 1946. It's the fewest points scored by a Division I school since Ohio State held Samford to 22 points in November 2008.
According to the Elias Sports Bureau, this was just the third time a Big East team has held an opponent to 27 or fewer points in the conference's 33 year history. Providence beat New Hampshire 56-27 in 1992 and Georgetown topped Columbia 38-26 in 1981.
Launch Mower

Lafayette's
Jim Mower
went 10-for-13 from 3-point range in the Leopards' 85-74 win over Fairleigh Dickinson. That's a school record for 3s in a game, and more than Mower had in his first four games combined (9).
Only four players reached double digits in 3s last season, and Mower is the first to do so in 2011-12. He's the first to do it in November since Arkansas' Rotnei Clarke in 2009. Mower finished with a career-high 37 points, crossing the 1,000-point threshold in the process.
November, 16, 2011
11/16/11
3:05
PM ET

•
Middle Tennessee
shot 71.4 percent from the field including 10-of-11 from 3-point range in an 86-66 drubbing of
UCLA
. The Blue Raiders connected on their first nine from long distance. Both the 71.4 FG pct and 90.9 3-pt FG pct are the highest allowed by UCLA in at least the last 15 seasons. The Bruins are off to their first 0-2 start since 2002-03. With Division II Chaminade on deck, the Bruins should avoid their first 0-3 start since 1940-41.
• After blocking seven shots in Tuesday's 75-65 win over
Kansas
,
Kentucky
freshman
Anthony Davis
now has 12 blocks through two games. For comparison, consider that
Jamaal Magloire
, the most prolific shot blocker in school history, had three blocks in his first two games. Davis' seven blocks are the most against Kansas since
Boston College's
Sean Williams
had seven in a game in 2006.
Shane Battier
is the last to have more. It's also tied for the fifth highest single-game total in school history. Only Sam Bowie, Andre Riddick (twice) and
Patrick Patterson
had more in a game.

• Last night, Stephen Bardo tweeted that "
J'Covan Brown
of
Texas
playing better than any guard in nation right now." It's hard to argue otherwise after he torched
Rhode Island
for a career-high 35 points in the Longhorns' 100-90 win. It's the most points by a Longhorn since
Kevin Durant
in 2007. He's also the first since Durant to score at least 28 points in back-to-back games. Brown added six assists and six rebounds. He also became the first player from a power six conference school with a 35-5-5 game since
Greivis Vasquez
in February 2010. The last Big 12 player to do it?
Blake Griffin
.

• After losing to Division II Ohio Dominican on Saturday, it didn't seem like things could get worse for
Southern Illinois
. Tuesday brought the worst shooting performance in school history. The Salukis shot just 20.5 percent from the field in a 61-42 loss to
Saint Louis
. At halftime, the Salukis were just 4-for-22 (18.2 percent) from the field and didn't have an assist. Southern Illinois finished with just one assist compared to 14 turnovers.

•
Josh Davis
had one of the most efficient games of the season in
Tulane
's 96-50 win over
Nicholls State
. The transfer from
NC State
put up a career-high 23 points to go with 11 rebounds. He was 10-for-11 from the field, the top shooting performance this season among players with at least 10 attempts.
August, 29, 2011
8/29/11
10:45
AM ET
When you read the words "Blake Griffin" and "Oklahoma alumni basketball game," you assume there must be some YouTube clips out there. Surely Griffin, who was in attendance Saturday in Norman, Okla., for the Sooners' new reunion weekend, took the opportunity to do something crazy. Maybe he brought another Kia to dunk over. Maybe he reprised his famous forehead dunk. The possibilities are endless.
Alas, bad news, folks: Griffin was merely an attendee at Saturday's festivities. But he
was joined by more than 100 fellow Oklahoma alums
for the Legends Alumni Game, a new Kruger idea designed to unite the program in the midst of its recent struggles and bring former players and coaches back on campus to foster a sense of recurring community. Kruger even got two of his OU predecessors -- Kelvin Sampson and Dave Bliss -- to coach the two alumni teams. Quite a tandem, that.
Anyway, it sounds like a fun event. Quannas White and Hollis Price -- the backcourt from Oklahoma's run to the 2002 Final Four -- played on opposite teams, while everybody hobnobbed around and talked about the positive communal feeling Kruger was trying to inspire. The only letdown? Griffin never suited up. If there's one thing the NBA lockout is truly robbing us of, it's a year of Griffin's dunk-on-everybody's-head prime. In a few years, he'll have to round out his game, he'll stop destroying everything in his path, and I'll look back in anger on this day, when we could have been watching a Griffin alumni game highlight reel with our morning coffee. Talk about a missed opportunity.
Update
: In case you wanted a few more details,
Oklahoma has you covered here
. Turns out, Griffin's duty was limited to throwing up the tip-off during the game's second half. Such a bummer. Oh, and
if there's a more unintentionally funny photo than this one on the Internet today
-- yes, it's a picture of Sampson and his players holding the trophy in celebration after the game -- I haven't seen it.
February, 20, 2011
2/20/11
1:22
AM ET
The NCAA tournament bubble is a function of time and desperation. As the teams that make up this soft bubble inch toward Selection Sunday, every game is both a threat and and an opportunity. A win might seal your bid. A loss might put you away. That's true throughout the year, of course -- people who say college basketball's regular season doesn't matter have apparently never tracked their team's bubble odds -- but November and December are always full of promise. February and March are all about cold, hard reality.
It's Feb. 19. Crunch time is officially here. Who made the most of their opportunities Saturday? Who missed out? Here's a look at the day's winners and losers, bubble-bound and otherwise:
WINNERS
St. John's Red Storm:
Steve Lavin's team just keeps knocking off top-ranked foes at home. Pittsburgh was the latest victim of the resurgent Red Storm in a resurgent Madison Square Garden -- St. John's and the Knicks are both doing their part to revive the nation's most famous arena --
in Saturday afternoon's nail-biting 60-59 loss
. The Panthers were arguably the victim of some poor officiating;
Dwight Hardy
's last-second, game-winning layup might not have counted had the baseline official been watching Hardy's feet, both of which appeared to be out of bounds. But no matter. A win is a win is a win. And when it comes to big wins, there aren't many teams in the nation with a more impressive tally than St. John's. (Hardy & Co. now have six top-50 RPI wins, including five -- five! -- against the RPI top 12: Georgetown, Notre Dame, Duke, UConn, Pittsburgh.) As a result, the Johnnies are off the bubble, out of the Big East cellar, and -- for the moment, at least -- nationally relevant once again.
[+] Enlarge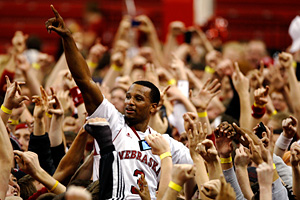 Bruce Thorson/US PresswireNebraska's win over Texas puts the Cornhuskers back into the Bubble Watch conversation.
Nebraska Cornhuskers:
I left Nebraska for dead in the Bubble Watch in recent weeks, but we wrote Friday that if any of the lower-tier Big 12 teams (Colorado, Oklahoma State and the aforementioned Huskers) vying for a bubble spot could win this weekend, they'd be back in the picture for good.
The Cornhuskers came through
. Not only did Saturday's impressive defensive effort earn Doc Sadler's team its sixth conference win, it sank a Texas team that had yet to be challenged in Big 12 play,
created yet more uncertainty at the top of the polls
, and gave the Huskers a legitimate chance of sneaking into the tournament. Wins don't get much bigger than this.
Arizona forward Derrick Williams:
Sure,
Arizona won and Washington lost
, but there were no real losers in Tucson on Saturday. The Wildcats effectively sealed their Pac-10 title hopes. The Huskies proved their offense is back on track with a gutty performance against a good team in a tough road environment. And both teams got some much-needed national exposure, a resource in short supply during the Pac-10's two-year swoon. But the real winner here was Arizona forward Williams, who made the most of a rare nationally televised, prime time appearance with a monstrous performance. (
Lorenzo Romar's words, not mine.
) Williams was his typically brilliant self (26 points, 11 rebounds), but he saved the best -- a ferocious last-second walk-off block -- for last. If he wasn't already, Williams became a very rich man Saturday. One lucky NBA general manager will soon see to that.
Utah State Aggies:
The Aggies finally got that top-100 RPI win, and
they got it in rather impressive fashion, too
. Even after last week's ugly loss to Idaho, the Aggies were (perhaps miraculously, given their notable lack of quality victories) still on the right side of the bubble this week, but they needed at least one win to have something -- anything -- to point to as proof they could compete with quality teams outside their own building. Beating a good, if struggling, Saint Mary's team in Moraga is exactly that.
Michigan State Spartans:
Big win for Tom Izzo's team
. Not only does it buttress the Spartans' bubble bonafides, it caps a lightning-fast late-season turnaround that has seen Michigan State go from being blown out at Iowa to nearly toppling Ohio State before finishing the job against Illinois Saturday. Two weeks ago, this looked like an NIT team. Not any more.
UNLV Runnin' Rebels:
The Rebels' tourney chances could probably have survived a loss at Colorado State on Saturday, but why risk it? Instead, UNLV recovered from an ugly first half,
hung 46 on the Rams in the second half
, pulled within a half-game of CSU in the MWC standings, and -- along with their more impressive nonconference performance -- ensured the Mountain West's third bid goes to Vegas instead of Fort Collins.
West Virginia Mountaineers:
If the Mountaineers were in real danger of missing the NCAA tournament -- and with that insane computer profile, I'm not sure they were -- that danger is over now.
West Virginia's convincing home win over Notre Dame
all but ensures this team will make the tournament. Considering the 'Eers backloaded schedule (their last four games are at Pittsburgh, at Rutgers, versus Connecticut and versus Louisville), and their one-step-forward two-steps-back performances in recent weeks, this win couldn't have come at a better time.
The MAAC in general:
Wait, the MAAC? What gives? I'll tell you what: The
Metro Atlantic Athletic Conference went 9-1 in the BracketBusters Saturday
. Even lowly Marist, with its 3-13 MAAC record, managed to hold on for a nice home win over New Hampshire. None of these teams are on the bubble, none of these wins really means all that much in any national context, but who cares? That's an awesome day for the Metro Atlantic Athletic Conference.
Blake Griffin:
Yes, the car dunk was a little overhyped, but whatever. Dude is crazy.
We knew him when
!
LOSERS
The Missouri Valley Conference in general:
It was not a good weekend for the MVC. Before the BracketBusters, both Missouri State and Wichita State had hopes -- however faded they may have been -- of landing at-large bids to the 2011 NCAA tournament. After Saturday, it's clear this is a one-bid league.
The Valley went 3-7 in BracketBusters this weekend
thanks in large part to losses by its top
six
teams. Creighton lost at Akron. George Mason beat Northern Iowa in Cedar Falls. Valparaiso rocked Missouri State.
Throw in Wichita State's crushing one-point loss to VCU Friday night
, and well, yeah. As much as it pains us to toss this proud mid-major league to the bubble dustbin, we really don't have a choice.
Teams with long win streaks:
Entering Saturday, four teams in the country held winning streaks of 10 games or more. Exiting Saturday, only one remains. George Mason extended its nation-best streak to 13, but Texas lost at Nebraska, Vermont was
crushed at Charleston
and Princeton suffered its first Ivy defeat in a
stunning 75-65 loss
to 9-14 Brown.
Memphis Tigers:
Every time you think this Memphis team is starting to figure things out, it goes and does something
like this
... and totally crushes its at-large profile yet again. Yes, the Tigers lost at Rice. Yes, Rice's record is 12-14 overall and 4-8 in conference play, and yes, Rice's RPI is 170. And no, I can't possibly word this better than The Associated Press headline
here
: The Owls "took a shovel" to Memphis' NCAA tournament chances. Yep. Pretty much.
Virginia Tech Hokies:
The Hokies had been playing their best basketball of the season lately; they appeared to be creating separation between themselves and the rest of the ACC's muddled, sub-bubble middle. And then ...
this happened
. Yes, Virginia Tech lost to Virginia for the second time this season, thanks in large part to the sort of ugly shooting (40.4 percent from the field, 31.8 percent from 3-point range) that dogged Tech in its handful of disappointing nonconference losses. The Hokies picked a bad time to rediscover their previous shooting woes, as this loss puts them right back in the thick of the bubble mess. Ouch.
[+] Enlarge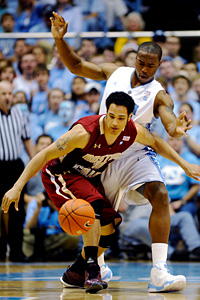 AP Photo/Sara D. DavisDallas Elmore and the Eagles wasted a good opportunity to improve their tournament résumé.
Boston College Eagles:
When you sit squarely on the bubble, and you catch North Carolina on what has to be its worst offensive day of the season (and certainly of the past month), and you have a legitimate chance to get a huge road win against a team with a sexy RPI, you
have
to find a way to get that victory. BC didn't. Instead,
UNC scored its fewest points ever at the Smith Center and yet held on for a shockingly ugly 48-46 win
. It's not that Boston College held the ball too long on its final possession, though that was a killer. It's that the Eagles --
one of the best offenses in the country this season
-- couldn't muster more than .79 points per trip. If BC plays even average offense -- which, for them, would still have been well below average -- it gets this win and suddenly look like a very strong at-large candidate. Instead, the Eagles come away with nothing. Let's hope this one doesn't come back to haunt them.
Washington State Cougars:
Washington State has hung around on the bubble for much longer than it's probably deserved; such is the nature of this season's extra-squishy at-large landscape. No more. You can't lose four of your past six -- including losses to Oregon, Stanford and
at Arizona State
(combined Pac-10 wins: 12) -- and expect to get the benefit of the doubt in March. Unless this
disjointed, uneven
team somehow wins at Washington next Saturday, they'll have to win the Pac-10 tournament to get in. Ick.
Oregon State Beavers:
Then again, for as bad as it gets in Pullman, at least the Cougars can rest easy knowing they're not the biggest disaster in the Pac-10. No, that honor goes to the Oregon State Beavers,
who moved to 9-16 overall and 4-10 in league play with Saturday's 82-63 loss to Oregon
. It's hard to argue Oregon is more talented than Oregon State. It's easy to argue -- especially after Sports Illustrated writer and "Play Their Hearts Out" author
George Dohrmann's blog post on the subject this week
-- that Oregon State is less a team than a group of confusingly coached, selfish individualists. OSU coach Craig Robinson continues to urge patience. If this keeps up, that argument will be tough to make, too.
Duquesne Dukes:
It's not that Duquesne should have been expected to win at Dayton. Dayton is reasonably tough, especially in its own building, and Duquesne was probably due for a correction after its startling 8-0 start to A-10 play. But the
one-point loss to the Flyers was a huge missed opportunity
for a team that desperately needed to avoid losses to stay in the bubble picture down the stretch. Duquesne led 58-52 with less than five minutes remaining Saturday, but Dayton answered with 10 straight points, capped off by a crucial
Juwan Staten
free throw with 28 seconds left on the clock. A win would have kept the Dukes' fading at-large chances alive. The loss might've squashed those chances for good.
Serge Ibaka:
Come on, judges! Serge was all the way behind the free throw line! He grabbed a teddy bear in his mouth!
What more do you need?
July, 30, 2010
7/30/10
8:55
PM ET
By
Diamond Leung
| ESPN.com
Former USC forward
Leonard Washington
will transfer to Wyoming, according to coach Heath Schroyer, who was so excited to get the 6-foot-7, 230-pounder into the Cowboys program that he
tweeted the news using four exclamation points
.
Washington, who has two years of eligibility left, is probably best known for an incident during his freshman season when he was ejected from a game for
delivering a low blow
to Oklahoma star Blake Griffin.
Washington's sophomore year under new coach Kevin O'Neill went even less swimmingly, as he started the season on academic suspension and ended it with O'Neill dismissing him from the team.
Washington did relish his
role as an intimidator
and averaged 6.2 points and 4.4 rebounds coming off the bench this season.
He brings baggage with him to Wyoming, but the Cowboys have to hope his addition for the future would be one step toward the program reversing its
recent downward trend
.
March, 21, 2010
3/21/10
3:44
PM ET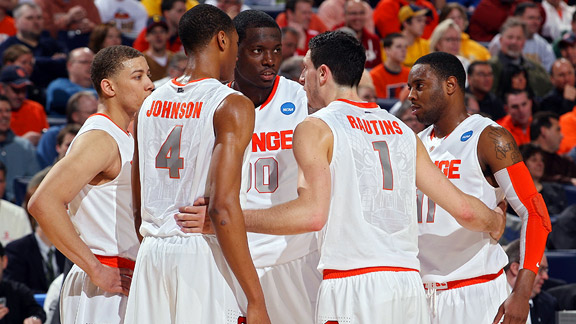 Rick Stewart/Getty ImagesSyracuse's Wes Johnson (4) really came through for the Orange, playing all 40 minutes in their 87-65 win over Gonzaga.
BUFFALO, N.Y. -- There was a point this season when
Wes Johnson
couldn't even pick up his laptop. His hand, injured in a fall at Providence, was swollen and sore to the point of uselessness.
When he went up to shoot, he could barely feel the ball in his hand. When he went to practice, there was more he couldn't do than he could do.
Note to the teams heading to Salt Lake City: His hand is all better now, thanks.
Johnson scored a career-high 31 points on 11-of-16 shooting and added 14 rebounds to
lead an 87-65 humiliation of Gonzaga
usually reserved for first-round games.
In a game when the Orange were squeezed playing without
Arinze Onuaku
and relying heavily on six guys, Johnson played all 40 minutes.
"Yeah, I think it's fine now,'' Johnson said with a grin when asked about his hand.
That's almost as critical a bit of news as the status of Onuaku's leg injury.
The Syracuse nation has been obsessed with Onuaku's leg since he injured it in the Big East tournament quarterfinal against Georgetown. The Orange faithful should have been more concerned about Johnson's ability to return to form since late February.
Johnson is on the eve of becoming a very rich man in the NBA, and it's rare that a national championship team doesn't have a star on its roster.
North Carolina had a roster full of them in 2009. Ditto Kansas in 2008, Florida in 2007 and 2006, North Carolina in 2005, and Connecticut in 2004. In 2003, of course, Syracuse had Carmelo Anthony.
As well as all the parts working together for Syracuse, they work a whole lot more effectively when Johnson plays as he did against the Bulldogs.
Only Blake Griffin (30 points, 14 rebounds, 80 percent shooting against Syracuse, and 33 points, 17 rebounds, and 70 percent shooting against Michigan in 2009) has had a more productive NCAA tournament day since 2000.
"If he hadn't had this injury, he would be up at an even higher level now than he is,'' Jim Boeheim said. "He was playing at a really high level and getting better. That just took him right back down for eight games. He's just getting back.''
Back at just the right time, too.
The Orange will need everything Johnson can give over the next two weeks. With a short turnaround here -- Syracuse plays Thursday in Salt Lake City -- it would seem a long shot that Onuaku will be ready to go. He hasn't practiced yet and Boeheim talked about the importance of getting freshman
DaShonte Riley
even stronger in the next week.
Syracuse can win without Onuaku -- just ask Gonzaga -- but the Orange has to win differently.
The porous Zags' defense allowed the Orange to shoot 54 percent from floor and nail 12 3-pointers, the most by a Cuse team in NCAA tournament history.
Syracuse can't count on that happening every night.
What might happen, though, is the 38 points the Zags were able to score in the paint.
Rick Jackson
got smacked with his third foul with 9:53 left in the half, pushing Riley into duty. He performed admirably, but he is hardly the anchor that Onuaku is, and it would be unfair to expect him to be. The freshman played in 125 minutes in the regular season.
"That never would have happened; (Arinze) doesn't allow that to happen,'' Boeheim said. "He controls that paint area. They were able to overcome it because we shot the heck out of the ball. If we don't shoot the heck out of the ball, then those points down there are really going to hurt you.''
Unless the Cuse can wish upon their star.
January, 9, 2010
1/09/10
10:40
PM ET
As if losses to VCU, San Diego, Houston, UTEP and Gonzaga weren't bad enough.
Most expected Oklahoma to take a step back after world-destroying All-American Blake Griffin left to become the No. 1 NBA pick last spring; that was obvious. But with budding star
Willie Warren
eschewing the NBA lottery to stay in Norman for another year, no one had any right to expect this:
The Sooners are now 9-6
, and their
latest loss might be their worst
.
Yes,
Oklahoma surrendered 91 points to Baylor in a 31-point loss Saturday night
. It's good news for Baylor -- at 13-1,
LaceDarius Dunn
and company have taken a serious step toward national prominence -- and really bad news for the Sooners, who are officially in shambles.
The bright side, at least for Warren, is that he appears to have figured out whatever was keeping him in coach Jeff Capel's doghouse earlier this season, when Capel said he was "tired of trying to figure him out." At least Warren's draft stock won't completely combust in 2010. But other than that, it's all bad, and barring some sort of Tennessee Titans-esque second-half winning streak -- we're talking 10 or 11 games in a row or something -- the Sooners' season is basically over. Blech.
December, 21, 2009
12/21/09
3:37
PM ET
Soon, there will be a better name for this than "Afternoon Linkage." Or, I should say, if the new name isn't exactly better, it will at least sound like there was some iota of thought involved before the fingers started hitting the keys. That much I can promise. In the meantime, off we go. (As always, if you have links or sites you want to submit for consideration, hit me up on
Twitter
.)