College Basketball Nation:

Bob McKillop
June, 3, 2014
Jun 3
12:00
PM ET
Editor's note: Over the next five weeks, we will reveal the top 50 coaches in college basketball as decided by our ESPN Forecast panel. Today we unveil No. 24: Davidson's Bob McKillop. On Wednesday, we release No. 23.
Bob McKillop has coached basketball in exactly two places in his life. The first was Long Island. In 1973, McKillop was hired to coach and teach history at Holy Trinity High School in Hicksville, N.Y. He served one year as an assistant at Davidson, in 1978-79, and then back to Long Island he went, where, at Long Island Lutheran, he won five New York state titles in 10 years.
In 1989, he was hired at Davidson. In 2013-14, his 25th season at the school, the Wildcats renamed the Belk Arena court in his honor.
Our ESPN Forecast coaches rankings are about present performance. They are not designed to rank coaches based on historic performance, or legacy, or any of the truly long-term things you couldn't revise in a year's time without getting a somewhat different set of results. Which is why the No. 24 spot -- ahead of a score of high-profile coaches with impressive résumés of their own -- is an especially telling testament to the level of respect McKillop still commands in his profession.
To continue reading this story,
click here
.
October, 10, 2013
10/10/13
10:00
AM ET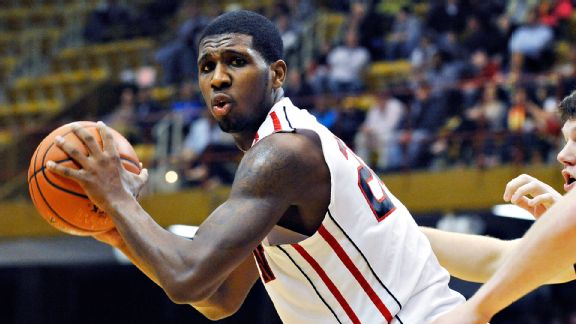 AP Photo/Rainier EhrhardtDe'Mon Brooks, who averaged 13.7 points and 6.2 rebounds per game in 2012-13, returns this season for Davidson.
It's college basketball preview season, and you know what that means: tons of preseason info to get you primed for 2013-14. But what do you really need to know? Each day for the next month, we'll highlight the most important, interesting or just plain amusing thing each conference has to offer this season — from great teams to thrilling players to wild fans and anything in between. Up next: One more mid-major case study in the SoCon.
Earlier this morning, we talked about Belmont. More specifically, we talked about the rather wide gulf between what Belmont has accomplished on the court and its recognition among casual fans. The difference, of course, is success in the NCAA tournament.
Such is the curse of the mid-major in a 345-team Division I landscape. You can fight with everything you have all season long, wage a grueling conference campaign, and emerge victorious. Blood and tears are typically involved. A 35-game college hoops season is
hard
. And after all of that, many worthy mid-majors' best and only hope is that a) they don't go cold at the wrong time in the conference tournament and b) they can spring an upset in the first round. It doesn't matter how convincing your regular-season was. Everything comes down to a few plays on an early March weekend, for better
and
for worse.
If Belmont understands this lesson, so too does Davidson. Indeed, few mid-majors in the country could provide a more accurate case study in the difference a few plays in March can make.
It was just 2008, after all, that Davidson was led to the brink of the Final Four by a shockingly entertaining unknown named
Stephen Curry
. The 2012-13 season was the Wildcats' best since Curry was on campus, and was billed as such; it was a team molded around star center Jake Cohen and the efficient contributions of the guards around him. Davidson was good enough to make a deep tournament run. Instead?
Marquette 59, Davidson 58 happened
. Just like that.
And then there are the stakes. It will be difficult for Davidson to match last season's effort. Cohen is gone, as are guards
Nik Cochran
(a 49 percent 3-point shooter) and
JP Kuhlman
(the team's leader in assist rate). Bob McKillop still has a few arrows in his quiver; forward
De'Mon Brooks
and swingman
Chris Czerapowicz
top the list. But now, after years of baking a Jake Cohen-flavored pie at just the right temperature -- years scraping to get back to that blissful Curry level -- Davidson must go right back to the drawing board with a new wave of personnel and a host of conference foes nipping at their heels.
In case you were wondering: No, being a mid-major coach is not the easiest job in the world. I'm glad we got that settled.
July, 17, 2013
7/17/13
5:00
AM ET
1. Oklahoma State's Marcus Smart is having quite a summer and being rewarded for his service. His efforts will play well with the USA men's national team and ultimately earn him unlimited respect among NBA personnel decision makers. Smart decided to return for his sophomore season at Oklahoma State, turning down a lock to be a top five draft pick. Then, he was cool with being one of the contributors instead of the go-to player on the gold-medal winning FIBA U-19 USA team in Prague. Smart was then honored by being the only collegian chosen as part of the select team that will practice and scrimmage on display for national team coach Mike Krzyzewski and USA Basketball CEO Jerry Colangelo next week in Las Vegas. "It's a great opportunity for him to compete against the best,'' said Oklahoma State coach Travis Ford. "He will learn a lot on the court, but also away from the court. I'm excited he will be able to talk and get to know many of these great pros, pick their brains on what it's like to be in the NBA and what it takes to become a great pro.'' What's next for Smart? Well, he's got to lead Oklahoma State to a Big 12 title over Kansas and make a deep run toward a Final Four. No, actually he just has to continue being a high character winner for the Cowboys.

2. VCU and Northeastern are in the Puerto Rico Tip-Off Classic but are on opposite brackets. VCU will host Northeastern on Nov. 29 in a "fourth" game as part of the tournament. But it allows the two schools to renew a CAA game that was worthy of attention when the two were in the same league. And if they were to play twice in the same season then what's wrong with that? The Las Vegas Invitational shouldn't have worried about UCLA and Missouri still playing against each other on Dec. 7 in Columbia. So what if they end up playing twice in the same season? The Invitational would have had more appeal if it were a true tournament format instead of set matchups of UCLA and Missouri playing Nevada and Northwestern. Creighton and Marquette are both in the Wooden Legacy and are in the same conference now (Big East). Marquette also had a scheduled game against Arizona State yet both are in the Wooden Legacy. Memphis and Oklahoma State are scheduled to play, yet both are in the Old Spice Classic -- on opposite sides of the bracket. UCLA and Missouri could have done this as well and run the risk/gamble/chance of playing twice for two quality games.

3. The USA World University Games team finished a disappointing ninth in Kazan, Russia, but the kinship of the staff clearly is going to have shelf life. Michigan coach John Beilein and South Carolina coach Frank Martin, who were assistants to Davidson's Bob McKillop, were quick to tweet out how much they enjoyed coaching together. Martin tweeted spending time with Beilein and McKillop was "unreal. They're brilliant basketball minds and better men. USC basketball just got better." Beilein tweeted, "I will always cherish my 24 days with this team and staff. Bob McKillop + Frank Martin and I have a bond now that will last forever. USA!!" This was Beilein's first time -- ever -- being an assistant. The sharing of ideas is what coaching should be about at any level and the best of USA basketball is when a staff can get along, discuss each other's strengths and improve each other's program.
July, 2, 2013
7/02/13
5:00
AM ET
1. Michigan coach John Beilein is an assistant for the first time in his life and loving every second. Beilein, who flew back from USA basketball's training center in Colorado Springs to the NBA draft in Brooklyn last Thursday to be with No. 9 overall selection and national player of the year
Trey Burke
, is a member of the USA's World University Games staff. Davidson coach Bob McKillop is the head coach with South Carolina's Frank Martin the other assistant. The WUG team left Monday from DC en route to Russia where the games will begin next week. "I am really enjoying the experience of sharing ideas with Bob McKillop and Frank Martin,'' said Beilein. "Plenty of new concepts to consider.'' Beilein reiterated that you can never stop learning. Beilein has had a remarkable coaching run but at every stop at all levels of basketball he has never been an assistant -- until now.
2. Miami coach Jim Larranaga said he has his fingers crossed in hoping his son Jay gets the Boston Celtics head coaching job. If that occurs, and there is a chance, it would be quite a remarkable event to have a father-son combo coaching in major college basketball and the NBA. And there's no way anyone would have guessed it would be with the father coaching in college and the son in the NBA. The father-son combo of note in college basketball right now is Rick Pitino (Louisville) and Richard Pitino (Minnesota). But this Larranaga item would be even more unique based on how low the odds were of this even being considered at some point. Jay Larranaga has had a successful stint with the Celtics organization this past season. He was very impressive in running the Celtics NBA draft workouts, as witnessed in early June. He had a command of the material, was energetic, taught drills and plays easily and was engaging.
3. The World University Games is providing a feed for ESPNU and that's why the games are on television later this month. WUG is making the project cost-effective. FIBA should take a cue from the World University Games event. The FIBA World Championships in the 19- and 18-under events have traditionally involved high-level players from the United States and abroad (last year's 18-and-under event was in Brazil and this year's 19-and-under is currently going on in the Czech Republic). These tournaments are the precursor to the World Championships and the Olympics. FIBA would be wise to help get these games on television in the United States to continue to grow the FIBA brand and create more of an awareness in the States. Americans would have interest in following names they know and others they will in the future. A fail by FIBA, but a big win for WUG.
June, 4, 2013
6/04/13
5:00
AM ET
1. The Anaheim Classic is going through some changes that should make it a more intimate event, building up toward a more unique championship day. The tournament, played over Thanksgiving weekend, has been at the Anaheim Convention Center, but has had plenty of sparsely populated games. So, the plan is to move the first two days of the tournament to Cal State-Fullerton's Titan Gym. The final day of the event will be played at the Honda Center in Anaheim to give it more of an elite ending. And to raise the profile of the event, the name will no longer be the Anaheim Classic but rather the Wooden Legacy. The first two rounds will be Nov. 28 and 29 with the championship day on Dec. 1. The tournament has headline teams in Creighton, San Diego State, Marquette, Arizona State and Miami with the College of Charleston, George Washington and the host Titans. Fullerton needs to take advantage of their homecourt and play well for two reasons -- to play rare higher-level games at home and to ensure the crowds are decent.
2. The cuts for the World University Games team playing in Russia could be some of the hardest for USA basketball. Junior national director Jim Boeheim of Syracuse will have a hard time whittling down this list. The team, which will train the last week of June in Colorado Springs, should be the overwhelming favorite in the event. But getting down to the cut list of 24 will be quite a chore for Boeheim and WUG coaches Bob McKillop (Davidson), Frank Martin (South Carolina) and John Beilein (Michigan). Here is the list:
Eric Atkins
(Notre Dame),
Markel Brown
(Oklahoma State),
Deonte Burton
(Nevada),
Quinn Cook
(Duke),
Bryce Cotton
(Providence),
Spencer Dinwiddie
(Colorado),
C.J. Fair
(Syracuse),
Yogi Ferrell
(Indiana),
Davante Gardner
(Marquette),
Treveon Graham
(VCU),
Jerian Grant
(Notre Dame),
P.J. Hairston
(North Carolina),
A.J. Hammons
(Purdue),
Luke Hancock
(Louisville),
Joe Harris
(UVA),
Tyler Haws
(BYU),
Andre Hollins
(Minnesota), Rodney Hood (Duke),
Josh Huestis
(Stanford),
Cory Jefferson
(Baylor),
Sean Kilpatrick
(Cincinnati),
Alex Kirk
(New Mexico),
Devyn Marble
(Iowa),
Doug McDermott
(Creighton),
Adreian Payne
(Michigan State),
Chasson Randle
(Stanford),
Will Sheehey
(Indiana),
Aaron White
(Iowa),
Kendall Williams
(New Mexico).
3. The list will be cut down to 12. Everyone could use making the team to better themselves. But Hood could use it more than anyone else after sitting out last season as a transfer from Mississippi State. Hood needs game action before he starts to star for Duke. Fair, Grant, Hairston, Jefferson, McDermott and Payne all are trying out for the team after making the decision to return to school. The fact that two players from Indiana, Duke, Notre Dame, New Mexico and Iowa are on the first list is a sign about these three teams' future next season. Kirk and Grant have a chance to be headline players next season. So too, does White. The one player who could benefit as much as anyone is Ferrell, who will have to be even more of a playmaker next season without
Victor Oladipo
on his wing.
May, 15, 2013
5/15/13
5:00
AM ET
1. Texas lost 18 games last season. The Longhorns won seven in the Big 12 and were shut out of the NCAA tournament for the first time since head coach Rick Barnes arrived in 1998.
Sheldon McClellan
and
Julien Lewis
were third and fourth, respectively, on the team last season in turnovers with a combined 112 and are both transferring. Jaylen Bond, who battled a foot problem for most of the season, also left. According to a source, the decisions weren't solely the players'. Should Texas be worried that these three, as well as NBA-draft-bound guard
Myck Kabongo
(23-game amateurism suspension), are out of the program? If last season's freshmen class is on board with the way Barnes wants to play, the answer is no.
Ioannis Papapetrou
,
Javan Felix
,
Connor Lammert
,
Demarcus Holland
,
Prince Ibeh
and
Jonathan Holmes
will be the core of next season's team. Holland clearly likes the idea of what remains in Austin. He
tweeted
after a workout on April 30: "Honestly never loved a team like I do now. Feels great when you can get it in, say family on three, and really feel like brothers. #Horns.'' At the time, Bond, McClellan and Kabongo were all gone. Barnes told his staff that he wants to get back to the teams he has had in the past, with players who will play with toughness and display the passion for winning. According to someone close to the program, despite the defections, the staff has looked at this spring as one of its best in terms of player development. The Longhorns also brought in four newcomers for next season. Texas will be picked in the lower half of the league, below Kansas, Oklahoma State, Baylor, Iowa State and Kansas State. The onus is on this crew, led by someone like Holland, to propel Texas back to its rightful place in the Big 12, in competition behind Kansas. If these departures are addition by subtraction, Barnes will know early on. If not, next season could seem like a dog year.
2. Michigan State athletic director Mark Hollis said there were logistical issues that could not be worked out for the proposed Dec. 7 game against Gonzaga in Spokane, Wash., to honor former Spartans coach and Spokane resident Jud Heathcote. So the game is off -- along with the proposed undercard of Washington State versus Montana. Wazzu coach Ken Bone said Idaho had been willing to move a date for the Cougars, but now that is unnecessary. Meanwhile, an SEC official said the league didn't have criteria for not including Georgia, LSU, Arkansas and Tennessee in the inaugural SEC/Big 12 Challenge. Scheduling conflicts and the need to balance the series were why those four schools were omitted in a challenge between a 14-team SEC and a 10-team Big 12. Still, organizers probably could have tried to get star-laden Oklahoma State a higher-profile game than hosting rebuilding South Carolina.
3. Gonzaga coach Mark Few said being away from his family was the reason he is stepping aside from coaching the U.S. under-19 team with Florida's Billy Donovan and Virginia Commonwealth's Shaka Smart in the world championships June 27-July 7 in Prague. Along with the practice sessions, it becomes nearly a month's commitment. The three coaches won gold a year ago in Brazil with the under-18 squad. Virginia coach Tony Bennett will take Few's spot on the staff. In an event taking place July 6-17 in Kazan, Russia, Davidson's Bob McKillop, Michigan's John Beilein and South Carolina's Frank Martin will coach the U.S. team at the World University Games. Meanwhile, Iowa State's
Melvin Ejim
is diversifying his international basketball career. Cyclones coach Fred Hoiberg said Ejim will play for Canada this summer after playing for Nigeria a year ago. Hoiberg said Ejim has dual citizenship from the two nations.
March, 21, 2013
3/21/13
8:08
PM ET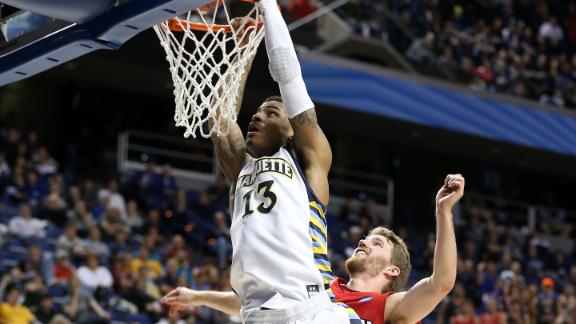 LEXINGTON, Ky. --
Vander Blue
had made that exact shot, just from the other side, two weeks ago.
He was on a grand stage and the stakes were high -- at Madison Square Garden, with a chance to lock up a share of the Big East regular-season title for Marquette.
But for Blue to get a chance to mimic the shot that beat St. John's on March 9 -- a shot with 1 second remaining Thursday that would knock off Davidson
59-58
in the opening game of the NCAA tournament for both teams -- he needed two unpredictable events.
Davidson had to throw the ball out of bounds on a poorly executed inbounds attempt, and the third-seeded Golden Eagles needed a timeout to settle down.
Davidson obliged with the turnover.
The officials then gave Marquette the chance to talk over the final play and calm any late-game angst. Not through anything of the Golden Eagles' doing, however: Marquette didn't have any timeouts remaining, but the refs had to go to the monitor to ensure there were 6.7 seconds remaining and not 5.5, which is what the scoreboard read.
Maybe, in a future NCAA tournament or regular-season game, the sport will see fit to force the players to stay on the court and not huddle with their staff when a timeout isn't available. But that's not the case now.
[+] Enlarge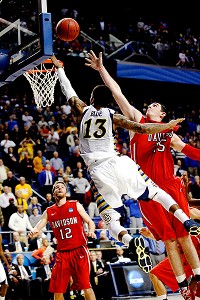 Mark Zerof/USA TODAY SportsMarquette's Vander Blue gets past Davidson's Jake Cohen for the winning shot.
"Unfair advantage," said Davidson coach Bob McKillop. "We certainly knew they didn't have a timeout and that's why we didn't call a timeout there when they made that 3 [to bring Marquette within a point 58-57], because they didn't have one."
Marquette coach Buzz Williams said the stoppage of play was an unexpected advantage for one reason -- his players needed to chill.
"It definitely helped," said Williams, adding that he almost never finds himself without a timeout in late-game situations.
"Our guys knew what we were going to run, but it probably helped us to calm down somewhat," said Williams. "They had been changing man to zone, zone to man. We were going to run the same play, but I would say emotionally it probably helped more than strategically."
Davidson's
Jake Cohen
said he got switched on the play, and then Blue sliced past to the hoop and finished. The layup essentially ended a terrific performance by Cohen, whose versatility in scoring (20 points) and assists (one, but it was on a key cut to the basket for a deuce) were on display.
McKillop said the No. 14-seeded Wildcats were trying to get Blue to catch the ball away from the basket. He went right to it and got the hoop.
Davidson (26-8) went from being the story to being forgotten in a matter of seconds.
"You can tell by our faces we're not happy about it," said Cohen. "It's devastating."
Blue, meanwhile, was euphoric.
"We got their 5-man to stand up a bit, and it was a footrace to the basket," said Blue. "I'm just grateful that Coach has unbelievable trust in me to take the last shot, and all my teammates wanted me to shoot the ball."
The bucket to beat St. John's was the appetizer for an entree that Blue will remember forever.
"It prepared me a little bit," said Blue. "But all I was thinking was if I get to the rim, I've got to finish, because if I don't make that, we probably lose."
Up next for the Golden Eagles (24-8) on Saturday at Rupp Arena is sixth-seeded Butler, which beat them in the Maui Invitational in November on a
Rotnei Clarke
running 3-pointer.
Those memories are still fresh for Marquette.
"For me, it's the last shot when Rotnei Clarke hit it," said Blue. "I would say everybody would say that."
October, 18, 2012
10/18/12
5:00
AM ET
1. Xavier transfer Dez Wells has been quite a hit for his new Maryland teammates. Wells is currently practicing with the Terps, but is awaiting a waiver to play immediately for Maryland after being dismissed at Xavier for a violation of the student code of conduct. Wells is NCAA eligible, but under normal rules would have to sit out the season because of transferring. Maryland has sent the waiver to the NCAA, which sent it to Xavier. Xavier officials told ESPN.com last month that the Musketeers wouldn't fight Wells playing immediately. Wednesday at ACC media day, Maryland's
Nick Faust
-- on the possibility of Wells being eligible -- said, "it makes us very stacked at guard. He's a great talented guy that could really help us if he can play right away."
2. I'm not surprised Davidson is staying put in the Southern Conference instead of going to the Colonial Athletic Association, according to ESPN's Brett McMurphy. Davidson coach Bob McKillop told me earlier in the summer how important it was for the Wildcats to be in a conference where travel was not as much of an issue. McKillop knows where he fits and is highly successful. Davidson clearly understands this as well. The Wildcats can win or compete for the Southern title every year. That might have been the case in the CAA, too. But there was no need for change, especially since Davidson wasn't bumping up to a multiple bid league like the A-10. Next to make a move or stay is the College of Charleston.
3. I still don't get why Cincinnati wasn't getting the necessary respect in the ESPN/USA Today Coaches poll released Wednesday. The Bearcats weren't in the Top 25, falling three spots out. Meanwhile, no A-10 teams were in the preseason poll, though, Saint Louis, VCU, Butler and Saint Joseph's received votes. That's probably indicative of the season the A-10 will have in 2013. The A-10 will be as strong as it has been from 25 to 35. The league may not have an elite team but could have five to six teams vying for bids in early March.