College Basketball Nation:

Bobby Lutz
December, 5, 2012
12/05/12
1:57
AM ET
NEW YORK --
Richard Howell
was dazed after
C.J. Leslie
inadvertently popped him with a flailing arm off a first-half rebound.
The senior forward came out of the game at the dead ball, staggered back to the bench, sat down and was given a full workup by the North Carolina State athletic training staff.
They tested his balance, eyesight and strength to see if he had suffered a concussion.
He didn't. Howell said he was scared for a moment, since he had suffered a concussion against Maryland as a sophomore.
The tingling and the numbing in his upper body had him nervous. But it started to subside and all he had was a stinger in his shoulder. He told Wolfpack coach Mark Gottfried that he could play in the second half.
[+] Enlarge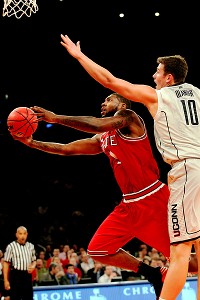 Brad Penner/USA TODAY SportsRichard Howell had 13 points and 10 rebounds against Connecticut, mainly in the second half.
Good decision.
If Howell continues to play the way he did in the second half against Connecticut on Tuesday night in the Jimmy V Classic, the Wolfpack have a shot to live up to their expectations.
Howell had a double-double -- in the second half -- with 11 of his 13 points and all of his 10 boards coming in the final 20 minutes of NC State's much-needed
69-65 victory
over the Huskies at Madison Square Garden.
"He's our blue-collar guy, our most consistent guy except for when he gets in foul trouble," said NC State assistant coach Bobby Lutz. "He gives us great energy. He's undersized, but he's relentless and has great enthusiasm and productivity."
Guard
Lorenzo Brown
, wing Leslie and sharpshooter
Scott Wood
were NC State's headline names heading into the season, along with freshman
Rodney Purvis
. Howell tended to be overlooked.
But if the Wolfpack are to be ACC champs as predicted, Howell must be the anchor of this team. NC State hadn't played well yet, losing badly to Oklahoma State in Puerto Rico, nearly dropping a game to UNC-Asheville and then losing respectably at Michigan last week.
The Huskies didn't defend the Wolfpack well but still knocked NC State back a number of times. That is, until Howell became a beast on the boards.
"He's a monster," said Wood. "What can I say? He's the best rebounder out there. He's a great player for us. He works so hard in practice, and if he keeps doing what he's been doing, we're going to be a dangerous team."
If Howell doesn't play in the second half, the Huskies might have won this game, with
Enosch Wolf
playing well enough inside to cause NC State fits. Had NC State lost this game, there would have been ample second-guessing about the true potential of this squad.
"Whatever coach wants me to do to be a difference-maker, I'll do it," said Howell. "This was huge for us. It's definitely a step closer to what we want to be. We lost to Oklahoma State, Michigan and didn't beat UNC-Asheville by what we should have. We learned from it and progressed."
Duke is the class of the ACC. North Carolina is young, inexperienced and a bit of an unknown right now. NC State is in line with Miami, Maryland and suddenly surging Virginia Tech in a wide-open ACC race come January.
NC State still has oodles of talent but will succeed only if Howell is a constant presence in the paint. The flash plays by Leslie and Purvis, the 3-pointers by Wood or the drives by Brown (although he still turns the ball over too much) are all necessary. But none of it is as important as Howell patrolling the paint.
Reaching the Sweet 16 last season was a surprise. But if the Wolfpack are going to replicate that run, they must defend the drive, shore up on 3s and control the backboard more effectively. Gottfried said before the game that he was still figuring this club out as the veterans adapt to the heralded newcomers. Howell showed his teammates his toughness Tuesday by playing through pain and discomfort. NC State is a work in progress, which puts even more emphasis on such a valued talent.
November, 2, 2010
11/02/10
11:45
AM ET
You know the drill. Here are five things I can't wait to see in the Atlantic-10:
1. The Dayton dynamic
[+] Enlarge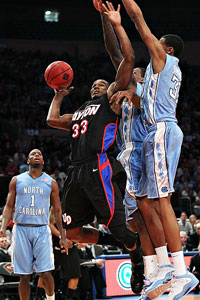 Nick Laham/Getty ImagesChris Wright returns after averaging 13.7 points and 7.3 rebounds per game last season.
The questions about Dayton have nothing to do with talent. By returning NBA prospect and A-10 player of the year candidate
Chris Wright
, second-leading scorer
Chris Johnson
, and top defender
Paul Williams
, the 2010-11 Flyers return their three best players from last year's team. The questions about Dayton are essentially this: How do those players perform without five seniors surrounding them? Brian Gregory's accomplished group of four-year stalwarts all graduated after their NIT championship last season, and Gregory will have to incorporate a good recruiting class around his three talented starters without the benefit of that senior, role-player-type experience on the margins. Wright is one of the more talented forwards in the country, but he had an up-and-down junior season. Can he take the next step as a senior himself? Will Dayton find the right mix in time to make their case for an NCAA bid? And if the freshmen don't perform, is Dayton's core enough?
(
Bonus minor Dayton subplot that pretty much everyone except Dayton's theoretical opponent would like to see
: Because of the new tournament's First Four play-in structure, and the decent possibility the Flyers will be a bubble team and one of the last four at-large bids in the tournament, there's a decent chance Dayton could play in the play-in First Four tournament in -- where else -- Dayton. Dayton fans show up 11,000 strong for games on the 16-17 seed line; imagine the scene if the Flyers were in town for the tourney. Fun stuff.)
2. Temple in the NCAA tournament
If Temple fans are getting impatient for an NCAA win, they might also be being a little unfair. Owls coach Fran Dunphy immediately turned the Owls back into a winner after leaving his longtime position at Penn in 2006, making three straight NCAA tournaments in the past three years. The only problem? Temple has lost in the first-round of the NCAA tournament all three times. That might seem slightly disconcerting; no one wants to worry that their coach can't win in the NCAA tournament. But the Owls have been besieged by tough matchups in each of Dunphy's three tourney years (including two eventual Sweet 16 teams -- Michigan State and Cornell -- and a James Harden-led Arizona State team), and there's good reason to expect Temple to make the leap in 2010-11. Senior guard and leading scorer
Ryan Brooks
is gone, but Temple returns almost all of last year's team, which was the seventh-most efficient in the country by the end of the season. Those returns include forward
Lavoy Allen
, who played with the USA Men's Select Team in scrimmages against Kevin Durant and the rest of USA Basketball this offseason. Barring a massive disappointment, the Owls should be back in the NCAA tournament again in 2010-11. The real intrigue is what they do when they get there.
3. What happens when you doubt Xavier
If ever there was a year to doubt the
Xavier Musketeers
, this might be it. Gone is Jordan Crawford, a brilliant scorer who took and made a huge percentage of Xavier's shots in 2010-11. Gone is forward Jason Love, Xavier's all-time wins leader with 108. Taking their place are ... well, actually, that's the point: It's hard to see just who on the current Musketeers roster can replace Crawford and Love's production. Is this the year Xavier finally releases their four-year stranglehold on the A-10 title?
The thing is, we've asked that question before. We asked it when Xavier lost Stanley Burrell, Josh Duncan, and Drew Lavender in 2008. We asked it again when Xavier waved farewell to Derrick Brown, B.J. Raymond, and C.J. Anderson in 2009. Before Crawford revealed his talent, the 2009-10 Musketeers -- with a first-year coach, no less -- were supposed to fall off. But Xavier made a third straight Sweet 16, and the program kept chugging along as if the laws of attrition didn't apply. This year, maybe they will. Point guard
Tu Holloway
will have to take over much of the scoring and leadership load in Crawford's and Love's absence, senior forward
Dante Jackson
will have to take a leap, and a handful of talented freshmen and redshirt holdovers will have to be ready to play right away. It's a lot to ask, and if ever there was a year to doubt Xavier -- for good reason -- this is it. But one does so at her own peril.
4. Richmond's battle for respect
We probably didn't talk enough about Richmond last season. The Spiders won 26 games, made the NCAA tournament (where they ran into a hot St. Mary's team in the first round) and featured A-10 player of the year
Kevin Anderson
, a dynamic point guard who is supremely adept at beating defenders and scoring in the lane. Anderson returns in 2010-11 and is the de facto favorite to win conference player of the year honors again. But Richmond is far from a one-man show. The Spiders also return 6-foot-10 forward
Justin Harper
, whose inside-out versatility makes him extremely difficult to guard. Throw in a trio of interesting freshman and a total of 11 scholarship players returning from last year's team, and the result is a legitimate A-10 favorite that still isn't getting enough love.
5. An immediate turnaround at Charlotte?
Given the way Charlotte's season ended -- when the 49ers dropped seven of their last eight games, followed by the firing of longtime coach Bobby Lutz -- it's easy to forget how it began. Charlotte started the season by going 18-5 and looked like a potential A-10 contender and NCAA tournament team. The wheels fell off, and Charlotte hired former Ohio State assistant coach Alan Major to get things repaired. Major, like most new head coaches, is probably allowed the usual three- or four-year grace period, but he might not need it. Charlotte returns four starters from last year's team, including leading scorer
Shamari Spears
and fellow high-usage forward
Chris Braswell
. The 49ers aren't overwhelmingly talented, but they aren't bereft, either, and it's not hard to imagine the energy of a new coach and a less muddled leadership situation giving the 49ers a bit of a boost.
February, 4, 2010
2/04/10
10:32
AM ET
By
ESPN.com staff
| ESPN.com
Andy Katz talks

to Arizona coach Sean Miller about leading the Pac-10, Texas A&M guard
Donald Sloan
about
Derrick Roland
's injury and Charlotte coach Bobby Lutz about his team's improvement.