College Basketball Nation:

Book Richardson
May, 6, 2011
5/06/11
1:28
PM ET
By
Diamond Leung
| ESPN.com
Cold feet and jammed fax machines are among the reasons recruits have delayed signing national letters of intent, but top-100 recruit Angelo Chol had a unique reason for not being able to turn in his to Arizona until Thursday.
According to the
Arizona Daily Star
, the 6-foot-9 forward needed an NCAA waiver to have an attorney sign the paperwork in place of his father, who lives in Sudan and is difficult to reach.
But his father, Akieng, returned to Sudan shortly before the signing period began, and could not be easily reached by telephone. But according to Ollie Goulston, Chol's coach at San Diego Hoover High School, UA assistants James Whitford and Book Richardson secured a waiver from the NCAA that allowed San Diego attorney Leslie Coughlin to sign the LOI instead.

Neither Goulston nor Coughlin are legal guardians of Chol, 17. But Coughlin aided Chol as a refugee from Sudan and has remained close.
The versatile Chol is a member of an elite recruiting class also consisting of Nick Johnson, Sidiki Johnson and Josiah Turner that coach Sean Miller hopes will soften the blow of losing Derrick Williams to the NBA draft.
"It is exciting to see how well Angelo complements the abilities of Nick, Josiah and Sidiki in our class of 2011," Miller said in a statement. "We are counting on these guys to contribute immediately in a significant manner next season."
But according to the
Arizona Republic
, Miller has already begun placing the emphasis on his returning players, challenging them to show they can win without Williams.
Miller: "We have seven of our top 10 guys back and it's those seven improving and having a great summer, coming in and using [last season's experience] to their advantage. ... This spring, summer and fall is an important time for a lot of guys. When you hear so much about Derrick in a positive way, I think if you're a returner on our team, you want to be able to prove that we have the ability to win without him. I think that's something very fair to say and I think we have a lot of guys working toward that.

" ... Keep in mind that in the second half against Duke, we scored 55 points. Derrick scored three of them. A lot like I said last year, it won't be the new guys that necessarily make us a great team. It'll be the returning players. We have quite a few players who are hungry and very experienced, so I think it'll be interesting to watch the development of Solomon Hill or Kevin Parrom and even Kyryl Natyazhko. I think you'll find they'll be better players a year from now."
March, 26, 2011
3/26/11
8:19
AM ET
By
Diamond Leung
| ESPN.com
ANAHEIM, Calif. --
Kemba Walker
furrowed his brow a little and slowly shook his head as he smiled. The Connecticut star wasn't buying the idea that Arizona had what it took to stop him -- a scouting report with a unique perspective.
Arizona assistant coach Emanuel "Book" Richardson was Walker's AAU coach. Before it was even determined that the two teams would meet on Saturday for the right to go to the Final Four, Wildcats coach Sean Miller happened to assign the UConn scouting assignment to the man who knew what made one of the nation's top scorers tick.
But Walker didn't think it was a cause for concern that Richardson was on the opposing bench, presumably possessing knowledge of how to slow him down in a way recent opponents have failed to do.
"He doesn't," Walker said. "Everybody who knows me thinks they have a way to stop me."
Richardson is the former director of the star-studded New York Gauchos AAU program in the Bronx and remains close to Walker. In fact, as Walker was taking over Thursday's regional semifinal game with a 36-point outburst against San Diego State, he kept looking over to Richardson seated behind press row and yelling during the contest.
[+] Enlarge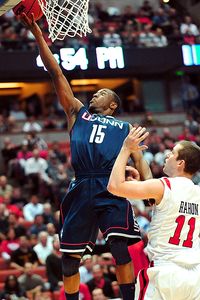 Gary A. Vasquez/US PresswireWith his former AAU coach watching from press row, Kemba Walker lit up SDSU.
"He hit a 3 and said, 'Oh my God, Book. They can't guard me.' He looked over and winked," Richardson said. (Walker told reporters he doesn't recall what was said.)
In response, Richardson found himself actually coaching Walker again just as he was a few years ago. He kept repeating words to Walker and asked him to focus. "I'm like, 'Finish,' " Richardson said. "Win."
Immediately after the Huskies won, Walker spotted Richardson in the tunnel of the Honda Center as Arizona was preparing for its game against Duke and said, "I'll see you on Saturday."
Today, Richardson has mixed feelings as he game plans against Walker, who he has known since age 13. Back then, there were times the kid would crash on his couch and his wife would cook for the impromptu house guest. Walker wore braids, liked dancing and was big into video games.
Richardson sometimes gave tough love, kicking the player out of practice. The Gauchos only lost once with Walker on the team, but Richardson always pushed him to do better.
"He just made you feel he's more than a coach," Walker said.
When Walker told Richardson as a sophomore that Connecticut was the school that he hoped would recruit him, the coach matter-of-factly said he wasn't good enough to go there. "I don't want to watch you cheerlead," Richardson said then.
But because of Walker's confidence in his game and talent that developed, UConn will end up remembering him as one of the school's all-time greats. It's Richardson's job to make sure Walker doesn't get to use the Arizona game to further his legacy.
"I'm fortunate because I understand when he steps back, what he's looking for," Richardson said. "Does that mean you're going to be able to stop it? I don't know.
"The same things you once told him, that's what you're trying to implement. It's bittersweet. You want him to do well, but you want to win."
Said Miller: "You can still have a great gameplan and play hard and well, and he will still have a huge night. He's, to me, the best guard that plays college basketball."
It is Richardson's godson, Arizona point guard
Lamont Jones
, who will be one of the players charged with keeping Walker in check. Walker and Jones shared a backcourt for two years at Rice High School and remain friends. He said Jones was like a little brother.
"He plays so hard that he makes you play hard," Walker said. "I'm pretty sure he's definitely going to bring the best out of me [Saturday]."
Asked once again if Richardson -- or even Jones -- might actually know the secret to stopping him, Walker didn't sound as sure.
"Man, let me think about that," he said. "I don't know. Probably not. I don't think so. I hope they don't."