College Basketball Nation:

Brad Tinsley
July, 26, 2012
7/26/12
2:11
PM ET
Editor's note: ESPN.com's Summer Shootaround series catches up on the offseason storylines for each conference. For more on SEC, click here.
Five offseason storylines in the SEC ...
1.
Life is good in Lexington:
At any other program, with any other coach, when you win a national title and send your six best players to the NBA draft, you are not supposed to compete for a national title 12 months later. But this is not any other program, or any other coach. This is Kentucky as led by John Calipari, a finely tuned college hoops machine.
After harnessing the insane talents of
Anthony Davis
and the team-first ethos of
Michael Kidd-Gilchrist
-- the NBA draft's No. 1 and No. 2 overall selections -- Calipari has cleared the "one-and-dones can't win a title" hurdle, if it existed in the first place. So now what? Naturally, Calipari reeled in another talented recruiting class -- the No. 2 class in the country, according to RecruitingNation, the first time in four years Kentucky hasn't been ranked No. 1 -- that includes the No. 1-ranked player in the class, center
Nerlens Noel
, and top-15 recruits
Alex Poythress
and
Archie Goodwin
. Sophomore power forward
Kyle Wiltjer
, a top-20 recruit in 2011, will take on a much larger role, and former NC State transfer
Ryan Harrow
will step in at point guard.
Is Calipari's latest refresh as good as Davis & Co.? Doubtful. Then again, few teams are. What's certain is that the Wildcats will again be ranked in the top five to start the season, will defend like crazy and are a clear threat -- if not the outright favorite -- to repeat as national champions. Indeed, the state of Big Blue Nation is strong.
2.
Missouri and Texas A&M deepen SEC hoops:
Few realignment moves have driven as much discussion (read: vitriol) as Texas A&M and Missouri's respective decisions to leave the Big 12 and join the SEC. The 2012-13 season will be the first for both under the new banner, and the Tigers are more likely to make an immediate impact. In addition to returning guards
Michael Dixon
and
Phil Pressey
, a big-time breakout candidate, coach Frank Haith has assembled a transfer-heavy team (
Alex Oriakhi
,
Jabari Brown
, Keion Bell, Earnest Ross) that should compete for the SEC title right away. Texas A&M coach Billy Kennedy has a more protracted rebuild on his hands, but if A&M continues the program growth it experienced in the past decade, the SEC -- where basketball has always been football's little brother -- will be much stronger for it.
3.
South Carolina lands … Frank Martin. Huh?
South Carolina is not a basketball school, but the Gamecocks made the best -- and most surprising -- hire of the offseason when they persuaded Kansas State coach Martin to leave his budding program behind. Martin has relentlessly denied rumors that his departure stemmed from untenable disagreements with K-State athletic director John Currie, particularly involving senior
Jamar Samuels
' NCAA-imposed ineligibility debacle in March. For his part, Martin sounds sincere when he says he felt embraced by South Carolina and that he relishes the chance to build something from scratch in Columbia. It will take a while, but Gamecocks fans have every reason to be thrilled.
4.
Other new faces in new places:
Martin wasn't the only offseason coaching change in the SEC. At LSU, Trent Johnson -- whose final three seasons never came close to his debut 2008-09 campaign -- was replaced by former North Texas coach Johnny Jones. Meanwhile, after two turbulent seasons that capped a 14-year career at the school, Mississippi State coach Rick Stansbury retired. Former Purdue and Clemson assistant Rick Ray, who was an applied mathematics major and Chicago-based actuary before deciding to take a chance on coaching, gets his first crack at a head-coaching gig in Starkville.
5.
Vanderbilt starts fresh, to say the least:
Did any team in the country lose as much this offseason as Vanderbilt? The Commodores waved farewell to their top six players, including all five starters: All-SEC guard
John Jenkins
, Jeffery Taylor,
Festus Ezeli
,
Lance Goulbourne
,
Brad Tinsley
and backup forward
Steve Tchiengang
. That's the entire core of coach Kevin Stallings' excellent four-year run in Nashville. With few proven reserves waiting in the wings, the 2012-13 Commodores are the biggest mystery in the league.
March, 15, 2012
3/15/12
10:10
PM ET
ALBUQUERQUE, N.M. -- Vanderbilt finally solved its Kentucky problem by winning the SEC tournament on Sunday in New Orleans.
But that did nothing to answer its larger issue: winning in the NCAA tournament.
Double-digit seeds had flummoxed the Commodores in three of the past four NCAA tournaments with losses to Siena, Murray State and Richmond.
Harvard was a sentimental favorite in making its first NCAA tournament since 1946. Oh, and the Crimson were seeded No. 12, making this one of those dreaded 5-12 games.
"It's well publicized that Vandy's lost in the first round the last three out of four years,'' said Harvard senior guard
Oliver McNally
. "So we knew if we were hanging around, we'd put that thought in their head and see what happened. And I thought we were going to do that.''
Vandy had an 18-point lead on Harvard on Thursday afternoon at the Pit. And then suddenly it was five.
"Credit to them for coming out really strong after that and being strong with the ball and making free throws,'' McNally said. "But we made a great run.''
The Commodores held on to win
79-70
and looked every bit the part of a team that could beat No. 4 Wisconsin on Saturday in a third-round game for the right to possibly take on East top seed Syracuse (if the Orange can knock off Kansas State in Pittsburgh on Saturday).
John Jenkins
was sensational with 27 points. The Dores got plenty of pop from
Brad Tinsley
,
Jeffery Taylor
and 11 boards from
Festus Ezeli
. Vanderbilt's big four came through when it mattered most.
Vandy can exhale -- for now.
"I didn't want to be in that tight of a situation with the way we had the game going in our favor,'' said Vandy coach Kevin Stallings. "But since we won, I'm glad it unfolded that way.''
Stallings knew the toughness question was relevant with this squad during the SEC tournament. The Dores simply didn't have the track record to back up their belief that they were over their late-game issues.
And comments like Taylor's that the big lead led to a bit of relaxation and too much standing on offense just contributed to the narrative. But there was something the Dores had that had been missing even in last-second losses in previous NCAAs to Siena and Murray State: composure.
Jenkins used a different word -- poised. "I think leadership is definitely a factor in that guys huddled up and decided we need to lock down and get rebounds down the stretch," he said. "We did what we had to do. We hit big free throws.''
The Dores had one possession that took the lead from 11 to 14 with a four-shot sequence that ended up in a traditional 3-point play for Jenkins. That lead ballooned to 18. Harvard made its run, but the hole was too deep.
"I think our maturity showed up a little bit there,'' Tinsley said. "We were playing not to lose instead of playing to win. You can never do that, especially in the NCAA tournament.''
[+] Enlarge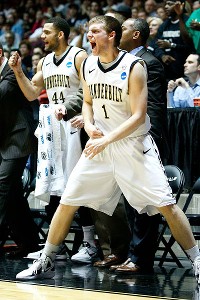 AP Photo/Matt YorkBrad Tinsley, right, and Jeffrey Taylor cheer as Vanderbilt puts away Harvard during their second-round meeting.
Vanderbilt could finally talk about its albatross after the win.
"It really means a lot for the seniors to be our last time in the NCAA tournament,'' Tinsley said. "We just kind of got that monkey off our back and win a close game in the first round. It just means a lot to us old guys, the coaching staff and the program.''
Getting into the NCAA tournament did that as well for Harvard. The Crimson didn't just show up for the first time in 66 years. They got off to a rocky start and scrapped their way back.
Harvard senior
Keith Wright
said that getting into the NCAA tournament and representing the Ivy League, especially after losing the playoff to Princeton at the buzzer last season, was a celebration of all the hard work put forth.
"It's just really special and I'm really glad to be a part of it,'' said McNally. "They sell you on all kinds of dreams but Coach (Tommy) Amaker had a plan and this plan was followed through. Not only were there good players but really good people. We made the tournament. We wanted to advance. That was obviously the ultimate goal.''
But this meant more to the Ivy League and to Harvard to have its flagship name finally make the dance.
Alumni from the White House to an 86-year-old surviving member of the 1946 team — the Crimson's previous NCAA entry — could all feel good about this run. The latter was Don Swegan, who was at the Pit in his old Harvard sweater. He was in his glory, talking to other alumni. The Friends of Harvard hoops read about Swegan on ESPN.com and wanted to make sure he made it to Albuquerque from near Youngstown, Ohio, so they paid for his expenses. NCAA president Mark Emmert and Harvard alumnus and Pac-12 commissioner Larry Scott wanted to have their picture taken with Swegan.
These were good memories for him, the Harvard program and a clear signal that the Crimson aren't going into NCAA tournament hibernation.
"For us to represent our school and conference for the first time in so many years and to have so many folks come and cheer us on means so much to us,'' Amaker said. "This has been and is a big deal.''
March, 10, 2012
3/10/12
8:03
PM ET
NEW ORLEANS -- Kentucky coach John Calipari has made no bones about it; he does not like the SEC tournament.
It's an aggravation, and an understandable one at that. The Wildcats have spent the past three months making their case as the nation's best team, they've secured the league's regular-season title and, regardless of what happens in Sunday's championship game against Vanderbilt, they've secured a No. 1 seed in the NCAA tournament.
Calipari's disdain for conference tournaments is well-documented, but that disdain is a luxury he can afford. Dating back to his days at Memphis, he has won six consecutive conference tournaments -- 2006-09 with the Tigers, and two in a row with Kentucky, with designs on a third.
As a program, Kentucky has no overwhelming need for another SEC tournament trophy, either. The Wildcats have claimed to 27 of the 52 SEC tournament championships, including the inaugural event in 1933 and the two most recent tournaments.
That attitude doesn't fly with Vanderbilt, which, after downing Ole Miss
65-53
, enter the weekend's final game with hopes of ending the Wildcats' stranglehold on the tournament. In a jubilant post-semifinal locker room, despite the fact that they knew the NCAA tournament awaited in just five days, the Commodores insisted to a man on the importance of a tournament title.
The reason? The last time Vanderbilt was on this stage was 1951, the date of their lone tournament championship -- a full eight years before Calipari was born.
With history like that on the line, Commodores coach Kevin Stallings said it's easy to get motivated.
[+] Enlarge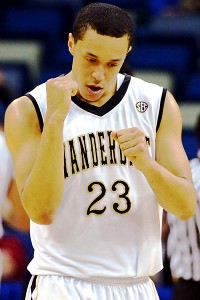 Chuck Cook/US PresswireJohn Jenkins turned in another solid game for Vanderbilt, which can win its first SEC tourney title since 1951.
"You play to win. That's why you play. Our players actually informed me, because I didn't know this, but
Jeffery Taylor
informed me yesterday that it's the first time since 1951 that Vanderbilt's been in the championship of this conference tournament," Stallings said. "We appreciate that. We're proud of that. We're excited about that."
The excitement for a tangible milestone was evident in the Commodores' locker room. This program has made big advances in recent years, reaching five NCAA tournaments in the past decade with designs on a sixth next week. But Vandy hasn't lifted a championship trophy since it won the SEC regular-season title in 1993, and 1951 remains its lone tournament triumph.
"We know that it's really special to play for a championship. Not a lot of teams get to do that," said Vandy guard
Brad Tinsley
.
Tinsley, one of four senior starters to help Vanderbilt on its run of two (going on three) consecutive NCAA berths, said the chance to pick up some hardware is one the Commodores take seriously.
"When a lot of teams sit down and make their goals at the start of the season, it's to win a championship -- conference championship, NCAA championship, whatever it is," he said. "We have the opportunity to compete for one, and I think this team really looks forward to this opportunity."
As Stallings pointed out, his players were more aware of what's on the line than he was. Whether it was
John Jenkins
, who has been the Dores' heartbeat all season, Tinsley, or fellow senior
Lance Goulbourne
(who posted 10 points and 12 boards against Ole Miss), it seemed Vanderbilt's entire roster was focused on Sunday's possibilities rather than next week's tournament.
"We knew going into the game that Vandy hadn't been to the championship game since 1951, which was the only year they won the tournament," Goulbourne said. "It's pretty cool for us to be the team to break that streak, but it's not over for us yet. We want to win the championship -- just getting to the championship is not enough for us."
To pull that victory off, the Dores are in for 40 minutes of toil against one of the biggest, baddest rosters in the nation. Vanderbilt's date with the Wildcats will also be the both teams' third game in three days -- a careful stat to consider when the pair open their NCAA tournament runs late next week.
Regardless of that fatigue factor, Stallings said the Commodores will throw everything they've got at Calipari's Cats. Regardless of public perception, the chance at a championship isn't something to pass up.
"It's tough in every way when you play Kentucky. But we'll rest for a day or two after that and try to get ready to play on Thursday or Friday or whenever we get to play," Stallings said. "We can't worry about fatigue right now; we'll worry about fatigue when we're done. And hopefully that won't be for awhile."
March, 10, 2012
3/10/12
1:49
AM ET
NEW ORLEANS -- A 22-point win tends to ease a team's missteps.
But for a team that relies as heavily on its shooting as Vanderbilt does, Friday's dismal first-half offense troubled coach Kevin Stallings.
The Commodores averaged 46 percent shooting as a team this season, and they led the SEC in 3-point percentage at 40. But in the first 20 minutes of the eventual
63-41 blowout
against Georgia, Vanderbilt looked like it had forgotten what a jump shot looked like.
Those percentages, so vital to Vandy's success, dipped to 34 percent from the field and a troubling 23 percent from beyond the arc.
"In the first half, we were abysmal offensively, and it was really not good offense," Stallings said. "In the second half, we got more movement and [
Festus Ezeli
] started creating problems inside. We were just a lot more crisp."
It's true that the scoring effort picked up after the break. The shooting percentage jumped all the way up to 51 percent to bump the game average to a more respectable (and familiar) 43.9 percent. Most of that had to do with Ezeli causing problems in the paint, though, and the Commodores also added 14 points off turnovers.
"We did a better job of getting the ball to the basket, and things like that. ... We were getting the ball inside and trying to drive it inside, and not settling for as many jump shots," Stallings said.
A win is a win, especially in the postseason. But the road to that victory was unusual enough that Stallings looked nonplussed by it. The Commodores weren't just shaky, they were plain bad from 3-point range (6-of-25).
"You don't see us with 20-point victories when we go 6-of-25 from 3 and only shoot 11 foul shots," Stallings said. "Generally we're a good 3-point shooting team, and we get to the foul line a lot, and that's why we're a good offensive team. But tonight, obviously, it was much different than that."
[+] Enlarge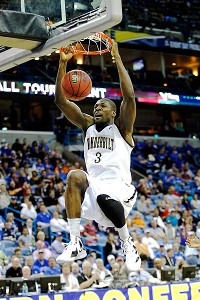 Crystal LoGiudice/US PresswireFestus Ezeli made his presence felt in Friday's second half as Vanderbilt put away Georgia.
Brad Tinsley
was the only Vandy shooter who didn't seem to drop off against the Bulldogs. The Dores' usual duo of
John Jenkins
and
Jeffery Taylor
, who lead the SEC in scoring, were ... OK. Taylor struggled to 6 points on 2-of-10 shooting. When he made his first and only 3-pointer of the night with 3:56 to play, he pumped his fists and looked toward the ceiling in exasperation, as if he had been worried he had lost his shot for good.
Jenkins' 15 points led the team -- perhaps it goes to show how valuable he is that his night seemed like a bad one. Regarding efforts like Friday's, Jenkins said the Commodores have to hope their defense shines the way it did against the Bulldogs -- who shot 22 percent as a team in the second half.
"We kind of wore them down a little bit with our defense, even though our offense wasn't clicking," he said. "We moved around a lot more and had the energy in the second half to make some shots, but not a lot."
Whatever issues Vandy has with its offense, the Dores don't have long to ponder them. The Georgia game ended a little after 11 p.m. Central time, and Saturday's semifinal against Ole Miss tips off at 2:30 p.m.
That leaves two issues to consider in not a lot of time: The Rebels put on a defensive showing of their own earlier Friday night. They held Tennessee to 28 percent -- a measly 18 field goals -- in an overtime game, no less. Granted, the Commodores bring better weapons to the court than do the Volunteers.
It's an interesting give-and-take. The Rebels looked stout in their win against Tennessee, while Vanderbilt's shooting fell apart against Georgia. Roughly a month ago in Oxford, the Commodores put on a terrifying shooting clinic against Ole Miss. They dropped 12 of 19 3-pointers and racked up 102 points.
So with a berth in the SEC tournament championship game at stake, who shines through?
"We played very well down there; still though, they're a different team now," Tinsley said. "It's the postseason -- a lot of teams are fired up and energized. It's going to be a tough one."
March, 10, 2012
3/10/12
12:25
AM ET
NEW ORLEANS -- A quick look at Vanderbilt's
63-41 victory
over Georgia on Friday:


Overview:
Georgia hung around against the Commodores using the same defense that baffled Mississippi State on Thursday night. The Bulldogs never got much going offensively, so it was good for them they kept up the defensive intensity. Georgia actually took a 25-24 lead into the locker room by holding Vanderbilt to a surprisingly low 34.6 team shooting percentage.
Yours truly opined that
Jeffery Taylor
and
John Jenkins
would be two of the highlights of the quarterfinals. Taylor finished the first half with 1 point and only managed 6 total. Jenkins' 15 for the night fell short of his league-best average of 20 points.
The harassment continued well into the second half. The Bulldogs eventually fell behind, thanks to their lagging offense, but they managed to cut the deficit as close as four with about 13 minutes to play.
Turning point:
Given enough time, the Commodores' weapons found their shots. Jenkins hit his stride, shooting 6 of 13;
Brad Tinsley
and
Festus Ezeli
chipped in 12 and 10, respectively.
When Georgia scored to make it 36-32, Vanderbilt went off. The Commodores went on a 27-9 tear to close out the game, burying the Bulldogs in every kind of offense. Jenkins and
Lance Goulbourne
hit consecutive 3s to start the run, and the Commodores went inside for 12 points.
In the span of about five minutes, it went from a scrappy fight to a Commodore runaway.
Key player:
Jenkins' 15 led the Commodores in scoring, but it seemed like Tinsley sparked Vanderbilt to a stronger second half. The senior scored Vandy's first five points out of halftime, and he finished with 12 points on 5-of-7 shooting.
Key stat:
Georgia turned the ball over 17 times, shot 32 percent from the field and only 12 percent from 3-point range.
Miscellaneous:
The Commodores hit 16 of 31 shots in the second half after burying only 9-of-26 in the first. It seemed like the Bulldog defense wore down toward the close, but who can blame them considering Vanderbilt's wide array of options.
What's next:
Vanderbilt completes the field of four SEC semifinalists. It will face Ole Miss tomorrow afternoon for a berth in the conference title game. Georgia's season is over.
February, 12, 2012
2/12/12
12:48
AM ET
Saturday afternoon transitioned into Saturday night as smoothly as Kentucky transitions from an
Anthony Davis
block to the fast break. In the process, we saw Michigan State defend like crazy at Ohio State, Creighton take a beatdown by Wichita State and the aforementioned Wildcats again assert their dominance, this time at Vanderbilt. That and more in the evening edition of What We Learned.
[Editor's note: For recaps of all the afternoon games, click here.]


No. 12 Michigan State 58, No. 3 Ohio State 48
: As far back as August, Tom Izzo -- in typical Izzonian fashion -- proclaimed far and wide how much he loved his team. Not necessarily because he knew the Spartans would be good or because he knew they would keep getting better (although he often seemed to assume as much), but because this Michigan State team, perhaps more than any other in recent years, does the two things Izzo seems to value most: It rebounds. It defends.
The Spartans began Saturday allowing the fourth-fewest points per possession in the country (adjusted, per
Ken Pomeroy
). They also ranked in the top 10 in both relevant rebounding categories, chasing down 39.9 percent of their misses on offense and yielding second chances on just 26.1 percent of opponents' possessions. Throw in the focused vocal leadership of forward
Draymond Green
, the back-from-the-dead reclamation of
Derrick Nix
, one of the toughest point guards in the country in
Keith Appling
and a batch of dedicated supporting pieces, and, well, no wonder Izzo loves this team. Compared to last season's incoherent, apathetic bunch, he must occasionally feel like he's coaching an entirely different game.
For as consistently as Michigan State has demonstrated those qualities throughout this season, never have they been more clear than Saturday night. Izzo's team held the third-ranked Buckeyes -- in Columbus, mind you -- to a mere .75 points per trip. How? How do you stop a team with so many weapons, with one of the best forwards in the country anchoring it all, in a building where it has won 39 in a row? The Spartans know how: You scrap. You claw. You fight. You make everything difficult for that team's best player. You frustrate him at every turn.
Jared Sullinger
was, of course, the focal point of MSU's defensive strategy, and it worked. Sullinger still scored 17 points and grabbed 16 boards, but he needed a 5-of-15 performance to get there, and he committed
10 turnovers
in the process. (The 17-16-10 is the first turnover-laden triple-double of the college basketball season, per ESPN Stats & Info. Former Buck Evan Turner had two of them in his final season. The Evan Turner Special lives!) Sullinger was noticeably frustrated throughout the game, arguing for fouls (sometimes rightly, oftentimes wrongly) and forcing shots into the teeth of State's interior defense, anchored brilliantly by forward
Adreian Payne
(who was also 6-of-6 from the field).
The performance reminded me of Ohio State's loss to Kentucky in last season's Sweet 16, when UK forward Josh Harrellson harassed and harangued Sullinger into a performance far below his usual standards. Harrellson was one of the few players in the country with the size and strength to hold his ground against Sully's girth. Nearly a year later, Payne and Nix demonstrated the same abilities. It's a testament to Sullinger's ability that he still grabbed 16 rebounds, eight of them offensive, but every putback was challenged, every touch contested, every dribble met with reaching slaps.
Sullinger didn't get much help from his teammates.
William Buford
and
Deshaun Thomas
combined to shoot 4-of-24 (!!),
Aaron Craft
was 3-of-7, and all told, the Buckeyes shot 2-of-15 from beyond the arc and 26 percent overall -- its third-worst shooting performance of the past 15 years. Yikes.
The Spartans weren't great on offense (.91 points per trip). Ohio State's defense is its best quality, and the Buckeyes were again good on that end of the floor. But Michigan State didn't have to light it up to get this victory. When you defend this well, when you execute your defensive game plan this perfectly, when you thoroughly dominate one of the nation's elite teams in its own building, you don't have to put up points in bunches to get the job done. No team in the country this season has posted 40 minutes of defense this strong against a team this good.
So, yeah, Tom Izzo loves this team. Can you blame him?


No. 1 Kentucky 69, Vanderbilt 63
: You have to hand it to the Commodores: They didn't go away.
That's the biggest positive Kevin Stallings' team can draw from this loss. From the opening tip, UK's brilliant defense was again, well, brilliant. As late as the 4:42 mark in the first half, Vanderbilt had scored just 13 points. The Commodores finished the first half with a whopping 23 as Kentucky led by 13.
Terrence Jones
was engaged. Anthony Davis was dominant. As it has so often in the past three weeks, John Calipari's team appeared ready to roll to another very impressive SEC victory. Ho and hum.
Then, only a few moments into the second half, things just sort of ... opened up. The Dores not only started finding open shots, they started making them.
Brad Tinsley
,
Jeffery Taylor
and
John Jenkins
came alive on the perimeter, while
Festus Ezeli
started finishing things down low. Soon -- almost before you knew it -- what "GameDay" host Rece Davis called Kentucky's "aura of invincibility" fell away. By the 8:26 mark in the second half, the Commodores led 55-51, the culmination of a 32-17 run.
They would score just eight more points the rest of the game. No one could have known it at the time, but Tinsley's jumper at the 4:09 mark would be Vanderbilt's last bucket of the day. Just as soon as VU had opened the game with solid man offense, crisp passing and accurate shooting, Kentucky shut it down. Davis recorded four blocks in the final seven minutes of the game; he finished with seven total. One of the major themes of the broadcast was Calipari's stated desire to see his team challenged, to see how it would respond. The Wildcats were. Vanderbilt kept swinging. Kentucky took Vandy's best punch. It absorbed a combo or two. And then, as all great fighters do, it emerged stronger and stronger as the game wore on. If Calipari wanted to see how his team would react to a challenge, he had to be thrilled with the result.
Kentucky played a solid, experienced team. It played said solid, experienced team in said team's unique building, with its weird sight lines and elevated court and baseline benches. It did so in front of a crowd that had spent all day goosed by "GameDay," hyped for the glorious chance at knocking off No. 1, something this school has done six times over the years. It didn't matter. Kentucky went 3-of-14 from 3. And it
still
emerged unscathed.
If
Christian Watford
's last-second shot doesn't fall in Assembly Hall on Dec. 10 -- back when Kentucky was still figuring things out -- the Cats are undefeated and we're talking less about this sudden surge of brilliance than whether UK could make it to the NCAA tournament with an unbeaten record. This team is one shot -- one 10-second defensive breakdown -- away from legendary comparisons.
Oh, well. As it is, Calipari's team is rounding into one of the most complete -- if not
the
most complete -- of his career. Davis is a transcendent force anchoring a team with zero defensive holes.
Michael Kidd-Gilchrist
is one of the best two-way players in the country. Jones can dominate when he wants.
Doron Lamb
is a lights-out shooter.
Darius Miller
is an underrated offensive presence and an all-around glue guy extraordinaire.
There's a reason this team is awash in that so-called aura of invincibility. The Wildcats aren't actually invincible, of course. But right now, they're the closest thing going.


Wichita State 89, No. 15 Creighton 68
: When you've got a national player of the year candidate ripping through each and every opposing defense he sees with a rare blend of volume and efficiency, it's easy to disguise your team's warts. After Wichita State's end-to-end dismantling of the Bluejays on Saturday, those warts are now fully exposed.
The score line tells the story here, but it's nothing new: Creighton is, at best, a fairly mediocre defensive team. The Bluejays entered this Valley showdown ranked No. 119 in the country in adjusted defensive efficiency, per Pomeroy. They force turnovers on just 16.3 percent of their defensive possessions, which ranks them No. 336 out of 345 Division I teams. This so-so defense has been hidden well all season because Creighton outscores everybody.
Doug McDermott
and company have the nation's highest effective field goal percentage and its sixth-most efficient offense overall. But in the past three games -- losses to Northern Iowa, Evansville and now Wichita State -- the Bluejays' offense has suddenly cooled off. Creighton's effective field goal percentage figures in its past three games are 46.5, 44.2 and 44.7 percent.
And therein lies Saturday's problem: Wichita State is not a one-way team. Rather, Gregg Marshall's squad combines excellent defense (KenPom rank: No. 26) with efficient offense (KenPom: No. 11), tops in MVC play in both metrics. Despite their hugely impressive per-possession stats, the Shockers have flown below the radar recently thanks in large part to that triple-overtime loss at Drake in late January. But in basically every other Valley affair, even the 68-61 loss at home to Creighton in this series' first game, the Shockers have been comprehensively good.
Does that mean Wichita is 21 points better than Creighton, home, away or neutral? No. Is its offense as good as the 1.4 points per trip it poured in Saturday night? Probably not. But this lopsided result in front of a huge crowd in Omaha does reveal some notable truths about both teams. For Creighton, it laid bare just how important the Jays' offense is to their chances of making a run in the NCAA tournament; it's no coincidence this three-game losing streak came in three mediocre shooting performances. Greg McDermott's team can't afford to miss shots, because it can't get the stops it needs to keep things close.
For Wichita State, well, if you didn't know, now you know: The Shockers are good. Not "dangerous." Not "plucky." Just flat-out good.


Temple 85, Xavier 72
: If you're still waiting for a team to round into its full form on Feb. 11, there's a good chance you'll still be waiting on March 11. That appears to be the case with Xavier. The Musketeers haven't been bad in Atlantic 10 play -- they ranked
fourth in A-10 efficiency margin as of this week
-- but they haven't been particularly good, let alone their usual brand of good, the one that led them to a 15-1 league record last season. Instead, these Musketeers are just sort of, well, mediocre.
Which is to take nothing away from Temple, which blitzed Chris Mack's team early and never looked back. Guard
Ramone Moore
went off, scoring 30 points on 9-of-16 from the field, while
Khalif Wyatt
put up 18 points, four assists and three steals, and
Micheal Eric
contributed 11 points and 16 rebounds. The Owls' backcourt is the undisputed strength of the team, and Fran Dunphy's squad continues to look more and more like the A-10's clear favorite each time that backcourt makes life so difficult for opponents on both ends of the floor. Temple is alone atop the league at 8-2.
The contrast between these two teams is glaring. One is whole, complete, playing its best basketball at the right time. The other is scattershot, struggling, not bad but far worse than it has any right to be, given its talent. The temptation to connect X's continued struggles to the Dec. 10 brawl is worth resisting here. Does it play a part? Maybe. Has guard
Mark Lyons
(who didn't start) been unpredictable and frustrating since? Oh yeah. But at this point, it's also possible Xavier just wasn't all that good in the first place. Whatever the reasons, the Musketeers -- perennial NCAA tournament fixtures -- are running out of time to figure it out.
A few more observations from the night of hoops:
August, 9, 2011
8/09/11
11:32
AM ET
Our friends at The Mag are previewing one high-profile school per day for their Summer Buzz series. For the sake of all that is synergistic, yours truly will be attempting the same, complementing each comprehensive Insider preview with some analytic fun. Today's subject: the Vanderbilt Commodores.
Make no mistake: The 2011-12 Vanderbilt Commodores have a chance to be the best team in school history.
At some schools, this is a massive statement. At others, it's merely bold. At Vandy, it feels more like sober statement of fact, one based equally in the school's meager hoops tradition -- the Commodores have never gone to the Final Four, and have won their conference or conference tournament title only five times -- and, of course, in the potential of the current players on this roster.
In fact, in assessing the chances of this team being the best in program history, that --
potential
-- is the key word. Do the Commodores have room to grow? Or are they the same team we saw last season?
[+] Enlarge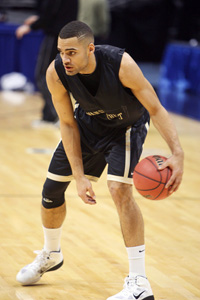 Chris Humphreys/US PresswireJeffery Taylor has been working on his perimater shooting in the offseason.
As far as the names on the roster, well, yes, this is the same team you saw last season. All five starters are back for the new campaign. Four of those starters --
Jeffery Taylor
,
Festus Ezeli
,
Brad Tinsley
and
Lance Goulbourne
-- will be seniors. One of the starters --
John Jenkins
-- will be a junior.
Often, in preseason polls and offseason predictions, we hoops pundit types focus too intently on returning starters. We assume, often without thinking about it, that a team that returns all of its best players for another season will reap the rewards not only of increased team cohesion or "veteran presence," but of the disparate individual improvements each of those returning players makes. Just as often, we overrate these teams. In the end, the team we see a year later is about as good as the one we saw the year before.
Is Vanderbilt one of these teams? Is the Commodores' early-preseason buzz -- for example, our own
Dick Vitale ranked them No. 5 overall in his preseason top 40
-- coming almost by default?
Actually, I don't think so. While I'm not sure the Dores are the fifth-best team in the country, there's also reason to expect Vanderbilt will be a good bit better in 2012 than they were in 2011. (And despite the first-round NCAA tournament loss, 2011 was a very solid season.)
The first reason to expect as much is Taylor, Kevin Stallings' versatile and athletic 6-foot-8 wing. Taylor is already an effective player -- he's especially good when he's attacking the rim with gusto -- but his game still has room to develop,
a fact Taylor acknowledged at the Nike Skills Camps in Chicago in June
.
For one, Taylor needs to be a much better perimeter shooter. He shot 34.5 percent on his 113 3-pointers as a junior. The NBA scouts I talked to at the camp seemed optimistic about the prospect of Taylor's improvement, as he (a) already has textbook release mechanics and (b) has already improved by leaps and bounds since his freshman season, when he shot 9-of-41 from beyond the arc. If Taylor is even marginally better from distance, VU's offense can open up even more, and that's good news for everyone.
It would certainly be good news for Ezeli, one of the more underrated big men in college game last season. Ezeli's game is all strength and girth; he muscles opponents around the rim in a way few college forwards can manage. But he too has room to improve, namely on his face-up game and his touch around the rim.
It's also fair to expect Jenkins -- the star of last season's team -- to get a bit better, too. There isn't much room for improvement on offense, frankly; Jenkins is already one of the most efficient offensive players in the country. What he (and for that matter, Tinsley) can most readily improve is his perimeter defense.
Frankly, Vanderbilt was a soft defensive team last season.
The Commodores ranked No. 88 in Ken Pomeroy's adjusted defensive efficiency rankings
and were especially weak on the perimeter, where they turned opponents over on a mere 17.5 percent of possessions (national rank: No. 308) and recorded a steal on only 7.5 percent of defensive possessions (rank: No. 304). Vandy doesn't suddenly have to start turning opponents over like Ohio State, but a mere uptick in the category would represent a major step toward making life just a little bit more difficult for opponents on the perimeter.
Even better -- and this is not something Vanderbilt fans have come to count on -- the Commodores have a new batch of talent that might be ready to contribute to this improvement immediately.
Stallings landed two ESPNU 100 recruits in the 2011 class
: Dai-Jon Parker, the No. 10-ranked shooting guard, and Kedren Johnson, the No. 16-ranked point guard. Parker is touted as an elite shooter; Johnson as an elite ballhandler. Both have one thing in common: physicality. That was a key ingredient missing from Vanderbilt's backcourt in 2011. If the duo can give Stallings solid minutes off the bench, especially on the defensive end, well, there's some more improvement too.
In 1965, a 6-foot-10 forward named Clyde Lee got the Commodores as close to a Final Four as they've ever been. In what we'd eventually come to call the Elite Eight, Lee's Vanderbilt team seemed to win on a last-second shot, only to be whistled for a travel in an 87-85 loss to Michigan. (After the game, coach Roy Skinner summed it up: "The referees cheated us.")
The Commodores have been chasing the ghost of the Final Four with minimal proximity ever since. The 2011-12 version will carry that history with them, but they'll also carry their own foibles: In three of the past four seasons, the Commodores have been upset in the first round of the NCAA tournament by a team with a double-digit seed.
The 2011 version was better than that finish. The 2012 version will be, too. But how much better? Elite Eight? Final Four? All of that depends on how much this team -- with all of its veteran upperclassmen and known entities -- can find ways to improve on the margins. We know what this team
is
. We're not sure quite what it can be.
If I'm a Vanderbilt fan, maybe I'm a little skeptical of the preseason hype. But I'm awfully excited, too.
December, 9, 2010
12/09/10
9:15
AM ET
The Morning After is our semi-daily recap of last night's best hoops action. It recommends watching as many YouTube clips of Terrence Jones as you can find.
No. 16 Kentucky 72, No. 23 Notre Dame 58
: For the first three weeks of the season, before
Kyrie Irving
dropped 31 on Michigan State and announced his presence as the nation's best freshman -- and maybe the best player on the nation's best team -- Kentucky's Terrence Jones was that dude. Last night, after a thoroughly dominating performance in a win over Notre Dame, Jones might just have retaken the mantle.
[+] Enlarge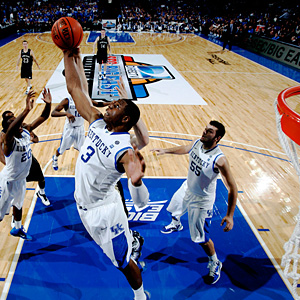 Brian Spurlock/US PRESSWIREKentucky's Terrence Jones grabs one of his 17 rebounds against Notre Dame. He also scored 27 points, had three assists and two blocks.
You hate to be so wishy-washy about these sorts of things, but what's the alternative? Each player keeps topping the other. (And Irving has lost some steam in this regard, given the toe injury that will reportedly sideline him indefinitely.) For the time being, though, Jones has taken over the mantle. He's been impressive all year, but Wednesday night was his crowning achievement to date: 27 points, 17 rebounds, three assists, two blocks, one steal. Jones was equally impressive in his confidence and poise: He powered his way (and shot with surprising accuracy) to big bucket after big bucket when Kentucky, having built a not insurmountable second-half lead with stifling perimeter defense, needed them most.
Notre Dame, in the meantime, should probably feel OK about the performance. The Irish's offense has played, and will play, better than this; most of Notre Dame's second-half woes can be attributed to an ugly shooting performance from usually capable performers. Give credit to John Calipari's team; give little blame to the Irish. Notre Dame isn't a top 10 team, but they should be just fine.
No. 11 Missouri 85, Vanderbilt 82 (OT)
: Kentucky-Notre Dame was the featured game of the evening, but it wasn't the best. That honor goes to Missouri's overtime win over Vanderbilt, which established a couple of things:
1. Missouri is, per the usual, one of the most entertaining teams in the country.
2. Missouri and Vanderbilt are both well-balanced, intelligent squads who fight for -- and this sounds like a cliché, but it's true -- every inch on the basketball court.
3. Missouri and Vanderbilt are both NCAA tournament teams.
We sort of knew that last one already, but Vanderbilt's performance confirmed it Wednesday night. With a couple of bounces in the other direction -- and if poor
Brad Tinsley
doesn't miss that last open shot in regulation, or commit the crucial overtime turnover that led to
Marcus Denmon
's lightning-quick three-point play -- the Commodores walk out of Columbia, Mo., with a signature nonconference road win. As it stands, Vandy fans will have to settle for a thoroughly encouraging performance and the promise of future success that comes with it.
Everywhere else
: Gonzaga's season is on serious tilt.
The Zags not only lost at Washington State last night
; they were thoroughly dominated by a Wazzu team that lacked a good win before Wednesday night ... San Diego State continues to roll along, playing well against teams both good and bad;
last night's win over Cal probably falls somewhere in the middle
...
Corey Stokes
scored 34 points to lead Villanova in an
occasionally challenging win over Penn at the Palestra
...
Illinois survived an Oakland team that is going to give lots of good teams problems this season
... Boise State made a crazy late run to cut a 16-point deficit to three at UNLV,
but the Rebels held on for the win
...
Jimmer Fredette
's big homecoming in New York went as well as planned;
Fredette scored 26 and BYU rolled
...
Boston College held off Providence and won its fourth straight
... Texas Tech is officially in trouble:
TCU beat Pat Knight's team at home, 81-77
... and
Kemba Walker
was held to an off night against Fairleigh Dickinson, scoring a mere 21 points -- nearly 10 below his average! -- in the UConn win.
March, 18, 2010
3/18/10
4:55
PM ET
By
Diamond Leung
| ESPN.com
SAN JOSE, Calif. --
Danero Thomas
hit a jumper at the buzzer to lift No. 13-seeded Murray State to a
66-65 victory
over No. 4-seeded Vanderbilt.
The Racers ran off to the other end of the court, where they piled onto the senior forward after he had took a dribble, stepped back and knocked down the shot.
Murray State earned its 31st victory of the season in a win that was only an upset on paper for the Ohio Valley champions who are now winners of 22 of their last 23 games.
Isacc Miles
scored 17 points to lead Murray State, who were nearly finished when
B.J. Jenkins
saw his 3-pointer come up short off the rim with 4.2 seconds, but the Racers got the ball back.
Vanderbilt has now lost consecutive NCAA tournament games to No. 13 seeds. The Commodores were led by
Brad Tinsley
's 13 points, but were hampered by finishing only 17-of-29 from the free throw line.
January, 28, 2010
1/28/10
12:22
AM ET
KNOXVILLE, Tenn. – His nickname is "Dolla Beal."
And sure enough,
Jermaine Beal
was money Wednesday night in No. 23 Vanderbilt's
85-76 victory
over 14th-ranked Tennessee at Thompson-Boling Arena.
Or better yet … straight cash.
[+] Enlarge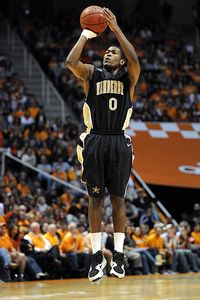 Don McPeak/US PresswireJermaine Beal scored 25 points in Vanderbilt's win over Tennessee.
His coach, who's not one to unnecessarily gush, called him spectacular and the ultimate security blanket, among other things.
"It's one of the first things I said to the team after the game," Vanderbilt coach Kevin Stallings recounted. "When your senior plays like a senior, things get a lot easier. And he certainly played like one tonight.
"He was awesome, really awesome."
Indeed, Beal shot holes in the Vols' defense and took over in the second half on his way to 25 points. He played 38 minutes and didn't have a turnover. He made all three of his 3-point attempts in the second half. He was simply the best player on the court.
"He was the difference," Tennessee senior guard
Bobby Maze
said. "And what made him so terrific was that he was able to knock down shots."
Nobody needed to tell Beal that this was his last shot in Knoxville after some horrific shooting performances against the Volunteers the last couple of years, particularly in this building.
A year ago, Beal was 1-of-10 from the field for three points in a 69-50 loss in Knoxville. He missed both of his 3-pointers. He wasn't much better in the game in Nashville, going 1-of-7 from the field in a 76-63 loss to the Vols. He missed all five of his 3-pointers in that game.
And two years ago in Knoxville, Beal was 1-of-5 from the field in an 80-60 loss to Tennessee.
So when the game was hanging there in the balance in the second half Wednesday, Beal never blinked.
"I haven't won here forever," said Beal, who scored eight straight points to turn a six-point game into a 74-60 runaway with 4:57 remaining. "My only chance to win here was tonight. The main thing was to go out and play hard and leave everything out there, and I feel like we did that."
As a result, the 23rd-ranked Commodores (16-3, 5-0) extended their winning streak to 10 straight games. It was also their third straight road win in the SEC. The last time they won their first three away from home in the league was the 1964-65 season.
It's a given these guys are pretty good in Memorial Gym with the funky setup and the benches at the end of the court. They're a tough out at home and always have been.
But the makeup of this team makes you think the Commodores are going to be a tough out no matter where they play or who they play the rest of the way.
You name it, and the Commodores have it. They have depth, size, shooters and a senior point guard who knows when to take charge.
And when things got testy Wednesday, Vanderbilt proved to be the tougher, more physical team.
"We have a physical team," Stallings said. "A year ago, we were not physical, and we could be taken advantage of in games like that. We are more physical this year. I don't know that we're the most physical, but we're more physical than we've been."
Getting
Andre Walker
back from his knee injury last season has been huge. His stat line every night is usually the same. He had nine points, seven rebounds, five assists and two blocks against the Vols.
The emergence of sophomore post players
Festus Ezeli
and
Steve Tchiengang
has been equally important, and Stallings said 6-11 junior
A.J. Ogilvy
is in better shape.
"Our big guys do a decent job of giving us a presence in that lane area, and that's a big key for our team," Stallings said.
And when the Commodores shoot the ball the way they did against the Vols (15-4, 3-2), they can make a case for being the most complete team in the SEC.
Freshman
John Jenkins
has been a terror shooting the 3-pointer off the bench. His 3 at the 7:39 mark to answer Maze's jumper was one of the biggest shots of the night.
The trio of
Brad Tinsley
, Jenkins and Beal was a combined 8-of-12 from 3-point range for the game.
"I think it's the most complete team I've played on, definitely," said Ogilvy, who scored 12 points and took advantage of an ailing
Wayne Chism
, who had 16 rebounds, but had trouble scoring after hyper-extending his knee Saturday at Georgia.
"We're bigger and stronger and a lot more athletic than any team I've played on and have the ability to shoot the ball. We have every piece of the puzzle, really."
Where it goes from here for the Commodores in the short term remains to be seen. They get Kentucky on Saturday in Lexington and then Mississippi State at home next Wednesday.
But if everyone stays healthy, this is a team built for a deep run in the NCAA tournament.
Don't tell that to Stallings -- not yet anyway. He can't see past the next practice.
"If you get to a point where you think you've arrived, then you've got some problems," he said.
True enough.
But right now, these Commodores are full of answers.