College Basketball Nation:

Brad Waldow
November, 21, 2012
11/21/12
11:00
AM ET
Don't be fooled by the name; this is not a new tournament. It is merely a repackaged Anaheim Classic that is no longer leaving naming-rights sponsorship money on the table. This would normally be the part where we criticize soulless corporate sports sponsorship ... but, I mean, it's the Anaheim Classic. Surely we can find a better target for our outrage.
Anyway, let's talk about this basketball tournament, huh?
The basics:
Nov. 22-25, Anaheim Convention Center, Anaheim, Calif.
The set matchups (Nov. 22):
Pacific vs. Xavier, 2 p.m. ET; Drexel vs. Saint Mary's, 4:30 ET; Rice vs. Georgia Tech, 9 ET; Drake vs. Cal, 11:30 ET.
THE FAVORITE
Xavier:
Major caveat alert: I could make a reasonable argument for Saint Mary's, Cal or even a banged-up Drexel, because I'm not really sure there is one clear favorite in this group of teams. But if I have to pick, I suppose I'll take the squad that shut down Butler just one week before Butler beat Marquette and drilled North Carolina in Maui. The transitive property is a fickle siren, but this early in the season it has to mean something.
FIVE PLAYERS TO WATCH
Matthew Dellavedova, Saint Mary's:
The Australian Olympian and four-year senior is the undispusted leader of this Gaels team in ways both measurable and otherwise, and his offensive output will be (as ever) a huge key to his team's chances of getting out of Anaheim with three consecutive wins.
[+] Enlarge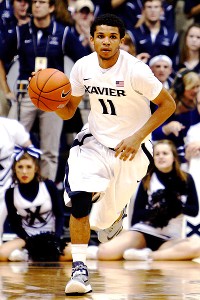 Frank Victores/US PresswireSophomore guard Dee Davis has thus far ably filled holes left by departures at Xavier.
Allen Crabbe, California:
One half of Cal's two-headed returning scoring tandem (the other being fellow guard
Justin Cobbs
), Crabbe is essential to California's hopes of replacing Jorge Guiterrez and Harper Kamp and still making a run at the top of the revamped Pac-12.
Dee Davis, Xavier:
It's early yet, but sophomore guard Davis appears to be just the latest in the Musketeers' long line of starter-minutes-ready young players to emerge after former stars depart. Through three games (including the aforementioned Butler romp) Davis is averaging 15.3 points and 6.7 assists, with a 132.2 offensive rating.
Frantz Massenat, Drexel:
The Dragons suffered a big-time loss this week when guard
Chris Fouch
lost the rest of his season to ankle surgery, but the good news is that Massenat -- a versatile point guard who drives, dishes and shoots with near-equal skill -- remains.
Kammeon Holsey, Georgia Tech:
When Georgia Tech coach Brian Gregory dismissed Glen Rice Jr. in mid-March, he not only made a statement about the importance of attitude and chemistry in his program. He also left Holsey as his only notable returning scorer. Thus far, Holsey has delivered, though this tournament will be the Yellow Jackets' first real test, and we'll see if they'll be more than an ACC punching bag this season.
FIVE BIG QUESTIONS
Is Xavier for real?
The Musketeers were written off at the start of this season, and understandably so -- Tu Holloway and Kenny Frease graduated,
Dez Wells
was (possibly wrongly) kicked out of school,
Mark Lyons
transferred to Arizona, and what remained were guys most hoops fans had never heard of. So the Musketeers were picked to finish ninth -- ninth! -- despite the fact that this program has missed exactly one Sweet 16 (2011) since 2008. When Xavier tossed Butler around in the Musketeers' home opener, the write-offs looked premature. But now, outside of their own building, the young Musketeers have a real chance to prove they're not going anywhere.
Is Cal a Pac-12 contender?
The Pac-12 was bad last season. We've established this ad nauseam (especially for Pac-12 fans, I'm sure) throughout the past 12 months. But for as bad as the league was, on a per-posssesion basis Cal was perfectly respectable (and pretty clearly the best team in its league), even if that respectability didn't always translate into wins. Despite the turnover, would you bet against Mike Montgomery making a run at the top of a still-volatile league this season? I wouldn't.
Does Saint Mary's miss Rob Jones?
Jones was a drastically underrated player last season. Not only was he a versatile scorer, but his rebounding anchored the Gaels on both ends of the floor, particularly on defense, where he posted the nation's 16th-best defensive rebounding rate. Forward
Brad Waldow
is the chief successor to Jones, and will have to have a nice season for Saint Mary's to wrest another West Coast Conference title away from a very good Gonzaga team.
Is Drexel still Drexel?
Bruiser Flint's team was brutally close to an NCAA tournament appearance last season, and had a fair quarrel when all was said and done. With all but one starter returning, and a Virginia Commonwealth-less Colonial Athletic Association, this season was set up as a redemption campaign. It has not gone as planned. The Dragons lost their first two games (to Kent State, which is a bad loss, and Illinois State, which is a good one) and then lost Fouch to a season-ending injury soon thereafter. A title run in Anaheim -- or at least a couple of resume wins, beginning with Saint Mary's -- would be a nice way to get this season back on track.
Who's the upset candidate?
There are some solid teams in this field, but no truly great ones. Which means we could see a few wacky results. That Rice-Georgia Tech game is anyone's guess, and who knows what happens if either of those teams get hot? What if Drake springs an upset on Cal? In a week in which Texas lost to a Division II team and another dude scored 138 points, I'm not discounting any possibilities.
THE PICKS
First round:
Xavier over Pacific; Saint Mary's over Drexel, Georgia Tech over Rice; Cal over Drake.
Semifinals:
Saint Mary's over Xavier; Cal over Georgia Tech.
Championship:
Saint Mary's over Cal.
July, 25, 2012
7/25/12
12:22
PM ET
Editor's note: ESPN.com's Summer Shootaround series catches up on the offseason storylines for each conference. For more on the WCC, click here.
The most important player for each team in the conference ...
BYU:
Matt Carlino
The former UCLA transfer showed flashes of a bright future in his partial first season with the Cougars. But as BYU's lead guard in 2012-13, he'll need to raise his own offensive game another step, while working in plenty of touches for forward
Brandon Davies
and bound-to-be-rusty Tyler Haws.
[+] Enlarge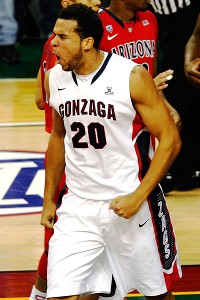 AP Photo/Kevin P. CaseyThis is the year for Elias Harris to live up definitively to the recruiting hype at Gonzaga.
Gonzaga:
Elias Harris
With emerging junior
Sam Dower
and highly touted freshman
Przemek Karnowski
, the Zags are at no loss for frontcourt talent in 2012-13. So why is Harris their most important player? Because this is -- or at least should be -- his team, the last chance for one of Gonzaga's biggest-ever recruits to punctuate a hot-and-cold career.
Loyola Marymount:
Anthony Ireland
Ireland is without question LMU's best player, and he's also its most important, a point guard who averaged 16.1 points and 4.9 assists per game last season. After the unexpected loss of would-be senior
Jarred DuBois
to transfer (Utah), Ireland will have to do even more.
Pepperdine:
Jordan Baker
Baker, whose freshman season was full of promise and frustration, is important both now and in the future as Pepperdine -- which finished just 4-12 in the WCC last season in the first place -- looks to recover from the losses of leading scorers Taylor Darby and Corbin Moore.
Portland:
Ryan Nicholas
Portland won just seven games last season and then lost its point guard, Tim Douglas, who led the team in usage rate before transferring. That means even more will be expected from Nicholas. The 6-7 forward led the Pilots with 11.5 ppg and 7.6 rpg last season and might need to up those totals even more as a junior.
Saint Mary's:
Brad Waldow
We know what we're going to get from this team's best player, guard
Matthew Dellavadova
, but we don't know what to expect from his supporting cast now that seniors Rob Jones and Clint Steindl have graduated. Waldow averaged 8.1 points and 4.4 rebounds in 18.2 minutes per game as a freshman, with an offensive rating of 121.8. More minutes and touches should lead to more production, particularly on the boards, something the Gaels will desperately need.
San Diego:
Johnny Dee
Dee showcased huge potential in 2011-12, including (but not limited to) his 30-point outburst against Pepperdine in the WCC tournament. Fellow sophomore guard
Christopher Anderson
will be crucial too, but Dee has the makings of a star.
San Francisco:
Cody Doolin
When you lose this many players (nine) in one offseason, your most important player becomes anyone with a warm body. But Doolin and fellow junior
Cole Dickerson
stuck around, and both will have to take on major roles in the wake of all those defections.
Santa Clara:
Kevin Foster
Foster was en route to a solid if unspectacular individual 2011-12 before being suspended for the final 12 games of the season. But the 3-point gunner is back for his senior year and should be the focus of the Santa Clara attack.
January, 29, 2012
1/29/12
12:45
AM ET
Editor's Note: For Myron's recap of Saturday's afternoon action, click here.
More Saturday games. More drama. A weekend slate that wasn't supposed to offer much ultimately produced an impressive collection of games. Saturday night only added to the excitement.
Washington 69, Arizona 67


This game might have been a preview of the vibe we'll see in the Pac-12 tournament. Not one team in this league can feel secure about its NCAA tournament hopes, but the conference's collective downfall does make for plenty of must-win drama.
Consider this: Between the 14:16 and 2:28 marks of the second half, Arizona recorded exactly one field goal. And yet, with two minutes to play, this was just a six-point game.
Solomon Hill
's 3-pointer with 9 seconds to play tied the game at 67. He was awesome, scoring 28 points and grabbing 11 rebounds. But while he made nine of his 10 shots, the rest of team went 12-of-40 (30 percent) from the field.
And after Hill's big bucket,
Josiah Turner
committed a huge foul on
C.J. Wilcox
, who hit a pair of free throws before freshman
Tony Wroten
blocked Turner's layup at the buzzer. The Pac-12 is certainly down. But it's also a very scrappy league right now because of the uncertainty. Arizona was bad for a chunk of this game, but the Wildcats kept coming -- because, well, it's UA-UW and these matchups are always dramatic.
The Huskies, who lead the Pac-12 at 7-2, scored a crucial road win, while Zona's at-large hopes took another major blow with its third home loss of the season. Fun game.
No. 21 Virginia 61, North Carolina State 60


The Cavaliers led 55-45 with 6:37 on the clock, but barely held on here. The Wolfpack was sloppy for the bulk of this game and finished just 2-of-15 from beyond the arc. Near the five-minute mark,
Alex Johnson
missed three shots on one possession. He botched a layup on a fast break, then missed a contested follow-up and a 3-pointer. It was that kind of evening for the Pack.
But they bounced back and chipped away at Virginia's lead. They outscored UVa 15-5 in the final six minutes of the game and
Scott Wood
hit a late 3 to close the gap to 1. The Cavs missed a jumper in the final seconds so NC State had a chance to tie on the last possession, but Virginia's defense clamped down on
Lorenzo Brown
, whose 3-point attempt at the buzzer was way off.
The Cavs continue to find ways to win and force teams to play their grind-it-out style of basketball.
Mike Scott
(18 points) certainly helped, but Virginia was outrebounded 42-25 -- it gave up more offensive boards (18) than it had defensive boards (17)! -- and still pulled out the win. The Cavaliers' 17th victory gives them one more than all of last season.
That's certainly something to be proud of, but I'm not sold on the Cavs as a team that will do damage in the NCAA tournament. Not with struggles against Towson, a bad home loss against Virginia Tech and other so-so efforts this season. Their finish against NC State on Saturday showcased some of this team's flaws.
No. 20 Saint Mary's 80, BYU 66


Wait, wasn't this supposed to be the weekend that the Gaels fell in West Coast Conference play? As impressive as SMC's 8-0 start in the WCC was, there was a palpable buzz that suggested the Gaels' success was directly linked to the fact that they played five of their first eight conference games at home, including routs of BYU and Gonzaga.
A rematch with Brigham Young on the road -- the Marriott Center is one of the most challenging venues in the country -- spelled doom. Right? But Saint Mary's truly separated itself from the rest of the league with a 14-point victory that really wasn't even that close, despite SMC's heavy turnover total (24). It was a scrappy game both on the floor and off it -- fans threw things onto the court at one point as the Cougars lost back-to-back home games for the first time ever under Dave Rose. Four Gaels recorded double-figure point totals, led by
Brad Waldow
(19 points, 8 rebounds). I already can't wait for that Saint Mary's-Gonzaga game in Spokane.
Some more observations from Saturday night ...