College Basketball Nation:

Brady Jardine
December, 5, 2011
12/05/11
8:04
PM ET
By
Diamond Leung
| ESPN.com
Utah State starting forward
Brady Jardine
, the team's top rebounder, could miss the rest of the season with a foot injury, coach Stew Morrill said Monday. Jardine has missed four games since suffering the injury Nov. 19 against Southern Utah.
Losing Jardine for an extended period of time would provide yet another obstacle for the perennial WAC champions to overcome. The senior was one of only four returning players and averaged 7.7 points and 7.7 rebounds after moving into the starting lineup this season. Without him, the Aggies have lost three of their last four games, losing to Texas A&M-CC before dropping consecutive games to Denver and Pacific.
"The injury is certainly worse than we thought, once it was retested and everything," Morrill told reporters. "He's out for an extended period and possibly the season."
"Brady was certainly a big blow, but we're not going to have him and that is just the way it is, we lost a good player. We are not going to have him at least for the foreseeable future, so how are we going to respond?"
To make things worse for the Aggies (3-4), another starting senior forward,
Morgan Grim
, might not be able to play against Utah Valley on Tuesday while dealing with a
flu bug and sprained ankle
. Grim is averaging 11.4 points and 6 rebounds. It's not exactly the kind of momentum Morrill was looking for after starting the season in promising fashion with a win against rival BYU.
"Throw our inexperienced guys into it and it is just the nature of it," Morrill said. "When you get your opportunity you've got to respond and when you are not very confident, it makes it harder. You've got to show what you are made of. Inexperience, that is why everybody talks about it so much, it's a tough thing to deal with and that is what we are dealing with right now."
September, 22, 2011
9/22/11
8:25
PM ET
By
Diamond Leung
| ESPN.com
Utah State forward
Brady Jardine
earned his way onto SportsCenter last season with a ferocious dunk that helped the Aggies beat Saint Mary's on national television and provided a signature moment for their NCAA tournament team. The Aggies have dominated the WAC by winning four straight conference championships.
And if anyone thinks Utah State is in rebuilding mode this season after losing four starters including WAC player of the year
Tai Wesley
, Jardine is providing a reminder that the Aggies aren't going anywhere by
blogging about it
.
It's been kind of funny to talk to people over the summer about the team because many act as if the Utah State Basketball program ended with last year's seniors -- like there isn't even going to be a game played in the Spectrum this year. Well ladies and gentleman, there will be a team this year, and to be honest, I think we will surprise some people.

The coaching staff has done an awesome job over the summer in bringing in some great recruits. I dare say that I believe we will be one of the most athletic teams in Utah State's recent past. We are taller, quicker and more explosive than we've been since I've been an Aggie. The question still to be answered is will we have as much mental toughness and heart as the past years team.
Jardine, a senior who averaged 7.5 points and 7 rebounds last season, is only one of four returning players. The Aggies have eight new scholarship players who are eligible for action, including junior college transfer forwards Mitch Bruneel and Kyisean Reed. Bruneel was formerly Idaho's state player of the year coming out of high school.
Despite only having started seven games in three seasons, Jardine is expected to see his role expand with he and point guard
Brockeith Pane
being the top returning players. In Utah State's summer prospectus, Morrill said it's Jardine who has to be the team's go-to guy and that "his senior season should be really special."
While the preseason favorite might be Nevada or New Mexico State, those teams will still have to go through Jardine and a Utah State team that is unaccustomed to finishing anything but first place in the WAC.
"I want this group to believe they can be successful, I just want them to go about it the right way which is day-by-day," Morrill said in a statement. "You can't win a WAC championship by talking about it, you've got to go to work. We won't be favored to win the WAC and that will be the first time in a while. I don't know if I would call us an underdog, but you have a chance to prove that maybe you're better than where you're picked. I suspect we'll be picked somewhere in the middle of the pack. Whatever motivates you to go to work and do what it takes day-by-day to get better, I'm
OK with that."
February, 20, 2011
2/20/11
1:43
AM ET
By
Diamond Leung
| ESPN.com
MORAGA, Calif. -- Utah State forward
Tai Wesley
heard the boos that rained down on him at McKeon Pavilion and loved every second of it.
The senior dominated the second half of a BracketBusters game at Saint Mary's on Saturday night, scoring 17 of his 22 points after halftime and finishing with 11 rebounds to lead the Aggies to a
75-65
win -- a desperately needed victory to silence critics who claimed they hadn't beaten a proven opponent.
After Utah State (25-3) stopped Saint Mary's 19-game home winning streak, Wesley indicated he thought beating the Gaels would lock up an at-large berth into the NCAA tournament should one be needed.
"Hope so," Wesley said. "You'd think so, but we don't need to get caught up in that."
The Aggies trailed by as many as 12 points and were down by nine at halftime, but during the break, coach Stew Morrill told the team it would be feeling great by the final buzzer after they had won. He reminded Wesley that Saint Mary's wasn't doubling him in the post and that the preseason WAC player of the year had been waiting his entire career for a night like this one.
Despite making only one field goal in the first half and playing with a broken nose he broke a few weeks ago, Wesley ignored the previous 20 minutes and went to work. He saw his shots start falling, helped three Saint Mary's post players foul out, and relished the bad guy role in a hostile environment.
On one play, he set a vicious screen that sent Gaels guard
Matthew Dellavedova
sprawling to the floor, and the two exchanged some words after a break in the action.
"He literally said he wanted to kick my a--," Wesley said. "I said, 'Let's go.'"
Dellavedova, who continued his struggles and went 3-for-10 from the field, said he didn't remember what was said. The two were quickly separated, but the Saint Mary's crowd jeered Wesley for the rest of the game. It only stopped when he'd silence the fans with buckets.
"Love it," Wesley said. "If you're getting booed, you're doing something right. You're getting under their skin. You're making them hate you."
Saint Mary's, which needed the win just as much coming off an RPI-killing loss to San Diego on Wednesday, saw
Mickey McConnell
get hot in the first half and finish with 16 points, but was limited to 28.6 percent shooting in the second half.
When
Clint Steindl
drained back-to-back 3-pointers to cut the lead to six, the Aggies responded with
Brady Jardine
's back-breaking contested dunk for a 3-point play with 2:26 left.
"We don't care that we showed the nation we can beat people," Jardine said. "But for our team to know we can beat a top-25 team on the road, that's something we'll remember."
The Gaels might have to win the West Coast conference tournament to get off the bubble and to guarantee a spot in the Big Dance. Meanwhile, the Aggies have brushed off their critics who say they haven't beaten a notable opponent.
"Weak schedule, strength of schedule, we hear that every year," Wesley said. "Honestly, we don't care."
Morrill went on to list the reasons why this was the signature win the Aggies needed: the Gaels are leading the WCC, had been unbeaten this season at home, and the event is called BracketBusters.
"It must mean something," Morrill said.
January, 28, 2011
1/28/11
1:47
AM ET
By
Diamond Leung
| ESPN.com
SAN JOSE, Calif. -- BYU is the talk of the nation, but have you heard? There's another team in the state that's making some noise.
It's Utah State that has the nation's third-longest active winning streak, and the Aggies stretched that to 14 games after handling their business in an
84-65 win
at San Jose State on Thursday.
Peaking once again during WAC play, the 19-2 Aggies are ranked No. 25 and don't really mind that BYU is the team leading the local newscasts and overshadowing some of their success.
"I feel like it has, but that's fine," said Utah State forward
Tai Wesley
, who has been following what he calls the Jimmer Show. "We don't care about attention. We care about wins."
[+] Enlarge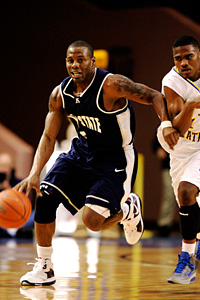 Phil Carter/US PRESSWIREBrockeith Pane and Utah State improved to a perfect 8-0 in the WAC with a win over San Jose State.
The only two teams Utah State has lost to this season? BYU and Georgetown, both ranked teams that got to play the Aggies at home. They haven't lost since the Hoyas blew them out on Dec. 4, but have improved during the latest streak.
The last time the defending regular-season WAC champs played San Jose State -- and won by nine on New Years' Eve -- coach Stew Morrill blew his top in the halftime locker room speech.
"He went nuts," Wesley said. "He was kicking over stools, spitting and yelling. I don't know how many episodes like that he has left."
Said Morrill: "We're really a team that has to defend and play hard. I didn't think our energy level was up. I have a hard time when my teams don't play hard."
The Aggies have won all but one of their games since then by double digits, and by beating San Jose State, which was without injured point guard
Justin Graham
, they've now won 22 straight WAC games and 34 of their past 36 regular-season games.
Wesley, the WAC's preseason player of the year as voted on by the league's coaches, has been dominant down low with his .608 field-goal percentage.
Nate Bendall
has played through foot pain to bolster the frontcourt along with
Brady Jardine
, who is tied as the team leader in rebounds with Wesley.
The player that gives Utah State an extra boost in athleticism is point guard
Brockeith Pane
, a junior college transfer who played his freshman season at Houston.
"We got to earn people's respect," said Pane, who scored 13 points against San Jose State. "If we continue to bring it, the sky's the limit."
Brian Green
came off the bench to score a career-high 25 points, hitting all five of his 3-point attempts, but don't expect many Jimmer-like single-game numbers for a program known for its methodical play.
The Aggies do have experience with winning and are showing it right now.
"We got a lot of seniors and leadership," Wesley said. "Each game we're getting better."
November, 3, 2010
11/03/10
12:26
PM ET
By
Diamond Leung
| ESPN.com
Utah State forward
Nate Bendall
, a preseason all-WAC second team selection, has suffered a setback with a chronic foot injury and could very well struggle to get on the court this season to help the Aggies defend their conference title.
Bendall's right foot had kept him out of workouts, and after coming back to play in the team's intrasquad scrimmage, he was once again sidelined for the Aggies' exhibition game on Saturday.
According to
The Herald Journal
, that left coach Stew Morrill feeling doubtful about Bendall's availability this season.
"It's the same stuff," Morrill said. "He tried to go. He just can't go. He wakes up in the morning and can't walk. He's got chronic foot issues. ... We were probably fortunate to get him through last year. Whether or not he'll be able to play at all is hard to say. He's going to be out at least four weeks or more, and then we will go from there."
If the 6-foot-9 Bendall does play, the
Salt Lake Tribune
reports that he might have to play through a significant amount of pain. As the team's second-leading returning scorer and rebounder, Utah State certainly needs him.
But if he can't go, the Aggies will need more contributions out of their other forwards.
Morgan Grim
is eligible this season after transferring from Utah, and Morrill can also turn to
Matt Formisano
and
Brady Jardine
.
March, 10, 2010
3/10/10
3:15
PM ET
By
Diamond Leung
| ESPN.com
The Western Athletic Conference has reprimanded Utah State coach Stew Morrill for directing "
provocative language
" toward New Mexico State guard
Jahmar Young
during Utah State's win on Saturday.
Young and Utah State's
Brady Jardine
went after a loose ball near the Utah State bench, with Young picking up a technical foul and Morrill yelling at the junior.
The conference warned Morrill about a minimum one-game suspension for further violations of the sportsmanship code, to which Morrill fired off his own statement.
"It was a loose ball situation, words were exchanged and my response was inappropriate," Morrill said. "I made a mistake and will work to improve my language. New Mexico State has a good team and Jahmar Young is a good player. He was called for a technical foul on the play and I now have been disciplined by the WAC. That should cover it."