College Basketball Nation:

Brady Morningstar
October, 13, 2011
10/13/11
8:06
PM ET
By
Diamond Leung
| ESPN.com
The Big 12
preseason poll
, as voted on by the league's coaches, featured a familiar theme: Don't bet against Kansas.
Despite losing the Morris twins to the first round of the NBA draft and adding seven newcomers, the Jayhawks tied with a veteran Texas A&M team as picks to finish first. That apparently surprised Kansas.
"I didn't actually see that, but Coach (Bill Self) mentioned it in the locker room," guard
Tyshawn Taylor
told reporters. "That's pretty cool. I think we were all actually surprised. I mean, it's a compliment so we're excited about it. We're going to take that and run with it."
Said Self: "Yeah, I'm surprised. I always say that the coaches know more than the media, but I'm not sure that's the case in our league right now. Last year we had the twins and (Brady) Morningstar,
Tyrel Reed
and
(Josh) Selby
and I think the coaches picked us third. Well now, we don't have any of those guys, but that doesn't bother me. We've kind of gone into the season with tempered expectations, to be honest with you, and I've tried to do that with our fans a little bit. I think it's fine and we're kind of used to being in the situation where people expect us to be decent and we won't shy away from that."
To correct Self, Kansas was actually picked second last season, behind Kansas State. Of course, the Jayhawks ended up Big 12 champions anyway, so the coaches might have been shy about going against them as favorites this season.
The biggest snub would seem to be Baylor, which was picked third despite having preseason player of the year
Perry Jones
III. To show how far the Bears have come in terms of expectations, third was actually the highest the program has ever been picked.
Oddly, Self seemed somewhat confused about which team he picked, since coaches can't choose their own teams first.
"I know Texas A&M is going to be good and personally I picked Baylor to finish first in league and I think I picked A&M, too," Self said. "What I picked and what anyone else picked this time of year doesn't mean anything."
March, 25, 2011
3/25/11
11:34
PM ET
SAN ANTONIO -- The
Kansas Jayhawks
are not in this tournament to win the sportsmanship trophy. They're not here to go along and get along. They're not terribly interested in playing nice.
They made that perfectly clear before and during their Sweet 16 stomping of Richmond on Friday night, a
77-57
beating that was Kansas at its best. And cockiest. And most intimidating.
The Jayhawks shoved their way inside the Spiders' heads more than 24 hours before the game and never left, not until the final horn sounded. When Kansas star forward
Marcus Morris
encountered a couple of Richmond players in the hallway between media interviews Thursday, he issued a verbal warning: "You better be ready."
[+] Enlarge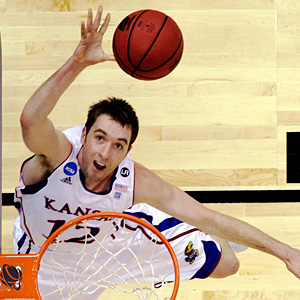 AP Photo/Eric GayBrady Morningstar scored a team-high 18 points and notched 4 assists and 2 steals.
Then, while the Spiders were huddling in the tunnel before coming out onto the court for tipoff, the Jayhawks barged through. A shoving match ensued between the teams.
"We were trying to run out," Kansas guard
Josh Selby
said. "They stood right there, and we just tried to run through it."
"It got a little chippity," Morris said. "We had a little battle to get out the tunnel first."
Said Richmond's
Kevin Smith
: "They tried to run through there, and they ran into some walls. It's a man thing. Would you let a man walk through you? They thought they were playing with some boys with that one."
No offense to Mr. Smith and the Spiders, but this
was
a men-against-boys game. Top-seeded Kansas had its way with the No. 12 seed, bursting out to a 31-9 lead and never giving any upset hopes a chance to grow in the Kansas-dominated Alamodome.
Given the way both teams started the game, it's fair to wonder whether the pregame fracas had a motivational effect on Kansas and an unsettling effect on Richmond. The Spiders say it did not, but the Jayhawks generally disagreed.
Richmond point guard
Kevin Anderson
said the altercation was not an issue after tipoff but that "I never got my team settled down."
If Richmond was unsettled, Kansas was unbridled.
"I think it might have been a little bit [of a motivator]," Kansas guard
Brady Morningstar
said.
The more you mix it up with the Jayhawks, the better they seem to do. Whatever chance there was that they wouldn't start the game dialed in probably disappeared in that tunnel exchange.
"Maybe they didn't think we were ready to go," Morris surmised. "But the first 11 minutes were probably the best we've played all year."
Kansas was indeed brilliant early. The Jayhawks moved the ball precisely and hit their perimeter shots. They extended their defense to disrupt Richmond's rhythm and force it away from the basket. They predictably hammered the smaller Spiders on the glass. They were good in transition, good in the half court, good everywhere and in every way.
"They are truly a great team," Richmond coach Chris Mooney said. "They were kind of able to dictate the game, unfortunately, in every way."
Nobody played better early than Morningstar, who had 12 first-half points and finished with a team-high 18. The senior has a reputation as something of a provocateur. Marcus and twin brother
Markieff Morris
have been known to keep their elbows cocked and ready, whereas Morningstar is more apt to annoy opponents with his mouth.
He got under the skin of Texas'
Jordan Hamilton
in Lawrence earlier this season, prompting Hamilton to cuss at him and draw a technical foul. This time, Morningstar and Smith got into it during one dead ball, and the officials brought both together for a lecture. Not long thereafter, Morningstar buried his fourth 3-pointer of the game and woofed at Smith. He was quickly hit with a T.
"Some kind of noise," Smith said of whatever came out of Morningstar's mouth. "He said it running away. ... You can put that in there if you want to."
Said Morningstar: "I got ahead of myself, and I'm not good enough to run my mouth after I make a shot."
Morningstar said something else funny postgame. Namely, that he couldn't understand why Richmond might have been intimidated by the Jayhawks.
Take a look at the thick bodies and unsmiling faces in your own locker room, Brady. If the Morris twins and
Thomas Robinson
(12 points and 14 rebounds Friday) aren't a bit scary to look at, nobody is in college basketball.
Richmond was going to be up against it in this game no matter what. But after all the pregame posturing, the Spiders were really in trouble. It didn't take long for Kansas to exert its dominance and make Louisville coach-turned-temporary ESPN analyst Rick Pitino's upset pick turn on its head.
"No disrespect to Pitino," Markieff Morris said, "but we still playing."
And still talking.
March, 25, 2011
3/25/11
9:34
PM ET
SAN ANTONIO -- A quick look at Kansas'
77-57 win
over Richmond Friday night.


Overview:
This was exactly the kind of beatdown one could expect when a No. 12 seed shows up in the Sweet 16 to play a No. 1. Richmond's pregame act of defiance -- getting into a brief shoving match with Kansas in the tunnel leading to the court -- turned out to be the last fight the Spiders would put up all night. Kansas dominated in every phase of the game, racing to a double-digit lead in just more than eight minutes and keeping it there the rest of the night.
Turning point:
It might have been the pregame altercation. Any hope Richmond had of sneaking up on an overconfident Kansas team probably disappeared at that point. Kansas was locked in all night, and that was bad news for the underdog.
Key player:
Jayhawks guard
Brady Morningstar
never headlines the opponent's scouting report, but that doesn't mean he isn't dangerous. Morningstar showed it early against Richmond, making 5 of 7 shots and scoring 12 first-half points. He finished the night with a team-high 18.
Key stat:
Kansas shot 50 percent from the field in the first half, 50 percent from 3-point range and 100 percent from the foul line. Richmond, meanwhile, shot just 29 percent from the field and 21 percent from 3 in the first 20 minutes. Those stats were not conducive to a shock-the-world outcome.
Miscellaneous:
Kansas guard
Tyshawn Taylor
also played a great first half, with five assists, zero turnovers and two blocked shots. ... Richmond leading scorer
Justin Harper
had a very deceptive 22-point night. He struggled offensively against the big Kansas front line and didn't get going until it was too late.
What's next:
Kansas moves on to the regional final Sunday against the winner of Florida State-VCU. Richmond goes home and hopes it keeps its coach, Chris Mooney, who is a candidate for other jobs.
March, 20, 2011
3/20/11
8:00
AM ET
TULSA, Okla. -- This has become the Bill Self Subregional.
The Kansas coach is everywhere or, more accurately, his past is everywhere.
He's an Oklahoma native and Oklahoma State alum whose first two head-coaching jobs were in this city, at Oral Roberts and Tulsa. Then he went to Illinois, where he succeeded Lon Kruger and preceded Bruce Weber.
Kruger played Weber Friday for the right to face Self Sunday. Weber won, which pits Self and Kansas against Weber and Illinois. And that means the subject of the mock funeral Weber held for Self early in his Illinois tenure -- in an effort to get players and fans alike to quit talking about the departed coach -- came up Saturday.
This also marks the second straight year that Self has faced an underdog that defeated UNLV to get to the Jayhawks. Last year it was Northern Iowa, and you know how that turned out -- also in a game played in Oklahoma.
But despite all the Self connections, that's only half the matchup here. And the potential exists for two excellent games at the BOK Center Sunday night.
No. 5 seed Arizona (28-7) vs. No. 4 seed Texas (28-7), 6:10 p.m. ET (TNT)


What to watch:
Can the Wildcats' efficient offense produce against the Longhorns' relentless defense? Arizona shoots 51.6 percent from two-point range and 39.6 percent from 3. Texas allows opponents to shoot only 42 percent and 28.7 percent, respectively. Whoever gets the advantage in that strength-on-strength matchup will probably win the game.
Who to watch:
Arizona forward
Derrick Williams
against Texas'
Tristan Thompson
. Williams is the guy who makes Arizona go, an All-American who has cranked his play up even higher -- through four postseason games he is averaging 22 points and 8.5 rebounds. Williams also had the spectacular blocked shot that clinched the game against Memphis on Friday -- but Thompson is the guy who swats shots in bunches. The freshman rejected a career-high seven of them against Oakland, and he's likely to get the first defensive call against Williams.
Why to watch:
Arizona has been must-see TV its past two games, winning one (Memphis) and losing one (Washington in the Pac-10 tournament final) at the very end. Texas has at times looked like the best team in the nation, including for about 30 minutes against Oakland on Friday. And there will be plenty of future NBA players on the floor, whenever they decide to turn pro.
What they're saying:
"I'm coming back next year. I've already signed up for summer classes." -- Texas' Thompson, who projects as a lottery pick but delivered that news in the Longhorns locker room Saturday. Now we'll wait and see whether he really means it.
"He's not going to like this, but he took a lot of shots. That's just his game. Any kind of shot is a good shot for him." -- Williams on former AAU teammate
Jordan Hamilton
, volume-shooting forward for Texas.
"It's overwhelming as a coach that's getting ready to play against Texas to watch him offensive rebound. … He might be the nation's best offensive rebounder." -- Arizona coach Sean Miller on Thompson.
Of note:
Both schools have demonstrated impressive recruiting reach. Arizona has two players from New York and one from St. Louis in its probable starting lineup, plus a pair of Californians. Texas starts one Texan,
Gary Johnson
, but otherwise fills out its first five with two Canadians, a Turk and a Californian.
No. 9 seed Illinois (20-13) vs. No. 1 seed Kansas (33-2), 8:40 p.m. ET (TNT)


What to watch:
Last year at this stage, the top-seeded Jayhawks felt the pressure and played tightly against underdog Northern Iowa in a shocking loss. Self said he wants this year's team to relax and enjoy the NCAA experience, but acknowledged that he thought Kansas was again tight for a half against Boston University on Friday. Illinois, meanwhile, should be afforded the chance to play with a relaxed attitude. The seasoned Illini are significant underdogs with nothing to lose, and a victory would redeem what has been a disappointing season. Kansas has the better team, but also the greater pressure.
Who to watch:
Illinois point guard
Demetri McCamey
. Leading his team in both scoring (14.9 points per game) and assists (6.1), he's vital to the Illini's chances. Especially his distributing. They're 15-0 this year when McCamey dishes out seven or more assists. For Kansas, the focal point of Self's pound-it-in offensive approach is the Morris twins, Marcus and Markieff. They'll take their muscular physiques and all-court games up against an Illinois front line that has an abundance of length but not the same amount of girth.
Why to watch:
After what happened last year to KU in the round of 32, miss this game at your peril. But also because Illinois, if it plays the way it did Friday against UNLV, could have a legitimate chance to win.
What they're saying:
"Last year we were kind of No. 1 the whole season, and everyone had us picked as the favorite. I don't know if that was more of a burden to us than a good thing. We're not trying to hold onto anything this year. We don't have anything to hold onto." -- Kansas guard
Tyrel Reed
, on the (slightly) lesser pressure on the Jayhawks this season.
"When he plays and plays well, we're a top team in the country. We can compete with anybody." -- Weber on McCamey
"I wouldn't say he's one of my best friends, but we have a cordial relationship." -- Weber on Self.
"I have total respect for him as a coach. … But we're not close. We don't talk." -- Self on Weber.
Of note:
One of the things that makes Kansas so hard to cover is the shooting ability of its guards. If defenses distort themselves too much to collapse on the Morris twins inside, they risk leaving Reed,
Brady Morningstar
and
Tyshawn Taylor
(among others) open on the perimeter. And lately, that's been a bad trade-off. In KU's past two games, the Big 12 title game against Texas and the NCAA opener against BU, the Reed-Morningstar-Taylor trio has made 12 of 25 3-point shots. ... Weber had no update on the status of swingman
Jereme Richmond
, who was suspended for the UNLV game for what the coach termed a violation of "athletic department team rules." Weber said the school will discuss Richmond's status privately Saturday and make an announcement on his status Sunday.
January, 25, 2011
1/25/11
2:07
AM ET
By
Diamond Leung
| ESPN.com
Kansas forward
Thomas Robinson
received the news on a phone call around 11 p.m. on Friday from his 9-year-old sister, Jayla. Their mother, Lisa, had died of a heart attack at age 37. This after Robinson had lost his grandmother three weeks earlier and his grandfather just last week.
The team has since rallied around the sophomore, and according to the
Lawrence Journal-World
, the NCAA is allowing the school to cover the funeral expenses while the team plans to fly charter to attend services.
"The first thing they (players) wanted to do was: 'Coach, tell us about Thomas' situation. Tell us about the arrangements. Tell us about his sister. What can we legally do? What's the NCAA going to allow you to do? Is anybody going to go with him (to D.C.)? He doesn't need to be alone.' The whole deal was laying out Thomas," Self said.

Self informed the Jayhawks that director of basketball operations Barry Hinson would return to D.C. with Robinson on Monday -- the day of Robinson's grandfather's funeral -- and that the entire team would fly charter to the funeral. And that the NCAA would allow KU to pay for funeral expenses and even work on the arrangements in Lawrence.
Robinson did not make the trip for today's game against Colorado, and guard
Brady Morningstar
said Monday the team was hurting for him.
"You just have to be there for him," Morningstar said. "In no way could I imagine what he is going through right now. He is a 19-year old and having all that happen to him is just terrible, so you just have to stay close to him and give him your love and affection. We just need to let him know that it will be all right even though it does not seem like it now, but we are all here for him and he can just lean on us if he needs anything."
December, 23, 2010
12/23/10
4:10
AM ET
By
Diamond Leung
| ESPN.com
BERKELEY, Calif. -- The nasty pileup on the floor featured two players who didn't like each other, some apparent extracurricular elbowing and tempers flaring.
Cal's
Jorge Gutierrez
was literally dragged away by a teammate and restrained by his coach after a loose ball situation resulted in the feisty Bears guard getting tangled up with Kansas forward
Thomas Robinson
for a second time.
And out of the scrum, there was
Josh Selby
trying to calm his teammate down with a bear hug.
"To make sure he keeps his composure," explained Selby, Kansas' freshman sensation.
The Jayhawks ultimately
prevailed 78-63 on Thursday
at Haas Pavilion in their first true road game of the season to improve to 11-0. In a chippy game that saw KU's leading scorer
Marcus Morris
get ejected, three technical fouls and Robinson's intentional foul, they learned that there is plenty of room to grow.
"If you're competing, you beat 'em on the scoreboard, not by getting the last word in," Kansas coach Bill Self said. "We have to mature. We don't have a mature team, and we have known that from the beginning. They are competitive, though."
Kansas got big performances off the bench from
Markieff Morris
, who had a career-high 21 points and 10 rebounds, along with 18 points from Selby, who was masterful with his first-half shooting in only the second game of his career.
[+] Enlarge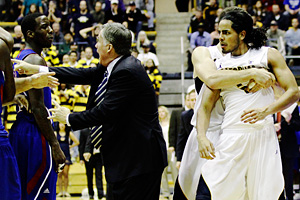 AP Photo/Marcio Jose SanchezTensions ran high Wednesday night between Kansas and Cal.
But the attention was soon focused on two teams that couldn't keep their hands off each other. Robinson got whistled for an intentional foul on Gutierrez in the first half, and it went from there.
Marcus Morris was ejected with 17:23 left for a flagrant foul of
Harper Kamp
, with Self agreeing afterward that Morris "got what he deserved." About a minute later, it was Gutierrez and Robinson going at it again and getting called for double technical fouls. Kamp and coach Mike Montgomery pulled Gutierrez out of the pile.
"You have to love Jorge," Montgomery said. "He's the greatest. But he's a stubborn son of a gun. And if you attack him, he's going to come back at you. It's just his nature. It's what makes him so good."
Said Robinson: "It's a physical game. I don't really remember what happened. I went after the ball. He went after the ball."
The incidents only served to fire up Cal, and the Bears were able to whittle a 17-point deficit down to three. But the technical on Gutierrez was also a fourth personal foul, and Kansas was able pull away behind Markieff Morris' dominance inside and
Tyrel Reed
's career highs of 18 points and seven rebounds.
Self said there's "a great chance" Selby would make his first career start once the Jayhawks return to action next week. The freshman has had the hot hand since coming off an NCAA suspension to sink USC with a game-winning 3-pointer. Against Cal, he finished 6-of-13 from the floor, making three from beyond the arc and also contributing four assists while playing good defense.
"He is a guy that can score when we don't really have a good offense," Self said.
So while Self used words like "disappointed" and "ridiculous" to describe some of his team's antics (
Brady Morningstar
was later assessed a technical for knocking the ball out of
Gary Franklin
's hands after a called timeout), the Jayhawks also had plenty of fun wearing their road blues and going at it in front of 11,250.
Kansas fans showered their team with chants and booed Gutierrez on his home court. They got to see Selby light it up and provide a glimpse of what's to come.
Yes, the Jayhawks still have to incorporate their star and have been shaky at times this season even with Selby in uniform.
"We got to be smarter," Reed said. " We've got to keep our cool and be mature about it."
But thus far, Kansas has come out on top in every challenge it has faced and gotten the last laugh.
July, 21, 2010
7/21/10
10:12
AM ET
March, 13, 2010
3/13/10
11:39
PM ET
KANSAS CITY, Mo. -- Thousands of players have come through college basketball in the last 18 years.
Only 15 have two national titles. Since 1992 only three head coaches have won two national championships -- North Carolina's Roy Williams, Florida's Billy Donovan and Connecticut's Jim Calhoun.
[+] Enlarge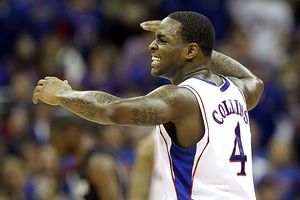 Jamie Squire/Getty ImagesSherron Collins, the Big 12 tournament's most valuable player, will try to lead the Jayhawks to another national title.
The list of coaches could grow by one if Kansas' Bill Self were to win a second title next month, while the collection of players could grow by three if the top-ranked Jayhawks, one of three likely favorites, were to win the championship April 6 in Indianapolis. Coaches have more opportunities. Players don't.
We spend so much time talking about coaches winning a second national title and how rare that is still today. But what about the unique story of how difficult it is for the players to win twice in this era of early departures to the NBA draft?
It's almost impossible, or rather implausible.
But it could happen for KU's
Sherron Collins
,
Cole Aldrich
and
Brady Morningstar
, along with
Tyrel Reed
,
Chase Buford
and
Conner Teahan
.
Among that group, Collins played the most significant role on the 2008 national title team. Aldrich emerged as a threat in the Final Four off the bench inside. Reed averaged around six minutes a game. Morningstar redshirted that season, but was still a part of the roster.
"We can finally talk about a national championship run now,'' said Collins after
Kansas' 72-64 Big 12 tournament title victory over Kansas State
at the Sprint Center Saturday, completing the sweep of the Wildcats in three games, and more importantly a rare double-dip with a regular-season and conference tournament title.
"This is the reason me and Cole came back to school,'' said Collins, who was named the tournament's most valuable player after scoring 12 points, dishing out seven assists to just two turnovers in 36 minutes. "To be mentioned with some of those greats, some of those great teams, that's special if we can go down in history like that.''
Kentucky won national titles in 1996 and '98 under two different coaches. The first one came under Rick Pitino, the second led by Tubby Smith. There were five holdovers on both teams that won two championships – Cameron Mills, Jeff Sheppard, Wayne Turner, Nazr Mohammed and Allen Edwards.
Florida pulled off the first consecutive national championships since Duke in 1991 and '92 when a collection of recruits calling themselves the '04s stayed together instead of opting for the NBA and won championships in 2006 and '07. The seven scholarship players and three walk-ons who can claim two national championships were: Al Horford, Joakim Noah, Corey Brewer, Taurean Green, Lee Humphrey, Walter Hodge and
Chris Richard
. The three walk-ons that can boast for the rest of their lives that they have two rings as well are Jack Berry, Brett Swanson and Garrett Tyler.
It may seem like a high number of players in the past 18 years because of Florida's consecutive titles. But it's not. Just think of how many players compete in Division I every season. Now consider how rare it is for any of them to be in the Final Four, let alone win a national title. Then take it a step further and ponder how difficult it would be to do it twice.
[+] Enlarge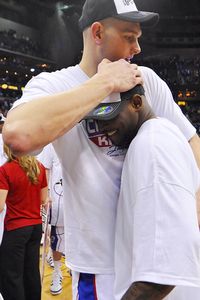 Ron Chenoy/US PresswireAldrich and Collins celebrated their third victory over KSU this season. Now it's on to the Big Dance.
That's the kind of history this trio of Kansas players is on the verge of completing if the Jayhawks can win six games.
"In this era of one-and-done, it's hard to do it,'' Collins said. "It's not going to be easy, but it would be special.''
The Jayhawks had momentum in 2008 and were one of the four favorites with UCLA, North Carolina and Memphis in an all-chalk Final Four. But there was perhaps more experience on that squad, especially upfront.
"We were more mature,'' Collins said. "We had a lot of guys who knew what to do. We'll still have to talk to some of these guys and help them understand to get them all ready.''
Xavier Henry
is a freshman entering his first NCAA tournament. This is the first time that
Tyshawn Taylor
,
Tyrel Reed
and Marcus and
Markieff Morris
will be in the role of major contributors.
"I don't think we're as defensively sound, or as consistently defensively sound as that team in 2008,'' Collins said. "We do it in spurts. If you're going to win, it's going to be because of our defense. You've got to be a defensive team in the tournament and make teams play better than you do.''
Clearly Morningstar and Aldrich have a different approach versus 2008. It's easy for Morningstar since he wasn't even playing then, while Aldrich was simply a role player asked to hustle, board and run the floor.
"It's pretty cool to know that you could be a part of something like this, not just one championship but a chance to win two,'' Morningstar said. "There aren't a lot of easy games, even in the first and second round. It's about not having distractions. We had a big shot guy then (in Mario Chalmers), but we've got one right here in Sherron. We've got another one in Cole at the four and Marcus at the three. We've got the different pieces to do what we want to do.''
As iconic as Tyler Hansbrough was at North Carolina during his career, he still only had one title after Kansas crushed the Tar Heels in the 2008 national semifinal before Hansbrough returned to attempt to win one in 2009. Hansbrough was fortunate when Ty Lawson, Wayne Ellington and Danny Green opted to withdraw from the NBA draft. Carolina was experienced, talented and driven to win in 2009 -- and did.
The Jayhawks had similar luck when Henry got out of his national letter to join Kansas once then-Memphis coach John Calipari split for Kentucky. Avoiding any injuries has been a blessing. Now KU stands at 32-2 and the Jayhawks have gone through most of the season as the favorite, destined to be in Oklahoma City for the first two rounds and likely St. Louis for the next two en route to Indianapolis as possibly the No. 1 overall seed.
"The reason Sherron and I came back was because we knew we had a great group of guys and had a chance of cutting down the nets in April,'' Aldrich said of a possible second title. "It sounds easier on paper then to go through it. But if we can, it would be really special -- really special -- to be a part of such a rich and historic tradition at Kansas.''
February, 12, 2010
2/12/10
3:01
PM ET
By
Diamond Leung
| ESPN.com
Bill Sproat, the Utah State fan dubbed "Shirtless Cupid" for his distracting costume during the Idaho game, got the top spot on SportsCenter's
Not Top Plays
.
Not sure if I'm in agreement since in the video he does his job, as Marvin Jefferson's two free throws miss. As if Brady Morningstar's miss
wasn't worse
than anything Sproat has worn (or hasn't worn)?
But Sproat's full body of work has to be considered in all of this. I mean, the guy also dressed up like a
hula dancer
and a
pirate
.
OK, fine. Top spot it is.
February, 9, 2010
2/09/10
12:45
PM ET
February, 9, 2010
2/09/10
10:40
AM ET
If you watched
last night's Texas-Kansas game
(the game I'd been looking forward to for months and the game that didn't live up one bit to that hype, which has made me sort of sad for about 12 hours now) you no doubt saw
Brady Morningstar's weird technical foul shot
. Shooting in place of the fouled-out Cole Aldrich, Morningstar lifted with the ball, attempted to shoot, lost his handle, juggled the ball in his hands, and then caught it quickly and shot it again. That shot didn't go in, and Brent Musberger, Bob Knight, and pretty much everyone else who watched the shot were confused. Um, Brady? What
on Earth
just happened?
Brady Morningstar has a simple explanation:
The ball was wet, guys.
"The ball was wet. It slipped on the way up. I was so confused. I could have caught it and came down with it, but I'd have stepped on the line. I tried to shoot a little jump shot so I didn't cross the line," Morningstar said.
"I looked pretty stupid there," he added. "We laughed about it in the locker room just now."
Eh, don't stress it, Brady. All in all, avoiding the line and getting the shot up at all constituted a pretty impressive bit of acrobatics, and it's not like the shot mattered anyway. It's amusing, but it's not important. That's what happens when you blow out a slumping Texas team in their own building -- you can screw up your free throws and laugh about it later.
(Hat tip: The Dagger)