College Basketball Nation:

Brandon Johnson
May, 22, 2013
May 22
6:30
PM ET
Remember the San Diego point-shaving scandal? Sure you do. Brandon Johnson, the school's all-time points and assists leader,
was implicated and later charged and sentenced as the result of an FBI investigation
into a point-shaving scheme during the Toreros' 2009-10 season. After his career was over, he later
attempted to recruit another USD player
into the game-fixing morass. Eight people connected to the conspiracy were convicted and sent to federal prison, the most
recent being illegal bookmaker Richard Francis Garmo
. Johnson was sentenced to six months in a federal facility.
[+] Enlarge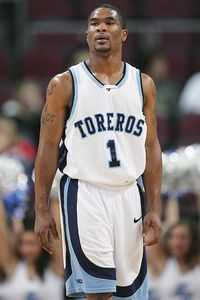 Marc Sanchez/Icon SMIThe FBI reported that at least four games were fixed with Brandon Johnson's help.
Why revisit this? Because
the FBI released a report on the case
, and it comes complete with a whole mess of fascinating new details. To wit: The FBI operation, dubbed "Operation Hook Shot" was a three-year sting that began with a mission totally unrelated to college basketball. Instead, the FBI was trying to close in on an illegal gambling/marijuana dealing business in San Diego. Only later did they discover -- thanks in large part to Thaddeus Brown, an assistant coach at USD in 2006-07 who had placed illegal bets with the bookmaker and recruited Johnson in 2009-10 -- the point-shaving angle.
During that season, the FBI report states, it's likely at least four games were fixed with Johnson's help:
Perhaps the senior point guard would miss a free throw now and then or draw a technical foul. Or he would just pass up a shot—at one point Johnson was heard on electronic surveillance talking about how he wouldn't shoot at the end of a particular game because it would have cost him $1,000.

The co-conspirators routinely got together to discuss the predictions of oddsmakers and to pick which games to fix. They would then make their bets—often on the other team (USD was usually favored to win)—which would enhance their winnings even more. And with Johnson manipulating the games, they usually won their bets, netting them more than $120,000.
Those facts and figures ground the whole mess in reality. The apocryphal assumption about a player participating in a point-fixing scheme is that there are huge sums of money involved -- $10,000, $20,000, a sum large enough to make any and all immediate monetary worries go away. A sum large enough to be tempting, in other words.
But $1,000 is a different story. While not a small amount of cash by any means, particularly for a college student, it isn't going to knock you over in your chair, or force you to start thinking long and hard about what you would do if you were in a college basketball player's position. It's just, you know, $1,000.
Perhaps the mundanity of the figure is what's truly scary.
As NBC Sports' Rob Dauster writes
:
He's not throwing the game, he's just making a bad pass or missing a shot intentionally here and there to ensure that his team doesn't cover the spread. That money can stock your fridge and let you buy a round of shots at a campus bar while also helping to make sure your parents aren't late on a car payment or rent — and it doesn't cost your team a win. ... How many [college basketball games] do you think are fixed?
That's what's so insidious about this, and why the NCAA is so terrified of it: There are thousands of college basketball games every season in far flung locations and backwater hideaways. If a kid at a low-profile program can be gotten to for just $1,000 per game, and all he's doing is keeping an eye on the scoreboard when his team is polishing off a blowout win, how do you even remotely attempt to police that?
Besides, $1,000 says something deeply damaging about the viability of the amateur model in the first place, something everyone but the NCAA seems to recognize: When you drown a sport in money but outlaw its players from making any of it, you create the ideal conditions for this type of exploitation. It's why AAU tournaments can charge $300 for a program with names and roster numbers; it's why shoe companies get their hooks in early; it's why Michigan spent the last 10 years pretending Chris Webber didn't exist.
Back in 2010,
ESPN The Magazine polled 170 anonymous college basketball players on a variety of topics
, one of them being a hypothetical point-shaving situation. The prompt was as follows: "If you had a noncon game you knew you'd win by 40, how much would it take for you to shave points and win by 35?" About 75 percent of players said they'd never shave points, but one in four said they'd do it for an average fee of $491,000, and 4.8 percent admitted they'd lop off points for a quick $10,000.
None of them were willing to do it for $1,000 or even $4,000. Brandon Johnson was undercompensated.
August, 4, 2011
8/04/11
7:54
PM ET
By
Diamond Leung
| ESPN.com
Former San Diego guard Brandon Johnson is under federal indictment over a bribery case that could land him in prison, but he is also thinking about a future professional career overseas.
The
San Diego Union-Tribune
is reporting that a judge has more than doubled Johnson's bond amount to $65,000 in exchange for lifting Johnson's international travel restriction so that he might go to China to play in a basketball tournament.
He was not in court Thursday, but attorney Oliver Cleary said Johnson "wants to showcase his abilities" at the Lu'an Invitational in Changzhi in hopes of landing a pro contract with an overseas team.

Assistant U.S. attorney Harold Chun opposed the motion, first raised before Brooks on Tuesday, on grounds that the United States has no extradition treaty with China and would have "no recourse" if Johnson didn't return.

"He's a 24-year-old man, he doesn't speak Chinese," Cleary said of Johnson. "He's not going there to stay and play in China for the rest of his life. … He just wants to participate in this tournament with teams (and scouts) from around the world. It just happens to be in China."
If Johnson had hoped to continue playing professionally, going overseas is probably a good idea given that American teams might be hesitant to employ someone who's name has been linked to accusations of sports betting and game-fixing.
It's also quite striking that someone accused of essentially spitting in the face of fair play and the spirit of competition would now perhaps need the game more than ever.
According to the
Union-Tribune
, Johnson would be playing for a Houston-based team called To God Be The Glory Sports, and it's founder, Cyril White had this to say about the accused player:
"Brandon is an exceptional basketball player, and if he has the opportunity to showcase himself in China he could get himself a contract for $15,000 per month and up. That's what they pay over there. … If he can just show what he can do, I think he can go get some money."

...

In the meantime, Johnson continues to work out in the TGBTG gym in Houston, as he has for the past month.

"I love his competitive spirit," White said, "and he is an incredible athlete. He's an animal. I enjoy having him around. I can tell (the court case) is something he has to deal with, and all the stress that comes with it, but he doesn't really show many outward signs. He just wants to play basketball."
June, 8, 2011
6/08/11
3:00
PM ET

The point-shaving mess that has devastated the San Diego men's basketball team is not confined to past years, or to one player. All-time leading scorer Brandon Johnson
is the focus of a government investigation for allegedly accepting a bribe to affect the outcome of a game in 2010
. But Johnson has also been accused of allegedly (and unsuccessfully) soliciting a member of the 2011 Toreros to affect a game in January.
So, who was that player?
According to the San Diego Union-Tribune
, which cites "multiple sources with direct knowledge of the case," that player is junior forward
Ken Rancifer
. Rancifer averaged 8.6 points and 2.7 rebounds in 20.9 minutes per game in 2011, his sophomore season.
The Union-Tribune's questions were referred to the San Diego attorney Dick Semerdjian, who said he could neither confirm nor deny whether Rancifer was part of a Feb. 23 meeting in which ...
... an individual solicited by Johnson met with Steve Goria, Richard Garmo, Richard Thweni and former USD assistant coach Thaddeus "TJ" Brown. [...] It also says that on Feb. 23, Goria, Garmo and Lilian Goria provided money to Paul Thweni "to wager, in part, on a USD basketball game they believed to be 'fixed.' "
Semerdijian did however say there was "no wrongdoing." Rancifer was not listed in the indictment against Johnson and others because a person solicited for a bribe doesn't commit a crime unless he actually follows through on taking it. There is no such evidence to that effect here.
In any case, it's another step in the public unwinding of the information from this investigation. That information is crucial, not just because we media consumers feel like we deserve to know the intimate and sordid details of something like this. Rather, anyone concerned about the prevalence of game-fixing and point-shaving in collegiate athletics will want to know how, in the year 2011, these things can continue to happen,
sometimes right under our noses
.
April, 26, 2011
4/26/11
11:29
AM ET
It's entirely possible we're not quite grasping the magnitude of this
Brandon Johnson/San Diego gambling scandal just yet
. At the very least, we don't know where this is going to go, whom it could potentially implicate or what the end result for the NCAA will be when all is said and done.
So the news out of San Diego is worth watching, and we had a bit of it Monday. Johnson -- the San Diego all-time leading scorer who was charged by federal authorities for his alleged attempts to affect the outcomes of Toreros' games during and after his playing career --
plead "not guilty" in federal court Monday
. He is free on a $25,000 bond and
he flew home to Houston immediately following the arraignment
. The appearance was unannounced and fanfare-free, most likely to keep any circus from forming outside the courtroom upon Johnson's appearance.
Johnson indicated that he didn't have the money to afford his own legal representation, so he was appointed local attorney Oliver Cleary. If Johnson is convicted, he faces up to five years in prison and a $250,000 fine. In other words: He'd better hope Cleary is good.
The trial setting for the case isn't likely to happen for another month, so we won't be reaching any grand revelations about the modern nature of college gambling quite so quickly. Still, once this trial does get underway -- especially now that Johnson has decided to fight the federal charges against him -- it could be a thoroughly fascinating and instructive legal watch.
April, 22, 2011
4/22/11
2:12
PM ET
San Diego coach Bill Grier is living every college basketball coach's nightmare.
On April 12, the FBI and federal authorities went public with their indictment of former San Diego star Brandon Johnson -- the school's all-time leader in points and assists -- in a point-shaving scandal. The indictment also named Thaddeus Brown, a San Diego assistant during the 2006-07 season and Brandon Dowdy, who played at San Diego in the 2006-07 season and at the University of California, Riverside, from 2008 to 2010.
Seven others were also named in the indictment, which alleges that Johnson took a bribe to influence a game in February 2010 and solicited someone else to change the outcome of San Diego games this January while a member of the D-League's Dakota Wizards.
Grier, who is not implicated in any way in the scandal, learned of this indictment in the scariest possible way: from federal investigators themselves, who paid Grier a 6:30 a.m. visit at his home. Grier was once tabbed as the de facto successor to Gonzaga's Mark Few; his contract with the Zags even stipulated as much. Now he's now responsible for picking up the pieces of a program that, at least for the foreseeable future, will be less famous for its hoops than its position as the nexus of a devastating gambling scandal.
To put it mildly: That does not sound like very much fun. So, how is Grier holding up?
On Thursday,
the USD coach joined a San Diego sports talk radio station to discuss exactly that
. Given the situation, Grier seems determined and focused enough, but he's clearly still reeling from the mess of all messes:
"Well, you know, when your world gets turned upside down, I'm doing my best to bounce back," Grier told XTRA Sports San Diego. "I started to get to a point, and it started mid-week last week of getting my head up and mainly get our guys re-focused on their school and workouts. And I think that's helped me a lot. Our guys and kids in general, they're a little more resilient and bounce back quicker from things. And I've kind of fed off them. We've talked about it a lot and we're going to get through the best we can."

"How would you feel if the FBI came to your door at 6:30 in the morning," Grier said. "I was in shock ..."
The coach was also asked whether he'd spoken to Johnson, the accused former star, about the case since the charges were filed. That answer is no.
"Would I like to [speak with Johnson] down the road? Sure," Grier said. "I want to see how this investigation plays out, and if indeed this stuff is true, before I jump to a conclusion on anything with him. But if it is indeed true, I'm devastated by it and I'd feel betrayed. Myself and a lot of people at that university did a lot to help him through his career, through his academic career, all of that. It would just be so sad if these allegations are indeed proven true. It just makes me sick."
What makes all of this even worse, as our own Andy Katz described earlier this month, is that Grier's teams have taken a massive nosedive on the court in recent seasons, too. The Toreros were 16-16 in 2009, 11-21 in 2010, and 6-24 in 2011, when they were one of the worst teams in college hoops whose only highlight came in a late-February upset over St. Mary's.
It's hard enough to turn that kind of slide around. It's even harder -- which, again, is a massive understatement -- when you're attempting that rebuild in the midst of a massive scandal
that raises serious questions about the relationship of betting to college sports
. Then again, when your school is the one people can point to to question the integrity of collegiate athletics itself -- one out of every four college basketball players polled by ESPN the Magazine in November said they'd consider shaving points in the event of a 40-point blowout -- maybe winning doesn't seem like such a big deal after all.