College Basketball Nation:

Brandon Rozzell
June, 24, 2011
6/24/11
8:54
PM ET
By
Diamond Leung
| ESPN.com
Jimmer Fredette
and
Kemba Walker
will face off once again on the awards circuit, as the two were among the nominees for the ESPY for best male college athlete.
It was Fredette who swept the national player of the year awards after his senior season at BYU in which he led the nation in scoring. But Walker was the one who won a national championship with UConn. They'll be in competition with Auburn quarterback Cam Newton for the ESPY.
Walker's coach, Jim Calhoun, was also nominated for the ESPY going to the best coach/manager.
Butler's wild NCAA tournament win against top-seeded Pittsburgh was nominated for best game.
VCU's run to the Final Four was nominated for best upset after they defeated USC, Purdue, Georgetown, Florida State and Kansas. Rams coach Shaka Smart along with players
Joey Rodriguez
,
Jamie Skeen
,
Ed Nixon
and
Brandon Rozzell
are planning on attending the awards ceremony in Los Angeles in July.
"This is just a really cool opportunity for us and I'm blessed to be able enjoy it with some of my closest friends," Rodriguez
said in a statement. "To be invited to one of the biggest nights in sports and in the same crowd as these superstars is something we'll never forget."
April, 1, 2011
4/01/11
8:16
PM ET
HOUSTON -- There were dunks, a few of them anyway, but when VCU took the court for its open practice here on the eve of the Final Four, the Rams deviated from the typical crowd-pleasing, throw-down script.
They spent most of their time parked on the arc.
It is what they have done most every day this season, devoting a good bulk of their practice time to that occasionally lost art of basketball: shooting.
"We shoot a lot,''
Brandon Rozzell
said. "I mean a lot. Did you see us out there?''
The homework is certainly paying off here in this magical NCAA tournament run. VCU has shot its way through the bracket, swishing 53 of 121 3-pointers, a mind-boggling number only outdone by this one: In five games, the Rams are outscoring their opponents by 90 from the arc.
[+] Enlarge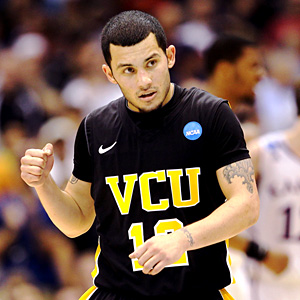 Jamie Squire/Getty ImagesRams guard Joey Rodriguez has mad 68 of 200 3-pointers this season.
VCU's torrid shooting has turned the 3-point line into the line of demarcation here for Saturday's national semifinal between Butler and VCU.
Whoever controls it wins.
"I don't think it's the key to making Butler play our game, but it's the key to making the scoreboard move,'' coach Shaka Smart said. "The scoreboard never moves any faster than when that ball goes in from behind the arc, for any team, not just us.''
That the Rams just seem better able to inch that board along than most isn't an accident.
Riding the advice of an assistant coach and the bravery of the head man, VCU long ago decided that theirs would be a fearless, shoot-first, never-ask-questions mentality.
As a high school player in Mahanoy City, Pa., Mike Rhoades remembers his coach, Mickey Holland, devoting at least 30 minutes a day to shooting. Rhoades tucked that message into his coaching pocket when he embarked on his own career, bringing it to his 10-year stint at Randolph Macon and now in the past two seasons to the VCU bench.
"It's not that complicated,'' Rhoades said. "It comes down to making shots and you can't make them if you don't practice taking them.''
Yes, the Rams are making buckets in buckets because they practice, but also because they take buckets of buckets. Rozzell alone has launched 35 3-pointers in five NCAA tournament games, a brazen assault that some might label unconscious, but Rozzell considers just another day at work.
He, like the rest of his teammates who hover on and around the 3-point arc, have a perpetual green light from their trusting coach.
"In two years I have never heard Shaka say, 'That was a bad shot,''' Rhoades said. "They know they have the freedom to keep shooting and it's been like that from Day 1. That's why a guy like Brandon Rozzell can play the way he does. I'm not sure he could play for a lot of other coaches in the country, but here it's perfect for him.''
The comfort that they can keep shooting is why the Rams believe they won't fall victim of the old adage -- live by the 3, die by the 3.
If the shots aren't falling, they're still shooting, which is what they've done all season.
VCU ranks first in the nation in 3-pointers made (351) and second in 3s attempted (979). Only high-flying VMI launched more than the Rams this season.
It is the quantity as much as the quality that matters, said one coach who fared well against VCU's 3-point attack.
In three games this season against the Rams (two regular season and one in the Colonial Athletic Association tournament), Drexel held VCU to just 14-of-50 from the arc.
Asked how his team was able to hold the Rams to so few makes, Bruiser Flint offered both a correction and an explanation.
"They only took 50,'' Flint said. "That's the difference. You have to make sure you keep how many they shoot down. They want to shoot 20 or 30 a game. We wanted them to shoot layups because they do not want to shoot layups.''
To limit those attempts, Flint said, it takes more than just flying to the arc. He said he told his players to make sure they stopped the ball between half court and the top of the key, ensuring that point guard
Joey Rodriguez
was held up before he was just a dribble away from a drive and a kick.
He also put one of his bigger defenders on Rodriguez.
"Rodriguez is a little dude,'' Flint said. "We talked about getting big on him. Even when he drove to the basket, we wanted to contest that layup and he struggled with that.''
If somewhere Brad Stevens' ears are perking up, he needs to remember this somewhat alarming caveat: As well as Drexel defended VCU, in three games the Dragons won just once.
March, 28, 2011
3/28/11
12:22
AM ET
SAN ANTONIO -- When players from both teams shook hands before the game that broke the bracket once and for all, Kansas big man
Marcus Morris
went to the intimidation playbook once too often.
"You guys have had a good run," he told Virginia Commonwealth guards
Joey Rodriguez
and
Brandon Rozzell
. "But now it's over."
Morris and the Jayhawks had barked, shoved and bullied their way past Richmond here Friday night. Rodriguez warned Saturday that similar tactics in the regional final Sunday wouldn't work with the 11th-seeded Rams.
"We're a different set of guys," Rodriguez said.
Yeah, you could say that. A set of guys unlike any we've seen in NCAA tournament history.
The fearless senior point guard, who is a foot shorter than the glowering, hulking Morris, didn't cower. He laughed at the 6-foot-9 Morris. And after shocking the world and shutting the Jayhawks' pie holes
71-61
, he and the Rams are still laughing.
All the way to Houston.
Click here for the
full story
.
March, 26, 2011
3/26/11
3:16
AM ET
SAN ANTONIO --
Joey Rodriguez
was out of options and nearly out of time.
"I was counting in my head," the Virginia Commonwealth guard said. "I was at four."
Four seconds into his attempt to inbound the ball beneath the Florida State basket. One more tick and it would be a five-second violation, and the Rams would almost certainly have lost their last decent chance to beat the Seminoles.
They trailed 71-70 in overtime, having frittered away a nine-point lead in the final 7:05 of regulation. And now they were eight seconds away from ending their stirring, underdog run to the Sweet 16.
And the clock was ticking in Rodriguez's head. A play originally designed for
Brandon Rozzell
blew up when Rozzell and forward
Jamie Skeen
collided. Then it was on to Plan B --
Bradford Burgess
slipping to the hoop off the third screen of the sequence -- which coach Shaka Smart had told his point guard would be open late in the play.
So Rodriguez kept his wits about him. The little senior Smart called the mentally toughest player he's coached didn't panic. He faked a deep pass to freeze the Florida State defense, then suddenly discovered Burgess cutting to the basket.
[+] Enlarge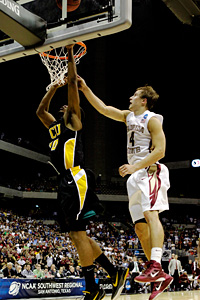 AP Photo/Tony GutierrezVCU's Bradford Burgess lays in the game-winning shot off an inbounds pass in the final seconds of OT.
Open.
Shockingly open.
Shocking, in part, because it seemed that no Ram had gotten open for days. Florida State's vaunted defense had suffocated VCU, holding it to three points in the final 7 ½ minutes of regulation and five more points in overtime. The Seminoles had blocked shots, created turnovers, forced shot-clock violations, instilled doubt in a team that had played so freely and so well for so long.
Now here, in the literal nick of time, came Burgess slicing into the paint between
Deividas Dulkys
and the unfortunate
Derwin Kitchen
. All alone.
"I was very surprised," Rodriguez said.
Kitchen took the blame, saying he turned his head the wrong way and lost Burgess. It would be the second part of an unholy trinity of late-game errors for the senior guard. You could describe the end of regulation and the end of overtime as Hell's Kitchen.
You also could describe it as Rodriguez's Redemption. An 84 percent foul shooter on the season and 91 percent in this tournament, he had stunningly missed three free throws in the final minutes of regulation. That was part of a team-wide meltdown at the line as VCU slowly lost its grip on the lead.
"Senior year, you don't want it to end on free throws like that," Rodriguez said.
It didn't. Instead, it ended on the biggest bounce pass in VCU history, the one Rodriguez threaded to Burgess for the layup and the winning points in a
72-71
triumph.
"Joey did a great job pass-faking and finding Brad," Smart said, "and Brad finished the play."
The play did not, however, finish the game. Seven seconds remained -- time for Florida State to make a last dash down court. The Seminoles put the ball in Kitchen's hands and hoped for a better result than the end of regulation.
The last possession of regulation had been a disaster. Kitchen lost track of time and dribbled out the clock, failing to turn and get up a shot before the buzzer.
"That was poor judgment on my part," Kitchen said, showing admirable accountability.
FSU coach Leonard Hamilton had watched that transpire while sitting on a pair of unused timeouts. But he said he'd diagrammed the play during the previous timeout and it simply hadn't panned out.
At the end of overtime, it was more of the same -- Kitchen to the hoop. And again Hamilton thought the play was going to work.
Kitchen drove to within a few feet of the hoop and seemingly had a decent shot -- then passed out to
Chris Singleton
. Kitchen said he fumbled the ball on his way up and didn't think he'd get off a good shot, thus the pass. Singleton's medium-range jump shot was blocked by
Rob Brandenberg
-- but it was unclear whether that one got off in time, either.
When the horn sounded, the Noles were left to ponder a determined comeback that was undone by late-game ineptitude. And the Rams were free to go wild.
Their ability to defy all expectations has made them the story of this NCAA tournament. A team that was barely granted admittance to the Big Dance dominated its first three games -- then had to win this one in dramatic fashion.
It was VCU's second late-game escape of the season. The first one occurred in the Colonial Athletic Association quarterfinals, when Skeen barely beat the buzzer with a spinning layup for a 62-60 victory over Drexel.
"If he doesn't hit that," Smart said, "we're not standing here."
That's how thin the margin of error was for the Rams just to get into this tournament. Now, in a fitting absurdity for a season that long ago began defying rational explanation, VCU is 40 minutes from the Final Four.
And all the Rams need to do is take down the last No. 1 seed in the field, mighty Kansas.
Earlier Friday, the Jayhaws ripped Richmond by 20. Earlier in the season, the Spiders ripped crosstown rival VCU by 12.
The math says this is a bad matchup for the Rams.
The Rams, just the sixth team seeded 11th or worse to make it this far, will counter that math with their beguiling brand of March magic.
"We're going to have to strap it up," Smart said, then smiled. "But I've got a feeling our guys are going to be ready."
March, 20, 2011
3/20/11
8:01
AM ET
No. 11 seed VCU (25-11) vs. No. 3 seed Purdue (26-7) 7:10 p.m. ET (TBS)


How they got here:
Purdue blew out No. 14 seed St. Peter's. Virginia Commonwealth, after disposing of USC in Dayton, blew out No. 6 seed Georgetown. One of those results was a major surprise. It wasn't shocking to see the Rams beat Georgetown -- that seemed like a plausible result, given the Hoyas' late-season struggles -- but it was a shock to see VCU so thoroughly handle their battle-tested Big East foes. Coupled with VCU's win against the Trojans and its deep run in the CAA tournament in early March, it's safe to call the Rams one of the nation's hottest, most confident teams.
Storyline:
VCU coach Shaka Smart hasn't shied away from that age-old classic coaching chestnut: "No one believed in us." Smart has boosted his athletic Rams into the round of 32 by capitalizing on that discontent; he even showed his players a video of ESPN's Joe Lunardi saying the Rams "couldn't defend me" in advance of Friday night's game. But after the dominating win over the Hoyas, can the Rams really say no one believes in them? Or will they find -- or create -- more disrespect to fuel their fire?
Players to watch:
Purdue forward
JaJuan Johnson
and Purdue guard
E'Twaun Moore
are always players to watch. The Boilers are built around their two stars, and the explanation for their consistent excellence in 2010 and 2011 starts with both. But Purdue can't rely only on their stars. They'll also need big games from
Ryne Smith
and
Lewis Jackson
. Jackson will be crucial. VCU's pressing defense put Georgetown in uncomfortable situations from the opening tip Friday night. The lightning-quick Jackson will have to handle that pressure competently.
Meanwhile, the Rams' pressure will be a major focus of their attack, and to turn that up-tempo play into points, they'll need to get another big game from point guard
Joey Rodriguez
and another hot shooting night from guard
Brandon Rozzell
.
What to look for:
A battle of styles. It's no secret Purdue comes from the slow-down, grind-it-out Big Ten, and the Boilermakers' success has always come in the half court. Purdue's offense is classic patient motion. Its defense is designed around checking opponents with aggressive half court man-to-man. VCU, on the other hand, likes to force an up-tempo style; the Rams like to press, force turnovers, run at the rim and make the game as skittish and unpredictable as possible. The first few minutes will be key. Purdue has to assert itself much more soundly than Georgetown did if Matt Painter's team want to keep the Rams from controlling the game's trajectory.
Quoteable:
"Any time somebody presses you, you've got to be able to attack when it's there and be under control and take good shots. When it's not there, be able to run half-court offense. But that is the theme of a pressing team. They're trying to get you to get at a speed you're not used to. You've got to play fast but under control." -- Purdue coach Matt Painter
No. 10 seed Florida State (22-10) vs. No. 2 seed Notre Dame (27-6) 9:40 p.m. ET (TBS)


How they got here:
Notre Dame got a bit of a test from pesky 15-seed Akron on Friday, but the Fighting Irish eventually put the Zips away in the second half. Florida State, on the other hand, had a much tougher path. The Seminoles relied on their trademark defense to stall No. 7-seed Texas A&M 57-50. It was one of the tournament's ugliest games, but it was plenty pretty to the Noles.
Storyline:
It sounds weird, but in some ways, the Irish are still fighting for respect. Many -- including President Barack Obama -- believe Purdue is the team to beat in the bottom half of the Southwest region despite the Irish's stellar offense and 14-4 finish in the rough-and-tumble Big East. This veteran team has its sights set on the highest of postseason goals. But first they have to find a way to score against Florida State.
Players to watch:
Ben Hansbrough
is the Big East player of the year. The reasons for that honor -- Hansbrough manages to be both an efficient scorer and a fantastic distributor, not to mention this team's de facto leader -- are not mysterious. Hansbrough didn't play well against Akron, but he didn't really need to. Facing one of the nation's top defenses, he will have to be comprehensively good on Friday. Also keep an eye on ND forward
Scott Martin
, who adds a crucial mid-range scoring option to a stacked group of perimeter shooters.
On Friday, Florida State forward
Chris Singleton
played his first game since a Feb. 19 foot injury. While he wasn't at full strength, he did contribute a key 3-pointer to help FSU fend off a second-half A&M run. Singleton is likely to get more time Sunday, and his unique mix of hyper-athletic defense and creative offense could be the difference for the Seminoles.
What to look for:
Perhaps the best offense-versus-defense matchup of the entire tournament. Per Ken Pomeroy's adjusted efficiency metric, Notre Dame's offense is the third-best unit in the entire country. By the same standard, Florida State's defense is the single stingiest in the nation. It's strength versus strength, and whoever can execute at the opposite end -- can Florida State's ugly offense get buckets against ND's so-so defense? -- will be the winner.
Quotable:
"I don't know about it. I was very young then and wasn't really paying attention to stuff like that." -- Florida State guard
Derwin Kitchen
on whether he was familiar with the classic 1993 Notre Dame-Florida State football game.
March, 19, 2011
3/19/11
2:31
AM ET
CHICAGO -- Hours before Virginia Commonwealth took the floor to play No. 6 seed Georgetown on Friday, coach Shaka Smart gathered his players for a prepared video session.
It wasn't for extra, last-minute film study. It wasn't an impromptu team movie to lighten the tone. And it wasn't home footage of a family trip to Disneyland.
No, to hear Smart describe it, VCU's pregame video session was a fiery mix between motivational seminar and George Orwell's Two Minutes Hate.
"Today, before we had lunch, we sat down and watched a video of Joe Lunardi saying we couldn't guard him," Smart said. "He said over and over in the video, they can't guard me, they can't guard me. We were showing clips of
Chris Wright
and
Austin Freeman
and
Jason Clark
."
Smart watched as his players responded. He liked what he saw.
"They don't like it," Smart said. "They don't like it. They grit their teeth, and they -- you know, you can see them ready to kind of fight back. That's what we're looking for."
[+] Enlarge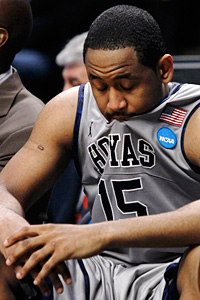 AP Photo/Charles Rex ArbogastVCU limited Austin Freeman to 10 points on 3-of-14 shooting in Georgetown's loss.
If that sounds a bit over the top, well, it is. But it's hard to argue with the result.
On Sunday, VCU was one of two at-large tournament inclusions that many believed didn't belong in the field of 68. Two days later, the Rams knocked off USC and then polished off one of the more impressive wins of this young NCAA tournament, a
74-56 thrashing
of No. 6-seed Georgetown in the final game of Chicago's first-round action.
Few lines are as overused in sports as "no one believed in us," but maybe there's a reason coaches seem to trot out that old cliché so frequently. Maybe, just maybe, it's the added edge those teams need.
At the very least, it can't hurt. Clearly, this VCU team wears it with pride.
"Any time people disrespect you, especially on national TV, it kind of hurts you a little bit," said Rams point guard
Joey Rodriguez
. "We had an opportunity to come out here and prove people wrong. Hopefully we keep it going. That's really it."
Whether they're proving people wrong is up for debate. After all, the Selection Sunday surprise at VCU's inclusion was never about whether the Rams could play. It was about whether their accomplishments were more impressive than those of a handful of teams left out of the tournament. VCU's pre-tournament résumé won't change no matter how far the Rams go in this tournament, and that's one reason all this talk about bubble disrespect is a little overblown.
Still, if these "haters" remain, they don't have much ammunition in the chamber. VCU was peerless in victory Friday night.
The Rams pressured Georgetown from the opening tip, forcing the Hoyas guards to avoid traps and rush the ball up the floor, and as a result Georgetown never settled into any sort of rhythm. Shots began clanging off the rim -- Georgetown was 1-of-12 from beyond the arc in the first half -- and turnovers began piling up. Virginia Commonwealth capitalized on the other end, shooting 12-of-25 from 3-point range. By the time the first half was over, VCU had built an 11-point lead.
After the break, the Rams only extended that margin. With 17:12 left,
Brandon Rozzell
added one of his six 3-pointers -- Rozzell went 6-of-10 from beyond the arc and finished with 26 points -- and backcourt mate
Bradford Burgess
followed up with two 3s of his own. Georgetown fans expecting their team to solidify in the second half, to calm down and close the gap, instead found the Hoyas flailing. VCU's lead was now 18 points. Georgetown would never recover.
It was another bitter postseason end for Hoyas coach John Thompson III. For the second straight season, Thompson's team lost to a double-digit seed in the team's first game of the NCAA tournament. This time, the loss ended the careers of guards Freeman and Wright, two of the best Hoyas of recent vintage who were never able to demonstrate their ability on the sport's largest stage.
Wright and Freeman shot a combined 6-of-27 Friday night, including an 0-of-13 mark from the 3-point line.
Asked to discuss the Hoyas' recent struggles in tournament play, Thompson instead focused on Wright and Freeman. The coach struggled to contain his emotion.
"A lot will be discussed about this group and what they have and haven't done in the postseason," he said. "We'll evaluate that. Right now my thoughts are just with the four seniors that will be wearing a Georgetown University jersey for the last time. And that hurts. That hurts to see them go. That hurts them."
The shell-shocked Hoyas were clearly in agony, but on the other end of the arena, VCU's locker room was brimming with joy. It was clear these Rams weren't just playing with an edge. They're playing with supreme confidence, too.
"I'm very confident in my team," Rozzell said. "When we play our brand of basketball, I feel like we can compete with any team in the country. We can create any margin on the court."
Smart was asked if he was surprised by the Rams' dominance -- whether he really doubted that VCU could hang an 18-point win on a full-strength Georgetown team. His response, simply, was "no."
That swagger will be tested soon. On Sunday, the Rams will play 3-seed Purdue, a superior team to the Hoyas. Purdue coach Matt Painter sat on press row for much of VCU's win, and he no doubt returned to the team hotel with plenty of warnings for his players.
Even more challenging, perhaps, is the loss of obvious disrespect. The media can no longer function as the bad guy. The Rams have proven themselves, and few will doubt them now.
Can Smart find a way to keep his team confident
and
aggrieved? Can this ebullient batch keep its edge?
One thing's for sure: If there's a way, Smart will find it. Even if it means another video session.
"It's a very fragile thing, confidence," Smart said. "It comes and goes. ... The terrific thing for us is it's mid-March, and we're playing our best basketball, and our guys are believing in what we do.
"It really doesn't matter who we're playing against," he said. "They know if we follow the plan and they trust each other, good things will happen."
March, 19, 2011
3/19/11
12:18
AM ET
CHICAGO -- Whether VCU belonged in the tournament or not, they're here now. And they apparently plan to stay for a while.


That was the obvious verdict after the Rams'
74-56 win
here Saturday night. Usually, upsets are supposed to look like, well, upsets: A scrappy underdog hangs around just long enough to hit a desperate game-winner, the crowd goes wild, Gus Johnson freaks out, all that.
Instead, VCU dominated Georgetown for 30-plus minutes. The Rams opened a double-digit lead late in the first half and never looked back, and a Hoyas comeback never materialized.
Turning point
: VCU opened up an 11-point lead just before halftime, but the real "turning point" -- or at least the moment this ostensible upset became real -- came early in the second half, when a pair of back-to-back 3-pointers by guards
Brandon Rozzell
and
Bradford Burgess
expanded the Rams' lead to 46-28.
Key stat
: Name a stat, look it up, and you'll get a figure that explains VCU's runaway excellence in this game. The Rams shot 48 percent from 3-point range; Georgetown shot 19.2. The Rams committed a mere six turnovers; the Hoyas coughed up the ball 17 times. The Rams scored 1.38 points per possession; Georgetown scored 1.18. (Which is still a high number. Just not as high as the Rams. Yikes.) What looked at first like an underdog knocking the favorite on its toes soon became a comprehensive clinic with VCU in the role of visiting professor.
Key player
: It's hard to tease out one particular Rams performance -- pretty much everyone played great -- but Rozzell is a solid candidate. Simply put, Rozzell was on fire: He scored 26 points on 8-of-13 from the field, including 6-of-10 from beyond the arc.
Miscellany
: It was hard not to feel for Georgetown guard
Chris Wright
, who was making his first appearance since a hand injury sidelined him on Feb. 26. The senior guard never got it going -- he went 3-of-13 from the field -- and his frustration with the referees (and maybe just his frustration in general) boiled over in the second half, earning him a technical and digging his team into an even deeper hole.
What's next
: VCU's unlikely tournament run continues Sunday, when the Rams will take on No. 3 seed Purdue in what promises to be a fascinating clash of styles. Meanwhile, Georgetown's early end marks the second-straight season the Hoyas have lost to a double-digit seed in the first round of the NCAA tournament. John Thompson III's team finished 21-11 overall.