College Basketball Nation:

Brandyn Curry
March, 21, 2014
3/21/14
9:13
PM ET
SPOKANE, Wash. -- Basketball teams look at the season one step at a time, and when it comes to the postseason, those steps become more of a crawl. Forty minutes at a time, each team tries to extend its season another day or two.
The recruits, the previous season, the conference tournament, that one win or one loss don't matter. It's 40 minutes to decide not necessarily the better of the two teams, but the one that advances, the one that lives another day.
So
Harvard
coach Tommy Amaker and
North Dakota State
coach Saul Phillips aren't putting together game plans that completely change their respective system or team. They don't need to find the answer for how to compete in a different conference or league. They both just need to answer one question: Could their teams be better for 40 minutes on Saturday in Spokane? Could their team be better than a team that most believe is better?
Maybe nine times out of 10
Michigan State
would dominate Harvard or
San Diego State
would destroy North Dakota State, but could Saturday be that one time when they don't?
Cinderellas need only to be better on one singular night. Sixty or 70 possessions determine fates and end careers. All that matters is who shows up.
[+] Enlarge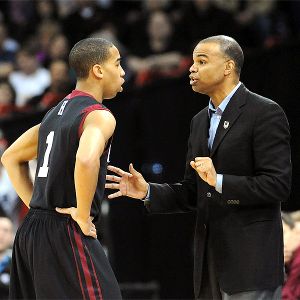 Steve Dykes/Getty ImagesTommy Amaker hopes his Harvard team has the edge again on Saturday against Michigan State.
"The excitement about this tournament is that you just have to be better that day," Amaker said. "That's the interesting part about it."
Generally, every season there's at least one 12-seed that finds a way to upset a 5-seed in the round of 64 of the NCAA tournament. But on Thursday in Spokane, 12th-seeded Harvard took care of business against fifth-seeded
Cincinnati
, then fellow No. 12 seed North Dakota State took down fifth-seed
Oklahoma
in overtime later that day.
On Saturday, NDSU faces San Diego State at 6:10 p.m. ET, then Harvard plays Michigan State at 8:40 p.m.
"There are so many good teams in the tournament," Oklahoma coach Lon Kruger said after NDSU's upset. "The depth and the quality of depth is, I think, as good as it has ever been. Cincinnati-Harvard, it looked like a close ballgame. Ours was a close ballgame. Not much difference in those ballclubs."
The difference is seven seeds, which, when there are only 16 total seeds in each region, seems like a whole lot. But with
Mercer
beating
Duke
,
Dayton
beating
Ohio State
and the story of
Florida Gulf Coast
last season, the gap between blue-chip recruits and the players with chips on their shoulders is getting smaller and smaller.
"I think the quote-unquote mid-majors, that gap is slowly closing," Harvard guard
Brandyn Curry
said. "As you can see, these upsets are happening more and more often. I think it's because the talent around America is just getting better, and these players are going to decide to be different and go to different institutions."
That's certainly part of it. With more AAU teams and development leagues, there's a greater pool for college coaches to choose from. There are more and more players with plenty of potential who might not be seen by John Calipari or Mike Krzyzewski but can still become productive college players.
But another benefit of the mid-majors is that players plan to stay for four years. Amaker doesn't have to worry about one of his guys leaving early. Phillips doesn't have to rebuild his chemistry every season.
Experience and team chemistry can trump singular talent, and during March Madness, like Amaker said, it just has to happen once. Michigan State could possibly beat Harvard nine times out of 10, or maybe 99 times out of 100, but it wants that one time to be when the teams take the floor on Saturday.
Meanwhile, Michigan State and San Diego State will work for Saturday to be the 90 percent instead of the 10. There's more than enough motivation -- the Spartans' senior group has never been to a Final Four, the first senior class under Tom Izzo to not accomplish that feat, while San Diego State was one of Florida Gulf Coast's victims last season.
They understand the survive-and-advance, lose-and-go-home operation and know how dangerous a team on the rise is. An underdog is one thing. The stadium or nation gets behind them and the Crimson and Bison can feel the support they're getting from basketball fans.
"It's March Madness at its best," San Diego State coach Steve Fisher said. "NCAA basketball, expect the unexpected, and everyone who's not a fan of that top seed is praying that it will be a close game and that the low seed will hit a basket at the buzzer to win the game."
Fisher knows the fans might be stacked against him and Izzo. He's just hoping the cards aren't as well.
March, 8, 2014
3/08/14
1:37
AM ET
By
Jack McCluskey
| ESPN.com
NEW HAVEN, Conn. -- A few minutes before tipoff, the floor of play still empty but the stands quickly filling up, Tommy Amaker stole a glance through a side door.
It was a familiar sight for the veteran coach. Cheerleaders warming up. The band playing. Fans settling into seats, clad in their team colors.
[+] Enlarge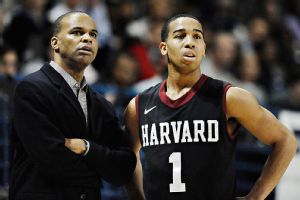 AP Photo/Jessica HillTommy Amaker talks with PG Siyani Chambers in the first half of Harvard's 70-58 Ivy-clinching win.
But this court was painted in blue, rather than the familiar crimson, and instead of an H at midcourt there was a cartoon bulldog. And if all went well in the next 120-odd minutes, Amaker's Crimson would make more history in a building and a rivalry already steeped in it.
This was Friday night in the Ivy League in March. This was Harvard-Yale at John J. Lee Amphitheater with an NCAA berth on the line.
For any team playing its oldest, bitterest rival in unkind country, some display of nerves is understandable.
The Crimson displayed none. With a raucous, mostly blue-clad crowd bearing down on them, the visitors scored the game's first nine points and sprinted out to leads of 16-2, 20-7 and 36-23 in the first half.
"We talked about how important it was gonna be to get off to a good start here on the road," Amaker said. "We knew how challenging it was gonna be."
Justin Sears
led all scorers with 28, but Harvard had three players in double digits and led by as many as 18 in the second half on its way to postseason play for the third straight season. With the 70-58 win, the Crimson claimed the Ivy League title outright and earned the automatic bid to the NCAA tournament.
"For us to win the outright title, and I guess we've been told we're the first team that's officially in the NCAA tournament," Amaker said, "it means a great deal. And for the right reasons. For us to represent a great conference, for us to represent our institution and the way these guys have played and put their heart and souls on the line all season.
"I think we've shown that we've been the best team in our league. And that's saying something because we know how tough this league is night in and night out."
Harvard has indeed been the Ivy League's best all season long. Coming into Friday's game, the only blemish on the Crimson's Ancient Eight résumé was a home loss to these same Bulldogs.
So while Harvard-Yale typically doesn't require extra fuel for the competitive fire, the Crimson said that loss added some.
"We were very disappointed in what led to that weekend for us," Amaker said. "And we talked about it, our preparation and our work in practice. I thought we made a concerted effort to regroup and respond. And we've been on a mission since then to prepare the right way.
"We talk about a lot of people want to win, but how many people are gonna really prepare to win. I think we have embraced that, and ran with it."
[+] Enlarge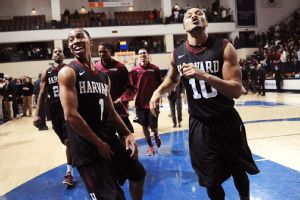 AP Photo/Jessica HillSiyani Chambers and Brandyn Curry celebrate after locking up the Crimson program's third straight NCAA tournament appearance.
After the loss to the Bulldogs on Feb. 8, the Crimson have ripped off seven straight wins and six straight by double digits. In four of those games, the Crimson held their opponent to 47 or fewer points.
"We had been talking about 'We have gotta seize the moment, because it's right there,'"
Brandyn Curry
said. "It was in our control and the only thing we had to do was just keep being us. Just don't be impostors or anything like that. Just play our game, and that starts with defense."
Both teams had forgettable nights in some facets, with Harvard going 14-for-32 (43.8 percent) on free throws and Yale going 0-for-14 on 3-pointers.
But from the floor, things were much more memorable for the Crimson. The visitors shot 56.8 percent for the night, while holding the hosts to just 36.0 percent.
"My message to the team before the game was 'Don't let the moment be too big, do your job and play within the lines,'" Yale coach James Jones said. "We did a poor job of that."
For Curry, the Ivy title and NCAA berth meant a little something extra this season. The senior co-captain sat out the 2012-13 season after being one of more than 100 Harvard students implicated in an academic cheating scandal. So he wasn't around for the historic upset of New Mexico in the Big Dance.
When asked what the win Friday night meant to him, Curry got a little choked up.
"It -- " he started, then stopped. "It means a lot. After going through everything last year, if you could ask us if this is how you wanted to win it, you couldn't ask for much better.
"Especially since three years ago we lost to Princeton here [in the Ivy League tiebreaker game] on the Doug Davis buzzer-beater with 2.8 seconds. So that was the toughest loss. That was the last time we were here playing for a championship. And we lost. So it definitely means a lot to come back and win here."
October, 15, 2013
10/15/13
11:30
AM ET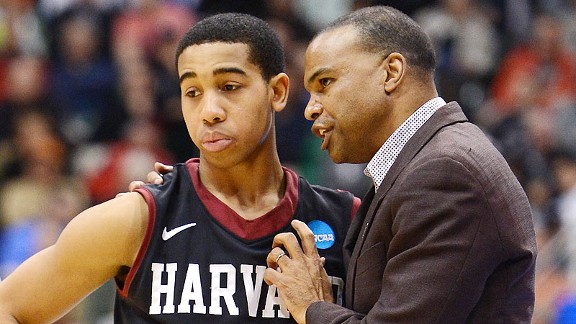 Harry How/Getty ImagesHarvard coach Tommy Amaker has a team that's built on depth, experience and talent.
It's college basketball preview season, and you know what that means: tons of preseason info to get you primed for 2013-14. But what do you really need to know? Each day for the next month, we'll highlight the most important, interesting or just plain amusing thing each conference has to offer this season -- from great teams to thrilling players to wild fans and anything in between. Up next: Harvard's back. That's more intimidating than it used to be.
Let's take a moment to consider the past two seasons of
Harvard Crimson
men's basketball. In 2011-12, after a couple of seasons spent knocking on the door and a few more than that spent getting the Crimson to ever-so-slightly nudge their still-brutal academic restrictions in the direction of player accessibility, Tommy Amaker's work in Boston paid off. Harvard won the Ivy League and visited its first NCAA tournament since 1946.
Not a bad starting point, but arguably not even as crazy as what came next: In late August 2012, Harvard revealed one of the largest academic scandals in school history, which, considering Harvard was founded in 1636, is saying something.
Over 100 students were accused of academic dishonesty
, and dozens of them were forced to
endure a year's suspension before they could return to their degrees
.
Unfortunately for Amaker, not only did two of his players end up involved, it was his two senior captains for 2012-13: guard
Brandyn Curry
and forward
Kyle Casey
. They, too, were forced to serve a one-year academic suspension. It is a testament to the depth Amaker has built that most people accurately assumed Harvard would win the Ivy League last season (despite a 20-10 overall record). No one expected what happened in March, when the Crimson toppled No. 3 seed New Mexico, their first modern-format NCAA tournament win. "Bonus" doesn't really begin to describe it.
Now Curry and Casey are back. They'll join a team that worked hard in their absence last season: Rising junior
Wesley Saunders
and sophomore guard
Siyani Chambers
both played more than 92 percent of their team's available minutes last season and were in the top 10 in that category nationally. Senior wingman
Laurent Rivard
shot 40.2 percent from 3 in 2012-13 (and played 87.4 percent of his available minutes).
Steve Moundou-Missi
was a beast on the glass. And while it's still in a different galaxy from the Kentuckys and North Carolinas of the world, Amaker is nonetheless a lock to add to his team every summer in a way Harvard never has before.
The end result is a team that is deep, young, talented and now, strangely enough, experienced -- a team that has every reason to be just as good as the Crimson were in 2012, when they broke that 60-year-old Ivy League streak for the first time. Frankly, they should be
better
. Now Harvard has a different sort of streak going. Not bad for a couple years work, eh?
March, 22, 2013
3/22/13
9:20
PM ET
SALT LAKE CITY -- When
Siyani Chambers
chose Harvard, he hoped to be the Crimson's starting point guard ... someday.
He dreamed of leading his team on an NCAA tournament run ... someday.
The fact that someday is today?
"Amazing," the 6-foot Ivy League rookie of the year said Friday, less than 24 hours after 14th-seeded Harvard knocked off No. 3 New Mexico for the program's first NCAA tournament victory.
That word could describe his development, too.
[+] Enlarge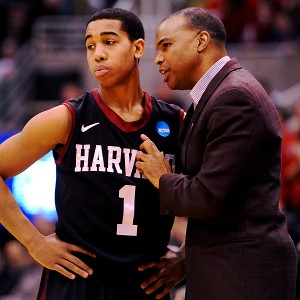 Steve Dykes/USA TODAY SportsThrown into Harvard coach Tommy Amaker's starting lineup as a freshman, Siyani Chambers has thrived.
"He's the leader on our team," said senior guard
Christian Webster
, whose team will face sixth-seeded Arizona on Saturday for the right to advance to the Sweet 16. "
Laurent [Rivard]
and I are the captains, but he's the leader. He drove this team."
It's a role the 19-year-old ball handler never expected, at least not this soon, when he arrived on Harvard's campus less than a year ago. First recruited by Crimson coach Tommy Amaker when he was in the eighth grade, Chambers decided pretty quickly that he wanted to play for the former Duke guard because of what he could learn.
But Chambers also thought he would have some time to be a pupil, while playing behind Brandyn Curry, a Cousy award candidate last season. That is, until September, when Curry and fellow senior Kyle Casey withdrew from Harvard following an academic scandal.
When the freshman heard the news, his head spun. "I was definitely nervous -- very, very nervous," Chambers said. "All of a sudden, it's your first year, you're coming in trying to learn the whole process about everything: playing, dealing with school and basketball."
To persevere, he said, he leaned on his teammates -- and they leaned back, looking for the vocal freshman to glue together a team whose chances of winning the Ivy League all of a sudden seemed precarious, at best.
But Minnesota's Mr. Basketball exceeded expectations probably because he had no other choice, gaining confidence (and his team's confidence in him) by becoming a steady assist man and scorer early; he even hit the game-winning basket with four seconds left against Boston University on Dec. 11.
"He's a special kid, and certainly he plays basketball in a special way, and I think you get excited when you watch him play," Amaker said. "I know when we recruited him, we wanted him to play in that manner; sometimes I thought he held himself back a little bit, and I told him if you ever come to play for us ... we want you to be dazzling because you're capable of it."
His season stats -- 12.6 points and 5.8 assists per game -- were dazzling enough to make him the first freshman named first-team All-Ivy League.
But the way he melded his team dazzled, too. Sophomore
Wesley Saunders
emerged as a go-to scorer (16.5 PPG). Rivard became a scary outside threat (five 3s against the Lobos on Thursday).
Kenyatta Smith
and
Steve Moundou-Missi
improved in the post. Harvard finished the regular season 19-9, winning the Ivy League.
So maybe it was fitting that as the seconds ticked down on Harvard's historic upset Thursday, Chambers was the one with the ball in his hands, grinning and carefully watching the clock. That moment is a feat the Crimson hope to repeat against another bigger, more heralded team Saturday.
And one Chambers never imagined when he thought about his goals a year ago.
"I just wanted to come in and learn as much as possible, so when it was my time I could step in and be able to contribute to the game," he said, remembering. "... When I first decided to come here, I did not think this is what I would be stepping into.
"But I'm glad I came here, and I'm glad this happened."
Now.
SALT LAKE CITY NEWS AND NOTES
SAFETY FIRST:
One teammate compared Wichita State sophomore
Tekele Cotton
to a strong safety. Shockers coach Gregg Marshall? He thinks the guard is more like a free safety.
Whatever the football analogy, you get the picture: The 6-2, 202-pound athlete is hard-nosed, hard-bodied and hard-focused on making stops. And if he can stymie a certain Gonzaga player like he did Pittsburgh guard
Tray Woodall
on Thursday (the senior was brought to tears after his 1-for-12, two-point performance), Cotton knows his team has a better chance to upset the No. 1 team in the country.
"I look forward to being that guy, to chase around their player like I did yesterday," said Cotton, who is also averaging 6.3 points and 3.9 rebounds per game this season. "So I look forward to chasing around
Kevin Pangos
. I have no problem with it; I enjoy it."
Pangos, the Zags' standout sophomore guard, is averaging 11.6 points per game this season and scored the final five points in top-seeded Gonzaga's six-point survival against 16th-seeded Southern on Thursday. He said the key to competing with a physical team such as the ninth-seeded Shockers is to be physical right back.
"We don't shy away from that; our team is tough," Pangos said. "We don't back down from that at all."
This should be an interesting matchup. The Shockers held Pitt to 35.2 percent shooting from the field -- and just 5.9 percent on 3-pointers. The Zags are third in the nation in field-goal percentage, making 50.4 percent of their shots.
NO ALARM HERE
: Zags coach Mark Few wasn't particularly rattled that the game against Southern went down to the wire; a win is a win is a win right now.
"At this point of the year, I don't think we need to worry about aesthetics or, you know, differences," he said. "I know it's cliché, 'survive and advance,' but there really is no other alternative. We're not getting style points and we're not getting graded -- you know, you either win or your season is over."
QUOTE-WORTHY:
"We know we're in for a fight, especially the confidence that they have. When you win a game like that, it doesn't just all of a sudden leave you; many times it carries through for the rest of the weekend. For us, it's not about being consumed with Harvard, as much as it is about being consumed with ourselves, making sure we're ready to go." -- Arizona coach Sean Miller
March, 22, 2013
3/22/13
2:35
AM ET
SALT LAKE CITY -- A year ago, Harvard guard
Laurent Rivard
was in awe just seeing the midcourt NCAA logo; after all, the Crimson hadn't made the tournament in six decades.
So helping the program to its first tournament victory -- a
68-62 win
over No. 3 New Mexico that marked the biggest seed upset of all time by an Ivy League team?
That, he said, was indescribable. Although he tried: "You imagine it … it's something everyone dreams about," Rivard said after scoring 17 points and going 5-for-9 from 3-point range, "but it's a different feeling when it actually becomes real."
The win seemed improbable for a plethora of reasons: The Lobos (29-6) were bigger (7-footer
Alex Kirk
finished with 22 points and 12 rebounds), and more seasoned by playing in a conference many considered one of the nation's toughest. Heck, some even thought UNM was robbed by the tournament committee when it didn't earn higher than a No. 3 seed.
But Harvard countered with a four-guard lineup that was sharpshooting (52.4 percent overall, including 8-for-18 from 3-point land) and that frustrated Lobos leading scorer
Kendall Williams
into a forgettable, 1-for-6 night. Led by their tallest starter, 6-foot-8
Kenyatta Smith
, the Crimson also aggressively banged with Kirk and 6-9
Cameron Bairstow
(15 points, nine rebounds).
[+] Enlarge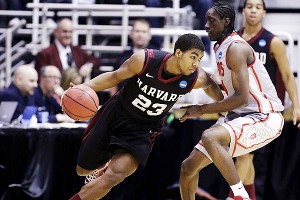 AP Photo/Rick BowmerHarvard's Wesley Saunders drives past New Mexico's Tony Snell on his way to 18 points.
"We knew they were going to be tough," Smith said. "We just had to be confident."
And they were, particularly down the stretch.
New Mexico, trailing for most of the game, took a 53-52 lead with 6:26 left on yet another Kirk inside move. But Harvard, even with its three bigger guys in foul trouble, countered with a 7-0 run -- beginning with another 3 from Rivard and including a jumper from guard
Wesley Saunders
(18 points) -- to rebuild its cushion. The Lobos never got closer than four after that.
"For me to see the composure that we had is meaningful to me as a coach," Harvard's Tommy Amaker said. "We had the lead. We lost the lead. We had to make plays and to have an answer each time when things got really tight there. We had to make pressure free throws. … But we didn't wilt or cave in."
Somehow, the Crimson (20-9) didn't seem to feel the pressure of being a No. 14 seed on the brink of making history.
"I was just playing in the moment, enjoying the moment," freshman point guard
Siyani Chambers
said. "… It felt like, just getting here, was our night."
Indeed, not long ago it seemed like a long shot that the Crimson would make the tournament at all -- much less advance to the round of 32.
First there were the offseason academic problems that led the team's co-captains -- Kyle Casey and Brandyn Curry -- to withdraw from school.
And although those departures gave Chambers (5 points, 7 assists in 40 minutes Thursday) the opportunity to develop more quickly, the team wasn't quite the runaway favorite it might have been to dominate the Ivy League -- as evidenced by back-to-back road losses at Princeton and Penn in early March.
Yet the Crimson endured. And prevailed.
And forget about last year's awe-inspiring NCAA logo. Now, there's a new daydream: the Sweet Sixteen.
"Before this, we wanted to be the Cinderella story," Smith said. "And I guess now, we kind of are."
September, 19, 2012
9/19/12
4:00
PM ET
That seems to be the thesis of a story in Wednesday's New York Times, headlined "
Cheating Scandal Dulls Pride in Athletics at Harvard
." It begins with the story of the Harvard hoops team's recent success -- in March, Harvard won its the first Ivy League title and earned its first NCAA tournament bid in 66 years -- and the rush of real, actual athletic joy experienced by a campus that rarely feels it.
Fast-forward to last week, when Harvard co-captains Kyle Casey and Brandyn Curry were among
nearly 125 students implicated in a massive academic scandal
at the school, and suddenly the Crimson pride appears to be fading. From the Times's story:
"I have foreign roommates who come from university systems where there is no role for athletics," Patrick Lane, a Harvard senior from Beverly, Mass., said as he stood in Harvard Yard. "So when they see athletes cutting corners like this, their response is to say, 'Good riddance.'

"And they are not the only students troubled. Some athletes are here working hard, but others avoid academic challenges. You know you won't find them in a deductive logic course, but you will find them in a much less taxing sociology course. They sometimes exist apart, and collectively gravitate to the same majors, like sociology or government. It's known."
Apparently, this Patrick Lane fellow is positively abraded -- abraded, I say! -- at the idea that not everybody at Harvard enrolls in deductive logic courses. Sociology? Government? Pshh! How dare these men of sport enroll in such pedestrian concerns! How unfamiliar they must be with the joys of Hume's skepticism, of the fallacies of the closed world assumption? My dear, can you imagine? And when they leave this fair university, they will carry with them but a worthless piece of parchment --
a Harvard degree in government studies
-- upon which their shame will be written! Heed my words, thou scoundrels! For shame!
I mean, come on. Are we serious? These guys
are still going to Harvard.
It's not like they're majoring in recreational studies. Even the easiest Harvard major carries with it a high degree of difficulty. Otherwise, what's the point of Harvard?
Of course, there have been concerns raised in the past -- both inside and outside the school -- that Harvard and the Ivy League is slowly but surely drawing distinctions of ease for talented athletes, allowing their sports teams to be more competitive. Depending on where you stand on the matter, that is a fair concern:
"I had this notion that Harvard and the Ivies were different, but I guess they're not," said Gerald Gurney, a professor at the University of Oklahoma and until last year the president of the National Association of Academic Advisors for Athletics. "I know they have high standards, but we also know coaches and advisers find creative ways to place athletes in certain courses and majors that protect them."
Sure, OK, fine. If Harvard and the Ivies are different -- or if they profess to be different -- then the trend of providing non-athletic scholarships, and making entry to the school less rigorous for athletes, is probably slightly disconcerting. Finding easier academic paths? I don't know. Maybe I'm cynical. Maybe I'm used to the big-state school way of doing things. That just doesn't seem like a major issue to me.
Anyway, that fair concern is also an old one.
It's been raised before, time and again
, as Tommy Amaker has recruited the most talent to the school's basketball program in its not-so-illustrious history. These are things Harvard and its Ivy League counterparts will have to confront eventually.
What happened in the now-infamous Introduction to Congress class that got 125 students in scalding academic water is something else entirely. It is an entire student body issue -- or a major issue within this one class -- that applies to all range of students, athlete or non-athlete. A handful of students in a group of 125 alleged cheaters were also athletes. That's a small but representative sample.
Why that incident would suddenly cause an indictment of the school's athletics programs is beyond my understanding. If you want to make that argument at Harvard, you could have done so already. If you didn't, there's nothing to see here.
And we don't need to call in the deductive logic prof to help us with that one. It seems pretty straightforward, actually.
September, 19, 2012
9/19/12
5:00
AM ET
1. Northern Iowa actually could benefit from the three-game suspension to leading scorer
Anthony James
. The Panthers start the season with three winnable games at home -- against Wartburg, Toledo and North Dakota -- before opening up the Battle 4 Atlantis in the Bahamas against Final Four favorite Louisville. UNI coach Ben Jacobson said junior
Matt Morrison
, sophomore
Max Martino
and redshirt freshman
Matt Bohannon
will take the minutes vacated by the senior James. So by the time the Panthers get to the Bahamas, they should be even more experienced and with quality depth. No one would expect Northern Iowa to beat Louisville, but if the team is deeper and more prepared off the bench, games two (Missouri or Stanford) and three (Duke, Memphis, Minnesota or Virginia Commonwealth) in the tournament might be more manageable.
2. Harvard is unlikely to make an official announcement until practice starts, but the Crimson expect seniors
Kyle Casey
and
Brandyn Curry
to take the year off and return to the Crimson in 2013-14, if admitted, after being involved in the school-wide academic scandal involving a take-home exam in a government class.
3. Memphis coach Josh Pastner said the Tigers had their first team workout and it was "sloppy." But that shouldn't discourage Memphis fans. He's confident in the development of the newcomers, and particularly confident in the returnees. Pastner said
Tarik Black
has done a quality job of improving his conditioning, and has become a more efficient rebounder. "He's got to make his free throws since he'll get fouled a lot," Pastner said. The junior forward averaged 10.7 points and 4.9 rebounds but shot just 59.4 percent at the line last season.
September, 11, 2012
9/11/12
11:45
AM ET
On Aug. 30, the
New York Times reported word of a wide-ranging academic scandal
at arguably the country's most highly respected institution of higher learning: Harvard University. The number of students implicated (up to 125) was intriguing, and I suppose "cheating at Harvard" makes for a clicky headline, but college kids maybe not being totally honest about their methods for passing a class? Even at Harvard, this was not entirely shocking. I didn't pay much mind.
That is no longer the case. Indeed, the scandal appears to touch the surging Harvard men's basketball program, and could cost (or delay) both senior co-captains -- Kyle Casey and Brandyn Curry -- their final season at the school.
Late Monday night, SI.com's Luke Winn reported that Casey
"plans to withdraw from school and is likely to miss to the entire 2012–13 season" after being implicated in the scandal. Harvard's fall registration deadline is Tuesday (today), and Casey "faced the decision of whether to withdraw in order to preserve his final year of eligibility." Curry's father told SI.com his son had not yet made a similar decision Tuesday morning.
Casey's decision doesn't necessarily mean the end of his career at Harvard. Indeed, by withdrawing from the school, he could avoid losing his final season of eligibility. If Casey is re-admitted to Harvard in 2013–14 after serving an academic suspension, he could be reinstated to the basketball team. That appears to be the plan.
It should be noted that this appears to be much more nuanced than a garden-variety academic scandal. For one, it involves nearly half of a 279-student Introduction to Congress class, and the entirety of students' grades were based on take-home tests. A day after the original story broke, on Aug. 31,
students explained the class to the NYT
:
The class met three times a week, and each student in the class was assigned to one of 10 discussion sections, each of which held weekly sessions with graduate teaching fellows. The course grade was based entirely on four take-home tests, which students had several days to complete and which were graded by the teaching fellows.

Students complained that teaching fellows varied widely in how tough they were in grading, how helpful they were, and which terms and references to sources they expected to see in answers. As a result, they said, students routinely shared notes from Dr. Pratt's lectures, notes from discussion sessions, and reading materials, which they believed was allowed. […] An accused sophomore said that in working on exams, "everybody went to the T.F.'s and begged for help. Some of the T.F.'s really laid it out for you, as explicit as you need, so of course the answers were the same."
It is possible, given that information and the ongoing investigation surrounding the school, Casey may have been able to explain his implication in the scandal as the product of an unwieldy learning environment. (I've always wondered: Why give a take-home exam in the first place? Either test everyone in the classroom or make everyone respond to a big essay prompt. I've never understood this. Professors, man.) By the time Harvard gets through with the investigation, it's possible many of the students -- some of whom probably
were
only sharing notes with their classmates -- won't deserve an entire year suspension from the school.
But Casey couldn't afford to wait it out, and that means a major loss for the 2012–13 Crimson. Casey, the team's top returning scorer and rebounder, was a big-time force on both ends of the floor in his junior season. On defense, he was second on the squad in both defensive rebounding rate and block percentage; on offense, he led the Crimson in usage and took the highest percentage of his team's available shots when he was on the floor.
Casey alone is a major loss for a team with designs on a repeating its Ivy League title run. If Curry is also lost, Harvard will still one of the more talented teams in the Ivy. But it will no longer be the overwhelming favorite.
And all thanks to a take-home test. Wild.
December, 8, 2011
12/08/11
11:25
PM ET
STORRS, Conn. -- The basic goal for Connecticut and Harvard is the same: win a championship.
The Huskies are angling toward the title that is handed out in New Orleans the first week of April. Harvard simply wants to claim the Ivy League championship outright at the conclusion of the regular season.
Neither team is close to those goals yet. But Thursday night's game between two ranked squads gave an indication of where both stand as the No. 9 Huskies
beat the newly ranked No. 24 Crimson 67-53
at Gampel Pavilion.
Connecticut has the pieces in place, with a dunking specimen inside in
Andre Drummond
, a perimeter that can shred a defense with its scoring from
Jeremy Lamb
,
Ryan Boatright
and
Shabazz Napier
and two significant rotation players in forward
Alex Oriakhi
and stretch 4-man
Tyler Olander
.
But the Huskies don't have the discipline to defend yet, aren't sturdy enough with a lead, make careless decisions at times, and still don't get how close they need to be as they were a year ago, when they turned a 9-9 Big East season into that remarkable 11-game run through the Big East and NCAA tournaments.
UConn coach Jim Calhoun said the Huskies need to overcome negativity, especially when a team makes a run, a call doesn't go their way and "occasionally being criticized for your performance."
"In our system, you have to be able to handle occasionally being criticized for your performance," Calhoun said. "I tell the kid's it's hard to play here. It's hard to play here because the expectations are very high. It's hard to play here because I expect more. And when you give more, I expect more. We haven't connected yet. And when we get into the meat of our schedule, we have to be connected.''
The Huskies were a trendy pick for the Final Four once Drummond changed course and decided to enter college this fall instead of going for a post-graduate year. But the loss to a so-so Central Florida team in the Battle 4 Atlantis in the Bahamas was an indicator that the Huskies weren't ready for prime time just yet.
But adding the now-eligible Boatright to the mix the next day changed the Huskies offensively, giving them a scorer off the bench and someone who goes north-south with his penetration, looking to score or dish.
"We can hit you from every angle,'' said Boatright, who added 11 points off the bench to complement Drummond's 12 and Lamb's 18. "We [Boatright, Lamb and Napier] can all dribble, score and create for other teammates. If we're ever down with the clock, then we can make something happen. We know the heart and soul of the team can be the guards.''
Still, there are holes to this team that Oriakhi and Lamb are well aware have to be fixed to mimic what the Huskies did a year ago. There is no Kemba Walker to save this team in late-game situations, so they have to be more of a team that shares the responsibilities at both ends of the court.
"I definitely think the chemistry has to be better,'' Oriakhi said. "The chemistry last year was great. Everyone was unselfish.''
Added Lamb: "I think we're moving in the right direction but we've got to work hard. People have to get to know their roles. Sometimes we have too much one-on-one and we're not moving without the ball. We've got to come together and execute our plays more to get everyone involved.''
The Huskies aren't as cohesive as Syracuse is at this juncture in the season. But the Huskies may have a higher ceiling if Drummond and Boatright continue to improve and Oriakhi can improve his productivity along with Olander.
[+] Enlarge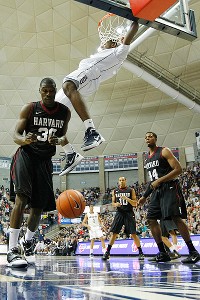 David Butler II/US Presswire"I think our size bothered them overall," UConn coach Jim Calhoun said of Harvard, now 8-1.
"Overall it was a pretty good performance against a team that is going to win 25 or 26 or 27 games,'' Calhoun said. "They would be a tough out for almost anybody. I think our size bothered them overall and the penetration of our guys.''
That much is true. Harvard won't face another team the rest of the regular season that will have similar length. The Crimson beat a team with comparable size in Florida State, but the rest of the schedule doesn't even come close.
In this one, Harvard didn't get anything out of leading scorer forward
Keith Wright
in the first half, but he did find his confidence in the second half with 9 points.
Kyle Casey
,
Laurent Rivard
,
Wesley Saunders
and
Brandyn Curry
had their moments. But the Crimson got blitzed on the boards and had too many empty possessions during a lull when the Huskies built a 16-point second-half lead. But Harvard didn't fold and got the game within three possessions.
"I was pleased with the effort from our team and I felt we hung in there for the first 20 minutes,'' said Harvard coach Tommy Amaker, whose team trailed by just 2 at the half. "We didn't get much of anything easy around the basket, which is probably going to happen to a lot of teams when they face this basketball team with their size and athleticism.''
But let's not dismiss the Crimson because they couldn't win in Storrs, where the Huskies haven't lost a nonconference game in November or December since 1973 (101 straight).
Judge Harvard now on how the Crimson handle the rest of the schedule, like at Boston University on Saturday or at Boston College on Dec. 29 -- games they should win -- and then in the Ivy, where Harvard will be favored in every game on the schedule. The Crimson have already won the Battle 4 Atlantis and tough road games at Loyola Marymount and Vermont -- games Harvard should win and did.
Now it's just a matter of winning the Ivy outright and finally breaking through for that first NCAA berth since 1946.
"I was pleased with the way we were prepared and how we followed our game plan and tried to manage the game,'' Amaker said. "Our kids handled things so far in an admirable way. We'll see now after the first loss how we do. This is a new spot for us.''