College Basketball Nation:

Brannen Greene
March, 22, 2015
Mar 22
7:31
PM ET

OMAHA, Neb. -- The Wichita State Shockers made the most of their long-awaited shot at redemption against the in-state power Kansas Jayhawks, ousting the second-seeded Jayhawks from the NCAA tournament with a 78-65 win in the round of 32 Sunday at the CenturyLink Center.
The seventh-seeded Shockers, playing Kansas for the first time since a blowout loss in 1993, duplicated their 1981 postseason win over the Jayhawks behind 19 points from Tekele Cotton. Wichita State trailed for all but two minutes of the first half but took the lead at halftime on Fred VanVleet's 3-pointer with 54 seconds left and repeatedly hit key shots in the second half to pull away.
The loss for Kansas marked its third in four games in the tournament against a Missouri Valley Conference foe, following eliminations in 2006 at the hands of Bradley and in 2010 against Northern Iowa.
Here are five observations from Wichita State's upset:
March, 21, 2015
Mar 21
2:00
PM ET
OMAHA, Neb. -- The first meeting since 1993 between the Kansas Jayhawks and Wichita State Shockers figures to be as hotly contested in the seats at the CenturyLink Center as on the court.
These programs' fans work and live together. And on Sunday, they're rivals again, taking a trip back in time to an era when powerhouse KU regularly scheduled its mid-major neighbor.
A year ago they mingled in St. Louis, placed in separate pods at the same site and eyeing each other like long-lost relatives.
Well, the awaited rematch has arrived.
Twenty-two years ago, Kansas beat the Shockers 103-54. In 1981, the only previous game between these former rivals away from their home gyms or nearby Kansas City, Wichita State beat the Jayhawks 66-65 on Mike Jones' game-winning jumper with 4 seconds left in a Midwest Regional semifinal at the Superdome in New Orleans.
Fans of both programs are expecting nothing less than a similarly memorable result on Sunday.
"It will be a big game for our state, without question," Kansas coach Bill Self said.
That's the understatement of the weekend in Omaha.
Key to the game: The matchup in the backcourt. Clearly, this is the Shockers' strength. They start no player taller than 6-foot-7 and don't possess the athleticism on the wing that Cleanthony Early provided in the undefeated regular season a year ago and the Final Four run in 2013. But the Wichita State guards are steely tough, starting with junior Fred VanVleet, who blitzed Indiana for a career-high-tying 27 points in the second round. Ron Baker is also a rock for the Shockers. He overcame a poor shooting performance against the Hoosiers to score nine points in Wichita State's second-half comeback. With assistance from Tekele Cotton, the Shockers outplayed the more gifted Indiana backcourt led by Yogi Ferrell and James Blackmon Jr. The Jayhawks bring an even more daunting challenge in Frank Mason, who played well against New Mexico State with 17 points and nine rebounds, and the athletic tandem of Wayne Selden Jr. and Kelly Oubre. Kansas, after shooting poorly late in the season, got on track Friday from long range, hitting 9 of 13 from 3-point range. The Shockers must defend well on the perimeter and create opportunities when available near the basket as they did Friday, outscoring Indiana 44-24 in the paint.
Player to watch: Perry Ellis. The Jayhawks' junior All-Big 12 forward missed two games with a knee injury suffered March 3 in Kansas' home finale against West Virginia. He missed two games and has played in three since, but only in the days before the NCAA tournament did Ellis operate without discomfort. He scored nine points in 23 minutes, missing a few shots from close range in a 4-of-10 shooting performance against New Mexico State. Self described Ellis' play as "very tentative." Notably, Ellis did not get to the free throw line and grabbed just two rebounds. At 6-8 with good length, he presents a mismatch against the Shockers, who will be stressed in trying to defend 6-10 KU freshman Landen Lucas, 6-8 forward Jamari Traylor and athletic perimeter players Oubre and Brannen Greene. Despite this array of versatility, Ellis is the Jayhawks' most complete threat and is the only player in the Big 12 to rank sixth or higher in the league in scoring and rebounding. Before the injury, Ellis scored 18 or more points in five straight games. To make a deep tournament run, Kansas needs him to return to that form.
December, 23, 2014
12/23/14
12:28
AM ET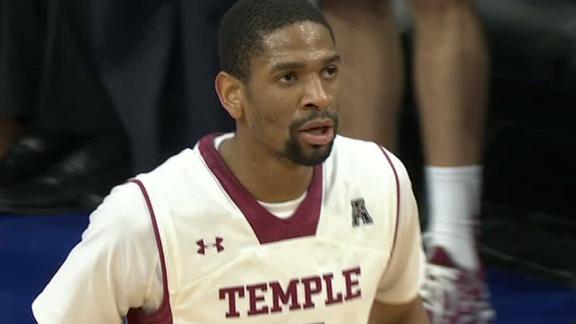 A decade of hegemony is the gift that keeps on giving. Maybe, when Jayhawks families sit down for Christmas dinner Thursday, Kansas's past 10 years -- when they've reigned over 10 successive Big 12 regular-season conference championships -- can keep the conversation from turning grim.
If those fans chose to politely focus on the not-so-distant past, well, who could blame them? Because here's how the present stands up: In Self's first 11 seasons, his teams lost by more than 25 points exactly one time. In the first five weeks of the 2014-15 season, they've already done it twice.
The second of those blowouts came Monday night, a putrid
77-52
thrashing at Temple. Kansas never led, never got close, and never looked competent against a team that began the night ranked outside the top 100 in adjusted efficiency. The second half played out like a routine blowout, one team so unable to score or get a stop that the lead began to spiral inward on itself. Rushed shots led to bad defense, which led to more rushed shots. In a vacuum, you would have assumed Temple was the top-10 team mopping up some lowly cupcake opponent at home, and have been puzzled over the fans rushing the court at the final buzzer. What's all the fuss?
"They were so much better than us," Self said afterward.
[+] Enlarge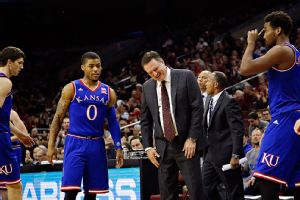 AP Photo/Matt SlocumIt was a frustrating night from all angles for Kansas, but it shouldn't have any long-term, lingering after-effects.
And he was right.
The good news is that it probably doesn't matter.
Before the Kansas panic-o-meter switches from "mild" to "full-blown" -
and judging by KU basketball's Facebook comments
, we might already be too late -- it's worth noting just what an abberation Monday night really was. After all, it's not like Kansas hasn't played well in the nonconference thus far. The Jayhawks arrived in Philadelphia on the back of an eight-game winning streak pocked by solid wins over difficult opponents, including an impressive win over a Utah team with one of the nation's best guards in
Delon Wright
. And it's not like Kansas hasn't traveled to a major metropolitan area in the northeastern corridor to play in a hostile NBA arena, as it won at Georgetown on Dec. 10.
What the Jayhawks did Monday night was a mixture of unusually cold shooting, atypically lights-out offense by its opponents (more on that in a second) and some good old-fashioned lethargy.
Perry Ellis
, the team's lone reliable go-to scorer -- the one guy Kansas clears out for when it really needs a bucket -- finished a frustrated 1-for-10. The Jayhawks shot 32.1 percent from the field as a group. When Temple opened an early lead, you kept waiting for the Jayhawks to knock down a few perimeter shots and tighten things back up. Frank Mason was the only player who delivered, making four of Kansas's seven 3-pointers.
Sviatoslav Mykhailiuk
,
Brannen Greene
(the key player in the Georgetown win) and
Wayne Selden
combined to go 3-of-11.
Defensively, Kansas might have been worse, or at least -- to use a technical term -- more
obviously bad
. Throughout the past month, Self has consistently praised his team on two fronts: first-shot defense and toughness. Kansas had neither Monday night. It was tired and slow, as Self put it after the game: "Like we were a half step slow or even a full step slow." Maybe that's the promise of an impending Christmas break. Maybe it's the post-final exam malaise. Whatever it was, it looked nothing like Kansas's typical performance.
Is lethargy a bad sign? Maybe. Is playing at 70 percent of your ability on Dec. 22 a portent of doom? Probably not.
None of which should minimize Temple's role in the blowout. The Owls might not have faced Kansas in top form, but they still had to make the shots. Did they ever: Temple went 21-of-28 from inside the arc.
Will Cummings
was a force on the perimeter, driving on KU's guards at will, finishing with ease, and expertly controlling the pace as the lead widened in the second half. When Temple boarded the Philadelphia Subway en route to the arena Monday night, it ranked 340th in the country in field-goal percentage. Cummings & Co. showed none of those woes against the Jayhawks.
"I think we played about as well as we possibly could have," Temple coach Fran Dunphy said. "It was our night."
The
"& Co." bit is especially important
. Monday night was just the second game of the season for transfers
Jesse Morgan
and
Devin Coleman
. Morgan finished with 17 points on 10 shots; Coleman contributed 14 mistake-free minutes off the bench. But the duo, Morgan especially, added more than that: They provided the room and the support to make Cummings a truly lethal one-on-one player.
In other words, if Temple 77, Kansas 52 matters, it matters for Temple. And not just the win (though that is a nice bonus for a team that had yet to snag anything resembling a NCAA tournament-worthy victory). This performance hinted at the promise of Dunphy's team -- a good defensive group that might not be so awful with the ball after all.
As for Kansas, look at it this way: Whatever issues Self's team had before the game -- the stop-start emergence of
Kelly Oubre
, the stalled contributions of
Cliff Alexander
, shaky perimeter shooting, lack of fluidity in its half-court offense -- exist now. Whatever strengths the Jayhawks previously displayed will likely emerge again in the next week, when Kent State and UNLV come to Allen Fieldhouse.
And if the Jayhawks fail to maintain that fabled Big 12 title streak in a few months, it will probably have as much to do with the butcher shop that is the 2014-15 Big 12 as with anything Kansas did or didn't do in Philadelphia. It was, in every sense of the word, just one of those nights. The only sweeping conclusion to be drawn here is a resounding: Meh.
December, 11, 2014
12/11/14
12:15
AM ET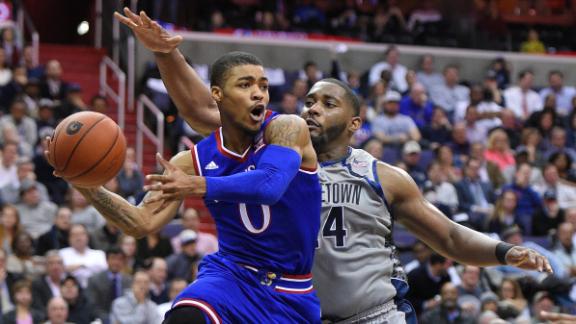 WASHINGTON, D.C. -- One might be inclined to think that after five straight wins -- including three in a row over Michigan State, Florida and Georgetown -- the
Kansas Jayhawks
are a pretty good basketball team. Not great, necessarily. Not vintage. But pretty good, right?
Bill Self would be the first to disabuse you of that notion.
"We're not very good yet," Self said.
He is happy to list the reasons.
"We're not a good passing team at all," Self said. "We don't make the game easier for our teammates. ... We don't know where our shots are coming from consistently. We don't know who to play through at times. Sometimes Frank [Mason] is the best player on our team. Sometimes Wayne [Selden] is. Sometimes Perry [Ellis] is. We haven't quite figured it out yet. But that's OK. The key to having great seasons is winning when you don't play great."
Judged by that standard, Wednesday night's win was Kansas' most impressive yet.
[+] Enlarge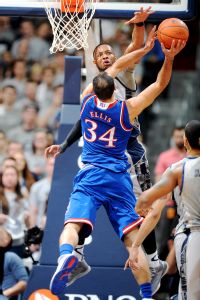 Mitchell Layton/Getty ImagesIt may not have been pretty, but Perry Ellis and the Jayhawks got a quality win on the road against Georgetown.
On the road against a Georgetown team with a massive front line and a visible hunger for a marquee, nonconference breakthrough, the Jayhawks scrapped and clawed and shot their way to a mostly ugly
75-70 win
. Kansas made just 10 of its 36 attempts inside the arc, a parade of contested tries taken in the teeth of the Hoyas' physical defense. The Jayhawks committed 17 turnovers to just 11 assists. They scored 1.01 points per possession.
All the while, Self continued to tinker with his lineup. He gave forward
Landen Lucas
the nod in the starting lineup. He gave
Kelly Oubre
-- a star freshman prospect who has largely disappointed to date -- his biggest and most impactful minutes of the season. And he rode the hot hand of
Brannen Greene
, whom Self said has "gotten in his own way with us on the court by not doing what we think he's capable of doing," to 19 points on 5-of-5 from 3 and 4-of-4 from the free throw line.
"It was a toughness win," Greene said. "Coach kept saying the toughest team was going to win. That's what I felt like we did. We grinded it out."
Greene's shooting made him the lone Jayhawk to hit better than 50 percent Wednesday night.
Perry Ellis
finished 4-of-15 for 13 points but contributed 10 rebounds to the cause.
Wayne Selden
shot 2-of-7.
Sviatoslav Mykhailiuk
started the game but managed just one attempt before being relegated to the bench for the rest of the evening. Mason was probably the Jayhawks' second-best player, and even he finished just 4-of-8 with four turnovers, though several of his buckets came at crucial junctures in the game.
A good portion of the credit should go to Georgetown. After the game, John Thompson II said he was struggling to identify positives from the outing. The Hoyas truly, desperately wanted a win.
But even if the wins haven't come, Georgetown has been undeniably more impressive this season than during 2013-14's lackluster 18-15 campaign. They're more efficient on offense, thanks to the emergence of
D'Vauntes Smith-Rivera
as the team's lead guard and (finally!) the arrival of long-awaited UCLA transfer
Josh Smith
. Smith in particular has been impressive, with a usage rate of 29.7 percent and an offensive rebounding rate of 15.5 percent. Georgetown is far better on defense, too, holding opponents to well under a point per trip this season. The uptick on both ends hasn't translated into wins -- the Hoyas played Wisconsin close in the Bahamas and fell to Butler two days after topping Florida in overtime -- but the odds this team will miss the tournament are minimal.
All of which makes Kansas's performance praiseworthy. With a lineup in flux and an offense prone to sputters, Self's team emerged from a true, nonconference road test with a win. An unsightly win, sure. But a win all the same.
"I think we're learning how to win ugly," Self said. "Which is still winning."
December, 11, 2013
12/11/13
1:00
AM ET
GAINESVILLE, Fla. -- The thing about assessing college basketball teams in November and December is that it's much easier to get it wrong than to get it right.
A team's full story is usually more layered than one outcome, one matchup or one streak can accurately illustrate in the first few weeks and months of any season.
Sometimes key players are injured. Sometimes key players are suspended. Sometimes key players are just green.
In No. 19 Florida's case, all three have been factors.
The Gators have had enough drama to warrant an E! reality TV show.
They entered Tuesday's 67-61 win over No. 13 Kansas at the O'Connell Center approaching 100 percent. In its most high-profile matchup of the year to date, Florida was almost fully staffed. The result was one of the most dominant performances -- in the first half, at least -- any team has ever played against Kansas and a reminder of what's possible when a team can finally use most of the players on its roster.
It was also a warning against premature analysis of a team in flux.
There were 16 -- yes, 16 -- Kansas turnovers in the first half thanks to Florida's frustrating 1-3-1 zone. Per ESPN Stats & Information, Kansas committed turnovers on nine of its 18 possessions and went 4-for-15 from the field against the 1-3-1.
[+] Enlarge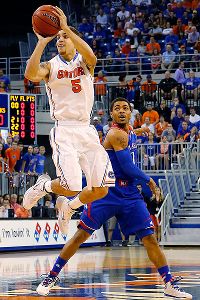 Sam Greenwood/Getty ImagesScottie Wilbekin's 18 points, six assists and four steals gave Gators fans a glimpse of what he can provide when he's in the flow of things.
The Jayhawks played like a team trapped in a fire pit.
There was a 21-0 Florida run that followed a 10-3 start by Kansas, changing the atmosphere in Florida's home venue. After missing six of their first seven shots in the first half, the Gators went 7-for-12 during that rally. Kansas failed to score for 8:43.
If the Gators were spontaneously lucky, then the Jayhawks were suddenly cursed. Blowouts can begin with such a sweeping shift that even the players involved can't describe it.
"I don't know what happened," Kansas star
Andrew Wiggins
said. "They just went on a run."
The Gators resisted a furious second-half Kansas rally that arose when Wiggins decided to cook up his best college game to date (first career double-double with 26 points, 11 rebounds, two blocks and four turnovers), showing NBA scouts that he's still worthy of being the No. 1 pick in next year's draft.
But
Patric Young
& Co. stayed strong and avoided panic.
"It just shows that when this team is healthy and has everybody out there, or even when we don't, we're going to put five guys out there that are going to play hard and run our offense and play our style of play," said Young, who finished with 12 points, six rebounds and three solid shoulders (minimum) into Kansas freshman
Joel Embiid
's sternum. "Our style of play was overwhelming for them. We need to bring that every single day."
Freshman
Kasey Hill
played 20 minutes after nursing an ankle injury and missing the previous four games.
Scottie Wilbekin
, who served a suspension at the beginning of the season, suffered an ankle injury during Florida's last-second loss at UConn last week. But he started against the Jayhawks.
Even with Wilbekin and Hill available, the Gators aren't 100 percent.
Billy Donovan's roster was missing five players due to suspension, illness or injury (excluding top-10 recruit
Chris Walker
, who was academically ineligible for the first semester) as the program prepared for its season opener against North Florida.
South Carolina transfer
Damontre Harris
will reportedly leave the team.
Eli Carter
, who averaged 14.9 PPG for Rutgers in 2012-13, will reportedly redshirt after suffering a broken leg last season. And Walker's status is still undetermined, though he could be eligible in a few days.
What do you get when you add a 6-foot-10 potential lottery pick to a nationally ranked program that's playing some of the best defense in America?
"I really don't know. I know he's a very good athlete," Donovan said. "My biggest thing with him is going to be how quickly can he pick things up. And I've got to do a good job of keeping things simple for him. ... I hope it will work out."
The (moving toward) full-strength Gators are quite talented -- Final Four talented.
That Kansas offense that crumbled under the pressure of a stiff zone in the first half is encumbered by problems such as inexperience, imbalance, inconsistency and shaky guard play.
But Bill Self's boys lost to an elite Florida squad. Tuesday night was just its first chance to prove it. Florida doesn't have one player who has averaged more than 20-plus minutes per game and played in all nine contests this season.
Florida didn't have
Dorian Finney-Smith
or Wilbekin in its loss to Wisconsin. Finney-Smith scored 15 points Tuesday and triggered that first-half rally by going 4-for-6 from the 3-point line. Wilbekin recorded a team-high 18 points, six assists and four steals in 36 dazzling minutes.
"Once you get them back, it is a good feeling to have everybody out there playing together," Wilbekin said. "You can see it. More rest. More versatile with what we can do on offense. And I think this is the first time you've seen us with everybody."
The Gators are growing as they solidify their roster. That constrictive defensive display against a program that might boast three first-round draft picks was impressive because of its effectiveness and suddenness.
Florida, if healthy, suspension-free and eligible, could be the SEC's best team and a national title contender in March.
But the Gators need more time together.
"I'm hopeful now, as we try to get a little bit healthier in this next week, it'd be good for us to get some of that continuity and cohesiveness on the court because there are times I see it and other times [not]," Donovan said. "I think guys need reps."
Florida wasn't pleased with the second-half sloppiness that could have turned a great win into a heartbreaking loss, though.
Once Florida began to play man-to-man defense in the second half, Wiggins grabbed his cape. He penetrated. He hit jump shots. He drew fouls. He was almost a hero.
Kansas had a final shot to change the outcome when it was down just 61-55 in the final minute. Florida unraveled at the free throw line (15-for-23 after halftime) and couldn't stick Wiggins. But the turnover ghost continued to haunt the Jayhawks.
Brannen Greene
lost control and fumbled the ball out of bounds with 45 seconds to play and a chance to cut Florida's lead to two or three, dooming the Jayhawks to their third loss in the past four games.
"We're just not a real skilled team," Self said, "yet."