College Basketball Nation:

Brenton Williams
March, 13, 2014
Mar 13
8:59
PM ET
ATLANTA -- Nine out of 10 times,
Bobby Portis
makes that shot.
He's in front of the basket, he goes up and finishes.
[+] Enlarge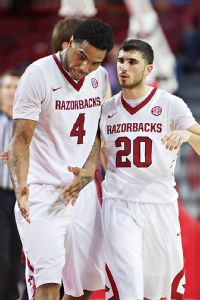 Wesley Hitt/Getty ImagesArkansas likely saw its shot at the NCAA tournament squashed Thursday.
Simple.
But with a game -- and a season -- on the line, one of the Razorbacks' top players adjusted too much. Instead of taking a pass and going right to the basket for an almost certain bucket with six seconds remaining and his team down one, Portis tried to draw a foul by jumping into his defender. When he shot, his arm went left, causing the ball to clank off the rim inside the Georgia Dome.
The ball almost immediately fell into South Carolina forward
Michael Carrera
's hands before he was fouled with 2.9 seconds left. After a last-ditch launch failed to fall for the Razorbacks, Portis was left grimacing and banging his hands together as he slinked off the court to the tune of a
devastating 71-69 loss
to the SEC tournament's No. 13 seed.
"That's one of my moves, really -- two dribbles to the middle and then right hand jump hook off my left shoulder," said a visibly heartbroken Portis. "I just missed it. It's one of those days."
It definitely was for a team that was so hot during the last month of the season, yet so not in its final two games. After winning six straight and seven of their last eight, the Razorbacks will be left wondering how in the world they almost certainly played their way out of the NCAA tournament.
"We had opportunities," Arkansas coach Mike Anderson said. "... we had a lot of mental mistakes going down the stretch.
"We're in the hunt for something; I don't know what."
After losing to a South Carolina team that is now 14-19 (5-13, SEC) and basically playing for fun at this point, the Hogs are now 21-11 (10-8) and are staring at a bid to the NIT. A week ago, this team beat Ole Miss by 30 and was pushing itself off the bubble and into the field of 68.
Then, Arkansas was squashed by hapless Alabama 83-58 to close the regular season. That loss stung and complicated its NCAA tournament dreams before Thursday crushed them. This team probably had to beat Tennessee Friday to make it into the tournament, so this loss, in which the Hogs were matched toe-to-toe for 40 minutes against a team that lost nine of its first 10 SEC games, is very costly.
The Arkansas team that beat a ranked Kentucky team twice in overtime and blew out a hot Georgia team late in the year wasn't tough enough Thursday. It had jitters and didn't challenge the boards, getting out-rebounded 40-24. Its benched softened, getting outscored 34-22. The Hogs were lackadaisical and careless with the ball. Anderson said they had unnecessary fouls, which helped the Gamecocks attempt 41 free throws.
"South Carolina came out there prepared for everything that we were doing," said Portis, who finished with 11 points and just three rebounds. "They attacked us; we didn't attack them. We didn't play Arkansas basketball today.
"They were attacking the rim and we weren't. We were settling for jumpers and stuff like that."
For some reason, the energy needed for a run to an NCAA bid just wasn't there, and now the Hogs will be nervously awaiting what should be an appropriately disappointing fate.
"We saw toward the beginning of the game when they were down, their enthusiasm started to slow down a little bit," South Carolina guard
Brenton Williams
said.
Arkansas slowed down, while South Carolina sped up. This unlikely crew got a fun trip to the big city but is taking advantage of it.
So while Arkansas sits, South Carolina hopes its magical run through Atlanta continues. After a 74-56 win over Auburn in the first round of the tournament, the Gamecocks now face fourth-seeded Tennessee in the quarterfinals on Friday with the hopes of keeping this momentum churning.
"I wouldn't say we're a scary team, but we're definitely motivated and we're ready to play whoever's next on the schedule," Williams said.
March, 7, 2013
3/07/13
10:54
AM ET
Player of the Night -- Travis Taylor, Xavier

Taylor had 19 points to go with career highs of 19 rebounds and six blocked shots in Xavier's overtime win against No. 16 Saint Louis. He's the first player to generate those totals against a ranked team since Georgetown's Michael Sweetney is 2003 against Syracuse. The last A-10 player with a 19-19-6 game was Xavier's David West in 2001.
Stat Sheet Stuffer -- Trey Burke, Michigan

It wasn't even his most prolific performance this week, but Burke had another big game in Michigan's win over Purdue. He finished with 26 points, five rebounds, seven assists and three steals -- his second game reaching all of those totals this season. No Big Ten player had one such game since Mateen Cleaves in 1998.
Freshman of the Night -- Chris Bolden, Georgia Tech

The Yellow Jackets topped No. 6 Miami, 71-69, behind a career-high 21 points from Bolden. He'd only scored a total of 16 points in their previous three games.
Marcus Georges-Hunt
's tip-in at the buzzer made the difference, but it was Bolden's offensive outburst that stood out. It's the highest ranked team Georgia Tech has defeated on the road since beating No. 3 Duke in 2004.
Bench Player of the Night -- Brenton Williams, South Carolina

Averaging 10 points coming into the game, Williams exploded for 38 points off the bench in South Carolina's 79-72 win against Mississippi State. It was the most points by a South Carolina player since Terry Dozier had 38 against Florida State in 1987, and it was the most points off the bench by an SEC player in at least the past 15 years. (Joakim Noah had 37 off the bench for Florida in 2006.)
Ugly Stat Line of the Night -- Cody Ellis, Saint Louis

Ellis went 0-for-15 off the bench in the Billikens' loss to Xavier. That's the second-worst oh-fer in the nation this season behind Southeastern Louisiana's
Jeffery Ricard
(0-16). But it's the worst oh-fer off the bench since Pepperdine's Yakhouba Diawara went 0-for-18 against San Diego in 2005.
March, 8, 2012
3/08/12
5:52
PM ET
NEW ORLEANS -- Of Alabama's seven conference losses, the unquestionable lowlight had to be a 56-54 upset at the hands of last-place South Carolina. The Crimson Tide got revenge for that January setback on Thursday at the SEC tournament, but Thursday's
63-57 win
didn't come without a fight. The win offset a disappointing nine-point loss to Ole Miss to close the regular season, but a dogfight with the conference's worst team doesn't exactly inspire confidence. The Gamecocks' season comes to a merciful close after they endured three separate SEC losing streaks of four, five and six games, respectively.


Alabama appeared to be cruising when the game went to halftime. The Tide led by 11 and had the statistical edge in nearly every category, particularly a team shooting percentage of 52. But by riding their 3-point shooting, the Gamecocks surged back into contention. Alabama pushed the lead to as much as 10 points in the second half, but South Carolina connected on 8 of 24 3-pointers to keep things close.
The Gamecocks made a run at the lead with 7:30 remaining, when
Brenton Williams
sank consecutive 3-pointers, tying the score at 51.
Turning point:
The teams battled down the stretch, with Alabama's lead hovering at four points or fewer throughout the final six minutes. A beautiful layup from
Bruce Ellington
, who broke Bama's hearts in the teams' first meeting, cut the lead to two points with just more than a minute remaining. With the game entering its final minute, the Tide's
Andrew Steele
found
Trevor Lacey
at the top of the arc. Lacey picked quite a time to hit Alabama's only 3-pointer of the afternoon, as he connected to give the Tide a five-point lead with 45 seconds left.
Key player:
Lacey saw the court for only 17 minutes against the Gamecocks, but that was all the time he needed to lead all scorers with 15 points. The freshman found most of his production in the lane, as he cut through the South Carolina defense for three baskets, and worked his way to the free throw line six times. But when the Crimson Tide needed a basket, Lacey delivered from outside with his clinching 3-pointer.
Key stat:
82.8. The Crimson Tide took a whopping 29 trips to the free throw line against the Gamecocks, connecting on 24. South Carolina had a measly six attempts.
Miscellaneous:
JaMychal Green
showed why Alabama struggled so much during his four-game absence in February as a result of a suspension. Green played 33 minutes for the Crimson Tide and finished with 12 points, 7 boards and 2 blocks. Green's thunderous block on
R.J. Slawson
at the 12-minute mark of the second half was perhaps the highlight of the game until Lacey's big shot.
What's next:
Alabama has a rematch with No. 4 seed Florida at 2:30 p.m. The Gators downed the Tide 61-52 on Valentine's Day -- although Alabama was missing Green at the time. South Carolina concludes its season with a 10-21 record. The only question remaining for the Gamecocks is whether coach Darrin Horn will keep his job.