College Basketball Nation:

Brian Conklin
March, 18, 2012
3/18/12
12:05
AM ET
COLUMBUS, Ohio -- Taking a look at Sunday's games in Columbus.
No. 11 NC State (23-12) vs. No. 3 Georgetown (24-8), 12:15 p.m. ET
NC State is an 11-seed and Georgetown is a 3-seed. But Sunday's matchup at Nationwide Arena in Columbus, Ohio, doesn't feel like a 3/11 game.
The Wolfpack have the length and athleticism to challenge a Georgetown team that enjoys the same tools and uses them to its advantage, too.


C.J. Leslie
and
Richard Howell
just attacked and attacked against undersized San Diego State as NC State scored the "upset" against the Aztecs on Friday.
Lorenzo Brown
shot well from outside with SDSU's bigs trying to close up the lane.
The Wolfpack were dominant. But they also had a clear size advantage in that matchup.
That won't be the case against Georgetown, a team that utilizes 6-foot-10
Henry Sims
and 6-8
Otto Porter
in the frontcourt. The Hoyas have the top 3-point defense in America.
Jason Clark
is a versatile guard who carved up Belmont.
Georgetown showcased its versatility in its win over Belmont. The Hoyas went to a zone that frustrated one of the top 3-point shooting teams in America.
They can throw multiple defensive looks at the Wolfpack. They can go man-to-man because they have the size, or they can revert to that tough zone.
Georgetown beat NC State 82-67 last season, when the Hoyas separated from a young Wolfpack team with a 15-0 run in the second half. The Wolfpack made just 23.5 percent of their 3-point attempts in that game.
This season, the Wolfpack are ranked 82
nd
in Ken Pomeroy's adjusted tempo ratings. Georgetown is 299
th
. NC State's players said Georgetown's ability to control the speed of the game affected the outcome last year.
"I know the one thing I can remember, it was very frustrating playing them, because they're the type of team who doesn't want to score 80 or 90 points," Howell said. "They don't want to get up and down the floor. They just want to play a very slow, a very slow-paced game. That's something we don't want to do. We want to get up and down."
The Hoyas resent the notion that they can't run, but they also recognize the role that tempo could play in Sunday's game.
"They have pretty much the same players on the team. They're a very athletic team," Clark said. "They like to get out and score in transition. They're a very good team."


No. 9 Saint Louis (26-7) vs. No. 1 Michigan State (28-7), 30 minutes after Game 1
You don't need the actual scouting reports to know Saint Louis' game plan against Michigan State. The Billikens, ranked 304
th
in Pomeroy's tempo ratings, want to make the Spartans play slower than their norm.
But it's more complicated than that, which is why the matchup between the two guys on the sidelines takes precedence.
This is Saint Louis vs. Michigan State, but it's also Rick Majerus vs. Tom Izzo.
Majerus has amassed a 517-215 record and made 12 NCAA tourney appearances. He led Utah to the NCAA title game in 1998, the highlight of a head-coaching career that started at Marquette during the 1983-84 season.
Izzo was a longtime assistant under Jud Heathcote before taking over the program during the 1995-96 campaign. He has a 384-161 record. He won the national title in 2000 and he's reached the Final Four six times.
This is a matchup of two of the top coaches in the game. Both Izzo and Majerus showcased their acumen during round of 64 victories in Columbus.
The Spartans didn't impose their will in the first half against LIU-Brooklyn the way they could have and led by just five points at the break.
Izzo said he was disappointed the Spartans didn't take great shots early in that game. He scolded his squad for not sticking to the game plan and attacking inside. The Spartans responded with an impressive effort after halftime.
Izzo has molded this program into one of the most focused and connected teams in the country, one that's capable of reaching New Orleans.
But Majerus is a master game-planner, too.
By Saturday afternoon, less than 24 hours after his team's win over Memphis in the second round, Majerus seemed capable of writing a thesis about Green and his teammates.
"I can beat Rick. I can get him up and down the court for sure," Izzo joked. "The job he does with his team, his teams are always tough, well-disciplined. They don't make a lot of mistakes. They don't beat themselves. They're very solid and fundamental. And the post players are as fundamental as anybody in the country."
Memphis, the Billikens' first-round opponent on Friday, was supposed to have the same advantages in size and athleticism that Michigan State appears to have entering Sunday's game. That didn't matter when Saint Louis and Memphis took the floor, though. Saint Louis slowed the game down and didn't panic when the Tigers took an eight-point lead midway through the second half.
Kwamain Mitchell
hit big shots.
Brian Conklin
proved that a 6-6, 235-pound forward can hold his own in the paint against a more athletic, longer opponent.
But Michigan State has beef in the post that Memphis lacked.
Derrick Nix
and
Adreian Payne
have stepped up in the postseason.
Majerus, however, faced similar circumstances Friday and came out on top.
The former Utah coach's experience will play a role in Sunday's matchup. He's one of the best in the business at breaking down opponents and finding their weaknesses.
He'll try to do it again against a coach that he respects.
"I respect Izzo because he's a self-made coach. He was with Heathcote all those years. He's demanding. He's fair," Majerus said. "His players really like him. And he loves the game. He's a guy that you could get together with and talk ball."
March, 16, 2012
3/16/12
9:06
PM ET
COLUMBUS, Ohio -- Instant analysis from St. Louis'
61-54 win
over Memphis.


Overview:
St. Louis dictated the pace of the game early, something the Billikens said they had to do prior to Friday's game. Memphis loves to run. The Tigers are one of the best transition teams in the nation. And the Billikens were clear that they had to force the Tigers to play half-court basketball.
At halftime, St. Louis and Memphis were tied, 23-23. By then, the tempo favored the Billikens in their matchup against a Tigers team that had scored only 60 points or fewer two times this season.
But the Tigers, who shot 1-for-8 from the 3-point line in the first half, launched an 11-2 run that put them ahead 37-29 with 11:54 to play. The Billikens' offense had stalled and then,
Kwamain Mitchell
arrived. The junior scored 22 points and led St. Louis to a win in its first NCAA tourney appearance since 2000.
Turning point:
The Billikens were down by eight points midway through the second half. But St. Louis responded to Memphis' run with a 16-5 rally of its own that turned the game.
Key player:
Mitchell was hot, especially in the second half. He scored 22 points on 9-for-14 shooting. He was 6-for-9 after halftime.
Brian Conklin
added 16 points.
Key stat:
Memphis went 2-for-15 from beyond the arc.
Miscellaneous:
Memphis initially adjusted well to the slower tempo. But a late eight-minute stretch in which the Tigers recorded two field goals turned the game and showcased St. Louis' defensive pressure. …
Will Barton
was the only Memphis player who recorded double figures. He scored 16 points.
What's next:
St. Louis will face top seed Michigan State on Sunday.
March, 16, 2012
3/16/12
12:45
AM ET
COLUMBUS, Ohio – The fun continues at Nationwide Arena on Friday night with an appearance by a 1-seed and an 8-9 matchup featuring two squads that play opposing styles. Memphis is fast. St. Louis is slow. Which style will dictate the tempo? Michigan State is relying on its new chemistry as it enters a game against Long Island.
No. 9 Saint Louis (25-7) vs. No. 8 Memphis (26-8), 6:50 p.m. ET


If Rick Majerus' demeanor was any reflection of his team's mood entering its Friday matchup against Memphis, the Billikens will be in good shape. He drew laughs for the bulk of his news conference and appeared to be quite relaxed.
Majerus cracked jokes about Twitter: "I can't see this Twitter thing … you know, 'Just went to the beach, the water was wet.' You know, I mean, it's like what is that?"
Majerus also talked about a recent health situation in which he mixed up his medication and missed a game as a result: "And so I'm sitting there, and of course they want you to go to the hospital. And they're saying, 'Well, what pills did you mix up?' I said I wasn't trying to, you know ... the team hadn't been playing that bad that I wanted to go south, you know."
His players seemed just as serene as they talked about their tough matchup against the Tigers, a team that's ranked 19th in Ken Pomeroy's adjusted offensive efficiency ratings and 11th in adjusted defensive efficiency.
They're one of the fastest teams in the country and can run with anyone.
And that's what the Billikens want to stop. St. Louis is one of slowest teams in the country (No. 303 in adjusted tempo). It hopes to use its rugged style to its advantage when it faces Memphis.
"It's definitely going to be getting more guys back and getting kind of packed in the lane and then building out from there," said St. Louis standout
Brian Conklin
(13.9 points per game). "So definitely going to stop their early transition and make sure they use all 35 seconds of the shot clock, and we have to box out."
The Billikens have one of the top defenses in the country (No. 10 in Pomeroy's ratings). Their slow tempo didn't stop them from finishing second in the Atlantic 10.
But the Tigers are a special group with elite athleticism. They have weapons in every spot.
Will Barton
,
Joe Jackson
and
Tarik Black
anchor a team that's shooting 49.4 percent from the field, fifth in the nation.
And now they've reached a point where players have accepted their roles, which has led a new level of chemistry for this talented group that says it's ready for the Billikens.
"They're a solid team. They play as one. They're not a team that's going to shoot themselves in the foot. They don't turn the ball over much," Black said. "They have good players."
No. 1 Michigan State (27-7) v. No. 16 LIU Brooklyn (25-8), 9:20 p.m. ET


They all laughed at the question.
During their press conference Thursday, Michigan State's
Draymond Green
,
Austin Thornton
and
Keith Appling
snickered when asked about the changes from last year's team.
"Well, it was funny. We did all kind of laugh because we were instructed not to talk about last year," Thornton admitted.
Last year was an abrupt change from the program's two previous seasons.
The 2008-09 and 2009-10 seasons ended with Final Four appearances. Last year's campaign ended with a second-round loss to UCLA.
The summer before the 2010-11 season saw various team members undergo six major surgeries. But Thornton suggested that the problems extended beyond injuries.
"So a lot of things in the last couple years, especially even last year, just guys had minds elsewhere. It wasn't entirely focused on the success of this program, and that's what is different and what's special about this year's team," he said. "Everyone bought in and understands what's best for them is what's best for this program and is what's led to the success we had this year."
The Spartans will need that bond to help them get through a region that features a variety of athletic teams. Missouri, Florida, Memphis, Marquette and Murray State make the West region one of the most competitive in the field.
"I think the advantage is everything's almost similar," said All-America candidate Green. "So where some nights in the NCAA tournament you may go from playing against somebody who just may run a Princeton-style offense and then the next night to maybe playing someone who hardly runs any offense or just run all motion or they really run and gun for the most part."
First, however, the Spartans have to take care of LIU Brooklyn, a team that won the Northeast Conference tournament.
The Blackbirds have some skill inside with
Julian Boyd
(a 6-foot-7 forward averaging 17.4 points, 9.5 rebounds) and
Jamal Olasewere
(a 6-7 forward averaging 16.8 points, 7.5 rebounds).
That duo has to avoid foul trouble for the Blackbirds to have a chance at the upset.
"I feel like every game this year, if me and Julian [are] on the bench, it will hurt this team," Olasewere said. "So going into this one, with I guess, the style of play … physical, we have to just play with our hands straight up and try hard not to foul."
The Spartans are one of the most physical teams in the country. They average 38 rebounds per game. Green,
Adreian Payne
and
Derrick Nix
will defend the glass and attack in the post.
But they also have talented perimeter players such as Appling and
Brandon Wood
.
In the tournament, however, anything is possible.
On Thursday, UNC Asheville came close to becoming the first-ever 16-seed to beat a 1-seed when it pushed Syracuse for 40 minutes. But Blackbirds coach Jim Ferry doesn't think UNC Asheville's effort did his team any favors.
"That's not very good for the Blackbirds, because if Michigan State was looking away a little bit that might have woken them up a little bit," he said.
January, 25, 2012
1/25/12
11:20
PM ET
CINCINNATI -- Rick Majerus didn't make much out of his team's
73-68 win
over Xavier, passing if off as nothing more than a good night in a very long season.
The truth is, the Billikens' win is nothing less than the latest tectonic shift in an Atlantic 10 that is undergoing serious seismic shakes.
In the A-10, there were always a few guarantees: Fran Dunphy's mustache, Xavier winning at home and X marking the spot at the top of the conference.
The first disappeared in October, the result of a lost bet between the Temple coach and Dionte Christmas.
Saint Louis erased the second on Wednesday night, ending Xavier's six-year home win streak against Atlantic 10 opponents, a run that extended across 43 games.
Could the third be far away?
That's the question that most everyone is asking these days in one way or another: what's wrong with Xavier? Can the Musketeers, a team that has won or shared five consecutive league titles, regroup?
The answer is once again TBD, now that a team that looked like it had righted itself just a week ago has lost back-to-back games.
Asked if he knew what was ailing his team,
Tu Holloway
shook his head.
"Not really,'' he said. "I really can't say. We're all looking for answers.''
So is Chris Mack.
The coach looks like he's trying to plug 57 holes in the dam, fixing one only to find another one blow open.
He benched starters
Kenny Frease
and
Mark Lyons
to start the game. Mack thought his team lacked toughness in a loss at rival Dayton on Saturday and so decided instead to reward players who 'go at it' in practice.
[+] Enlarge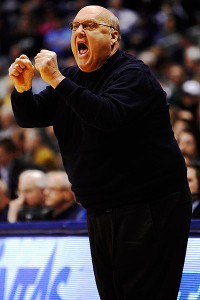 Frank Victores/US PresswireRick Majerus looks to have shaped Saint Louis into an A-10 contender, if later than expected.
It worked to a point. The Musketeers didn't get outmuscled against the Billinkens. In fact they showed some serious resolve, clawing back into a game they looked completely out of for 20 minutes.
Only problem, with the toughness riddle solved, Mack was handed a new one: an inattention to detail, evidenced by 17 turnovers.
"We have to become a better basketball team,'' Mack said. "No one is going to feel sorry for us. Just the opposite. There's not going to be a lot of nice things said about us and that's OK, as long as we stay together and we are.''
The catch is, it's not as easy to fix an ailing team in the A-10 as it used to be. The middle and the bottom are gaining ground this season and a five-minute brain cramp against anyone can easily turn into a loss.
Certainly, at least part of what was ailing Xavier on this night was Saint Louis. Since Majerus was hired five years ago, folks have been waiting for the Billikens to make some noise. Last season looked like the arrival date, but the year spiraled out of control under the weight of off-court suspensions.
Now it looks like Saint Louis is arriving, just a little later than expected. Theirs has not been a smooth ride. The Billikens jumped out to a hot nonconference start, beating Washington, Villanova and Oklahoma, but have struggled since the A-10 season started. Saint Louis exchanged losses and wins in the first four games.
Now on a three-game ride, the Billikens stand tied atop the murky conference standings with Dayton, UMass, LaSalle and St. Bonaventure (whoever had those teams on the leader board for late January ought to head to Vegas immediately).
This is your typical Majerus team, about as much fun to play against as a double root canal. Saint Louis does not make mistakes, plays incredibly hard defense and can beat you in all sorts of ways thanks to a wily coach who has an answer for every riddle.
Against Xavier, the Billikens started out by winning behind the arc, sinking 7 of 14 3-pointers in the first half to roll to a 41-29 lead. When Xavier adjusted, as Majerus knew it would, they pounded the ball inside to
Brian Conklin
. After X tied the game at 50, Conklin either scored or was fouled on five of Saint Louis' next seven possessions.
"He's pretty good in the low post,'' Majerus said. "He's been playing better and he's a confident scorer. We had been shooting the three-ball early but when they took that away, we were able to spread them out and went to Conklin.''
Conklin delivered to the tune of 19 points, enough to help the Billikens' hold off a late push by the Musketeers and end a run of dominance that Majerus said he didn't know about but his players surely did.
"It's just a jumping board for us,'' Conklin said. "It feels great. That 43-game streak, with me being a senior, my last year, we've been so close so many years and not been able to get it done, so to come in here and hit free throws, it's great. We're first in the conference right now. It's ours to win or ours to lose. We definitely want it to be ours to win.''
It certainly could be the case.
Disorder is the new order of the day in the Atlantic 10.
Down is up, X is down and Fran Dunphy is clean shaven.
November, 27, 2011
11/27/11
3:39
PM ET
Breaking down the 76 Classic final:
Saint Louis was supposed to be a contender for the 76 Classic final.
Oklahoma was not. But New Mexico never got out of the first round against Santa Clara to even face the Sooners.


The Billikens were projected to be an Atlantic 10 title contender. Oklahoma wasn't supposed to be close to being in contention in the Big 12.
Maybe the Sooners will now.
The 76 Classic didn't have a stellar field, but the winner of Sunday night's final between Saint Louis and Oklahoma at the Anaheim Convention Center will have significant momentum going forward.
SLU already made its mark on this young season with a huge home win against Washington. Dispatching a rebuilding Villanova -- which is sure to be in the mix somewhere in the Big East -- elevates the SLU resume, too.
Oklahoma took down a subpar Washington State and a middling Santa Clara out of the WCC.
Saint Louis should win. The Billikens should be a Top 25 team.
But if Lon Kruger's Oklahoma team continues this upward trajectory, there is plenty of room for the Sooners to make a move in the Big 12. Missouri is the class of the league so far this season, with Baylor and Kansas chasing the Tigers. Texas A&M will be in the mix as well. Texas is young. Oklahoma State hasn't found itself yet. And it's hard to tell what to make of Kansas State or Iowa State just yet. Oklahoma has room to grow and can make a play for a top-five finish.
Oklahoma is playing much better defense than it did a year ago. The Sooners have an emerging star in junior
Steven Pledger
, who is averaging 20 points a game and will be a chore to shut down for the Billikens. Juniors
Romero Osby
(11.5 ppg, 9 rpg) and
Andrew Fitzgerald
(9.5 ppg, 7.3 rpg) have excelled early in the season.
But the Sooners haven't faced a defense like Saint Louis'. The Billikens, as is the norm with a Rick Majerus-coached team, have been stingy. Opponents are averaging just 52.4 points a game against the Billkens. SLU scored 24 points off 12 Villanova turnovers and forced Boston College to turn the ball over 20 times Thursday. Washington, which likes to run, scored 23 points fewer than its average. And in the season opener, Tennessee State scored a meager 37 points against SLU.
The diversity of scorers in
Jordair Jett
(how can you not like that name?),
Cody Ellis
,
Brian Conklin
and
Kwamain Mitchell
give SLU a different look. The Billikens made 14 3-pointers in their win against Villanova.
Kruger has made his mark in Norman in a short amount of time. He's an experienced coach who has excelled no matter where he has coached. He won the 76 Classic a year ago while at UNLV. Majerus was a few minutes away from a national championship at Utah in 1998. He has gone through quite a personal trial with his health and in rebuilding this once-proud program.
Beat Oklahoma, win the 76 Classic and the Billikens will be ranked. But that's not all. SLU will be even more of a threat to challenge Xavier and Temple for the A-10 title and make the NCAA tournament.
It is only November. But the impression SLU is leaving in California is one that can't be ignored. And for the Big 12, Oklahoma's awakening is also a reason to pay attention to the Sooners when there was no reason to consider them a factor a month ago.