College Basketball Nation:

Brian Wardle
May, 31, 2013
5/31/13
5:00
AM ET
1. Commissioner Mike Aresco pulled off a shrewd but intelligent move when he made sure the new American Athletic Conference offices stayed in Providence, R.I. -- where the Big East staff has been based. The majority of the staffers are family people and didn't want to leave Providence. If the league office were to move, the staff might be more apt to look elsewhere or be plucked away by the new Big East. That hasn't happened, and the new Big East is still without a commissioner or staff. Meanwhile, the American has the same people running its operation. The American released its logo Thursday and it has a chance to catch on. The league is taking care of its business. Its basketball tournament sites should be announced in the next few weeks and the favorites are Memphis, Tenn., for the men and either Hartford, Conn., or Uncasville, Conn. (at the Mohegan Sun Arena), for the women.
2. Two Wisconsin-Green Bay players released statements through the school Thursday after spending the past month wondering if head coach Brian Wardle would be dismissed due to verbal-abuse allegations.
Keifer Sykes
and
Alec Brown
said: "We are really happy that the investigation is over, and we are excited about playing together next season for Coach Wardle and our other coaches. This has not been an easy couple of months for our team and coaches to go through and we are ready to move forward. The character and communication in our locker room is really good right now, and we are focused on getting better this offseason and contending for a championship next year." Lost amid these investigations are the players who were held hostage by uncertainty. Wardle was cleared of mostly everything, though he must have an adviser with the team next season to watch what occurs. UWGB has a legit shot to win the Horizon League.
3. New Mexico State will be the last team standing from the traditional WAC in 2014. The Aggies aren't 100 percent certain where they will be in basketball in two years. New Mexico State can't get in the Mountain West, and needs to find a way to get into Conference USA. That's the perfect fit for the Aggies, who have a historical rivalry with UTEP. If they can't move, coach Marvin Menzies' squad should get an NCAA bid or compete for a berth every season. There really is no excuse in such a weakened WAC.
May, 1, 2013
5/01/13
7:43
AM ET
1. Wisconsin-Green Bay spokesperson Christopher Sampson said Tuesday that the lesson the school learned from the Rutgers case when there are allegations of mistreatment against a coach is that the story goes national. But UWGB has already done something Rutgers didn't and should have immediately -- take the investigation out of the school's hands. When the results are in from the independent investigation, led by a local attorney, then it will be much harder to refute the results if everyone involved has cooperated in talking to the investigator and all evidence has been examined. Rutgers made the major mistake of only examining the charges within Rutgers last fall. The penalties -- if there are any -- should be decided by the president and athletic director. But to put the parents at ease of a fair investigation by using a third party, the issue has a chance to be treated appropriately. This will also help coach Brian Wardle if he is exonerated since it would come from a third party without any agenda to either save or hurt his job status.

2. The Lance Thomas case involving how the former Duke player received a loan to purchase jewelry while a senior in 2009-10 had no chance with the NCAA when the key people involved -- Thomas and a jeweler -- decided not to talk to the NCAA. This has always been the issue with the NCAA. The only people who are "forced" to talk to them are those who still are employed by an NCAA institution and players who still have eligibility remaining. In this case, having a third party of an experienced attorney or professional investigator may not have mattered, either, since Thomas and the jeweler wouldn't have been under any legal obligation to talk. Still, it would have helped perception for the NCAA if the attempt was made by an independent body. If the NCAA is going to regain its credibility, then using a third party, out of NCAA headquarters, to conduct investigations might make more sense. There is a larger extra benefit issue here at stake that may need to be addressed of whether or not it's OK for players to be treated differently in securing loans or product because of who they are as long as everything is done legally. This is an ongoing fluid topic about whether or not an athlete can be treated differently for what they do for the university.

3. The new American Athletic Conference is close to securing the Mohegan Sun Casino arena, home to the WNBA's Connecticut Sun, for the women's basketball tournament in 2014. But the American Athletic Conference isn't interested apparently in making it a home for the men's tournament. Instead, sites like the XL Center in Hartford, FedEx Forum in Memphis and facilities in Cincinnati, Tampa and the Palestra in Philadelphia are being considered. Bids are being accepted and a decision is forthcoming in the coming weeks. UConn athletic director Warde Manuel said the 9,000 seats would probably be too small for the men's event in the hope that it could grow beyond that at a place like the XL Center. But the new conference needs a destination site and the Mohegan Sun could offer that for fans, akin to those who go to Las Vegas sites at the MGM for the Pac-12 and the Orleans Arena for the WCC. The American Athletic Conference needs to make the right call here in the hope that this tournament can grow. It will have the advantage of Louisville fans flooding the site for 2014, but then won't have the Cardinal faithful in 2015 and beyond. So making a long-term choice that will be a destination for fans is critical.
April, 30, 2013
4/30/13
3:50
PM ET
WNFL Radio in Green Bay has audio of an interview
with forward
Alec Brown
, who defended Wisconsin-Green Bay coach Brian Wardle against allegations of player abuse leveled at him this month by the parents of former players. UWGB has launched an internal investigation into the matter, which received even more
public attention Tuesday afternoon
, after former player
Ryan Bross
outlined his complaints to the
Green Bay Press-Gazette
.
Brown is one of two players who openly defended Wardle on the radio Tuesday, saying the team wouldn't hesitate to bring its dissatisfactions to the coaching staff. He likewise accused his fellow players of lying:
"Honestly, I don't agree with the things that are being said," Brown told WNFL. "I've been there the longest of any of the guys, and I feel like if I had personally seen any of this happening, I wouldn't still be here. A lot of this stuff is not happening the way it seems that it is."
When asked what has surprised him the most about the situation, Brown said:
"Just the way that some ... I don't ... the way that some players viewed certain situations. And like, the way they can lie about some things is just amazing because of some of these guys were really close to us, teammates, like brothers."
When asked if he ever saw anything that went "over the line," Brown said he didn't "believe so." When asked if he thought his former teammates were lying, he said "Yes, I believe so."
Team captain
Keifer Sykes
also joined the Maino and Nick Show Tuesday afternoon, and he was just as effusive in his frustration and confusion.
"It was just shocking that all this came about because everyone knows Coach has our best interests in mind, he never did anything to abuse anyone. This is crazy.

"I mean, clearly the guys making these allegations are not in the program anymore. I guess when you leave they wanted to tear it down. But the truth will come out. In every situation it was 20 people there. Some people who are writing letters were never even around when anything or any of those allegations happened. The truth should come out and it should all play itself out."
When asked whether the most graphic situation Bross describes -- when he allegedly vacated his bowels during a preseason "boot camp" running drill -- did in fact happen, Sykes responded:
"It happened, when he voided himself, but the context is definitely skewed. I was there the whole time trying to motivate him to keep going. He was given the option to stop or keep going. He decided to keep going. No one made anyone do anything. He's a grown man.

"He was given the option. He was being a team guy and he didn't want to quit, I was there the whole time trying to motivate him. … That was by far the hardest drill we did all year and the context was definitely skewed. It's just crazy that someone could say that.
April, 30, 2013
4/30/13
2:30
PM ET
On April 16, Wisconsin-Green Bay coach Brian Wardle was the subject of a formal complaint sent to the university chancellor by the parent of a basketball player. Gina Cougill, mother of senior forward
Brennan Cougill
,
wrote a scathing letter to chancellor Thomas Harden accusing Wardle of "bullying most of the players," including her son
, whom Gina Cougill said suffered from depression. She accused Wardle of dismissing depression as a "distraction."

It was news, bad news -- the school barely had time to open an internal investigation before a copy of the letter
was shared with the Green Bay Press-Gazette
-- but the Cougills weren't even the first family to accuse Wardle of mistreatment. In fact, the parents of former center
Ryan Bross
were the first to file a complaint with Harden's office. Their complaint wasn't made public, though, so whatever damage it could wreak on Wardle's reputation, if the allegations are true, for the moment was deferred.
That moment is over. Today,
Bross made his own complaints public to the Press-Gazette's Rob Demovsky
, and they aren't pretty --
literally or figuratively
. They include allegations that Wardle used anti-gay and other derogatory slurs; told Bross to have sex with a girl to improve his performance; and ugliest of all, this story about a preseason workout drill known as "boot camp":
"Coach Wardle told me to stop being a p---- and to go into the woods," Bross told the Press-Gazette. "So I went into the woods and took a crap. I came back and he was like, 'Are you all done? Are you OK? Are you done being a p---- now, Ryan?' because they thought I was faking it, but I wasn't. So I kept running the hills. I finished one hill. I came back down, and I told them I was not feeling well again, and (Wardle) made me run another hill again because he told me that I was being a baby and that I was letting down the team and I was letting down myself, and that I was letting down everyone."
Bross continued: "I got down to the bottom (of the hill), and Wardle told me I was a piece of s--- and that he had never seen such a big p---- in his life and that I was the biggest piece of s--- he had ever seen."
It is important to note that Wardle issued a statement to the Press-Gazette, calling the version of the events in the newspaper "inaccurate":
"I can assure you the well-being of my players is foremost in my mind at all times," he said. "I cannot comment on the specific allegations under federal privacy laws. I can say the version of events [the Press-Gazette is] reporting is inaccurate. I have fully cooperated with the Independent Investigator, as have our players and coaches. I fully expect the eyewitnesses to these allegations you are reporting will contradict the version you are reporting."
It is also worth noting again that these are all merely allegations, and it is now the job of Harden and his independent investigator to get to the bottom of them. We don't know what is true in the complaints filed by Cougill and Bross.
But we do know this: Former Rutgers coach Mike Rice changed the game. For coaches and administrators everywhere, there is now zero room for lapses in oversight, no forgiveness from the public for physical and verbal abuse. There's even a tendency -- if not an outright willingness -- to react on behalf of players being treated poorly by an overzealous coach. Whether any of this new paradigm will apply to Wardle and Wisconsin-Green Bay remains to be seen, but the stakes are high.
June, 15, 2012
6/15/12
2:45
PM ET
Speaking of backlash
, let's get one thing out there right away: "Call Me Maybe" is, on its merits alone, an almost perfect pop song.
In the past three months, I've seen Justin Beiber and his cool-kid friends
lip dub it to death
. I've seen friends -- hip hop fans -- belt it out in bars. I've heard it approximately 7.6 million times, in every imaginable context. I should be sick of it, but I'm not. Catch me in the right mood, hit me with that earworm chorus, and I might even sing along.
[+] Enlarge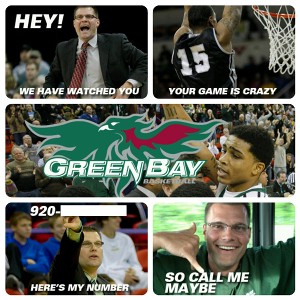 Courtesy of UWGB athleticsGreen Bay hopes its unique pitch to recruits will stand out from the rest.
What am I sick of? Every female I'm friends with on Facebook (which is like four, but still) titling their photo albums "Call Me ... Summer 2012!" or "Hey I Just Met You, This Is Crazy!!!" or other variously over-exuberant things. That needs to stop. I'm also sick of every "Call Me Maybe"-based lip dub and synchronized car dance,
from Harvard baseball
to
SMU women's rowing
and everything in between. When someone spends
this much time in iMovie
, we've officially reached maximum meme density. It's time to move on.
With all that said, you have to give the Green Bay men's basketball program some points for timeliness and creativity.
As discussed early in the week
, Friday is
the first day under the NCAA's new contact rules
, which deregulate previously strict contact requirements and allow coaches to call and text recruits in unlimited fashion. Green Bay's staff was looking to stand out from the gathering swarm, so their coaches, including head coach Brian Wardle, turned to Carly Rae Jepsen for inspiration.
According to spokesman Andrew Gavin, the staff was "trying find a creative (although corny) and timely way to use current pop culture to get a kid's attention and stand out when they might be getting bombarded with texts and pictures from coaches." Consider the mission accomplished. Wardle's "call me!" look is an absolute winner.
Whether it will help the Phoenix land recruits is another matter entirely. But in entertained yours truly on a Friday, for whatever that's worth. And at least Wardle didn't make a lip dub. We can all be appreciative of that.
September, 8, 2011
9/08/11
1:01
PM ET
Longtime readers might remember the name
Eric Valentin
. In January,
the 5-foot-4 Green Bay walk-on set a new world record
for the number of half-court shots -- eight, believe it or not -- made in a minute.

That was Valentin's first and really only video exposure in the college hoops webosphere. That is, until today.
As
Yahoo!'s Jeff Eisenberg reported last night
, Valentin was the recipient of two things at Green Bay practice yesterday, both of which you can see in video form in the previous link. The first was a prank: Green Bay coach Brian Wardle chastised Valentin after the team's first conditioning session, telling the guard he spent too much offseason time at his job and too little time getting conditioned for the upcoming basketball season. Just as Valentin looked fully downtrodden, the coach revealed present No. 2: A full-ride scholarship to play basketball at Green Bay in 2011-12. As he told Jeff:
"Honestly, he got me pretty good," Valentin said by phone Wednesday. "I actually didn't know what was coming. Then he handed me a piece of paper, I saw 'grant in aid' at the top and I knew it was a scholarship. I saw a bunch of money fly back into my pocket, all the money I spent on tuition and books. That was a great feeling."
You have to love the image. If only every parent could get their kid to visualize college tuition as money flying back into their pockets.
Valentin's story could practically serve as a sequel to "Rudy." The diminutive guard didn't reach the five-foot mark until well into his high school career, making his dream of playing college basketball an unlikely one. But Valentin contacted the Green Bay program, met Wardle for an interview, and inspired the staff to take him on as a walk-on.
Now in his senior season, Valentin is no longer just a four-year player (and a world-record holder, which is pretty cool in its own right). He's also a scholarship member of his team. Financially, that's huge. But it's also a symbolic payoff of hard work. Very cool.