College Basketball Nation:

Briante Weber
November, 12, 2013
11/12/13
11:29
PM ET
By
Anna K. Clemmons
| ESPN.com
CHARLOTTESVILLE, Va. -- Fans who tuned in to the final three minutes of No.14 VCU's 59-56 victory over No. 25 Virginia on Tuesday night didn't quite witness a display indicative of the entire game. Those last possessions, culminating in
Treveon Graham
's highlight-reel 3-pointer with 3.3 seconds remaining, were certainly more dramatic.
Graham's trey -- and UVA's missed 3 on the game's final possession -- sent the vocal visiting VCU fans into a frenzy while the Cavalier faithful fell silent amidst the sellout crowd of 13,881 inside John Paul Jones Arena. Ultimately, the Rams' 3-pointers -- 5-for-14, four of which they hit in the second half -- and their swarming havoc defense gave them the edge over the Cavaliers, who shot 1-for-8 from behind the arc.
The score stayed close the entire night (nine ties, six lead changes, each team holding a seven-point lead at one point) in a deliberately-paced, whistle-ridden battle between Virginia's two top-25 teams that hadn't faced each other since 1998.
Five minutes in, the teams totaled eight fouls -- and had only taken 10 shots. Foul calls were up to 27 by the end of the first half, 48 by game's end. UVa struggled offensively in the early minutes, passing too many times and not driving the lane enough. Meanwhile, VCU hit an offensive rhythm, driving to the basket on consecutive possessions and drawing fouls. Still, the Cavaliers kept the score close with fiery plays like senior
Joe Harris
' 3-pointer four minutes into the game (Harris led all Cavalier scorers with 18 points in 34 minutes) and
Mike Tobey
's blocked shot with two minutes remaining in the half.
[+] Enlarge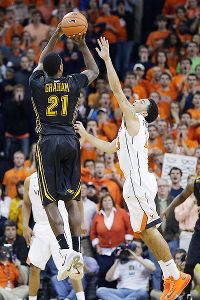 AP Photo/Steve HelberTreveon Graham's 3-pointer late vaulted VCU to victory over Virginia in the first meeting between the schools in 15 years.
And though they'd prepared for weeks in practice, the Cavaliers still struggled against Shaka Smart's swarming full-court pressure (which led the country in steals last season), turning the ball over 11 times in the first half.
Despite the numerous foul calls, neither team shot well from the free throw line, with VCU only hitting 40 percent of its foul shots to Virginia's 57.6 percent.
With just over three minutes remaining in the first half, the Cavaliers surged, taking their first lead of the game, 22-21, while the Rams missed several baskets and struggled against the Cavaliers' defense.
"This game is an example of why Virginia is so good on the defensive end," Smart said afterward. "They take you out of what you are trying to do. I thought we did a good job of playing fast but we did not have too many opportunities."
Virginia held a two-point lead at halftime and started the second half strong, crashing the boards for rebounds and passing efficiently while driving the basket. VCU kept the score close by hitting two 3s in the opening minutes of the half.
Each time UVa looked to move ahead, VCU answered, often with a basket from Graham, who led all scorers with 22 points and stepped up after VCU's big men got into foul trouble early in the second half. Both teams picked up their offensive pace while slowing their foul pace. VCU still worked to force turnovers, adding eight more (last season the Rams were 27-1 when forcing 15 or more turnovers).
The Wahoos broke through VCU's defense more effectively and turned the ball over less in the second half, building up to a seven-point lead with six minutes remaining. But the Rams refused to go away, staying tough defensively and forcing hurried shots.
"It's tough," Harris said of VCU's defense. "That's their whole mantra -- trying to play up-tempo offensively and up in your face defensively in the half-court and full-court. It's definitely a different way to play."
With a minute remaining, UVa was down by one and had possession. Harris airballed a 3-point and the Cavaliers fouled
Briante Weber
, who missed the front end of a one-and-one. Virginia rebounded and sophomore
Malcolm Brogdon
drove the lane, drawing the foul. Brodgon missed the first free throw but nailed the second, tying the score with 9.7 seconds remaining.
And then, almost in slow motion, the Rams took control, passing the ball several times before dishing it out to Graham.
"When I got the ball back, I knew there were only three seconds left," Graham said. "I take those kind of throwback shots every day in practice. I was confident enough to know if
Rob [Brandenberg]
would throw it back I would have made it. It was close toward the end of the game, so I was thinking that I needed to pick up my game."
In doing so, Graham sealed the close win for the Rams, who next face Winthrop on Saturday. The Cavaliers will battle Davidson in Charlotte, N.C., on Saturday, and said tonight's close loss was a boost in looking ahead at their next opponents.
"I think this loss is going to end up being a blessing," Brogdon said. "Even though we started the year ranked, we need to not get too high on ourselves, take it down a notch and work harder in practice. We won't play another team that plays at a faster tempo, so we'll be ready for any kind of pace a team tries to play against us."
Unless these two teams meet again in the postseason, of course.
February, 15, 2013
2/15/13
8:00
AM ET
Another wacky week in the Atlantic 10, another mostly futile attempt to place the lion's share of these teams in something resembling a hierarchy. Let's give it a less wordy shot:

1. Virginia Commonwealth.
For most of the nonconference season, VCU was an elite defensive team. Shaka Smart's constant pressure system worked: It forced opponents into the highest turnover rate in the country -- a distinction it still maintains; Rams opponents cough it up on 29.3 percent of their possessions -- while VCU's all-men-on-deck combination of lightning-quick guards (
Treveon Graham
,
Darius Theus
,
Briante Weber
,
Troy Daniels
,
Rob Brandenberg
) constituted one of the most exciting watches in the sport.
But a weird thing happened on the way to the Atlantic 10: VCU's defense got mediocre. The Rams still force a ton of turnovers, of course, but when they
don't
force turnovers, they don't get stops. VCU's league opponents make 38.0 percent of their 3-pointers and 50.2 percent of their 2s, and have averaged 1.01 points per trip, making VCU's defense the seventh-best in the league. Another weird thing happened: VCU's offense took off. Through nine games, the Rams have the best per-possession offense in the A-10. Talk about a reversal of fortune.
Why put them back at No. 1 this week? Because I think VCU's defense will come back. And if it does,
and
this offensive pace continues, the Rams will be as dangerous as any team in the country.
Also, Thursday night
Juvonte Reddic
did
this
. So you know.
2. Butler.
If power rankings are a balance between a team's long-view work to date and an evaluation of its current performance, you could still make the argument that Butler is the best team in the Atlantic 10. After all, no one else can lay claim to a win as good as Indiana, not to mention Gonzaga at home. (Marquette in Maui wasn't too bad, either). But the Bulldogs, it should be noted, entered Wednesday night's home date against Charlotte with
a conference efficiency margin of only 0.08 points per possession
, tied with La Salle and George Washington for fourth-best in the league. And then they lost to Charlotte at home. I'm not panicking just yet, nor should Butler fans; there is still much to recommend the Bulldogs. But it is not heresy to admit that Butler has struggled in the past two weeks, even as wins over Rhode Island, St. Bonaventure and George Washington masked that fact.
3. Saint Louis.
The Billikens, meanwhile, are headed in the opposite direction: Since back-to-back losses to Temple and Rhode Island on Jan. 12 and Jan. 19, St. Louis has won six in a row in mostly easy fashion, including a 73-58 victory over Butler. Its defense allows the fewest points per trip in the league (0.915), mostly because Saint Louis rarely allows offensive boards. But the schedule only gets tougher from here: versus Charlotte, versus VCU, at Butler, versus Saint Joseph's, at George Washington, at Xavier, versus La Salle. In other words: go time.
4. La Salle.
Were it not for that baffling mid-November home loss to Central Connecticut, the Explorers might well be the subject of some national discussion. Because other than that, the rest of La Salle's losses (at Bucknell, Miami, Charlotte and Xavier, and a 61-60 home loss to Massachusetts) are completely forgivable. Saint Louis has been stifling on the defensive end in conference play, but La Salle is right there with its friends from the Midwest, and perhaps it's time non-A-10-heads sat up and took notice.
5. Massachusetts.
OK, UMass fans: You win. I have officially decided to stop qualifying everything I write about the Minutemen with some version of "Well, their efficiency numbers haven't been very good, so the other shoe could drop any time now." It's not that I didn't like UMass, or something sinister like that; it just felt like fair warning. I'm done now. The bottom line is UMass is the fourth-fastest team in the country -- in this hyper-slow modern college basketball landscape, this is something we should be praising in and of itself -- and that pace, aided by the speed of point guard
Chaz Williams
, allowed the Minutemen to post the A-10's second-ranked efficiency offense performance and fourth-ranked defense prior to Thursday night's game at VCU. The Minutemen were blown out in that game, but that'll happen at VCU. Either way, it's time to start taking Derek Kellogg's team seriously.
6. Charlotte.
On Wednesday night, Charlotte won 71-67 at Butler. I reacted to this in some detail Thursday, so instead of repeating myself,
I'll merely send you there
.
7. Xavier.
For a young team that struggled so much in the nonconference, Xavier sure seems to be headed in the right direction now. Maybe that was bound to happen. Maybe it's a product of the Musketeers' backloaded schedule. All three of Xavier's league losses came on the road; its only real quality A-10 win (La Salle) came at home. The Musketeers go to Dayton on Saturday, and then Rhode Island next week. Those will be tests, sure, but it gets really gully starting Feb. 23, when Xavier closes with -- get this -- VCU, Memphis, UMass, St. Louis and Butler. This is going to be
really
interesting.
8. George Washington.
As mentioned above, the Colonials' league efficiency margin of 0.08 points per trip was, before Wednesday's games, tied for the fourth-best in the league. George Washington hasn't played since. The ceiling is pretty limited here, but Mike Lonergan's team plays defense, and that makes it a very tough out.
9. Temple.
More like TempLOL, am I right? No? Come on, Owls fans. Now might not feel like the time to joke, but I find the hoary old chestnut holds true: "Laughter is the best medicine … for getting over an 84-83 home loss to Duquesne." That actually happened Thursday night; that's a real thing. And it's a perfect summation of this insanely unpredictable, defense-averse Temple team, a team that can now say it beat Syracuse in Madison Square Garden and lost to Duquesne at home. Your guess is as good as mine.
10. Saint Joseph's.
Fun game in Philly this weekend, when Saint Joe's meets La Salle in another Big 5 matchup. At this point, city pride is starting to feel like the best possible outcome for Saint Joe's. It's a really disappointing team.
11. Dayton.
In December, back when we thought Alabama was a top-four SEC team, Dayton's victory in Tuscaloosa seemed to foretell another unpredictable, up-and-down Dayton season. Now it just looks like the latter.
12. Richmond.
The Spiders have been racked by injuries, which is a good explanation for why an offense that played so well on a per-possession basis in the nonconference season has been the A-10's 12th-best to date. The Spiders have struggled on defense all season; without scoring, they're having a tough time.
13. St. Bonaventure.
When they beat Temple and Saint Joe's on the road in late January, the Bonnies seemed to be on the rise. But they've fallen back below .500 since and, despite a valiant effort in a three-point home OT loss to La Salle on Wednesday, are clearly in a rebuilding stage.
14. Rhode Island.
Between a road win at Saint Louis -- still can't figure that one out -- and Wednesday's 75-72 home victory over Dayton, Rhode Island lost six consecutive games. And you know what? It was all positive stuff. Remember, this is a team with a first-year head coach that won seven games in 2011-12. Five of the losses in the recent skid came by single digits. The Rams are playing people tough. It's a weekly refrain in this space, but it's true.
15. Duquesne.
Duquesne! Huge win over Temple on Thursday night, not for any tangible reason -- it's not as though Duquesne is on the bubble -- but for sheer morale. It's not easy to play in a league like this when you're overmatched, and you had better believe knocking off one of the league's annual contenders in its final season in the league, in its own building, had to be incredibly satisfying.
16. Fordham.
Fordham, unfortunately, has had no such fun. Its only two league wins have come over Rhode Island and Duquesne; it has lost its past five games; and on Saturday, Butler comes to town. Ouch.
January, 10, 2013
1/10/13
11:38
AM ET
By
Jeremy Lundblad, ESPN Stats & Information
| ESPN.com
Player of the Night – Ben McLemore, Kansas
Ben McLemore
scored 33 points, including a game-tying 3-pointer at the end of regulation, to give
Kansas
a 97-89 overtime win over
Iowa State
. He fell just two points shy of Danny Manning's freshman scoring record set in 1985. McLemore finished 6-for-6 from 3-point range, matching Rex Walters' school record for 3s in a game without a miss.
Stat Sheet Stuffer – Jamaal Franklin, San Diego State
Highlighted by an off-the-backboard dunk,
Jamaal Franklin
finished with 20 points, 18 rebounds, five assists and three blocks in the
Aztecs
' 65-62 win over
Fresno State
. Over the past 10 seasons, the only other players to equal that line are
North Texas
'
Tony Mitchell
and
Oakland
's Keith Benson. The last player on a ranked team to do it?
Seton Hall
's Eddie Griffin in 2000.
Scorer of the Night – Cleanthony Early, Wichita State
Cleanthony Early
dropped a career-high 39 points to lift
Wichita State
to an 82-76 win over
Southern Illinois
. It's the most points for a Shocker since the great Xavier McDaniel scored 43 against
Bradley
in 1985.
Bench Player of the Night – Briante Weber, VCU
It's not often that the most impactful bench player of the night is someone who didn't make a field goal, but
Briante Weber
continues to make a difference with his defense. He finished with nine steals in
VCU
's 74-62 win over
Dayton
. Earlier this season, he had 10 steals off the bench against
Florida Gulf Coast
. Despite playing just 22 minutes per game, Weber leads the nation in steals (3.7 SPG). His 6.6 steals per 40 minutes would be the most since
Alabama A&M
's Desmond Cambridge (7.5) in 2002.
Ugly Stat of the Night – UAB Blazers
UAB
went 0-for-23 from 3-point range in a 64-48 loss to
UCF
. That snapped a streak of 517 straight games with a 3-pointer. The 23 misses without a make is just three shy of the record set by
Northwestern State
last season against
Sam Houston State
.